Gray versus pop colors. It's been a long-running debate in the PurseBop community. We've written about it (read Neutrals vs Colors: Which Have the Better Cost Per Wear, The Quest for a Neutral Handbag), you've talked about it. Regardless of what side you're on, you're not wrong. There's not necessarily a rhyme or reason to one's preferences, and all options look amazing on our favorite bags. Whether you're looking to blend in or stand out, there's the perfect hue out there for everyone and every moment. That's right, color lovers – there's likely even a gray for you!  And if you change your mind along the way or your lifestyle takes you in a different direction , that's okay, too! You can have it all, at least when it comes to different colored purses.
Right now at PurseBop, we're feeling pretty neutral. That is to say, we're having a gray sort of day. But while the perfect color is out there for each of us, it can be tricky to go through such a wide selection to find that dream shade. Hermès is known for its generous selection. There are grays with all the different undertones, both in the warm and cool families. Surely there is the perfect gray out there to satisfy even the brightest of pop-color enthusiasts. We explore four options in the gray category: two of the newer shades, a classic, and a crowd favorite, in order to find one that works best for someone who shops for color. On the table are Gris Asphalt, Gris Mouette, Etoupe, and Gris Tourterelle.
First up, Gris Asphalt. A newer color in the Hermès lineup, Gris Asphalt, or GA, is a gray with tan undertones. Gris Asphalt is a wonderful selection if you like the earthy tones of Etoupe but are looking for something a bit truer to gray. GA is a great spin on a classic and a beautiful neutral option.
Next, let's look at Gris Mouette. Another recent addition to the gray color family, GM is a delightfully clean gray. Lighter than steel with slightly blue undertones, with GM you can fulfill your ice princess fantasies during the winter season and dance around black in the summer. Gris Mouette is ideal for anyone looking for a true gray experience.
Where would we be without Etoupe? Etoupe, a darker gray with brown undertones, is a standard when it comes to Hermes neutrals. You can catch Etoupe all over Instagram as well as on the arms of celebrities, as this is a shade that never falls out of favor.
Last, but certainly not least, consider Gris Tourterelle. GT, as it's known by fans, is a lighter gray and a favorite among many. This well-loved shade has a tan tint, making it a slightly more colorful option than the true-gray GM. The hint of color underneath allows the bag to both blend in like your favorite neutral should as well gives a hint of a little extra something. Soft and inviting, Gris Tourterelle is a wonderfully romantic neutral. It also has been scarce and much sought after in recent seasons.
So, which shade of gray do you prefer? Is there another gray on your mind that blends all the wants of a color-lover with the accessibility of a neutral? Submit your answer below, and share your thoughts in the comments!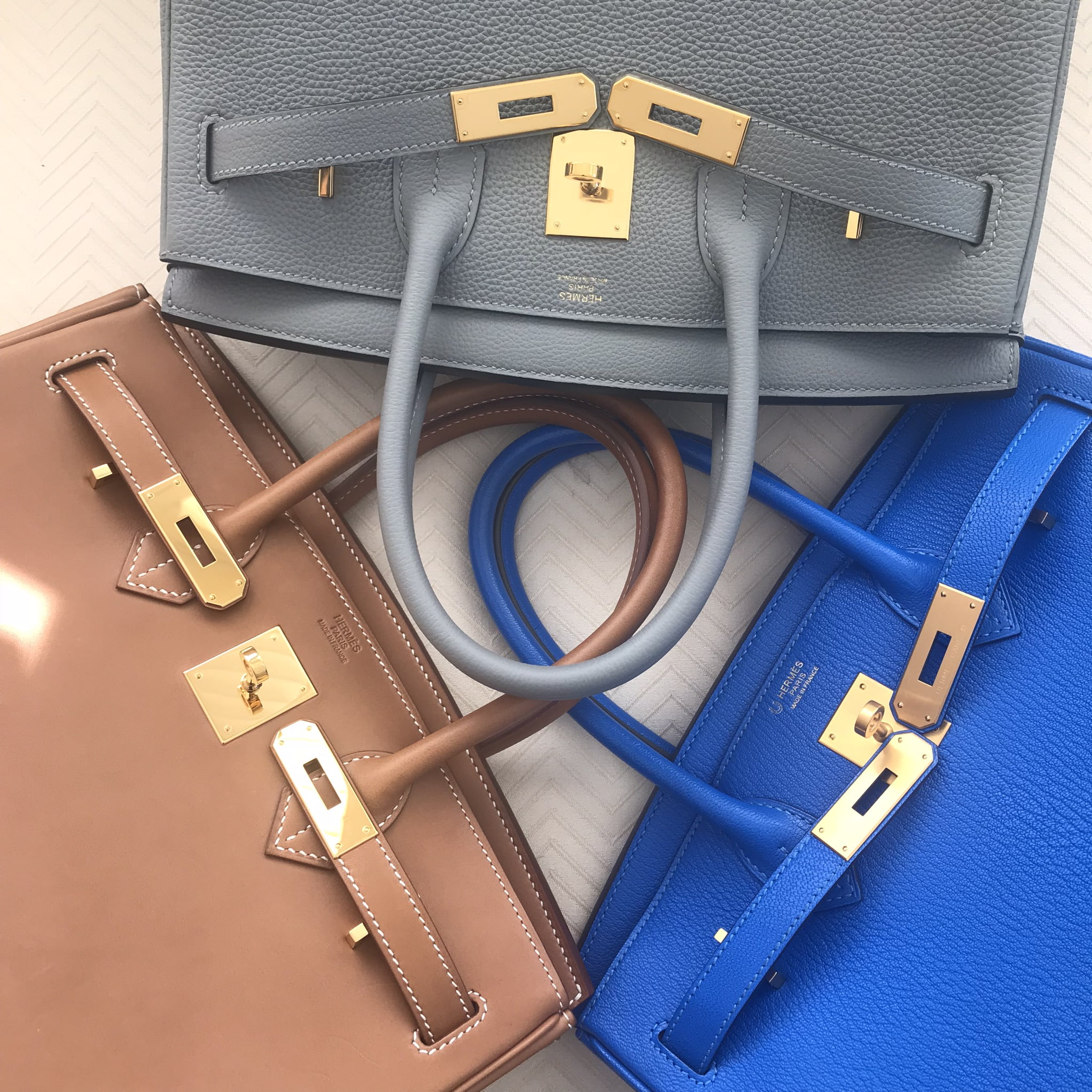 In addition to these comparison pictures, browse through our extensive neutral articles below:
PurseBop's Original Neutral Quest
Neutral Coverage from @Kugzz
Exclusive Narratives
PurseBop's Barenia Leather Birthday Birkin