Editor's update: January 5th, 2023.
In our books the Mini Kelly 20 is pure perfection. Then came news of a new special edition version we reported to you summer of 2022.  This edition had a canvas strap similar to that of the mini Evelyne that works cross body for most.
AND NOW OMG, they have made the new version EVEN BETTER by offering both straps. The original leather strap and the canvas one. Double the pleasure! Wear it sporty with the canvas strap or dress it up with the matching leather one.
It seems Hermès is really listening – as many who were lucky enough to be offered this new canvas strap variation were also scrambling to somehow order the original leather one too. Now you'll get both. Bravo Hermès.
Priced at $9250 in Epsom leather.
If you're reading this because you're as Mini Kelly obsessed as we are, then you'll want to also want to read this: A Special Hermès Christmas Delivery
Original article May 7th, 2022.
Hermès, have you secretly been listening to PurseBop's dreams and wishes? There might not be a girl in this universe that has professed her love for the mini Kelly more than me. But not for all the same reasons every other person seems to love it. 
I cannot comfortably wear the mini Kelly crossbody. If you remember my earlier rants… I pined for a Kelly Pocket Strap because it allowed this pint-size treasure to become a multi functional bag (for me).

Well, now there is more breaking news on this front! Are you ready for this?? Because I'm about to blow your socks off…
Hermès has just released the Kelly 20 II with a mini Evelyne sized strap. OMG, OMG! 
Are you able to assess my level of excitement…lol. 
Let me set the scene… when one of our community members reached out this morning to share her latest acquisition and camaraderie over Blue Brume, I nearly had a heart attack.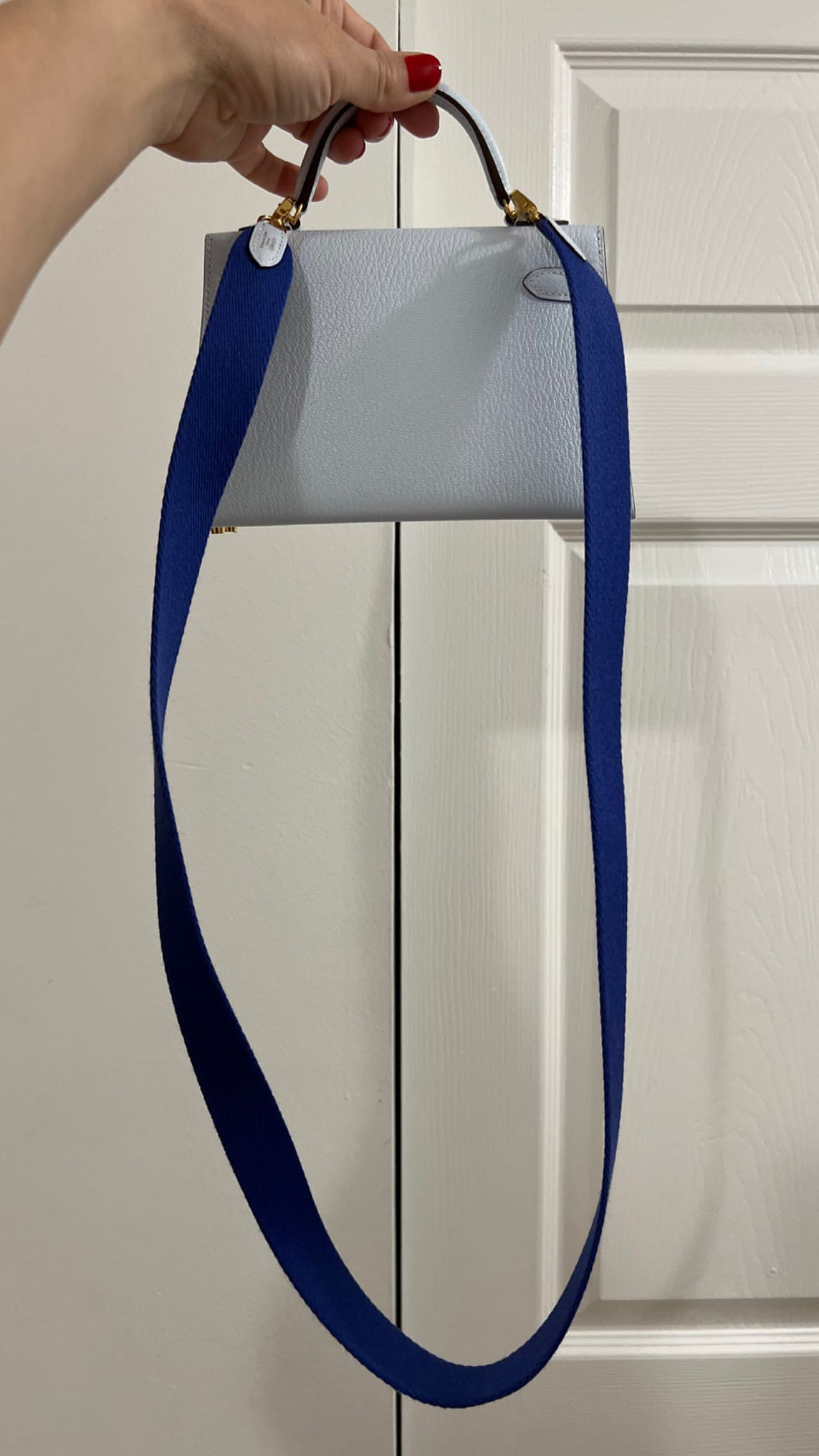 Hermès you are GENIUS. Single-handedly, you have created a new generation of mini Kelly lovers with this new version, and perhaps a greater appreciation for the ones in the past.
We haven't quite established if this is a limited edition release or if this is the new generation. This is our first sighting of this incredible invention. Just look at the details. The contrasting color leather on the canvas strap. Then the complementary color of the strap to the leather bag. Simply brilliant: Blue Brume Chevre leather against a Bleu Electric strap. 
Personally, I think it's mind blowing, totally ingenious.
But much like the mini Evelyn that comes with contrasting colored straps, there are lovers and haters. There might be the same for this new mini Kelly version.
Now that I've gotten the excitement section out of the way – let's talk logistics: 
Length:
We've measured it out. For those familiar, the new canvas strap on the mini Kelly is approximately the same length as the mini Evelyne strap (which measures 42 inches). The new strap is also considerably longer than the original mini Kelly leather strap. Essentially, the new canvas strap will allow crossbody wear for taller, curvier people. The new strap is also the same width and material as the mini Evelyne strap.
Hardware:
The hardware of the new canvas mini Kelly strap is the same size as the hardware on the original mini Kelly leather straps. This is the perfect and proportionate fit – unlike using the Kelly Pocket Strap with the Mini Kelly. The clasp hardware on the Pocket Strap is considerably larger so when in use there is the potential for it to rub against the leather.
Cost: This mini Kelly in Chevre leather with canvas strap cost $9250. In 2020 my Mini Kelly in Blue Brume but in Epsom cost $8,000 (in the US). We have not yet confirmed a price increase on quota bags for 2022 but it appears there may have been a slight hike. We do know that Chevre leather always commands a higher price which could be as high as $1,000. The balance of $250 could be the price increase or the strap. Stay tuned as we acquire more information.
Yes, we acknowledge this is a huge change to the look and wearability of the mini Kelly. The vibe is definitely more casual here. Is this a good thing??? Perhaps, or is it somewhat limiting? You tell us… 
For the mini Kelly lovers with a collection in their closet already, hallelujah for something new and fresh. For our aspirational mini Kelly lovers – is this the one that you want as your first?
As we have discussed extensively here at PurseBop, there is no other Hermès bag, or any handbag on the luxury market today  that commands the resale value of the mini Kelly. It is most often seen for three times it's retail cost on reseller sites. We have to ponder, what will this new design do? Increase the values even further?
Also read: Deep Dive Investigation Into the Popularity and Values of the Hermès Mini Kelly 20
I know one thing for certain, this release puts the spotlight right back on the most coveted Hermès style internationally. I don't need to convince you of that, just ask your Hermès SA. 
Now off I go to text my Hermès fairy.
P.S. special thanks to @styledbymarina xx
Love PurseBop
XO
p.s. special thanks & congratulations to @styledbymarina