I promised you an instant reveal so I'm going to keep this one short and sweet  – at least by my standards ;). But first, I need to take you back to my Christmas 2020 reveal of the Hermès Mini Kelly in Blue Brume. 
I quote my article directly:
Wearing the K20 crossbody is not an option for me. Just imagine it near my armpit, lol. Okay that's an exaggeration, but not by much. And although I do wear it over the shoulder from time to time… in my opinion the strap is just too thin and the bag never heavy enough to hold it's own.
That's not to say I haven't found an alternative strap. The new thick Kelly pocket strap caught my eye recently. It debuted for the S/S 2020 show (read: The Handbags From Hermès Spring Summer 2020 That Excite Us) and is just now trickling into stores (at least here in the US). It appears to be a very limited offering. This, I am dying to get my hands on. After all, this will elevate my Mini Kellys game to the very top of the handbag armoire. Call it the star on top.
So, to anyone reading, consider this my official announcement:
PurseBop wants the strap in 105 cm (that's the longest I think) in Blue Brume (or any co-ordinating color) and with gold hardware. In fact if there's one to match my Rose Extreme mini beauty, I'll take that too! If anyone comes across it —anywhere in the world, please contact me.
I mean can you imagine how cute it would look strung across my chest with a summer floral dress, or so casual and chic with just a playful printed T-shirt (think Gucci), leggings and cute kicks…Can we call it the perfect hands free travel accessory for just ID and a credit card. I can't even imagine how much more I would use my minis. Some may say that the strap is disproportionately thick/large or overwhelming for the K20, but I LOVE IT! 
At the time, I exhorted the world and certainly any sales associate or reseller in the world to please find me a Kelly pocket strap. I wanted one so desperately and unfortunately there were none to be found at Hermès.
I distinctly recall a conversation with my own boutique sales associate asking whether I should buy from a reseller. And her reply was, if you want one that badly then yes, I guess go ahead because we don't have any nor do we expect to receive any in the near future. Very few actually were available to the US market. 
With her permission, I embarked on a wild goose chase. Resellers came out of the woodwork DMing me on Instagram with options. I reached out to others. Truthfully there weren't many choices as Hermès released straps in few colors. So, no luck finding a color that made my heart sing or one that really coordinates well with my collection. 
I moved on. Sort of. I still paused at photos of the strap on any Kelly 20, 25, or 28, long or short. There's just something about this look that elevates the level of "chicness" that comes with my beloved Kelly.
When I was in Paris December 2021, I expected it to be the best opportunity to inquire. However, as you all know, inventory at any Hermès boutique including the mothership was slim. I was convinced I definitely was not going to get one, ever. But, I should know by now, never say never.
Fast forward to February 24th during British Airways flight 297 from London Heathrow to Chicago O'Hare. Shortly after I signed in and purchased the Wi-Fi package, I received a text from my beloved Hermès SA… 
"Ms globetrotter…where in the world are you? Are you still interested in a Kelly pocket strap…?"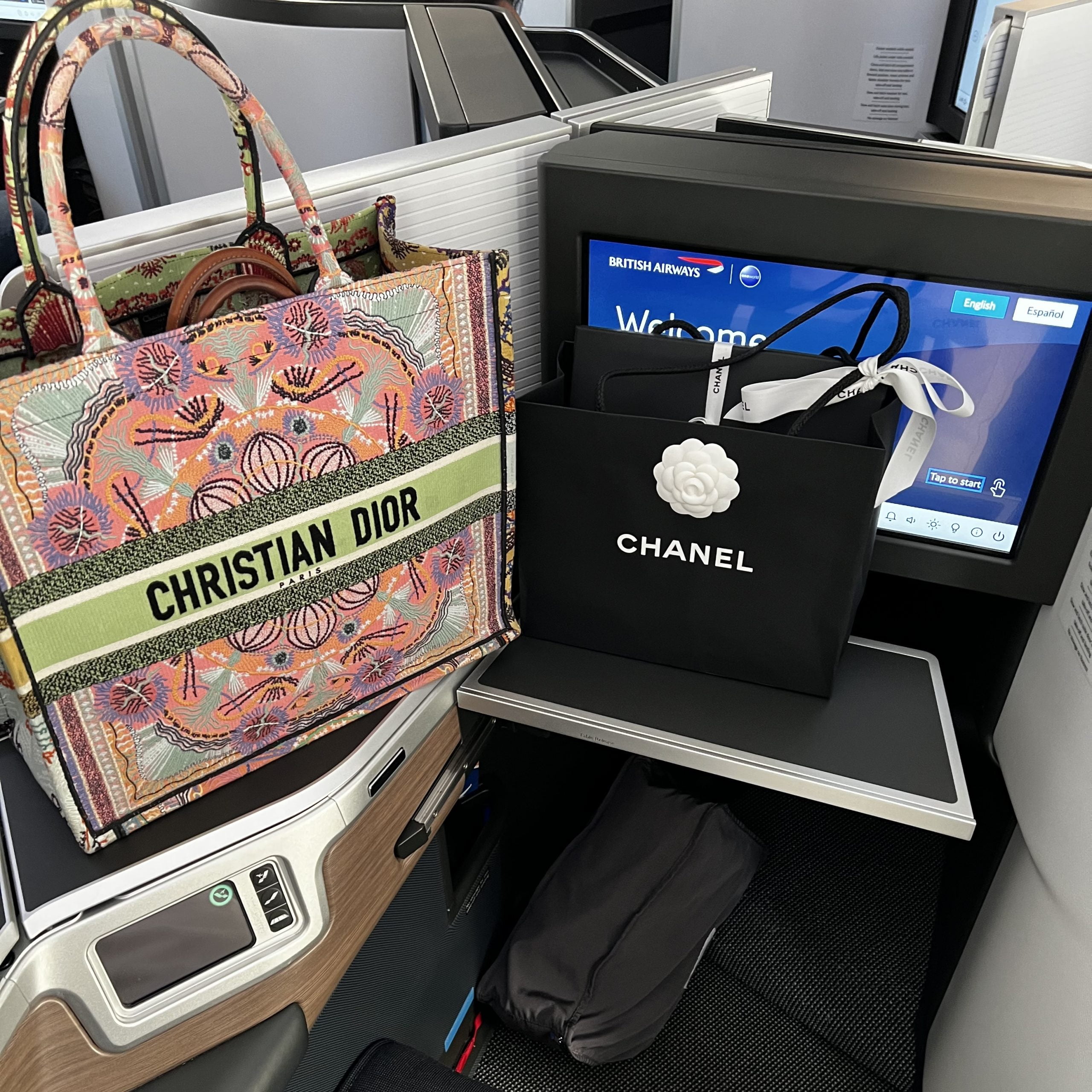 I don't believe that I replied with any words, just a series of emoticons that filled the length of a full paragraph. She immediately replied:
"OK -OK let me see what I can find… I think I might have a black…"

To which I replied.."I will take anything in any length but you know my collection so pick something really good…"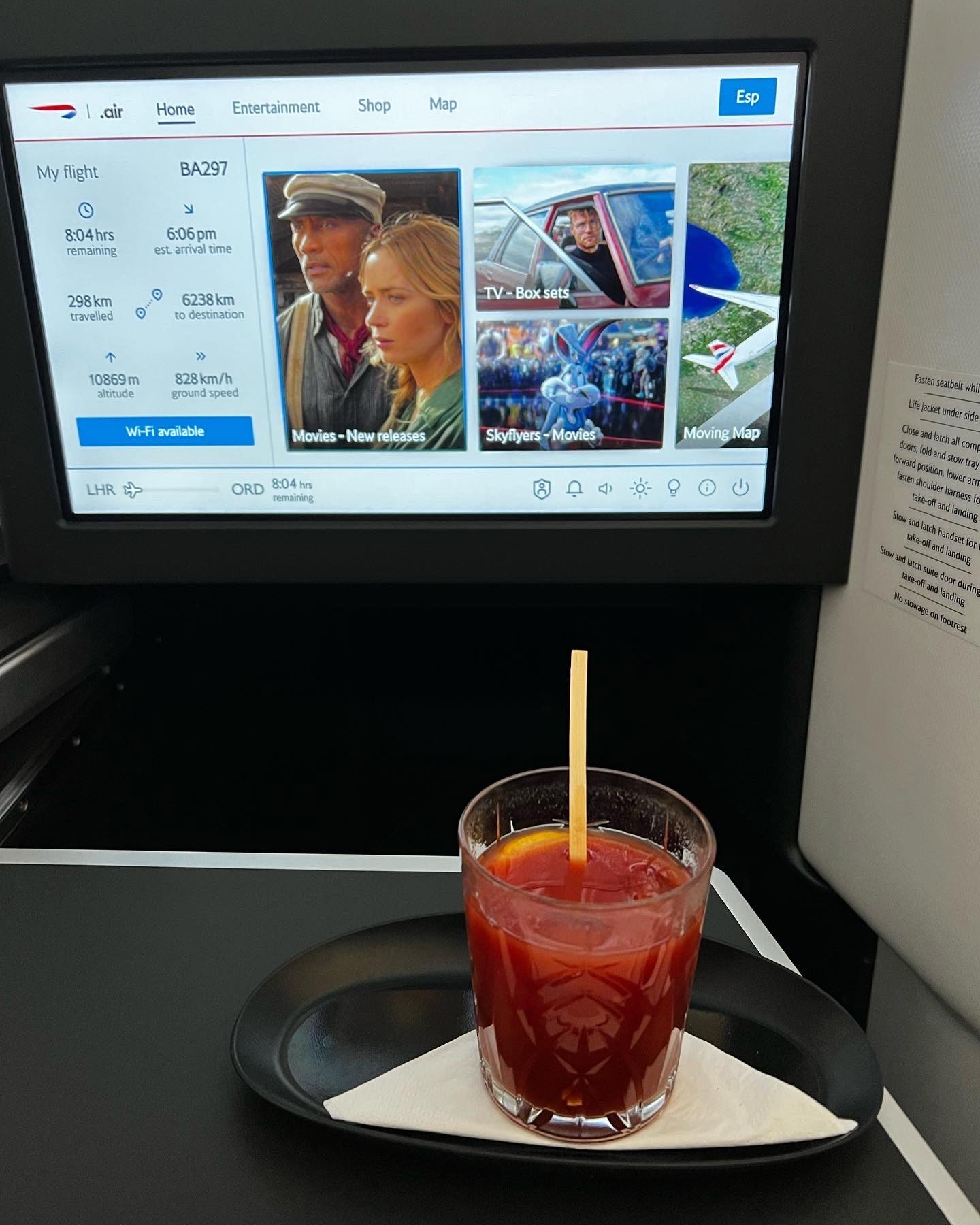 I'm sure, a drink or two later… all the while clutching my phone… I finally received a message from her: 
"I found you something really good."
Since I trust her completely, although I was dying to know, I could have left it at that and just waited. Then I had an idea…
My level of excitement was so high – as high as the altitude that it dawned on me (or maybe it was the vodka) –  that I asked for a photo of the box to share with all of you right there and then. I told her I wanted to do an instant reveal, so she assumed I wanted a photo of the actual 'thing', thank goodness for high-speed internet, the photos were received right away. Airborne. 
I literally gasped when I saw the color combination of the strap she had selected. Questions fell out, all of which loosely translated to OMG: are you serious, is this even possible, when did they make this, and how did she find it. These are the thoughts that were rushing through my intoxicated head.
I replied with a bazillion emoticons again and said… " but wait, send me just a photo of the box, lol.
And then this is what you saw on my Instagram stories: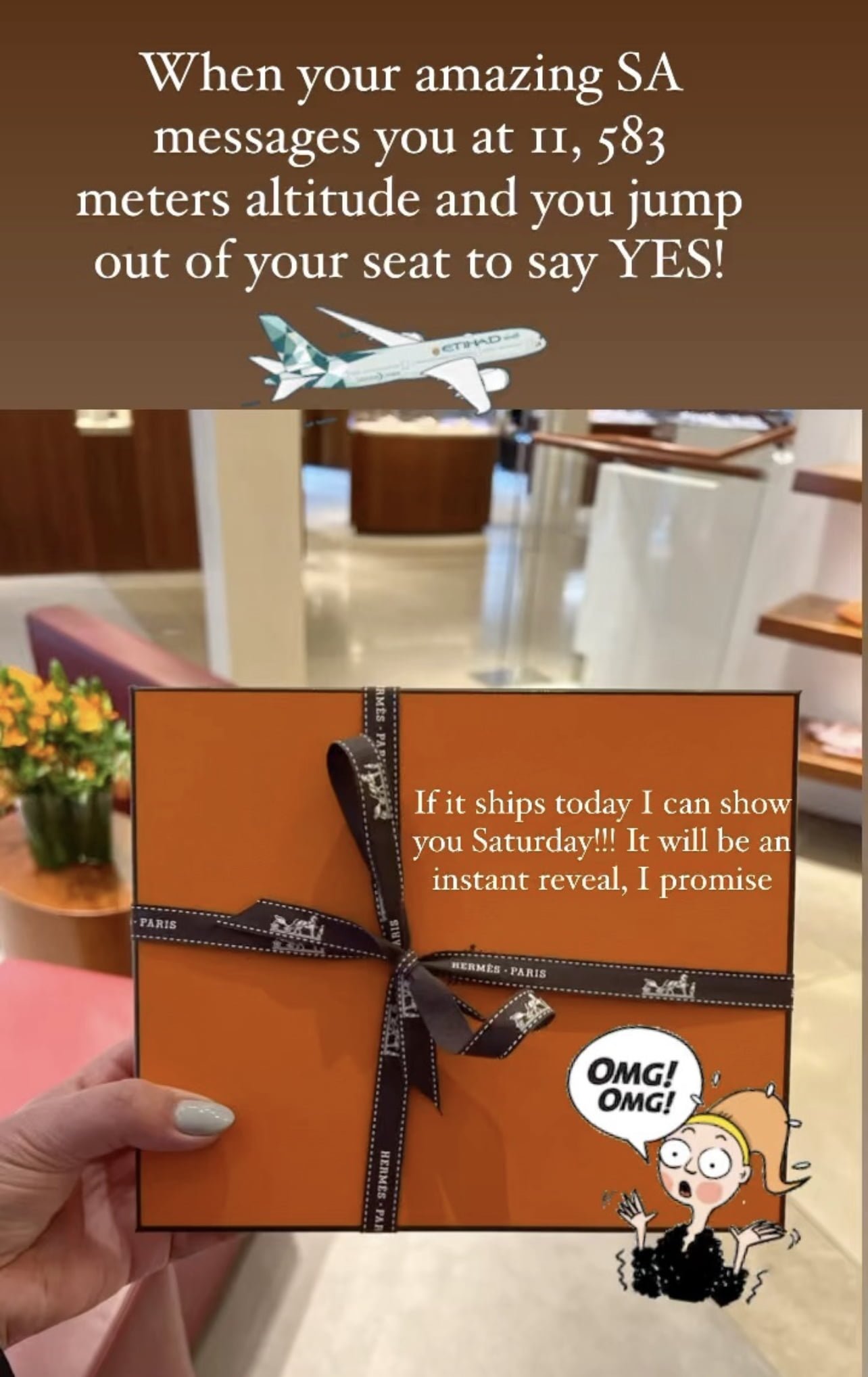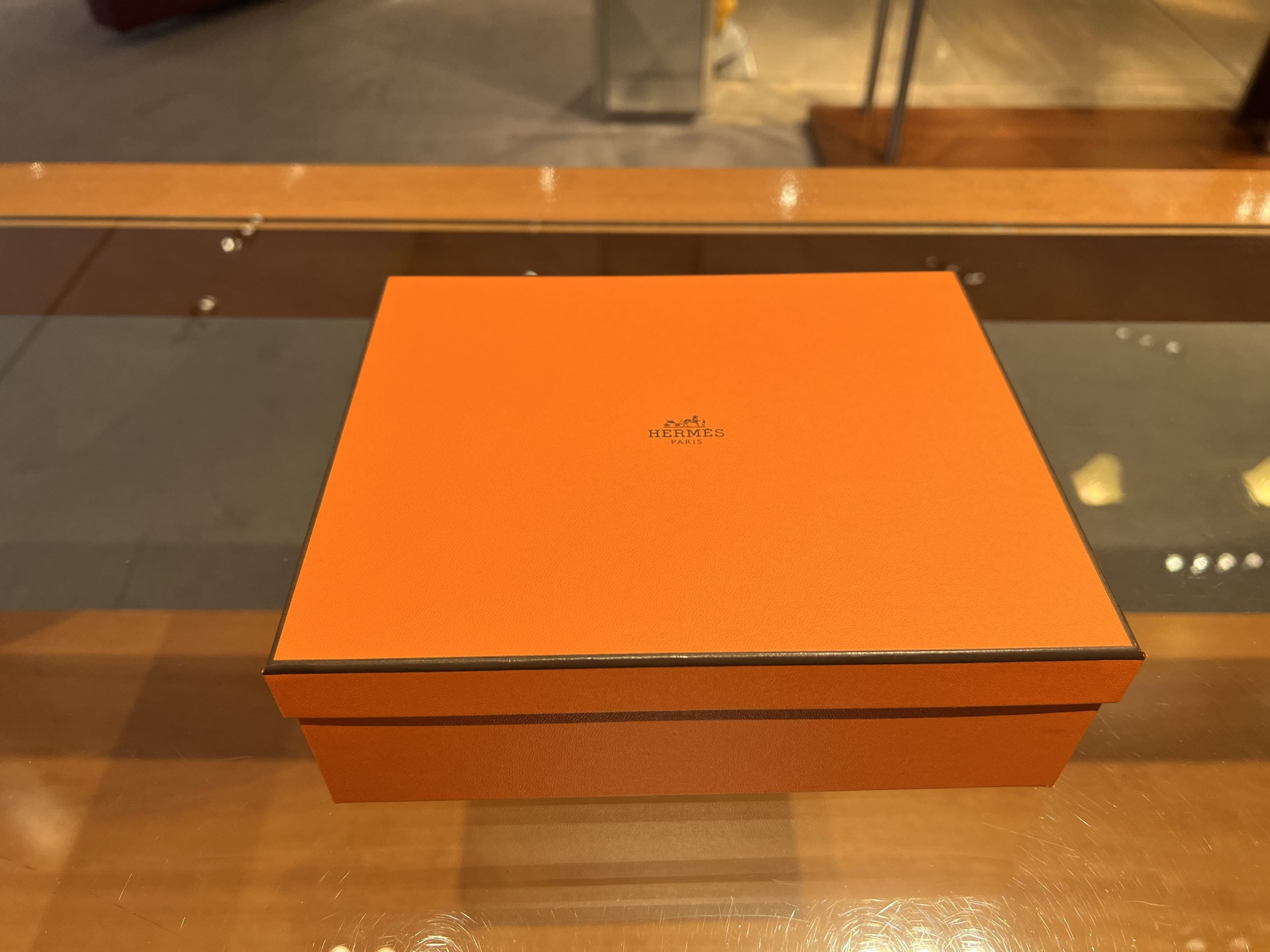 I did inquire about the length. She replied, "as perfect as it can get for you for cross body." I'm going to come back to this in more detail and elaborate, but later. For now, just know that the Kelly pocket strap comes in three lengths: 70cm/85cm/105cm. 
It will take some time to do this holy grail strap justice in photography and video… perhaps even a modeling photo and if I'm desperate it'll be on Mr. PurseBop but till then, as promised, here is my instant reveal of what might be PurseBop's most desired accessory ever 💝
Updated: March 9th, 2022