Part I: The Hermes Kelly Retrieval 
Miss Noir slept comfortably untouched under my bed for many  months, except for one episode where she came out to sit in the sun to do the 'skunk test' (I'll explain this later).
Now begins the fun part, my favorite part: the education, the appreciation, and the legend. I was determined to learn as much as I possibly could about Hermes, and specifically the Kelly. Before I opened Miss Noir and put her into rotation I needed to be sure that SHE was indeed the bag for me.
It was a process, one that I enjoyed thoroughly, and have documented here at PurseBop. com during the past 2 weeks in a series of posts. Without being repetitive I'll share my main focus areas and link to the respective posts.
I think my obsession over the box under my bed became more intense after I launched the @PurseBopPicks Instagram page and was now noticing Hermes more in general and of course specifically the Kelly pictures I was reposting. Simultaneously, The Birkin Fairy did THE INTERVIEW of my SuperBagXLVII's 1st anniversary. My trip to Miami with my Birkin, and the newly acquired accessories for her, along with a few exotic CDC purchases had me all tangled in Hermes excitement. I started the hash tag #PurseBopsGoneKellyCrazy and launched the unofficial Hermes Week here on the site  all at the same time. Pictures hash tagged #PurseBopsPicks started pouring in of the Kelly and I was officially consumed. I think the video expresses my state of mind best, LOL.
I started a dialog of Kelly related questions I had with The Birkin Fairy and shared the initial questions referencing size and color in the "to Kelly, not to Kelly" feature. I will continue from where I left off here: 
Dear Birkin Fairy,
Let's first talk leather, what would you recommend for a Kelly, keeping in mind my purpose of daily wear, and my current collection of black handbags (assuming we are considering black)? 
Dear PurseBop,

 When choosing a leather at Hermes it most important to know that not one skin will suit every buyers' requirements. Each one is unique and has its own set of values.

Let's take closer look at the most commonly available leather options:

 Veau Crispe Togo– Togo is a beautiful skin that ranks highest in popularity. Togo gets the most "buzz" and a lot of clients never look past it. This caviar-grained skin is great at resisting scratches and maintaining its shape. You can't go wrong with togo as your first H bag.

 Taurillon Clemence – Clemence is a thicker, heavier skin compared to togo. Most people cannot visually tell the difference from togo since the bumps can look identical. By not properly stuffing a clemence handbag it will eventually slouch and the handles may topple onto its self. However, its strength is a stand out amongst other options. Durable and tough you'll find this choice in Hermes luggage or travel bags. This would be a good choice for #whatsinmybirkin.

 Box Calf – Box calf was the very first leather used in a Hermes handbag and was commonly carried by Grace Kelly. As we discussed in our previous conversation, this skin is timeless and elegant. The Kelly bag pairs up perfectly with this smooth and resilient skin. The first scratch is painful, but it does get easier. You want to be able to really enjoy your bag and if getting a scratch will deter you from carrying it, I would avoid box calf.

 Epsom – Epsom is embossed calfskin. Therefore the grain is not natural and after many years of wear, it can rub out and flatten. Colors appear vibrant and it's a happy medium between togo and box calf. This is a good skin that adds to the versatility of your already existing Hermes handbag collection.

 Precious Skins – Precious skins at Hermes include crocodile, alligator, lizard and ostrich. These leather options are produced in smaller quantities (more rare), have a significantly higher price point and are considered by collectors as the ultimate skin. Most clients prefer to start with a less costly option for daily wear and work their way to an exotic skin. This might be one to consider in the future.

 Hermes has a very large offering of skin types but not all are available each season. Your dream leather may not be available due to the following reasons; the color you've chosen, the hardware you want, your size preference, current items on order at your local boutique, availability from the tannery or artistic direction from the leather department. Regardless of what leather you choose or end up with, you can be assured that you are buying the best skin in the world. There really isn't a bad choice!
Can you explain the differences in the Kelly stitching that give some Kelly's the more boxy or rigid shape and some that seem to have a more relaxed appearance? Are there any advantages or disadvantages to either that I should be aware of? 
There are two very distinctive shapes to consider when contemplating a Kelly purchase. Here are some pros and cons to consider:

 The first one, as you mentioned, is the "sellier" option that appears more boxy and structured. This style is also known as "rigid", which refers to the visible topstitching along the side seams. The handiwork that goes into a sellier is much more complex, therefore a higher price tag. The seams are topstitched together and a bee's wax is applied by hand to the edge. This beautiful side seam is resilient to damage and you'll find it very durable. Sellier Kelly bags do appear larger, so be careful when choosing a size. You may need to go a bit smaller than you would on a retourne. I find the sellier option very appealing especially since there are limited designs at Hermes, which showcase this craftsmanship. If you are planning to grow or start a well-rounded Hermes handbag collection, a sellier Kelly bag should be considered for your collection.

The more relaxed version of the Kelly is called "retourne". This inside out stitching gives it more of a relaxed edge and can also be seen on a Birkin. In the past this stitching was referred to as "souple". Nowadays souple, in Hermes terms, refers solely to the softness of the skin. The most appealing part of a retourne Kelly is that it complements a more casual wardrobe and someone with a laid back approach to fashion. Most women are looking for a Kelly that fits right into their busy lifestyle; this option does that perfectly. Stylistically it also compliments popular textured skin choices like togo. A retourne Kelly bag will eventually need refurbishing to the leather edges, just like a Birkin. One important thing to note is that tearing or scratching the leather in this area can be very damaging and repairs at Hermes can be costly.
I took my time carefully studying and gathering the Kelly pictures posted at @purseboppicks to pull out examples of each. This proved very helpful for me. The difference between the two becomes crystal clear.  There are definitely more retourne Kelly's out there than the sellier versions.
The Sellier Stitching Kelly: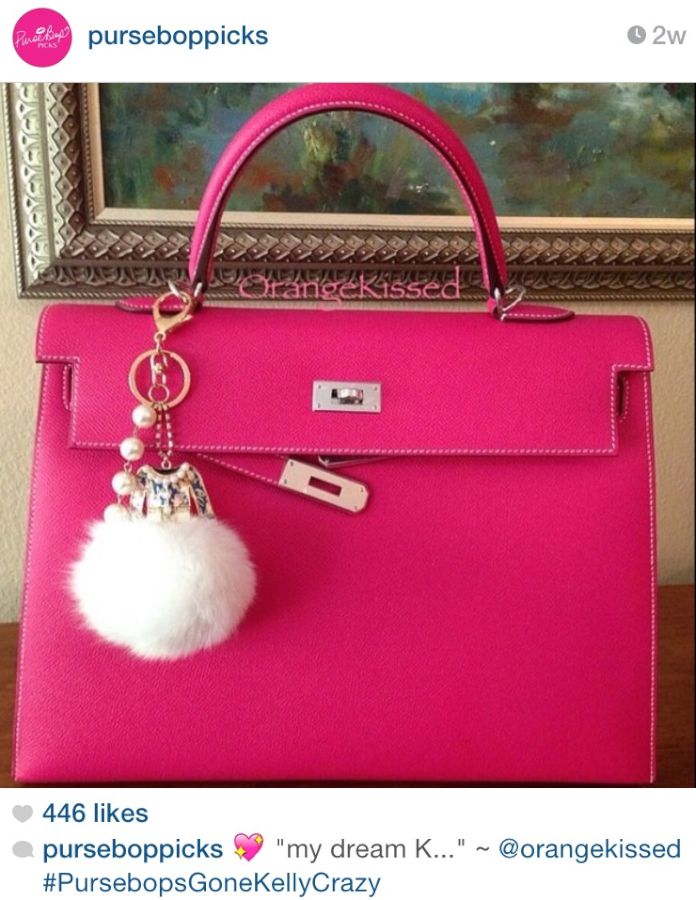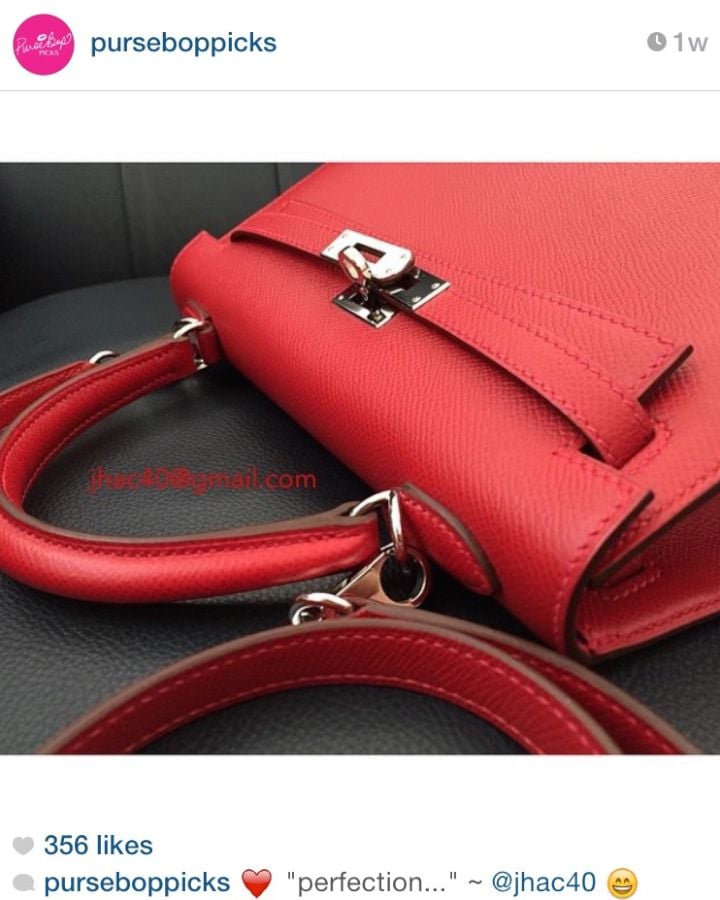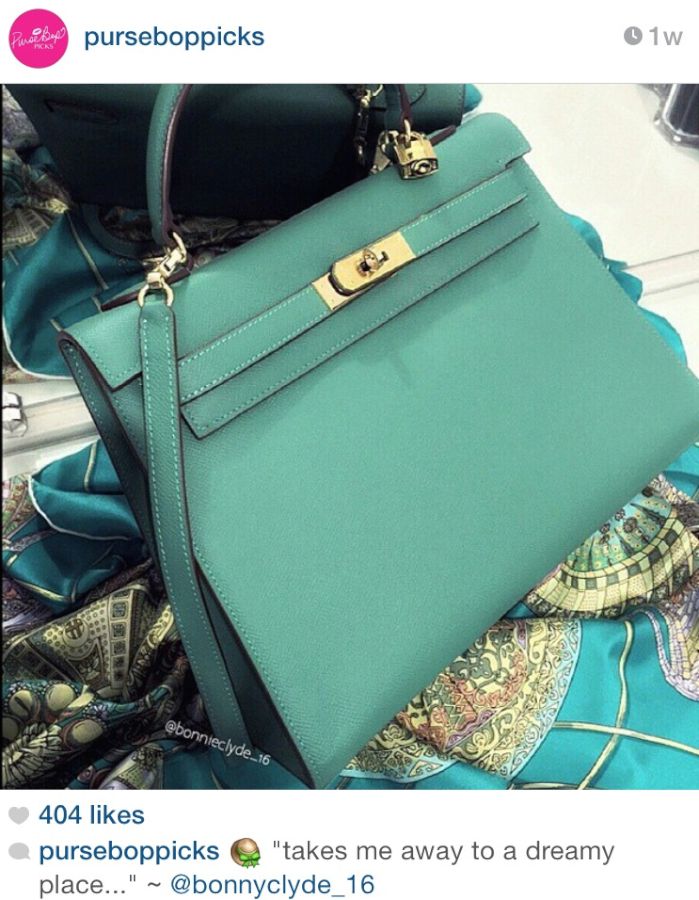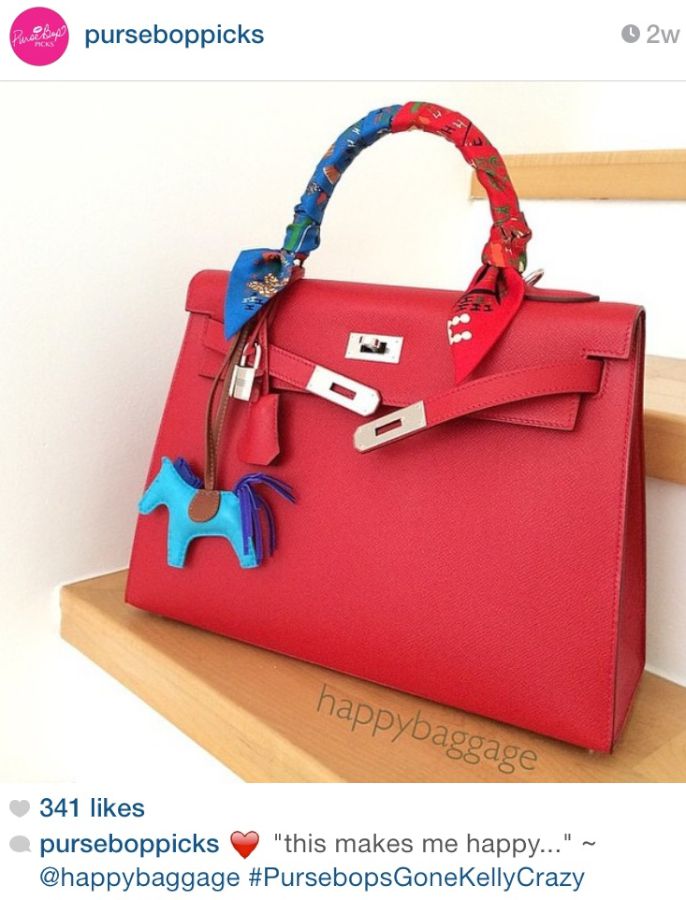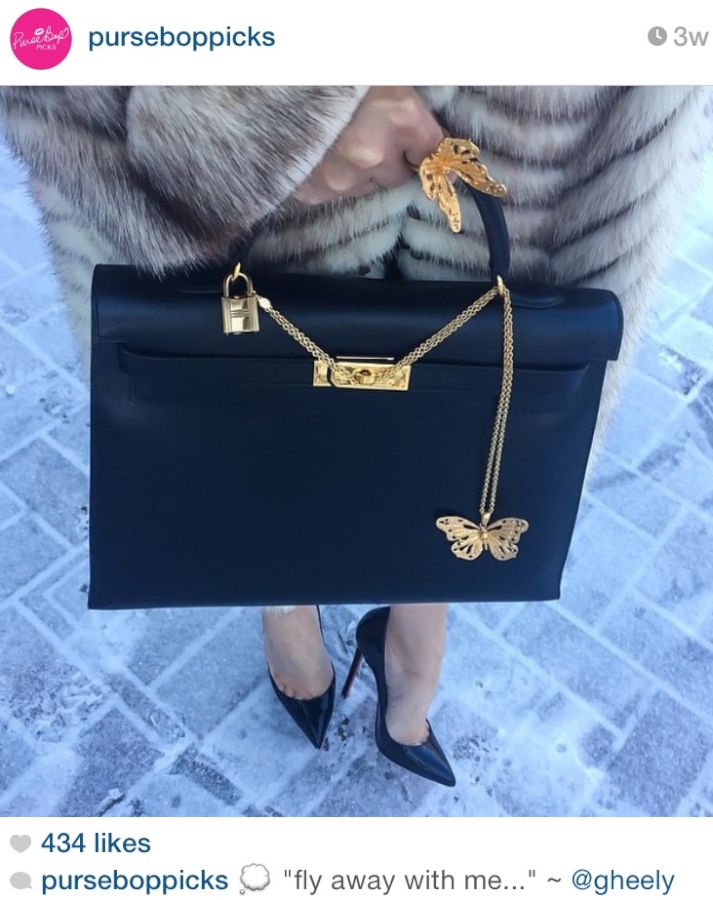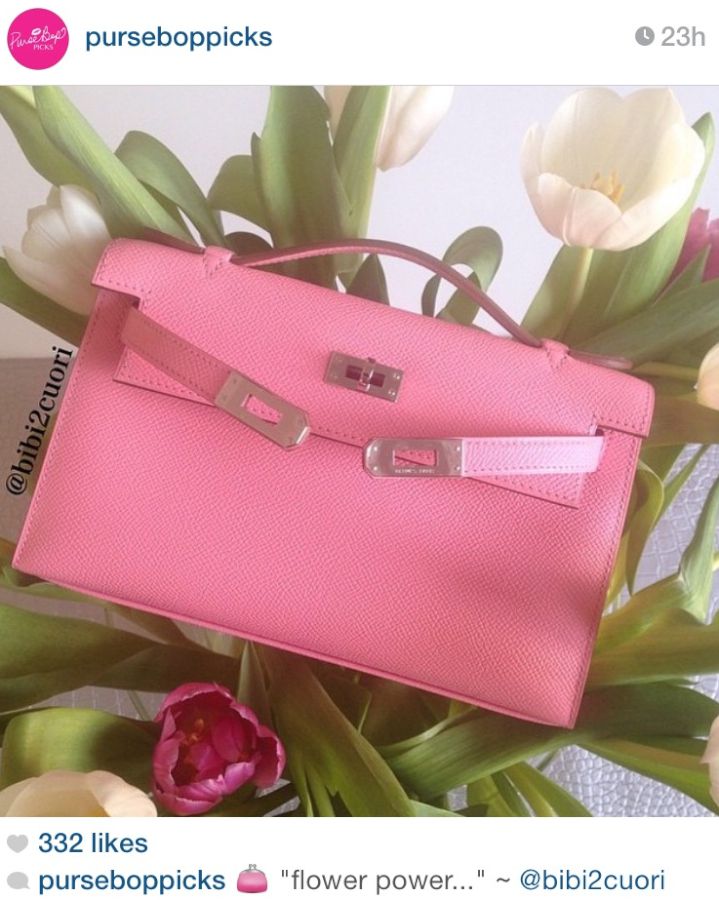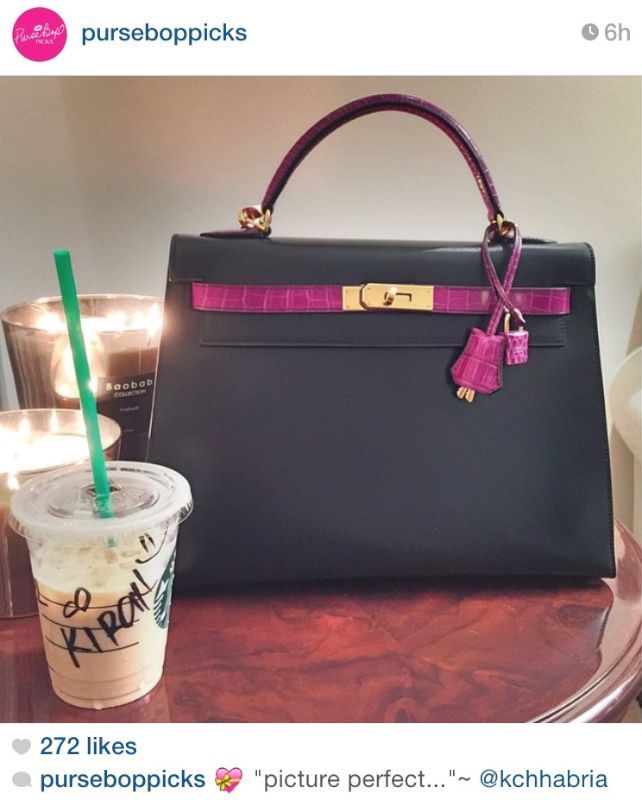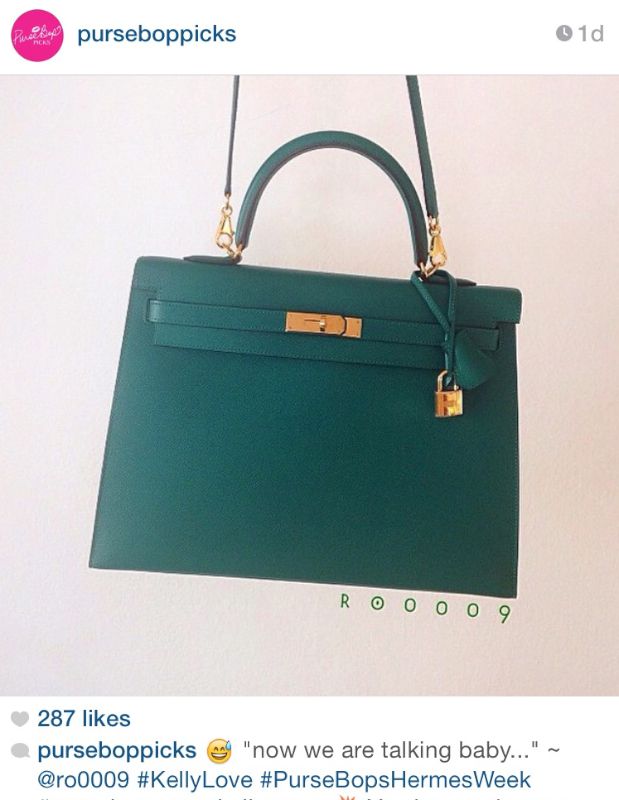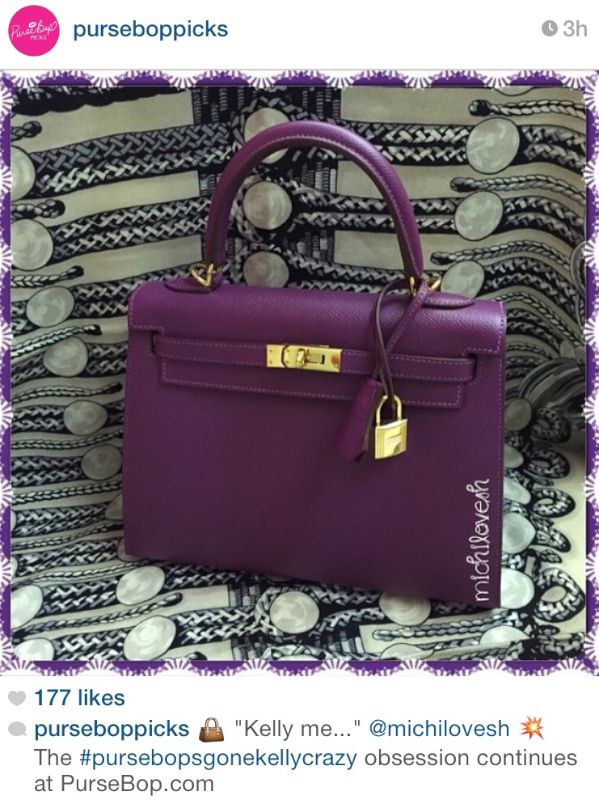 The Retourne or Souple Kelly: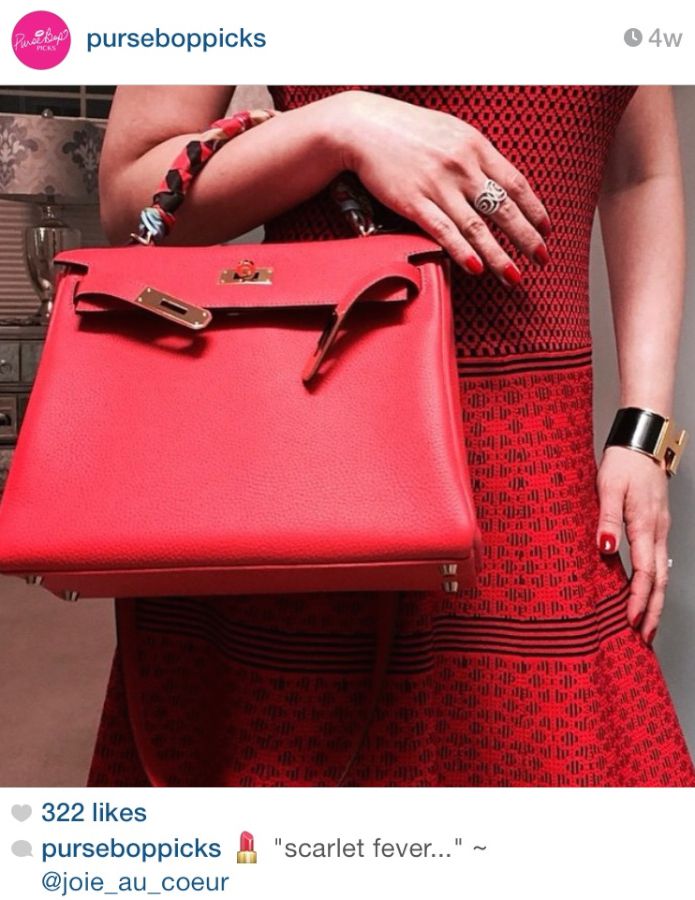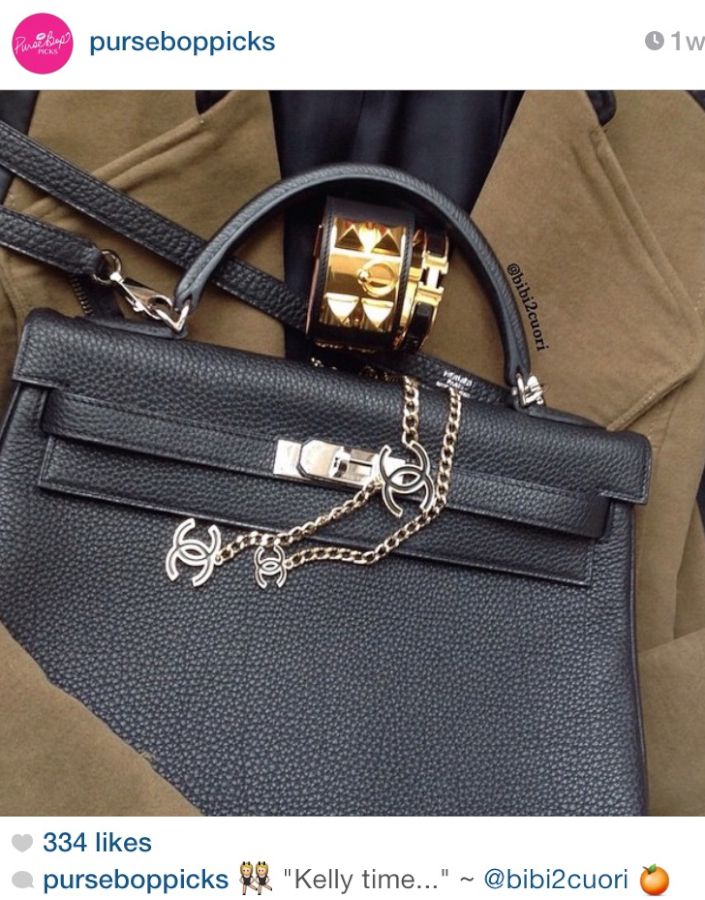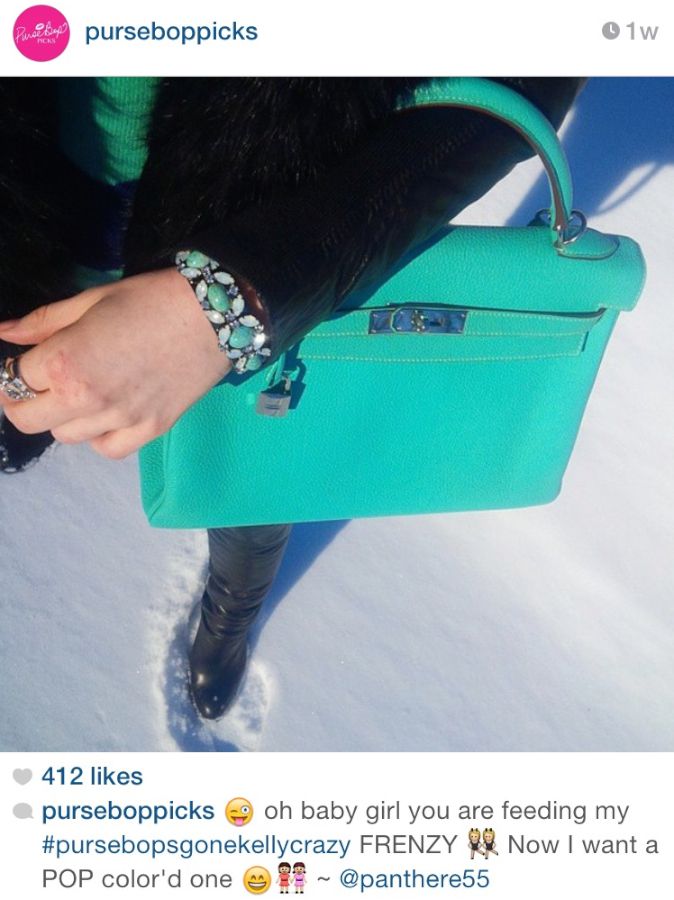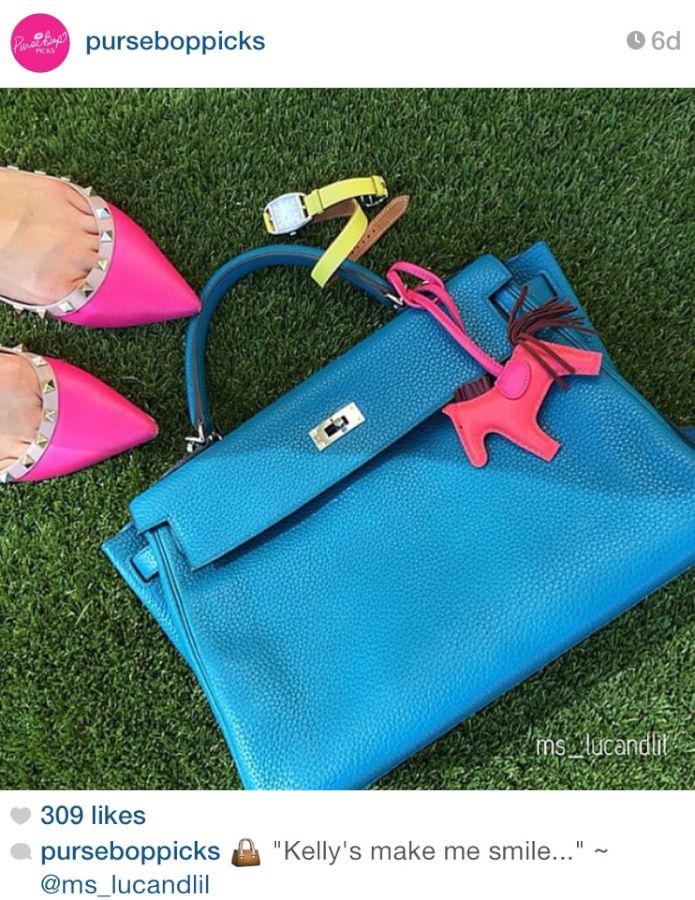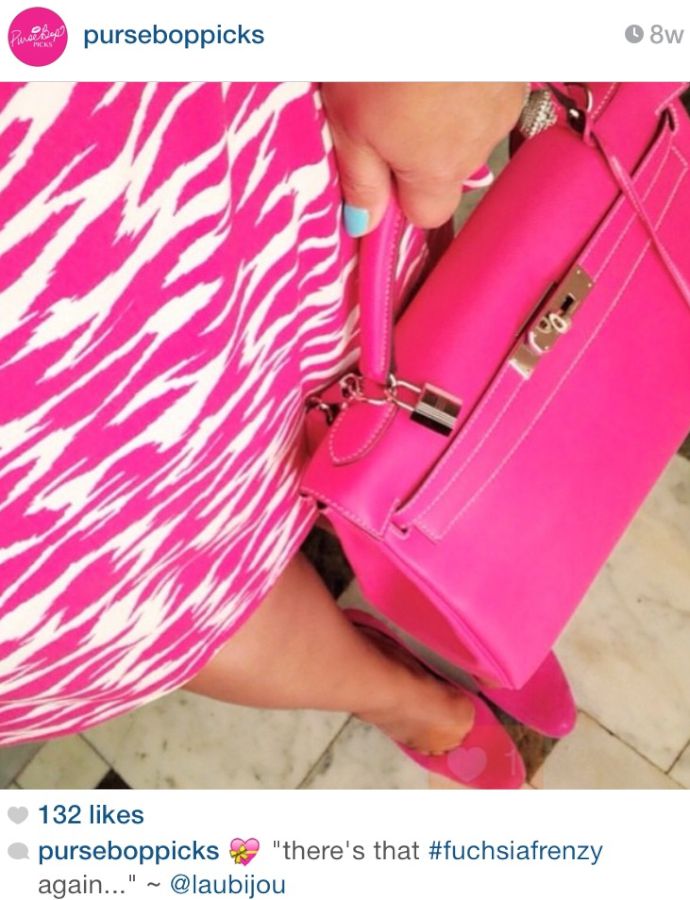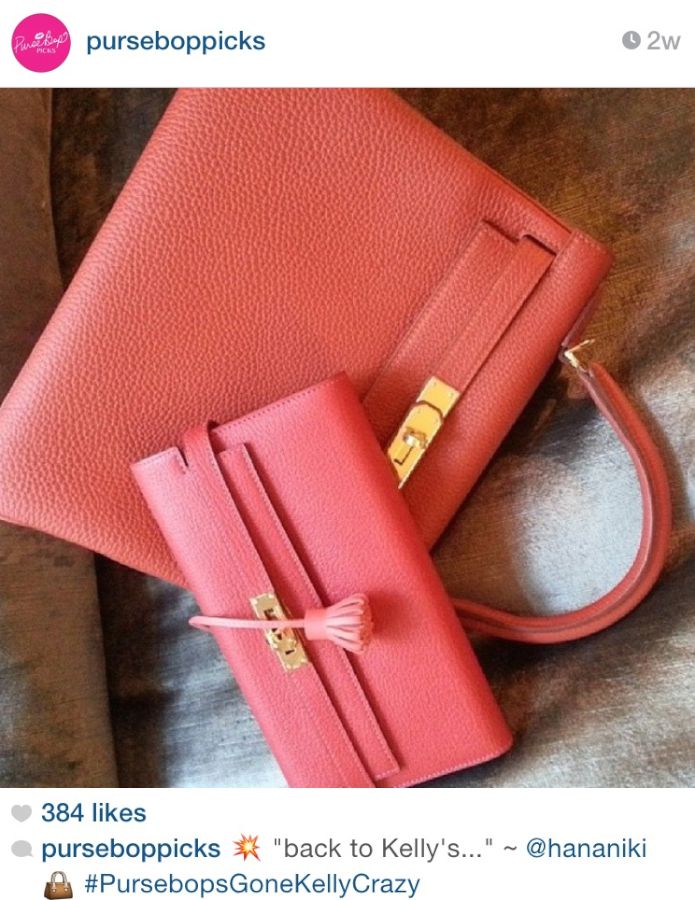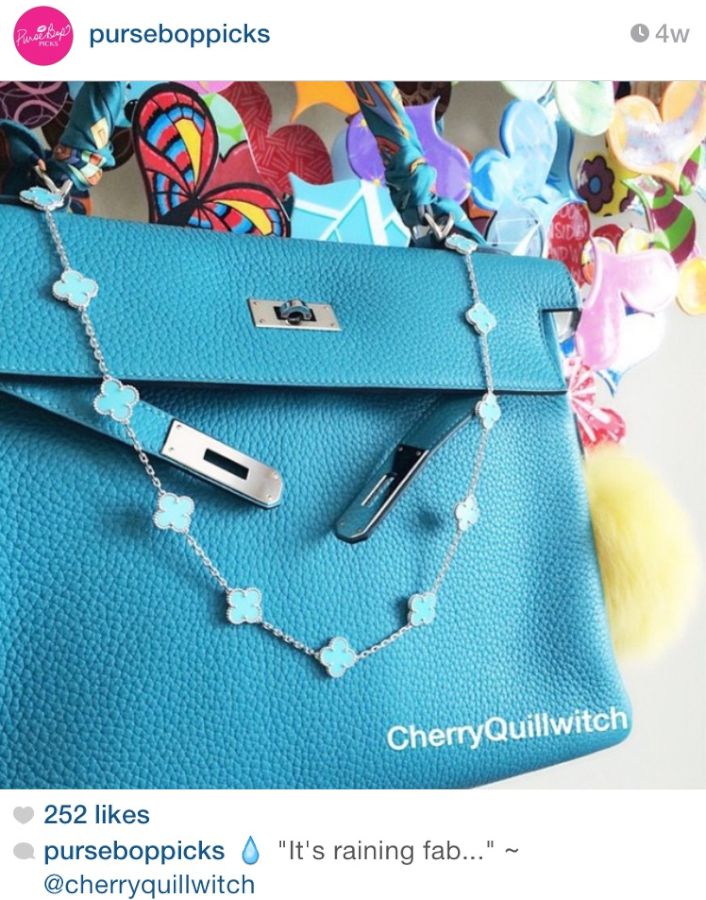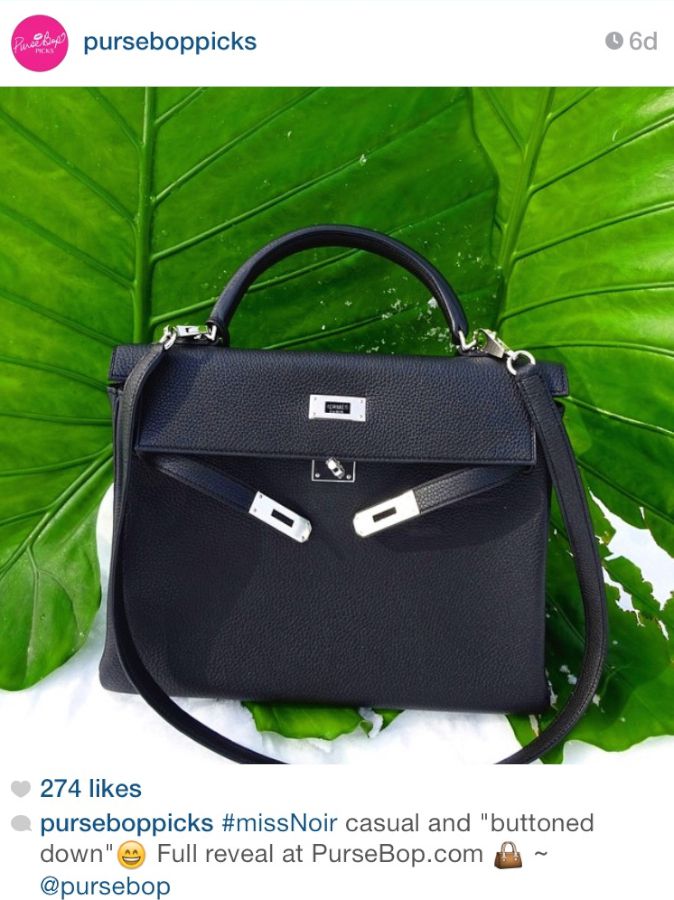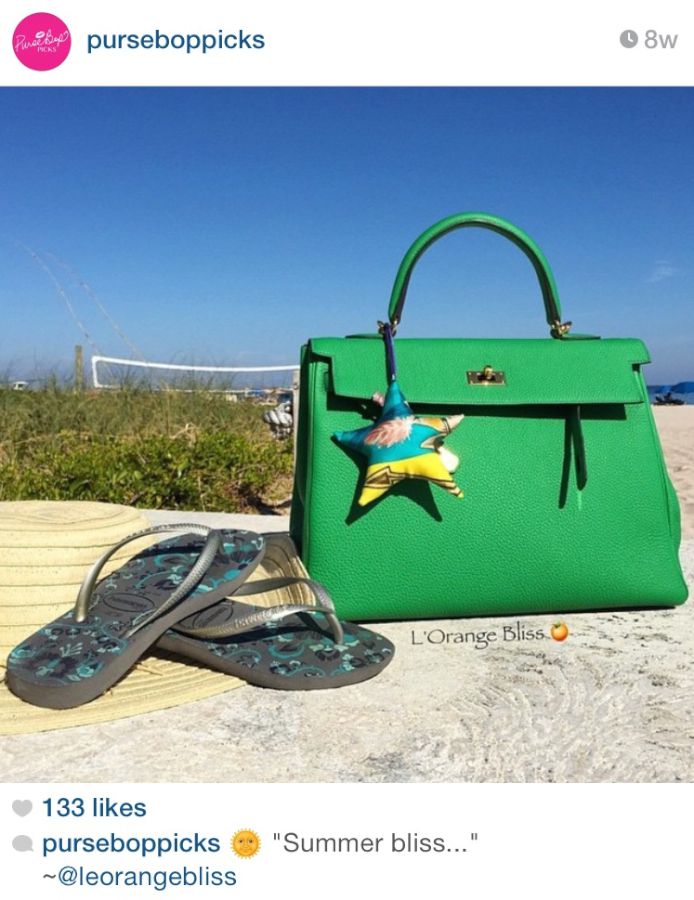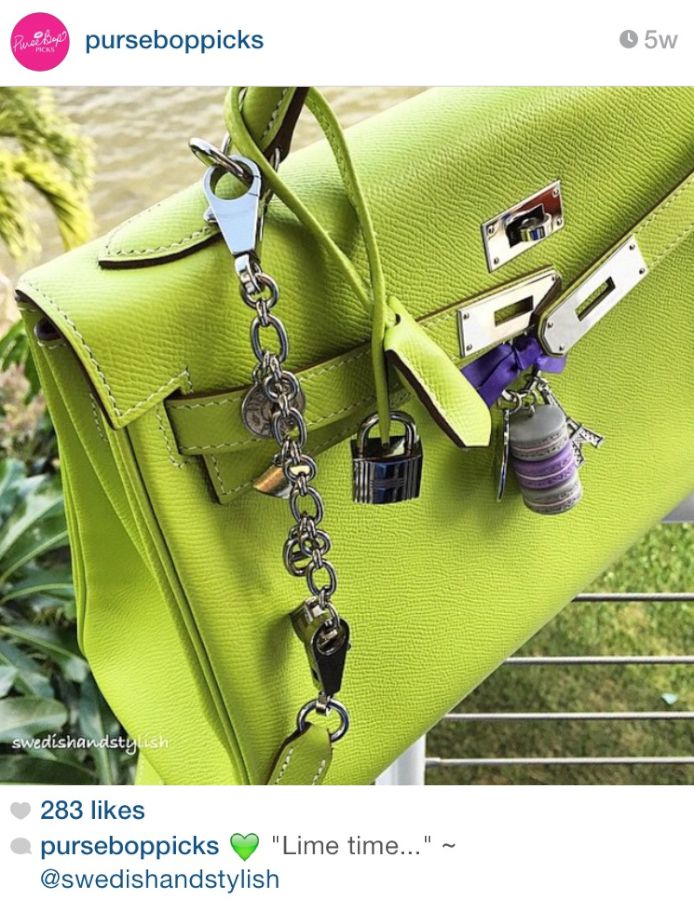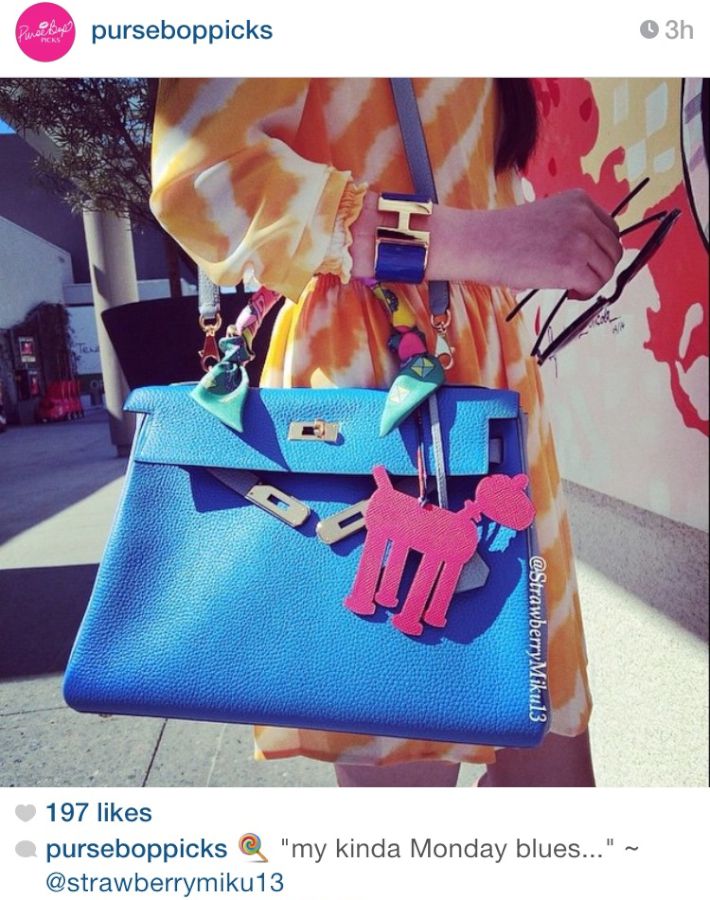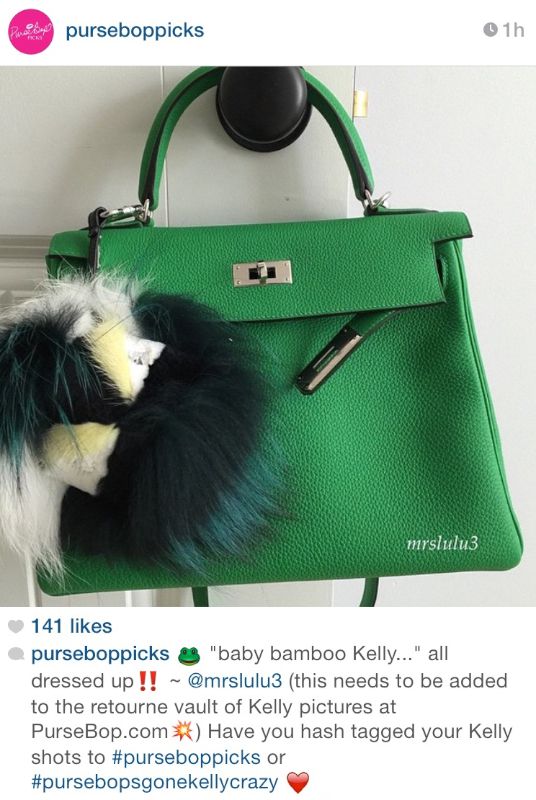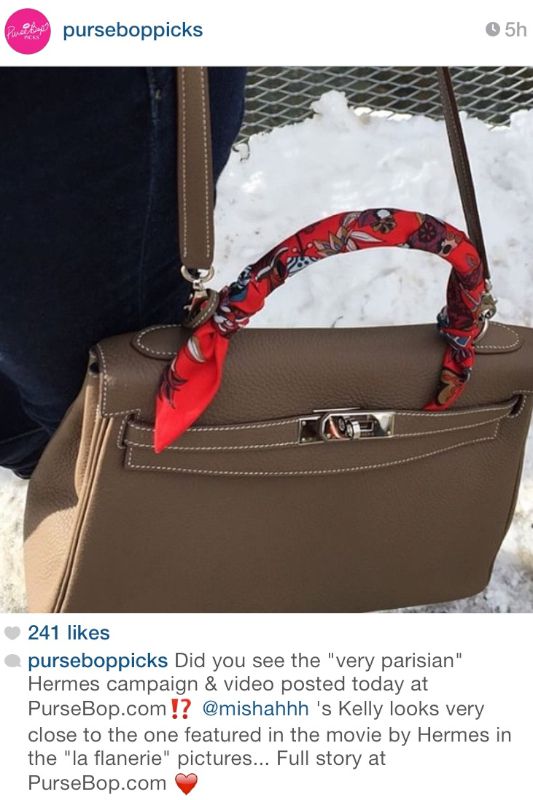 It used to be that I would see and hear so much more about the Birkin than the Kelly. In recent times I find that the Kelly is being featured on Instagram much more and celebrities seem to be spotted with it, especially in smaller sizes. I have friends that are solely requesting the Kelly to purchase at Hermes. Is the Kelly becoming more popular or is it just that I am focused on it, so it appears that way to me?
 Yes, this is actually true! The Kelly/Birkin pendulum has swung and the Kelly Bag is gaining huge momentum. For the last decade and a half the Birkin bag was by far the most requested bag at Hermes. Women today are requesting smaller and lighter bags. I often hear complaints about the Birkin's functionality or how the Kardashians have ruined the appeal of it. For whatever the reason, Hermes has taken notice too. Prices of Kelly bags in 2015 have surged drastically (up 18%) If handbag history has taught us anything, these bags will become even harder to acquire and the demand will continue to grow.   
I hope you are enjoying the detailed coverage of The Kelly as much as I am sharing it with all of you!
I'm certainly not done yet, Part III coming soon…
Love PurseBop
XO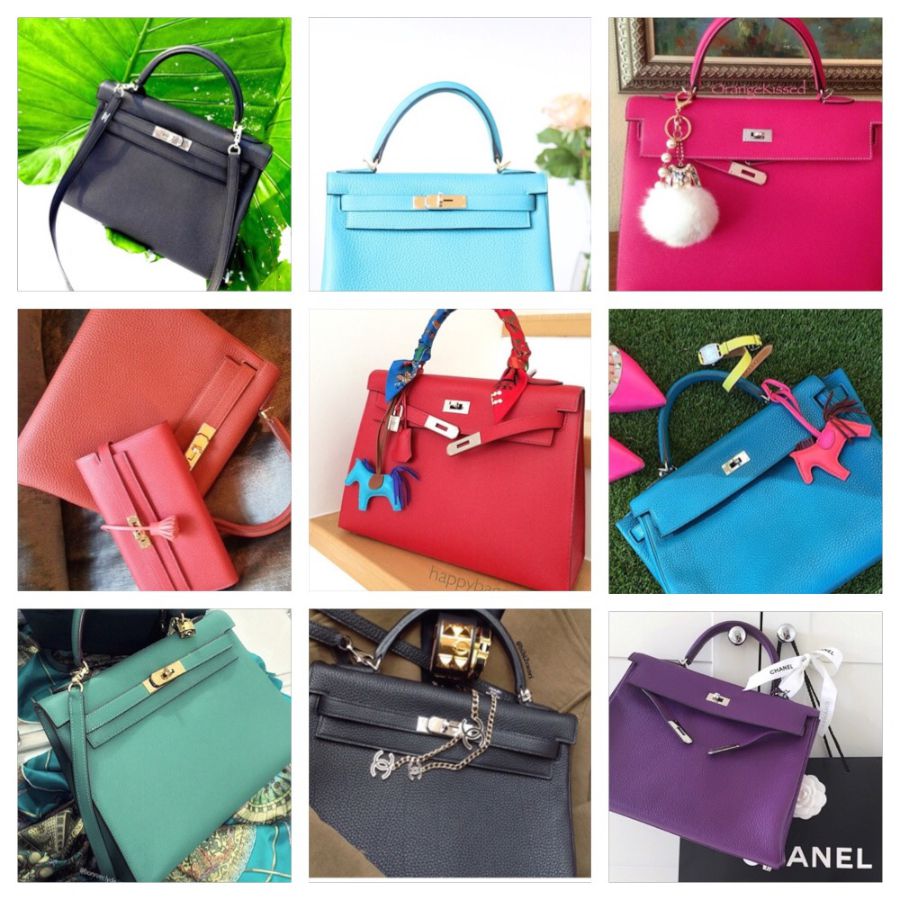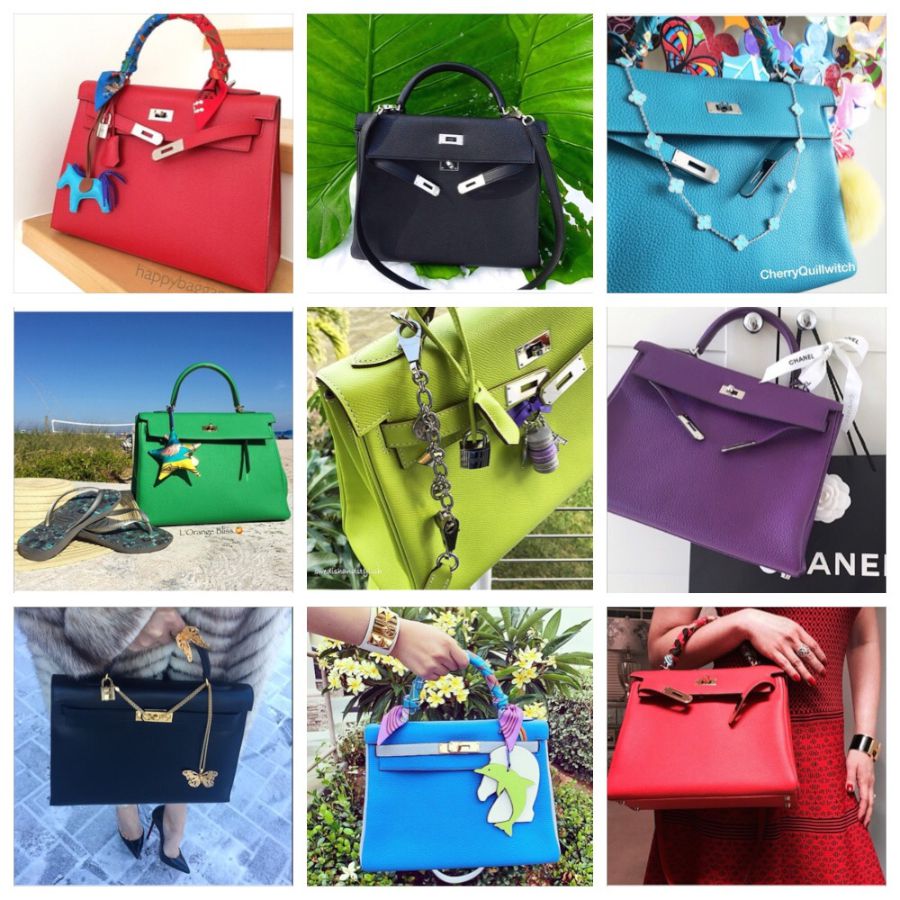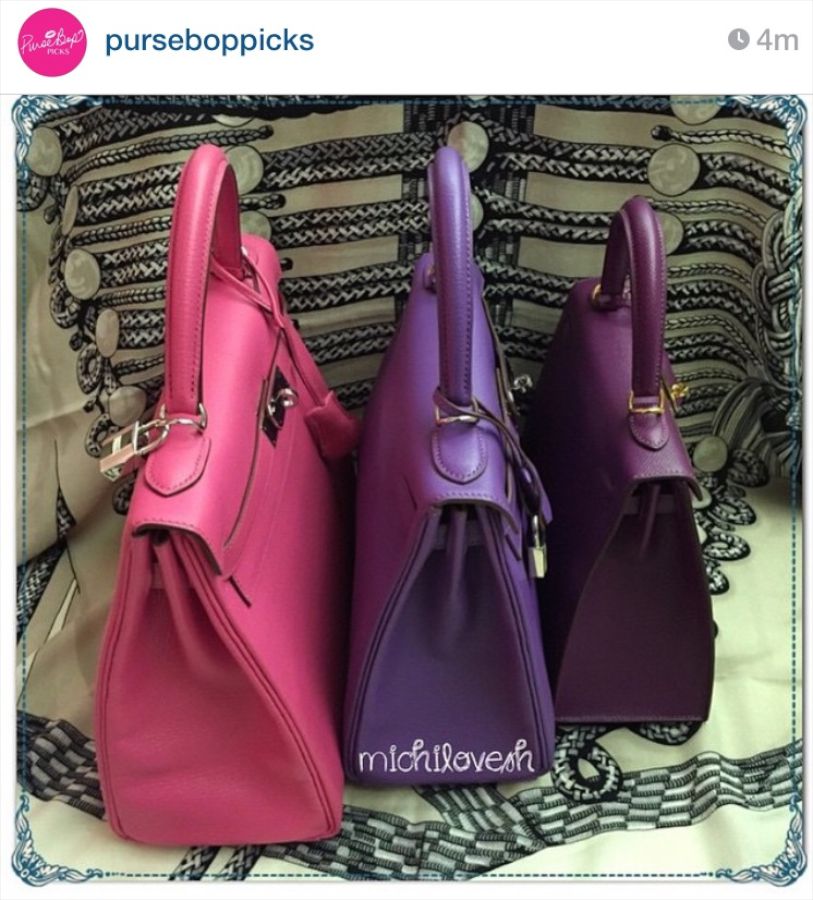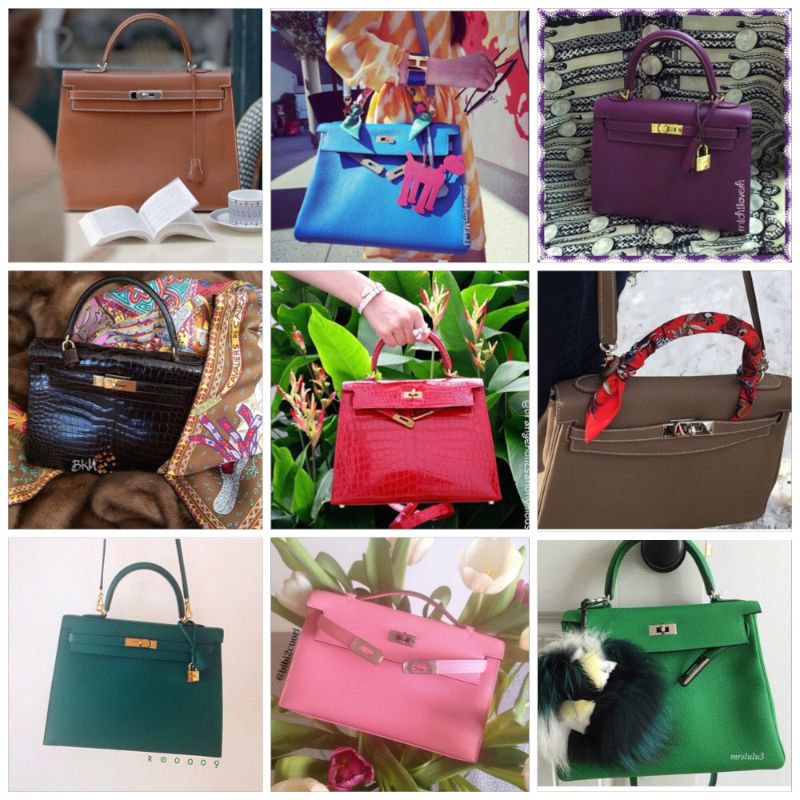 Updated: May 19th, 2017