Last week I revealed my Hermes Kelly Bag in a story board of pictures. Today I begin to narrate the story of how Miss Noir came to be.
Last August I received that elusive call from my SA rather unexpectedly. It was just two days prior to leaving on an international business trip so my thoughts were deep in preparation and my time was extremely limited.
My SA and I had chatted several times about my desire to try a Kelly next and my concerns with the Birkin. He was also keenly aware of my love for color. 
What  arrived was the Kelly 32 in black togo with palladium hardware. Hmmmmm… what to do? I had also repeatedly told him of my desire to build an Hermes collection with the classic basics too ( I discuss my tendency to gravitate to novelty bags in the "to Kelly, not to Kelly" post).
My initial instinct was to let it go. Without any pressure, my dear SA explained that black K and B's were by far the hardest to come by with a waiting list a mile long, especially here in Chicago. I felt it was prudent to at least go in and take a look.
I wish the story had been as romantic as the tale of  SuperBagXLVII but the truth is that it was pouring rain, I was alone and running in between meetings, and I had to borrow an umbrella from a kind bellman on the way so I wouldn't arrive looking like I just came through a waterfall, all to see a bag I wasn't completely sure about.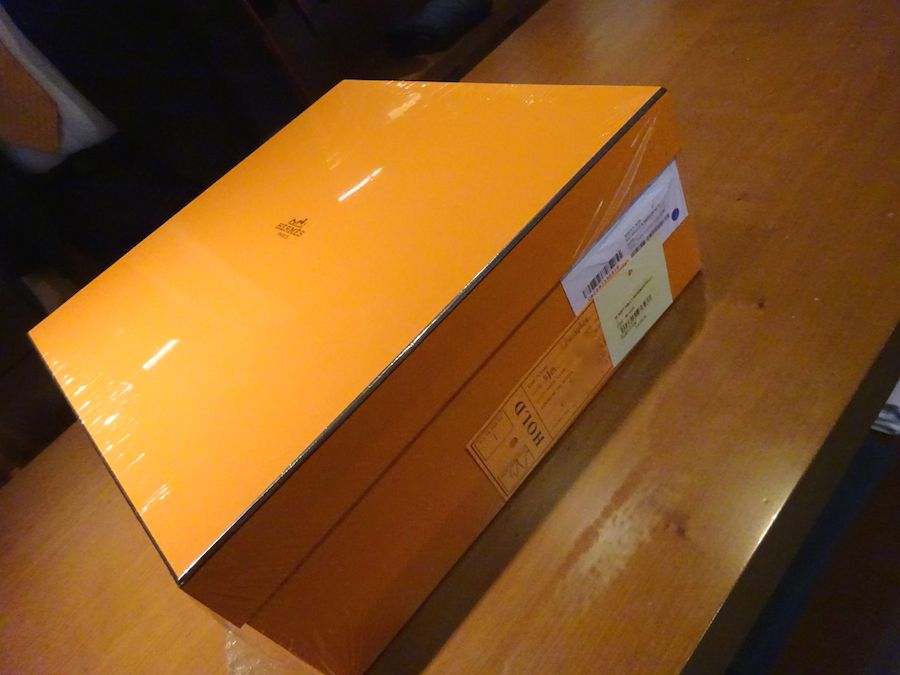 But once there, standing in the front of that table waiting for my sealed box to come out – a scene I remembered all to well, and had imagined doing again and again was happening – my heart raced, my palms got sweaty and my expression became flushed. It was as exhilarating as my first Hermes arrival. This would be my first Kelly.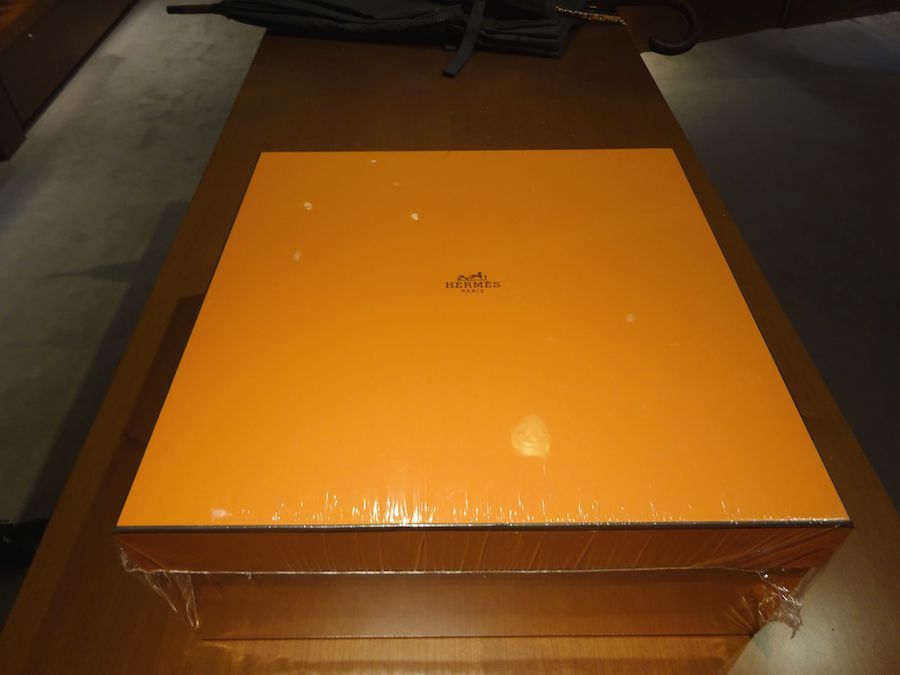 It was one of those moments where everything else in the background fades and  though you are present, all you can really concentrate on is the turning of the white silk papers: the unveiling.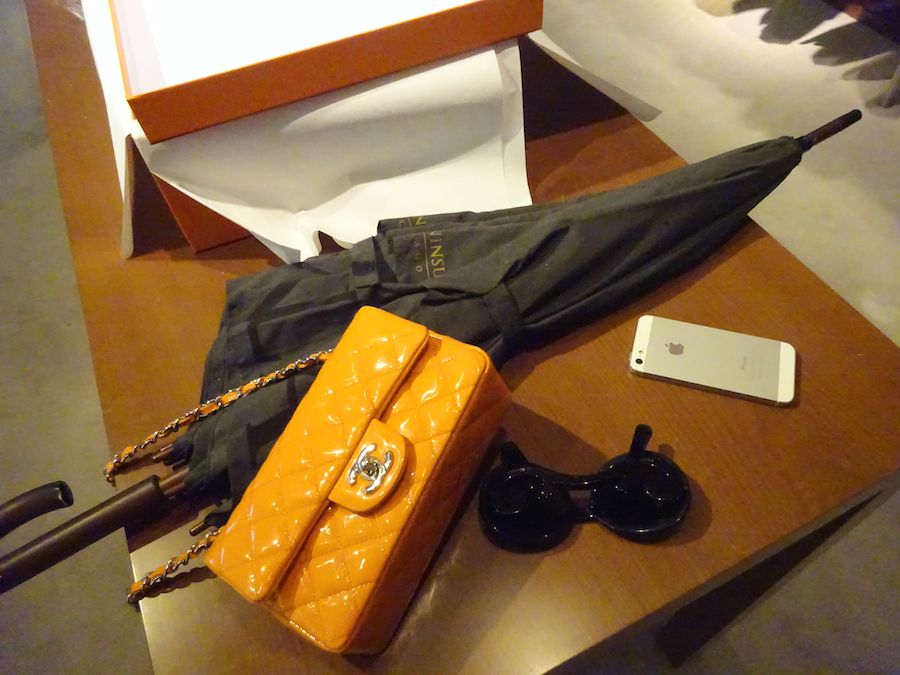 Miss Noir was perfect in every way. The size, the leather, the shape, the strap …all of it. But why wasn't I jumping out of my skin? As delighted as I was, there was a part of me that still was unsure. Should I pass, and wait? Would I regret that decision? Should I take it and think about it? I knew I was leaving for 2 weeks the following day. I asked if I were to let it go, would he get me another if I decided I wanted it. We all know the answer to these questions. "I don't know how long it could be before another comes" … "I can't guarantee that the same will become available". He explained that in the last six months their store had not received any black Kelly's at all. Then there's always the issue of the quota system,  and of course the ever looming price increases.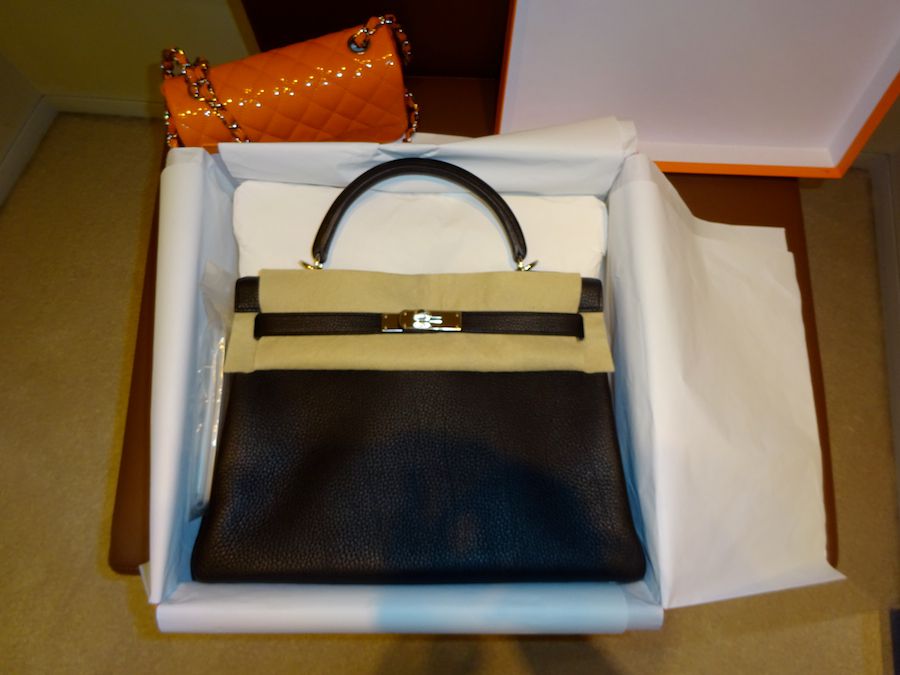 I played a little, tried Miss Noir on, admired her, examined her…asked a few questions but it was all very new to me. Was black going to be too boring ?  Or was it an iconic classic that I would appreciate in my collection over the many years to come?  Myriad thoughts were swarming in my already cluttered mind.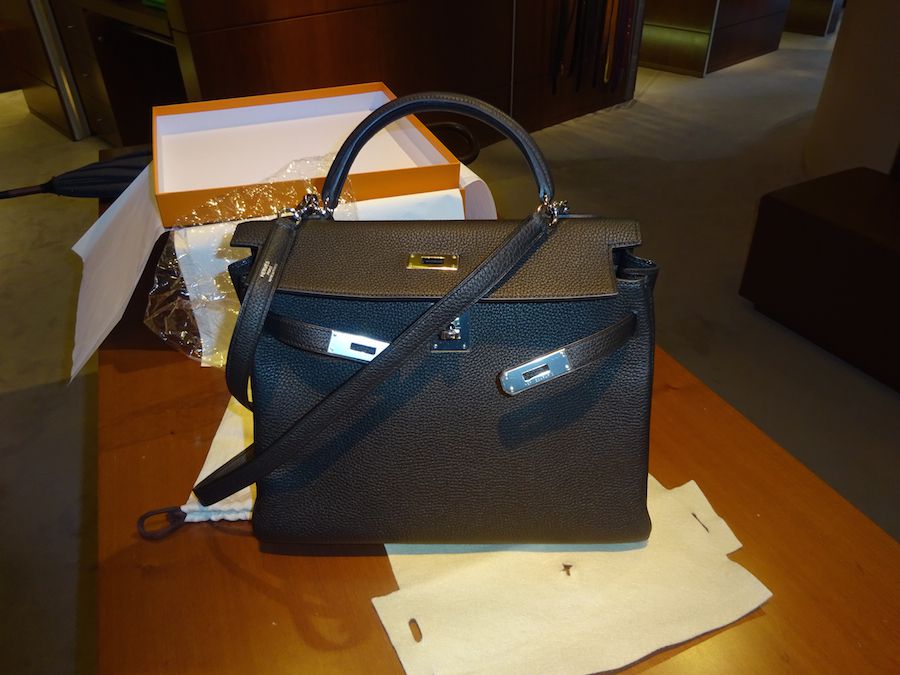 One thing was for sure, I knew I wanted a Kelly, and I already knew I had fallen in love with the K32 size. It was not too big, not too small and the option of the shoulder strap was going to be prove magnificent.  As for the hardware, I gravitate towards gold always, but I desperately wanted to diversify my collection, so I was completely amicable to the palladium hardware.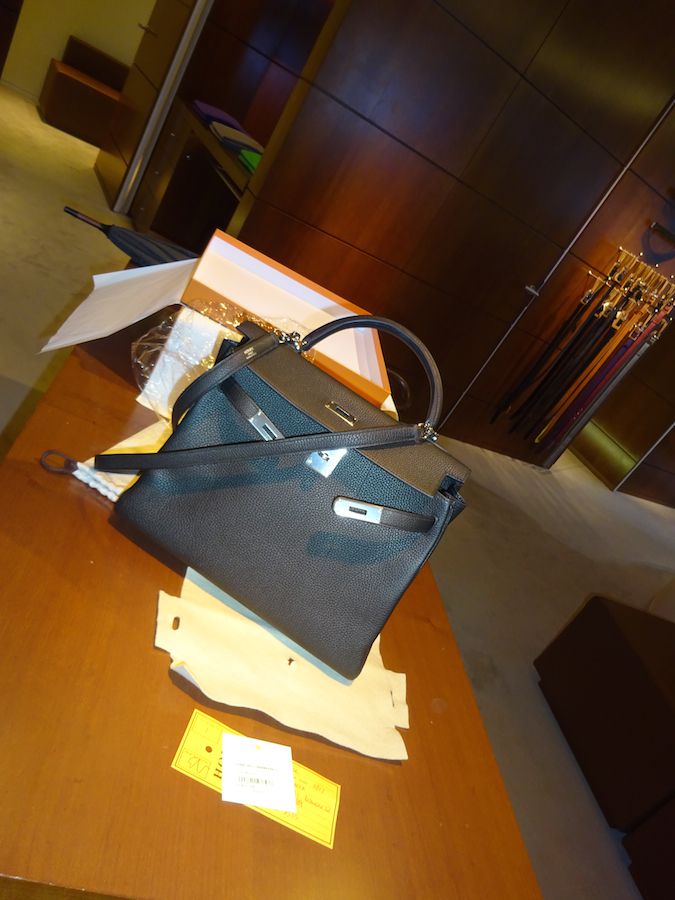 I didn't have too much time, and I knew I wouldn't be able to come back, and the truth is although I wasn't squealing in excitement, I also just couldn't let her go. Miss Noir was going to be mine.
I rationalized my decision something like this:
I would take her home and think about it, research my options, educate myself, and if at the end of it, if for some reason I really decided I didn't want it, I knew that finding a home for her would be a piece of cake. After all it was black and not neon green! (by the way I'd love a kiwi kelly, LOL)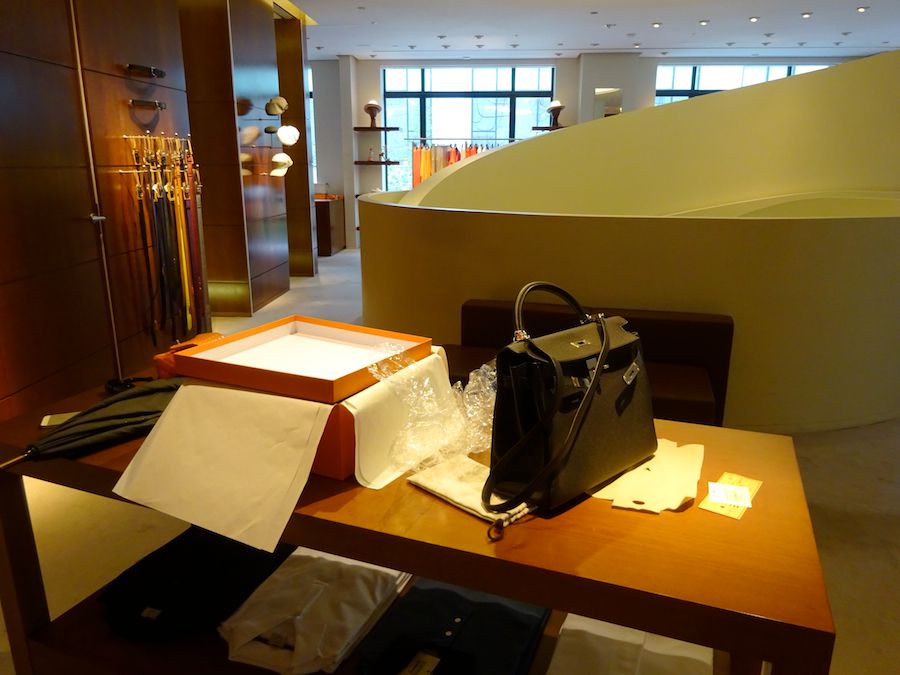 The plan was that I would rush back to my meetings (I had no intention to walking back and re-entering with a huge Hermes bag, above all in the rain) and swing back with my car just before close.
It was nearly six, no parking and the stress of city traffic had me hassled. My dear SA offered to bring 'her' out and meet me curb side…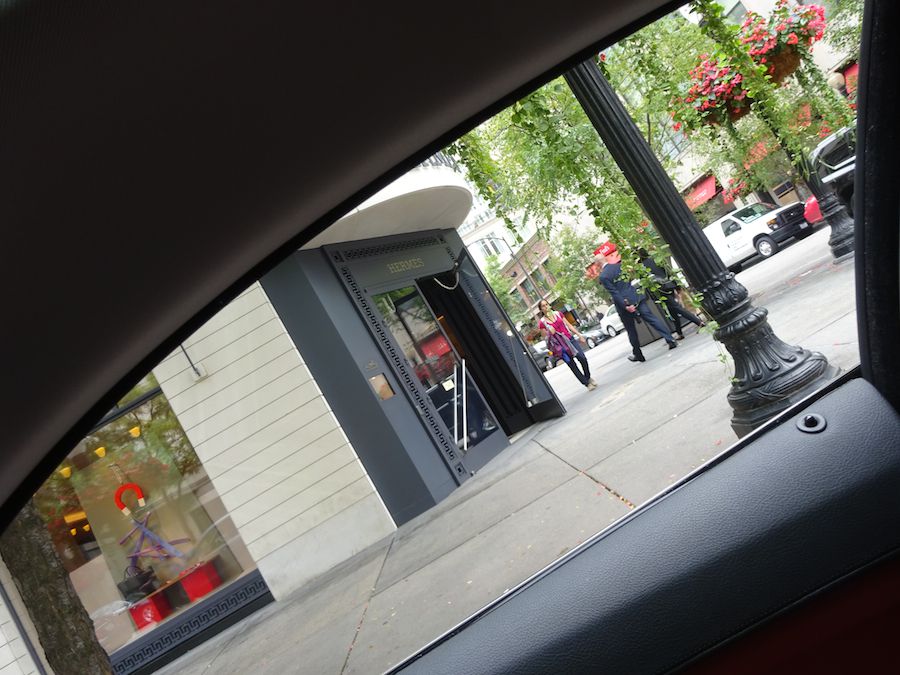 He slid Miss Noir though my car window, placed her safely on the seat,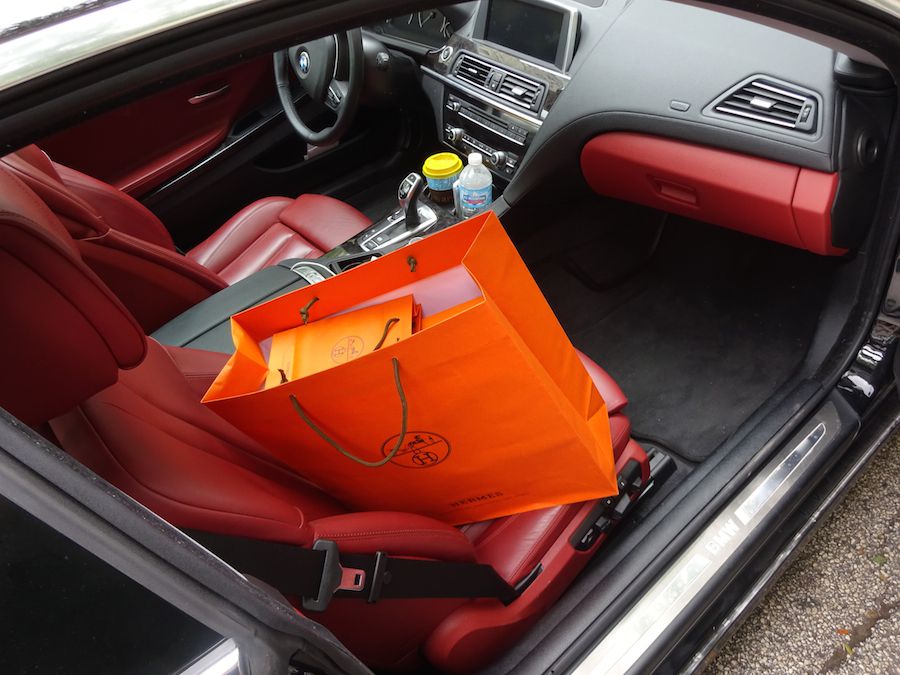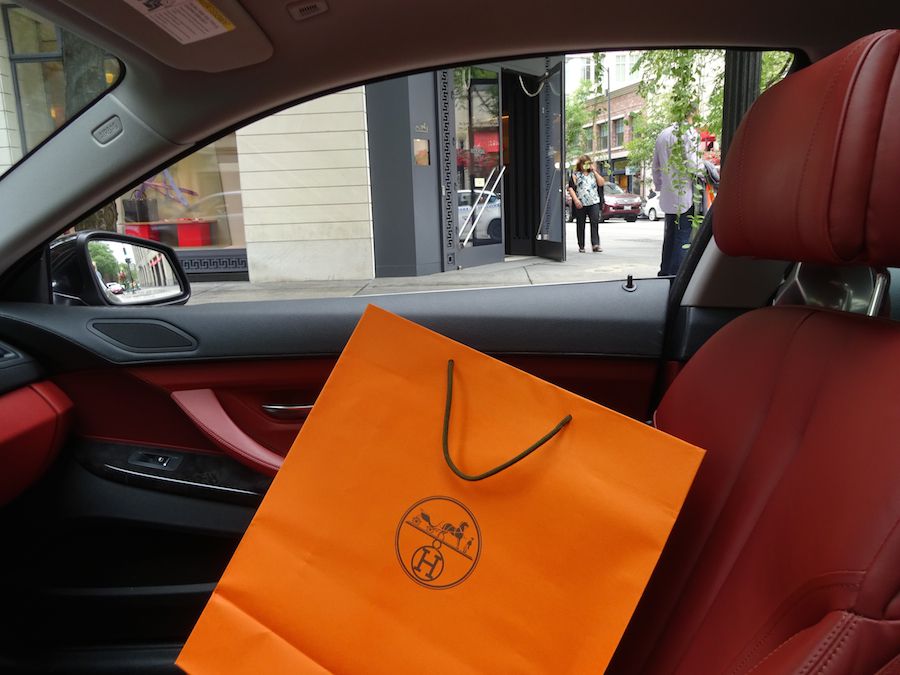 and off we went…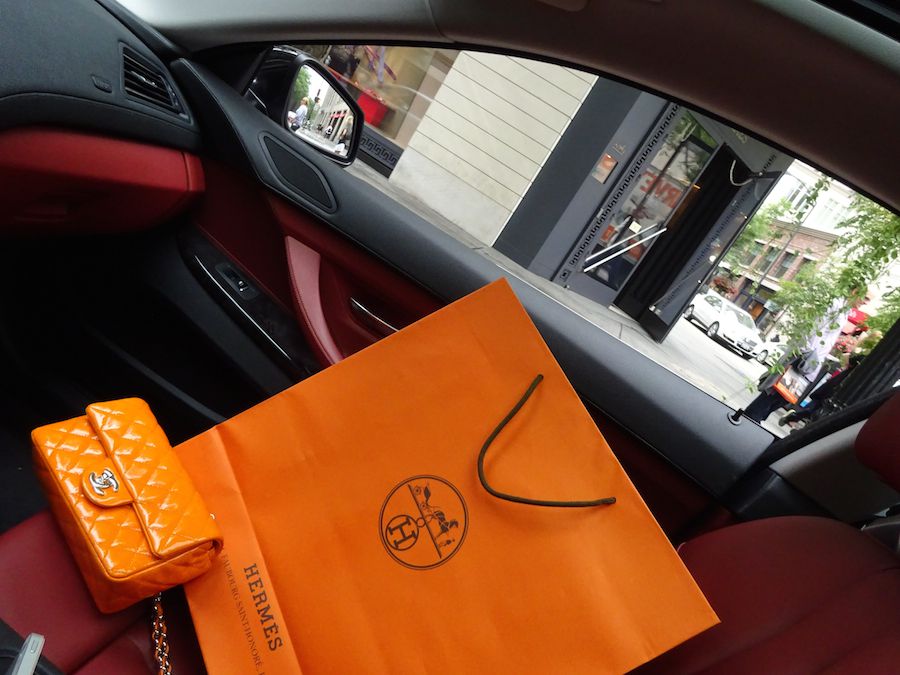 Stay tuned for Part 2 tomorrow!
Love Pursebop
XO
(p..s  my more artistic picture series can be found here…)
 Explore Below to Visit Other PurseBop Hermes Reveals:
Updated: May 19th, 2017