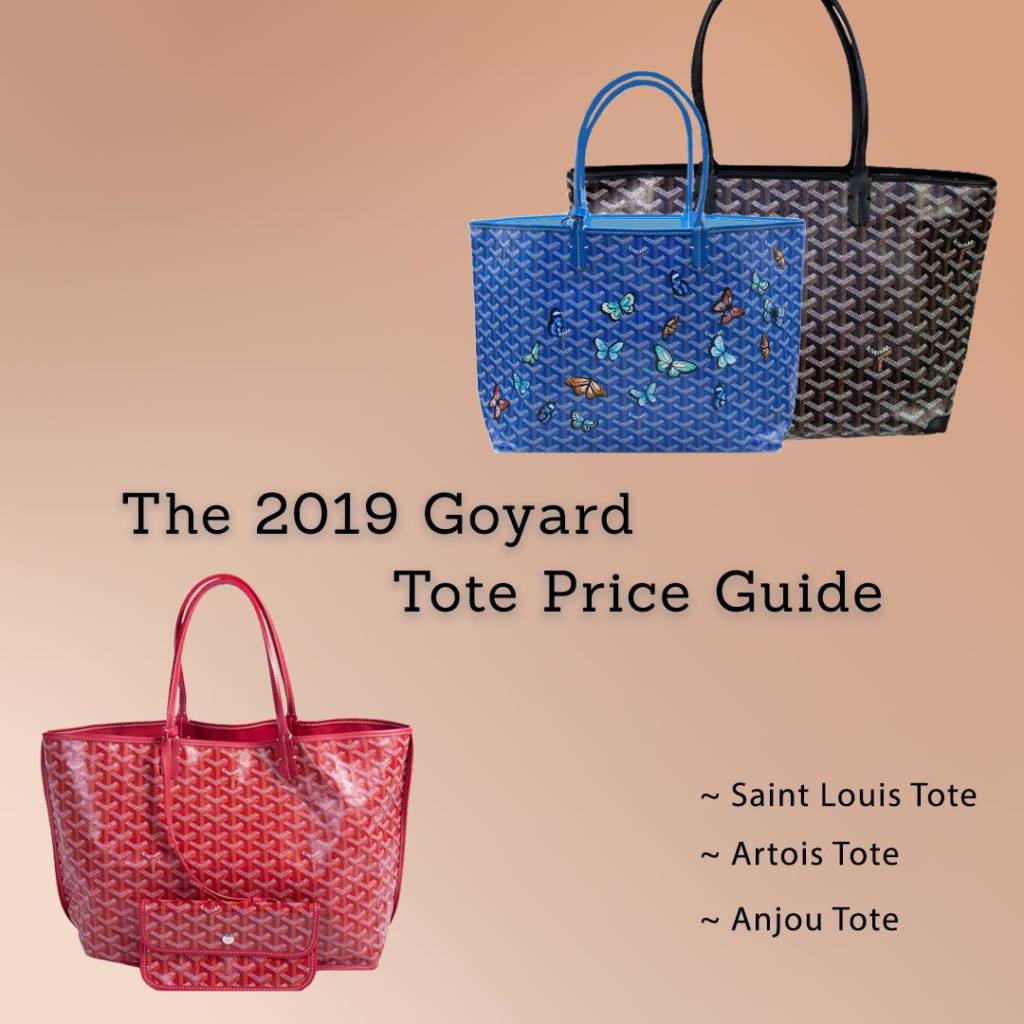 There's no denying that Goyard's popularity has skyrocketed over the past few years. The French brand, which was alway beloved among those in-the-know, has become a fashion world darling over the past half-decade.
With these changes, Goyard has started to shed its image of unattainability, thanks in part to Instagram and to retailers on the secondary market. Like Birkins, you can now order Goyard handbags online from secondary retailers and have them delivered straight to your door. Convenience increases, exclusivity decreases. You know the story.
But there's still a fair amount of mystery that shrouds Goyard, whose boutiques remain few and far between. Namely: price. Similar to Birkins, Kellys and Constances, the prices of Goyard bags are tricky to pin down. They're not on the brand's website; nor do we know when they increase.
Hence this guide, which is what we're here for. As you know, Goyard is most famous for its totes (many consider Goyard to be the "Holy Grail" of totes). So we're going to look at the three classic Goyard totes—the Saint Louis, Artois and Anjou—and consider their sizes and prices.
Here's a quick overview on the three totes, which appear strikingly similar at first glance. There are, however, substantial differences worth noting.
Saint Louis:

The classic Goyard tote—we once dubbed it "The Tote of All Totes"
Made of the classic Goyardine canvas
Relatively slouchy/"floppy"
Has an open top, providing easy access
Comes with a small, attached pochette
Artois
Made of the classic Goyardine canvas
More structured than the Saint Louis; has leather corners that hold its shape even when empty
Zipper closure
Instead of a pochette, includes a sturdy interior pocket suitable for wallet, phone, etc.
Longer straps than the Saint Louis
Anjou
Made of both leather (interior) and Goyardine canvas (exterior)
Reversible: the leather "interior" can become the exterior
Leather reinforcement along the sides and bottom on the canvas side
Like the Artois, more structured than the Saint Louis
Comes with a small, attached pochette
Slightly thicker straps than the Saint Louis
For PurseBop's detailed, personal comparison of the Saint Louis and Artois, read: Goyard Tote Battle: Artois Takes on Saint Louis
| | |
| --- | --- |
| Tote | Dimensions (W x H x D in) |
| Goyard Saint Louis PM | 11" x 19" x 6" |
| Goyard Saint Louis GM | 13" x 23" x 7" |
| Goyard Artois PM | 9.5" x 12" x 5.25" |
| Goyard Artois MM | 11" x 14.5" x 6.25" |
| Goyard Anjou PM | 11" x 19" x 6" |
| Goyard Anjou GM | 13" x 23" x 7" |
| | | |
| --- | --- | --- |
| Tote | Price in USD - Classic Colors | Price in USD - Special Colors |
| Goyard Saint Louis PM | $1,200 | $1,560 |
| Goyard Saint Louis GM | $1,375 | $1,795 |
| Goyard Artois PM | $1,725 | $2,245 |
| Goyard Artois MM | $2,035 | $2,625 |
| Goyard Anjou PM | $2,345 | $2,745 |
| Goyard Anjou GM | $3,035 | $3,550 |
Updated: June 21st, 2021