Part I written by @el4bz "eternalove4bags" 
Birkin, Kelly and Constance are the three iconic bags that Hermes prides itself on. Needless to say they are also the most coveted and often elusive bags Hermès customers crave. Here we will focus on the Constance, which right now seems to be trending more than ever in terms of its immense popularity.
The Constance comes in different sizes like the 24, elan, 18 (mini) and the micro. In this article we focus on the pros and cons of the two most popular sizes of this bag – C24 and C18. The number 24 and 18 reflect the number of centimeters the bag measures on the base of the bag as is the case with all Hermès bag names.
Having owned both sizes, I thought I would pen down my experience and in Part II provide testimonials from other Constance loving community members for their valuable input.
Below you will find a comparison of C24 and C18 based on the following 4 C's:
Capacity: When it comes to capacity, for me the C24 size triumphs. The C24 size easily fits everything you may need for the day without having to downsize. The C18 on the other hand cannot fit much so unless you carry very little or are willing to downsize your contents significantly, this size may not be the one for you.
Convenience: In terms of convenience, both the sizes ace it with their adjustable shoulder straps and hands free option. So whether you are running after kids or lugging groceries or just plain want a break from handheld totes, C18 and C24 are the perfect solutions.
Chicness: There's yet a bag I have to see which trumps over a Constance in terms of chicness so both C18 and C24 score high on this dimension. Whether you carry it crossbody or straight, both sizes lend an instant air of elegance to any outfit be it casual or formal. Although, C18 may have a slight edge on C24 when carried crossbody since the C24 can appear to be more bulky because of its bigger dimensions.
Cost: The C18 is definitely less costly than the C24. Because of a price point which is closer to a Kelly 28 or a Birkin 25, many H lovers would rather spend their money buying the more popular Birkin or Kelly than shell out the same for a C24.
From the above comparisons points I will let you be the judge which size wins the battle. For me, I love them both and the only reason I traded my C24 in favor of C18 was because I have a roulis 23 that fits the need of a C24 for me. So for now I am content with the C18 size until my needs change and I may again need a C24.
One thing is true, one size doesn't fit all so it's a good thing there are options in terms of sizes so that there is something that suits every individual's needs and tastes. Choose the size that suits your needs, aesthetics, body frame the best.
Needless to say whether you opt for a C18 or C24 you won't go wrong with either. The resale value of Constance irrespective of its size is immense (I sold my C24 in a day as did my friend who sold her C18 and we both sold for well above what we paid for the bags). One can never go wrong with owning a classic bag and for me the Constance is as classic as a bag can get. Did you know that at one time Hermes was going to stop the production of the Constance altogether? But driven by high demands, they decided to keep the bag as part of their product line. Thank you H fairies!
Production of the Constance has never been higher than the present so if you want to get your hands on this fabulous bag, right now would be your best chance.
Love @el4bz "eternalove4bags" 
Part II: Testimonials
We here at PurseBop always like to present you with a variety of testimonials so we reached out to fellow community members and asked them their thoughts about the two Constance sizes and which they prefer and why.
Below find their valuable input.
Size does matter!

I am a big fan of mini bags. Always have been. So when it comes to choosing between a C18 and C24, C18 wins hands down for me. It fits everything I need (compact silk-in wallet, lipstick, car keys and iPhone 6+), and is more suited to my frame (I'm 5'5, size 4). The length of the C18 strap is longer than the C24 strap, which allows me to wear the bag cross-body so it sits comfortably around my waist. C24 is just as gorgeous but I'm afraid it does overwhelm my frame. I also cannot wear the C24 comfortably cross-body, which is my preferred way to carry a Constance. For me, C18 is the perfect size for a Constance!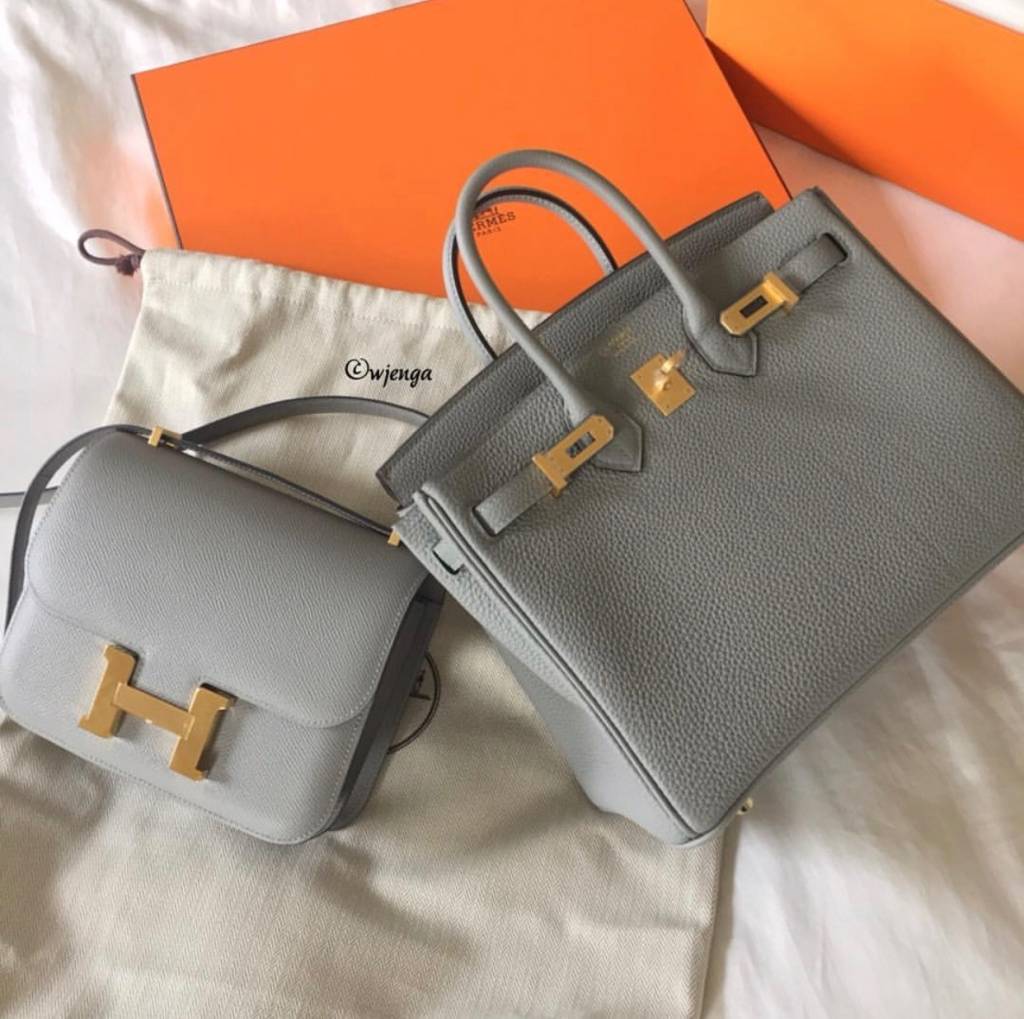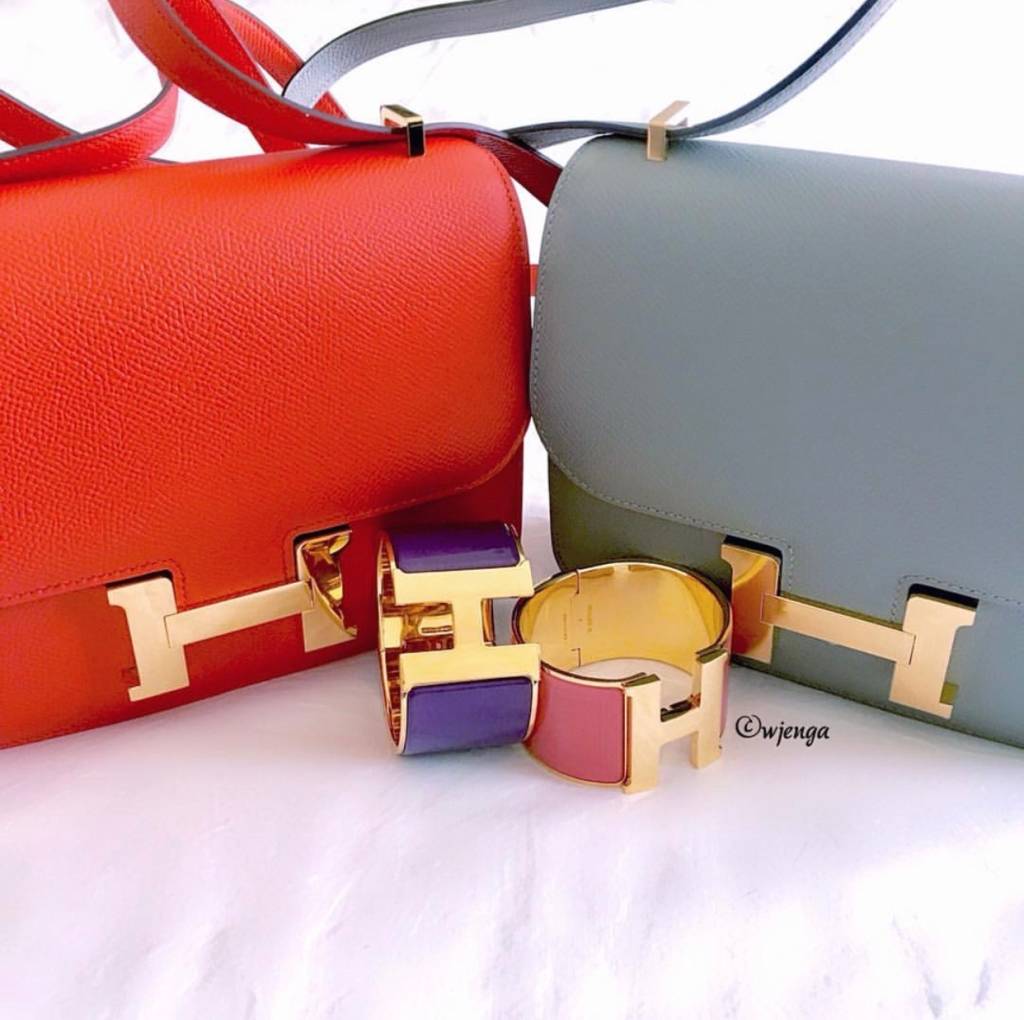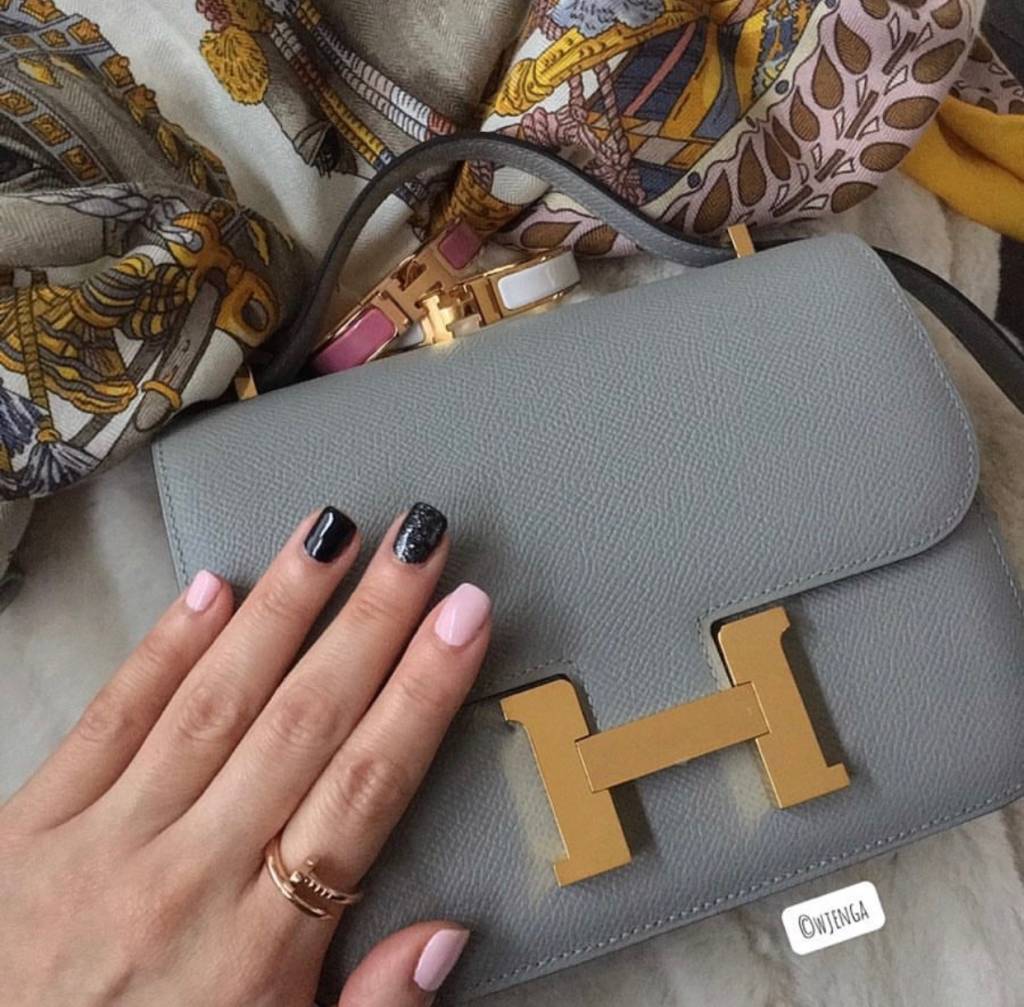 "Now that I have both sizes of the Constance (18 and 24 cm), my preference is definitely the 24 because I think it is the more versatile size of the two. The size is just perfect for everyday. I love the ease of the shoulder strap and the fact that you can wear it long or short. I think the style is elegant enough to be carried from day to night. The only slight advantage of the 18 cm is the longer strap which allows it to be worn cross-body, at least on short people like me (5'2″). The 24 cm has a shorter strap, which is really not appropriate worn cross-body… but still, if I had to choose one size, I would pick the 24 any day!"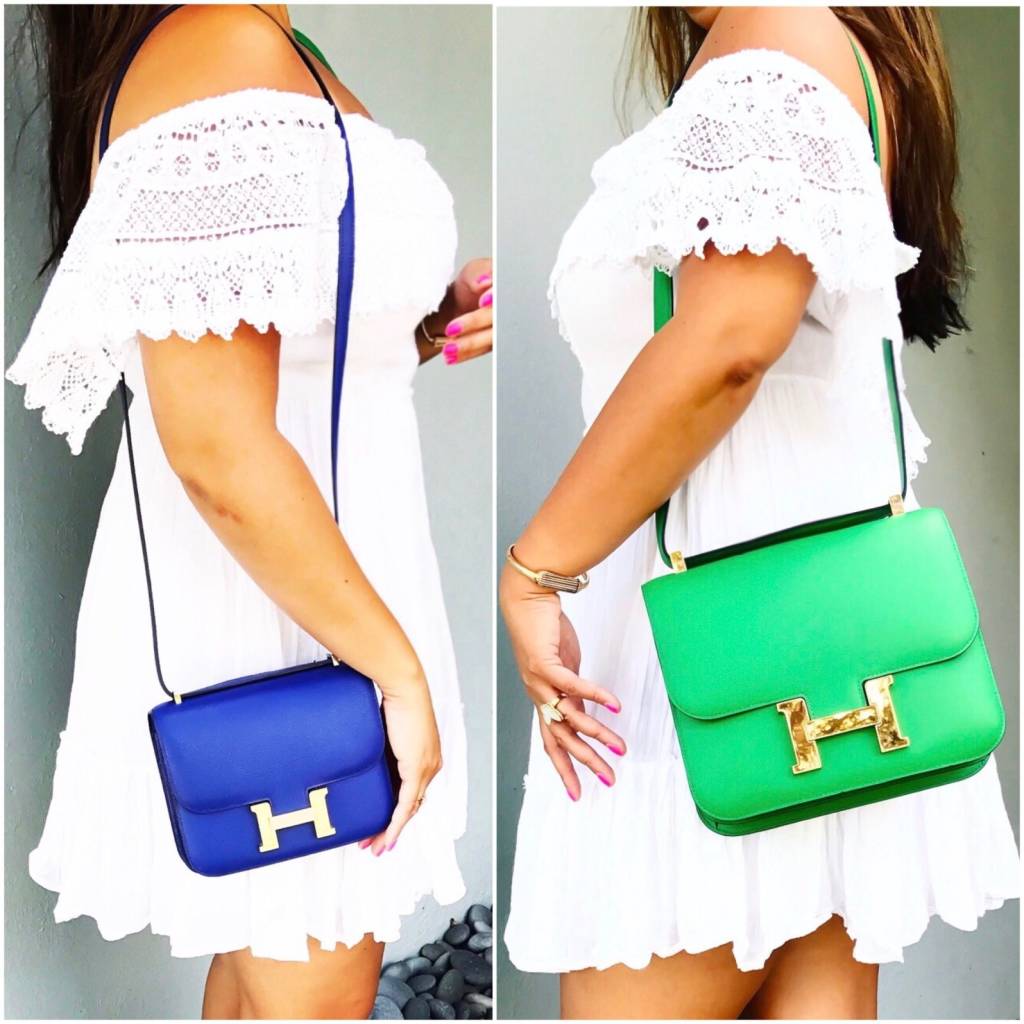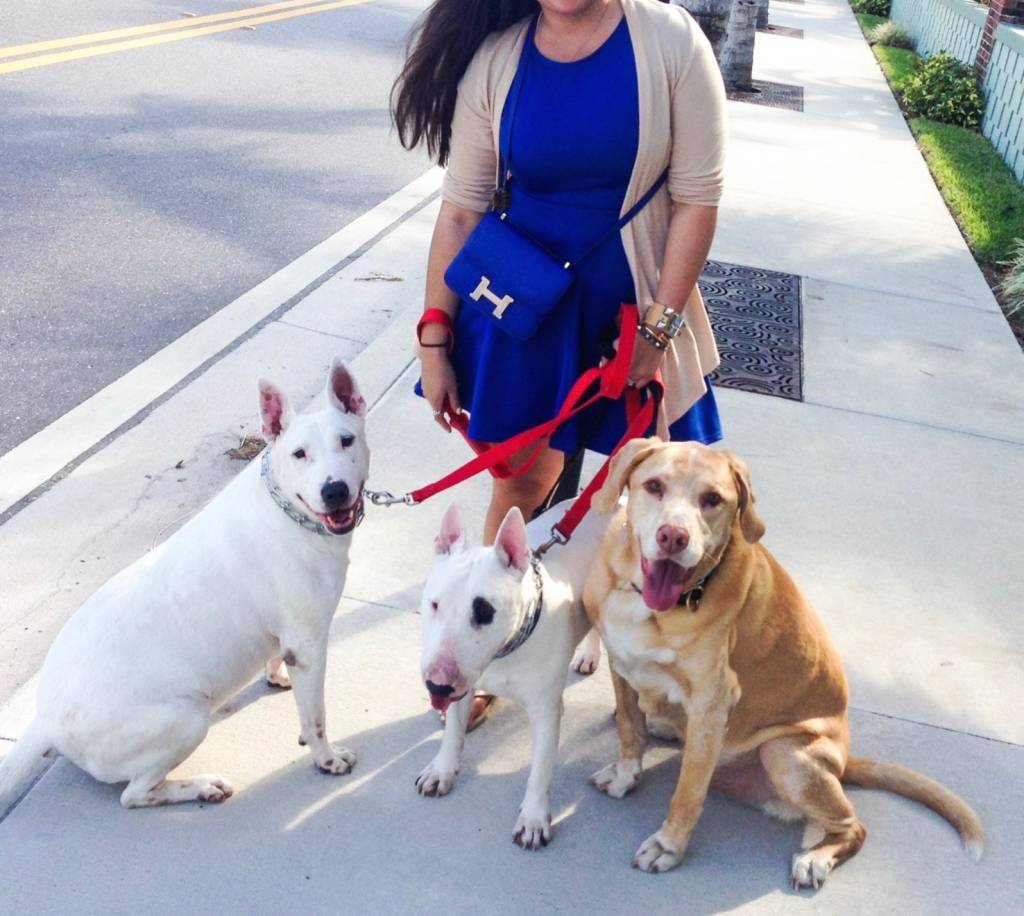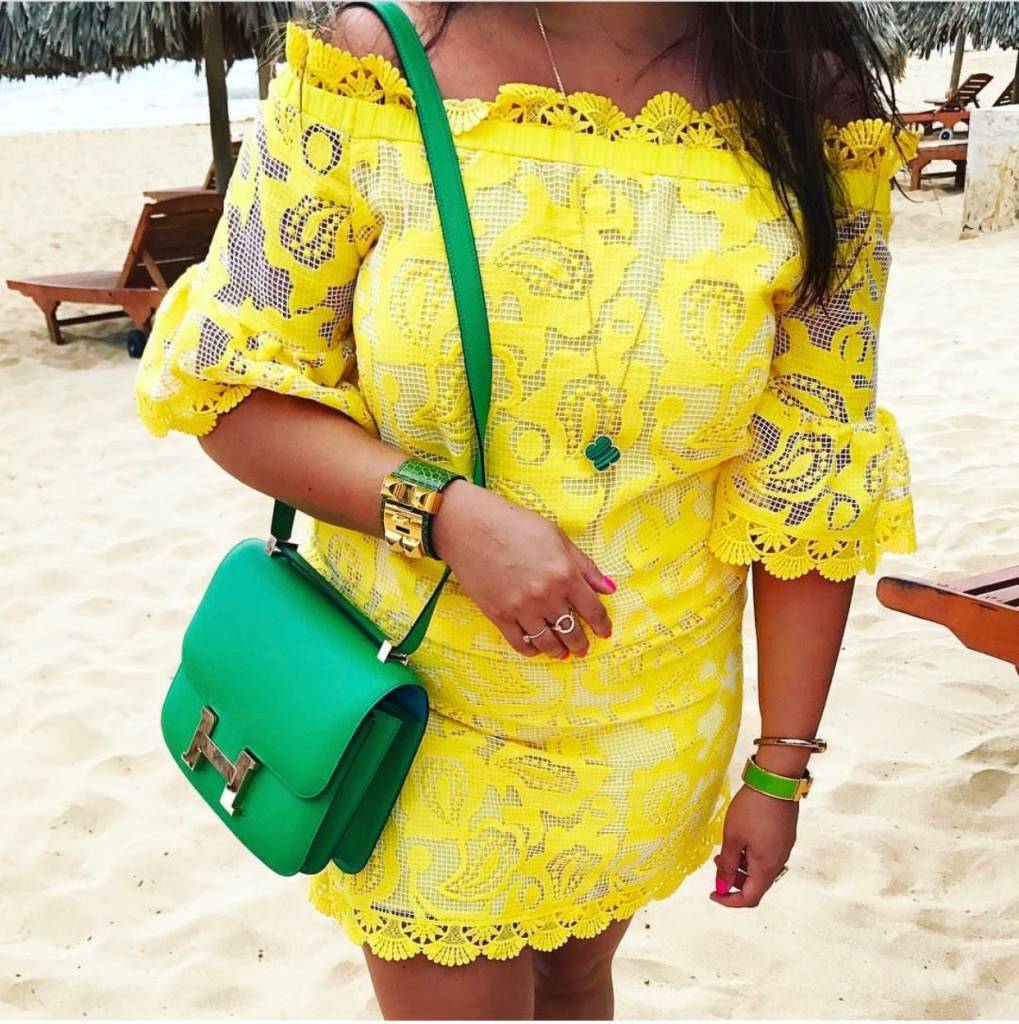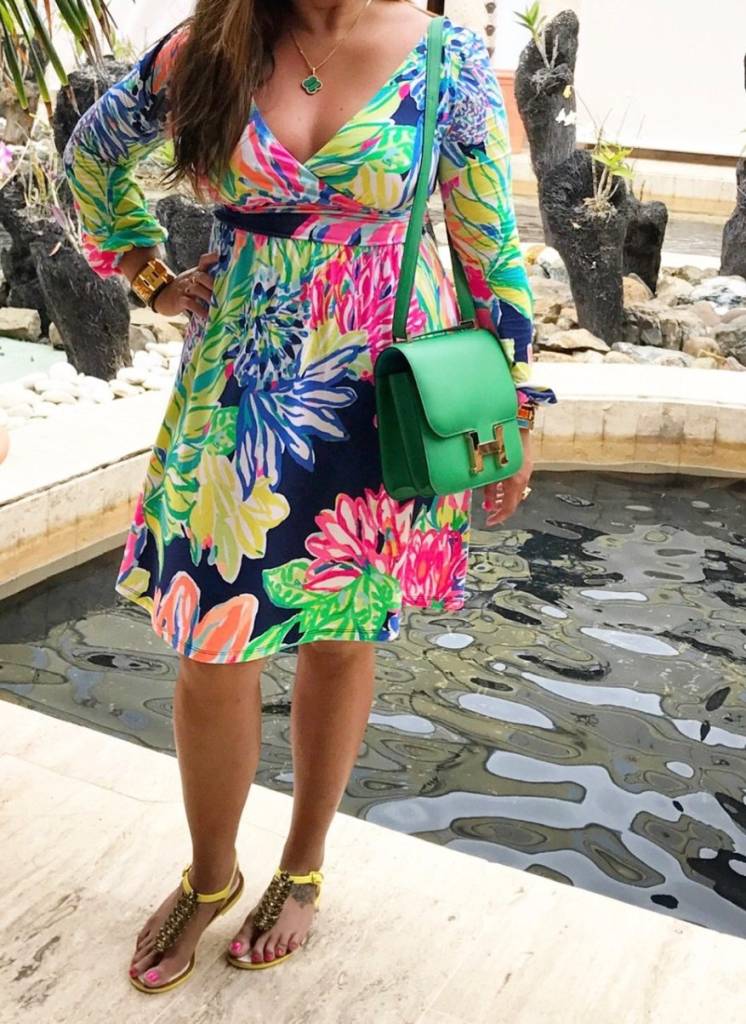 Constance is definitely one of my favorite Hermes bags. I am not too picky with sizes as it really depends what my SA is able to offer me as often is the case with almost Hermes bags! It is definitely easier for me to wear size 18 since I can do it cross body. But for more space you cannot beat size 24! But ultimately I decide which Constance to buy based on color.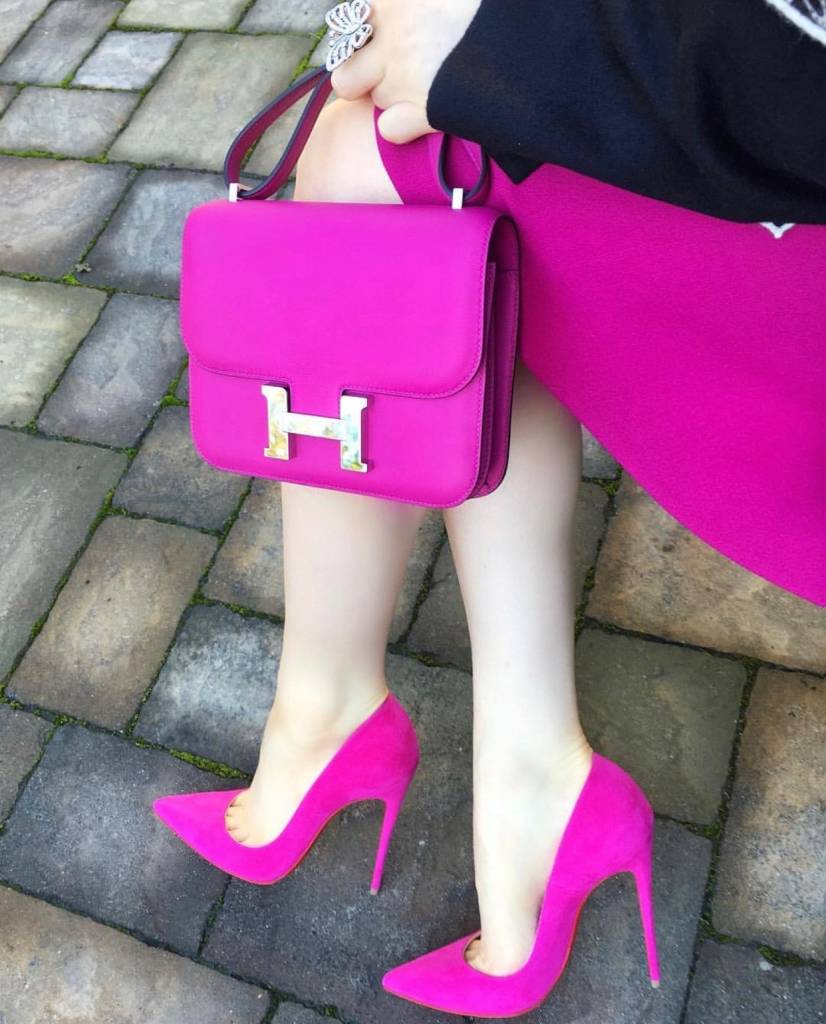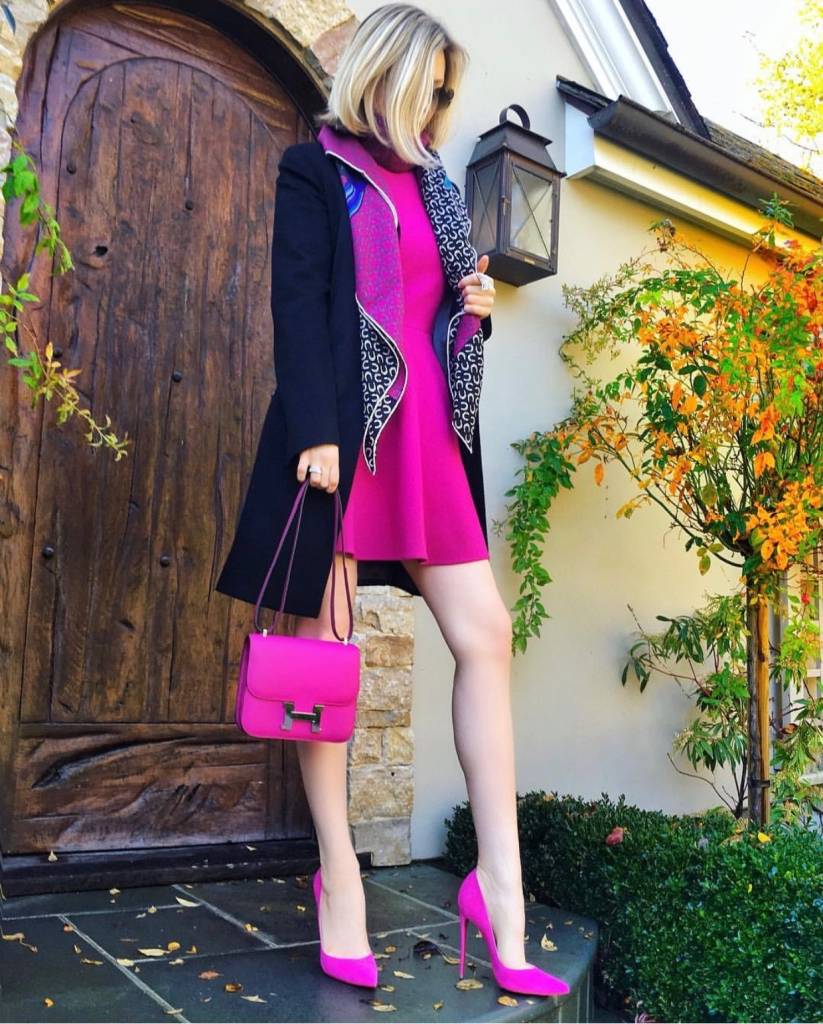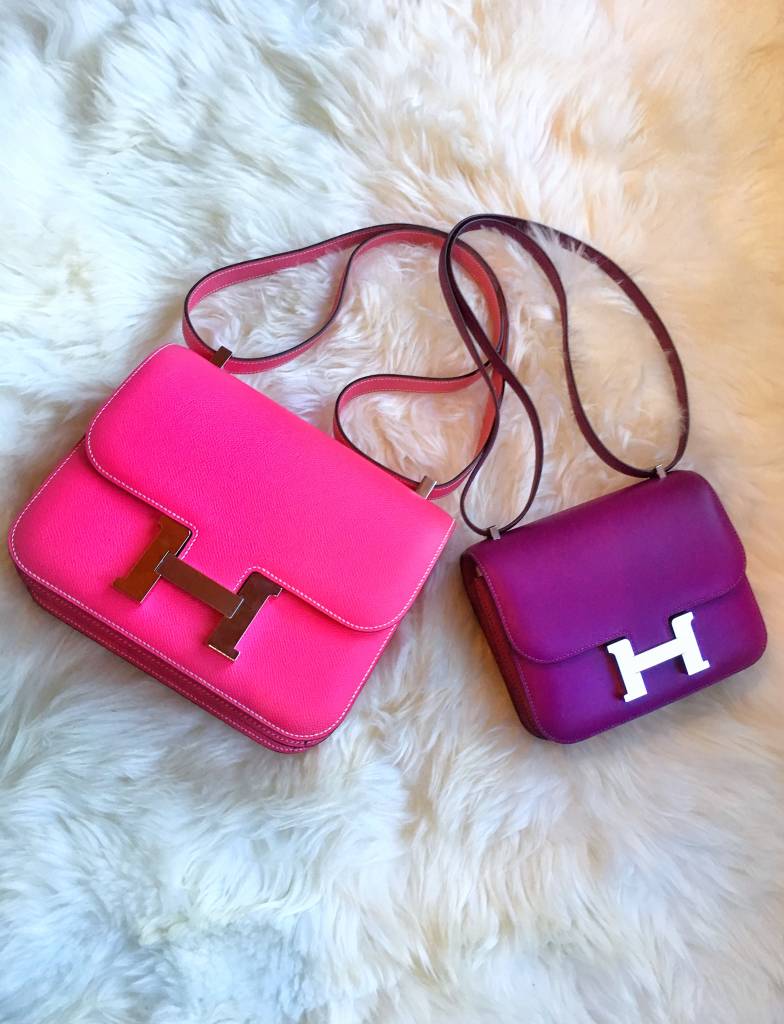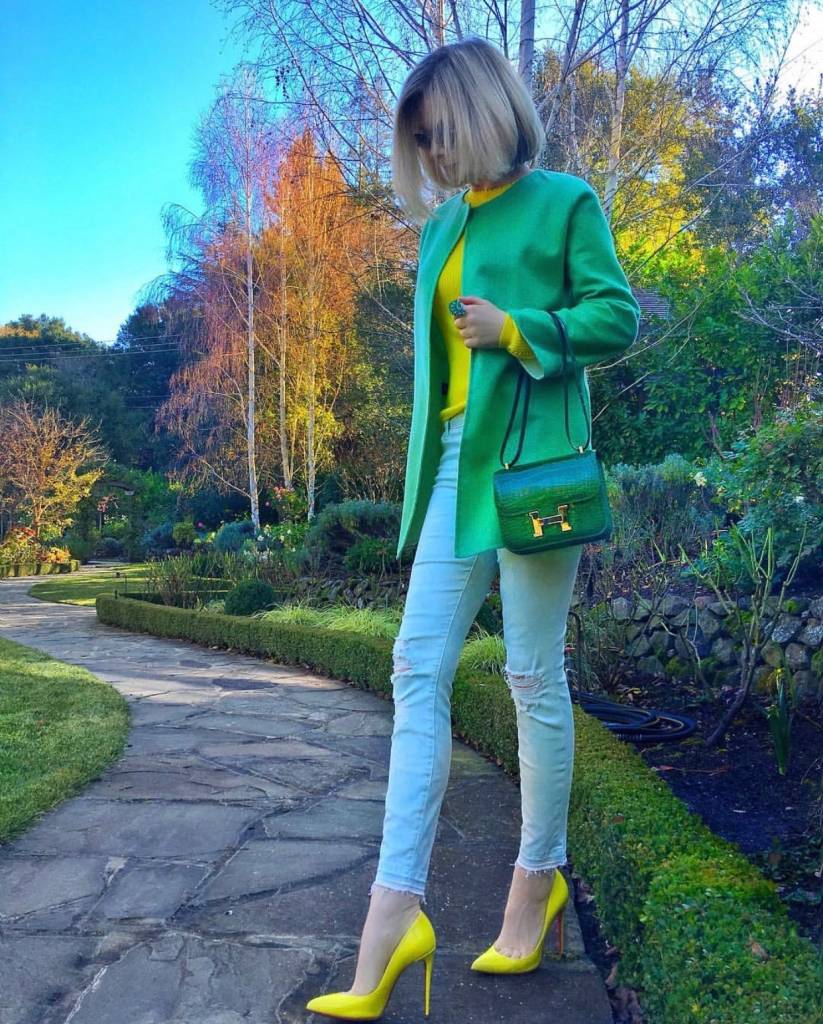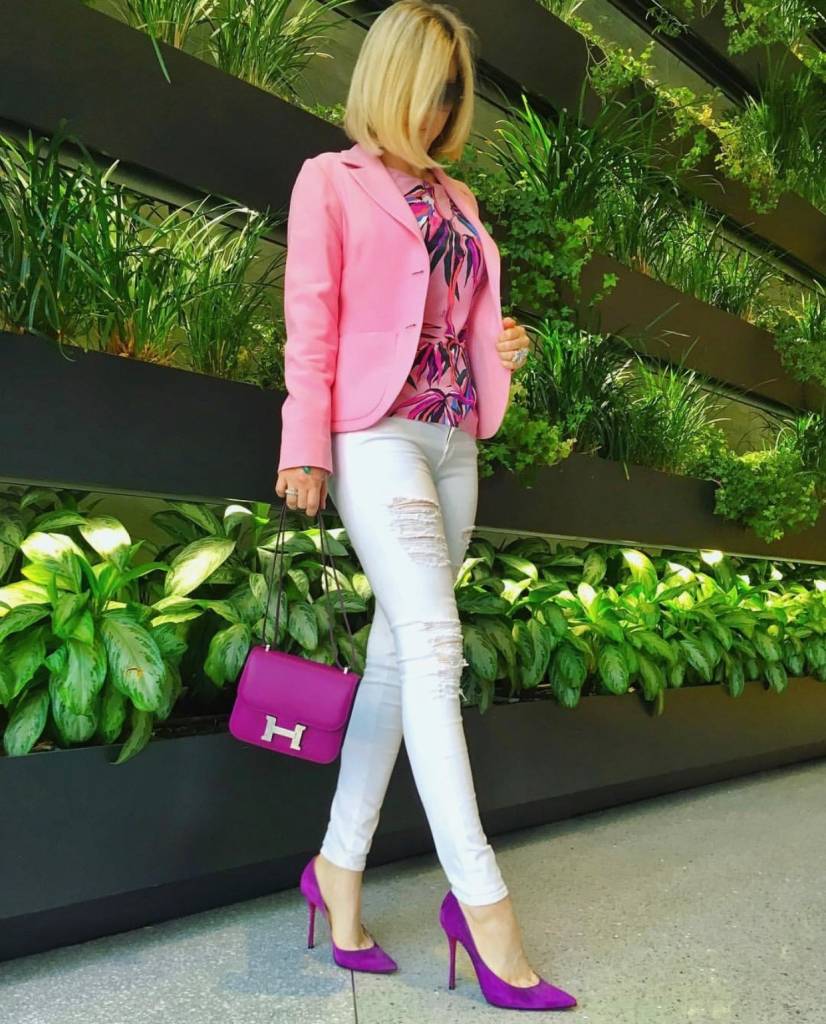 Is the Hermès Constance on your wish list for 2018? If so, what size are you contemplating?
Are you already a Constance lover and want to share your preference with us? Post a photo telling us which size you prefer and why on Instagram and hashtag it #PurseBopsGoneConstanceCrazy.
We'll be sure to share your posts with the community here.