Have you found yourself eyeing Gucci t-shirts, the LV Supreme items, and the J'Adior collection with a combination of lust and uncertainty? You're not alone! Today's Logomania has injected us with the desire for brand logos, bigger and bolder than before. Not so long ago, and for some of us still today, prominent logos were seen as passé and somewhat tacky. What has caused this change of heart? PurseBop is here to explain and assist.
Here's what you can expect from this in-depth look at logomania!
I. 2000s Trends and Nostalgia
II. Coach to Gucci: Across the Luxury Spectrum
III. Logos and Social Media
IV. Stylish or Boastful?
V. Logomania on Instagram
I. 2000s Trends and Nostalgia
The current logomania could be seen as a redux of the remarkable logo obsession in the 2000's. We all (fondly?) remember those times… thin eyebrows, Juicy Couture track suits, graphic tees and monograms everywhere. The period was marked by a kind of opulence exemplified in Paris Hilton's Simple Life and by the pop culture icons of the day. Among the most notable brands and branding were Louis Vuitton, Gucci, Dior and Chanel. Interestingly, this obsession with logos trickled down to more affordable brands, like Coach and Dooney and Burke, which allowed people outside the upper-class circles of socialites to participate in the trend.
Why are we seeing some of its trends return now?  It's important to recognize that there are some notable differences between the logomania of today and that of the 2000s. Now, logomania is much more subdued and self-aware with a hint of irony and cheeky fun in the way that brands utilize their logos. Case in point: Gucci has recently begun branding clothes and purses with the mispelled "Guccy" as a way to poke fun at the kitschy commodification of their name and brand.
Another important aspect of today's fashion scene is the undeniable influence of nostalgia. The reemergence of chokers and fanny packs indicate that todays designers search for inspiration from past decades. Whether these tributes to past trends are innovative homage or stale reworkings is a disputed topic of discussion. Nostalgia is an important human emotion, and it's highly likely that this reemergence of logomania has sparked fond memories for many  shoppers.
II. Coach to Gucci: Across the Luxury Spectrum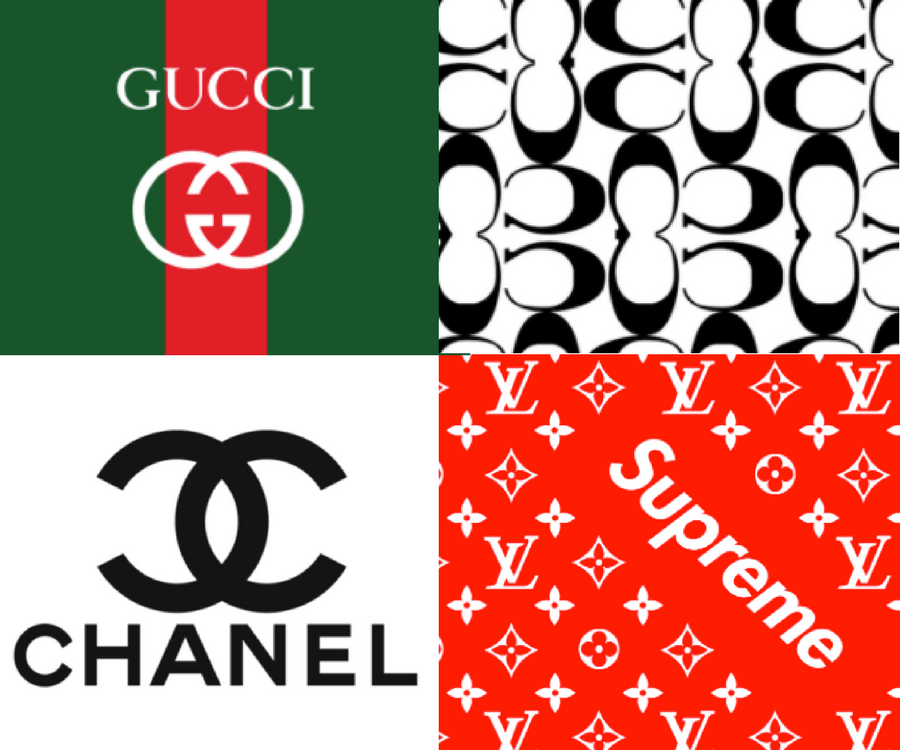 As at the turn of the century (the 21st century) logomania spans  all price points. Tapestry CEO Victor Luis has hinted that Coach handbags will soon sport the famous monogram that brought the brand its powerhouse success in the 2000s. Creative director Stuart Vevers and brand president Josh Schulman are allegedly collaboration on a strategy to introduce a fresh, new logo-centric look to the brand for upcoming collections.
In bringing back the logo, they might look at luxury brands like Louis Vuitton, Gucci, and Dior for inspiration. Louis Vuitton reinvigorated its logo successfully through a collaboration with hip streetwear brand Supreme (Read: Streetwear Louis Vuitton: LV x Supreme).  Gucci's Alessandro Michele resurrected the brand's double G logo and accentuated it with his expressive, colorful, and slightly ironic aesthetic (Read: Gucci: The Most Improved Player of the Year?). Dior's creative director, Maria Grazia Chiuri brought back the witty "J'adior" from the brand's graveyard and created the popular J'ADIOR handbag series (Read: New at Dior: The D'ADIOR Collection).  Through these examples we can see the clever ways that companies are using their logos to give their brands a fresh face and a new horde of fans. One of the appeals of logomania is that it is an acceptable practice for the spectrum of luxury brands, making lower brands feel more exclusive and higher level brands more accessible.
III. Logos and Social Media
Certainly social media has changed the way that we experience fashion. As this forum attests, it has become an invaluable tool to find style inspiration, share our beautiful new purchases and interact with fellow fashionistas. The marriage of social media and high fashion has also arguably contributed to the heightened visibility of logos. Scrolling through Instagram, it's easy to see that  fashionistas oftentimes focus their photography on the logo of their brand.
Logos in social media function in several ways. First, they communicate quickly and clearly to other fashionistas what brands they are interested in. If you're a Chanel enthusiast, the first thing you're going to look for when scrolling a fashion blogger's site is the double C. Even though a true fashionista would be able to tell the brand of an item by its shape and style, media like Instagram rely on split second recognition that logos provide so well.
In addition, it's become increasingly popular, especially on Instagram, for bloggers to build their own personal brand on their favorite luxury name. There's @chanelgirl, @birkinbabe, and @thebirkinboy. By using a luxury brand in their handle, bloggers align themselves with the fashion, the lifestyle, and the history of their preferred brand. The popularity of these kinds of handles indicate that more and more people are seeing luxury brands as more than fashion entities—they are seeing them as lifestyles.
Second, especially for street style stars and celebrities, a logo communicates "hip-ness." With brands like Gucci and LV x Supreme experiencing a surge in popularity and desirability, a shirt with the Gucci logo or an LV x Supreme wallet will immediately indicate that someone is in tune with current trends. Articles like Glamour's 20 Logo-Heavy Pieces That'll Make You Feel Like a Street Style Star support the idea that particularly among millennials, logos have a cool factor and raise one's social media profile.
IV. Stylish or Boastful?
While we at PurseBop adore luxury brands and sharing our love for them in our community, we've previously touched on Instabragging and the idea that there is a time and a place for displaying one's luxury items. In our hotly debated article,  Louise Linton: Rightfully Shamed for Sporting Hermès?, we discussed whether it was appropriate for her to tag the brands she was wearing, as the wife of a government official on a trip.  If she had been wearing one of the items we've shown above, with prominent display of logos, would she have been similarly criticized? Most definitely.
Accentuated logos are undoubtedly intended to display the quality and even price of an item. The use of logos can be taken to extremes and represent over-the-top wealth and opulence—no example proves this more than our recent post on the LV Toilet.  But does logomania inherently have a moral problem? We would say no. Returning to some of the points we have made earlier, logomania transcends the spectrum of luxury. The fact that 2000s Coach was one of the most popular brands on the fake handbag market demonstrates that it had a high cultural value. Logomania works for both accessible and exclusive brands.
V. Logomania on Instagram
Updated: December 5th, 2017