Long before Bluetooth devices, handsfree was a thing… in handbags. In particular, we're talking cross-body bags. Stylish, useful, and über comfortable, these hands free bags are here to stay… and slay!
Cross-body bags like messenger and saddle bag styles have been around for quite a while now! In the late 60's, the messenger bag trend exploded. Customizing bags with bohemian flair was all the rage at the time. This led to the creation of quirky accessories that are in vogue till date! For example, Chanel's Spring 2015 "Protest collection" included decorated army green canvas bags reminiscent of the 1960s models. (Read Marching Bags).
One difference over time, however, is size. When the crossbody bag reappeared on the fashion scene in the 90s, it was smaller and sleeker in comparison to its 60's counterpart.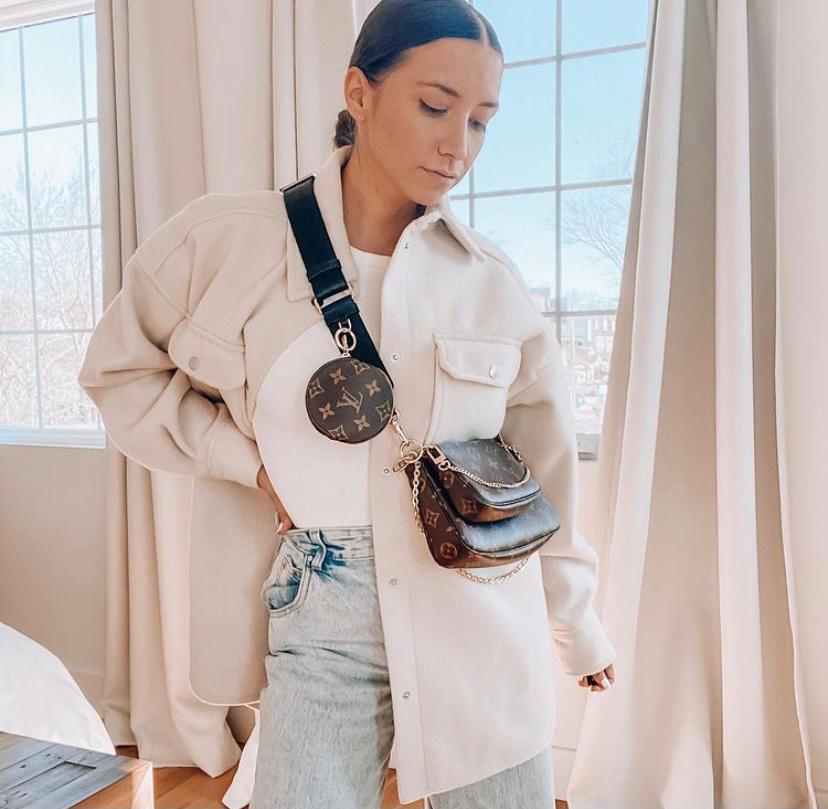 A true classic, we reckon that the crossbody bag will every once in a while undergo slight makeovers, but ultimately is here to stay. Utility never goes out of vogue and the possible uses are nearly endless depending upon size and fabrication – work bag for men and women, diaper bag, evening bag (for managing canapes and beverage simultaneously), and so on. Indeed, amid the COVID-19 pandemic, two leading luxury brands (both housed under the LVMH umbrella) issued new bags, both of which were cross-body (Read: Which Two Luxury Brands Nailed Success Amid the Hardest Time).
Case (or cases) in point: the Louis Vuitton Pont 9 (Read: Louis Vuitton's New Pont 9 Makes Heads Turn) and the Dior Bobby (Read: Say Hello to 'Bobby' – Dior's Latest Handbag Release). The bags, launched as shoulder bags with a longer strap- can be styled in various ways; the most popular one being crossbody. Both bags were well-received and helped catapult the brands during the challenges of 2020.
But those are just the newest and latest. Dior itself has an actual "Saddle" bag which now comes with a crossbody strap, as well as its aptly named Messenger Bag. Many of Chanel's classics sport extra-long straps that allow the bag to be strung across the body. Both Louis Vuitton and Hermès – with historical roots in luggage and equestrian, respectively, boast multiple cross-body options.
In other words, although cross-body bags are not new, they are an integral part of a 'complete' handbag collection. Why, you may wonder? Because they score high on wear-ability, utility, style and versatility. They are for every age and will comfortably last you a lifetime!
Here is our list of luxury crossbody bags to consider for your handbag collection:
Paying homage to Hermès' equestrian roots, is the cute and casual Evelyne bag. Crafted in 1978, it was named after Évelyne Bertrand, the then head of Hermès' riding department. The bag has a large perforated 'H' on the exterior to allow ventilation within the bag. For Hermès, being quintessential minimalists in their aesthetics, the H' was something new to their design style. It is a little known (or ignored) fact but the perforated logo was actually intended to be worn with the 'H' facing inward, toward the wearer's body. However, as we well know, many (if not most) wear it the other way – with the   'H' outward-facing.
The Evelyne comes in a range of  different sizes, leathers and in a wide array of colors. To know more about the Evelyne Bag, Read: Hermès 101: The Evelyne Bag
The Chanel Classic Mini Bag
The classic mini, albeit relatively smaller in size, makes for one elegant and trendy sling! Complete with the traditional Chanel quilted leather, it is available in square and rectangle options. Both are great choices, but perhaps use the square for casual ensembles and style the rectangular with dressier attire. Although the bags are called "mini", they are deceptively spacious. The single flap design provides sufficient room to house all your essentials- phone, gloss and credit card.
Of course, other Chanel minis also make for fabulous crossbody bags too (Read: Four Mini Chanels That Are Here to Stay ). Consider grabbing one sooner rather than later, as prices see regular hikes (Read: Here are the New US Chanel Prices for January 2021).
You can discover a complete collection of the latest Chanel Mini bags here.
The Louis Vuitton Multi Pochette
For decades, Louis Vuitton offered "Pochettes" – smallish accessory pouches in various sizes. LV's latest hot ticket puts a bunch of these together – a 'multi pouch accessory' as it were. Launched by LV in its Fall/Winter 2019 collection, it features three different bags (or pouches) teamed together on a canvas strap (available in a choice of pink and khaki green). The bag can be worn crossbody or can be detached into single pieces and carried as shoulder bags or pouches. Vuitton's multi-pochette truly took the fashion world by storm, particularly when it became fully customizable. That's right, you can have prints on the pouches, a feature previously only available in LV's luggage line.
Read all about the LV Multi Pochette here.
Discover a full collection of Louis Vuitton crossbody bags here.
Named "Bobby" as a tribute to Christian Dior and his pooch named 'Bobby', the bag launched in Dior's Fall 2020 collection. The hobo style crossbody bag is made with box cow leather and embellished with a metal 'CD' monogram on the magnetic clasp closure. It includes a detachable strap and is embellished with the '30 Montaigne' signature on the back. The Bobby is available in three different sizes, the medium and small one, make for perfect 'day to night' bags whereas the large one is ideal for travel, given how spacious it is!
Read all about the elegant Bobby Bag here.
The Bottega Veneta Cassette bag
Launched as a part of Bottega's Fall-Winter 2019 collection, the Cassette bag is one of the most elegant and popular bags by the fashion house. Thick strips of soft nappa leather, woven in Bottega's legendary intrecciato weave, give the bag its minimalistic yet elegant form. Available in an array of colors, as well as suede, it comes with either a metal chain or an adjustable leather strap to string comfortably crossbody.
For more about Bottega's most iconic bags, read: Presenting Bottega Veneta's Understated Iconic Bags.
Each of these crossbody bags can take you from season to season – year after year, seamlessly. What are your views on crossbody bags? Any to add to our list? What's in your collection? Comment and tell us!