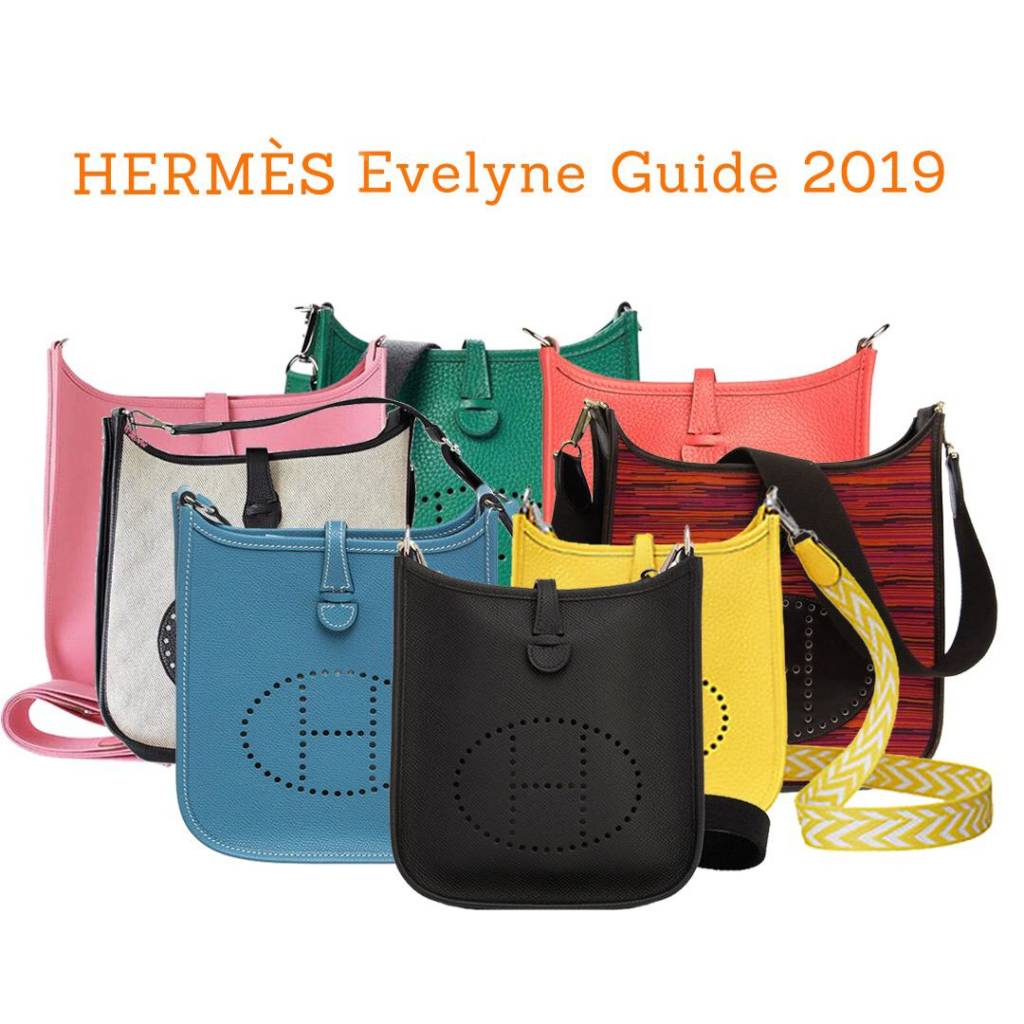 Hermès 101 in back in session! Our subject of the day is the Hermès Evelyne. We covered this quintessential Hermès bag three years ago, but times have changed—along with styles, prices and more—and we've been following the Evelyne's every move. Here's every little detail you need to know about the sporty, casual and beloved Evelyne. It's classic Hermès with a twist.
What to Expect from this Reference Guide:
I. Is It Worth It? Reasons to Buy
II. History
III. Features
IV. Materials
V. Sizes
VI. Prices
VII. Instagram Eye Candy
Is the Evelyne Worth It?
As always, we can't answer this question for you, but we can give you the tools to come to a conclusion yourself. The Evelyne is a hit because of its casual-yet-chic air. Day full of errands? Sling on an Evelyne crossbody. The ever-popular Hermès bag marries the traditional elements of the brand with on-the-go functionality.
Reasons to consider the Hermès Evelyne bag:
Cute and casual: The Evelyne is a simple, unfussy bag that shows whimsicality while being hassle-free
Hermès identification: There's no question where this bag comes from—the perforated "H" is the most notable feature
Flexibility: Wear the bag "backwards" if you so desire—which apparently is how it was intended to be worn—to keep the  H (quite literally) to yourself
Easy accessibility: With no zipper and one main pocket, you can easily reach into the bag and grab whatever you need
Ideal entry-level bag: Compared to other classic H bags, the Evelyne is relatively affordable
History
The Hermes Evelyne hearkens back to Hermès' equestrian roots. (Let's not forget that Hermès started out as a horse harness and equestrian accessory brand.) Named for Évelyne Bertrand, the head of Hermès' riding department at the time, the first Evelyne was created in 1978. The bag was designed for horse care; the "H" perforation, originally intended to be worn facing the body, let horse grooming tools dry, and the shoulder strap was meant to evoke the girth that wraps around the horse's body. Additionally, the Evelyne has a saddle bag shape.
The Evelyne was sold near the equestrian equipment in Hermès boutiques until about a decade ago, when it started gaining momentum with fashionistas and not just equestrians.
Since its release, there have been 4 versions of the Evelyne: the Evelyne I, Evelyne II, Evelyne III and Evelyne Sellier. The I, II, and III refer to the generation, and we are currently on the 3rd generation (as well as the Sellier, which is a new variation of the Evelyne). The original Evelyne, the Evelyne I, did not have an external pocket. The Evelyne II featured an external pocket except on the smallest size. The current version, Evelyne III, sports both an external pocket and an adjustable canvas strap.
Hermès released the Evelyne Sellier in Fall 2016. Overall, the Sellier is sleeker and stiffer than the traditional Evelyne. Instead of the H perforation, the Sellier has an embossed, diamond-shaped H logo (see below). The closing tab of the Sellier is also slightly different, with straighter lines and a tighter hold, and the seams are less pronounced. There is no external pocket.
Both the Evelyne III and the Evelyne Sellier are available on Hermès' website.
Features
One large interior pocket
Leather tab closure (no zipper)
Outside pocket
Adjustable shoulder strap
Materials
The Hermes Evelyne is generally available in three types of leather: Epsom, Clemence and Maurice. The adjustable strap is made out of a durable canvas material. Compared to Hermès' other leathers, Epsom, Clemence and Maurice are the best at withstanding damage. It is also worth noting that the Evelyne Sellier is offered in a different leather from the traditional Evelyne: Hunter. (It is also available in Epsom.)
Here are brief descriptions of each of these leathers:
Epsom: Epsom is embossed calfskin, where the grain is produced through machine-printing. Colors appear vibrant, and the leather is considered a happy medium between Togo and Box Calf. Moreover, Epsom is rough and appears slightly glossy. Because the grain is not natural, after many years of wear it can rub out and flatten. But it keeps its shape over time and is scratch-resistant.
Clemence: Originally a leather for travel bags, Clemence is a thick, heavy skin, especially compared to Togo, which is Hermes' most popular leather (though most people cannot see the difference between Clemence and Togo). It's notable for its pronounced grain. Over time, Clemence becomes more supple and may slouch when not properly stuffed. However, its durability and toughness makes it a standout among other options.
Maurice: First released in 2017, Maurice is a new Hermès leather that's an alternative to Clemence. It's very similar to Clemence but with a different tanning process, which produces a smaller and flatter grain. It's slightly more rigid than Clemence, though it softens over time.
Hunter: A firm, dense leather, Hunter is usually used for flaps, straps and trims. Smooth and soft to the touch, it will develop more of a satin finish over time. Note that, while beautiful, Hunter is prone to scratches.
Sizes
The Evelyne is currently available in 4 different sizes:
TPM (Mini) – 16 cm
PM (Medium)– 29 cm
GM (Large) – 33 cm
TGM (XL) – 40 cm
There's been discussion over the TPM (16 cm) being discontinued. It has not been discontinued, but it is hard to find, and it's no longer available on the Hermès website.
| | |
| --- | --- |
| Size | Dimensions (L x H x W cm) |
| Evelyne 16 (Mini/TPM) | 16 x 18 x 5 cm |
| Evelyne 29 (Medium/PM) | 29 x 30 x 8 cm |
| Evelyne 33 (Large/GM) | 33 x 31 x 8 cm |
| Evelyne 40 (Extra Large/TGM) | 40 x 44 x 10 cm |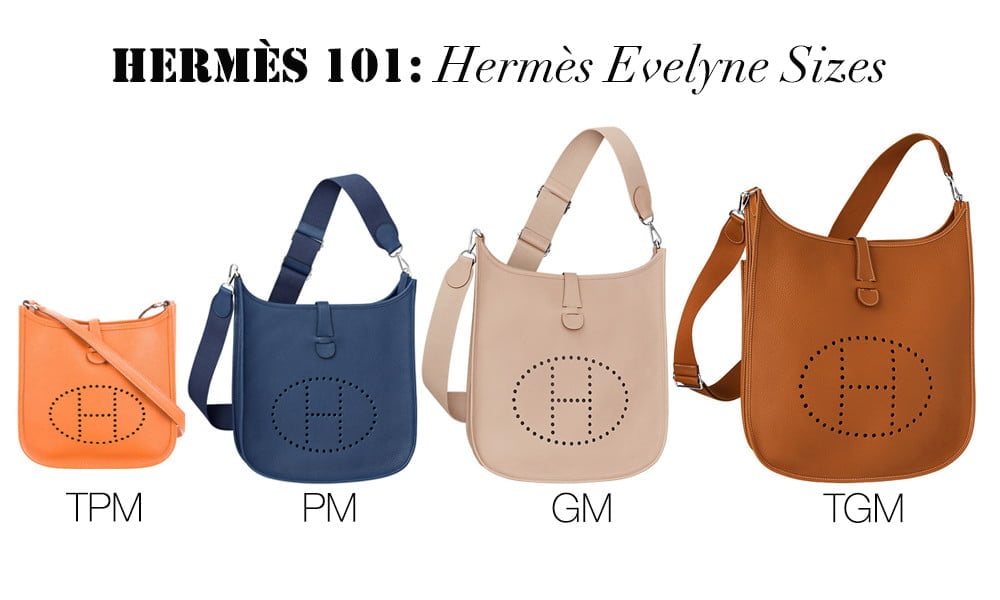 Prices
*All Evelyne III prices listed in Clemence leather. All Evelyne Sellier prices listed in Hunter leather. The prices of Evelyne bags in different materials may vary. Prices are from June 2019.
| | |
| --- | --- |
| Size | Price (USD) |
| Evelyne III 16 | $1,800 |
| Evelyne III 29 | $3,375 |
| Evelyne III 33 | $3,750 |
| Evelyne III 40 | $4,500 |
| | |
| --- | --- |
| Size | Price (USD) |
| Evelyne Sellier 29 | $4,750 |
| Evelyne Sellier 33 | $6,000 |