Rihanna, the iconic pop star and self-proclaimed bad girl, is known for pushing the limits of fashion. As a female artist, Rihanna has a level of confidence and attitude that simply can't be matched, which is why so many brands are dying to work with her. Recently, Rihanna became the new face of Dior and also collaborated with Puma to create her own line of clothing called Fenty Puma by Rihanna.  We totally admire Rihanna's fearless and experimental style, but we can't say that we're brave enough to wear the some of the bizarre pieces that she seems to effortlessly rock. Let's take a look at the bold outfits Rihanna has been wearing lately….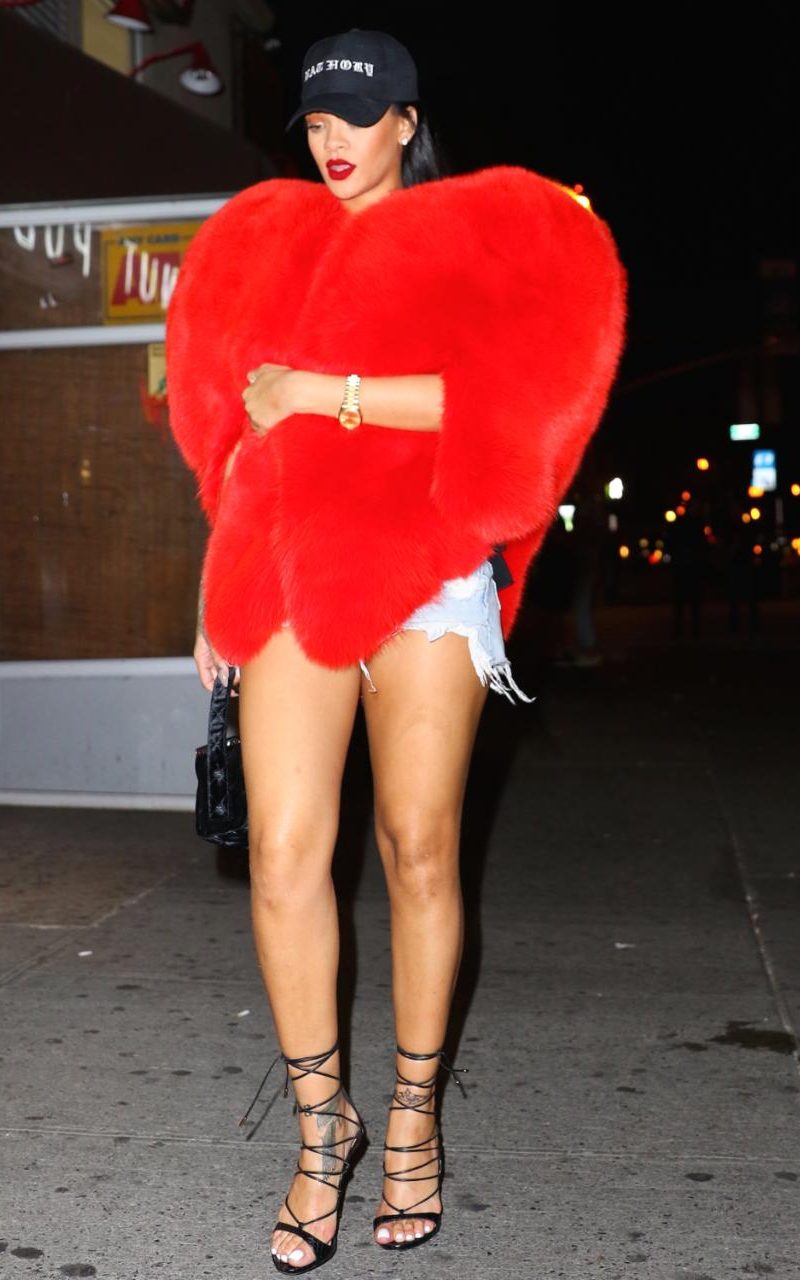 Why not conquer cold weather in style? Suffice to say, Rihanna will be completely prepared this winter in her Saint Laurent Heart Shaped Fur Cape. For now though, she'll be rocking her fur with cut-off shorts and heels!
Style Highlight:
Saint Laurent Heart Shaped Fur Cape via Saks Fifth Avenue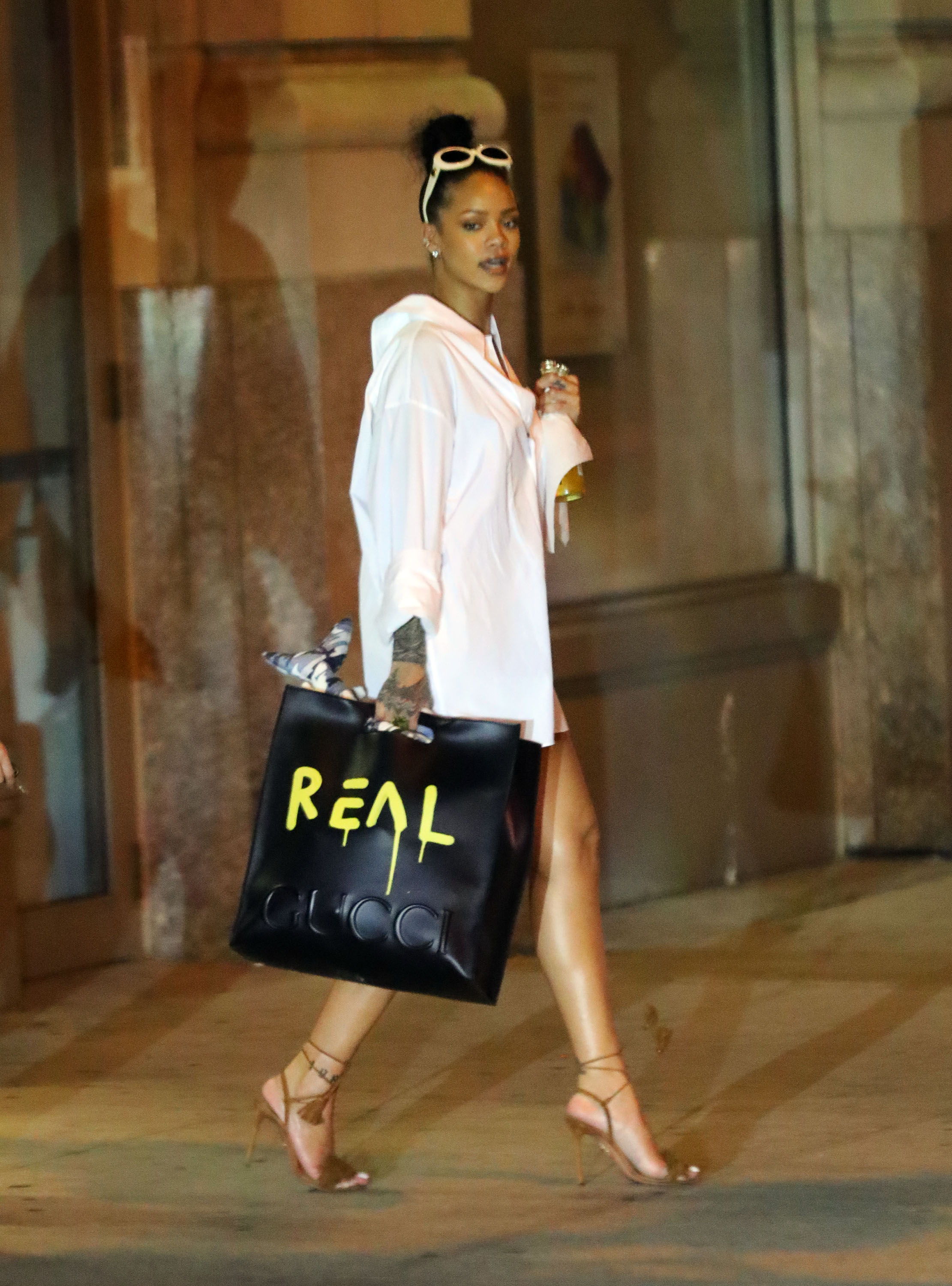 Gucci has had a full turnaround ever since Alessandro Michele became creative director. Gucci's new accessories and clothing are cool, funky, and luxurious – all the things Queen RiRi loves! The Gucci Ghost Tote with the word "Real" painted in yellow graffiti perfectly captures Rihanna's style.
Style Highlight:
Gucci Ghost Leather Tote via Gucci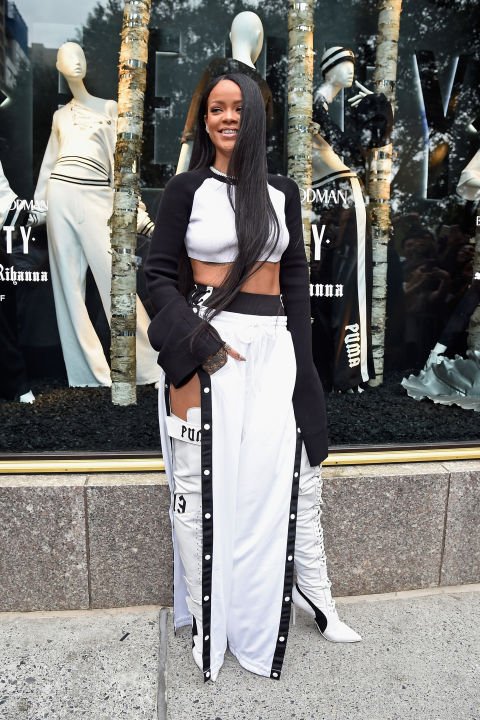 Rihanna collaborated with Puma and recently created a line full of athletic chic clothing. Rihanna met her fans at Bergdorf Goodman in NYC to celebrate the debut of her collection, and naturally she showed up in all her greatest  Fenty x Puma by Rihanna pieces.
Style Highlight:
FENTY PUMA by Rihanna Eskiva Leather Over the Knee Boots via Bergdorf Goodman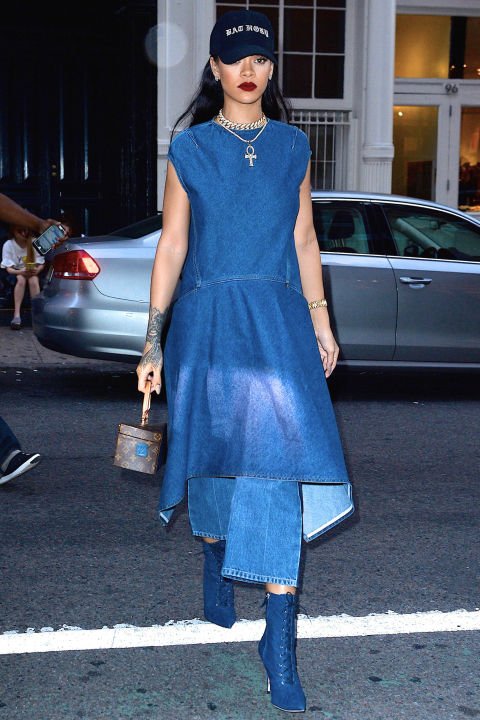 Rihanna rocks the 90s denim on denim look in the most fashionable way possible by wearing Balenciaga and Manolo Blahnik. Extra creativity points for the stiletto heel denim booties.
Style Highlight:
Manolo Blahnik Dancehall Cowgirl Denim Boots via Manolo Blahnik