These bags will turn heads everywhere you go!
There's a reason Louis Vuitton remains in the top of the luxury designer market, particularly when it comes to handbags. Its bags consistently place among the most highly coveted bags on the market. The brand's offerings manage to be simultaneously both contemporary and classic.
Indeed, many of Louis Vuitton's iconic handbags have become synonymous with rich and famous. Its signature monogram needs no introduction, even as it is repeatedly redesigned and reimagined. Louis Vuitton embodies fashion and functionality thanks to the brand's unique quality and exclusivity. Furthermore, the versatile design and practical size ensure a future-proof appeal.
And this winter season 2023 is no exception. With hallmark classics, variations on themes, and a new collaboration, there's something for nearly everyone.
Here are our top Louis Vuitton picks for the season.
Best for every day: Steamer MM
Reach for this two-handled tote when you need to carry more than just the bare minimum essentials and don't want to break the bank. Despite perhaps a resemblance to the Hermès Birkin, the Steamer MM tote stands on its own for style. It's the perfect everyday staple. Eternally practical, this infinitely stunning sculptural masterpiece is an essential piece for the modern woman who seeks a minimally sleek bag to house all her essentials and cater to life's adventures!
This new classic style closes with the label's iconic 'V' padlock and features in a sumptuously soft-grained calfskin. It includes a turn lock closure with luxurious gold-finish angle brackets that seamlessly adjust the bag's width. Finished with fitted top handles and a removable strap, this roomy model is ideal for storing your most valuable items. Retailing for $6800, this day-to-night bag will make you the envy of many.
Best Colorway: Shearling Twist MM
Alert! Alert! New It-Bag Detected! With a penchant for perfectly keeping a finger on the pulse, Louis Vuitton introduces another posh bag. The first fuzzy LV wonder is the delicate Twist MM.
Called denim blue, it's more of an icy blue color way reminiscent of a winter wonderland. This is a fresh new-season update of a now classic in fancy shearling. Keep your wallet warm (lol) as you slide into the season with effortless elegance.
The bag includes both a removable double metal chain with an enamel monogram charm and a leather strap. Expect to pay $5800 at the boutique.
Best Versatility: Shearling NéoNoé BB
Season after season,  Louis Vuitton continues to rework one of the most classic bucket bags in its catalog. This refined Parisian bag is far from an exaggerated statement. However, you'll soon realize the magic of combining the old-school monogram canvas with a winter silhouette of shearling trim. Truly it makes this version of the NéoNoé BB bucket bag timeless.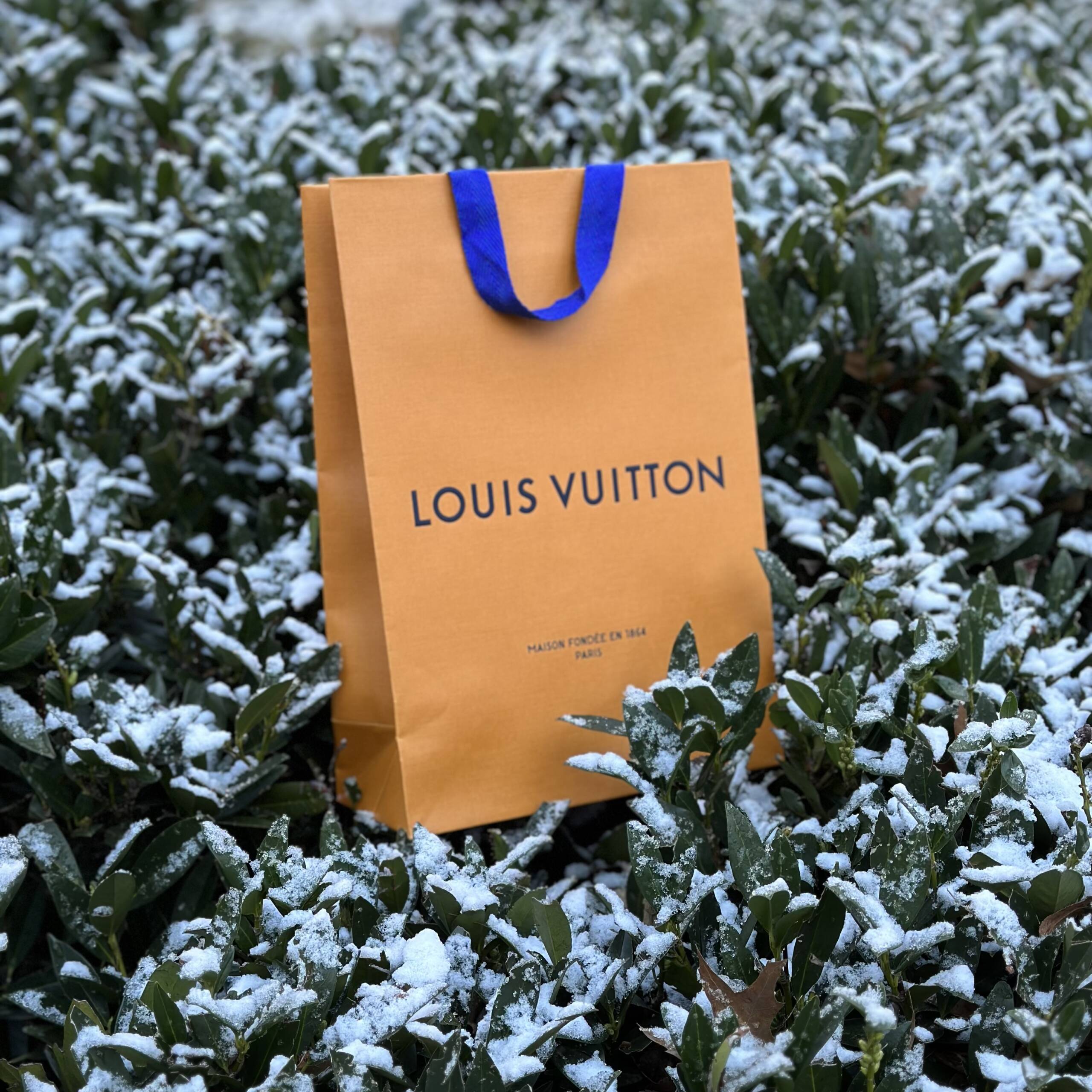 We almost wonder why it took so long. Structured and slouchy, this spaciously sleek silhouette features a wintry-fresh top handle and a super soft, fluffy fleece border with a long leather strap, which adjusts for different styling options. This iconic bag brings warmth to icy, cold winter months. It beautifully blends the iconic Monogram canvas, cream-colored shearling, and aged natural leather in a limited-edition style.
Although Louis Vuitton offers the Néo Noé in a variety of sizes and styles, this one retails for $2570.
Best Architecture: Shearling Locky BB
This nontraditional bag's new modern architectural design is truly a tactile triumph. Louis Vuitton continues to push the boundaries regarding unconventional yet practical handbag design, as proven by the luxe Locky BB bag's distinctive style. The brand beautifully blends tradition with a modern twist.
Combining Monogram canvas with soft, cream-colored shearling, the bag is accentuated with an oversized golden padlock. Carry by its top handle or use the removable strap made from Maison's natural aged leather.
This day-to-evening piece provides maximum flexibility. Carry it by hand, cross body, or on the shoulder. Classic and casual, no doubt it will attract attention. While available in many sizes and fabrications, this one sells for $2920.
Best Travel-Friendly: ONTHEGO MM Pillow Tote
The unmatched LV monogram captures the attention of all who sees it from afar. From the LV Pillow capsule collection for the 2022 winter season comes this fancy but sassy ONTHEGO MM Tote. The impeccable bag's distinctive eco-design incorporates recycled nylon and ethically sourced materials.
The lightweight fabrication makes it user and travel-friendly, not to mention it resembles a pillow. Fashioned from recycled padded nylon, the roomy body is embroidered with the iconic Monogram. With both puffy top handles and long shoulder straps, there's plenty of room for all your essentials. All of these factors make this timeless yet trendy everyday bag a lifesaver.
Available in both black and silver puffiness, it retails for $3350.
Best Artistic: LV x Yayoi Kusama Capucines MM Bag
No list this season is complete without something from the latest Louis Vuitton collaboration: LV x Yayoi Kusama. Louis Vuitton reimagined many of its archival ready-to-wear pieces and accessories in its stunning Infinity Polka Dots collection.
The current influencer fave is the medium polka dot LV x Yayoi Kusama Capucines Bag in black. It retails for $8800. However, Louis Vuitton offers a selection of Kusama-decorated styles.
Using the designs of apanese artist Yayoi Kusama on handbags seems particularly fitting. Kusama believes in the beauty of blending unexpected things and making them miraculously work.
Kusama's take-no-prisoners artwork is showcased in her countless fun iterations, lively patterns, and extraordinary textures to inspire you not to take life too seriously. It empowers and encourages us as women to evolve by becoming more fearless in fashion and not shying away from bright colors and bold designs. It's a refreshing life lesson to take into 2023, adding a bit of color and whimsy to our closets.