The music world has Queen B, but the handbag universe bows to Queen Birkin. Jane Birkin's namesake Hermes creation is the ultimate holy grail bag for some and an overall media sensation, even securing a coveted storyline on "Sex and the City". While sitting high on the purse pedestal, we can't help but wonder (a la Carrie in SATC), is it really the birth mother of all handbags?
Recent tote styles by many top-tier fashion houses have been automatically tagged as "Birkin Copycats" because of their similar silhouettes and two top handle construction. The hot, and hot-off-the-presses, Diorever from Dior has been criticized for looking too much like the Birkin. Similarly the Saint Laurent Sac de Jour resembles the Hermes bag with a sleek modern twist. The Louis Vuitton City Steamer and the Ralph Lauren Ricky Bag likewise have a Birkin-esque feel. The list doesn't stop there. As more and more east-west tote bag styles come on the market, the first reaction often is "This bag just looks too much like the Birkin!"
PurseBop has been pondering and is here to provoke the discussion about originality in the handbag industry. We ask you: is it really fair to call these bags "Birkin Copycats"? Put another way – is anything really new?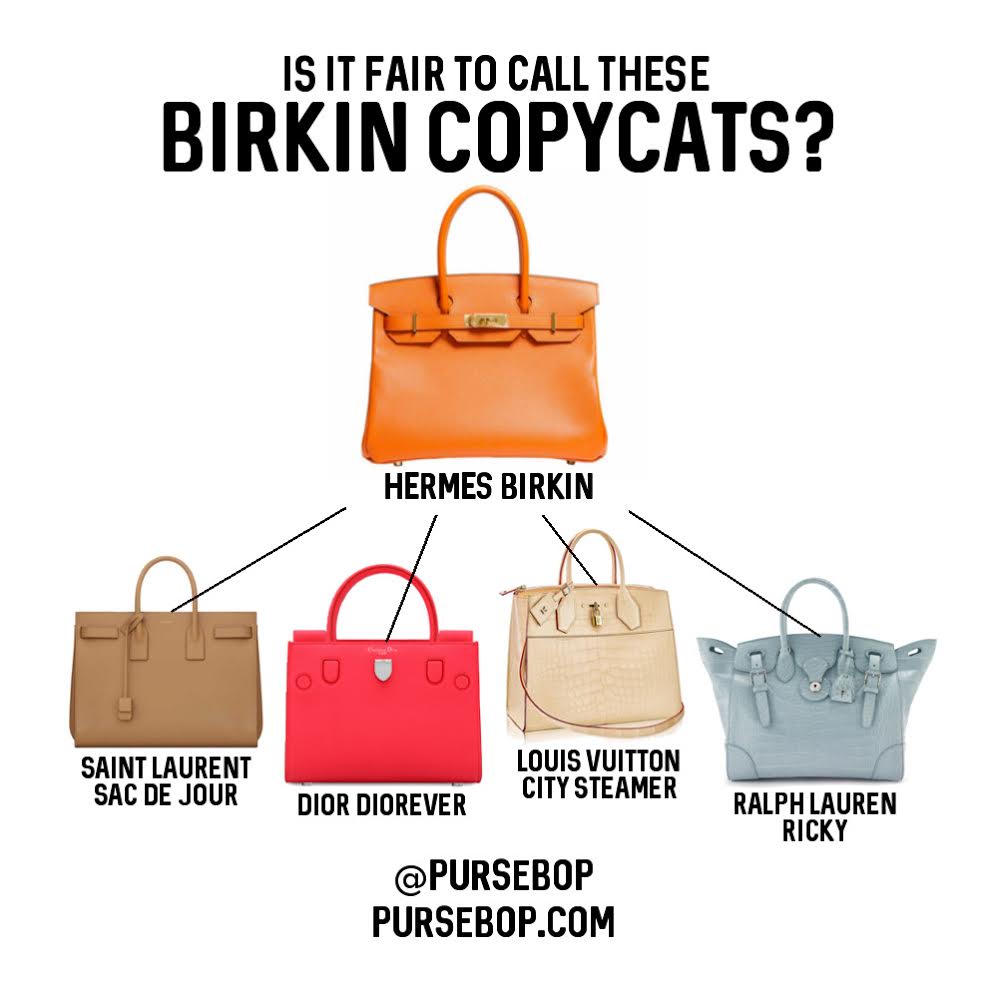 First, let's explore the reasons why the Birkin is so influential…
Historically, it makes sense why companies would look up to a bag like the Birkin for inspiration. Queen Birkin, in its many sizes and iterations, is a tremendously popular bag, albeit at an elitist price point. From a sales and marketing standpoint, why not create a sale-able bag with similar features. For example with the Sac de Jour, Saint Laurent sought out to create a traditional tote in the spirit of the Birkin, and it is now one of their iconic, flagship products.
In the same vain, many people admire the Birkin, but the process of securing one is exclusive and expensive. Having an alternative to the Birkin in another fashion house is not only lucrative to the brand, but also allows consumers to achieve the look of a bag they admire and possibly at more accessible price point.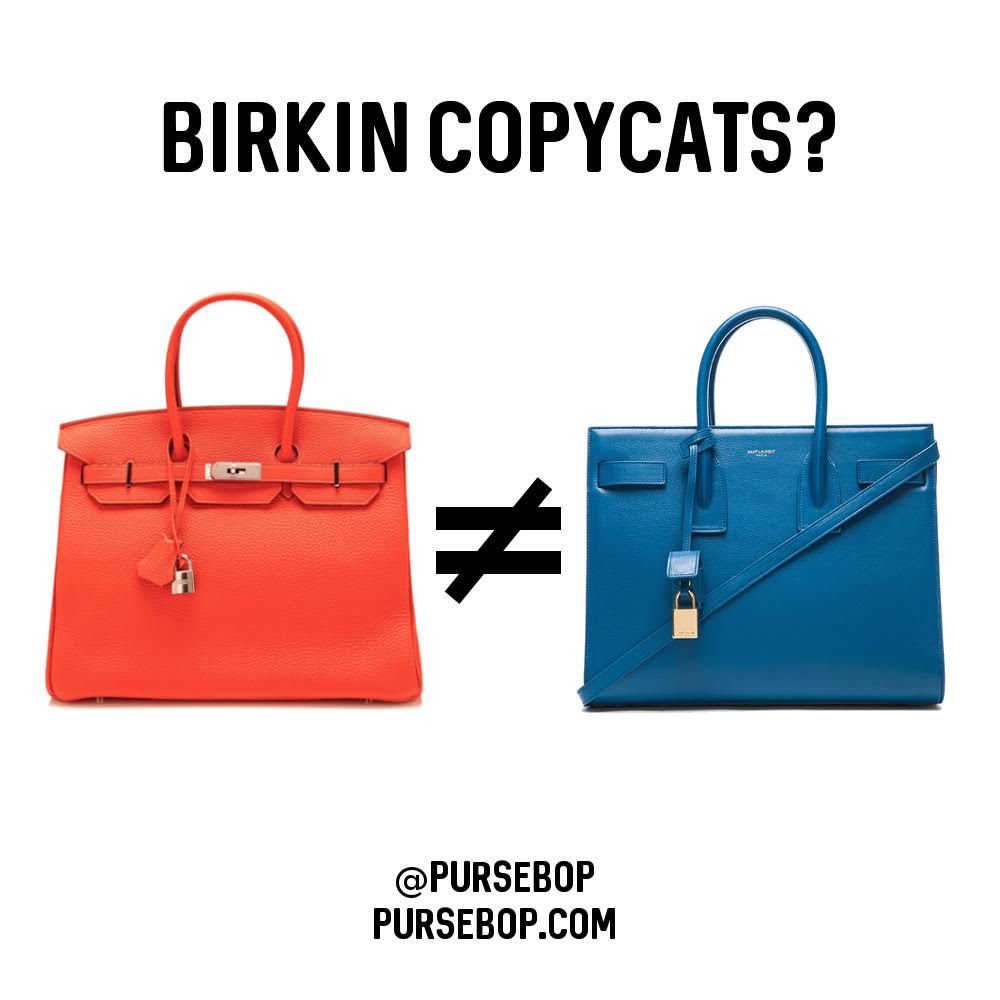 | | |
| --- | --- |
| Bag | Price in USD |
| Hermes Birkin 30 | $10,900 |
| Hermes Birkin 35 | $11,900 |
| Dior Diorever Mini | $3,000 |
| Dior Diorever Medium | $3,400 |
| Louis Vuitton City Steamer PM | $3,550 |
| Louis Vuitton City Steamer MM | $4,100 |
| Saint Laurent Sac de Jour Small | $2,750 |
| Saint Laurent Sac de Jour Large | $3,490 |
| Ralph Lauren Ricky 33 | $3,500 |
| Ralph Lauren Soft Ricky | $2,500 |
It's not all necessarily about money and profit either. Companies take note of the Birkin because it is just a smart bag. While, we may "ooh and ahh" at unique, novelty bags we see on the runway, many times we are reaching for more neutral, everyday bags. Designers could give us crazy bags to play with, but overall there are only so many styles that are wearable, practical, and appealing. The Birkin bag embodies versatility, elegance, and is a collection essential. It serves the function of the tote, but features like the clochette, sangles, and detailed flap elevate its look (Read: Hermes Birkin vs. Kelly 101 to find out the full anatomy of the Birkin!). If designers take ideas from these concepts, it might just be because they know it's what people like, will use, and come to love.
Now, to the more philosophical side of things…
The fashion industry is about exploring artistic creativity and this can sometimes mean "borrowing" ideas or "being inspired" by others. In fashion, they say, seeing something three times, makes it a trend. And some trends have such momentum that they become the next "it" thing – wanted and aspired to by many. Every bag has its subtleties and own unique vibe even if it takes influence from another bag. Bags with features similar to the Birkin should not necessarily be deemed "Birkin Copycats" because there is no intent to replicate the Birkin from top to bottom. The Diorever, Sac de Jour, City Steamer, and Ricky bag, among others, are unique bags in their own right.
As handbag consumers, we can judge similarities and differences to decide whether they're good purchases for our personal collections. Yet, there's no need to de-merit bags as lesser or unoriginal just because of superficial resemblances. Monet was neither the first nor last to paint flowers and not every floral picture is inspired by him. Everyone has different preferences and may even prefer another bag with Birkin-like features over the actual Birkin. Yes, Birkin rules in many ways because Hermes is a prestigious fashion house and the bag itself has a huge legacy.