So much information has come out regarding Chanel policies, quotas, goals, and strategies. In light of it all, I must say I was delighted that I had reserved this jewel-toned flap many months ago in order to complete a color vacancy in my collection.
Without further ado, it is the dark purple small classic flap in caviar. The color is absolutely breathtaking, if purple is your thing. Earlier this season came the heart 💜 bag in a softer hue of purple that I have thoroughly enjoyed. In fact, it made its maiden voyage to Paris in April and has been in constant rotation since.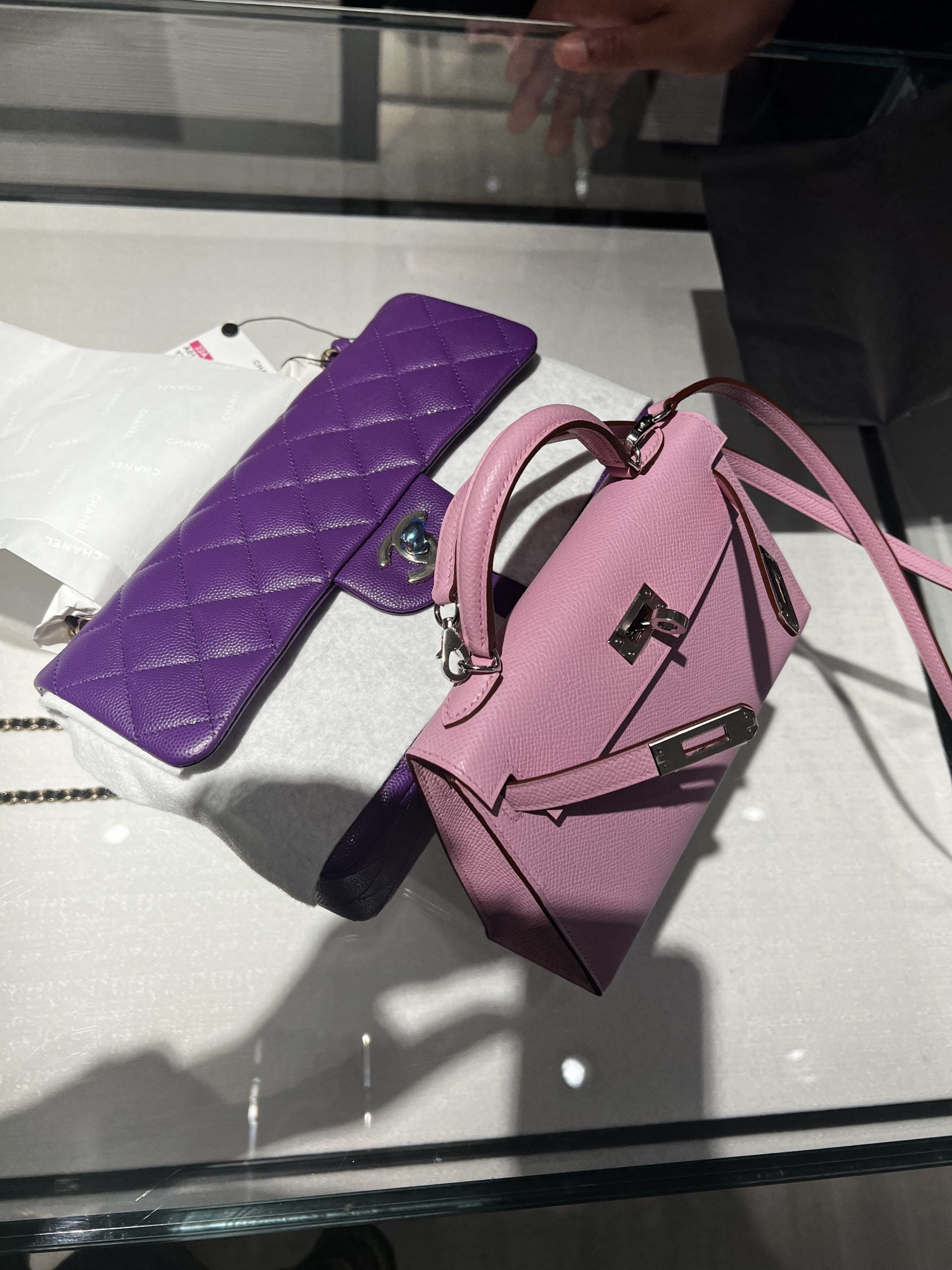 .
I was tempted to add the classic flap in the same purple from 22S but resisted in hopes that the new variation would be a stunner. Glad I was able to hold off.
The quotas are definitely going to be a game changer. With quotas in place we can anticipate far fewer flaps being produced for global markets. I think we can all agree that we will experience a deeper rooted appreciation for the classic flaps we already own. It will be very interesting to see what happens a year or two down the road when the flap becomes, as Chanel wishes, a more exclusive style.
Read: Chanel Discloses Official Quota System for the Classic Flap
Will it garner the appreciation of the Hermès quota bags? That's not clear one way or the other. However, understandably there will be increased interest in and value associated with the classic flaps.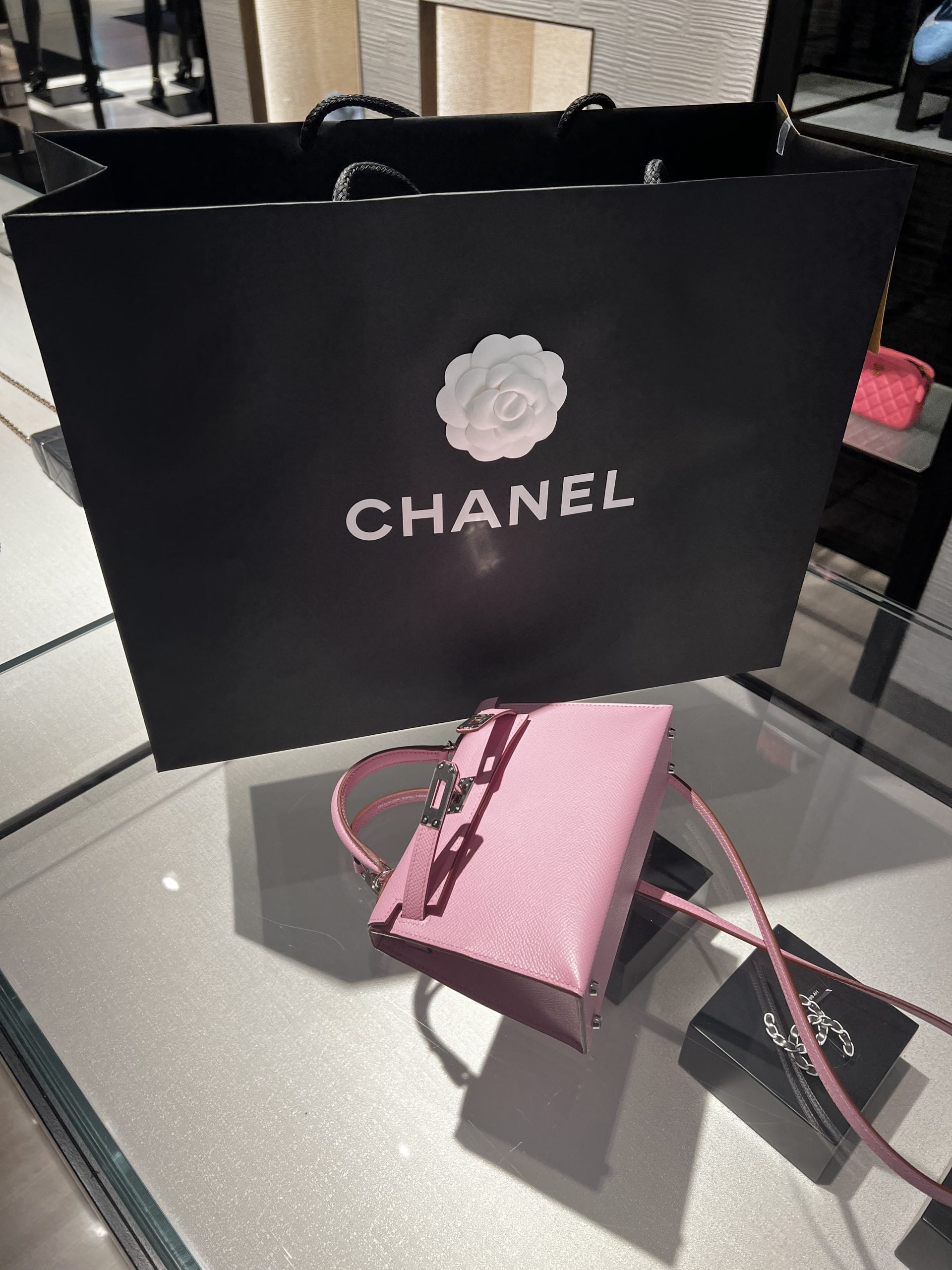 I think it's important to note that Chanel has a much broader customer base and therefore greater market exposure than Hermès. As a result, this increased exclusivity of the classic flap will have rippling effects on perception of this style.
For example, consider the number of people that recognize a Chanel classic flap versus those that would recognize an Hermès Kelly. If the Chanel flap can become more exclusive, multiply the effect of that desirability to the reach Chanel has. It would be epic in terms of proportion.
As for my classics personal quota, I may have reached my limit barely halfway through 2022. Earlier this year I purchased the caramel flap and now this 22A purple. Thankfully the hearts are not part of the new quota system. So I am safe there. For now, anyway.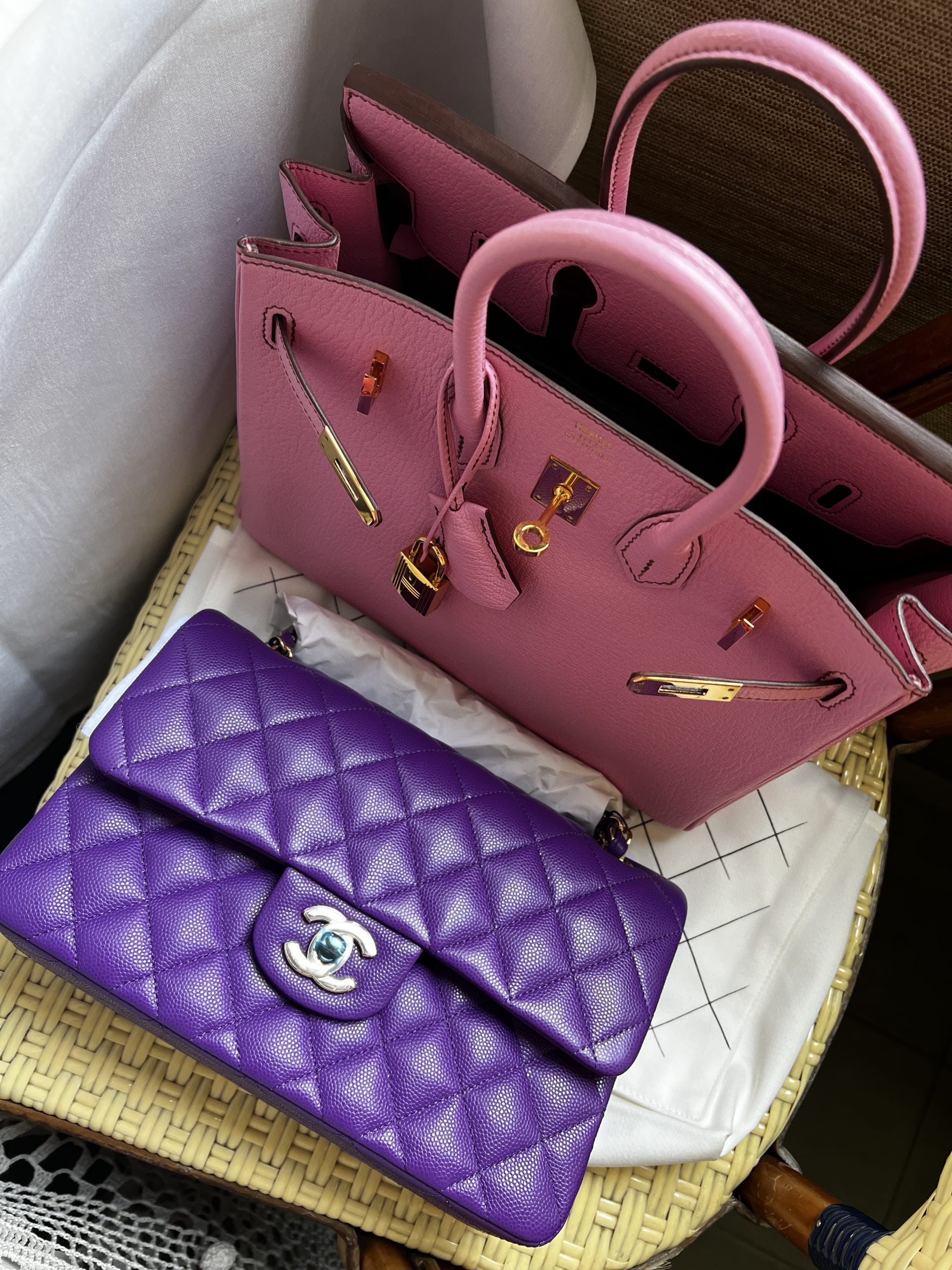 I am delighted to report the quality of this particular caviar is excellent. Unlike the silver flap I purchased at the end of 2021, this one is not rigid. Although this is the softer version of caviar, it feels more substantial than some of the flaps I examined in past seasons.
This will be an interesting criteria to watch as more seasons are unveiled. We certainly hope to see more consistency and an improved quality with this new exclusivity.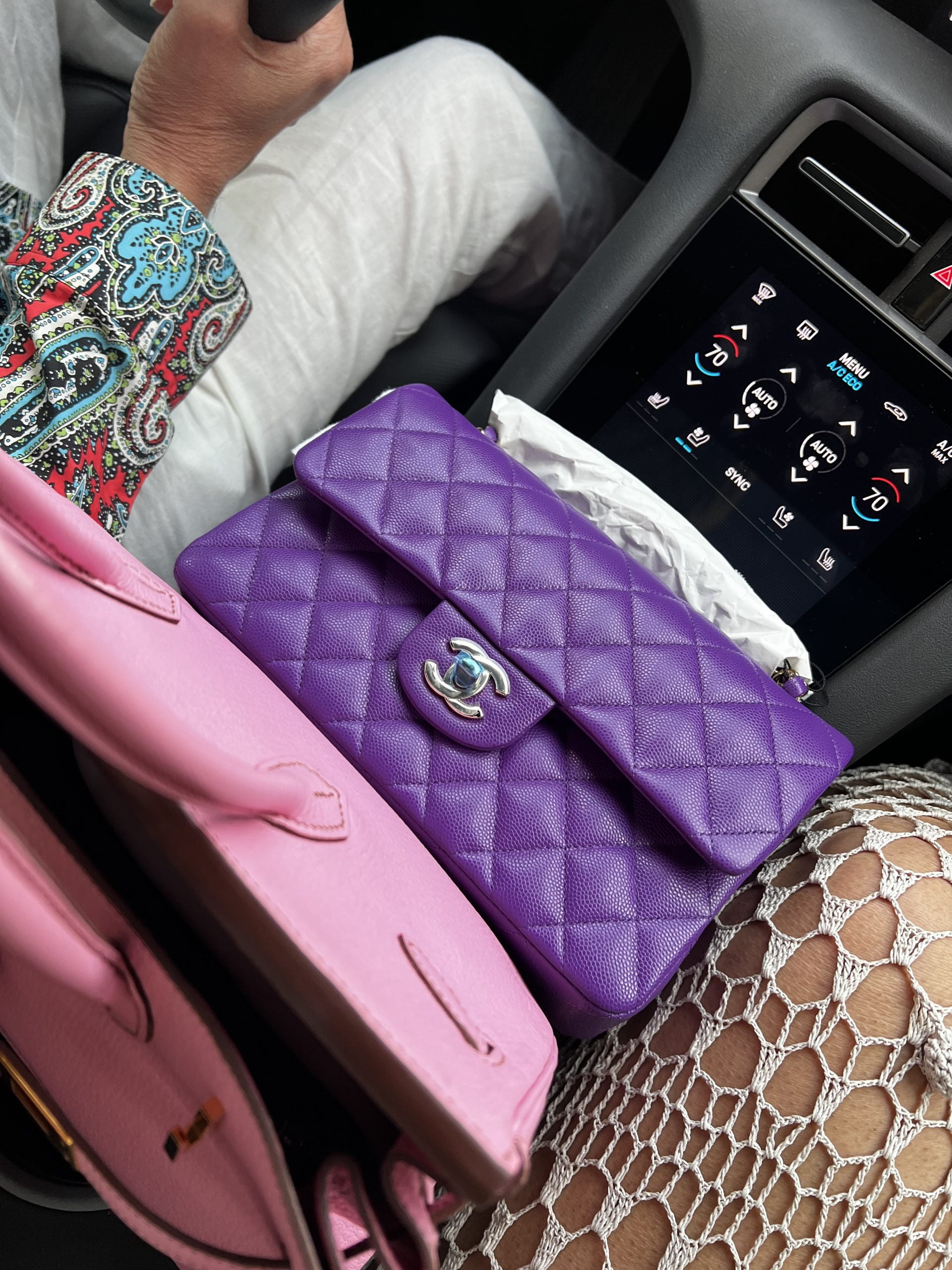 A quick comparison of the 22S and 22A purples. I see the 22S as more of a spring summer hue and the new purple more of a true jewel tone that evokes visions of royalty and lofty cashmere sweaters. I'm interested to see how I enjoy the small size as this is my first foray into the more petite version. Although medium is my favorite, I've always been keen to try a small one. Here's hoping it's not too mini for me. Of course, I will report back after I've had the opportunity to put it in rotation.
The Journey From Chanel to Hermès and Back Again
I'm going to digress from the reveal and chat a little bit about my love and deep-rooted passion for Chanel. Long before I slid down the slippery orange slope, I was a diehard Chanel fan. My very first classic flap was a gold metallic re-issue 225. Peculiar choice to some, but I desired my first bag to truly be iconic. What followed were myriads of flaps in different colors and different sizes, plus more special miniaudières than I care to confess.
However, somewhere around 2010 a hunger and desire to learn more about Hermès overcame me. Dare I say that at the time, I thought the Birkin was very granny-like. Neither looking for value nor thinking about investment, I was selecting pieces that made my heart sing. Indeed, that was the only criteria that shaped my decisions. Despite the fact that Hermès lovers repeatedly asked me why I was not collecting Hermès, I just didn't think it was for me. But, ultimately, I succumbed… bigtime as you all know.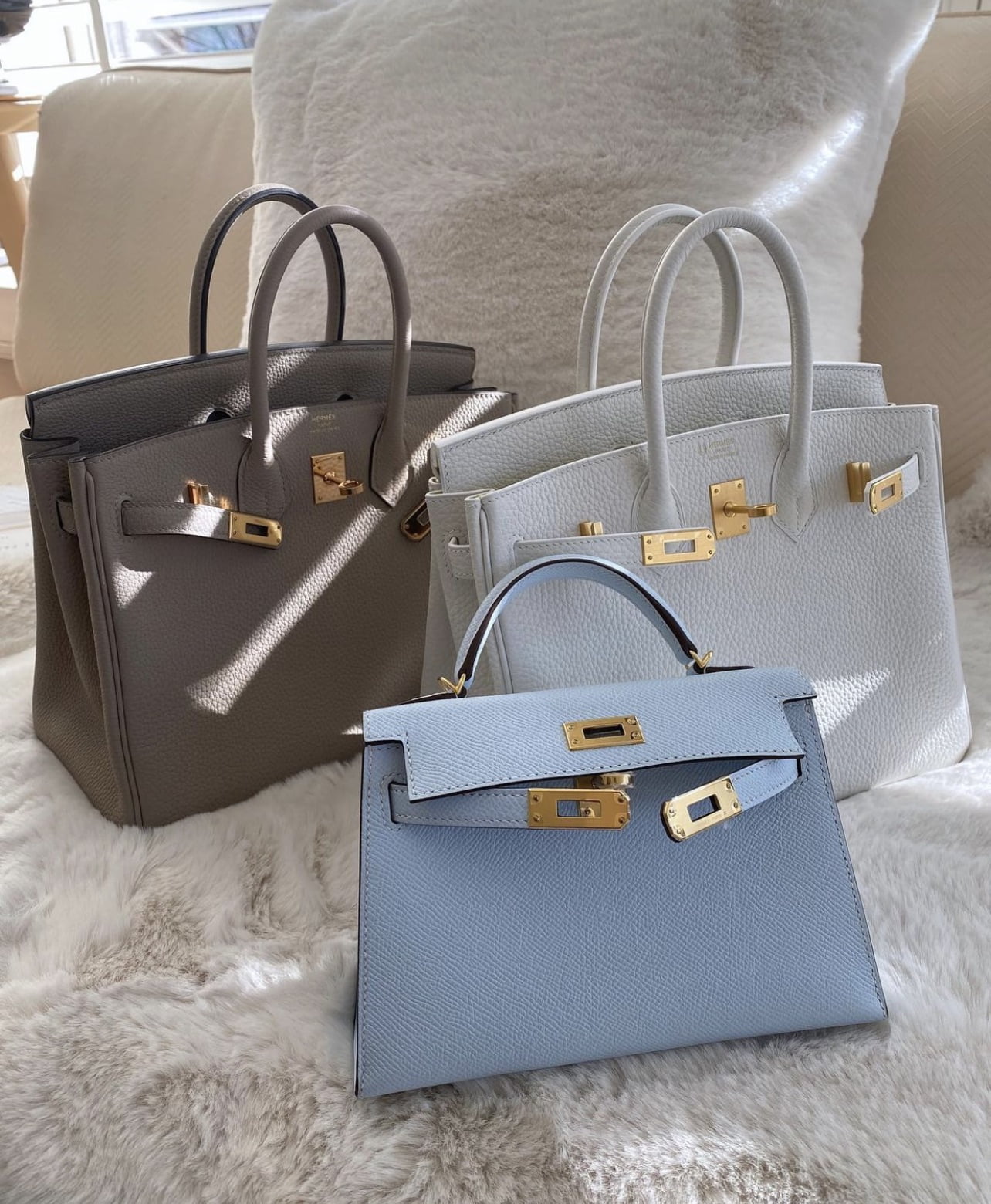 Hermès is not a simple game, it takes a lot of nurturing and learning. And I don't do things halfway. When I'm in, I'm in deep. Unfortunately there was no PurseBop for me to follow and become educated but I scoured the internet for resources. That knowledge and hunger grew till my first Birkin 35 in orange Epsom in the winter of 2013. Some of you will remember that Super Bowl reveal in the snow.
At this point I was consumed with knowing everything I possibly could about the Hermès brand. I was like a sponge, soaking in every morsel of available information. Obsessed is a fairly accurate description as during this time I was completely and totally unilaterally focused on Hermès. Shocking as it is, I was largely oblivious to Chanel's seasonal colors and even Karl Lagerfeld's special pieces. Not completely, of course, as one or two Chanel bags still made it into my collection. I continued to enjoy my vast and beautiful collection of Chanel, but with a propensity only towards H. Those of you who have followed me from my early PurseBop days will know and see the marked transition in my content, reveals, and passions.
Somewhere, about two years ago my interest veered back to Chanel. Our editor asked me this morning to elaborate on this. Why the shift now? Is it a 10 year itch? Ten years of Chanel followed by 10 years of Hermès and then back to Chanel? Not really sure, I did some soul-(and handbag) searching.
One of the first things that comes to mind is the ease in carrying a Chanel Flap. It's light, much lighter than any Birkin or Kelly . Maybe the pandemic drew me back to a hands-free option, not wanting to fuss with hand carrying. Now you might say a Kelly can be carried hands-free but there's still plenty of fuss involved.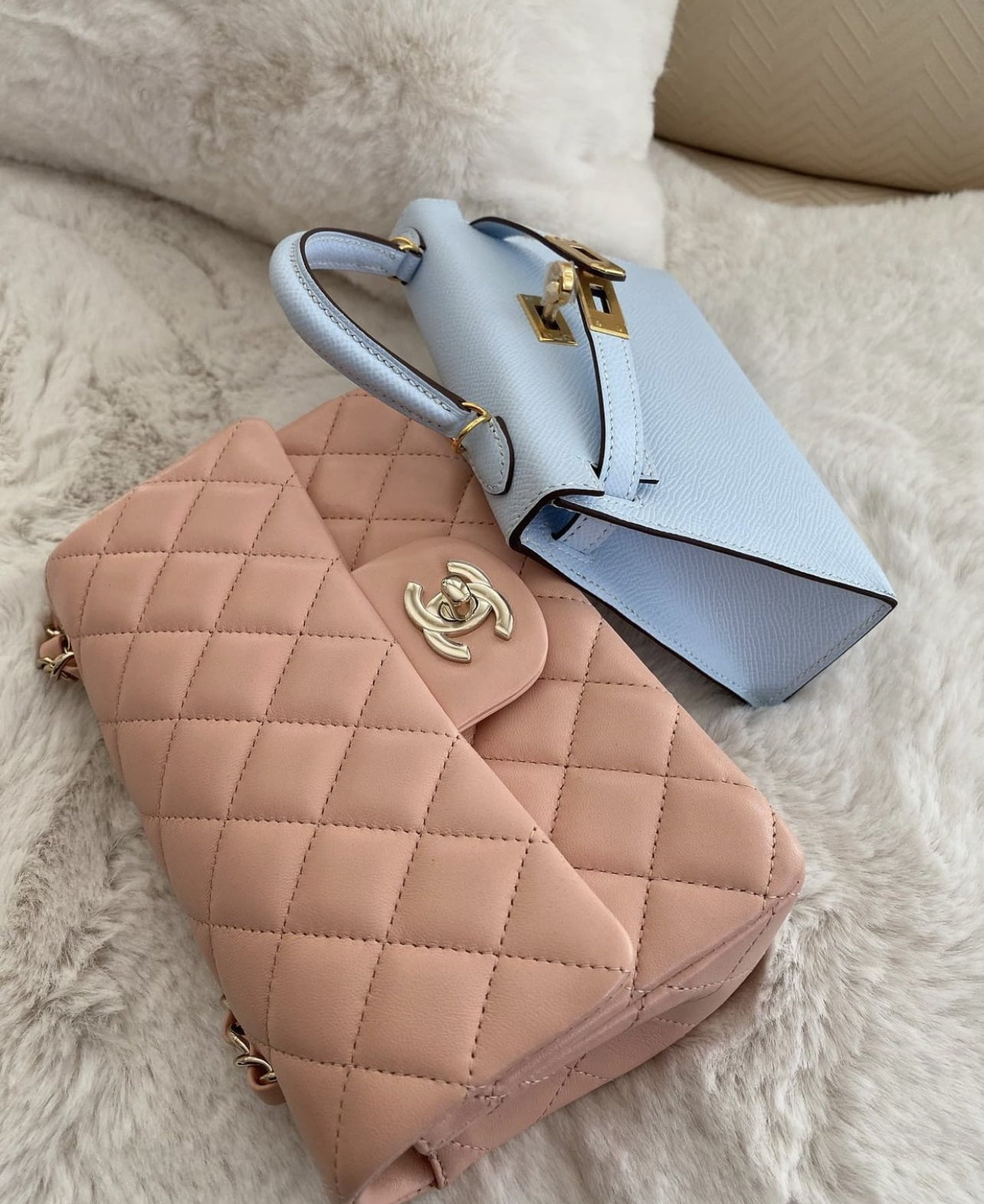 There's also the issue of size. I'm not a mini lover just because minis are in trend. My preference always runs to smaller, lighter handbags. After all, I don't put much inside my bags.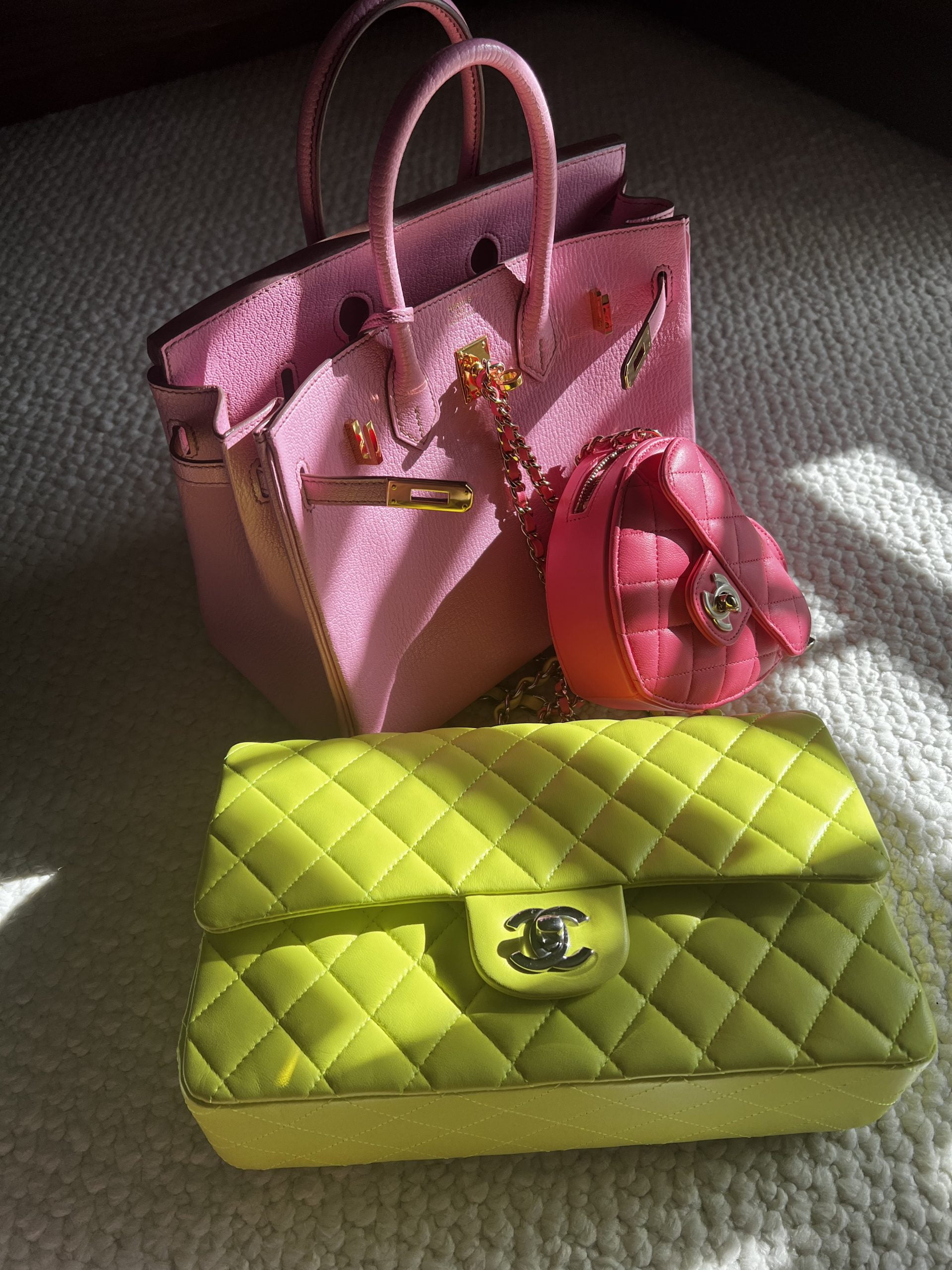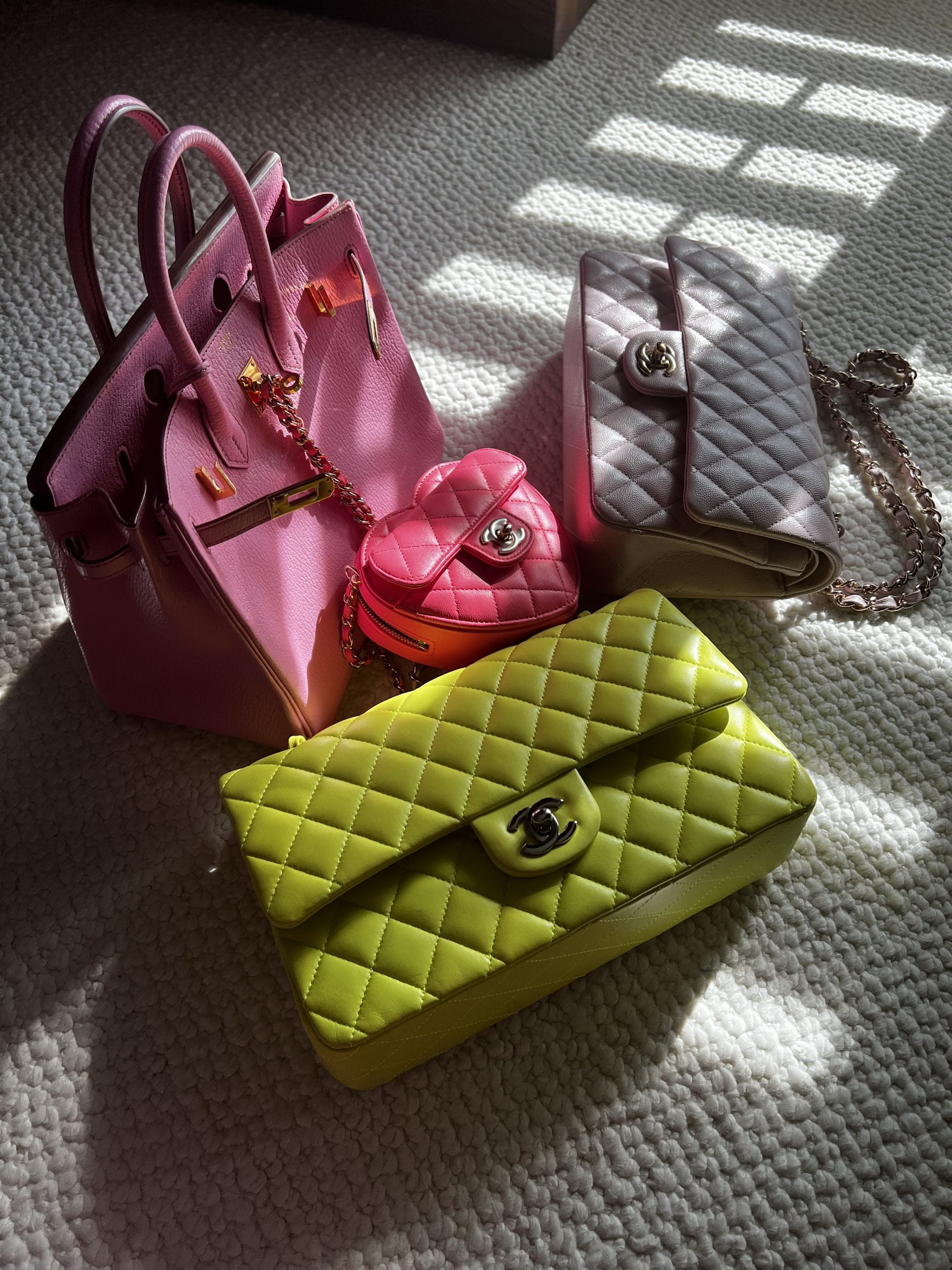 One's personal style and taste changes over time, perhaps as we age. Inevitably, there's a big difference in preferences and passions. My taste definitely has become more classic. By no means has my love for Hermes lessened, but I think I've come to a place where there's space for both brands in my collection.
If I'm truly transparent, to some extent (and this may be controversial), I appreciate the air of exclusivity that Chanel is striving to create for its classic iconic flaps. My Chanel interest was always the classic flaps or the very limited specialty pieces (miniauderies). In those days, the 'special' bags were truly special. Few were produced and once gone there was no finding them again. In some way, it was a race to obtain these. However, as seasons passed, as I saw these styles still sitting in boutiques, I lost interest, particularly at five figure prices.
I also believe that I became committed to making better handbag choices. Although I do not believe handbags are a life investment, it doesn't hurt to know that the $10,000 or $15,000 you've spent is recoverable, if not also providing profit. This has shaped my decisions and in many ways prevented additional Chanel purchases because sadly the flaps I had sold went for half of the original retail cost – and near new. On the flipside, if I decided to rehome a Birkin 35, I generally collected my cost plus a few thousand more.
Of course, the financial considerations cannot completely explain my deep dive into Hermès over Chanel. It was fresh and exciting for me – a whole new world to learn and explore. Hermès is a culture, a community. And with each bag offer and purchase comes a deep rooted sense of loyalty. It's an understatement to say that I became  attached to my Hermès handbags.
I believe Chanel strives and will succeed in creating this for its iconic Chanel flaps – but it will take time.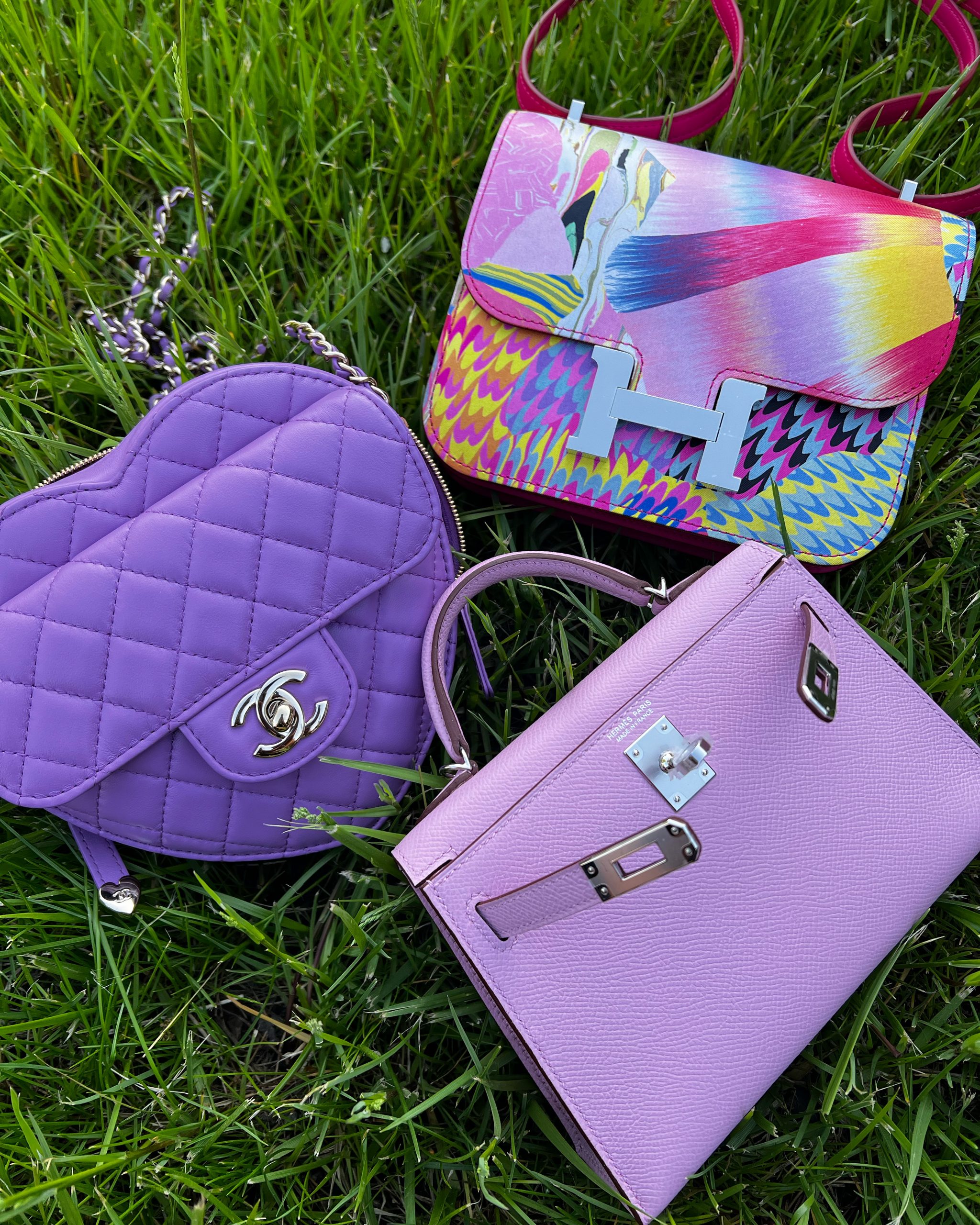 Let's turn to the recent. In the last 18 months, I confess I have added several classic flaps from a pretty pink, neon green, to silver —just to name a few. And I'm really enjoying them alongside some classics from years ago. I did a cathartic Chanel clean out a couple of years into my Hermes journey. I regret letting a few of those go, but thankfully my favorite flaps and all my miniauderies remain with me.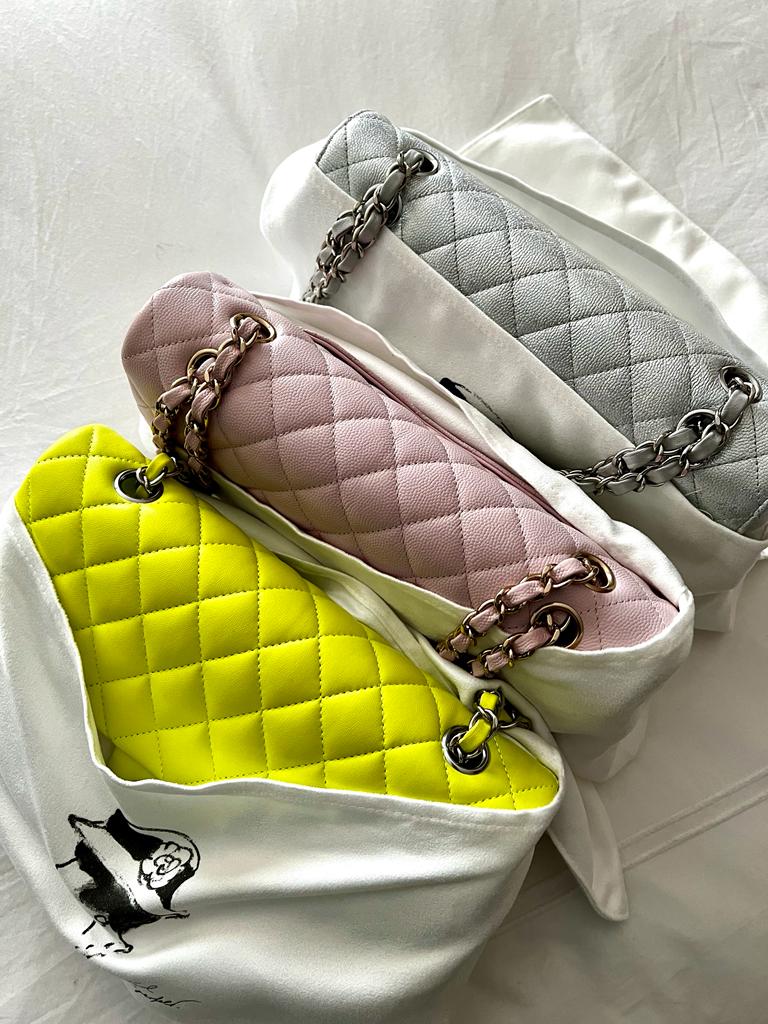 Where do I see myself now? My lifestyle will always create a craving for small-sized dinner bags appropriate for our very social life. So even if larger bags return to trend, I don't see myself walking down that path with too much enthusiasm. I also try to envision myself in ten plus years, God willing…  and when I consider my mom's preferences today – I realize size and weight will play an even bigger role. I didn't think about this when I was 25 years old, but I do think about it now.
There has been a significant shift in my love for smaller lighter bags and this created a parallel shift in my collections.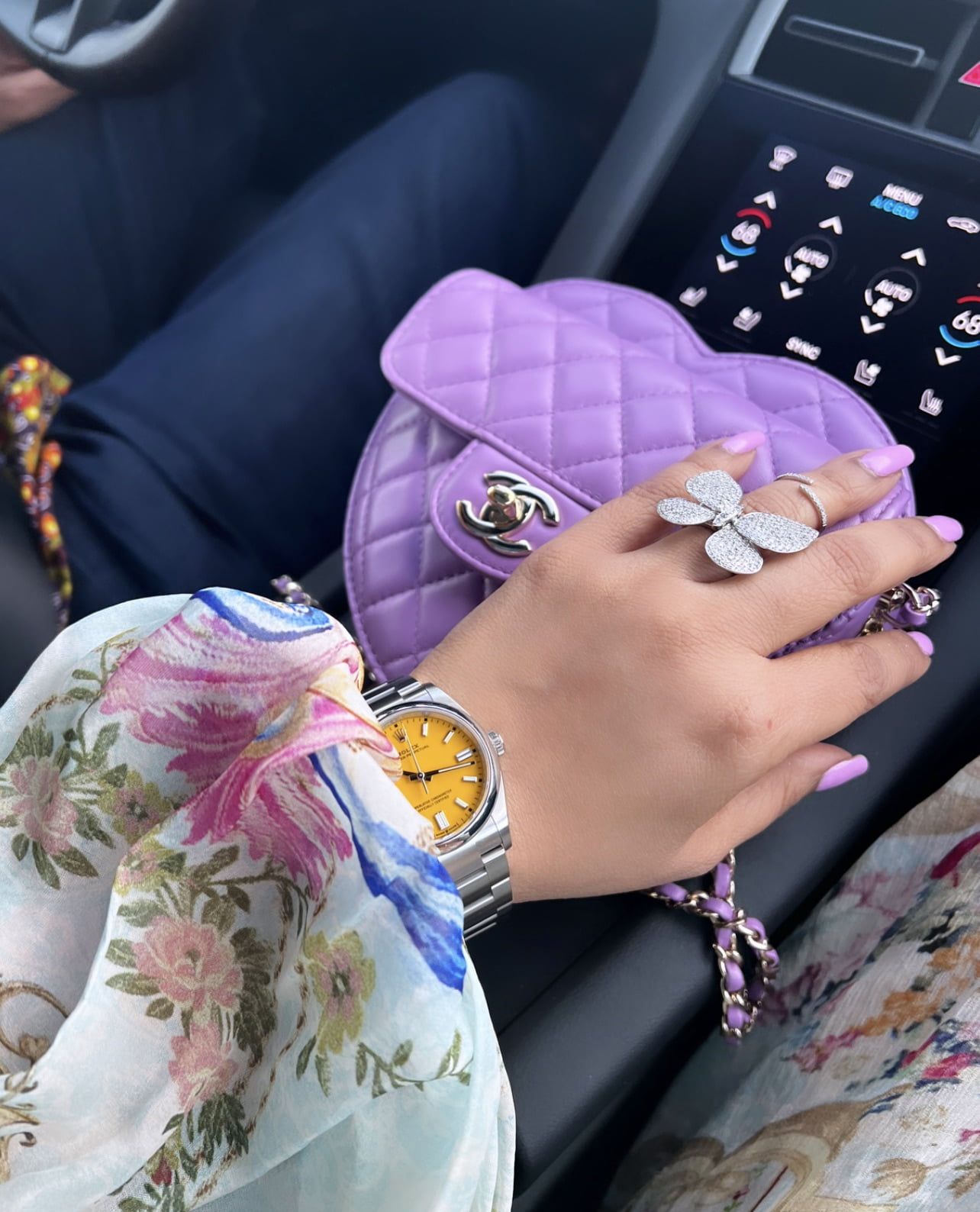 As a result, expect to see me collecting pieces that are functional for my lifestyle. Bring on as many mini Kelly's as you can find, mixed with a few 25's and the occasional classic Chanel iconic flap. No larger than a medium.