Dear diary,
Shall we continue where we left off with my conversation with my Paris sales associate Cecile?: 
The clock was ticking…Cecile was frantically trying to secure the piece that I wanted. Thankfully, in walked Mr. PurseBop and I quickly apprised him of the situation. I'm sure he could see from my face and my voice that we were knee deep in in a serious predicament. I wanted his real opinion. I didn't want him to say "whichever you like." I introduced him to Cecile, and she explained the situation. Mr. PB is always calm and suggested that we head off to Hermès as it was approaching 2:30 pm. Cecile would continue to reach out to Rue Cambon. We would check back with Cecile at around 4 o'clock and go from there.
I asked Mr. P.B if both pieces were sitting here side-by-side (the white and the sparkly black) which one do you like more? Which one do you like more for me, my style, our lifestyle, and my collection? I reminded him of other pieces in my collection that were similar in color to the black sparkly one like the Lego clutch…. I was desperately trying to convince myself and him that maybe the piece in hand was the best option. At this point, Mr. PurseBop firmly advised that we get up and walk across the street to Hermès. It was now 2:30 pm exactly. We asked Cecile to keep this white piece aside until our return and to persist in efforts to have the other black piece transferred here. In the interest of time, Mr. PurseBop offered his credit card details if it was essential to have the transfer done. "Non non," she said, "you go and come back. I will see what I can do."
Off we went hand-in-hand in a mad dash across the street. We knew exactly where to go and who to meet. We were asked to take a seat. Frankly though, I couldn't sit – I was completely distracted by the Chanel situation, and yet here I was in Hermès, the mothership store of all places, and all I could contemplate was CHANEL. There was something seriously wrong with this picture!
I will stay away from getting into my entire Hermès experience here because that will be another epic story in itself —just know that we were seated at the table awaiting our sales associate to return —hopefully with big orange boxes.  The discussion between Mr. PB and myself revolved around the predicament that would follow across the street: how I hoped that Cecile had secured and transferred that magical treasure to her store pour moi—the ultimate souvenir from birthday trip to Paris. Yes, in case some of you may not have known the catalyst or inspiration for this one week holiday to London/Paris with our dearest friends, it was my special birthday that passed this July. Eight of us galavanting making memories that will last a lifetime.
We finally left Hermes at just after 4 o'clock . Mr PB had spent some time trying on shoes following the 'bag situation' —yes, that's all I am going to say at this point, sorry. I know you are clenching your teeth, but I just can't dive into that here too. One holy grail at a time, LOL. 
We made our way across and anxiously looked for Cecile. At this point, everyone in that handbag area recognized us and before we could ask for her I'm sure she had been informed we were back. Her face did not look promising, in fact she looked very grim. I seriously did not want to hear the words that were about to utter from her mouth.
"Madame, monsieur… I am very sorry, I do not have good news for you. I was able to speak to the manager and she confirmed that the handbag was in fact sold. Unfortunately, they had not made the adjustment to the inventory, which is why we were under the impression there might be one single piece still available. I am truly very sorry. I was afraid of a situation like this. This is a very limited piece, and it's Paris Fashion Week." This is the only piece we have to offer you in Paris at the moment.
Cecil brought the white minaudière out and placed it in front of us to admire again.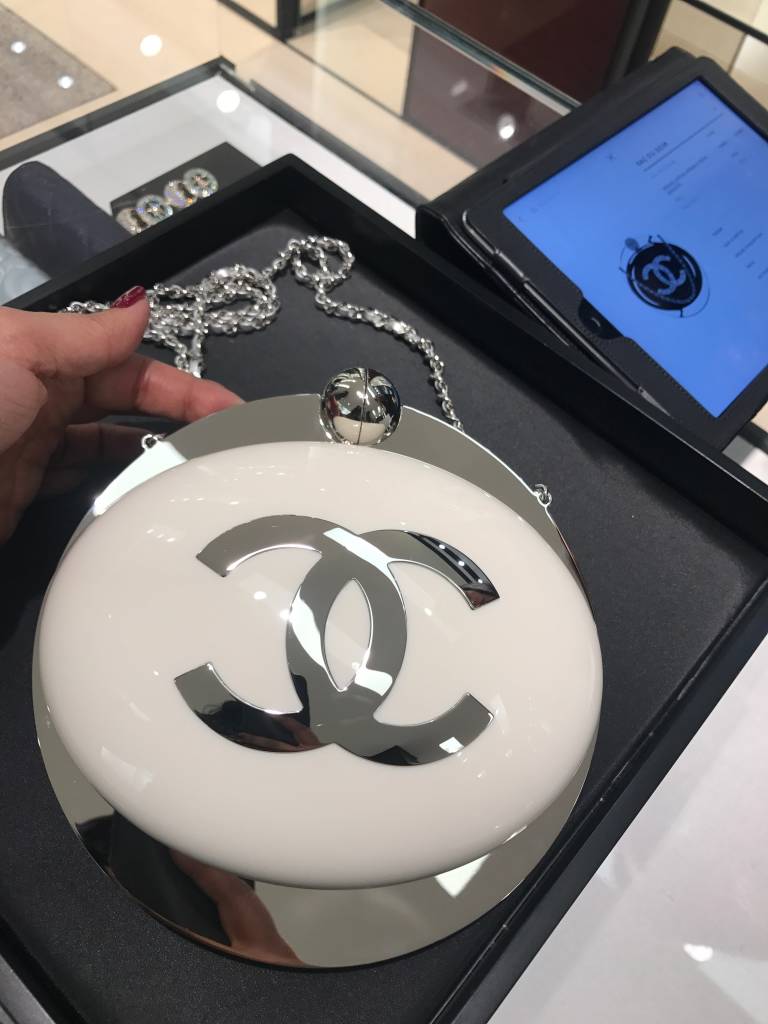 I could feel the blood rush to my face, and maybe even a slight dewiness in my eyes. "Seriously PurseBop it's really not that big a deal" — is what the rational side of my brain was telling the emotional side. While I was groveling in my cloud of disappointment, Mr. PurseBop interjected with a profound idea. "Are you able to check inventory in other countries?"
Cecile: 'Monsieur here I can only check for Europe, let me show you an example . . ."
She proceeded to show him how she could check inventory for a bag in stock across the EU. Mr. PB asked do you know whether this bag is available in the United States.  She replied "Monsieur, I will not have that information here but we can certainly contact someone to find out more. Do you have a sales associate in the United States she asked?".
I interjected and replied, "but of course," Cecile checked her watch and said "it might be a little bit early to call yet". We all checked our watches to convert the time.
I began scrolling my CHANEL numbers in my phone and the first two people I thought of were my Chanel SA at the Chicago store (Megan Burdi) and Christina from Neiman Marcus Michigan. Cecile highlighted the style number and off went my texts of inquiry.
Let me outline the new dilemma: if this style was available in the United States, I was under no compulsion to take the white piece that was available here, and my second choice. If the style was not available in the United States, then I had to decide whether I wanted to take home my second choice. I had made up my mind that I was going to have one. Now, which one and from where was yet to be determined.
Within minutes, I received replies from both. Christina explained that there were only two left in the NM company and very few were ordered in the first place. Both stores that had inventory were on the West Coast and would not open for another two hours. She seemed confident that she would be able to secure one for me but could not guarantee it. Megan from Chanel confirmed that there were only four pieces ordered for the US Chanel boutiques and quite possibly only one was available in the system, but again would need to email that store to see if they would transfer. There was a ray of hope, it seemed we had options but very very limited quantities. I didn't want to leave the Paris boutique empty-handed without securing one in the United States. Cecile was so patient and helpful. I think Mr. PurseBop and I had several glasses of champagne waiting for the final word. It truly was a team effort. The champagne definitely eased the nerves. The time was running by. We had a train to catch, luggage to pick up from the hotel, and a last meal to consume. I was very busy on my phone, giving updates to Cecile and Mr. PurseBop as they were coming in. Megan even called me, which was so very sweet of her. Christina was trying to reach her personal Neiman Marcus contacts on the west coast. I was hopeful.
Trust me, I wanted to purchase it in Paris – toting the special white bag from Rue Cambon, snapping pictures near the Eiffel Tower to reveal it, yes… It certainly would have been more romantic, perhaps a little more nostalgic and special… but after all, let's be honest, had I not been in Paris, at that exact store in that moment, I would have never seen this treasure and well the rest you know.
It was as though the entire team was on a mission, all 5 of us. Mr. PB, Cecile, Christina, Megan and moi. We waited a few more minutes, enjoyed top offs on the champagne flutes, and then voila… Christina chimed in; she had made contact with her source and secured a noir sparkly Eve On The Moon minaudière for me. I felt a little sad saying goodbye…but Cecile assured me that I was making the right choice. I promised to text her pictures from Chicago and off we went.
Mr. PB was pulling me along to walk faster, but I was still so busy texting Christina and taking care of the final trivialities. Both of us were a little tipsy, maybe even a tad bit giddy. I certainly was from the adrenaline and excitement. We found ourselves in front of Hôtel Costes and decided with the last 45 minutes we had we would sit and relax (and maybe eat) rather than aimlessly try to shop. I was so ecstatic you could have asked me to do anything, and I would have obliged. We were seated immediately in the bright courtyard and ordered a round of specialty cocktails. Irony must have been playing games with us… there was a drink called Coco Chanel. I wish I had taken a photo of the menu, but at least you have the drink to see.

It was truly an EVE ON THE MOON with Coco Chanel
The inspiration all came from that little Chanel boutique on Saint Honoré. Mr. PB advised to have the bag shipped overnight and to have it waiting upon arrival when we got home from Paris. That way, it would feel no different than having brought it home with me from the Paris store. A very sweet thought, and I ultimately did just that — I wanted to recount the story and share it as soon as I possibly could to instill it with as much Parisian magic as I possibly could while the tale of my new Holy Grail Chanel was still so fresh in our minds.
We bid farewell to Paris, rushed to get our luggage and took the same taxi to the train station, giggling all the way. Thankfully, Mr. PB was a little more focused than I. We snuggled and slept the train ride away back to London.
Now, for a little bit of Handbag Math…
We can't do a travel series without some handbag math comparing US versus Europe prices. A couple of years ago, Chanel embarked on the strategy of price globalization. Let's see how the strategy has impacted my purchase:
Chanel Eve On The Moon Minaudière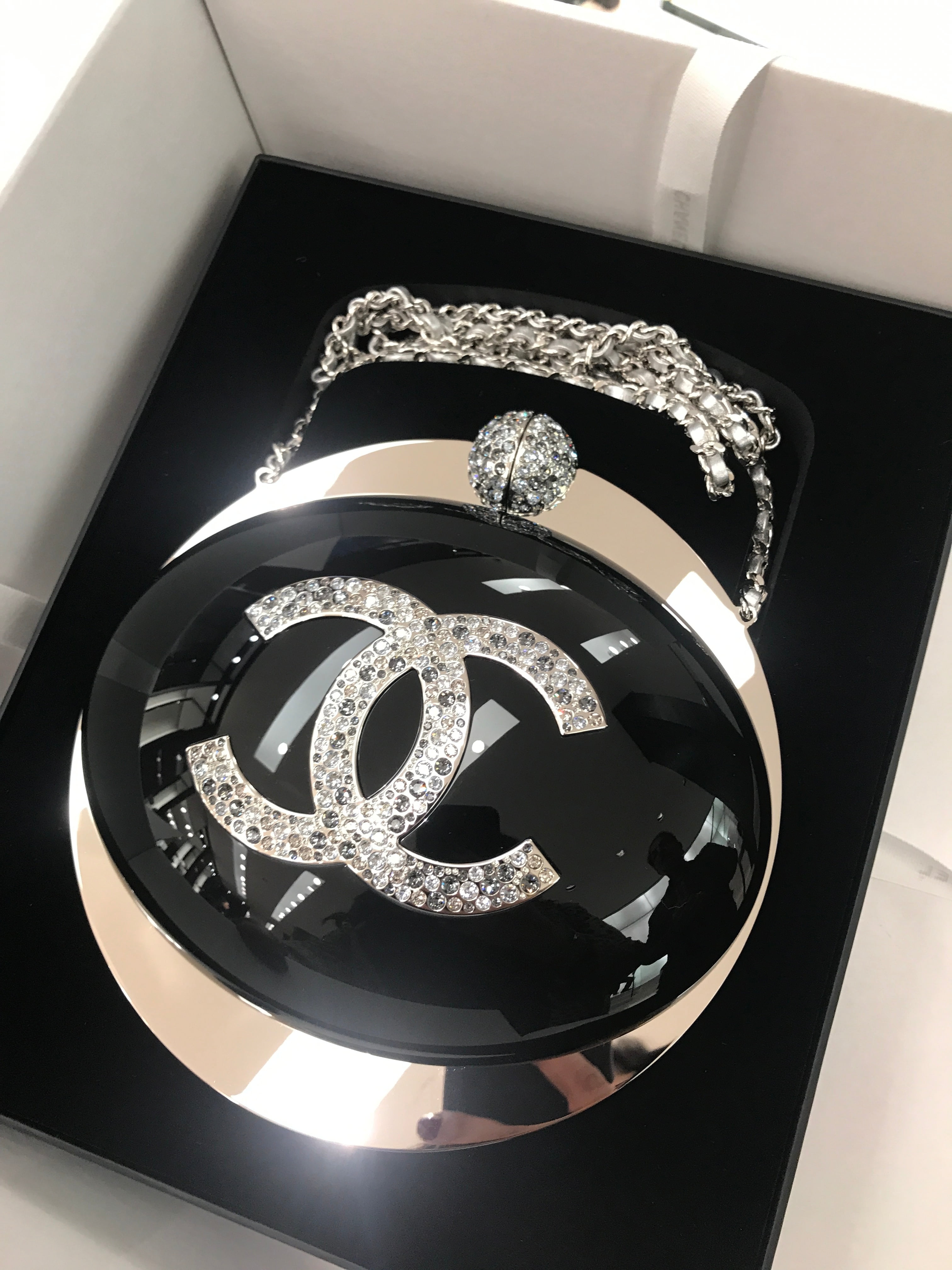 | | |
| --- | --- |
| Region | Chanel Eve On The Moon Minaudière |
| US | $10,500 |
| | |
| Europe | €10,400 |
| VAT Refund (approx. 13%) | - €1,352 |
| Cost after VAT | €9,048 |
| | |
| USD Equivalent | $10,659 |
| | |
| Duty Tax (approx. 8%) | + $853 |
| | |
| Total Cost | $11,512 |
| | |
| US Price ($10,500) + Tax (approx. 10.25%) | $11,576 |
| | |
| Comparison Savings | $64 (less than 1%) |
*Estimated duty tax is 8% – individual cases may vary.
*Usually we calculate VAT at around 10%. However, VAT for this case was 13%.
The numbers say it all, really. The Chanel minaudière costs about the same in Europe and the US. This shows us that Chanel has been really diligent about harmonizing prices worldwide. Shoppers probably shouldn't expect to find significant savings on Chanel while abroad. In fact, it may even be cheaper to buy Chanel in your homeland if you account for traveling expenses.
We will report more on Chanel price changes in due time. Expect an article on the recent Chanel price increase in Asia very soon…
Handbag Homecoming
As Mr. PurseBop promised, the Chanel box was sitting at our front door upon arrival and I was still feeling the romantic glow of the conquest. To give her a proper homecoming, I decided to have a mini special reveal photoshoot. While the images of the Eiffel tower still buzz in my mind, I feel just as happy to soak in the cozy feelings of fall with my friends and family back home.
The venue for my photography may look familiar. Read: Miss Mouette Joins PurseBop's Hermes Family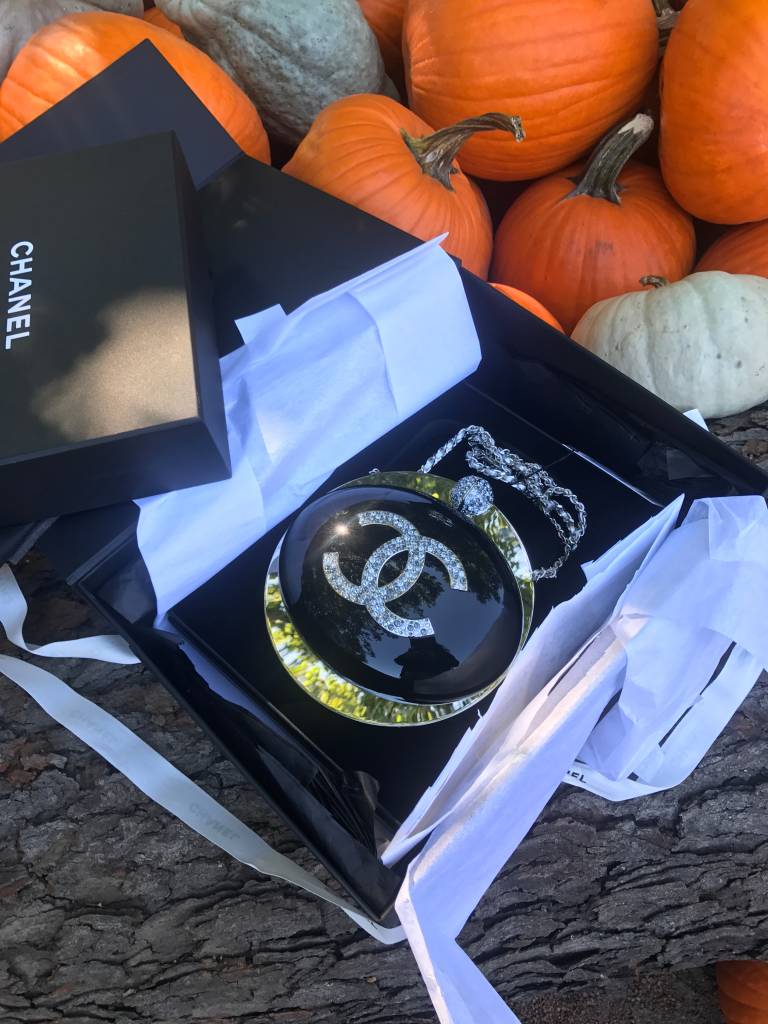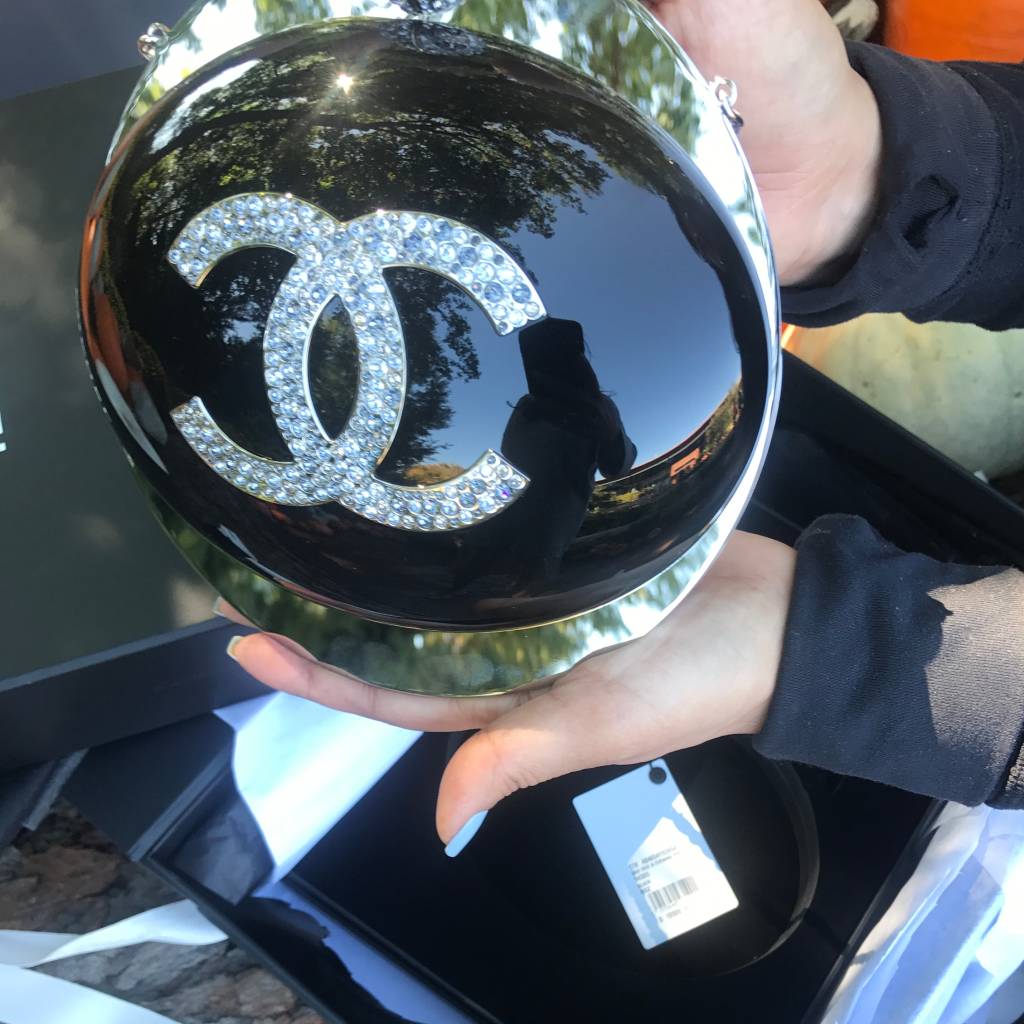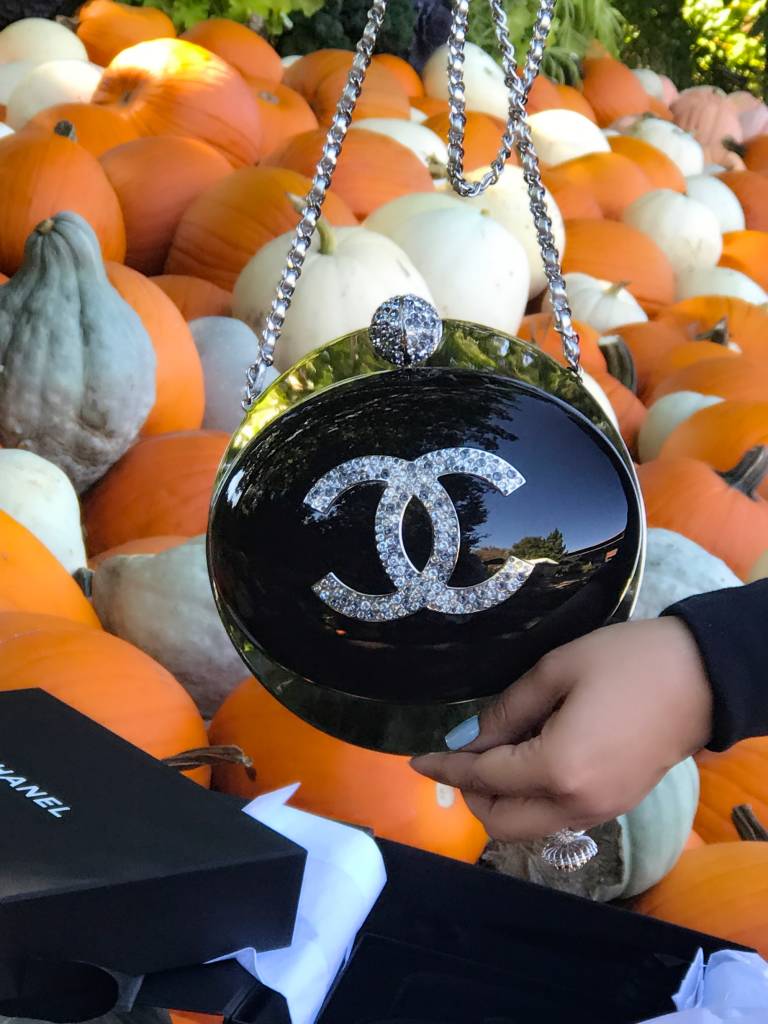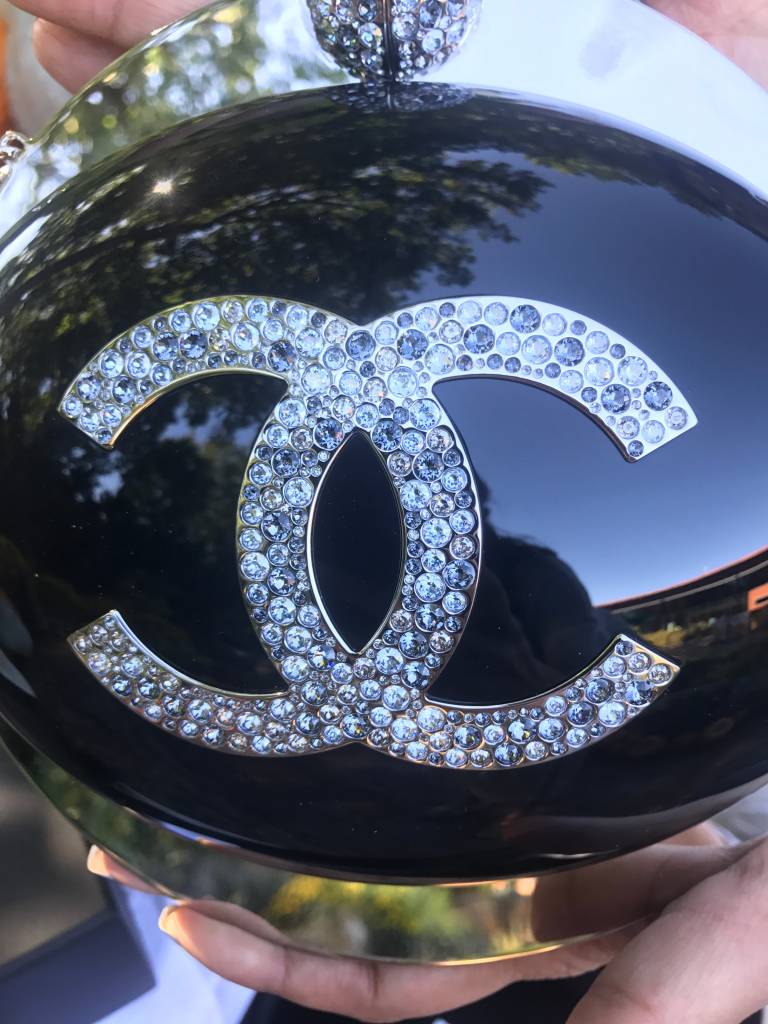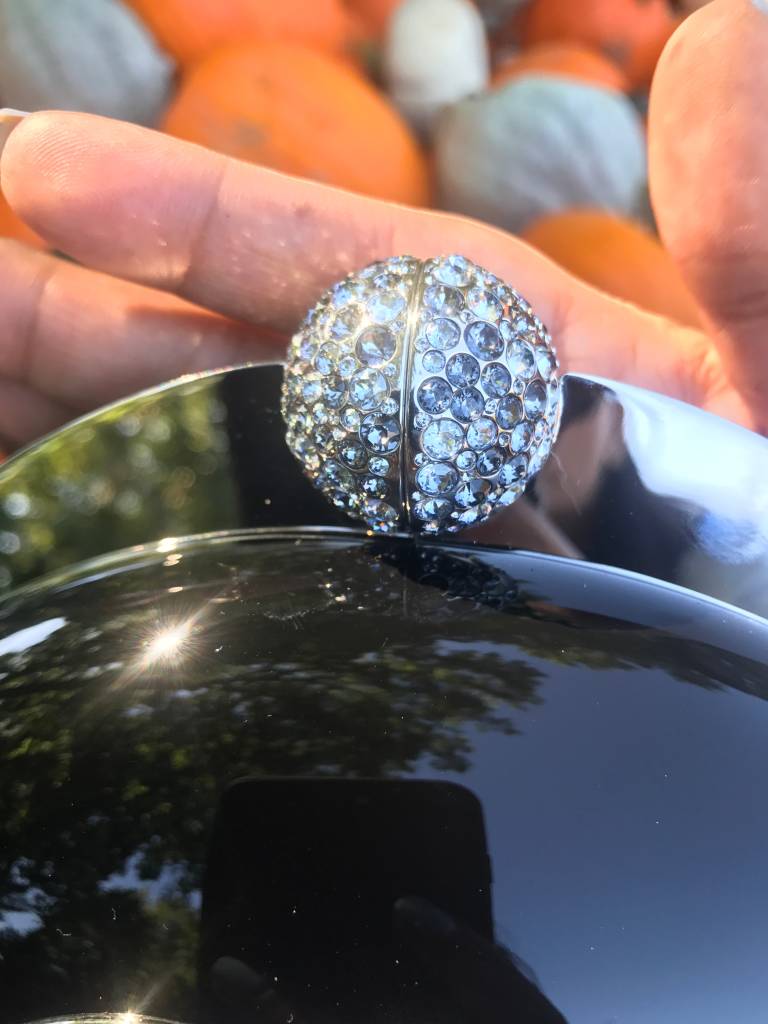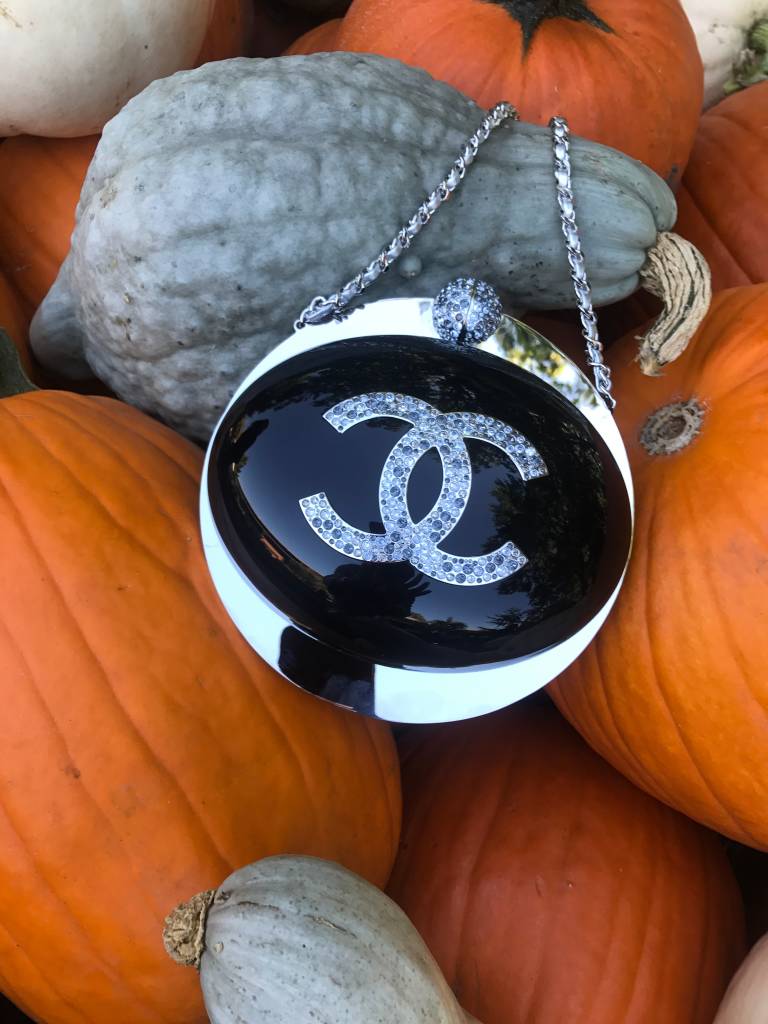 Updated: October 4th, 2017