Do not underestimate the power of color. It is a form of an exceptionally solid, non-verbal communication. To me, colors are more than matching your bags or shoes to an outfit. Certain colors could change how people perceive you, depending on the situation, of course. I remember once I requested to see a certain shawl, the color was way outside my comfort zone and my Hermès SA felt the need to mention beforehand – the colors don't have your "independent woman, no BS vibe." Merci Matthieu!
So, do the colors you wear or carry, leave a certain mark of your personality on people? Hmm, what do you think?
I am going to dive right into the ABC's and the 123's of colors – Primary colors
Red: My favorite color, so raw, aggressive to some but I see it as a go getter confidence, determination if you will. It is the highest arc of the rainbow and longest wavelength of light. In Eastern cultures such as China, red is the color for good luck and fortune. In Indian culture, it symbolizes purity and is often used in their wedding gowns. The word "red" in Russian (krásný) has the same root as the word "beautiful" (krasivy), and the meanings of these two words are indeed very close.
Special occasions, first date, date night, girls' night out, red carpet service or you want to elevate any outfit – add that touch of red and there you have it! Beware this color is strong, wear it wisely.
Blue: Blue is a notable color. It represents trust, poise, intellect, authority, cleanliness. Blue is one of the top favorite colors of people, at least in North America. Notice that shirt, tie, blouse, skirt, dress color on the Wall Street (New York), The loop (Chicago), Bay Street (Toronto), rue Saint-Jacques (Montréal) or any financial district next time.  Blue is a fixture in business attire.
If you work in a corporate environment – this color is a no brainer.
What I love about these two colors? I could wear them in any season.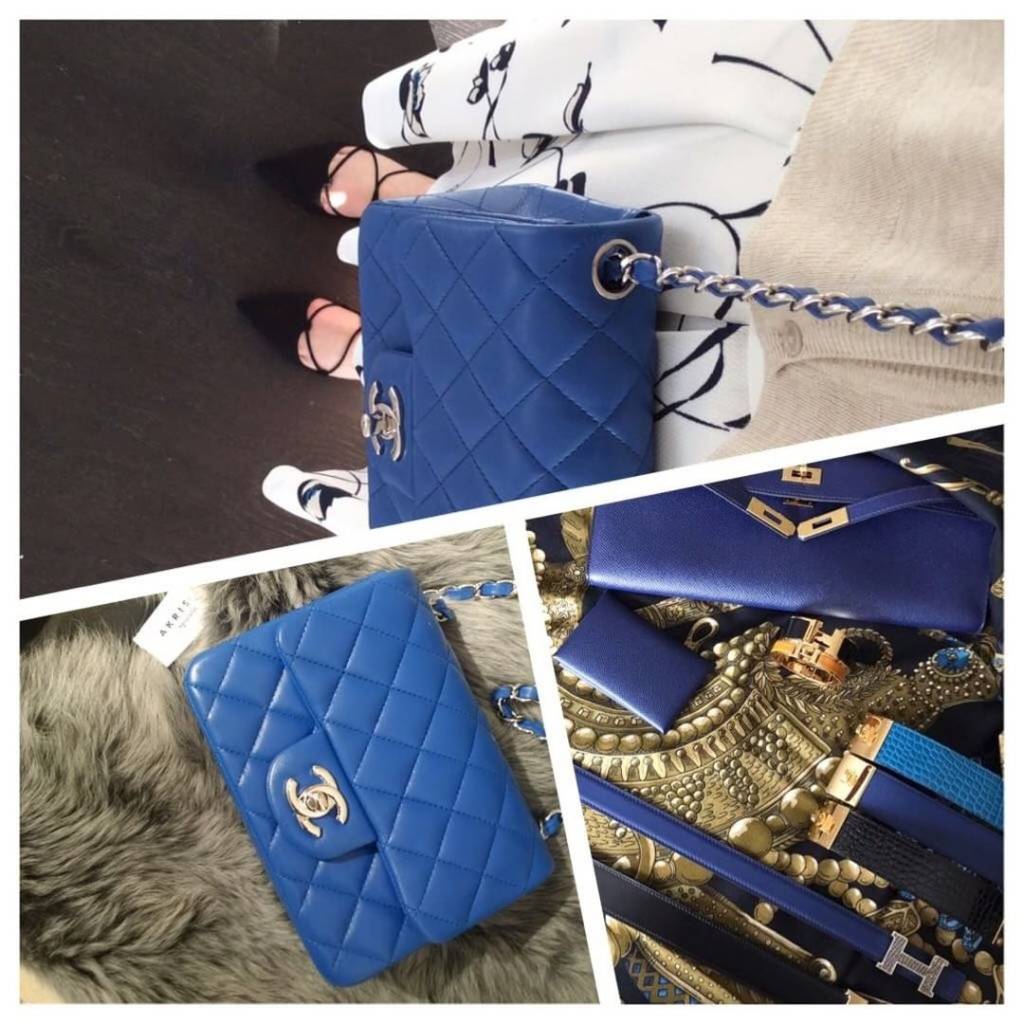 See how the beauty of blue doesn't change with warm or cool tones. Even though, it's a strong color, the size of the accessory plays a big role.  If you keep it to a medium to mini size range, it won't compete with your other accessories. If you are keeping everything toned down, a large accessory will work just as smoothly.
Yellow: Yellow is such a beautiful color, so cheerful, optimistic, and warm. It is loud and bright that screams, "Look at me!" I wouldn't wear this to a workplace setting unless it was a vogue/fashion house, cinq à sept, informal meeting (unless the meeting in happening on a beach). If you do wear it to a corporate meeting, you are God! If you work with kids, how beautiful is this color to wear to a gardérie/elementary school. If you lived on the West coast, now that would be a whole new ball game, right? Yellow bag, shoes, dress, cab; yes please, bring it, all of it!
@panthere_instyle Don't we just all love how she wears colors like nobody's business? Yellow is a hard color to pull off, yet she wears it so gracefully. One of the many reasons I admire her!
Notice how the size of the accessory shrunk from West to East coast. The bottom right corner picture is mine.
Location and Lifestyle:
If you are on the East coast, please tell me you also experience this situation: by early March, the colors, I am dying to add to my wardrobe are peach, sea green, lilac, baby blues and pinks. It's probably the post winter seasonal disorder.
By August/September, I am so done with the colors I was obsessing about in March, and reach out for Fall/Winter comfort colors – black (surprise, surprise), beige, tan, maroon, vert anglais, you get the idea.
 Now imagine the colors I was dying for in the beginning of March, instead of buying a top, dress, shoes basically a smaller price tag item and a quick fix, I felt brave and bought a luxury brand handbag (a good four to five digit price tag) instead? So Doomed.  
Back to reality, the colors I never get tired of – black, white, red, blue and basically any grey or beige base neutral.  I love yellow, reminds me of sunshine but would I do a bag or an outfit in that color? Nah, I'll pass, thank you very much. I always watch the fine line between admiring and owning something in the real world. The only yellow accessory I love, diamonds! Wear the ultimate sunshine!  Oops, back to the topic.
I love all the emails, direct messages, keep them coming.
These are the typical ones I receive from the wonderful ladies:
What color bag do you think I should get next? An option of color A or B and sometimes even C.
I would love to respond, but without knowing your color palette, lifestyle, location and what already exist in your closet, it would be unfair if I or anybody gave an opinion/ advice.
However, I have jumped in few times, helping friends decide on Hermès special orders. I'm impatiently waiting for their beautiful bags to arrive with that horse shoe stamp, asking them for updates every chance I get.
Fun fact: It takes 13 milliseconds for the human eye to process an image.
Instagram provides so much inspiration but dangerous place to be at. Most of us fall in love with so many things – outfits, bags, shoes, jewelry, you name it. For example: You bought a particular bright colored bag just cause you were inspired by some IG'er, fashionista, celebrity whatever the case may be, and now it's stuck in your closet. You realized it clashes with all the colors you already own. What a big boo-boo.
If you have figured out your wardrobe (there are very few "I don't have anything to wear moments" is a sign that you have), believe me, you got the accessory game. Easy. Stick with what you love rather than trying to like the colors others are hyped about.  Like I mentioned before, know the difference between admiring and owning it. I love bright pink handbags on other girls but will I ever own one, never.  As long as you know the colors that make you happy, trust your instincts and stick with tested and true when it comes to double figure price tag bags. If money is not an object, by all means, go ahead; build that rainbow in your closet.
But, seriously, why would you?
Stay true to your style and be the ultimate clutter free fashionista.
Yours truly,
@kugzz