There are bag lovers and then 'there are bag lovers' whose collections elevate them above the rest.  Today's BopTalk Celebrity LeOrangeBliss is one of the latter.  
LeOrangeBliss's stunning array of handbags and accessories are beautifully documented on IG with the joy and verve others reserve for their families.  She also is generous with her time in advising, maybe even mentoring, other handbag aficionados here on BopTalk.  It is my honor and privilege to introduce you to Hermes expert LeOrangeBliss:
I didn't always love bags, and I was not always an Hermes addict.
As a matter of fact, my first venture into the luxury brand world started off in the shoe arena – Christian Louboutin to be exact.  As the years went by and my Louboutin collection grew by leaps and bounds, a great friend who shared my Louboutin obsession (@dreamingofh) started drifting away from our shared common interest and started falling in love with Hermes.  She was instrumental in introducing me to the famed fashion house.
But I didn't fall in love easily.  I often mocked her for paying the obscene prices ("$300 for a SILK SCARF?!!!  ARE YOU MAD?!??!!") and declared vehemently many times that the leather bags were "old-fashioned and boring" and there was "NO WAY I would pay that price for a bag!"  Many times she tried to convince me to just step into a store and see what they had to offer, and just as many times I said no.
Then one day I was in NYC on the Upper East side. After stopping by the Louboutin store, I thought to myself, "Oh what harm can it do to visit the Hermes US mothership."  I strolled in through the Hermes Madison doors, breathed the whole atmosphere in (there is an unmistakable Hermes fragrance wafting through the stores), and strode towards the enamel bracelet section on the first floor.  It was quiet, there were some customers, but it wasn't the madhouse I expected.  I took a leisurely look around and peered into one of the glass cases – there, sitting pretty, was one of the most gorgeous things I had ever seen: a CDC collier de chien bracelet in a lush orange-red-pink (bougainvillea) gator with PHW. Next to it was a KD kelly dog in a matte red gator with PHW (I understood what these items were because of my dear friend and enabler @dreamingofh).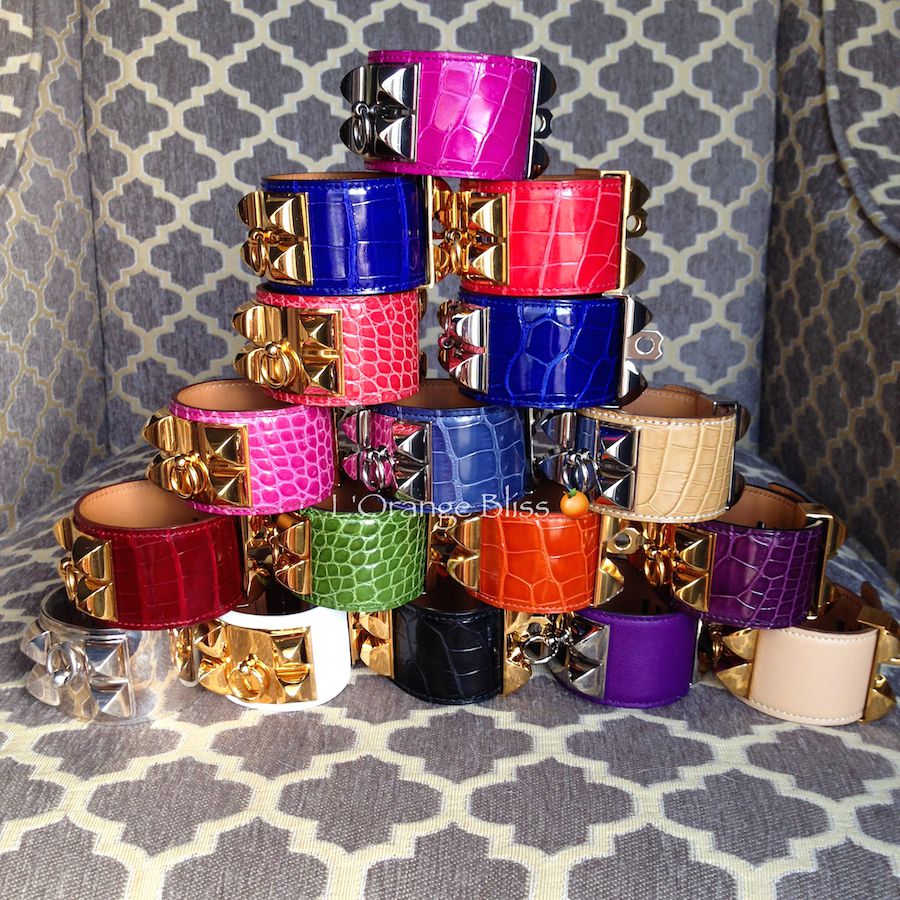 My CDC collection – my first Hermes obsession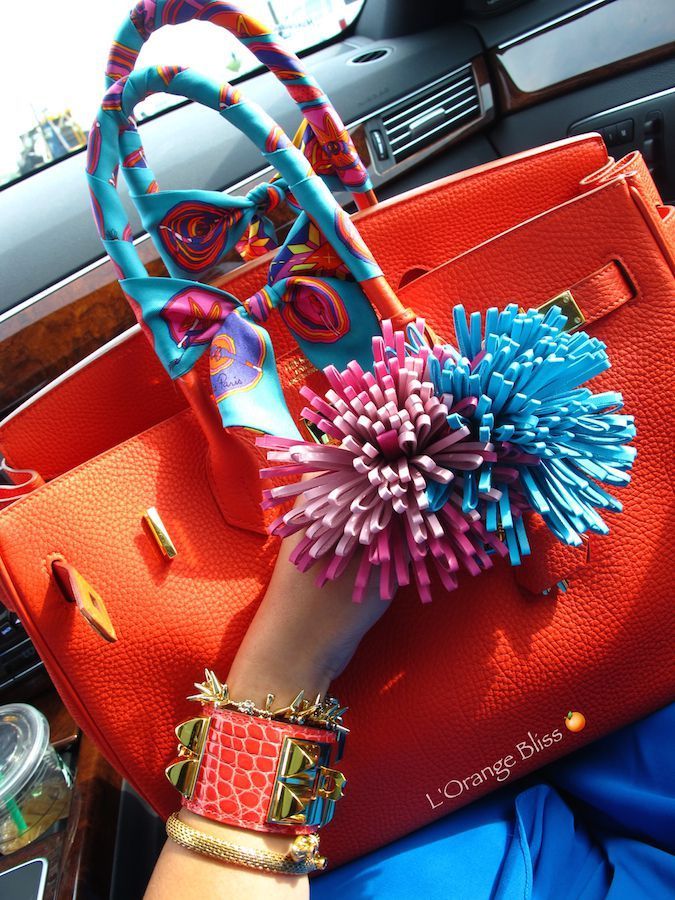 My first CDC bougainvillea gator GHW and first birkin capucine Togo B35 GHW
Rainbow inside my birkin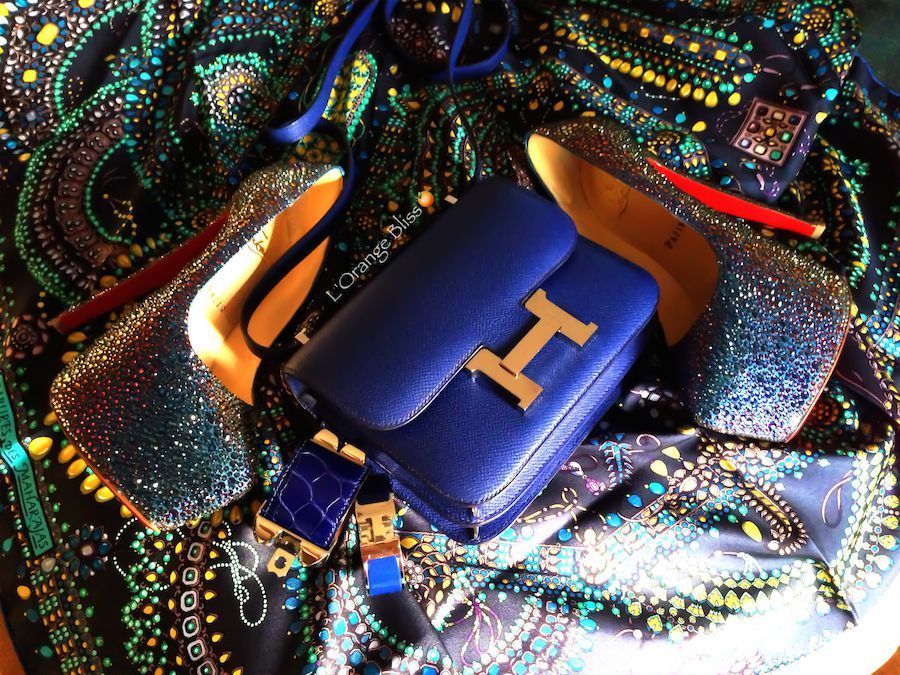 My first Hermes bag: bleu electrique Epsom Constance 18cm mini PHW with one of my favorite 90cm silk scarves (parures des maharajas)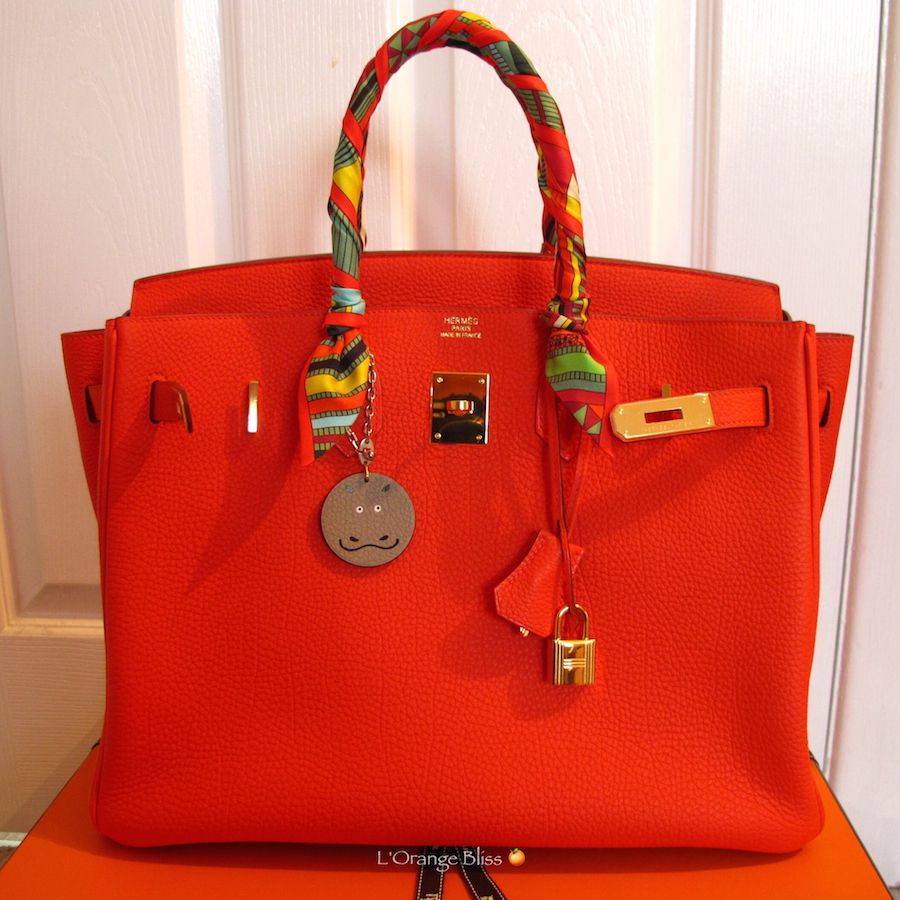 My first birkin on the day I took her home – capucine Togo B35 GHW
There was a SA standing close by who was unoccupied, and I approached her and asked to try them on.  She gladly helped me, placing the CDC on one wrist, and the KD on the other… I was in for a big surprise!  The CDC which I initially thought was big, bulky and too punk rocker for my style, just gleamed and screamed out to come home with me.  The KD which I initially thought was the one I would prefer, seemed too tame and boring in comparison!  I asked the SA which one she preferred on me, and she agreed that the CDC was the one.  I told her I would take it, and then asked if I could look at other small leather goods.  She was very pleasant and took me downstairs and showed me everything I asked for.  Suddenly, she excused herself and had a chat with another SA, and after a few minutes returned saying "I have another CDC in fuchsia gator, if you want to see it."
I was speechless!!  Here I was already shocked to have seen ONE gator CDC in the display case (my friend had informed me that these were very hard to come by, impossible to get, and never on display!), and even more shocked that she was offering me another one "from the back."  I asked to take a look at it, and immediately fell in love.  But both the fuchsia and bougainvillea were with PHW, and I would have preferred variety.  I told her I wished one was GHW, and she looked at me and went back to the stockroom again.  In a few minutes, she stepped out with a bougainvillea gator CDC with GHW!  I nearly fainted!!!  I was flushed, sweating, tingly…
I could not believe this was happening!  I told her without hesitation that I would take both CDCs, in addition to a hippo bag charm and a few other small leather goods.  I nearly fainted again at the register when I paid for everything, but once the initial sticker shock wore off, I drifted out on cloud 9 as I skipped back to my hotel.  That incredible first day at Hermes reeled me in – hook, line and sinker.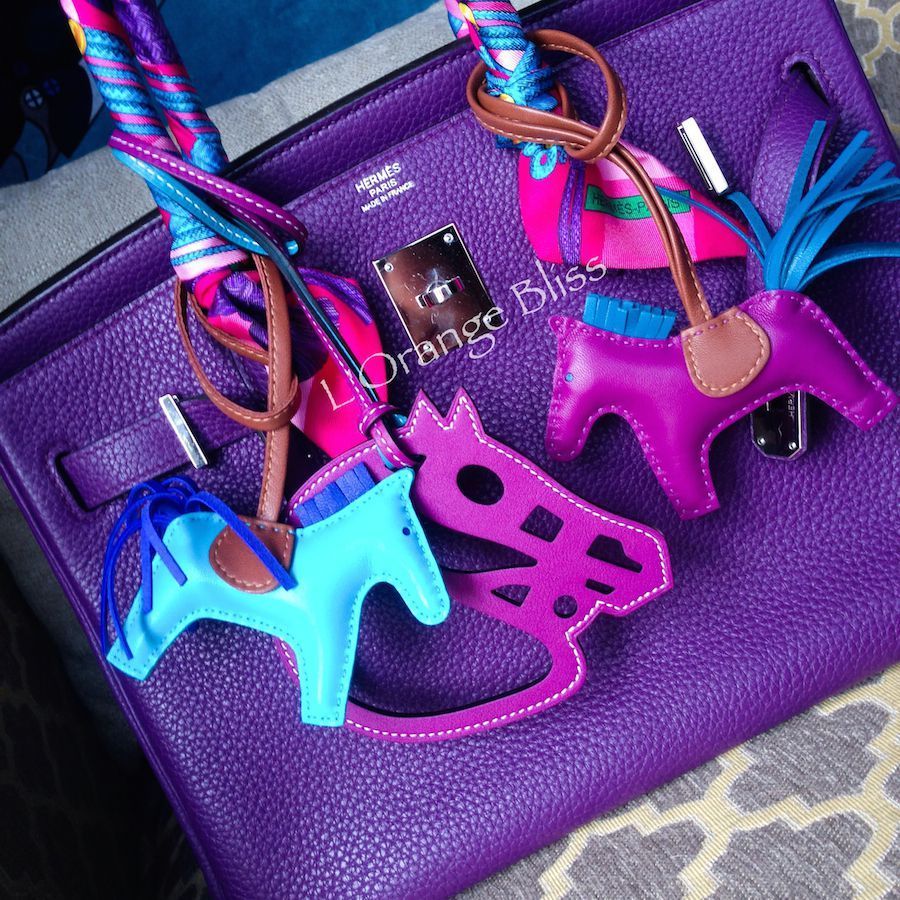 Fun with charms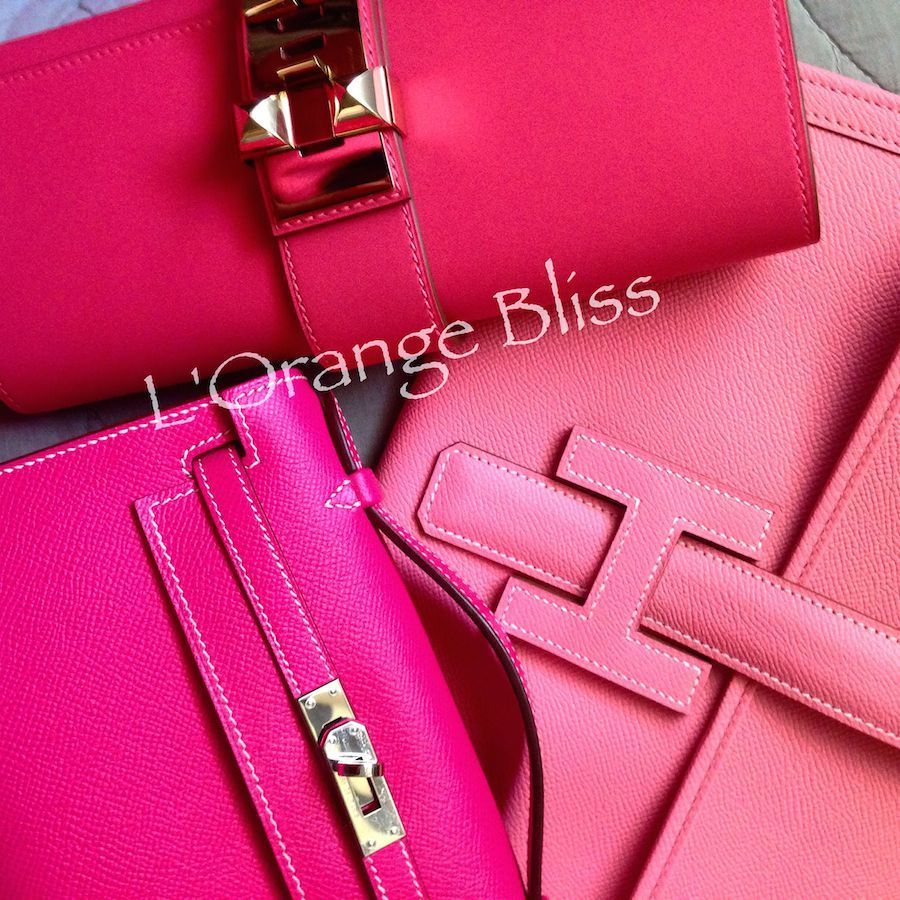 Pink clutches – rose lipstick medor clutch tadelakt permabrass HW, Rose confetti Epsom jige PM, rose tyrien Kelly pochette Epsom PHW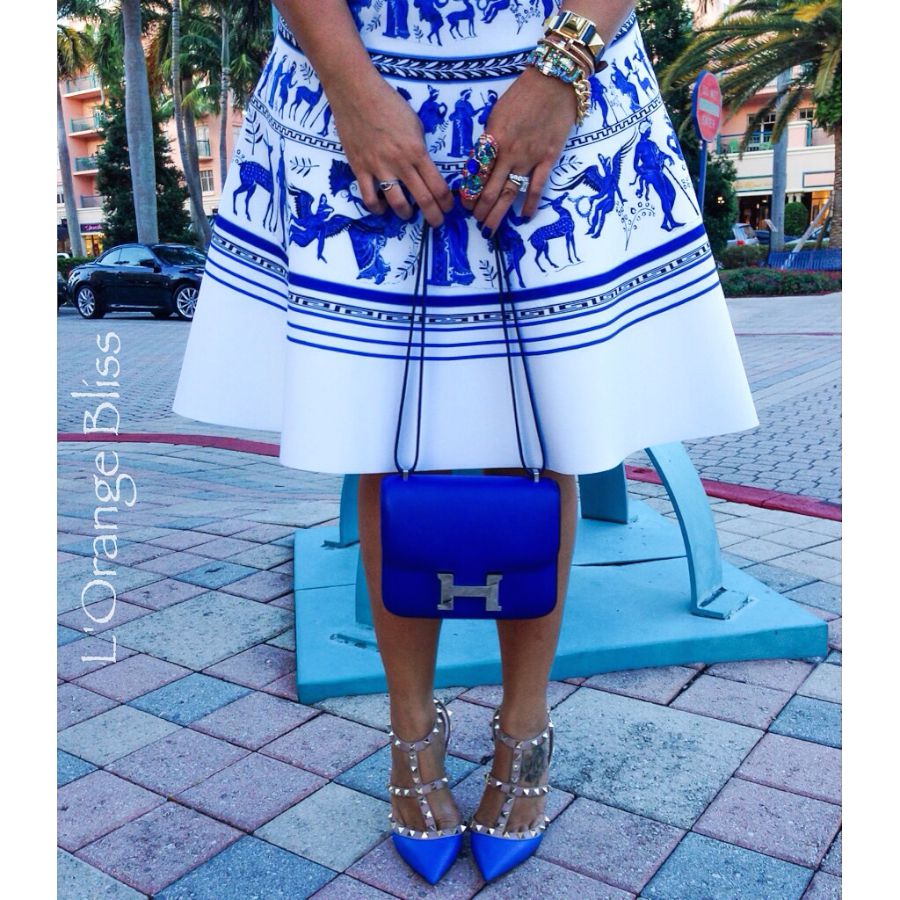 My first Hermes bag – bleu electrique Epsom Constance 18cm mini PHW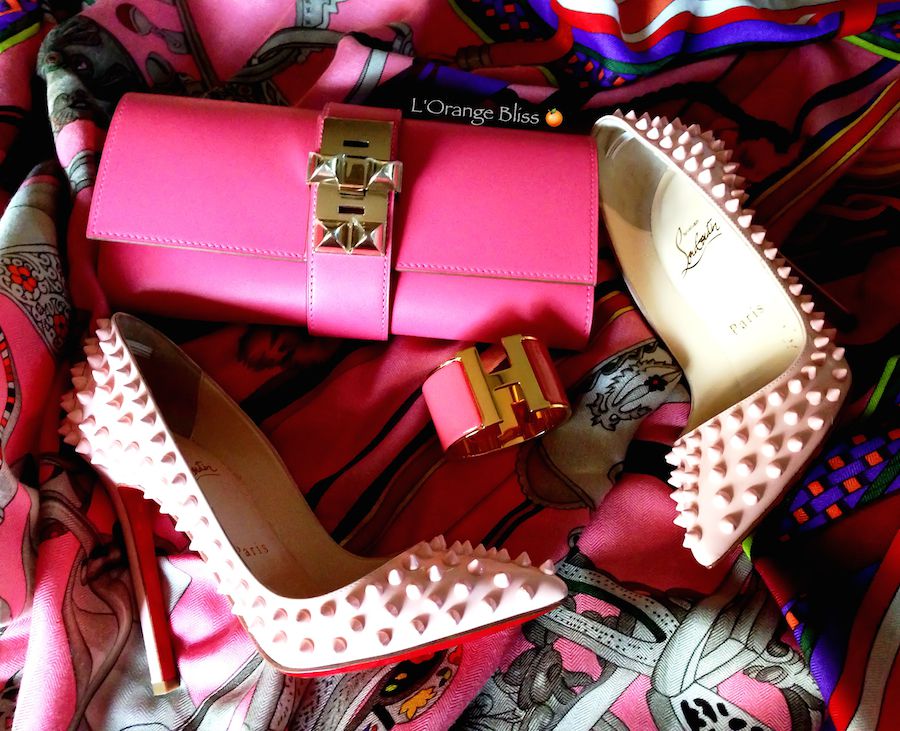 Rose lipstick medor clutch on one of my favorite shawls (pink concours d'etriers)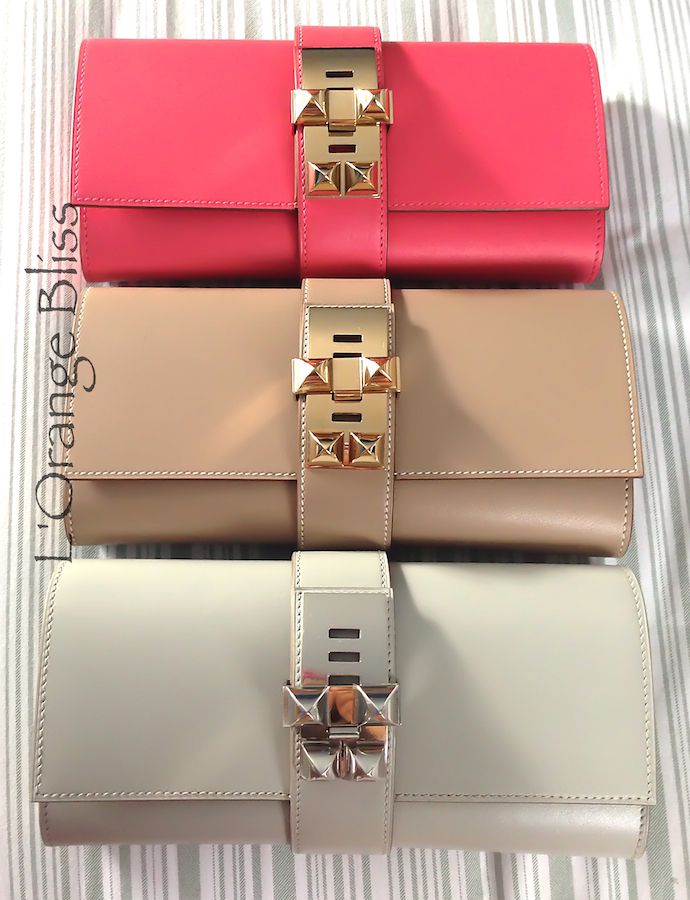 My favorite clutch, the medor: rose lipstick, argile and Gris perle
Being the true geek nerd that I am, I proceeded to learn as much as I could about the brand and their products.  I was like a sponge; I read everything online I could find, looked at reference pictures, and started talking to other like-minded Hermes addicts.  I started developing a "wishlist" of Hermes items and colors.  My collection grew as my relationship with my "home store" and SA evolved.  It was a relationship that started out passionately, and to this day continues to be so.
With a few exceptions (as you learn over time what works for you and edit your collection), I deeply LOVE each and every single Hermes piece that I own.  Each purchase is well-thought out – at these prices, I hardly buy anything on a whim.  I usually think about my purchases for months, if not years beforehand!
The image I had of the Hermes being "old-fashioned and boring" could not be farther from the truth.  After all these years, the one thing I have learned is that Hermes has something for everyone.  You like neutral?  They have neutral.  You like bright pop colors?  They are experts in color and combinations I never even dreamed of!  You like big huge travel bags?  Check.  Small tiny purses and clutches?  Check.  You like fine delicate jewelry?  Check.  Edgy punk rocker jewelry?  Check.  Clothes?  Check.  Shoes?  Check.  Home goods?  Check.  Scarves and shawls?  Check check.  Traditional leathers like box and barenia?  Yes.  Whimsical colorful animal bag charms?  They have that too.  Hermes is full of contradictions – you just have to find that thing which speaks to you.  But be careful… It is absolutely addicting when you do.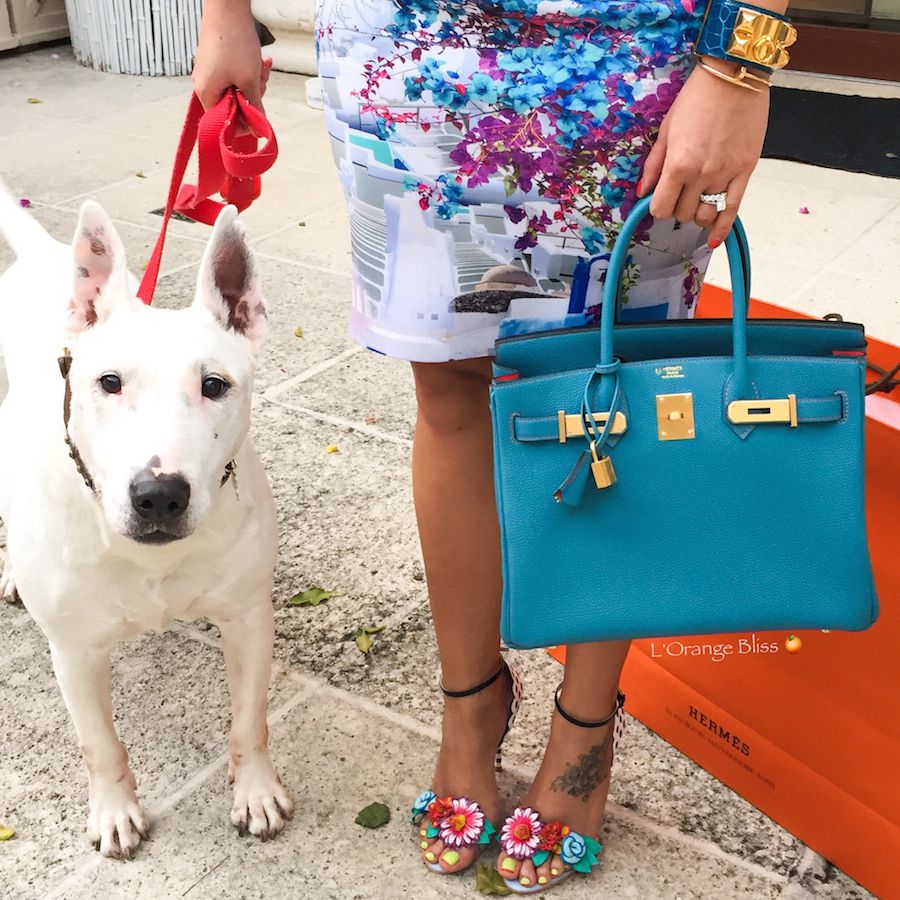 Beloved special order turquoise Togo with rose Jaipur interior and stitching, brushed GHW, birkin 30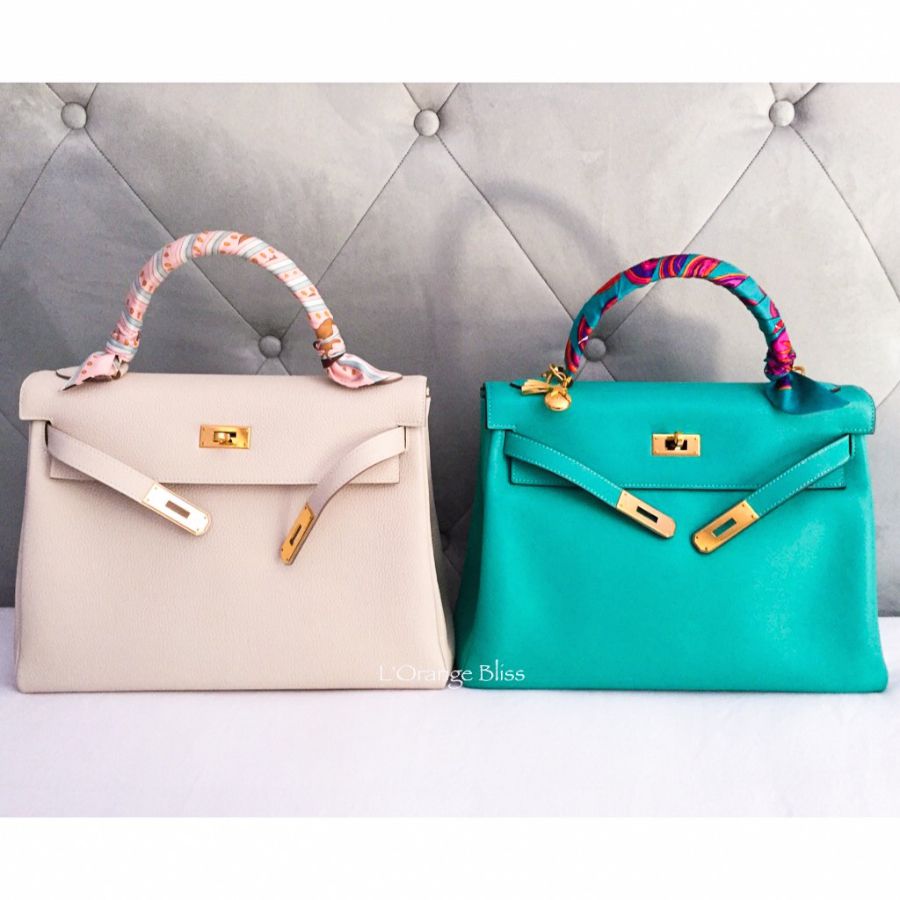 My favorite bags of all time: craie Togo and Lagon swift Kelly 32 GHW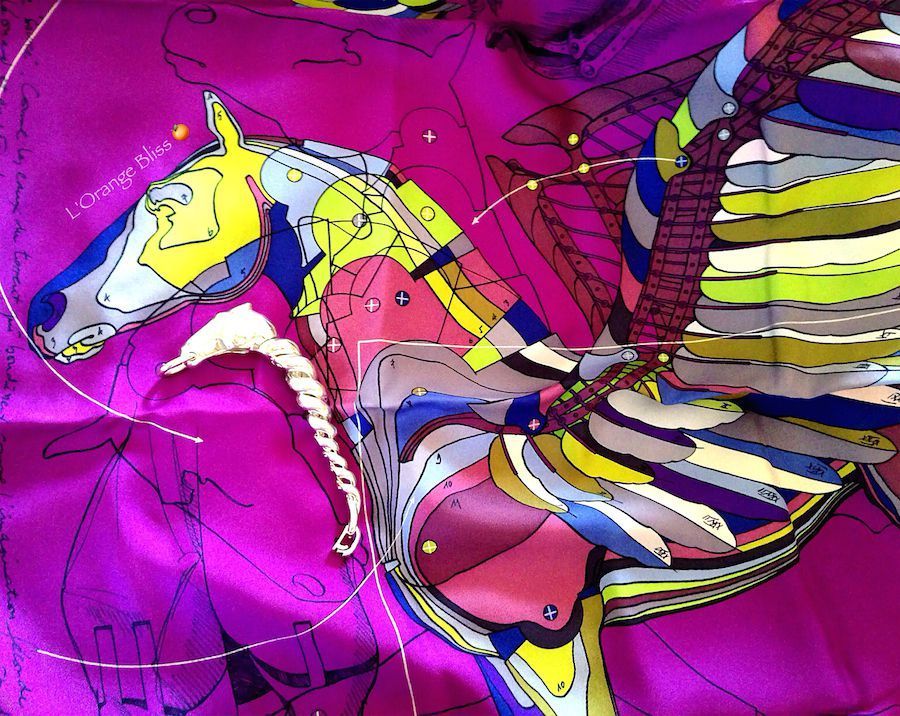 My favorite 90 cm silk scarf le pegase d'hermes and favorite silver bracelet Galop GM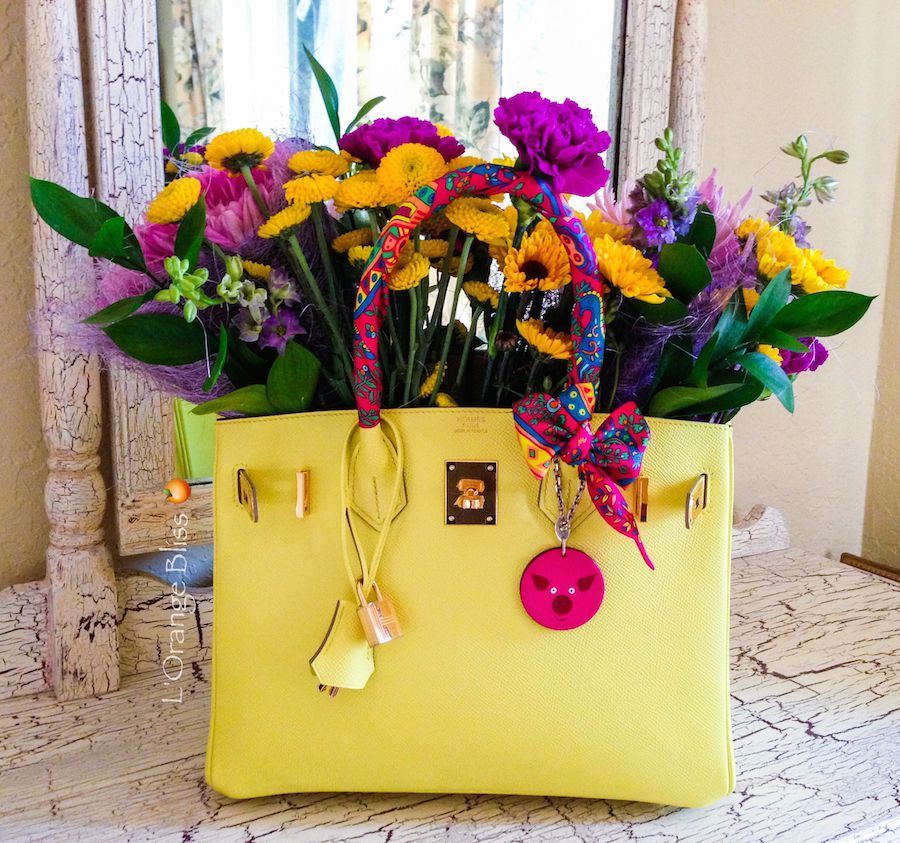 My sunshine soufre Epsom birkin 30 GHW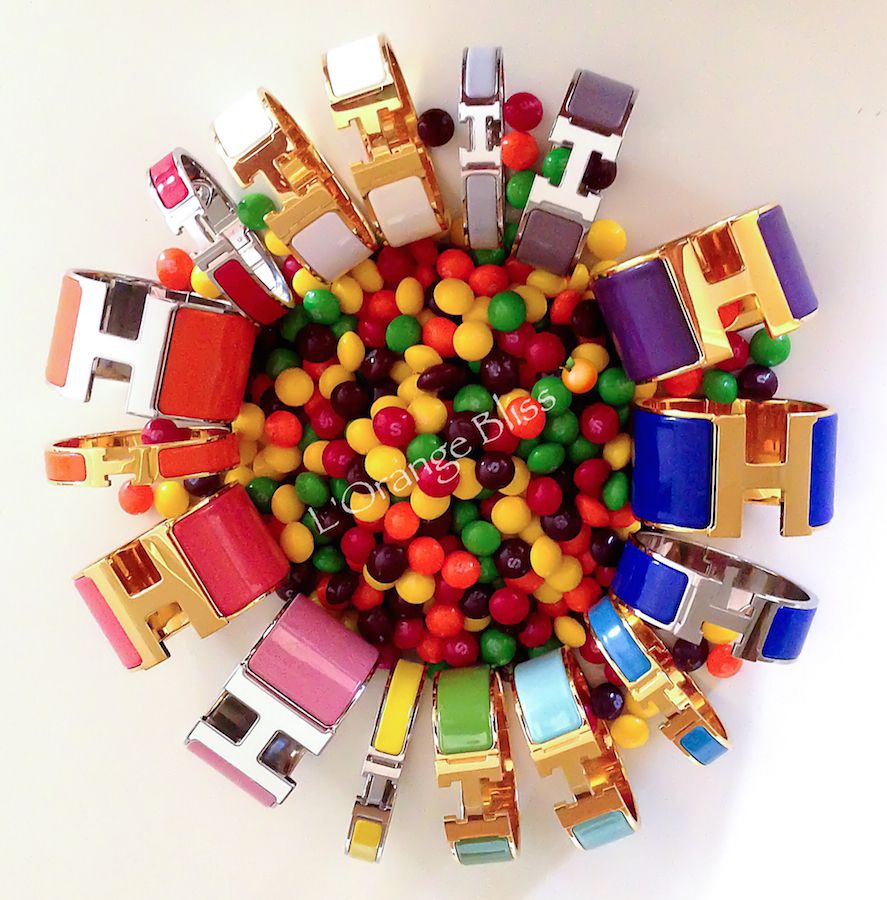 My second favorite bracelets after the CDC are the clic clacs – taste the rainbow
So my one piece of advice to anyone who is about to begin their Hermes journey is to educate yourself.  Get to know the different products they sell, the different leathers and their qualities, the bag styles and sizes.  Read, research, ASK!  You do not want to make the expensive mistake of buying something you don't love or that doesn't work with your lifestyle.  Luckily, most if not all Hermes aficionados want nothing more than to talk about the thing we love! That's why I'm so excited about the new BopTalk platform!
Don't feel pressured to buy something you do not like… But be prepared to be surprised. Keep your mind and heart open to the possibilities, and prepare to fall deeply passionately in love… the kind of love that lasts you a lifetime.
XOXO
LeOrangeBliss