During my time in NYC, I had no expectations of actually finding anything on my wishlist, but we all know H works in mysterious ways…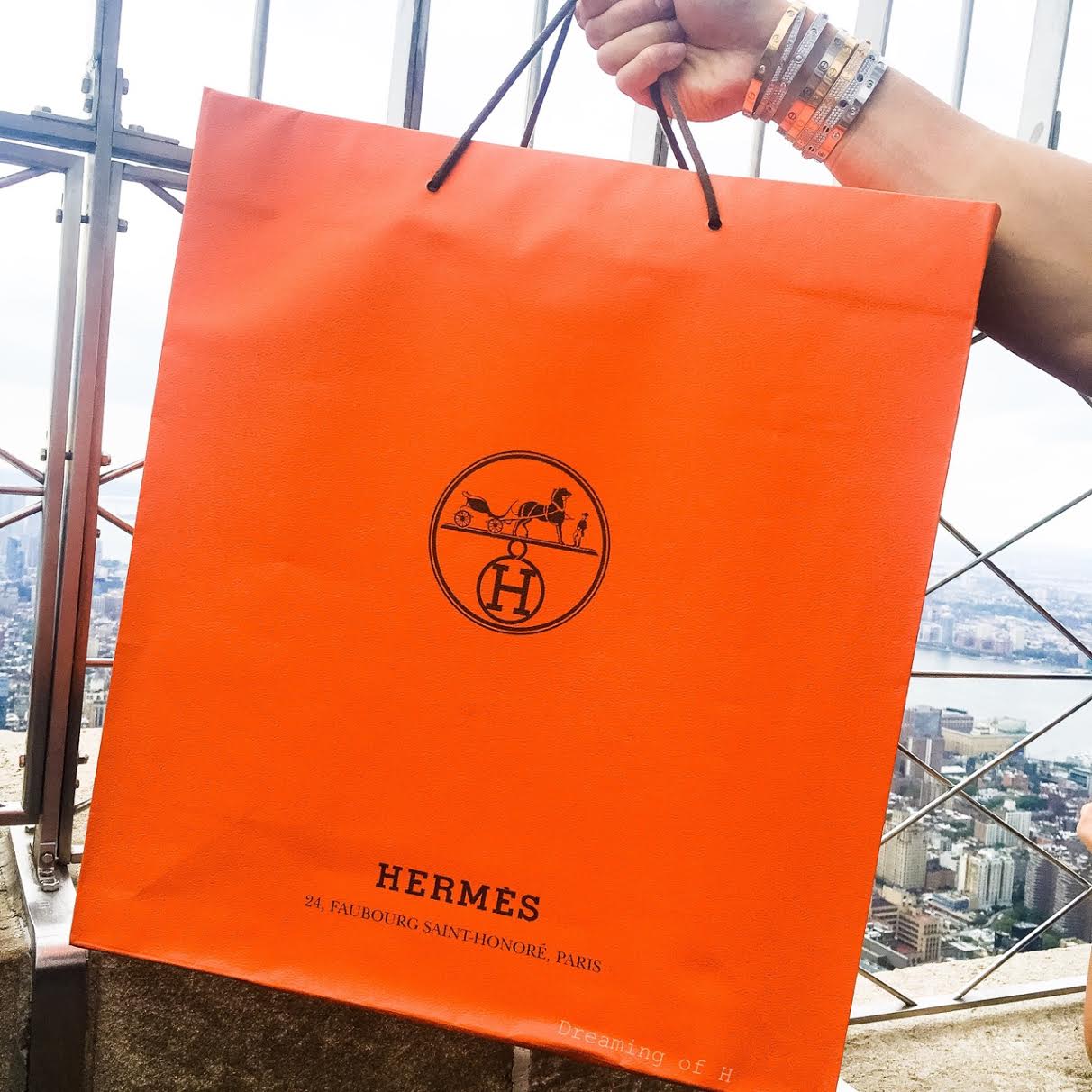 On Labor Day, Hermes was closed, so my good friend @mrposhspice and I decided to eat brunch and head to Soho for some shopping. I had my eye on a Saint Laurent wallet on chain, so we stopped there first.
For those that haven't tried the Saint Laurent wallet on chain before, it is a great piece and I highly recommend it (For a full review of this WOC, Read: Chanel vs. YSL Wallet on Chain Comparison). I purchased a soft rose Chevron wallet on chain in Paris, and I have been using it frequently as a clutch and crossbody.
This time, I wanted something a bit more edgy for evenings out. Presenting my newest Saint Laurent wallet on chain – black croc pattern with silver hardware! The Soho Saint Laurent store was gracious and welcoming and pulled out many bags for me to try on, even the Sac Du Jour in the toy size, which was laughable! It's definitely more of a key chain than a purse! We also stopped by Fendi so I could enquire about a piece I had been eyeing, however they were sold out.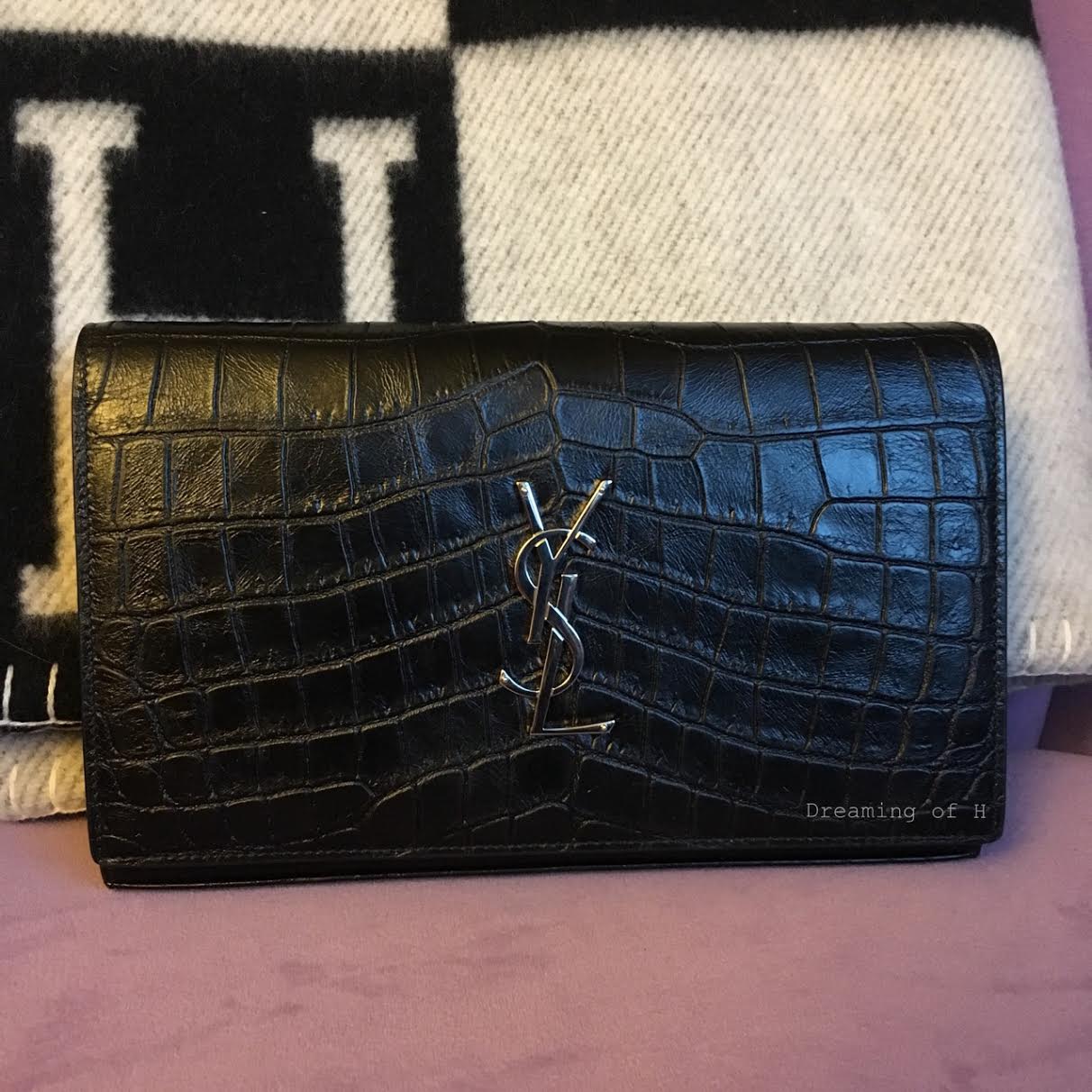 That evening, after @phiphi999 arrived, we went out for dinner and dessert, and of course needed a group shot of the baggies – @mrposhspice with his gator Chanel wallet and @phiphi999 with her Hermes Rose Confetti Bearn.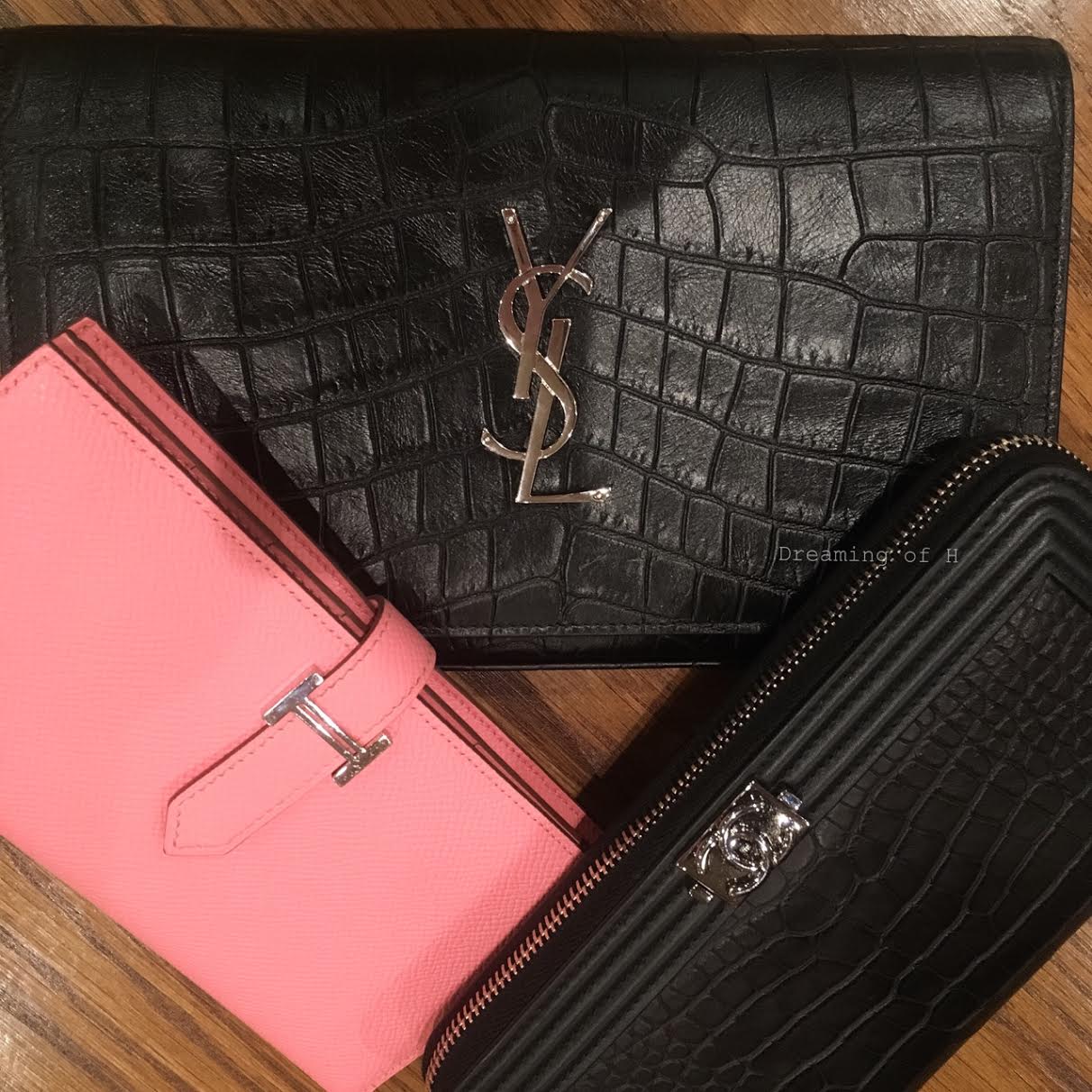 The next morning, we made the trip up Madison Ave to Hermes. My SA was not due in until 10:45, so we used that extra time to check out the upper levels of H. I have been eyeing the H deco china, and a little H birdie mentioned that Hermes will be expanding this pattern! So any H deco lovers, be on the lookout! We also checked out the new Avalon blankets which are softer and more gorgeous than ever (I have both versions and can attest to the extra softness of the new Avalon III). We also walked over to the men's store to try on the C'est La Fete shawl, which was beautiful. I highly recommend popping over to the men's store while in NYC. There are many goodies hidden over there and the SAs are a joy.
Once I met with my SA, I tried on the new, smaller size Roulis. It comes in blue hydra evercolor this season, and for anyone who hasn't tried evercolor, it takes H colors beautifully! I loved the bag, but it wasn't exactly what I was looking for this trip.
After browsing the leather goods, I asked my SA if she had the bag I was looking for. After about 10 minutes (an eternity!!!), she came back with a large orange box and led me into the small room where bags are shown. I couldn't wait to see what was inside!
After the wrappings were taken off, inside was the perfect Kelly I had been wishing for! The specs are:
Size: Kelly 28
Leather: Togo
Color: Black
Hardware: Palladium
After using the K32 for some time, I am so excited to have a K28 as I find it the perfect size for everyday!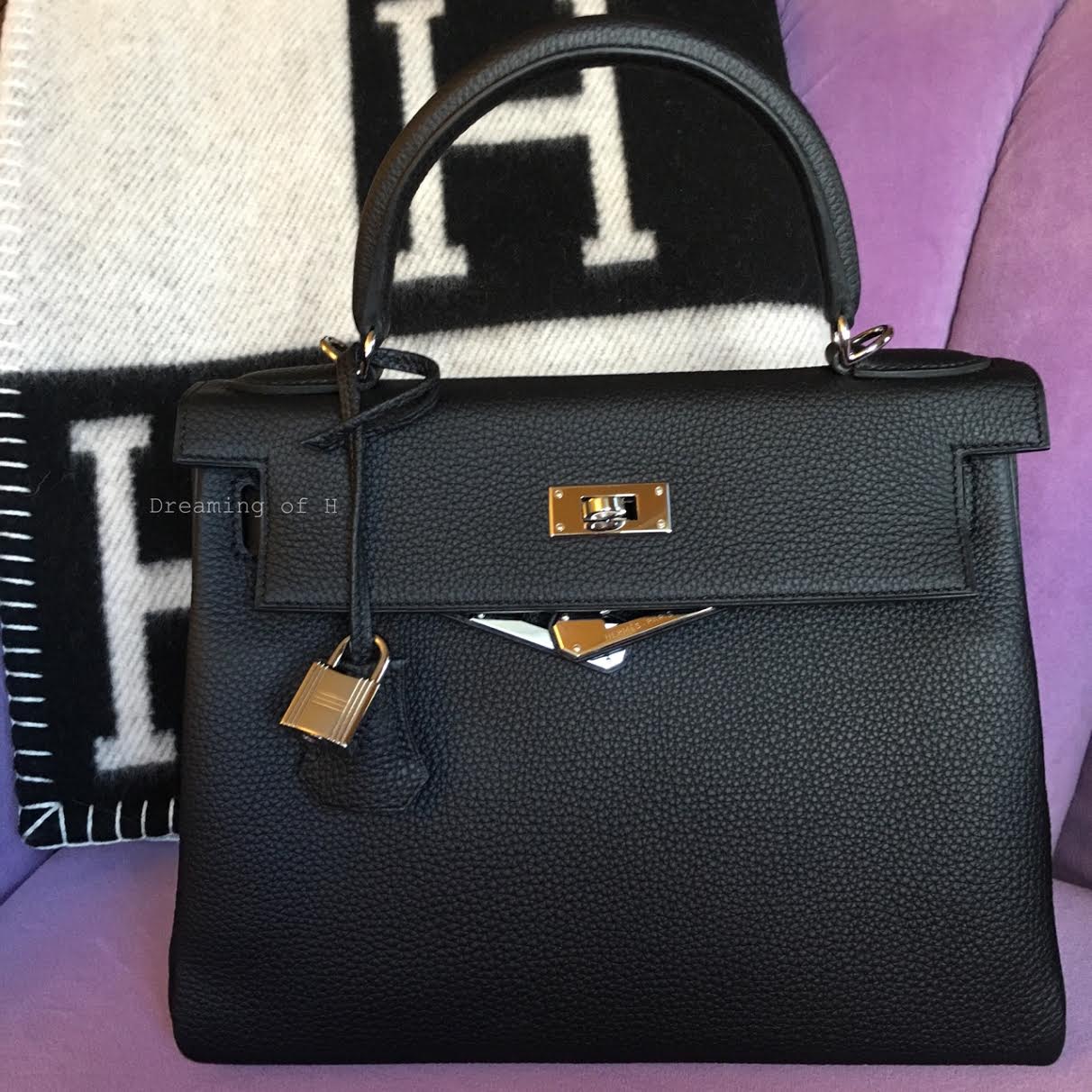 Here she is paired with some of my favorite shoes and accessories…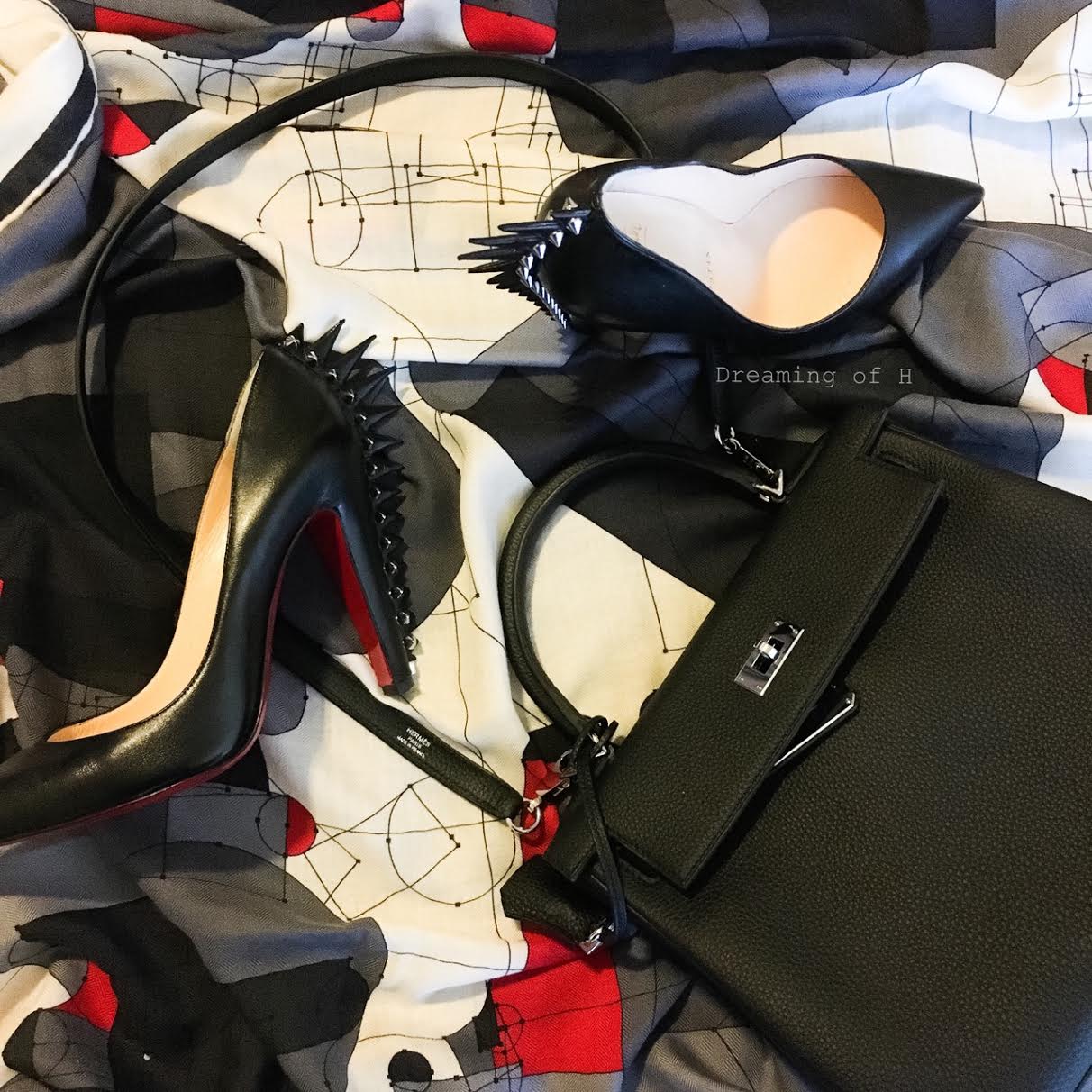 I also picked up two of the H deco breakfast cup and saucers for my morning Nespresso.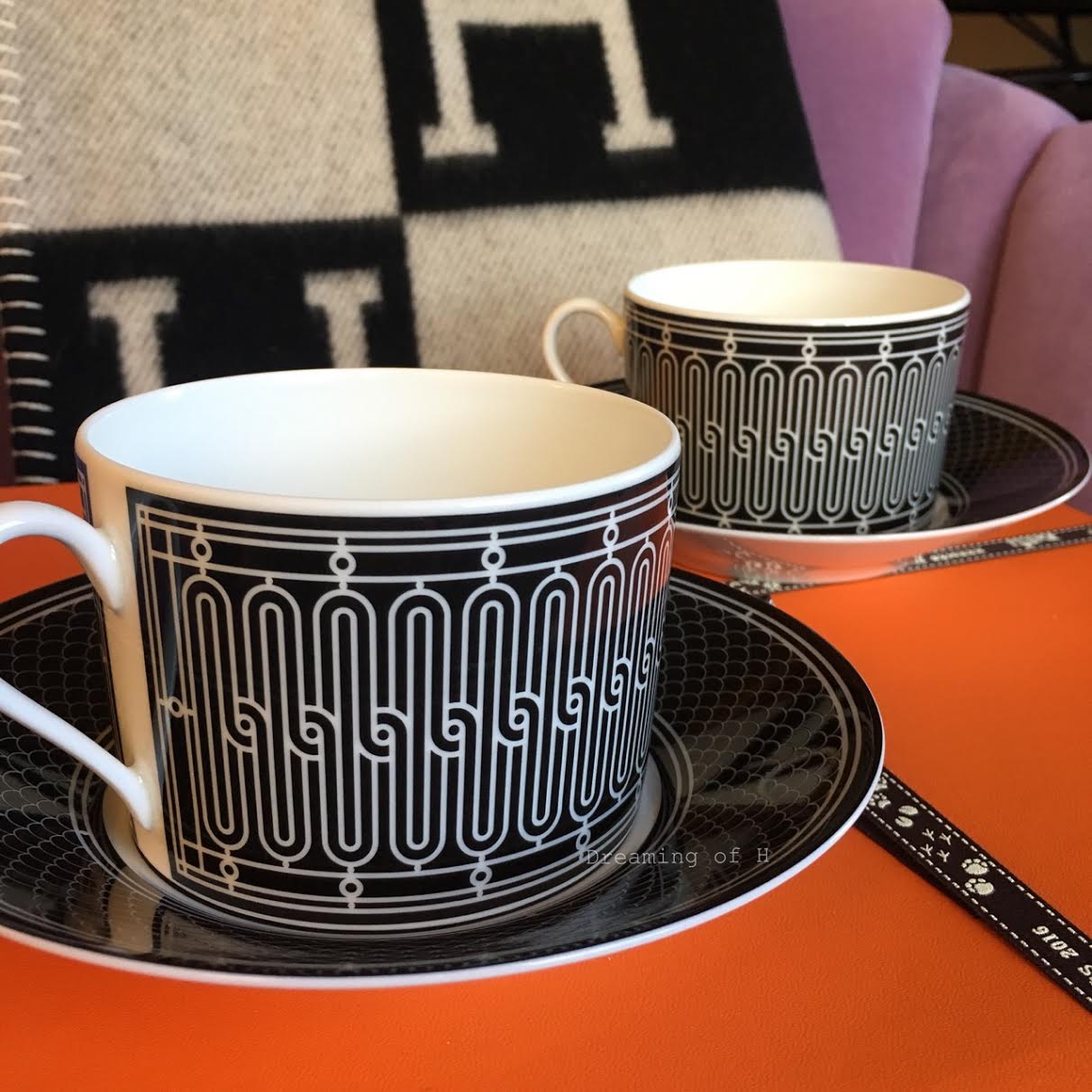 Lastly, I had to get the perfect accessory for this new black beauty! I bopped over to Fendi to enquire about the piece Soho was sold out of. This store was also sold out, but the SA was able to find perhaps the only two left in the entire US, and said she would try to secure one for me! (fingers crossed) After brunch, I received a text message that one was found and was on its way to me! What luck! Presenting the gorgeous black floral Fendi Strap You!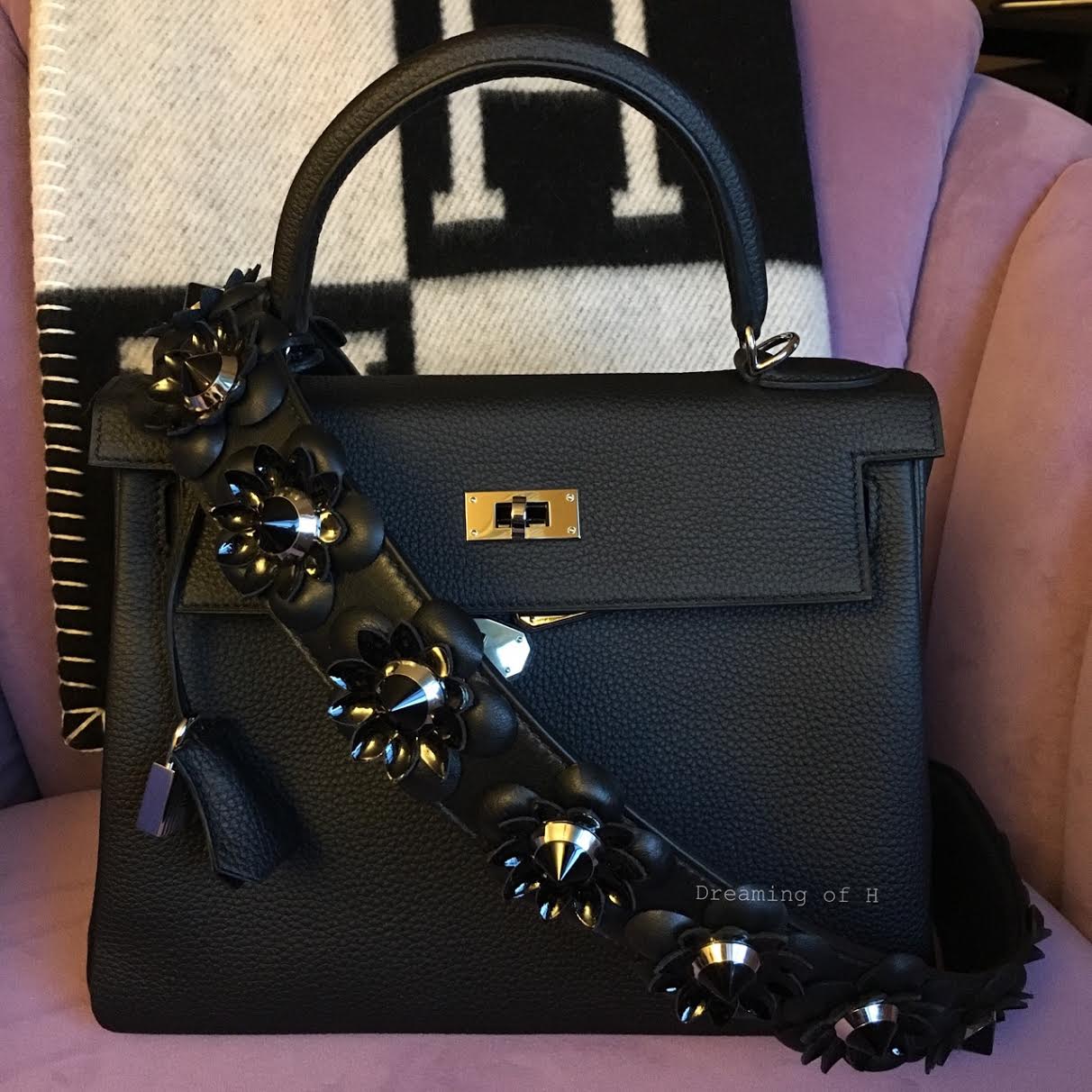 Thank you all for reading and I hope you enjoyed my NYC shopping story! I am starting to feel like my next foray may be into Hermes exotics…. but for now, I am travelling back to ban island.