by @favloves
PurseBop reader and fashionsta, favloves, recently took a trip to Japan and found many Hermes treasures! Read her detailed reveal story along with handbag math to compare Hermes prices in Japan vs. the US.
For me, travel and Hermes (two of my favorite loves) tend to have a connection. I first fell in love with Hermes during my honeymoon trip in Paris. I visited the Faubourg Saint Honore store for the first time and came home with my first Hermes bag – a Kelly Retourne 32cm. It made an already memorable trip, even more so. A year later, by which point I'd already grown to love Hermes beyond just their bags, I was back in Paris and amongst the orange boxes I came home with, was my first Birkin in Hermes' classic orange color.
Since then, dropping by a Hermes store during my travels – if time and my schedule permits – has become something I look forward to. There's a certain excitement each time I visit a new store since you never know what you might find. You may be lucky enough to find a small item like a new carmencita or a new pair of twillies. Perhaps, you'll score a special item only available in that store or country. If you're extremely lucky, you may even find a bag that's been on your wishlist. Whether small or big,  the treasures I find become a part of my memories from that trip.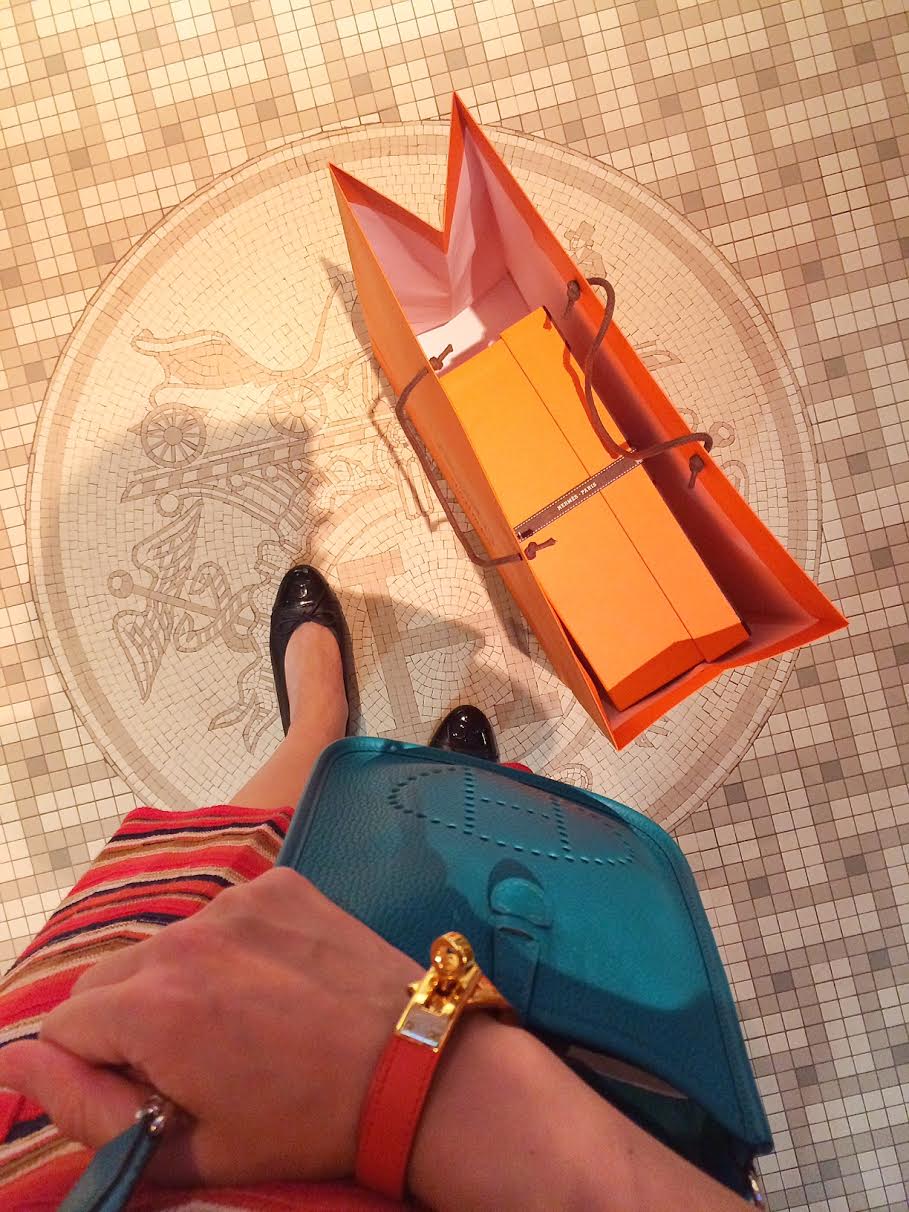 Just recently, I took a trip to Japan with my husband. This trip was a little different this time, since we decided to go Osaka instead of Tokyo like we usually do.  Although eating and exploring was our main objective, we made time for shopping too and simply had to make our way to the Hermes store! We eventually routed ourselves to the Hermes store in Kobe at the Daimaru department store.
After a delicious Kobe beef lunch and a long leisurely walk around the city, it was time to get to business! I did some browsing around first and saw what looked like a Jaune Poussin mini Garden Party and a black lindy 26 on the shelves, so I thought the selection would be promising.
I found a female sales associate and started asking her a few questions. I decided it would be better to inquire about smaller accessories first. I asked if they had a Zenobie CSGM shawl. She pulled out two, but I didn't care for either of the colors.
Then, moving down my wishlist, I asked if she had any items in Blue Hydra. Unfortunately, at this point, I realized my SA's English was pretty limited. Luckily, we were able to grab an interpreter to make the process easier. After some translating, I found out there weren't any items in Blue Hydra, so I needed to step up my game.
I finally worked up the courage to ask if any Constance's, Birkin's or Kelly's were available. I fully expected to get a no again, but it never hurts to ask!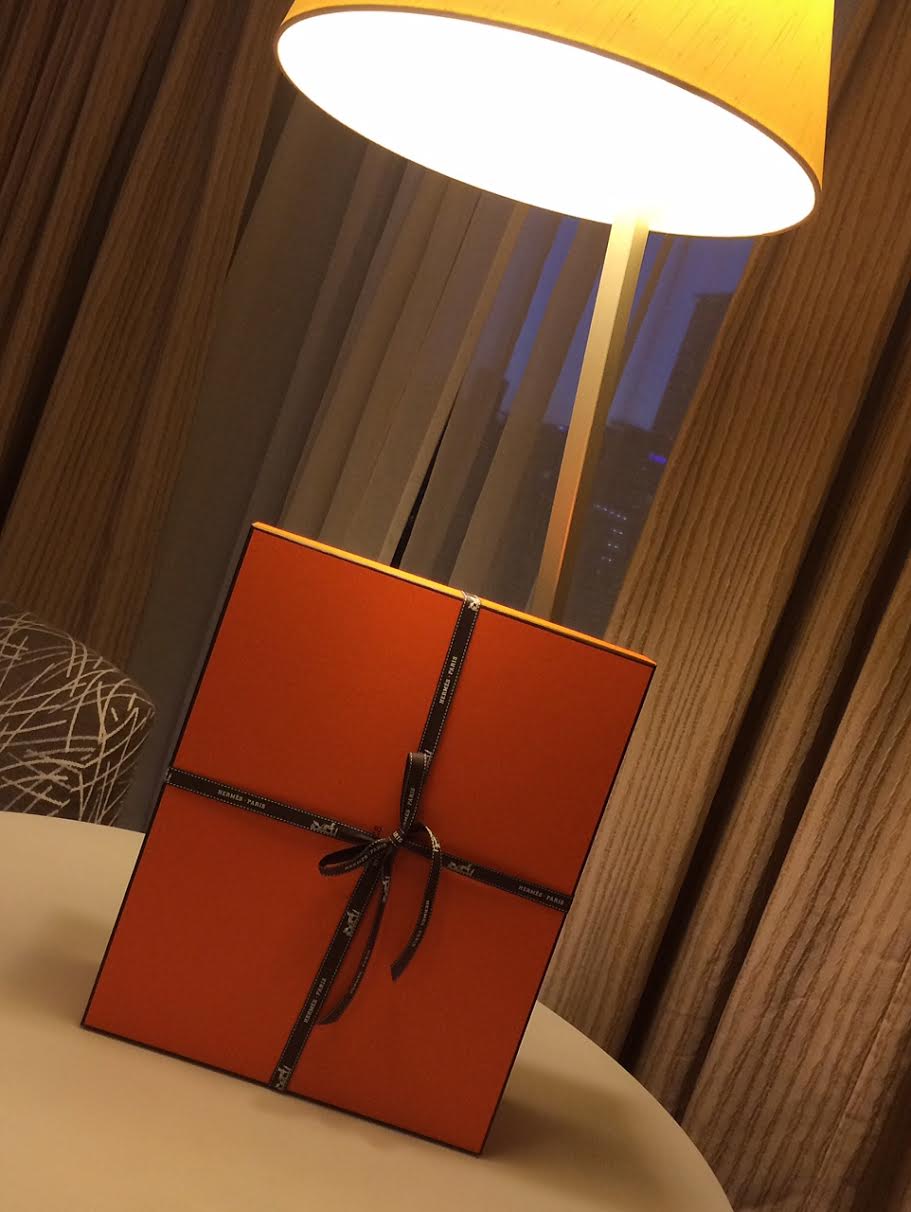 To my surprise, the SA said no on the Birkin and the Kelly, but she did have a Constance. This was good news, but I was still holding my breath.
My H wishlist at the moment is fairly short, but the items I want are pretty hard to come by. I had been hoping fora bag in Blue Hydra, a Kelly Pochette, or a 24 cm Constance, preferably in epsom. Most H lovers know that these items are probably even more rare to come across than a Birkin or Kelly! Since the beginning of the year, my husband has been trying to get me a Kelly Pochette as a push gift with no luck. I haven't had any luck with Blue Hydra either. So, the Constance was my only hope at this point.
Feeling a bit stunned, I asked to see it. My SA pulled out a beautiful 24 cm Constance in Craie GHW in Epsom leather – a perfect match with all the requirements on my wishlist! I brought my husband over and tried on the bag. This is when I realized the impact of the size difference between my 18 cm Constance and this 24 cm Constance. When worn, they give very different looks. In my opinion, the 18 cm is a cute mini option, but the 24 cm is definitely more classic. As for color, I normally love bright pops of color, but just like PurseBop, I have been on the quest for a neutral bag and Craie is simply amazing.
After all my searching, I finally found her, so my husband and I told the SA we would take the bag. I'm officially calling this bag my push gift!
For more info on the Constance including history, features, sizes and prices, visit the Hermes 101: The Hermes Constance reference guide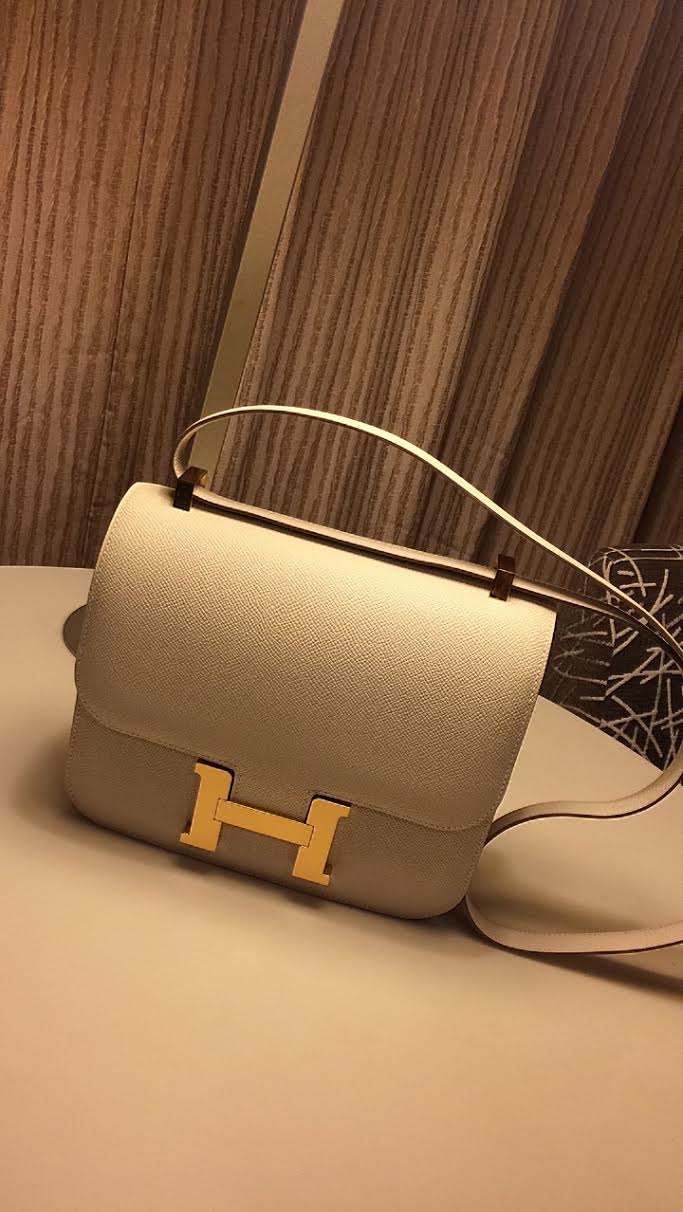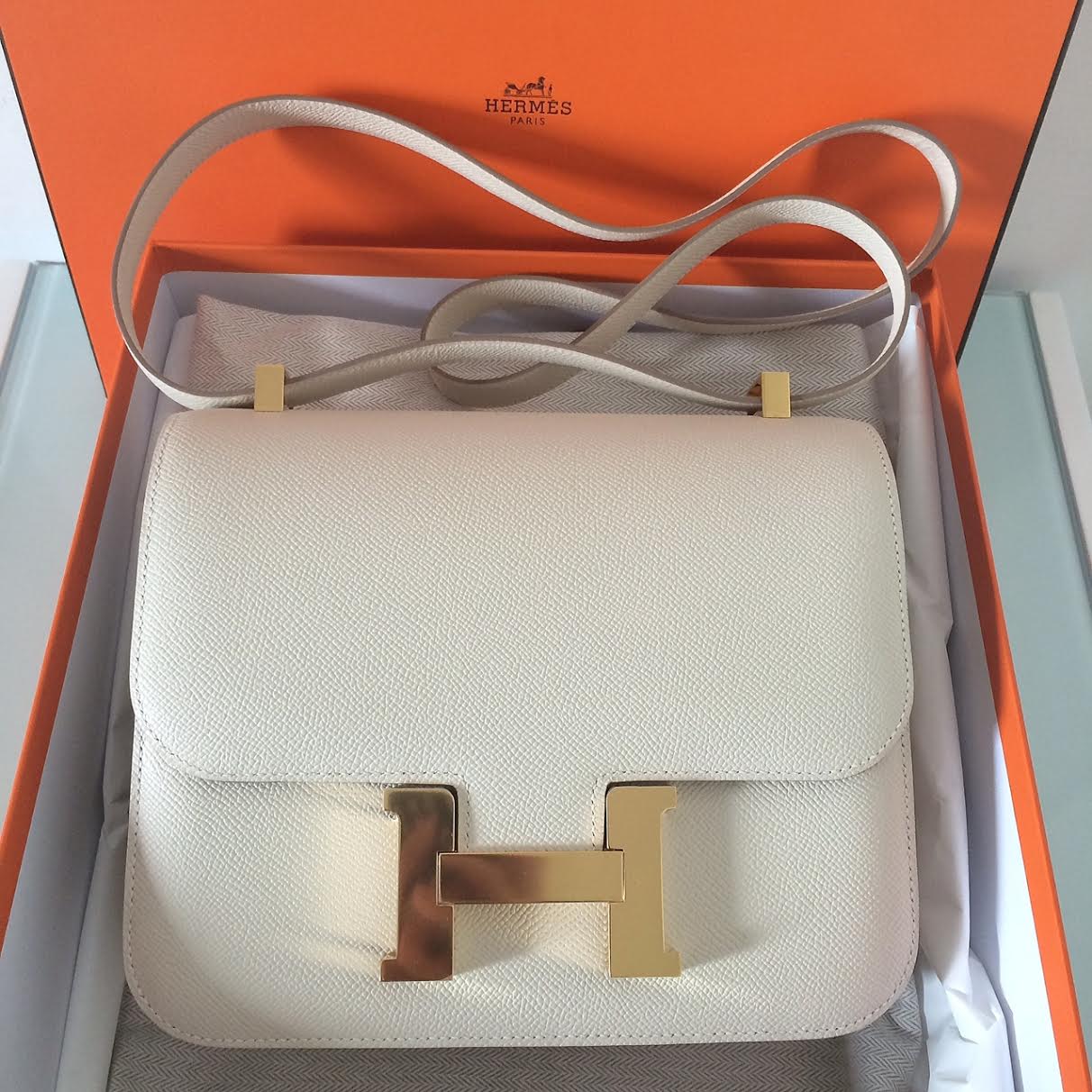 Hermes Constance Handbag Math
Here I'll digress a bit to quickly explain the Japan tax refund process in relations to luxury goods. There's a sales tax of 8%, which tourists can, depending on the store's policy, be exempted from or get a refund for. Usually, department stores will charge the item including tax first and then give back a cash refund. As this Hermes was located in a department store, the same policy was applied. We left Hermes and went back inside the main department store building. The interpreter (who had kindly stayed with us throughout all of our shopping) then took us to the tax refund counter. We presented a passport, a receipt, and the credit card used for the purchase and got back 6.9% in cash. The original amount of tax applied was 8%, but there was a 1.1% processing fee charged by the store.
Hermes Constance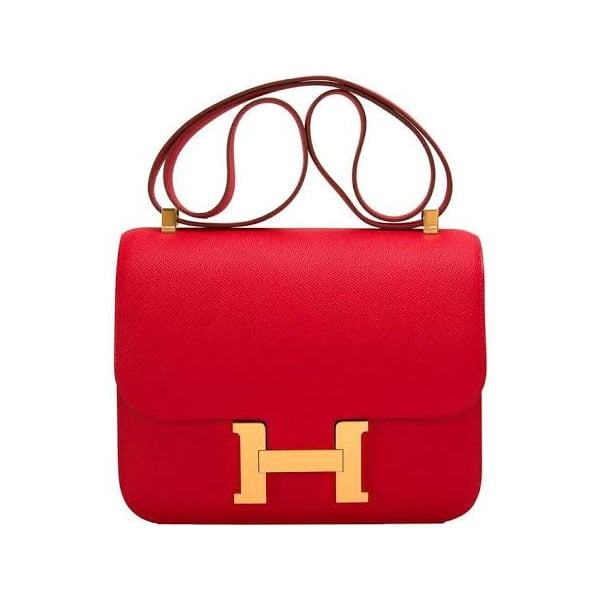 | | |
| --- | --- |
| Region | Hermes Constance |
| USA | $9,650 |
| | |
| Japan (JPY) | ¥ 1,150,000 |
| Tax (8%) | + ¥ 92,000 |
| Total including Tax | ¥ 1,242,000 |
| | |
| Tax Refund (6.9%) | - ¥ 79,350 |
| Net Total | ¥ 1,162,650 |
| US Equivalent | $11,321 |
| | |
| US vs. Japan Difference | + $1,671 in Japan |
Chanel Detour
I was feeling content with my purchases already, but there's always time for more shopping! My husband needed to do some work, so I had the afternoon to myself. A girlfriend of mine was looking for some Hermes items too, so we headed to the Hermes Hankyu Umeda Store.
At this store, I spotted a Blue Hydra Evelyne! I would've made the purchase, however, the size wasn't right for me and I was specifically looking for a TPM….I guess search continues. A pretty Rose Sakura Lindy also caught my eye, but overall, I wasn't feeling too tempted by anything at the moment.
We left Hermes and did some more browsing at other stores in the area. We entered Chanel, and I found a Chanel brooch that had long sold out in my local store. It was the last one at this particular store too. I probably wouldn't have even come across it here if I hadn't spotted it on the mannequin, so this was definitely a good find on my part!
Chanel Brooch – JPY 56,000 = $545 USD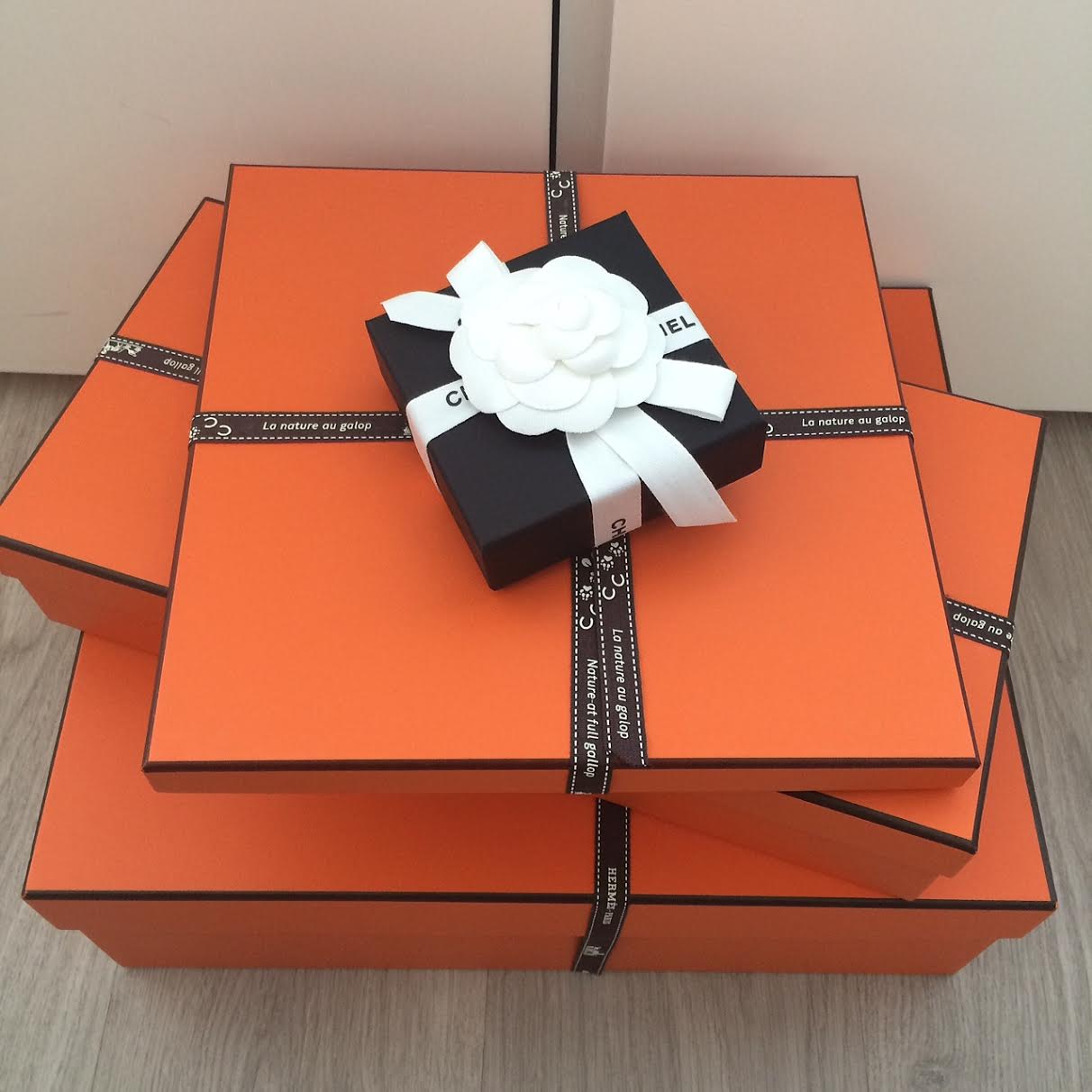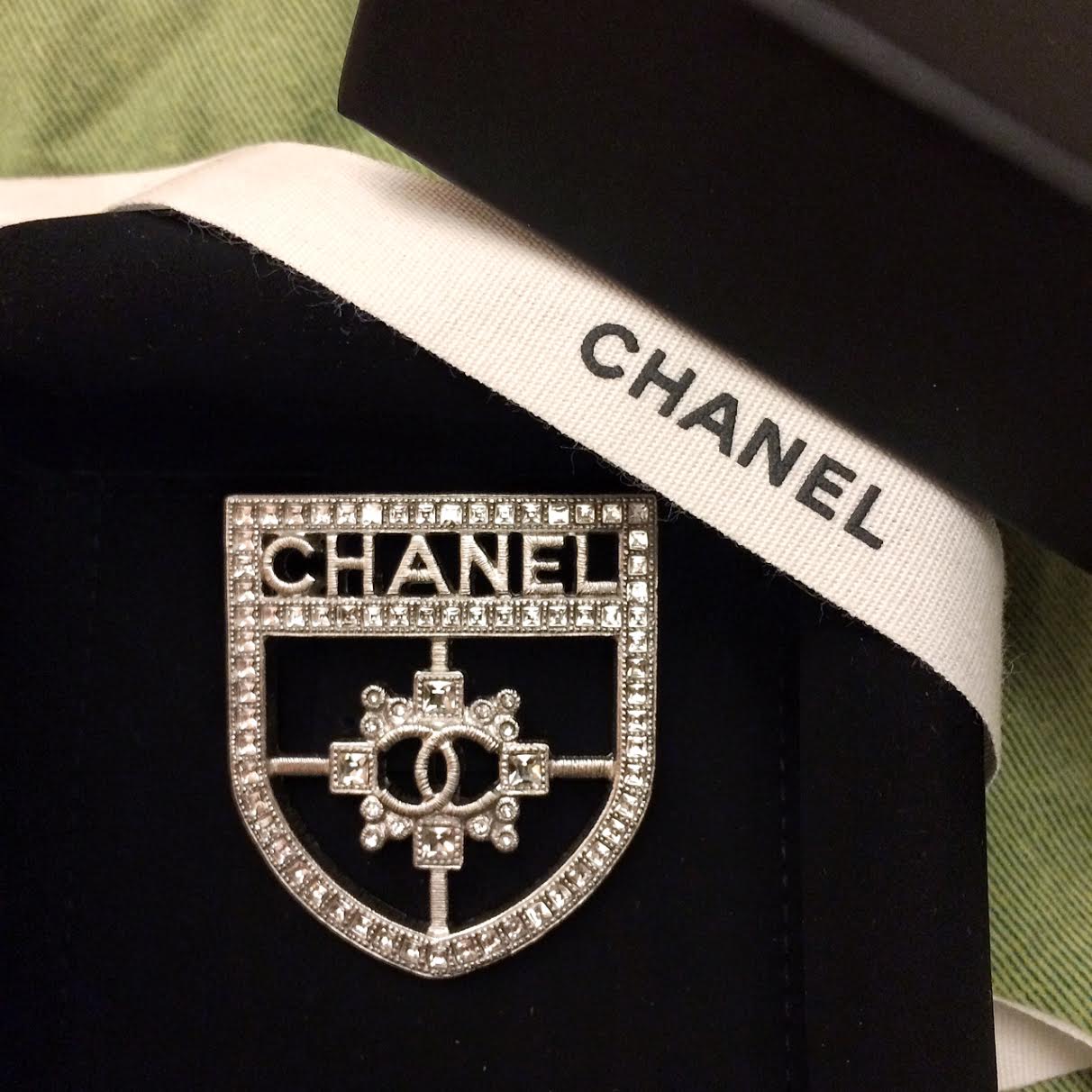 A Total Surprise
At the Hermes Hankyu Umeda store, I saw a blouse that I fell in love with, but they didn't have my size. The SA told me the Hanshin Hermes store had one, so we started on our way to that location. As we were on our way there, we passed on the Hermes Hilton Plaza store, and decided to try our luck at this store first. I had plans with my husband soon, but what's 10 more minutes right??
Judging from the size, I'd say the Hermes Hilton Plaza is the flagship store in Osaka. My girlfriend and I browsed a little bit in the leather section, but didn't see anything overly impressive at first. I was about to give up, but I looked up a few shelves higher and spotted a Blue Paon Kelly Cut on the top shelf. I was in disbelief! Just a Kelly Cut in the open with no "for display only "sign either…simply incredible!
Believe it or not, after this initial OMG moment, I actually hesitated before asking to take a look. For a split second, I considered just walking away as I already have a mini Evelyne in Blue Paon, and I usually try not to repeat colors (unless it's pink, of course!). But giving it a second look, it was just too pretty not to take at least a closer look.
So, I asked the nearby SA for help, still half expecting her to say it was for display purposes only. On closer look, I saw that it was in Swift leather, which made the color even more vibrant especially compared to my mini Evelyne in Clemence leather. I was wearing a red dress that day, and seeing my reflection in the mirror, I loved how the green just popped against my dress. I mentally started weighing all the pros and cons, but could only come up with pros! A clutch this color would be a fabulous addition to my collection and also serve a totally different purpose from my mini Evelyne. My mini Evelyne is great for outings with the baby or travel. Whereas, the smooth Swift leather of the Kelly Cut clutch has a elegant aspect that is perfect for evenings.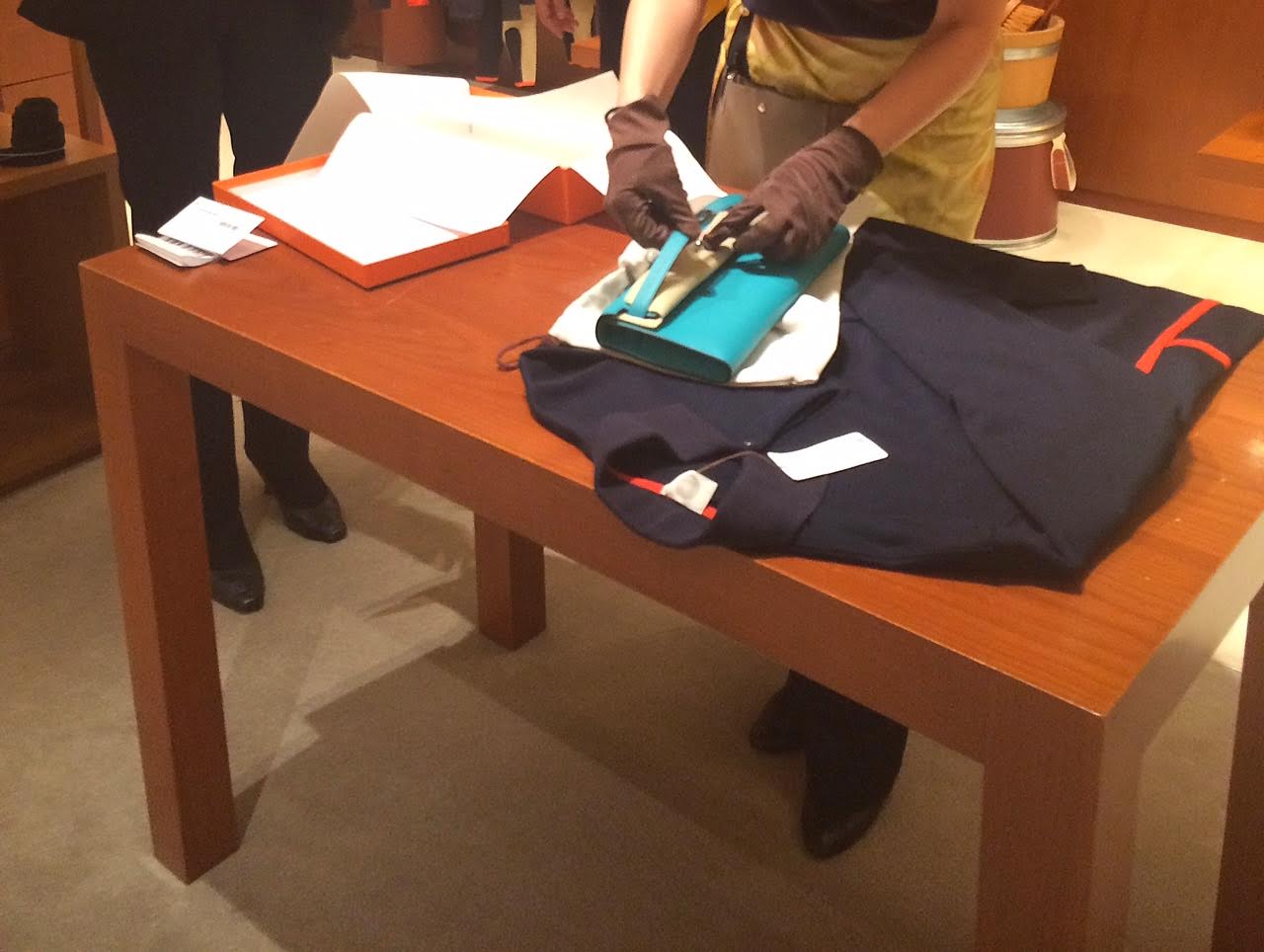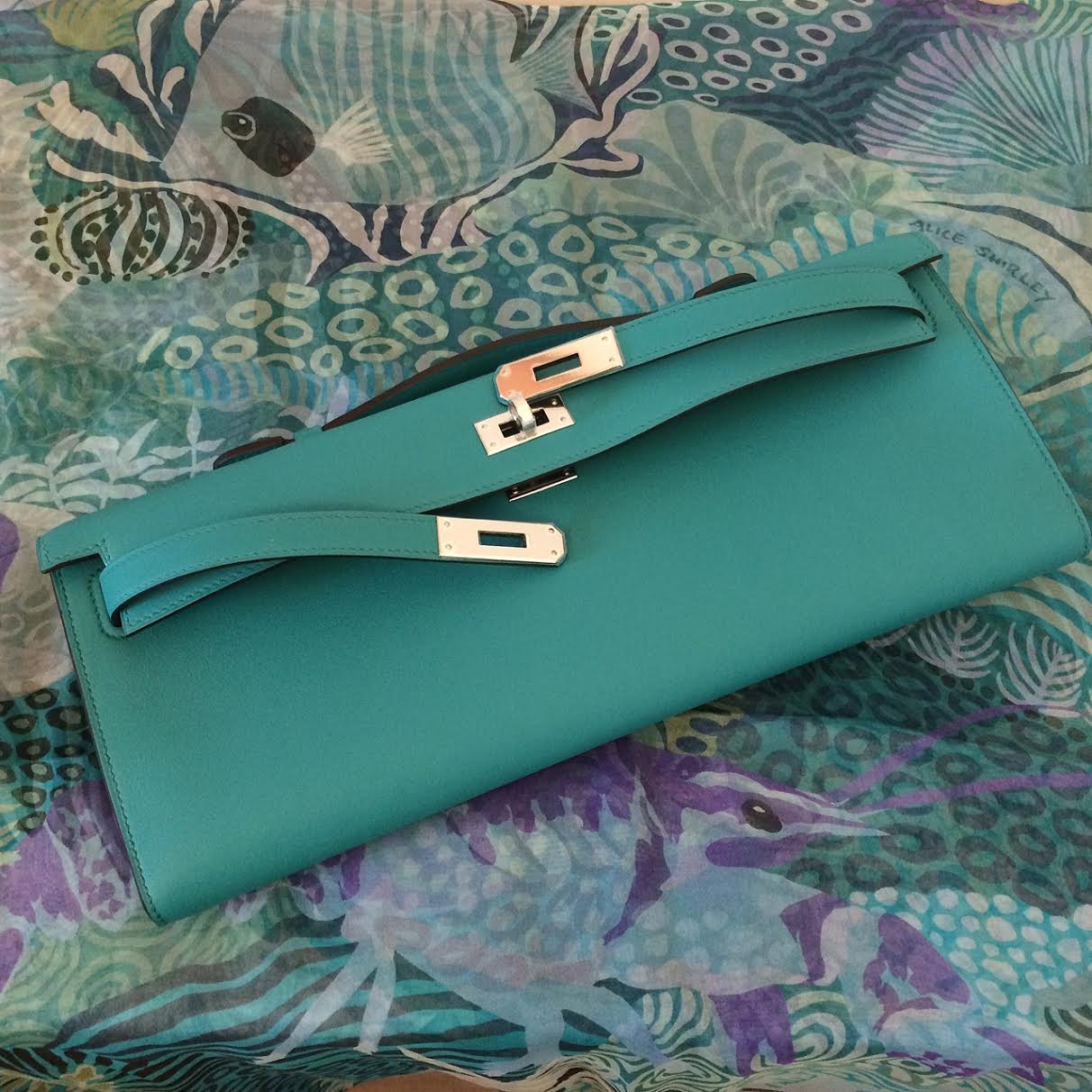 Hermes Kelly Cut Handbag Math
Hermes Kelly Cut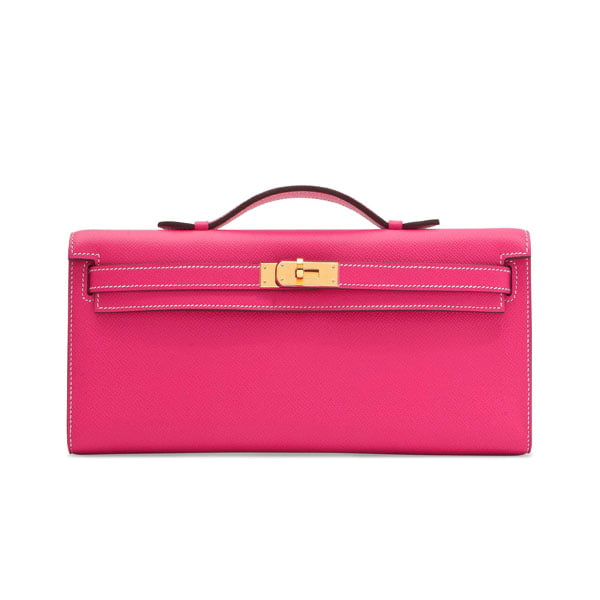 | | |
| --- | --- |
| Region | Hermes Kelly Cut |
| USA | $5,450 |
| | |
| Japan (JPY) | ¥ 663,000 |
| Tax (8%) | Tax Exempt |
| Total including Tax | ¥ 663,000 |
| | |
| Tax Refund (6.9%) | N/A |
| Net Total | ¥ 663,000 |
| US Equivalent | $ 6,456 |
| | |
| US vs. Japan Difference | + $1,006 in Japan |
Note: This purchase was entirely tax exempt.
A Little Something Extra
The SA excitedly told me that this Kelly Cut had just arrived early this morning, which is rare since the store usually never receives the Kelly Cut. I was already on a roll, so I decided to push my luck a little bit and asked if they had any bag charms.  She went away to check, but there weren't any bag charms in stock at the moment. She didn't come back empty-handed though and reported that she had something that I might like. The SA showed me the Jungle Love Tattoo 90 cm Silk. The Jungle Love Tattoo pattern is one of my favorite designs, and the color of this silk was stunning! Usually, the Jungle Love Tattoo Silk is issued in colorways of navy, red, and orange, but this particular one was in a gorgeous, raspberry pink color. Better yet, it was a limited edition silk only available in this store to celebrate Hilton Plaza's 30th Anniversary. Being a huge pink lover, I couldn't say no! We completed the purchase, and since this was a standalone store unlike the others we visited before, the items were entirely tax exempt and we only paid the original price.
Hermes Jungle Love Silk 90cm – JPY 52,000 = $506 USD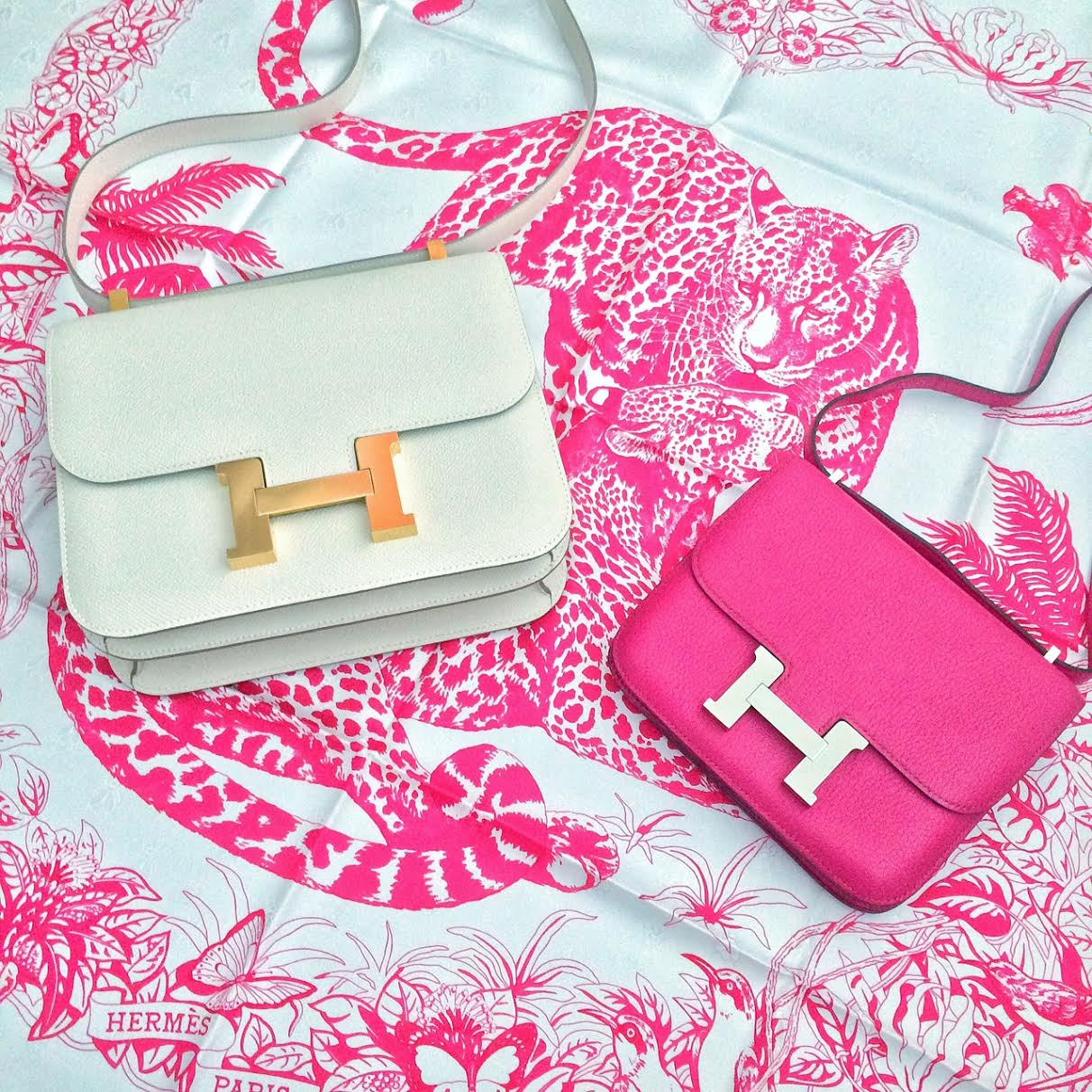 Even after our impromptu Hermes adventure, I made it back to the hotel quicker than expected with plenty of time to enjoy the last night in Osaka with my husband!
Most of my purchases were largely unplanned, but that's what makes shopping an experience. I'm glad I was able to bring my love for Hermes and travel together again. Whenever I look at my new Constance or Kelly Cut or my Jungle Love scarf, I will always remember this trip to Japan and all the fun we had. I feel incredibly lucky with the orange boxes that unexpectedly came my way this time. There's the saying that "love happens when you least expect it", and I'd say this definitely applies to Hermes too.