You might ask me why now and the answer is very simple: I want to use it. And I never do till they've been given a formal introduction to you at PurseBop.com —my handbag journal. This treasure has been awaiting a glorious reveal for way too long – since January 2021. Please don't ask me to explain why it sometimes takes so long to reveal; sometimes it just does. The need or urge to use a certain bag at a certain time/phase can be fickle. Plus, I pay meticulous attention to my evolving and growing collection, and then when the time is right, it all comes together.
This beauty has an overseas story that began in those pre-pandemic times when traveling across continents was a breeze. Who would've thought that retrieving her could be so complicated. I know you're all thinking why couldn't it be shipped (DHL). Well this particular boutique would not ship. That then left the onus on me to figure out a creative way to bring her home. Creative I am, and very resourceful. Especially when it comes to handbags.
What Did I Order?
A brilliant Rouge de Coeur chèvre Sellier Kelly 25. With some special twists. You might say I used this special order opportunity to experiment. PurseBop followers know that I tend toward rather traditional choices. Not to say the color but rather the smaller details.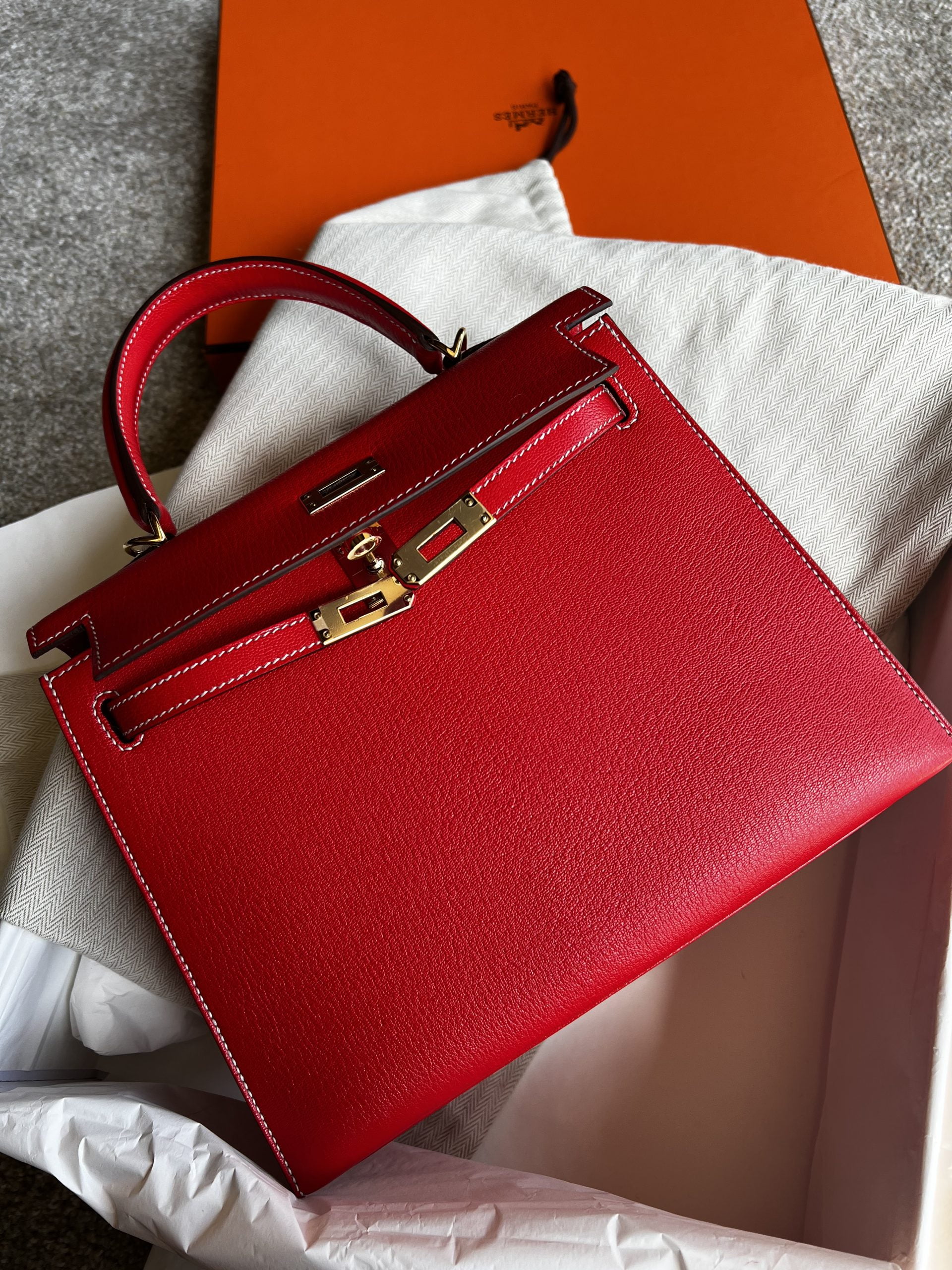 In fact, to date, the most provocative choice I've made is contrast stitching. I absolutely adore the contrast stitching on my noir Kelly 25 from several years ago. So, yes I opted to repeat that with this Kelly, with a few more punches of color – including thread and hardware.
Read my Noir Chévre Kelly story here.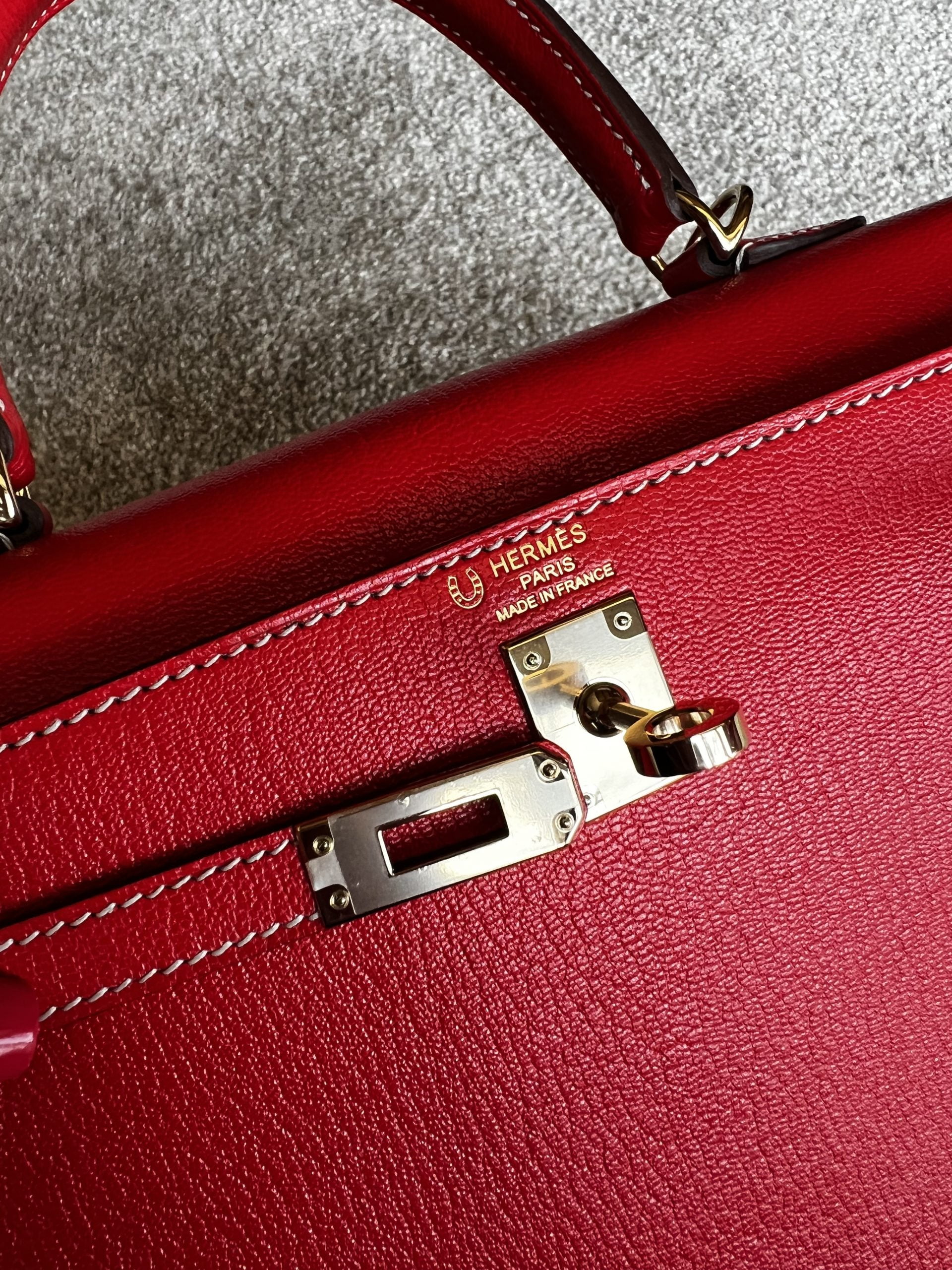 Now you may be conjuring up images of a tri-colored multi paneled creation. Don't. That's too much for me. Creative but classic, with merely a twist, best describes my style. Just enough to make it feel special to me.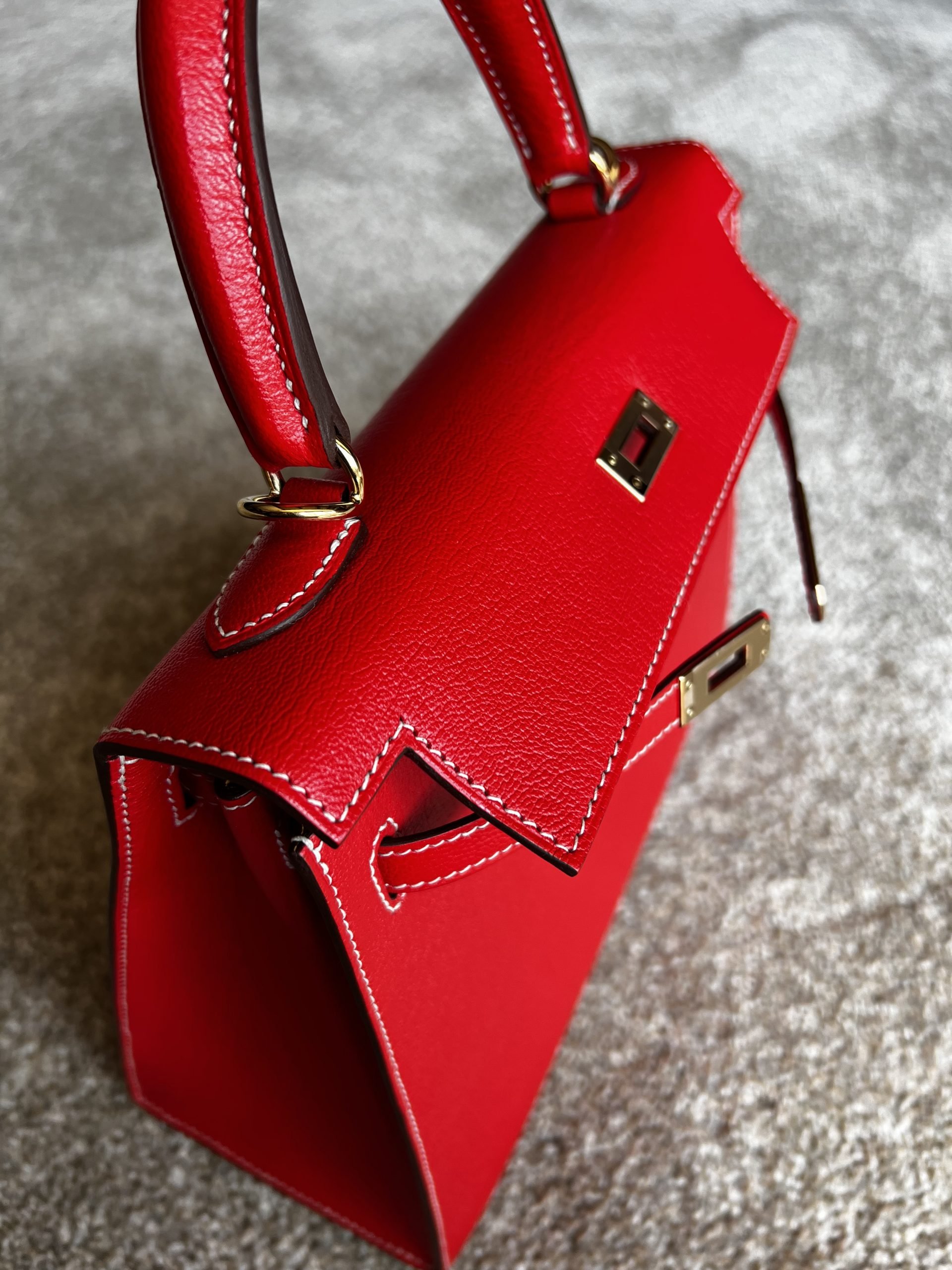 My love for chèvre is well-documented, which effectively limited my color options at the time. Fortunately, there was a hue so vivid and bright available in chèvre, that it made my selection easy. Picking Rouge de Coeur was a no-brainer. It's a clean crisp and bright red,  slightly brighter than the traditional Rouge Casaque. Some might say it has a hint of orange but I really don't see that. It's just a bright, beautiful, clean red.
Read also:
The Things About Hermès Chèvre Leather That No One Tells You
Lest I wax rhapsodic about all the different shades of rouge, let me just say that I think there are winter reds and summer reds. By this definition, Rouge Casaque would be a winter red, or perhaps year round. Rouge de Coeur, on the other hand might classify as more of a spring/summer red.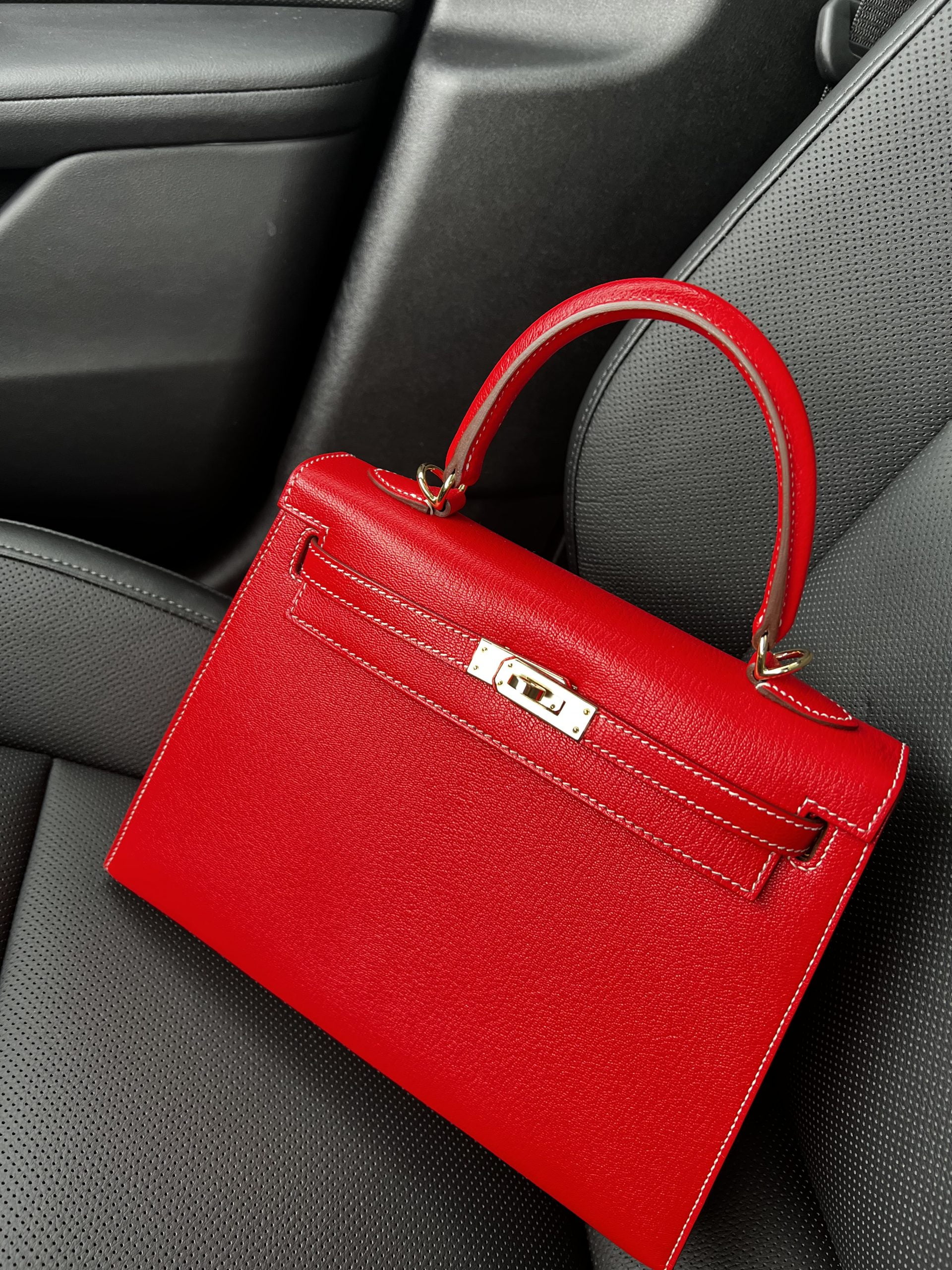 Recognize this is my own particular variegation of reds, not anything formal or official. But it is how I see color. Once upon a time, my collection included a vermilion Birkin 35. It seemed like a perfect hue. However, I re-homed it not long after purchase. I just wasn't in love with this red. To my eye, it leaned toward brick, which I do not like. My preference is for true reds. And Rouge de Coeur is definitely that, especially in chèvre.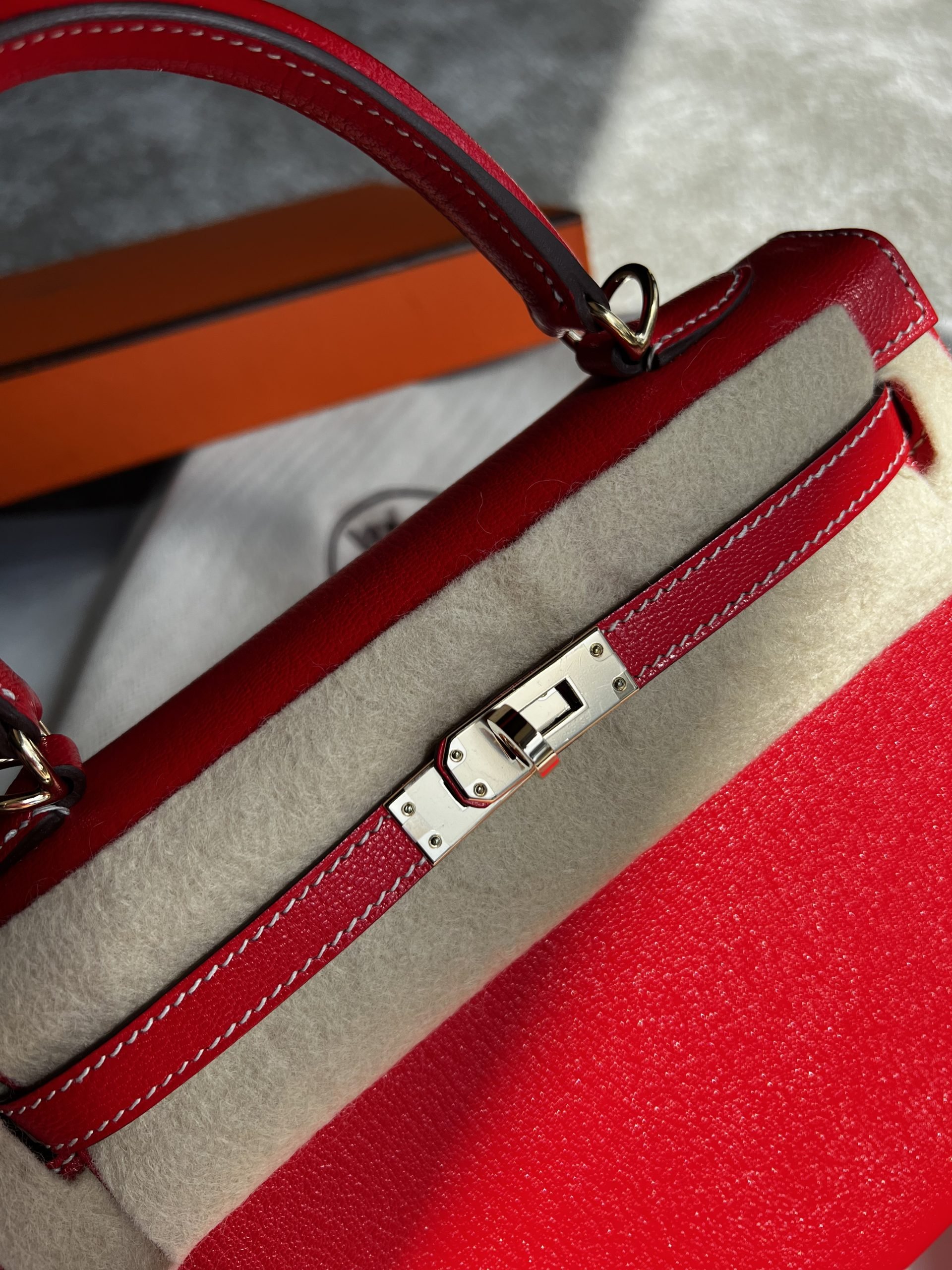 For all the assorted Hermès colors in my collection, red was the one unrepresented. Not a single red in my bag armoire, until Miss Rouge de Coeur (RDC). Clearly, in chèvre, it was the easy and natural choice.
Let's move on to the stitching. This was a struggle. I had this crazy idea to use Jaune Ambre for the inside. However, I was concerned that using that  matching thread as the contrast stitching made the bag look too tutti-frutti for me. So any shade of yellow for stitching was out. As was any other pop of color.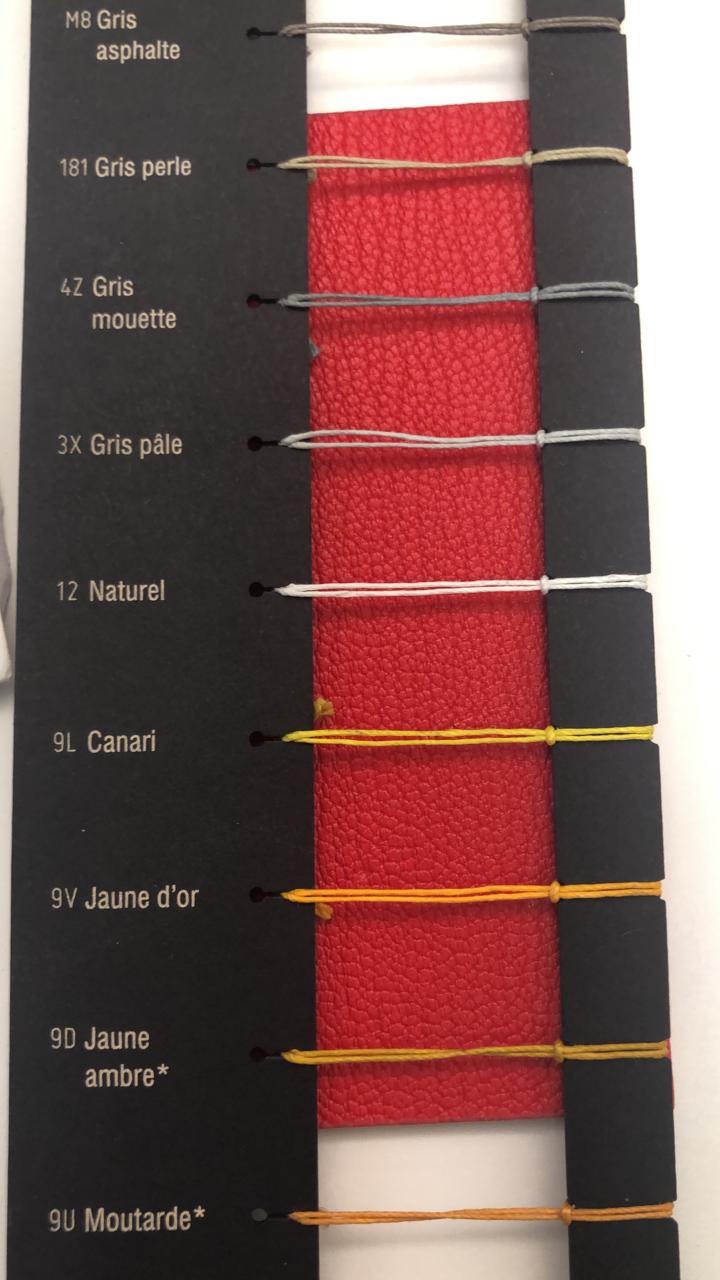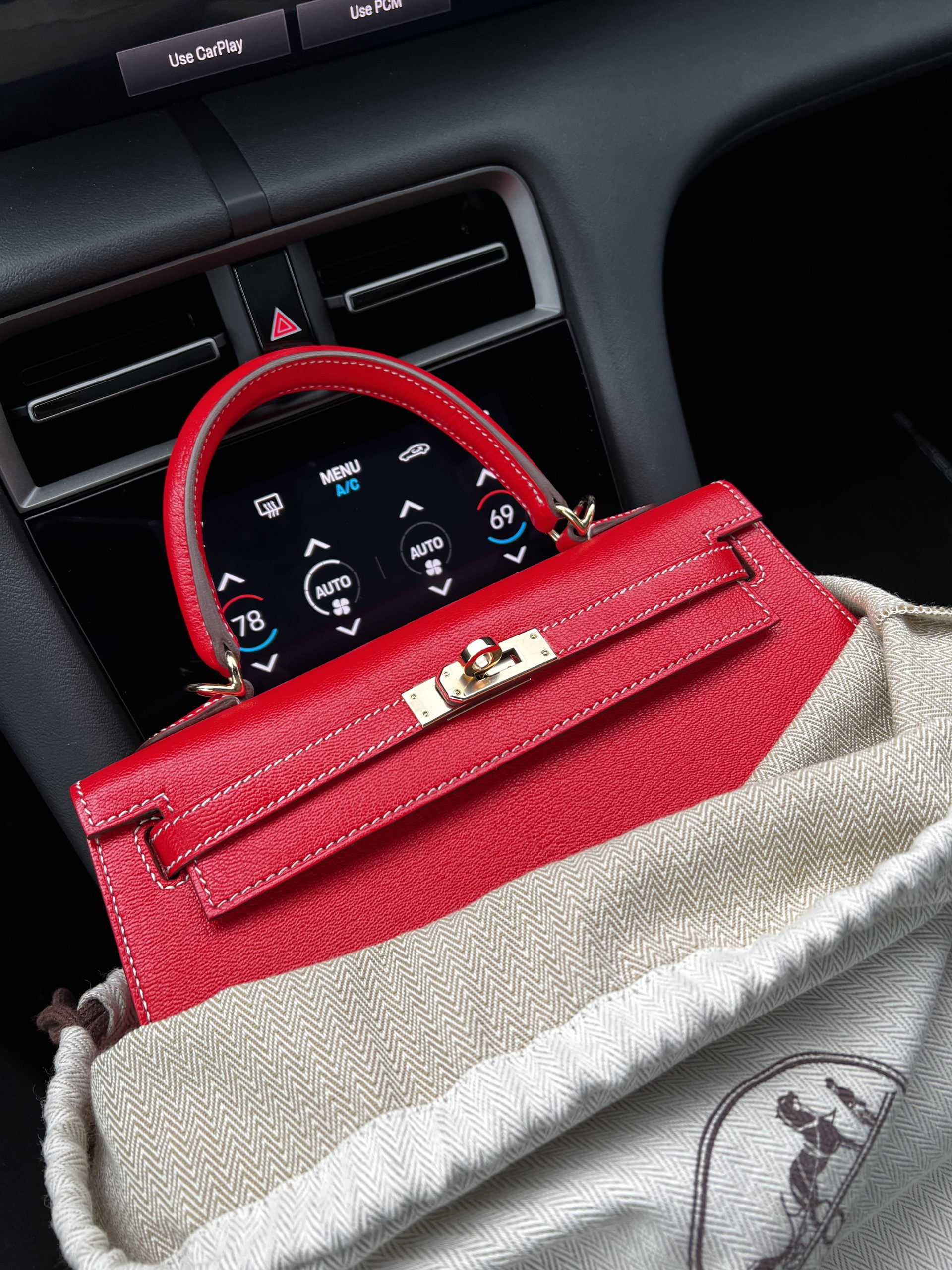 Now what? My SA and I contemplated different options and came to the conclusion that a light shade of gray which could read more beige, white, or gray might be a more subtle yet defining option. Lo and behold, I loved it. Still nervous, I went ahead with this option.
So envision this so far: we have Rouge de Coeur, with Jaune Ambre lining (which in a Kelly 25 Sellier is not visible unless the bag is open) and soft gray stitching to outline the bag's sharp edges.
Next up is the hardware. Brushed gold – I love it but have done it many times before. Brushed palladium – considered it but didn't like the vibe with this bright red. Shiny gold or palladium – well, let's just say "not special."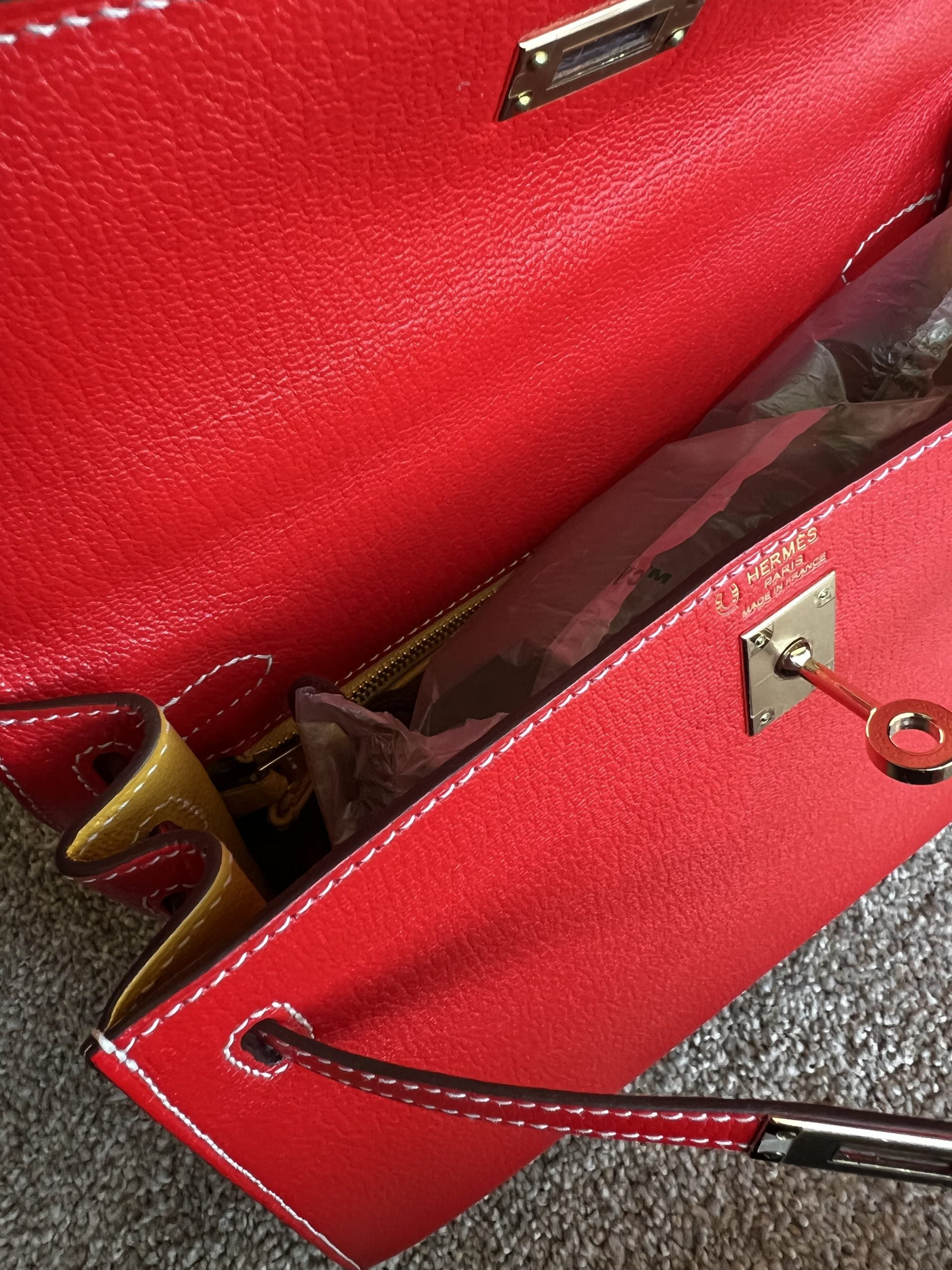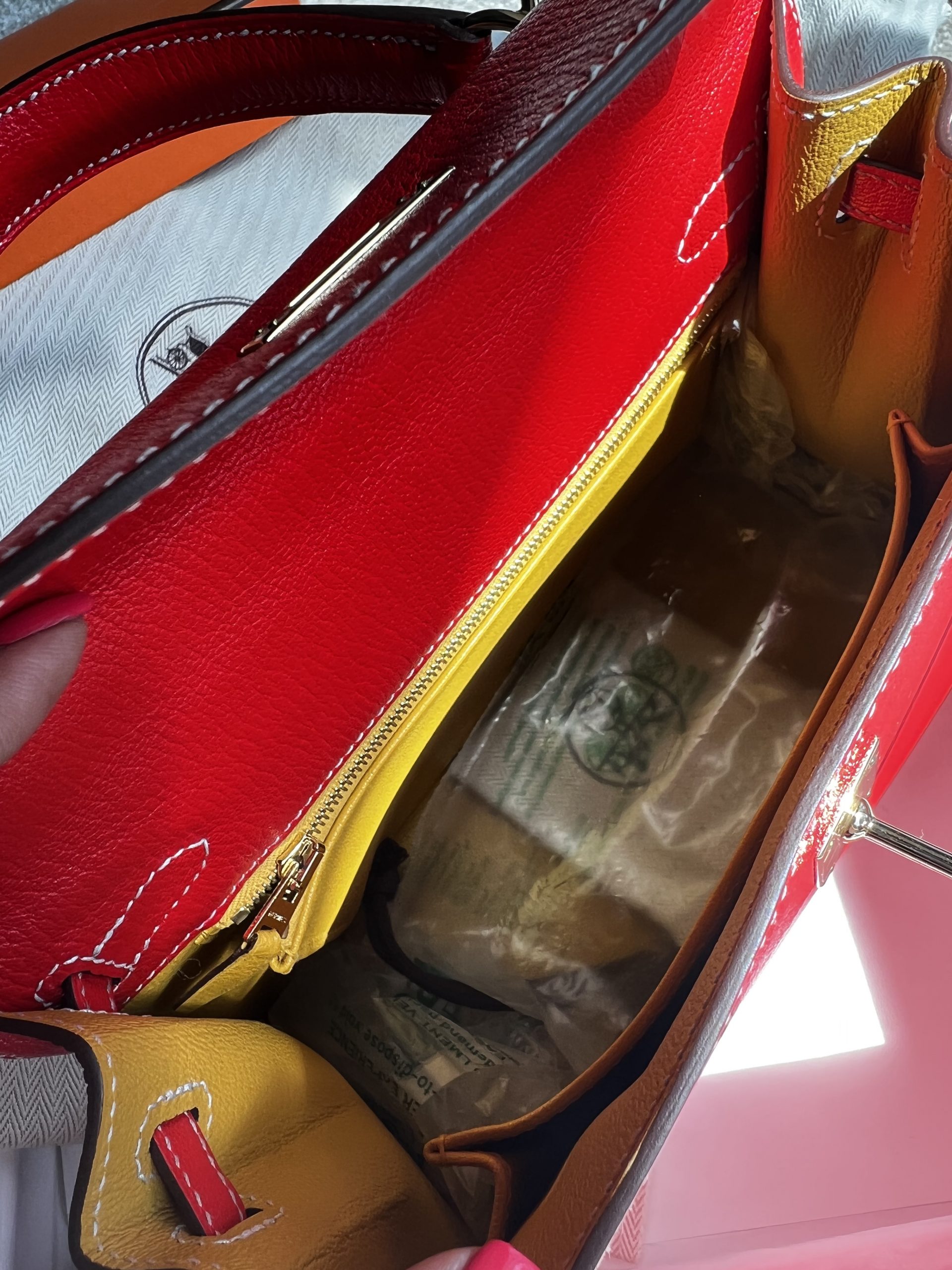 For something new, we looked at permabrass. It's still shiny, somewhere in between gold and palladium. Why not? This bag was already all over the place. By my standards anyway. So the permabrass would be the icing on the cake.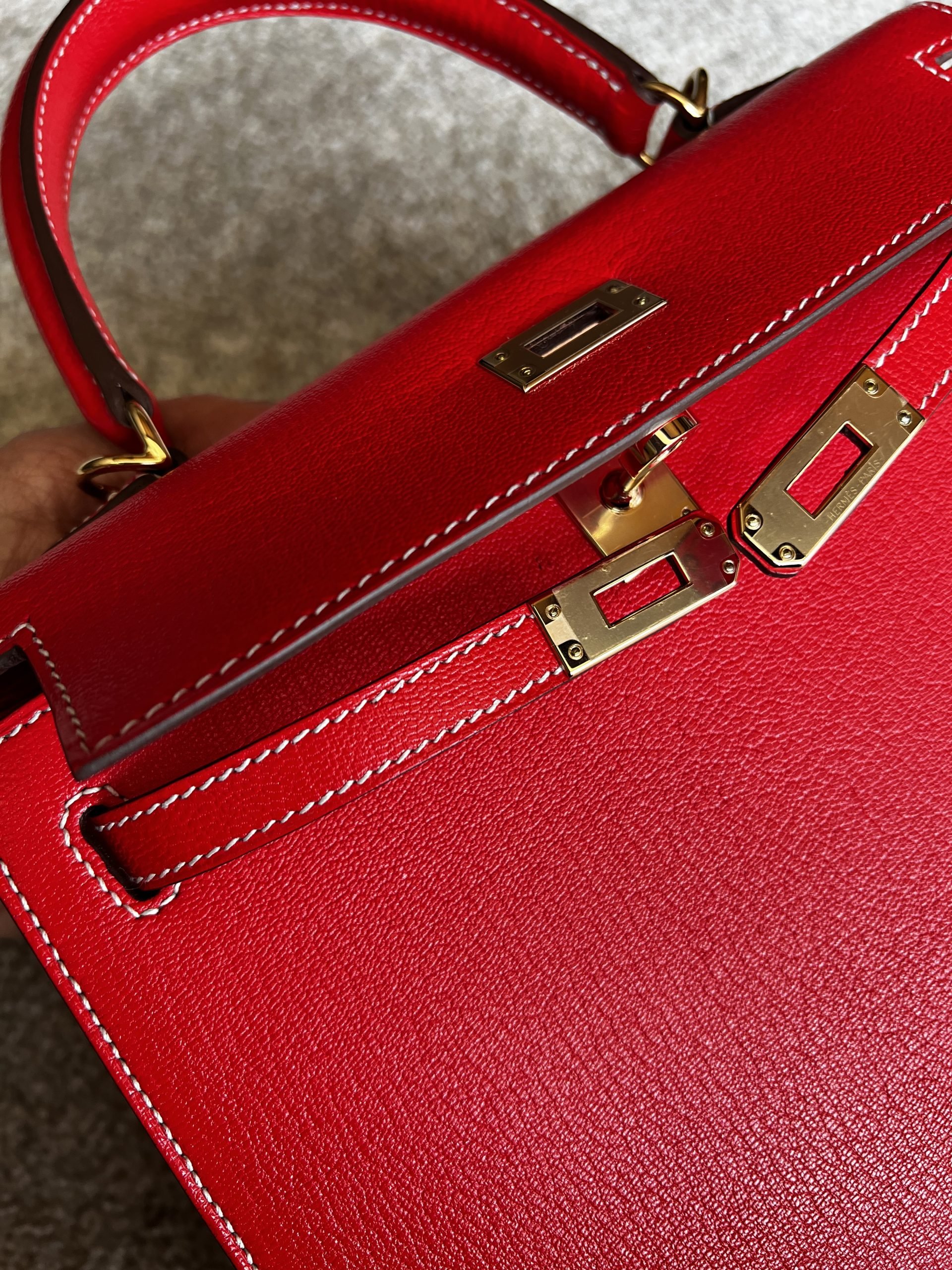 The Outcome
To me, bags are like children. We love them all. On the other hand, this one really is special. So maybe not like children as I really think I do love her more. The color is an absolute fresh pop for my collection, just perfect in Sellier style. Stitching in gray added to the bag's perfection; noticeably there without drawing unnecessary attention. Chèvre you know is my absolute favorite leather and this skin is perfect and has that slight spine and shine that I love. And this permabrass… let me give my opinion after I've actually put the bag in rotation and have some experience with it. Gorgeous to look at, but I really need to see it in action.
What's not to love?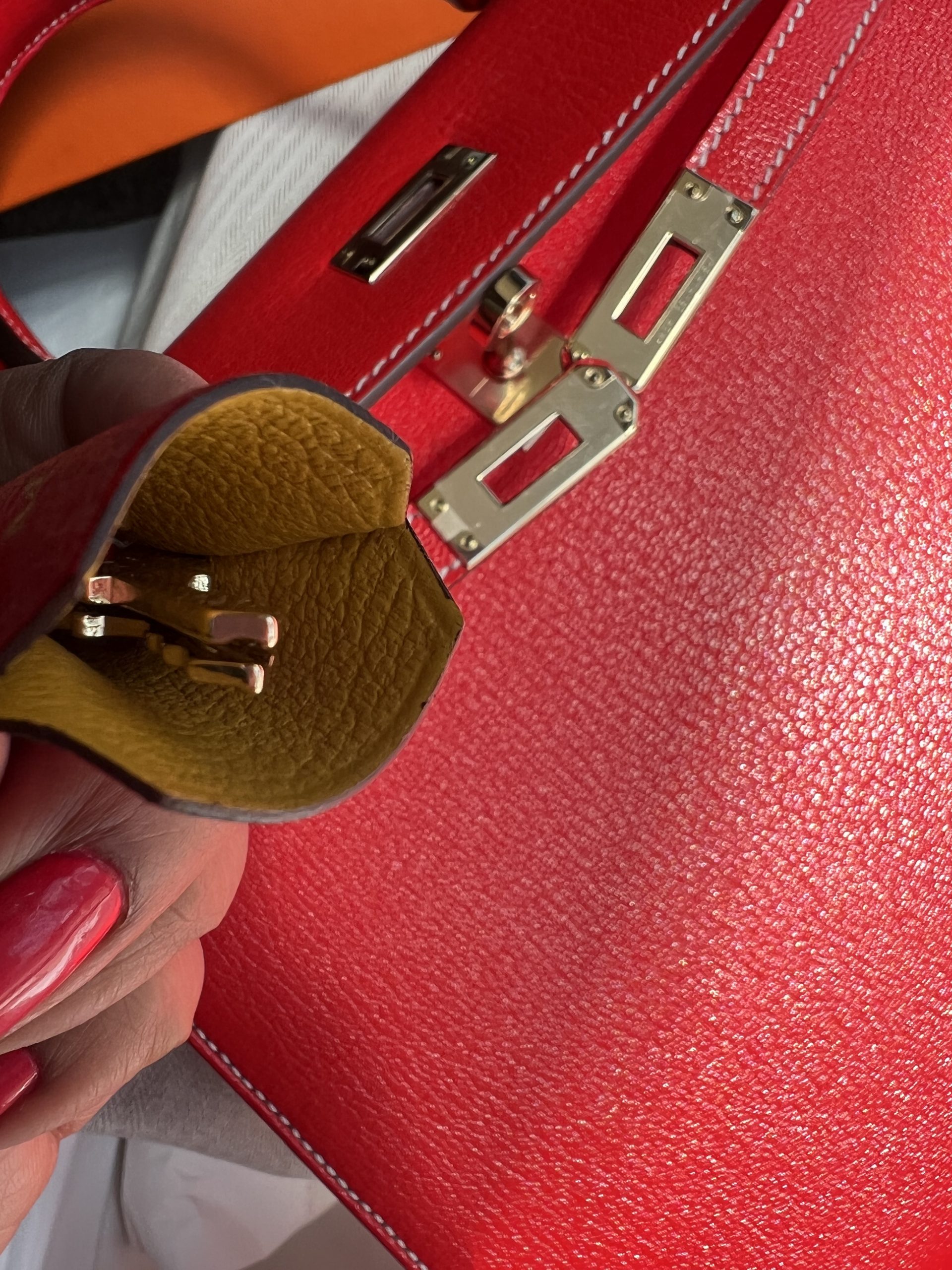 Her Arrival
Without getting into too much detail, understand that this creative approach of mine required pilots to hand carry her home to me. Imagine my stress making sure these men understood the delicate nature of this treasure that to them was only a bag. I had silly visions of them sitting on their carry-on (I mean who even does that!) or jamming it in some overhead compartment where my tender chèvre would be bruised. But I guess my (not so) subtle and polite suggestions to carry her like a newborn or a brand new sports car worked because she was delivered to me in 100% pristine condition. She took my breath away when I finally saw her in Chicago on that cold Saturday afternoon that I marked here with a timestamp.
Sadly I haven't many creative photos yet but I created a fun video reveal for you to see on my IG account. The better photos, the more exciting photos will have to come over the next week or two as she makes dramatic entrances in exciting destinations.