For an Hermès lover, the offer to place a Special Order – to custom create one's own bag to one's preferences of color, leather, and stitching – is like winning the handbag lottery. My first special order was indeed that: so special that it commanded a six part series ending in the reveal.
That's not to say that this one was any less special, but the circumstances surrounding it were considerably different. The invitation-call came a few days before a scheduled trip to New York City to mark one of my favorite fashion moments. I had been invited to join Christian Louboutin, Linda Fargo and Sabyasachi in an exclusive luncheon at Bergdorf Goodman (read: PurseBop Reveals Louboutin x Sabyasachi Exclusive).
It was my distinct privilege to not only attend but to be seated directly opposite these magnificent fashion icons. The details,  photos, and highlights are in the article linked above.
The Special Order Decision Making Process
As hard as it was to imagine that this day could get any better, it did. My sojourn ended with a trip to 691 Madison Ave, the NYC mothership, to make selections for my second Hermès dream bag.
This time it didn't take very long.  Unlike last time, it required no viewing of that colorful dream box filled with rainbows of leather swatches. I knew my special order bag had to be black with some shade of red or pink as the pop interior. I should explain why it had to be black... truthfully I don't think I can re-write what I wrote years ago any better today, so indulge me this "blast from the past" as I quote myself here from Couples That Special Order Together Stay Together. 
"That brings us to Noir. Good old black. Believe it or not, after all my contemplations, careful analysis, ups and downs… Moi, Me, Ms. Color Pop PurseBop posited that a Birkin 25 or 30 in black chèvre with brushed gold hardware and a hot colored lining was my SO dream. I'm certain you readers are rolling your eyes – my family certainly did. Mom thought it was utterly boring and wanted me to pick a bright color. Mr. PurseBop insisted there would be a later opportunity to perhaps purchase a plain black B30 or B25. My dear sales associate was so 'color encouraging,' he went so far as to assure me he would podium order me one… and that I should not waste my first SO on black (hint of more to come?) . If this had been my second, third, etc… possibly, but not the very first (a girl can dream right?).

Stubborn me, I loved the idea of a not-so-basic smallish black bag offering a glimpse of color – like lacy red lingerie under a simple shift dress. And permit me to digress: Years ago, at an airport, I thought I spotted a dark colored Birkin in the hands of a nearby traveler. I bobbed and weaved, sped up and slowed down, anxious to get a better look. Finally, near baggage claim I caught up. Understand that that time I was not a walking encyclopedia of all things Hermès, but now, as I picture it in my mind's eye, I am certain it was a 30cm black Birkin possibly even chèvre… with Rose Jaipur or Rose Lipstick lining. My eyes fixated on her – the owner. I remember her walk, her hair and the swing of her arm. I remember being intrigued by her and her Birkin, shots of bright pink peeking from its creased accordion edges. Before you think I am some stalkerish freak, be honest – haven't you secretly admired the look of a woman or man and wondered their whole life story in that one moment? This was one of those times. Maybe she's reading this and smiling… and wondering if it was her.
A B25 in black with contrast lining would be precious for nights out (which are bountiful in my life), perfect to nest in another Birkin for travel and above all just adorably cute. I would be willing to try a little one in luxurious swift leather. I could be gentle, if needed, but delicate does not scare me. A Birkin 25 maybe not be practical for daily use, I acknowledge, but it is very high on my wishlist. In fact it is at the very top!
To continue, read Couples That Special Order Together Stay Together.
Ok, so let's fast forward a couple years… We know that I satisfied the itsy bitsy black bag craving just a few months after placing my first SO with my Swift Birkin 25 (read: PurseBop Reveals a Mini Birkin). It has been and continues to be the most used Hermès bag in my collection. For the Swift-phobic bunch, I would like to state for the record that, it still looks amazing despite having travelled maybe a million miles already. Swift rocks! Seriously!
Reveal Time
Without further adieu, I introduce my new Special Order: a black Chèvre K25 Sellier with Rose Pourpre interior and stitching. If you've never placed a SO, you may be wondering how to decide. Below, I take you through my thought process.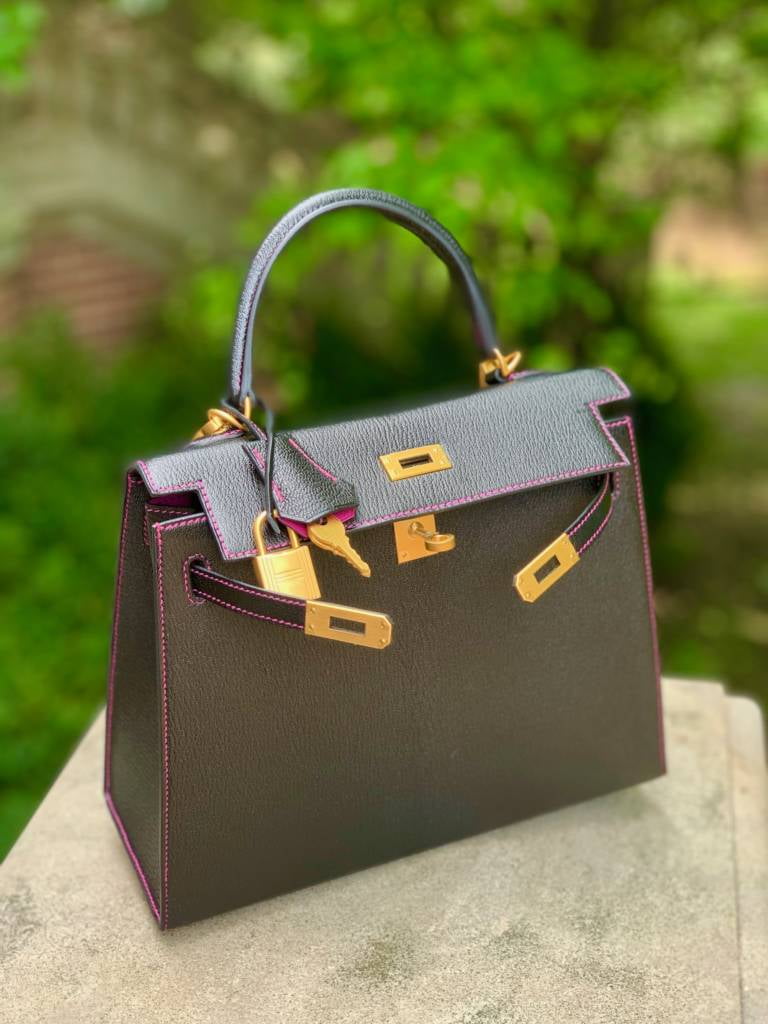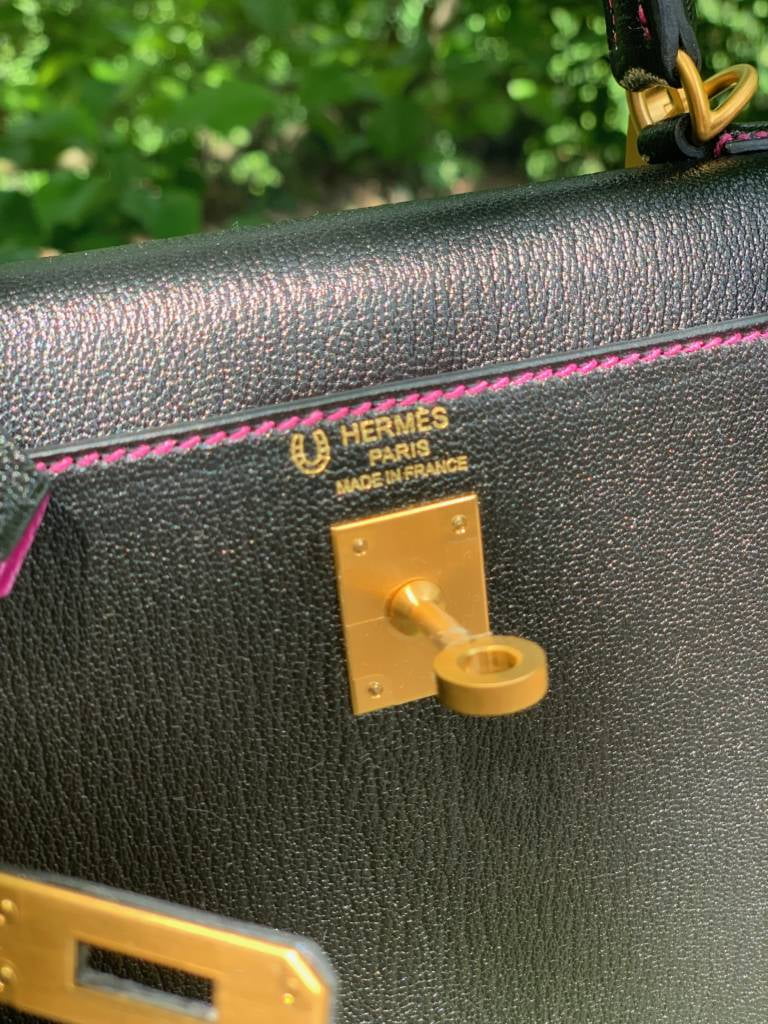 Size
Back in 2017 (when I was placing this SO), the only mini bag in my collection was Miss Kohninoor – a very special B25 in bubblegum pink purchased in New Delhi. At that time, the U.S. mini craze was just beginning. Although minis have long been treasured in Asia, bigger was largely better in the United States. But it was shifting right around this time. As far as I was concerned, the size allure was very clear to me — there was no debate here. My SO was going to be either a Birkin 25 or a Kelly 25. Considering I did not own any K25, the choice was very obvious.
Ordering a Kelly presents us with yet another decision to be made. Will it be Retourne with softer edges lending itself to a more casual style or will it be Sellier with rigid sharp edges giving it a more – if I may say – more formal look to the bag? Without digressing too much, for those of you that are new to the Retourne versus Sellier debate – I highly urge you to read this recently published comparison guidethat highlighting the pros and cons of each (read : Official Style Comparison: Kelly Sellier vs. Kelly Retourne ).
I am a hard-core Sellier fan. I like the structured look and feel of the bag. When I placed this order, I already had considerable experience with my Kelly 32 Sellier bags. Therefore, this was easy – I chose the Kelly 25 in the Sellier style.
The strap can be custom ordered to different lengths. Cross-body aficionados can get a longer strap! I chose the standard length as I don't think I will wear my Kelly cross body and I like where the standard strap hits my body when worn over the shoulder.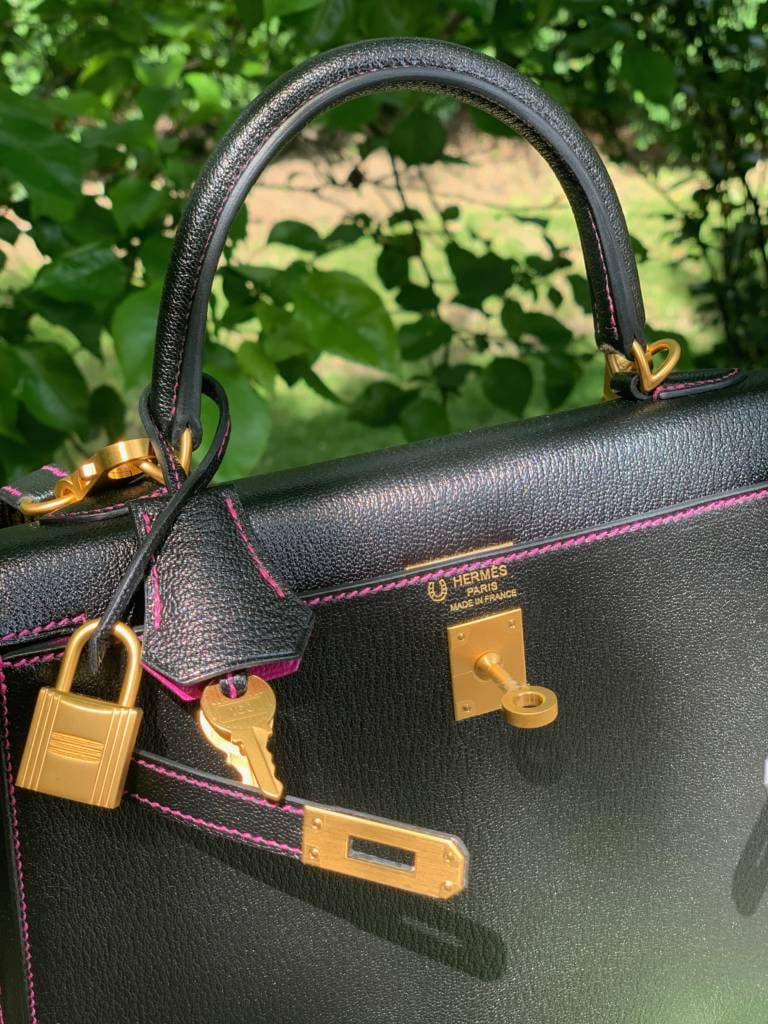 Leather
This part also was easy for me. With two Chevre bags already in hand (bubblegum pink B25 and my first special order blue hydra B30), and despite wanting to be unique in my leather choice, one new fact pointed me back to Chevre. I had just learned that a Sellier style Kelly could be ordered in Chevre not just Epsom, as was previously the case. This news literally had me doing cartwheels. I was now able to order a Kelly 25 in Sellier style in my all-time favorite Chevre leather. The only hesitation, or rather warning I received, was that the Kelly Sellier bags in Chevre seemed to be taking the longest for the Hermès artisans to produce. Willing to wait, I never wavered. I have no regrets even though, as predicted, the bag was nearly two years in the making.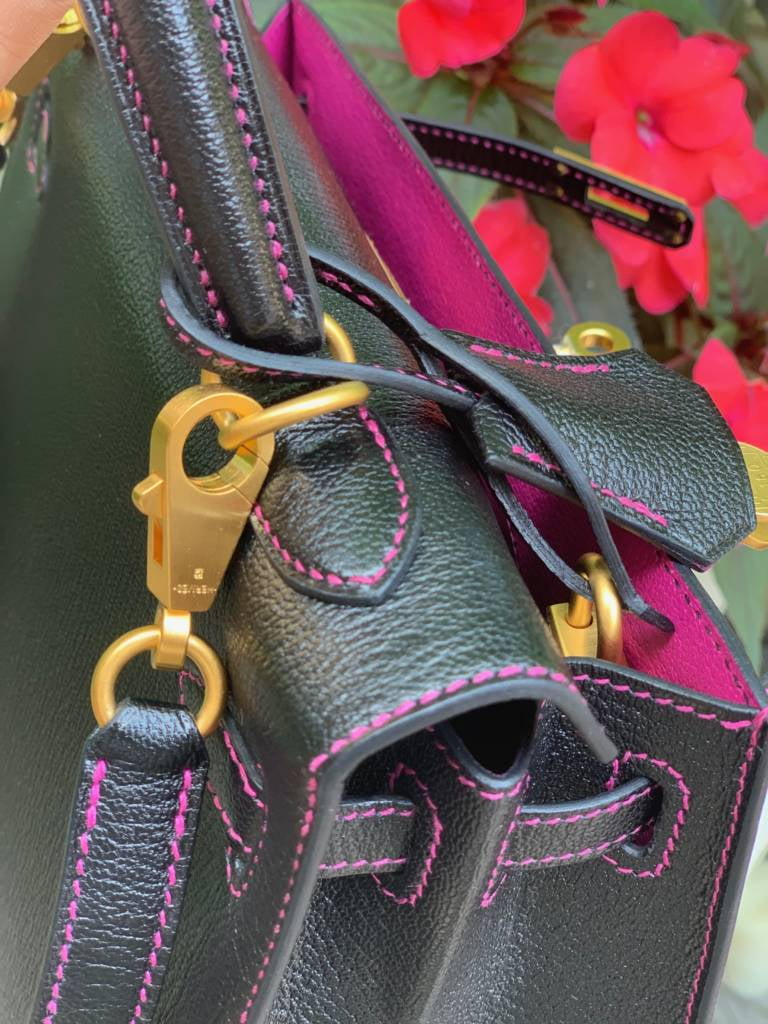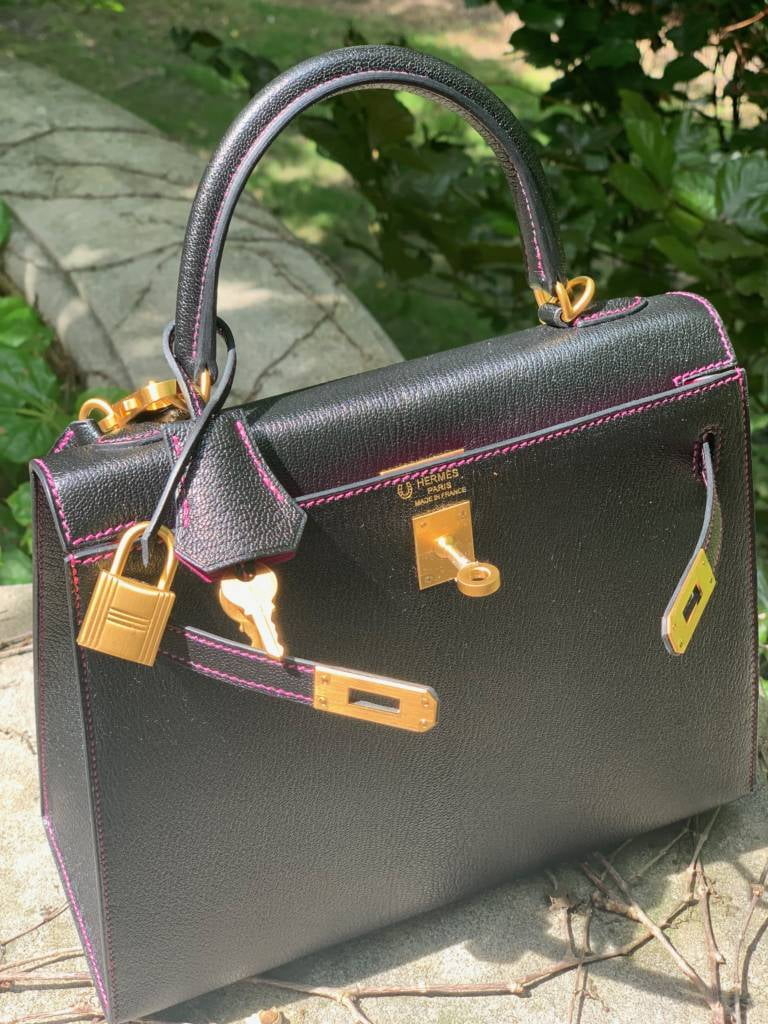 Why do I like Chèvre so much?
Let's start with the sheen. It's never dry looking – like more recent Togo can be. Now, truthfully, the Togo leather from 10-15 years ago is actually more like Chèvre in so many ways. But we'll get into this quality shift some other time. With Chèvre , I love the spine — yes that unique grained pattern that runs through the bag. It holds its shape beautifully and is lighter to carry than any of the other leathers. (And the fact that it's somewhat more exclusive doesn't hurt either).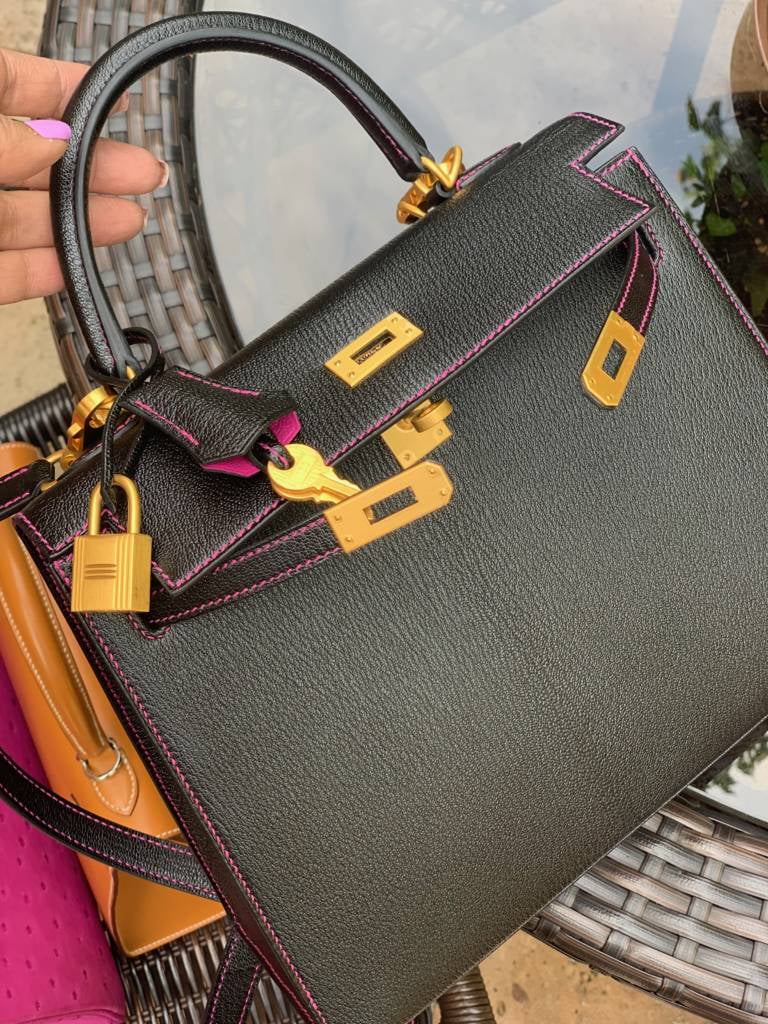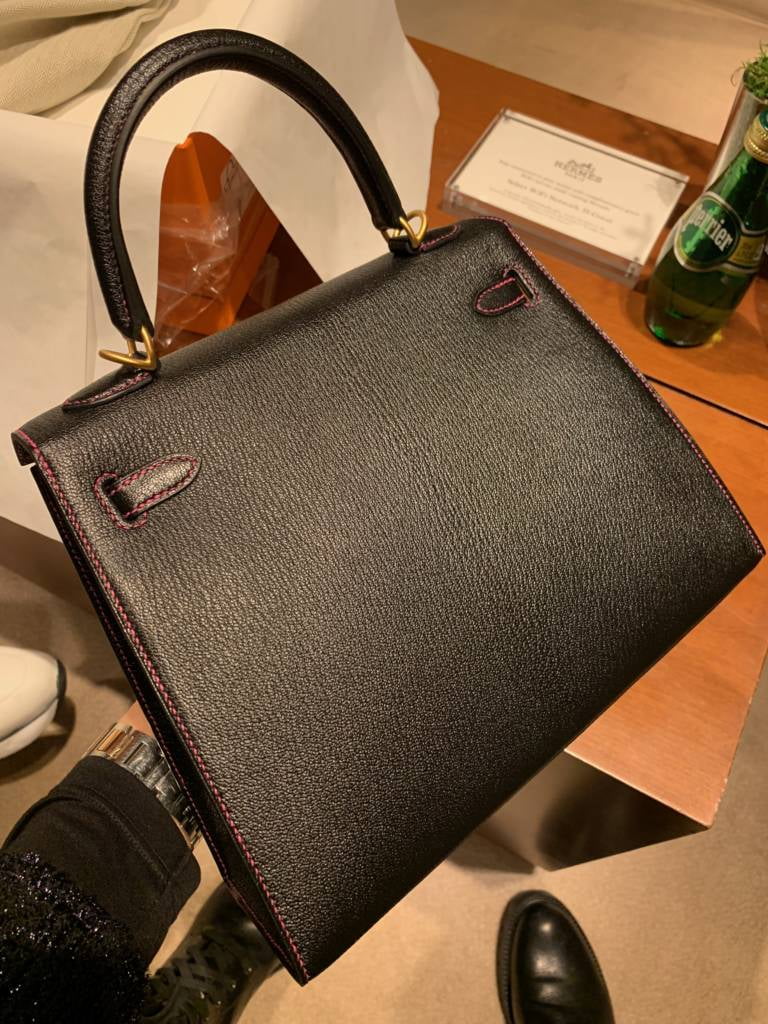 I've discussed the color choice in depth above but, to summarize, I wanted another little black bag. Rational or not, I had to fulfill that desire for black with a sizzling interior color. Business on the outside; party on the inside – at least in my head. Although no one else really sees that interior pop, it's like hot pink toe nail polish under a staid black pump. It gives the wearer a little thrill. Living in Chicago, we have more use for black than white and a small black bag even in the hot (short) summer in no way offends me.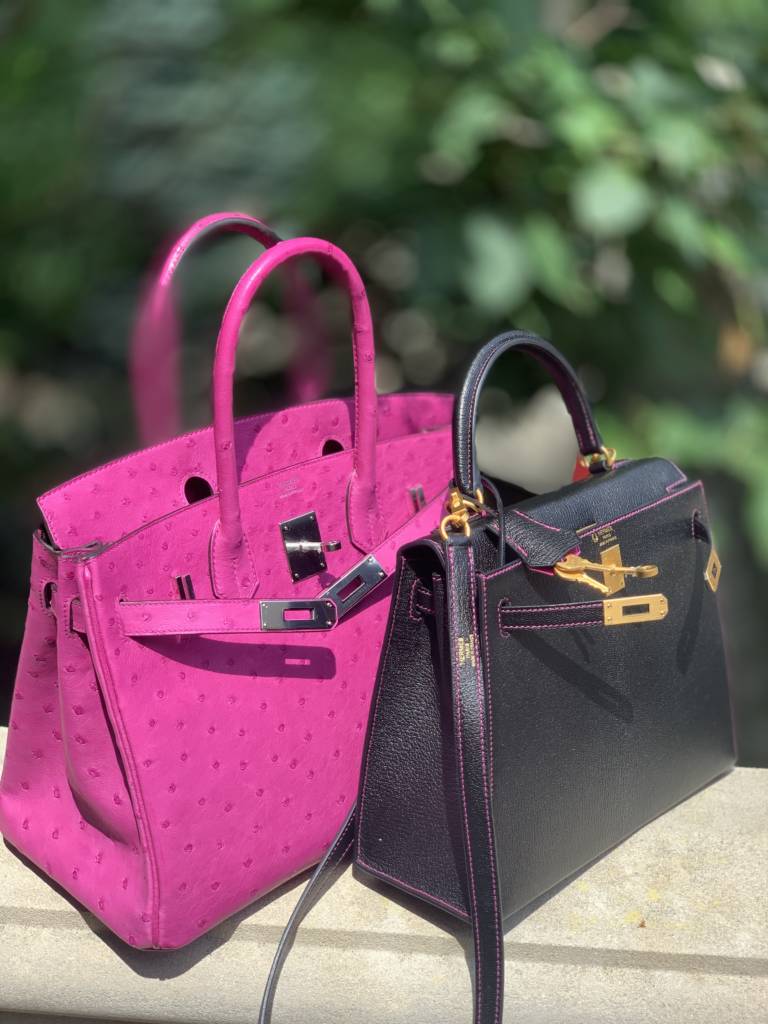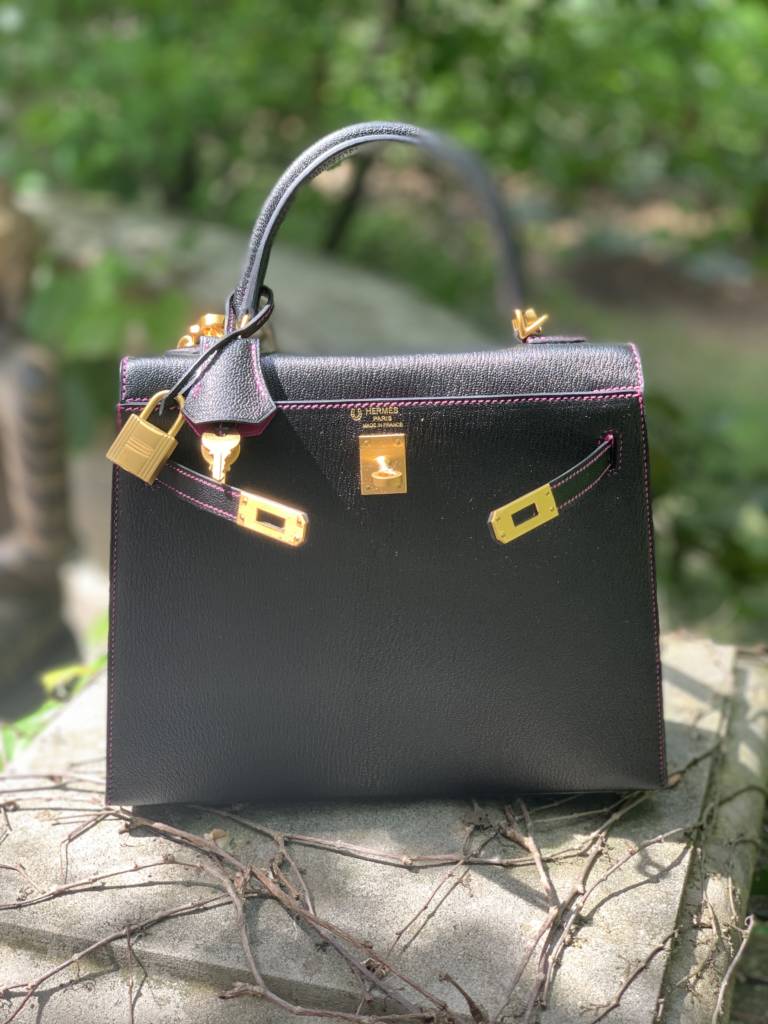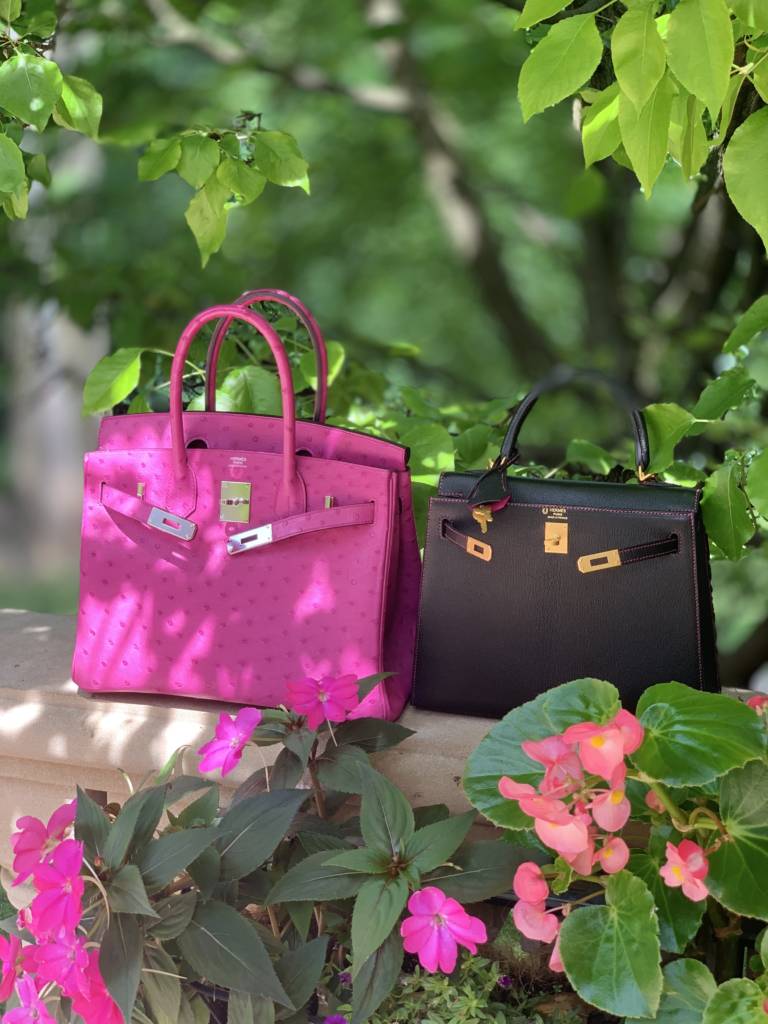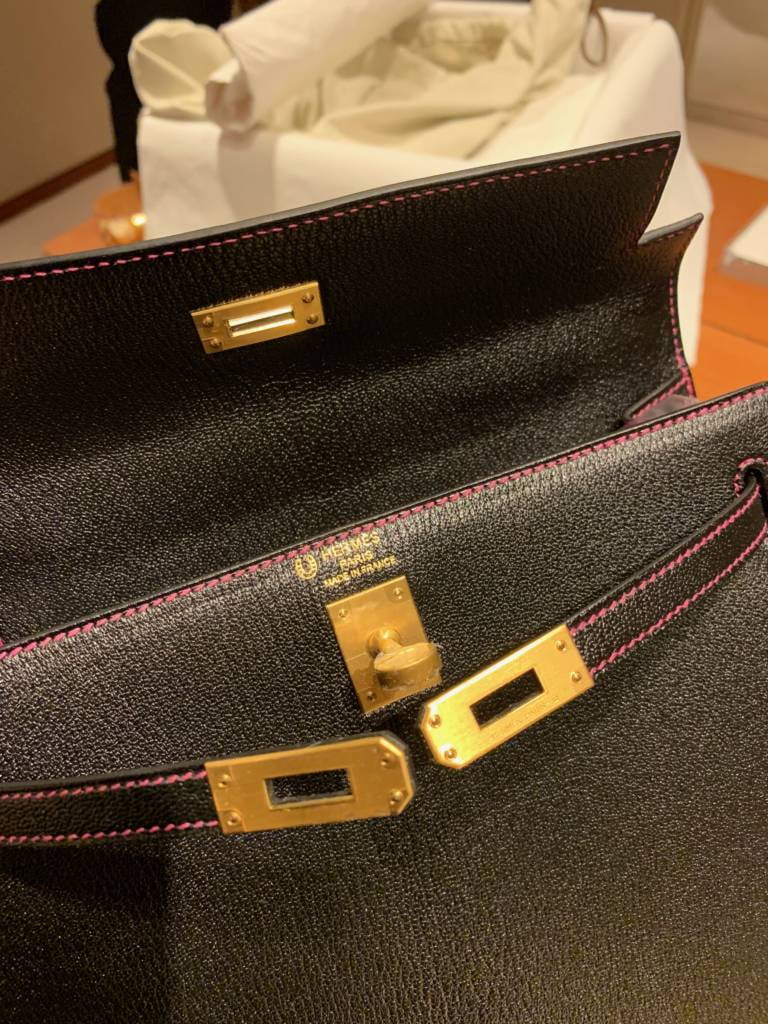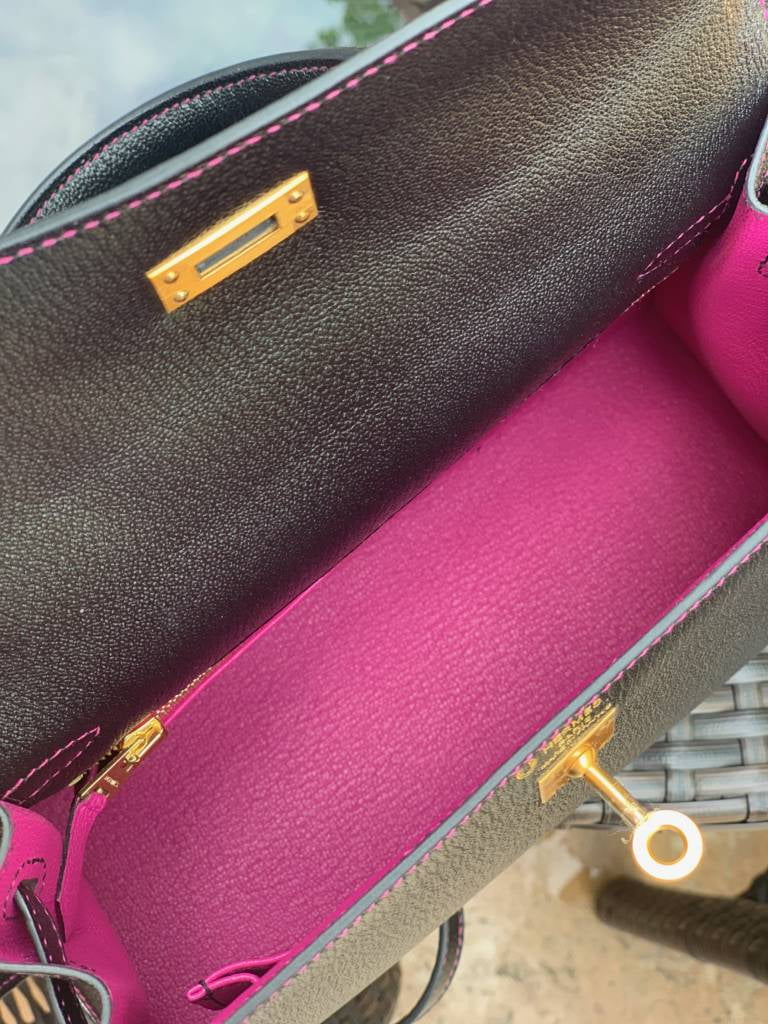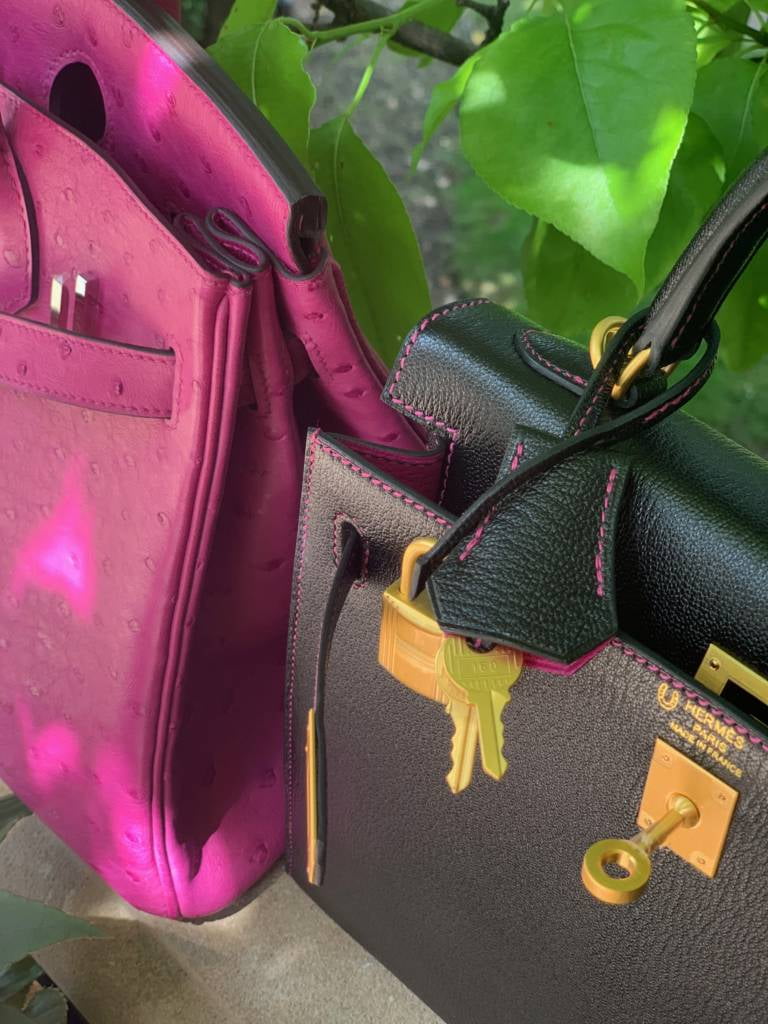 Hardware
I have tried and successfully added more palladium to my collection but, at heart, I am a gold hardware girl. For a tad of golden variety, I went with brushed gold. Just visualize the sheen of black Chèvre, Rose Pourpre stitching and all that gorgeous matte gold glistening against it – a mini-sized majestic beauty.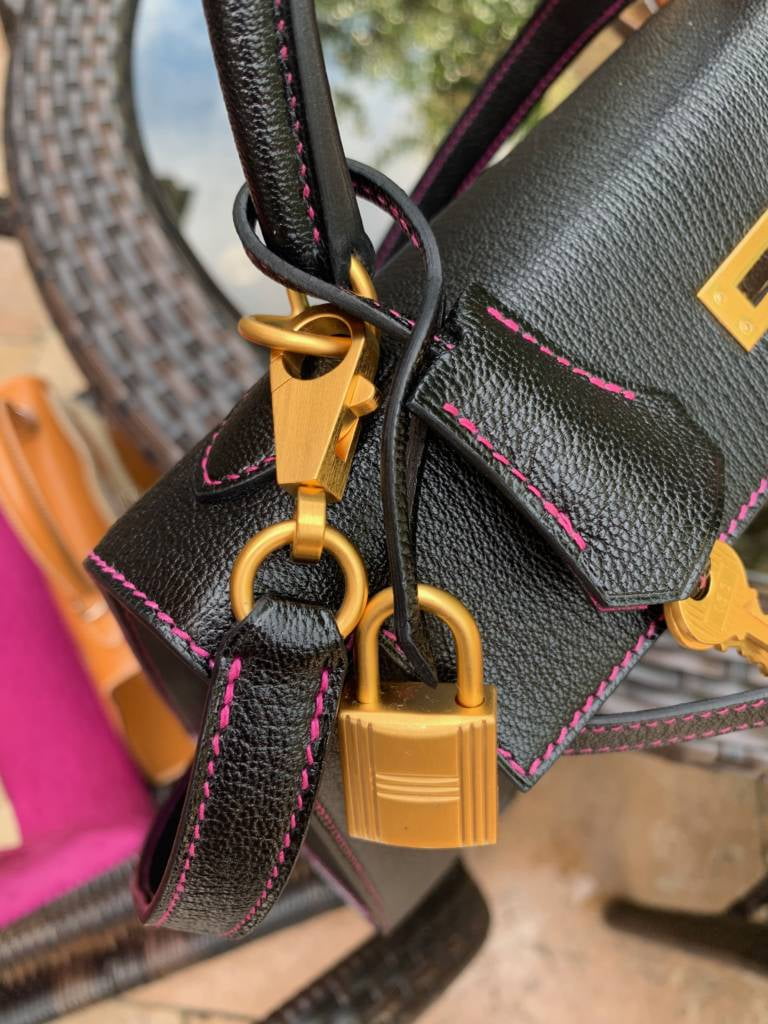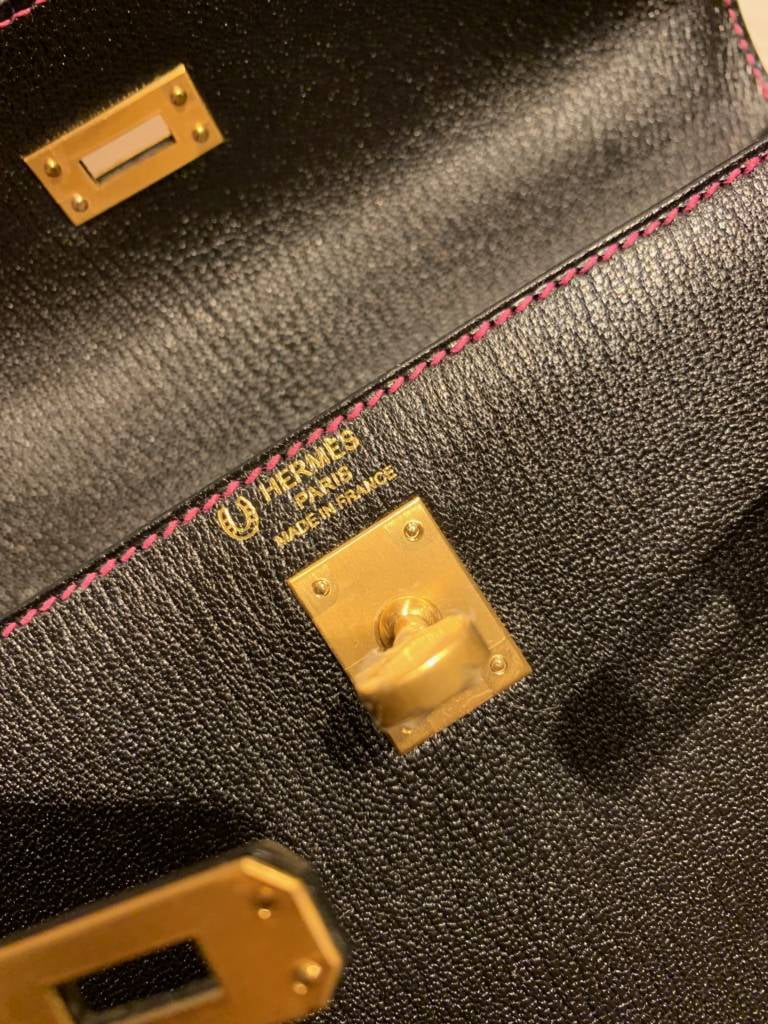 The Call
Rarely does the phone ring when convenient. As luck would have it, just as I boarded a plane for a 16 hour nonstop flight, in fact I remember distinctly just settling into my Q suite, the magic number appeared on my screen. I rushed to answer in panic (those digits always send me into a frenzy) and before needing to power down the phone. Of course, the last thing I expected was news of my special order. Rather, I assumed instead that my sales associate might be calling to offer me something delicious that I would have to decline in light of my extended travels. But the news was music to my ears, delightfully perfect. She proceeded to explain that my special order had arrived and it could be held until my return several weeks later. I admit there was a bit of anxiety imagining my special order box sitting there unloved until my return… but there was no other option.
This looming purchase did play a role in my rejection of a few other great offers during my travels. I was offered a Jaune Ambre Birkin Touch B30 that was stunning, but graciously I declined knowing I had a handbag expense at my doorstep upon arrival. Then there was an ostrich offering in the right size, but the color did not sing to me. Ultimately, you all know, I did bring home the little Rose Extreme K 20.
Early April, I shared this photo with you on Instagram.
As soon as the haze of jet leg lifted and I could coordinate some work meetings in New York City, I was off to retrieve my black beauty. The Goyard St Louis tote was in tow to carry back home the new treasure.
The new collection of PurseBop Frocks was in preparation for launch so I wore the Madeleine Frock on my Gris Tourterelle for the trip and of course to Hermès for the magical debut.
Be sure to catch the reveal video with my SA on IG.
I had Maura, my managing editor, join me in the pick up and celebratory lunch at Nello across the street. We had plenty to catch up on and strategize.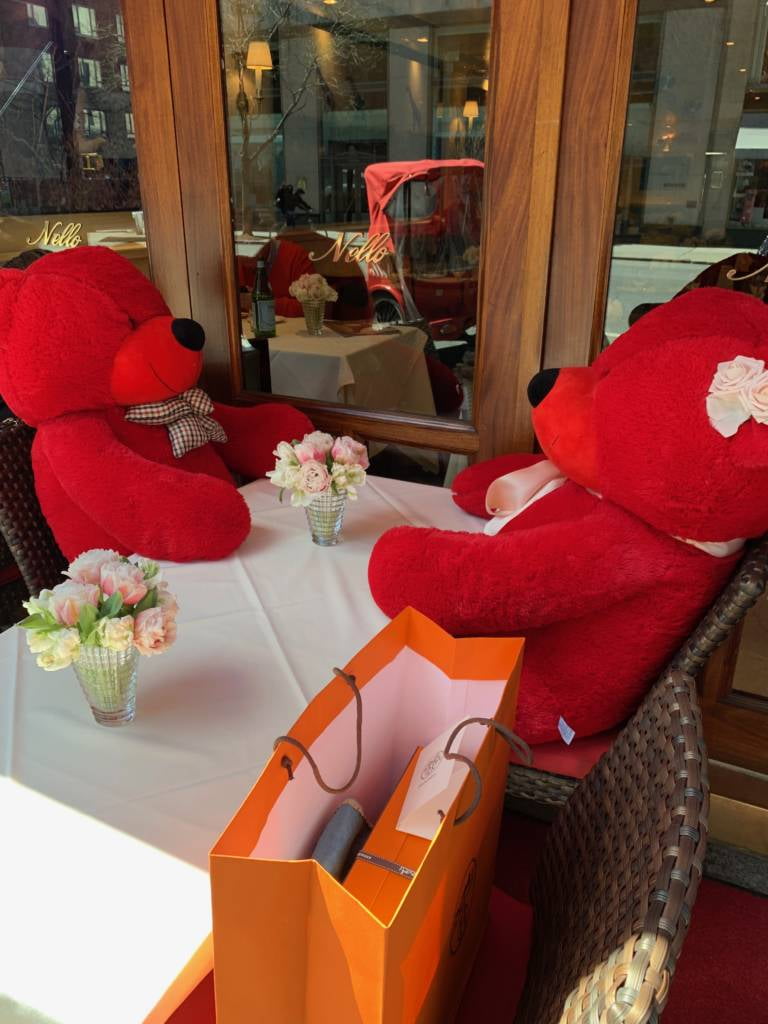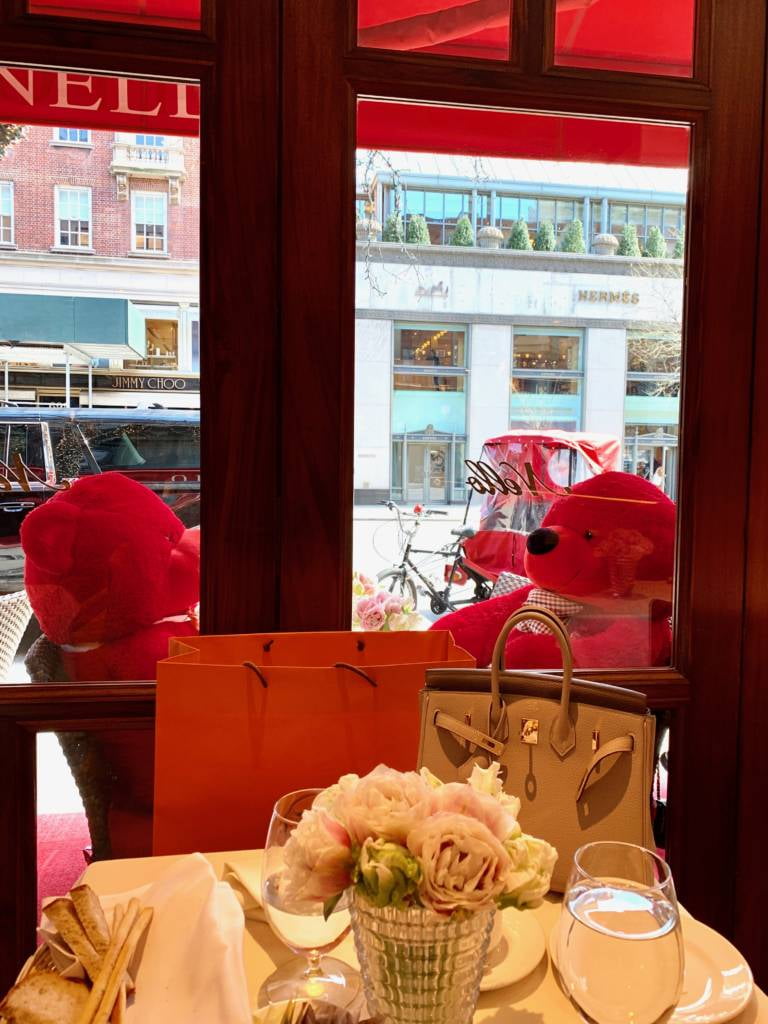 The anticipation was of a different kind. I had created the bag and although I was confident of my choices, theres always that what if… 
We had our share of giggles and chats in that special room we all love so much.
Then came reveal #1, a crocodile CDC in bubblegum pink matching my holy grail Birkin 25 in the same color (read: PurseBop Joins the Birkin 25 Club). And voila, the hardware was gold and scales large.
Thank you for sharing the journey and joy of my Special Order bag with me. Tell us about your experiences, good or bad. And, how did you select?