So you've scored: you've somehow landed the coveted Birkin in a foreign place and now you need to bring the baby home. One of the most frequently asked travel questions I receive is about packing…
"How do you pack your Birkin?"
Now what? I couldn't rely on Mr. PurseBop's luggage for extra capacity. I was on my own to find space for two bags and boxes.
Fortunately I had done my homework before the trip, planning and experimenting before leaving Chicago with my shopping goals in mind.
I began with the understanding that in order to accommodate Hermes (or other brand) boxes in my suitcases I had to leave Chicago lightly packed. A daunting (and presumptious) task for PurseBop, but I was determined to prepare for the best. I took only one handbag with me to Paris. One bag for an entire trip. I had never done this before! I chose wisely, and ultimately was pleased with my selection: my Chanel mink jumbo from a couple of years ago.
Why you ask?
super light weight
squishy or let's say 'collapsible'  ~ an important detail should it need to be packed
spacious ~ fits even my gloves and my hat
fits comfortably cross body
stylish and luxurious enough for evenings out but not boring
Luggage:
The below picture is one I took the evening I landed. Everything I packed from home was going to have to be able to fit in the spaces I am about to share with you in detail.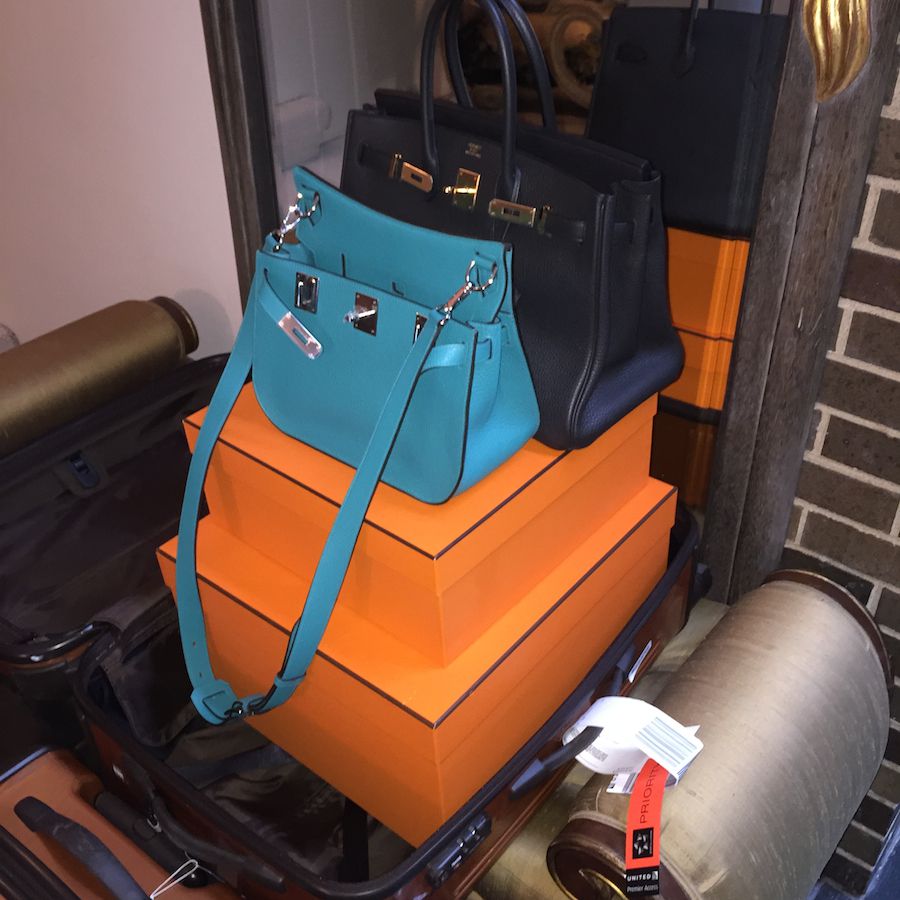 Let's start with the Birkin 35 box. Keep in mind this packing formula would work for any box smaller in size too (K35, K32 and B30).
I had confirmed by test run before leaving home that a Birkin 35 box would fit comfortably (without any crushing) in my Tumi 26 inch suitcase. The box was placed centered in the deeper half of the suitcase and the nylon zippered divider was ignored. The only space left for packing would be that to each side of the box. This space was enough to account for my 50/50 Stuart Weitzman boots ( I never travel without these and also wrote about them once ages ago), my toiletries and any extra clothes that did not fit inside the Birkin box.
The actual Birkin was removed from its box and this space was used to pack all my clothing. I did not disturb the inside packing of the box and this space proved to be deceptively spacious for my pants, tops and a light sweater. The box was then closed.
Next up: the Jypsiere 28 in Blue Paon. Keep in mind the same packing formula would apply if packing a K32, K28, K25 or even a B25 (same size box).
The Jypsiere 28 was packed the exact same way as the Birkin except that the bag was in its original orange box. In fact, I did not even undo the ribbons and placed it as is into the deeper side of the Tumi 22 inch carry-on. Since this was carry-on luggage, there was no need to unpack the Jypsiere box at all. The two empty sections on the sides of the box were filled as I explained earlier. Other smaller boxes and items were placed on either side of the box as shown below. There really was ample space if garments were neatly rolled and tucked. I had a little space on top of the box for a few magazines and to wrap the box with my pajamas the morning of departure. This secured everything in place. The suitcase comfortably zipped around with all items tightly secure.
Now let's pack the actual Birkin 35. One option would have been to simply hand carry the B35 home but I had several other things that needed to be carried since my carry on luggage was now completely packed with the Jypsiere box. I like my belongings all neatly tucked away, no visible brand labels and I do not carry any additional shopping bags that could draw attention.
I purchased an extra large Longchamp Pilage Tote for 82 euros from their brand store at Charles de Gaulle airport upon arrival for our departure. This particular size I had not seen here in the U.S. before. There was only an expanadable version that could fit a Birkin 35 available at Nordstroms that I had investigated. This version was not an expandable tote yet perfectly zipped around all of the following:
(note* the Birkin 35 handles were not bent in this extra -large Longchamp tote) 
I wore my Chanel mink jumbo cross body through security to keep VAT forms/passport/ticket/phone handy, but once in the lounge everything was packed up neatly like this:
In summary:
I had one Tumi suitcase checked into the airlines that contained an empty Birkin 35 box plus essentials.
My carry on luggage included the 22 inch Tumi suitcase containing the Jypsiere in its original box & the Longchamp tote containing details as above.
Do you have a special technique, travel tips or simply a travel story you want to share? Join us on BopTalk…
What we've covered so far:
Pricing Discussion
Loose ends needed to wrap up the series The Hermes Celebration
The Hermes Celebration
Stay tuned my friends…
Love your PurseBop
XO
Updated: May 18th, 2017