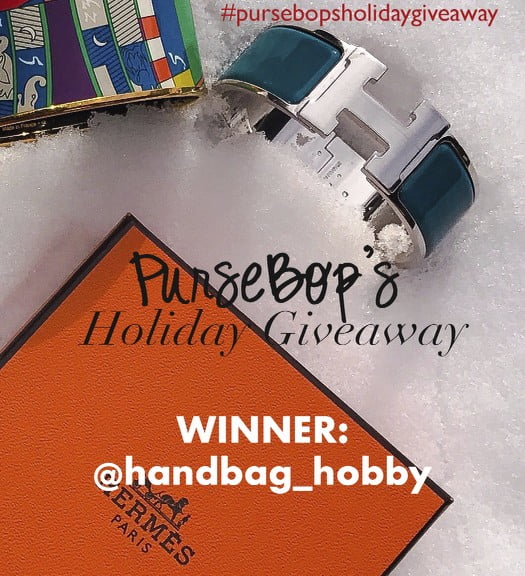 Are you ready for a giveaway?!
Tis' the season for friends, family, and of course…HERMES! PurseBop is truly in the giving spirit this year and has a big surprise for you. Just recently, we wrapped up our PurseBop 100K Chanel Giveaway and one of our lucky family members received a Chanel Coco Handle bag. We couldn't wait any longer to do another celebration, and the holiday season seemed like the perfect occasion. This time around we're hosting "PurseBop's Holiday Giveaway" and one of you will receive an Hermes Bracelet.
This prize probably looks a little familiar to you. Last year during the Hermes Sale, PurseBop picked up 4 Hermes bracelets with the intention of giving them all away to our loving family members (Read: Hermes on Sale? and Hermes Sale Goodies for more information).
Since the Hermes 2017 Sale is coming up again in January, we thought it was the perfect time to giveaway another bracelet.
For our BopTalk 50K Giveaway, we gifted the Clic H bracelet in "Rose Nymphe". For this giveaway, you have a choice between THIS or THAT – a Hermes Large Astrology Print Bracelet or Hermes Clic Clic H Bracelet in Bleu Indien.
Subscribe to

Pursebop's newsletter

For extra entries, share with your friends!
Updated: May 20th, 2017