We all know the old adage: fashion is cyclical. In recent years, we've seen the return of fringe, the saddle bag, and even the unlikely resurgence of the fanny pack. What was old is new, and what's new is buying the old stuff. We've written on whether you should go for that reissue versus a brand's newer styles, but there is another major question that has been circulating as these old trends continue to resurface: what about vintage (or perhaps, pre-owned is the better name)? While our favorite brands are capitalizing on fashion nostalgia by reissuing past styles, there is of course an added air of dignity to snagging the original version. Vintage pieces, and pre-owned bags in general, are on the rise. Here's our guide towards snagging one for yourself.
A good place to start with shopping vintage is knowing exactly what it is you're looking for. Historically, vintage was anything between 20-100 years old, after 100 being considered antique. However, with widespread internet access and social media, the fashion cycle has only sped up. In turn, styles and trends go in and out of vogue at a more rapid pace. Vintage is subversive. It's cheeky reinvention of what was once passé to make a new fashion statement. Where it may have once taken 20 years to get to that point, in our accelerated fashion state, you need look no further than 10 years ago for the same effect. Athleisure, anyone?
Whether or not you agree that a tracksuit constitutes as vintage, bringing back what was once old is definitely in the zeitgeist. A simple search of the #vintagefashion hashtag on Instagram demonstrates just how culturally significant the trend is. From influencers to upsellers, people are dying to share their finds. When it comes to luxury brands, this is no exception. As we discussed in our post on investment bags, consignment for luxury handbags is on the rise (Read: What Makes a Handbag an Investment). The gray market for pre-owned bags, both in and outside the vintage categorization, has only grown as the desire for older models at a more affordable price-point increase and the stigma of buying pre-owned decreases.
That being said, there are a number of ways you can obtain a vintage bag. But to do so with any measure of success requires research and a certain shopping savvy.
Knowing how to spot a fake is essential for any fashionista who isn't buying straight from the source. There are many avenues you can take in buying vintage: consignment, private vendors, and thrifting are a few. Obviously, some of these choices, such as buying from notable resellers such as Christie's or Fashionphile are going to be more trustworthy (and expensive) than others options. But they may not have what you are looking for. That's where having a keen eye for what's real comes in handy.
While some fakes can be obvious, the untrained eye can be duped. However, there are key ways to differentiate between an original and a facsimile. An excellent way in which you can tell the real from the fake is in the small details. Luxury goods are luxury for a reason. The time and craftsmanship put into every little aspect by favorite brands are what truly set them apart from the rest. These little details are where to look when inspecting a bag. From the zipper and hardware to the stitching, any suspect errors (outside of natural wear-and-tear a vintage bag may take on) indicates a fake.
For more detailed coverage read: How to Spot a Fake 
If you aren't aware of what authentic detail work looks like, do your research. This knowledge is what will save you from heartache in your quest for vintage, so hit the books. Or the youtube videos. Youtube has a library of vintage purchase reveals that often go through the various components of the new/old find, which can be helpful in learning about what to look for. There also are authentication services you can consult, usually for a fee. Of course, you also can post questions on purse aficionado platforms such as BopTalk for advice from fellow bag fans, though it is not an authentication site.
You can find some vintage pieces in bizarre places. That's not to say you'll walk into a Goodwill and walk out with a Valentino, but stranger things have happened. While you may have better (or at least more consistent) luck shopping through verified secondary market sites, there is a special feeling in the physical experience of shopping. And while you may not find a name-brand item at your local consignment or high-end thrift store, you may stumble onto some truly great vintage pieces that perfectly fit your wardrobe.
PurseBop has written about this before. Saks Fifth Avenue's discount store, Saks Off Fifth, has been known to carry Chanel and Hermès bags in the past. How discounted these bags were is up to debate. Hudson Bay, the parent company of Lord & Taylor, has carried pre-owned Louis Vuitton bags before as well. While these stores may not carry items that fall into our definition of "vintage" they are definitely an unusual resource for finding second-hand luxury goods.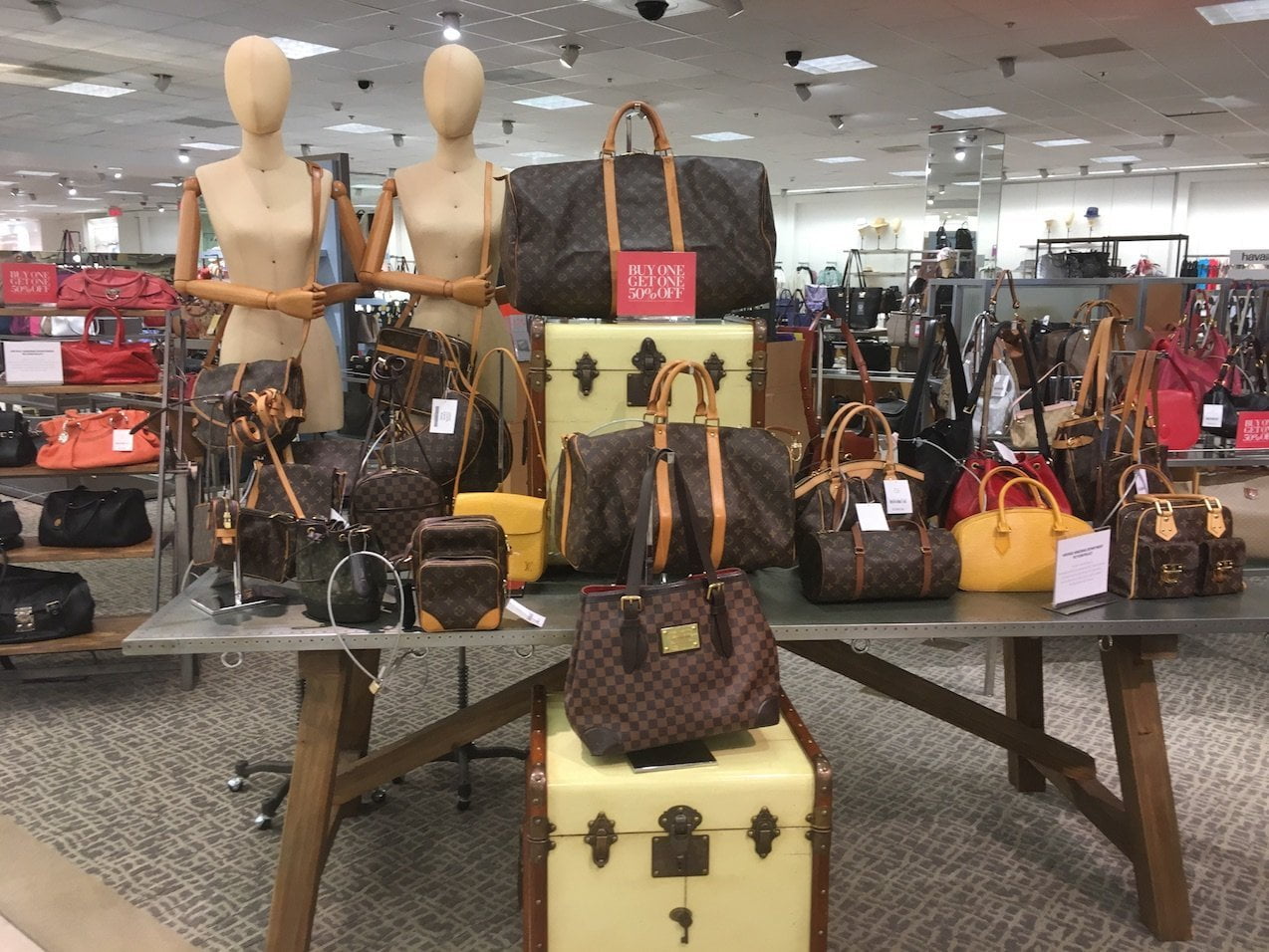 However, shopping in person takes its own level of dedication. If you live in a metropolitan area, you are bound to have some amazing stores to choose from, but you certainly aren't their only shopper. Doing research on your favorite store, such as when staff tend to put out new stock and the best sections to search for vintage goods, is vital. It also bodes well to be prompt in order to make sure you have the best selection.
Thrifting and consignment shopping have been having their moment, with celebrities as well as city-dwelling fashionistas hopping on the trend. It's a great way to capitalize on the period of nostalgia fashion has entered as well as lessen your carbon footprint. Mastering the art of the thrift is a great way to diversify your wardrobe, and if you're really good, you may just find that diamond in the rough.
Taking the Pre-Owned Plunge
Of course, price is relative to demand. If you're hunting down a bag that everyone wants, don't be shocked to see a higher price tag. It's important to research everything in order to make sure it's a good deal. Bags are investments, after all, so you should be doing the same research in pre-owned purses as you do new bags. Would you pay $2,500 for a bag that originally cost $2,900?  If a brand is currently on trend, their vintage and pre-owned items may only be slightly discounted. Alternately, would you pay $2,500 for one that originally cost $2,000? Or, if the reissue has gone down in price, does that seem like the better choice? These are important factors to consider before you make any purchase, new or pre-owned and vintage.
So, what do you think? Regardless on your definition of vintage, it's clear to see that buying pre-owned bags and the gray market for luxury goods is on the rise. On top of that, the return of nostalgia-inducing fashion trends makes vintage and resale shopping a great way to stay on top of current trends. Maybe you don't want "JUICY" plastered on your butt, but some looks are classic. And what does and doesn't seem like a good investment to you? Let us in the comments and on BopTalk!