Being able to pull the perfectly adjusted, brown ribbon from an orange H box is one of the most satisfying experiences in the world. Pulling up the magnetic flap of a black or white Chanel box may make your heart flutter like no other. However, when you're in search for a particular beauty that you just can't find in stores anymore or simply want to buy pre-loved, it's ok to turn to the secondhand market and you might be just as pleased!
As we've discussed here many times, bags are investments and as aficionados we are willing to take on the toughest quests to add the perfect bags to our collection. The pre-owned and reselling markets are great resources if you're set on finding something specifically that is limited edition, vintage, or rare, or if you want to explore bags with more affordable price tags. However, shopping secondhand requires a lot of research and know-how. PurseBop is here to help you do your homework and navigate the market.
Check out our 10 useful tips for buying pre-owned bags below!
#1 Research brand and style details, and take extensive notes!
Unlike most online shopping, purchasing from the pre-owned market isn't always a browse and one-click process. To make sure you end up with an authentic bag that you absolutely love, it's important to invest lots of time into looking around. After you have a thorough consensus of what you want, get to know everything you possibly can about the bag. Go to department store or brand websites to look at pictures and read specs. Watch YouTube reviews and read advice threads to see what others have to say. Posting questions to platforms like BopTalk will help you get advice from other fashionistas who might have experience with the bag you need. If possible, head to a physical, brick-and-mortar store to try on and play with the bags. The secondhand buying process will go more smoothly if you have a good idea of exactly what you want!
#2 Become familiar with different Reselling Websites.
The internet is full of websites, some of which can be trusted and others which cannot be trusted. Each secondhand site works differently, so security can vary. Some sellers ship directly to you, and some sellers ship their pre-owned bags to a bigger retailer to be hosted on their site for sale. Above all, try to read many reviews as possible to see if your seller is reputable and if you are comfortable with the way the transaction will take place.
Common Handbag Reselling Websites:
Fashionphile –Large and frequently updated selection. Owners ship their bags to Fashionphile. Fashionphile ships and sells bags to consumers.  Fashionphile has physical locations in California where online purchases can be returned.
Yoogi's Closet– Online consignment store with very curated selection.
The RealReal – Online consignment store with diverse product
Ebay –Individual sellers communicate with you directly. Research to find the most reputable sellers.
Christie's –Best for rare pieces and exotics.
Vestiaire Collective– Items are listed by Vestairie, but sold and shipped their original owners.
Ann's Fabulous Finds – Online luxury consignment site with finds from Hermes, Chanel, Louis Vuitton, VCA, and more.
Portero – Online consignment from individual owners and vendors. Mostly focused on designer handbags and luxury accessories.
Privé Porter – Specialize in sourcing and delivering Hermes bags.
Tradesy –Original buyer to buyer exchange with back and forth communication where you can ask the seller questions.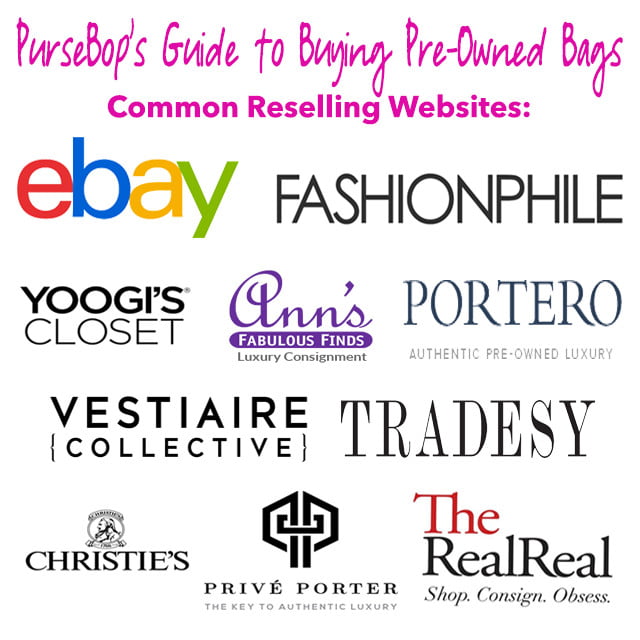 #3 Make sure you understand the return policy.
First and foremost,  you have to remember that this shopping experience is vastly different from other online shopping and retail shopping. While websites aren't necessarily looking to trap you with a bag, it may be harder to return the bag and get all your money bag. Some sites may have a strict no return policy, which may force you to take on reselling the bag yourself. Some sites may allow returns in a specific time period, but you might only receive a fraction of what you paid. Additionally, if items can be returned, they may only be returned for store credit. Make sure your method of payment is covered if anything were to go wrong. Most importantly, make sure you're comfortable with the return policy keeping in mind your habits, preferences, and flexibility.
#4 Get a gauge of the original price versus reasonable reselling prices.
If possible, use department store and retail websites to find out the original price of your bag. Brands like Hermes, Chanel, and Louis Vuitton hold their value well and can sell for close to, if not more than their original price. Don't go in with the expectation that you will always get an amazing discount. Likewise, don't think you have to pay significantly more for the bag that you want either. Going to different websites and taking note of the price range sellers are asking for can help you decide how much you're willing to pay.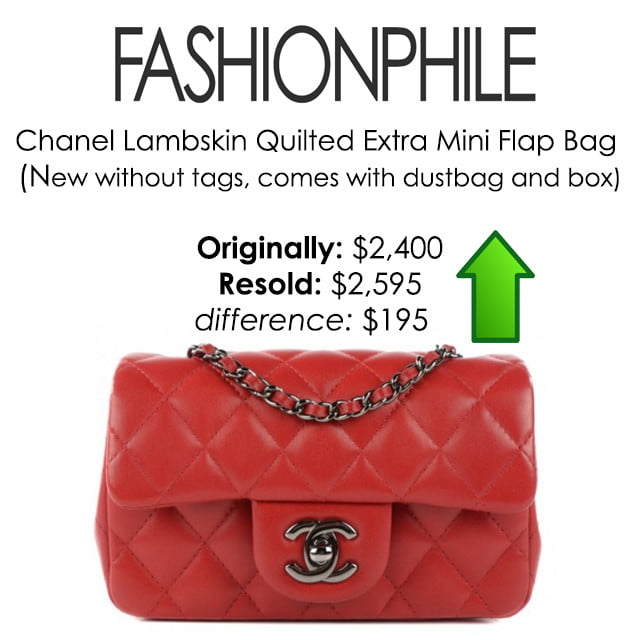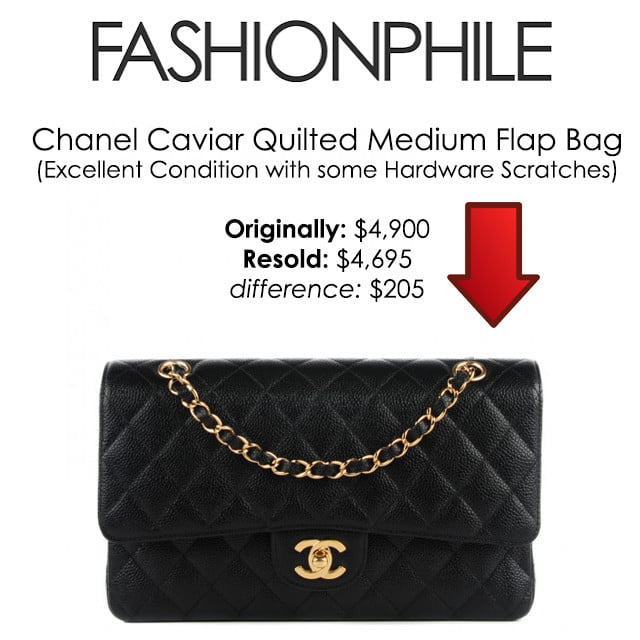 #5 Know your purpose.

Some people may associate pre-owned bags with being less expensive. This is sometimes the case, but the pre-owned and reselling market have different bags of all types, styles, and conditions for many reasons other than just price.
Common Reasons for Buying Pre-Owned Bags:
You want something specific that isn't available in store anymore (limited edition, vintage, or rare bag)
You want a bag that is exclusive like a Birkin or Kelly, and don't want to waste time on a waiting list
You want a Birkin or Kelly (or any hard to get bag) in a particular color or material, and you're willing to pay a little more to ensure you get exactly what you want
You have no preference of whether your bag is new, old, or slightly used and just attain that bag in your collection for a certain look
You are buying your first designer bag or first bag from certain brand such as an entry-level bag and want to experiment with a reasonably priced bag
You rotate bags in your collection a lot and have found that reselling and buying pre-owned is more suited for your needs
# 6 Double and triple check authentication, and be assertive enough to ask questions.
A proper authentication tag should prove that your bag is real. However, each brand does their authentication stamps and cards differently. Some brands like Hermes have even changed their authentication and internal tracking methods in recent times (Read: Where's the H Stamp Gone?). Aside from knowing authentication details, if possible, get to know the special nooks and crannies of the bag you want to buy. While there are some high quality fakes that may look real at a glance, details in construction like stitching, corners, and hardware can be a dead give away of a bag's authenticity.
When spending money on a bag, it's important to know if it's real and if you're getting what you paid for. If you're uncertain about the quality of the bag from pictures on a website, ask the reseller to exchange more pictures with you. If you are met with unwillingness or poor quality pictures, this could be a red flag.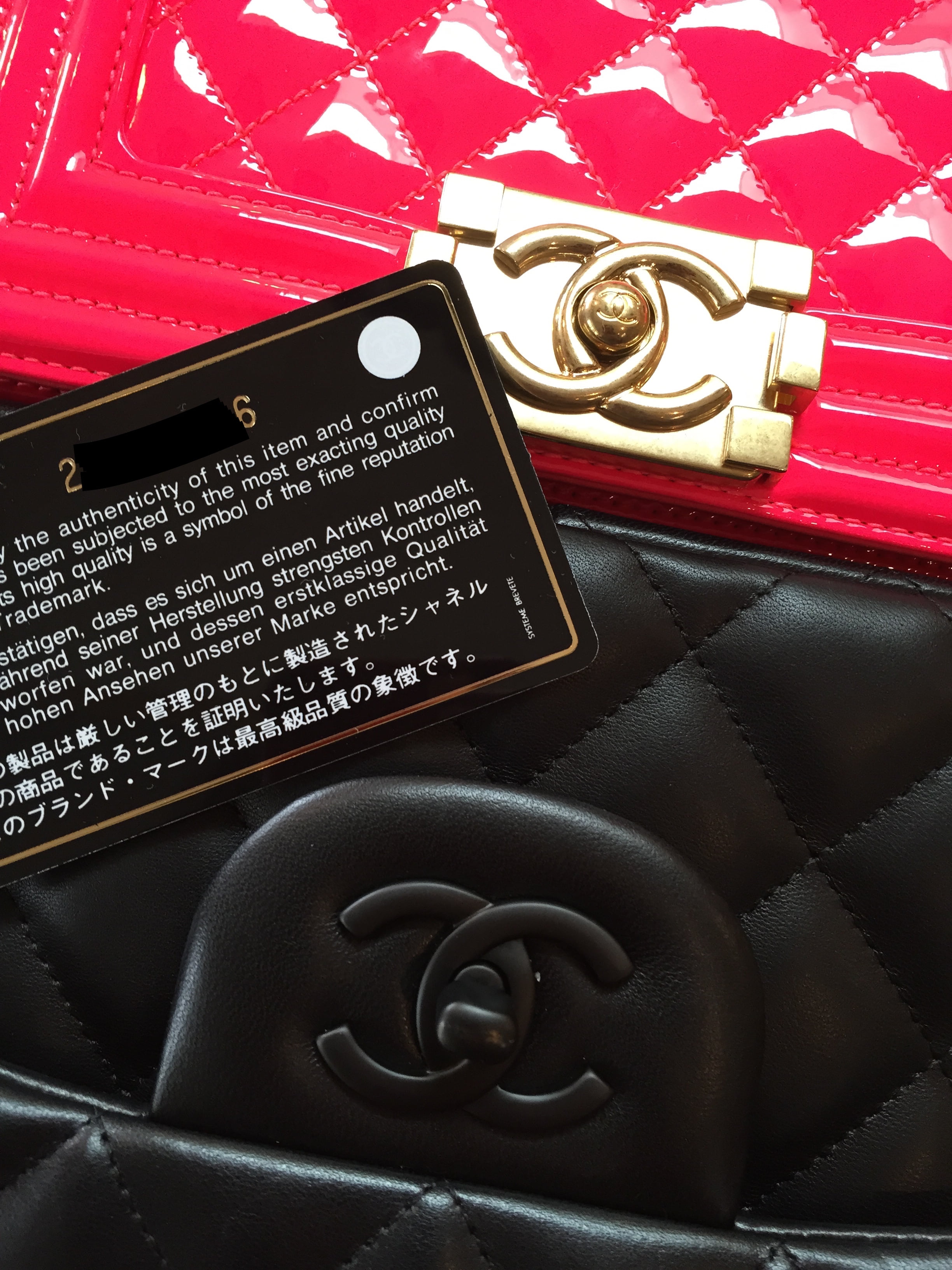 #7 Resist the impulse, and be willing to compromise.
You've been lusting after a certain bag for the longest time and finally find it at price that is too good to be true! While it's important to act quickly on deals, don't act too hastily against your better judgment. Price can be a very tricky factor to judge, so don't let it completely affect your decisions. It may be worth it to wait and pay a little bit more for a bag to ensure it's really the right choice.
On the other hand, be willing to be flexible and compromise. For example, if you find the style of bag you want at a trusted website and for a good price but in a different color than you originally preferred, it might be a good idea to snag the deal. Just be sure to weigh all the factors before you click buy!
#8 Beware of the fine print.

READ EVERYTHING! Have a clear idea and written confirmation of what you're getting, how you're paying, and how returns will go. Watch out for special offers or financing plans because you may end up paying more in the long run.
#9 Trust your gut.
If a seller has bad reviews, won't answer your questions, or has poor information and pictures on the bags, do not purchase from them. Some resellers and websites may try to take advantage of you by either pricing items way too high, sending you a fake bag, and might even try to steal your information. Don't give into the allure of a bag if you don't have a good feeling about the condition of the transaction.
#10 Keep your records.
Throughout shopping, keep tab of your email exchanges with resellers and take screenshots of confirmations and receipts in case they are needed for reference in the future. You don't have to go into the process expecting something to go wrong because there are many reputable secondhand bag sellers, but always remember to err on the side of caution!
We hope our tips help your pre-loved bag shopping process go a little more smoothly. Remember to bring your questions and personal reviews to the BopTalk threads to help out other fashionistas as well!
Love PurseBop
XO