On PurseBop, we've discussed the phenomenon of "mini bag madness" time and time again since every brand has their shining mini star. Even if the tiny bag trend continually changes, there is something that keeps us gravitating towards mini bags – may that be the irresistible, adorable silhouettes, the novelty factor, or functionality.
Especially as of late, we've seen a bigger stirring around the topic of Hermes mini bags. Everyday, we check our Instagram feeds and encounter more pictures of tiny B's and K's than we can remember in recent memory.  When there's new happenings in the bag world, we simply have to investigate…PurseBop has been pondering: "Why has there been a surge in popularity for Hermes mini bags lately?"
Instead of reflecting in solidarity, why not share some of our research in a useful reference guide?!  In this feature, we'll share everything we know to date about mini H bags with lots of eye candy for reference and inspiration, of course.
Now let's talk Hermes Mini Bags…
Reasons Behind the Hermes Mini Madness
A true mini bag is an exact replicate of its "mother" bag. Until the introduction of the Kelly Mini II, Hermes never implicitly used the word mini to describe sizes in their collection. For our purposes, Hermes mini bags can be categorized as the following sizes.
Birkin 25 cm (B25)
Kelly 25 cm (K25)
The original Kelly 20 cm (K20)
The new Kelly Mini II.
In our first investigation of Hermes mini bags, we presented a few speculations of why mini became one of the mantras especially for Hermes.
Let's recap these reasons below and assess whether they still hold true or not:
#1 Hermes is No Exception
True or False: TRUE
Mini bags continue to be a really popular trend amongst all brands. As we stated before, consumers are already in the mini mindset and are applying it to Hermes. It is only fitting that Hermes increased their production in the mini range to appeal to new demands.
#2 The Bandwagon Effect:  Love at First Sight
True or False: TRUE
The demand and desirability for smaller bags has skyrocketed, and one by one new people are finding love for this trend. There seems to be a new frenzy of "I have to get my hands on a mini H bag!" Mini Hermes bags are no longer just rare or novelty pieces, but a new "it" item with a growing appeal.
#3 Purpose and Versatility of the Mini Bag
True or False: Mostly TRUE, but depends on the bag.
Most people gravitate towards mini bags for the look, not the storage capacity. Mini bags usually have a dainty and feminine look and can an unexpected element to your ensemble. Albeit, the mini Hermes Birkin can hold more than other mini bags, it still wouldn't be your go-to as an everyday bag (Read: Not All Mini Bags are Created Equal). The new Kelly Mini II that was released last fall has an even smaller capacity than the original Kelly 20. The Kelly Mini II is shaped more like a Kelly Pochette, which by nature is slimmer and more clutch-like. Therefore, the Kelly Mini II is more of a statement mini rather than functional mini.
When it comes to Hermes mini bags, it's not all about practicality but instead how the bag fits in with your look and needs.
#4 Needle in a Haystack: Rare and Unattainable
True or False: The term "rare" is somewhat FALSE considering the introduction of the new Kelly Mini II. However, the journey to scoring a mini will never be easy.
In some ways, Hermes seems to ramping up their productions of B25's, K25's, and mini Kelly II's. So, we can't say that mini H bags are completely "rare".  However, the unattainable aspect still remains somewhat true. There may be relatively more pieces available, however Hermes is very careful about keeping certain styles limited and exclusive. Being offered a mini K or B by an SA can still be a big challenge.
#5 Rise to Fame: Celebrity Endorsement
True or False: This was TRUE at first, but now FALSE. The handbag aficionado community is propelling the H mini trend forward – not just big names.
Big names like Kris Jenner, Kylie Jenner, and Chiara Ferragni made mini H bags "cool" again. However, the spike in popularity for mini H bags now seems to be pushed forward more  by the handbag community itself. More so than before, there seems to be a space for discussion about mini Hermes bag and we can verify this through activity on BopTalk and Instagram.
Hermes Mini Bag Prices
Even though mini bags are small and adorable, their price tags can still be a little steep. In the charts below, you will find prices for the Birkin 25, Kelly 25, and mini Kelly II. While prices in the US have stayed the same, Hermes changed their pricing scheme in Europe this year (Read: Hermes Increases Prices 2017). In the handbag math, take note of the USA versus Europe price differences.
Hermes Birkin 25 and Kelly 25 (Swift Leather)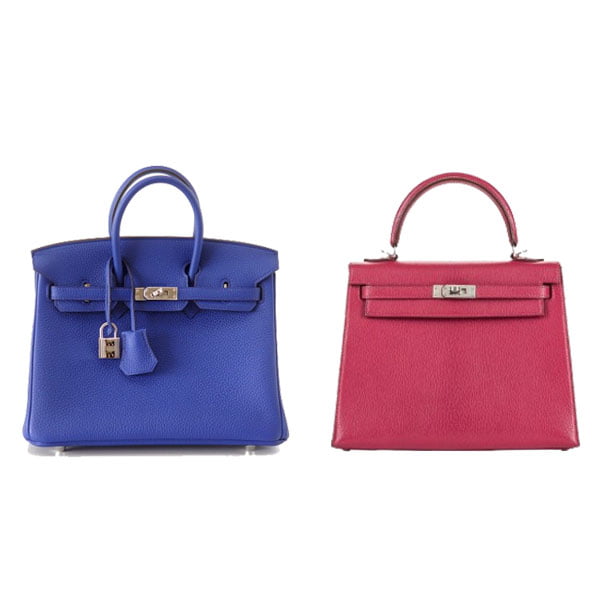 | | | | | |
| --- | --- | --- | --- | --- |
| Style | USA | Europe 2016 | Europe 2017 | USD Equivalent |
| Birkin 25 | $9,500 | €6,150 | €6,400 | $6,872 |
| Kelly 25 | $8,500 | €6,150 | €6,300 | $6,763 |
Handbag Math (USA vs. Europe)
Let's do some handbag math! How much would you save buying a Birkin 25 or Kelly 25 in the Europe versus the USA?
*Sales Tax is approximately 10.25%
*The VAT Refund is approximately 10%
*Duty Tax is approximately 5%
Birkin 25
B25 in the US: $9,500 +  $974 (10.25% tax )  = $10,474 total
B25 in Europe: €6,400 – €640 (10% VAT Refund)  = €5,760 ($6,185 USD Equivalent)  + $288 (5% Duty tax) =$6,473 total
Comparison: $10,474  (total in US) – $6,473 (total in Europe) = $4,001 less (~38% savings)
You would save approximately $4,000 or around 38% if you bought a mini Birkin 25 in Europe versus the USA.
Kelly 25
K25 in the US: $8,500 + $872 (10.25% tax) = $9,372 total
K25 in Europe: €6,300 – €630 (10% VAT Refund) = €5,670 ($6,086 USD Equivalent) + $284 (5% Duty Tax) = $6,370 total
Comparison: $9,372 (total in US) – $6,370  (total in Europe) = $3,002 less (~32% savings)
You would save approximately $3,000 or around 32% if you bought a mini Kelly 25 in Europe versus the USA.
Hermes Mini Kelly II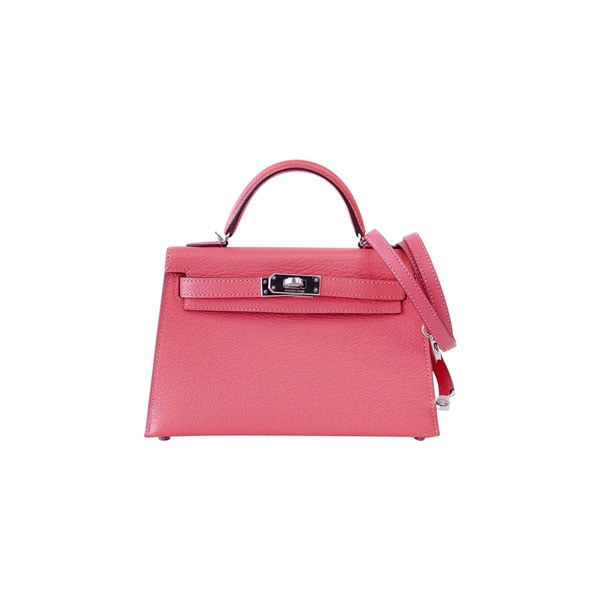 | | |
| --- | --- |
| Style | Price in USD |
| Hermes Mini Kelly II | $8,150 |
Celebrity Inspiration
Celebrities can't get enough of mini H bags either! See how celebs carry their tiny B's and K's in the Hollywood scene.
Kris Jenner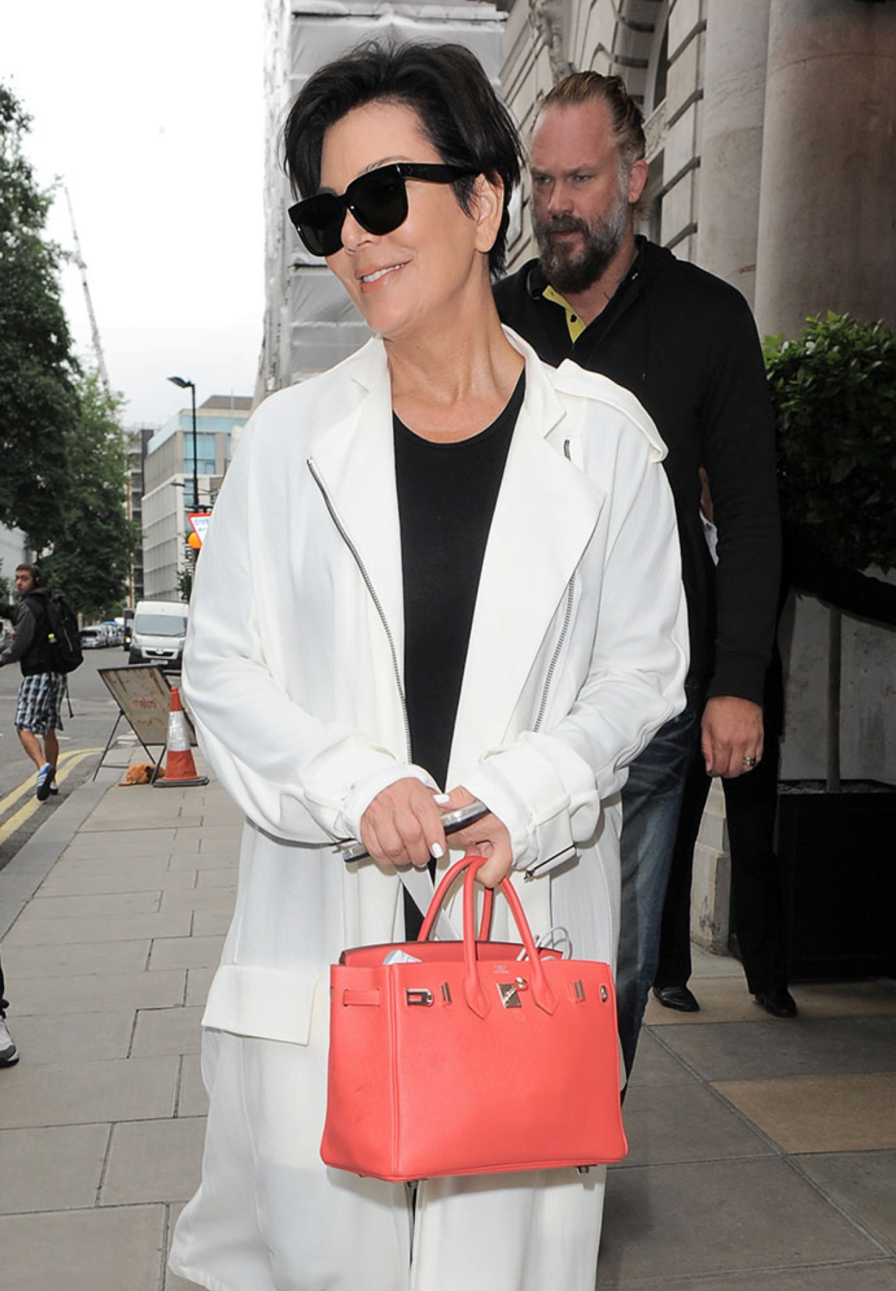 Kylie Jenner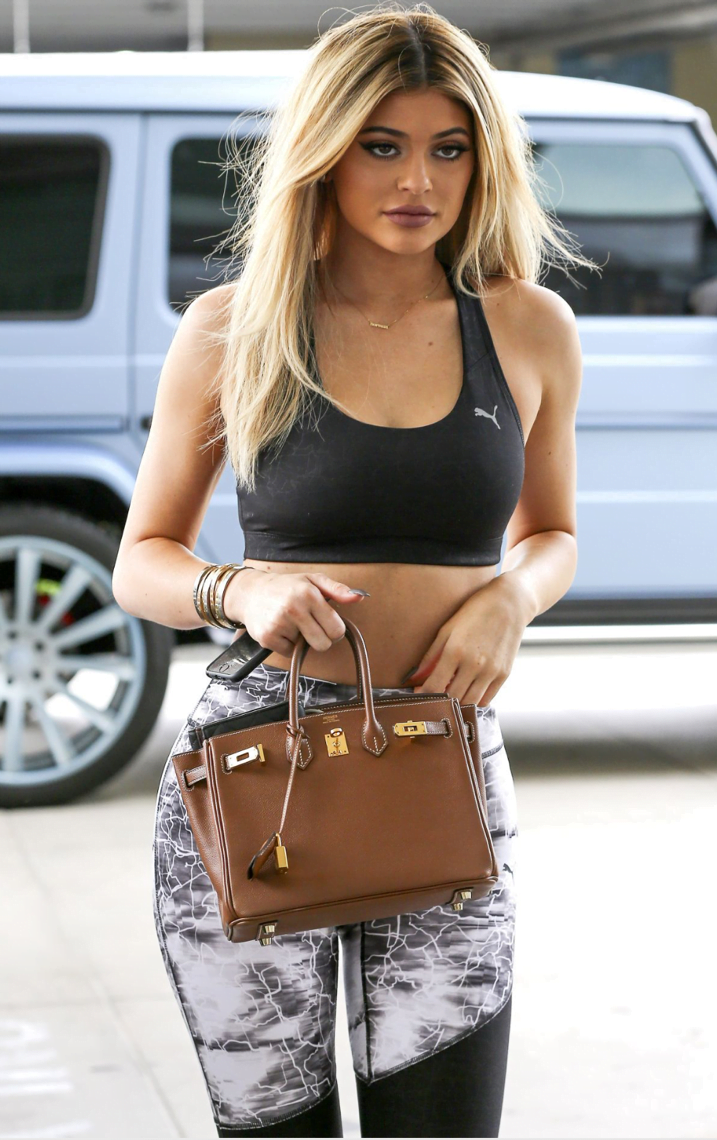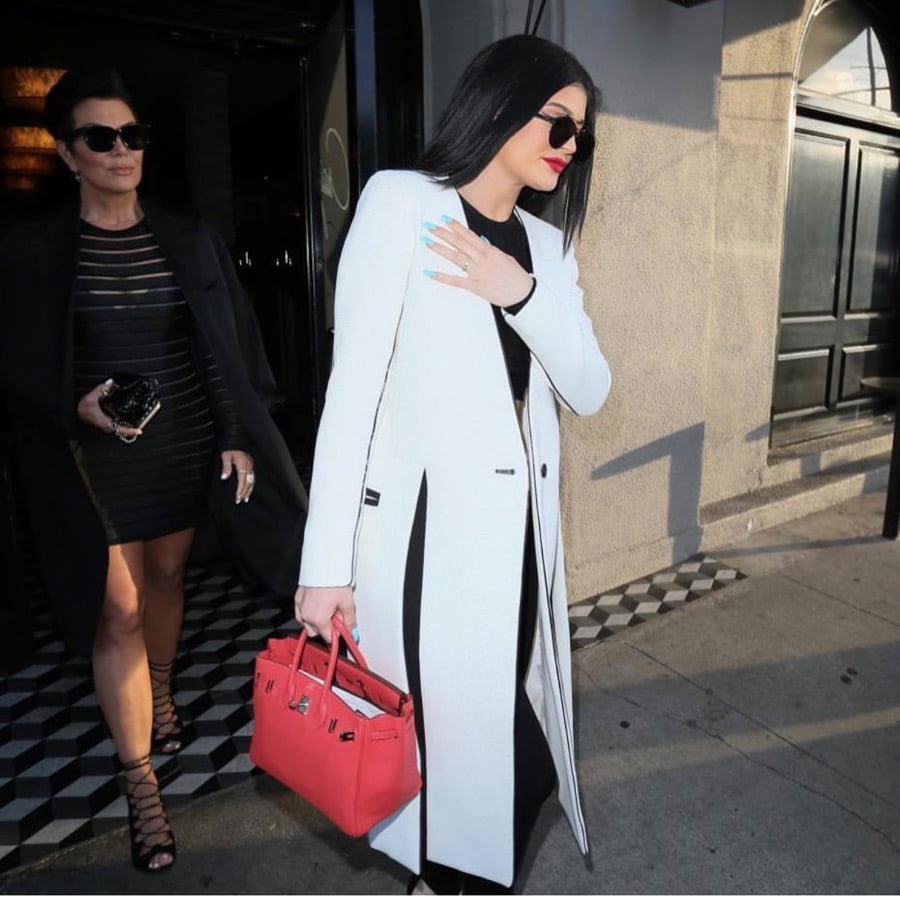 Nicky Hilton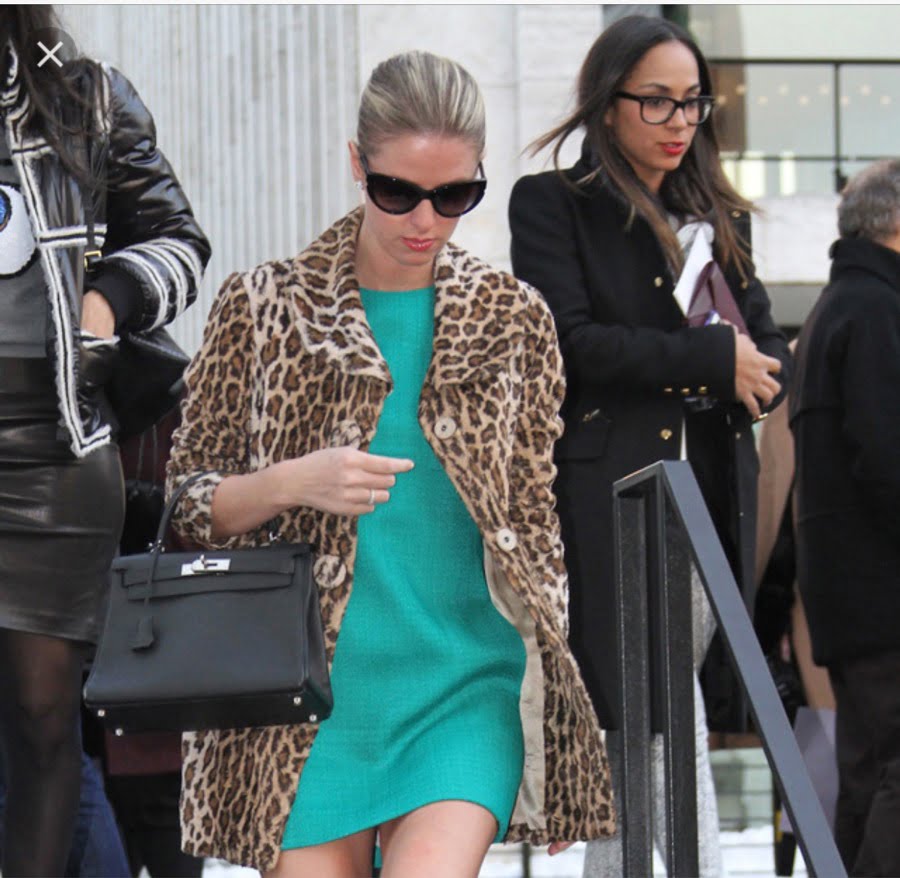 Miroslava Duma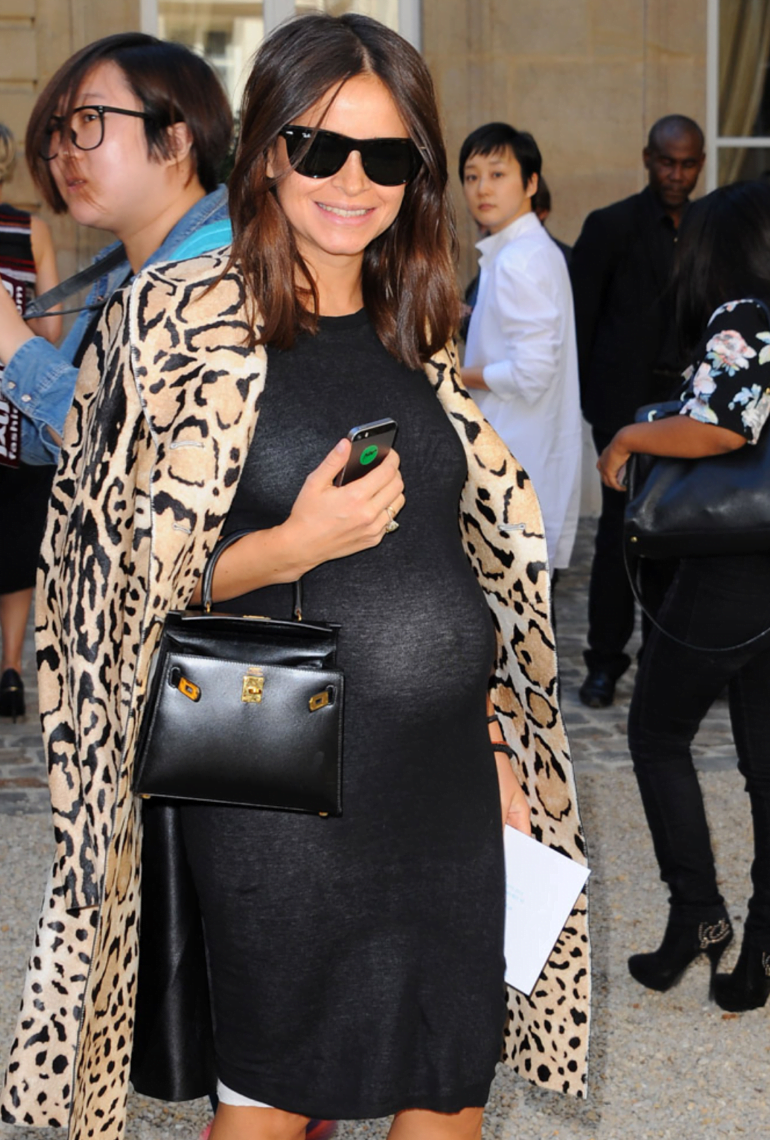 Chiara Ferragni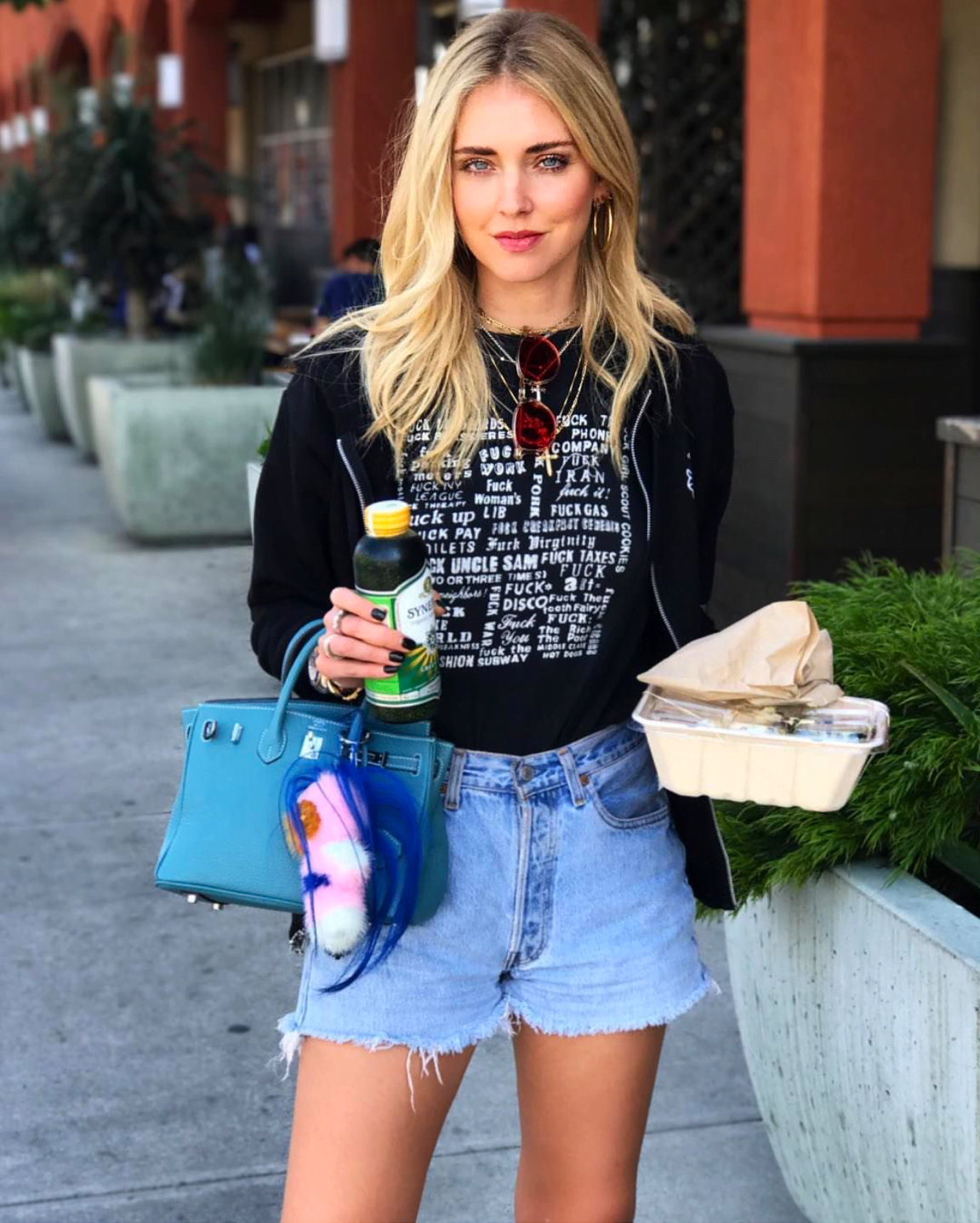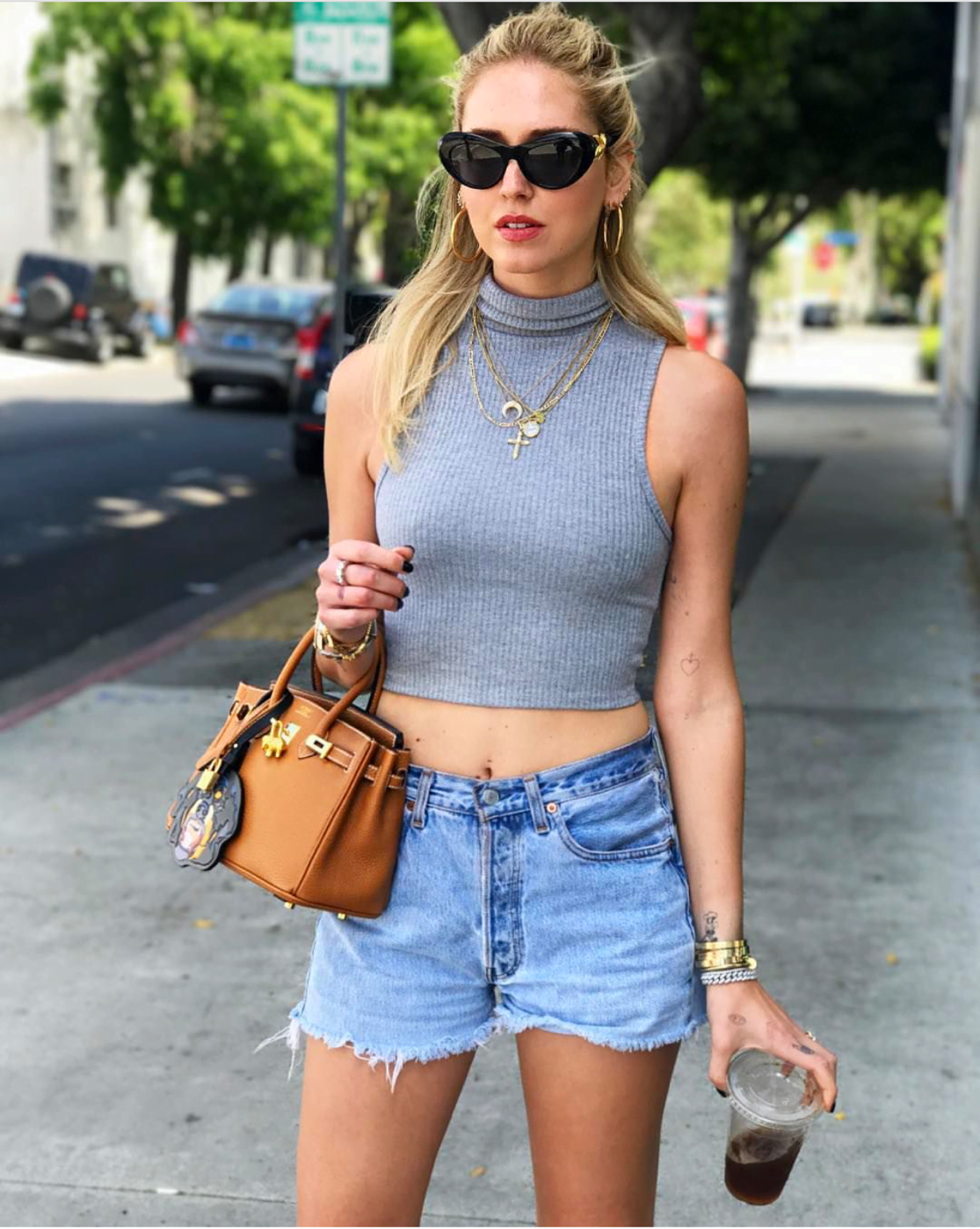 More Mini Bag Eye Candy
In August 2015 when we started our first investigation of Hermes mini bags, we hunted through Instagram for as many pictures as we could find, but the presence of mini H bags back then was really scarce. Now at the beginning of 2017, mini H bags pictures have simply exploded. Mini Birkin's and Kelly's seem to be popular reveals these days, and we've even seen a few special order minis pop up on the scene too.
Updated: June 24th, 2017