So you thought you were H obsessed?? Meet our dear friend and fashionista Kiran Chhabria (@howshespendsit).  She is the definition of an Hermes aficionado! Her Hermes collection and entire handbag closet is simply to-die-for. Today, she shares her fashion journey, advice, and collection pictures in this exclusive interview.
Meet the girl with many many Birkins…
PB: When did your fashion journey begin? Where did your love for fashion originate and how has your style evolved?
KC:  It is quite ironic when I look back at my childhood and my utter hatred for shopping. Being the youngest of three girls (my older sisters are 6 and 8 years older respectively) our vacations almost always revolved around visiting stores of their choosing. The only store I yearned to visit, much to my Mother's dismay, was the bookstore. And so we visited many a country, and many a shop, with my sisters and Mother giving each other fashion advice, while I, dressed like a tomboy in whatever outfit my Mother had picked out for me, found a place to sit among bored husbands with my nose buried in a book.
As I grew older and battled with my weight, clothes continued to be a boring necessity for me. At that time, plus size fashions tended to be both expensive and frumpy. So when it came time for me to explore my more feminine side, it was an obsession for makeup and growing love for handbags that I first started to invest in.
My weight is actually the number one reason I became a handbag fanatic and then a collector. As my weight yo-yo'ed through my adult years, I loathed expensive clothes, especially if they were seasonal. Chanel was the only brand that I could always count on to take things I'd bought and have them tightened and loosened repeatedly, which is why Chanel clothes remain the guilt-free staple in my wardrobe. Hilariously, with my weight gain and loss even my shoe sizes fluctuated, and since I've never been a jewelry fan, handbags remained the only accessory that I wouldn't have to worry about "fitting" me.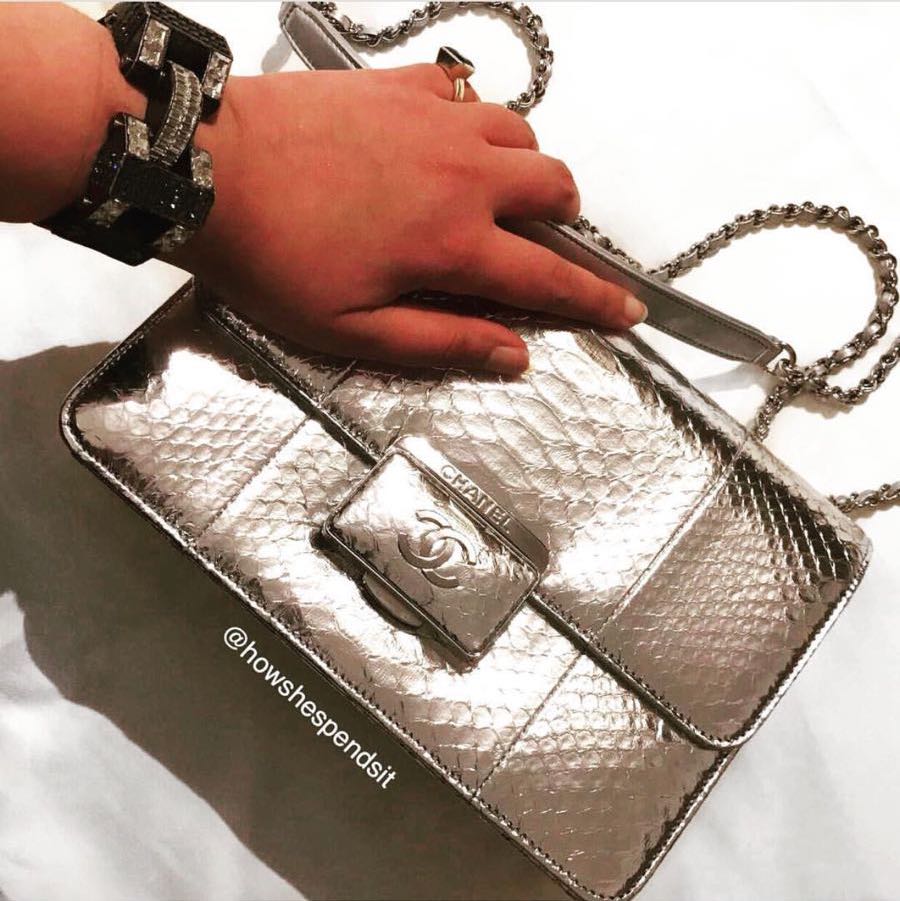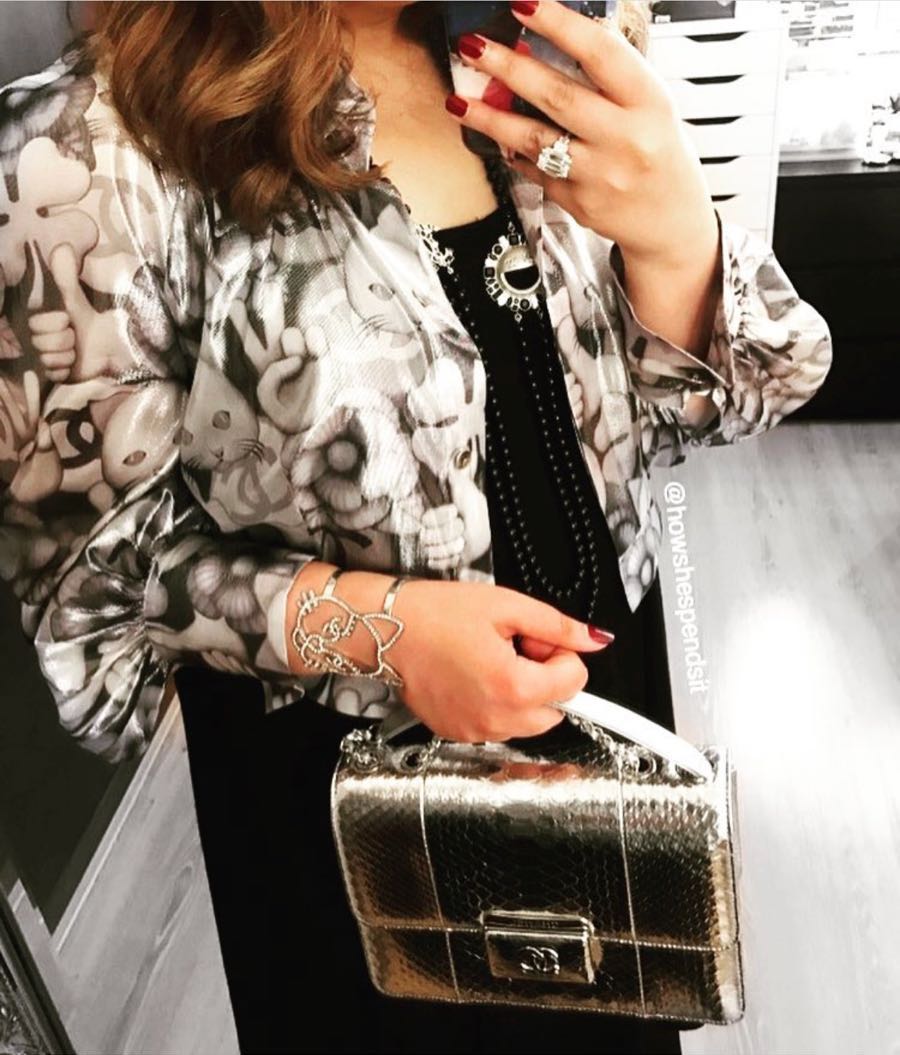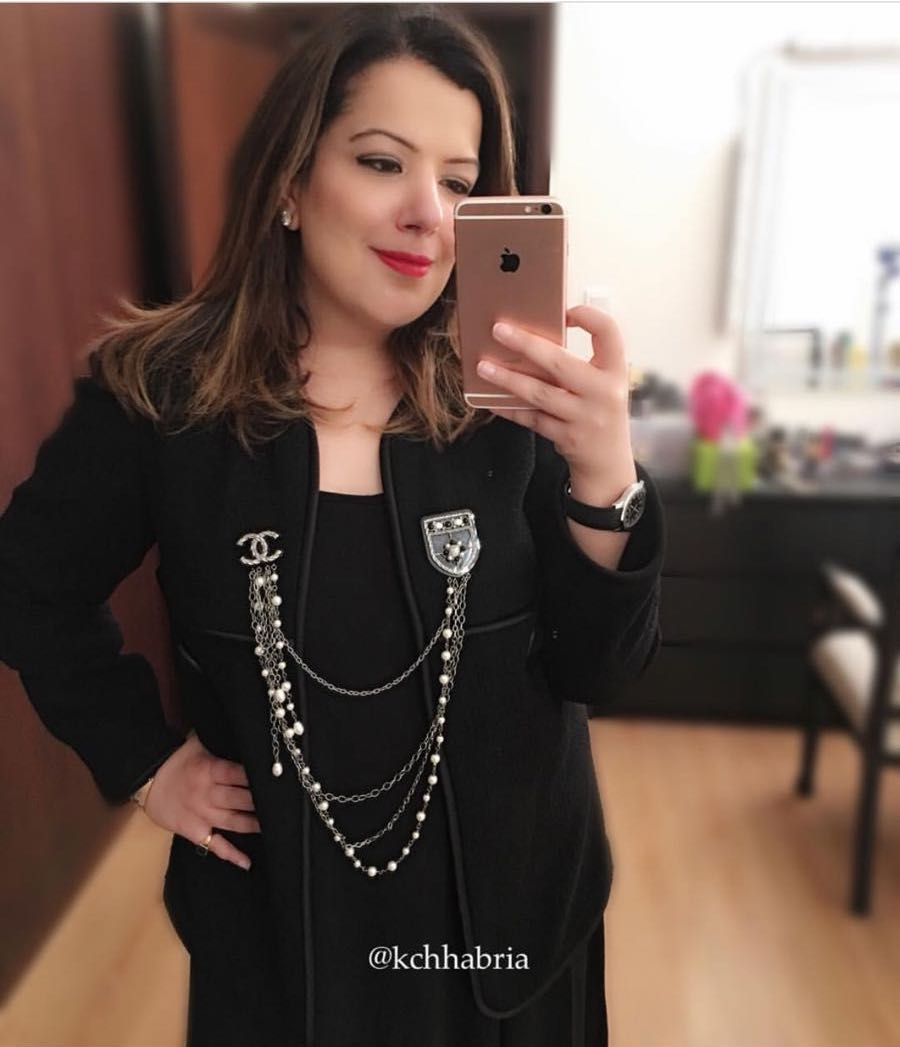 PB: At what point in your life did handbags become one of your true passions? WHY do bags appeal to you so much?
KC: I went to boarding school in Switzerland where all the girls carried around Moschino and Louis Vuitton backpacks to class, so I bought my first designer handbag then. LV was huge back then and it was a real treat for me to purchase my first Louis Vuitton bag and an agenda. I actually still use both of these to this date!
In college, the Gucci bamboo was all the rage so I got one of those. After this, my first major splurge purchase came: the LV Houston bag in a gorgeous baby blue hue. My college friends will tell you that I used to be so careful and take care of the bag so well. I'd put the bag up on a chair and sit on the floor if I was running short of space. Literally, I'd do anything for my bag!
After I graduated from college, I saved up money and while others were buying shoes, clothes, and jewelry, I was always saving up for Chanel pieces. Given that most of the bags I bought then I still have till date, I clearly had learned from my sisters to acquire timeless pieces rather than ever get carried away in the concept of "it" bags. Having a desire to stand out and be different actually served me in the long run. All my friends would run out to buy the latest of whatever bag was popular at the moment, whereas I was actually being different then, by being boring and predictable.
One day, my second sister, who is the fashionable one in the family, came home and showed me her latest purchase of the day. It was a box from Hermes, and I thank her for being the one to introduce me to the brand.  They only had a few stores, barely anyone had heard of them and their iconic bag, the Birkin, cost a jaw dropping amount of money. After I called her crazy for spending so much, I found myself dreaming of owning one too, and put a global hunt for it. I asked for a Birkin at every single Hermes store I encountered. Thankfully, I finally got one! It was a black Birkin in togo leather. I had scored her years before the Hermes store opened in my hometown of Dubai and before Hermes had become a household name.
PB: So, when did the Hermes obsession start?
KC: By the time the Hermes store opened in Dubai, I already owned a few, and on the first day of the store opening, I went and picked up 4 Birkins in different colours! I was so amazed as there were no waitlists, no lines, no people clamoring for bags- nobody really knew much about their bags at all, it was such a contrast to the experience today.
The price increases from year to year were so huge that I quickly realized that buying them was an investment. If I got offered one, more often than not, I bought it. As time went by I used to get offered more special pieces like the teddy kelly or the kelly danse and I refused them, thinking them a waste of money (yes, I kick myself for this every day!) Then slowly I became more brave and started to buy exotic leather pieces whenever I'd get them.
PB: You have probably one of the most beautiful and extensive Hermes collections I've ever seen! So, why did you officially decide to become a Hermes collector?
KC: After I had acquired most of the colours I wanted in regular Birkins and Kellys and then ostrich and crocodile pieces, it started to become a thrill of the chase. As websites like PurseBop and PurseBlog became popular, and with the advent of blogs and Instagram, I started to learn more about special orders and limited edition Hermes bags. A whole new world opened up for me! I'm not very social at all, so my bag collection wasn't really about the "showing" off the bags, but rather the "owning" of them. I slowly started to do my research about where and how I could pick up authentic vintage bags, and then, the current limited ones. Most of these I've never carried, but I own for the love of having as part of my collection. I have acquired a few Chanel vintage pieces and a few Louis Vuitton ones, but Hermes remains my number one love! Given that it's a love affair that has lasted close to 15 years, I'd say it's one for keeps!
Updated: May 20th, 2017