We have the distinct pleasure of introducing our newest BopTalk Celebrity @__geminiigirl__18. She is a New Delhi based fashionista that frequents elite fashion events with a sense of style like no other. I had the delightful opportunity of meeting up with this beauty, personally photographing her collections and even sat in attendance at few front row runways with her!
She has been an active member of BopTalk since its launch and an integral member of the PurseBopPicks IG community and we are honored to share her fashion & style here on the pages of PurseBop.com.
PB: From your instagram, we already know that "geminiiigirl" is an ultra-cool, adventurous fashionista with a love for all things beautiful. Tell us a little more about yourself and where you're from.
GG: I have to say, I am from one of the most beautiful places in the world. I grew up in a gorgeous little hill station called Darjeeling, which is nestled in the lap of scenic Mount Kangchenjunga. It is famous for its great tea, wonderful people, and the world heritage toy train.
PB: As a child, was fashion an interest for you? At what point in your life did handbags become one of your true passions? Tell us your fashion journey and WHY bags appeal to you so much.
GG: Fashion has always interested me! Growing up, I would save money to buy all the things I'd admire on television and in magazines. My mom used to make beautiful, custom dresses for my sisters and me. We would all wear her heels and smear on makeup, and pose just like models in a photo shoot.
My handbag addiction started in my college days. I had to have matching bags for all my outfits, even if they weren't designer label. I considered handbags the most essential part of my wardrobe second to my shoes. To me, bags make the most important style statement and the perfect bag can make an outfit truly come alive.
PB: You have some to-die-for #ootd's and it's clear you aren't afraid to experiment with different looks. Overall though, how would you describe your personal style?
GG: It may be a surprise to everyone, but I never follow or copy a particular trend. I pick all of my looks mostly based on my current mood and what seems appropriate for the occasion. I love to mix and match, and then create my own styles. Sometimes, I experiment with colors, fabrics, and prints that don't seem like they would even go together. But to sum up my personal style in a few words, I would say I go for "chic and edgy" more often than not.
PB: Even though you don't follow trends per say, what have been some of your favorite things you've seen this year in fashion?
GG: I like the "boyfriend" trend because that means I can steal my boyfriend's t-shirts and sweaters! Even though I don't necessarily try to be trendy, the past summer I was all about my Chanel espadrilles and backpacks. The Dior sneakers have also been a big yes for me!
PB: What are your other fashion DON'TS or things you stray away from?
GG: My shopping mentality is trust your gut! I don't like feeling like I passed up on something great because I was being too hesitant. I try not to doubt myself when I'm shopping or do a lot of unnecessary contemplating.
Another thing I try to stray away from is really tall heels! They just don't work for me, but I do admire other women who can rock them. Even though your clothes and accessories should look amazing, I am a firm believer that fashion shouldn't be uncomfortable.
PB: You have a truly diverse and extensive collection, so picking favorites can be tough! But, if you had to choose, what are your favorite brands and designers?
GG:  This has always been a tough question for me to answer. Designers are always coming up with new stunning collections every season, which only expands the pool of things that I love. In the recent past, I've really liked the styles of Phillip Plein, Givenchy, Valentino, Dolce & Gabbana, and an all-time favorite, Christian Dior. For shoes, Christian Louboutins are my go-tos. My favorite clothes mainly consist of Valentino, Dolce & Gabbana, and Dior
PB: Speaking of top picks, what are your top 3 Holy Grail bags?
GG: Choosing only three is nearly impossible for me! If I had to narrow it down though, I'd have to say my Hermes Himalaya Birkin tops the list. A very close second would be my Hermes Birkin Grand Marriage. My third pick would be my pink crocodile Hermes Birkin because pink is my favorite color.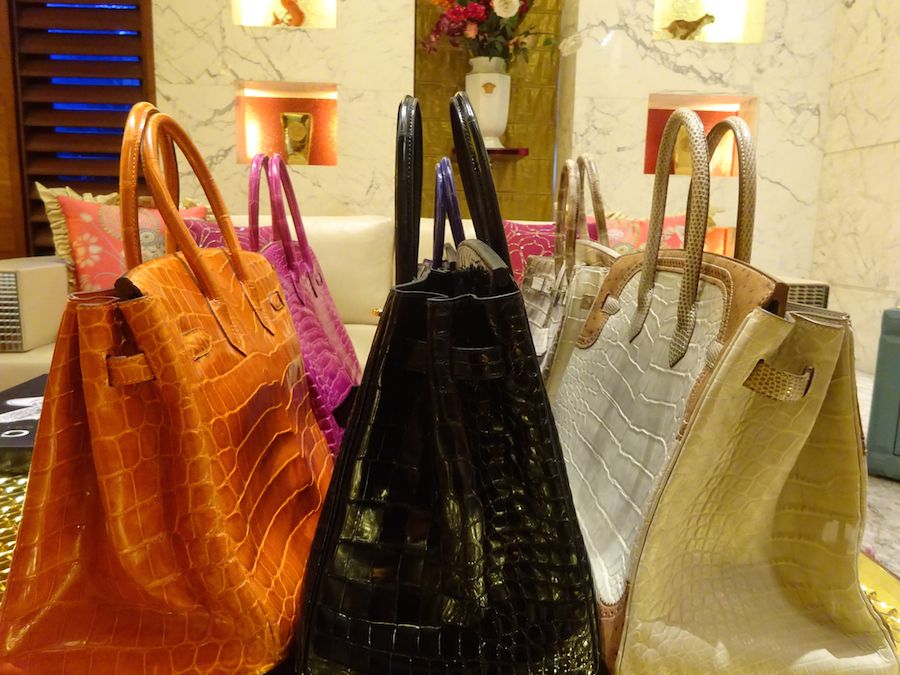 PB: Based off of your incredible IG page, traveling seems to be another one of your passions! What's been one of your favorite travel spots so far? Where else are you dying to go?
GG: Indeed, traveling is one of the most important parts of my life. Every destination I've been has something different to offer, and being able to experience such diversity is a true treasure. London is a like a home away from home for me. Paris is the quintessential shopping destination. I love the rich heritage, culture, and not to mention food, of Italy. Last year, I went to South Africa. The wildlife and nature was incredible, and the people were incredibly warm and hospitable. The top destination I recommend that everyone go is the Maldives. It is breathtaking, relaxing, and in my opinion, one of the most beautiful places in the world.
Surprisingly, I haven't visited the US thus far. It is at the top of my "must go soon" list. I hope to make that dream come true this year!

PB: You always seem so busy whether you're attending fabulous events or spending time with family and friends. What kind of things do you like to in your down time though?
GG: I spend most of my downtime with my boyfriend doing the usual – hanging out, watching movies, going out to eat. My mom and my sister are my best friends and I love having long, therapeutic conversations with them. My other love is my husky Jacob, and I take him for walks to tune out the rest of the world. Despite my love for glitz and glam, I am very simple at heart and make sure to spend time with the people I love the most!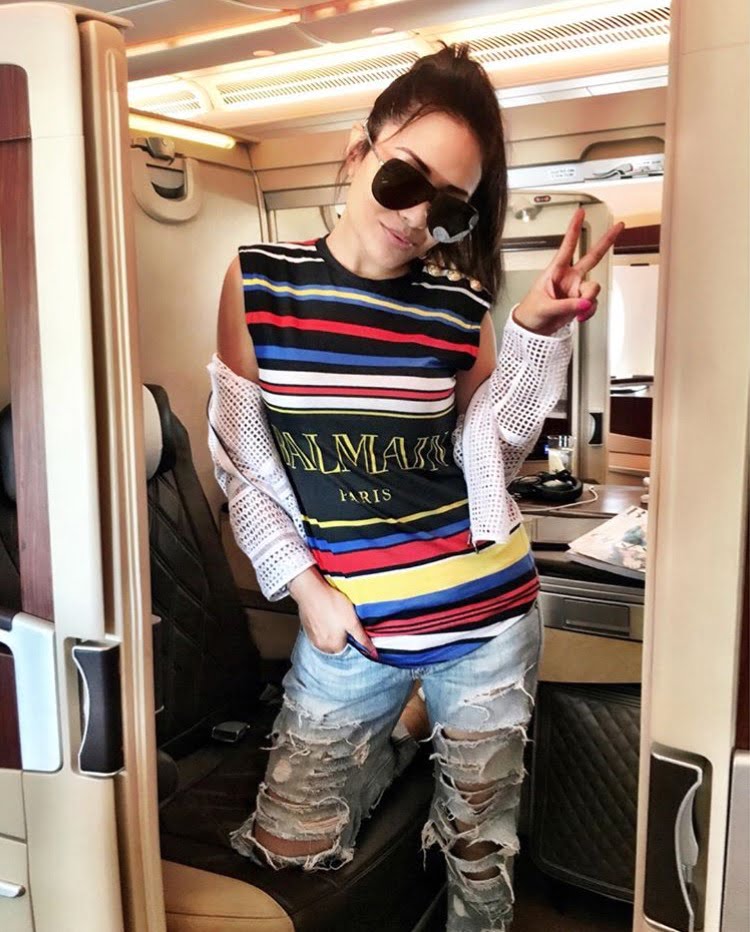 PB: Who are your biggest inspirations (fashion and otherwise)?
GG:  One of my biggest inspirations is Kim Kardashian. She looks gorgeous and put together in whatever she wears. I really admire her humble nature despite her huge jump in fame. I've also always admired Victoria Beckham. She's been my idol since her "Spice Girls" days, and I think her sophistication and charm is unparalleled.
Outside of the entertainment world, my biggest inspiration and support is my boyfriend because he's always shown me unconditional love and is unwaveringly dedicated.
PB: YOU are also inspiration for many too! Any advice for anyone still trying to find their own style?
GG: I think people should search to find the style they're comfortable in and also make a commitment to try new things. My biggest advice is don't be afraid to experiment and take risks! It may sound easy, but we often become trapped in the same habits. You never know what you might come to like when you try something new!