Louis Vuitton's handbag game keeps scoring. Famous for a rich Parisian heritage dating back to the 1800s, presently the house is renowned for reimagining its iconic Monogram design. It's almost difficult to keep up with the plethora of new colors and materials as well as series of sleek new styles.
After pioneering the multi bag trend, utilizing the power of influencer marketing via social media to do so, we're eager to keep this iconic brand on our radar. And you should be too! From eccentric pieces in the new GAME ON collection to quirky takes on Louis Vuitton's ever iconic trunk design, these LV bags are ones to watch (and buy). 
Take a look at the latest multi bag design – the LV3 Pouch. This bag features three pouches attached by metal rings and worn as a trio on an adjustable Monogram strap. Each pouch sports a zip closure and is crafted from Monogram canvas, Monogram Reverse canvas or Monogram-embossed black lambskin. Part of Nicolas Ghesquière's Prefall 2020 collection, the look gives off effortless cool girl vibes. The adjustable strap allows for both shoulder and cross-body carry. Moreover, the pouches can be removed and switched around for maximum versatility.
Debuted in Ghesquière's Spring 2018 Ready-to-Wear collection, this model transforms the classic bucket bag into a duffle bag style. The bucket shape looks inherently chic in a compact size. Monogram canvas with a cowhide leather trim, the design includes the S-lock closure usually spotted on Vuitton's iconic trunks. It can be carried top handle or over the shoulder using the removable strap. 
Bucket-type bags are having a fashion moment. If you're a fan of Vuitton's classics like the Noé or the newer NéoNoé, check out this ultra stylish, vintage-looking design.
GAME ON Coeur Bag - $2,100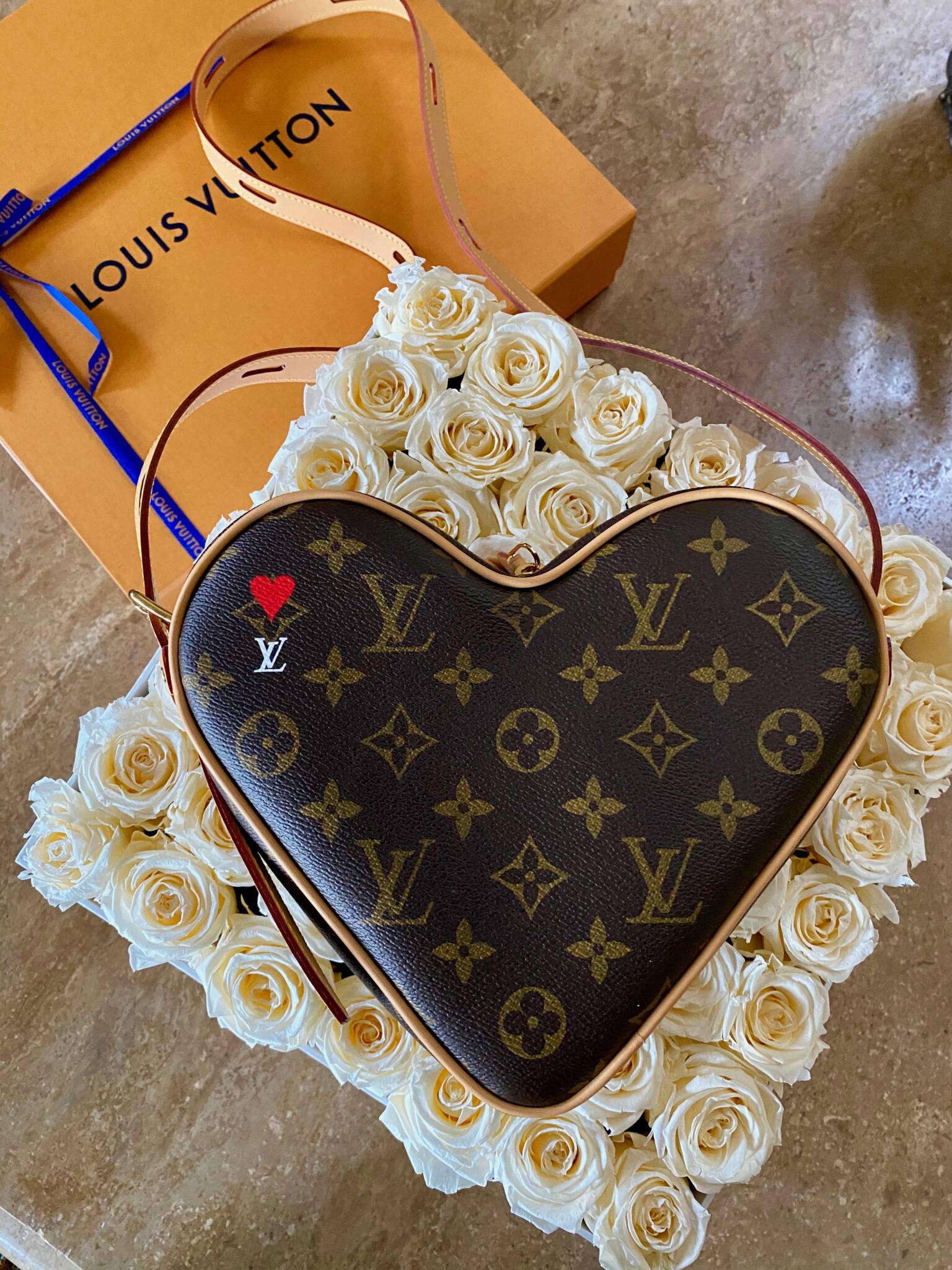 Translating to 'heart bag' in English, this aptly named heart-shaped bag from Louis Vuitton's new GAME ON collection for Cruise 2021 is set to be a consumer favorite. In Monogram canvas with a subtle LV logo, you'll find the collection's signature playful red heart embossed on the corner of the bag. The Coeur bag caused quite a buzz online when its campaign launched. Many LV lovers were enthralled by the bag's cute and quirky shape and all-over Monogram look. That includes PurseBop. Will it be added to your wishlist? 
Read: PurseBop Reveal – Louis Vuitton's New Heart-Shaped Monogram Bag
Popular amongst A-list actresses such as Sophie Turner and Laura Harrier, LV's Pont 9 bag is a structured satchel made from ultra smooth calfskin. The bag gets its name from Paris' Pont Neuf Bridge located opposite the house's headquarters. Vuitton's classic interlocking LV logo features on the bag's flap and adjustable strap.
Although a 2020 release, the Pont 9 is poised to become an LV classic due to its functional medium size and satchel style. 
The bag is available in an array of colors from vivid orange and blue hues to more neutral tones. 
Bumbag Dauphine BB - $2,160
Combining two of fashion's hottest bag styles – the belt bag and the mini bag trend – Louis Vuitton's Bumbag Dauphine BB is the fashion-forward way to carry essentials in style. Louis Vuitton describes the bag as having a "neo-vintage look". 
For Cruise 2019, LV updated its classic Dauphine bag. Since then, Vuitton has released versions in an array of colors, materials and styles. They range from a wallet on chain option to mini versions of the bag.
One of our favorite adaptations is the mini bumbag look. A mix of Monogram and Monogram Reverse canvas with a chestnut brown Calf-leather trim, this charming design can be worn as a belt bag or cross-body using the long thin chain strap. Alternatively, it can be used as a pouch or coin purse inside another bag.
Vertical Trunk Pochette - $2,290
Wearable phone cases are a huge trend on runways and in luxury boutiques right now. For example, Chanel's Iphone 11 Pro case with chain in hot pink garnered much attention. Luxury fashion brands tapped into the phone case market long ago. However, the latest trend – wearing your designer phone case – offers top fashion brands a bigger piece of the pie. Often priced at several hundred dollars more than phone cases without a strap, the style is certainly a shrewd move by luxury brands. 
If you want a good quality phone case with an iconic designer print but don't want to keep it hidden away inside another bag, a wearable phone case may be ideal for you. This Louis Vuitton option is modeled after a classic LV trunk. It features structured Monogram Reverse canvas with a Monogram canvas trim, an S-lock closure, exaggerated corners and an adjustable Monogram chain strap which allows you to wear your phone cross-body. The strap is removable so you can also opt to carry as a clutch. Plus, it's roomy enough to fit two phones.
The style is also available in Monogram canvas with a black calf leather trim and Epi leather in black or light pink.
LV Wynwood - $2,380 - $2,520
Not only does Louis Vuitton play around with its classic Monogram, but it also mixes and matches differing versions of the pattern. For the Wynwood, Monogram Vernis leather is adorned with Monogram canvas finishes like a tab above the bag's S-lock closure and on the bag's lining, bottom and sides. The structured rectangular bag features a sliding chain strap and Monogram shoulder rest. This allows the Wynwood to be worn cross body. Alternatively, the strap can be doubled and worn comfortably over the shoulder. In the spirit of incorporating all of LV's most popular materials in one design, the bag also sports an Epi leather trim on the edge of the flap.
It is available in deep scarlett, black and a metallized taupe Monogram Vernis leather.
Vanity cases as bags seem to be everywhere recently and we have to say we're loving it here at PurseBop! The woven wicker vanity case with a cross-body strap featured in Chanel's spring/summer 2020 collection was incredibly popular. In fact, it was so popular that it returned in the Resort 2021 collection.
LV's offering of the trend certainly doesn't disappoint. Vuitton released a new take on the classic style for spring/summer 2020. The main body of the bag appears in Monogram canvas which beautifully contrasts with the top of the bag in Monogram Reverse canvas. A black leather top handle and luggage tag give the design an elegant finish. The removable black leather chain strap allows the bag to be worn comfortably cross-body or over the shoulder.  
Louis Vuitton also offers the style as part of the new Cruise 2021 GAME ON collection. Options include the playful multi-colored Monogram print in black or white for $2,760.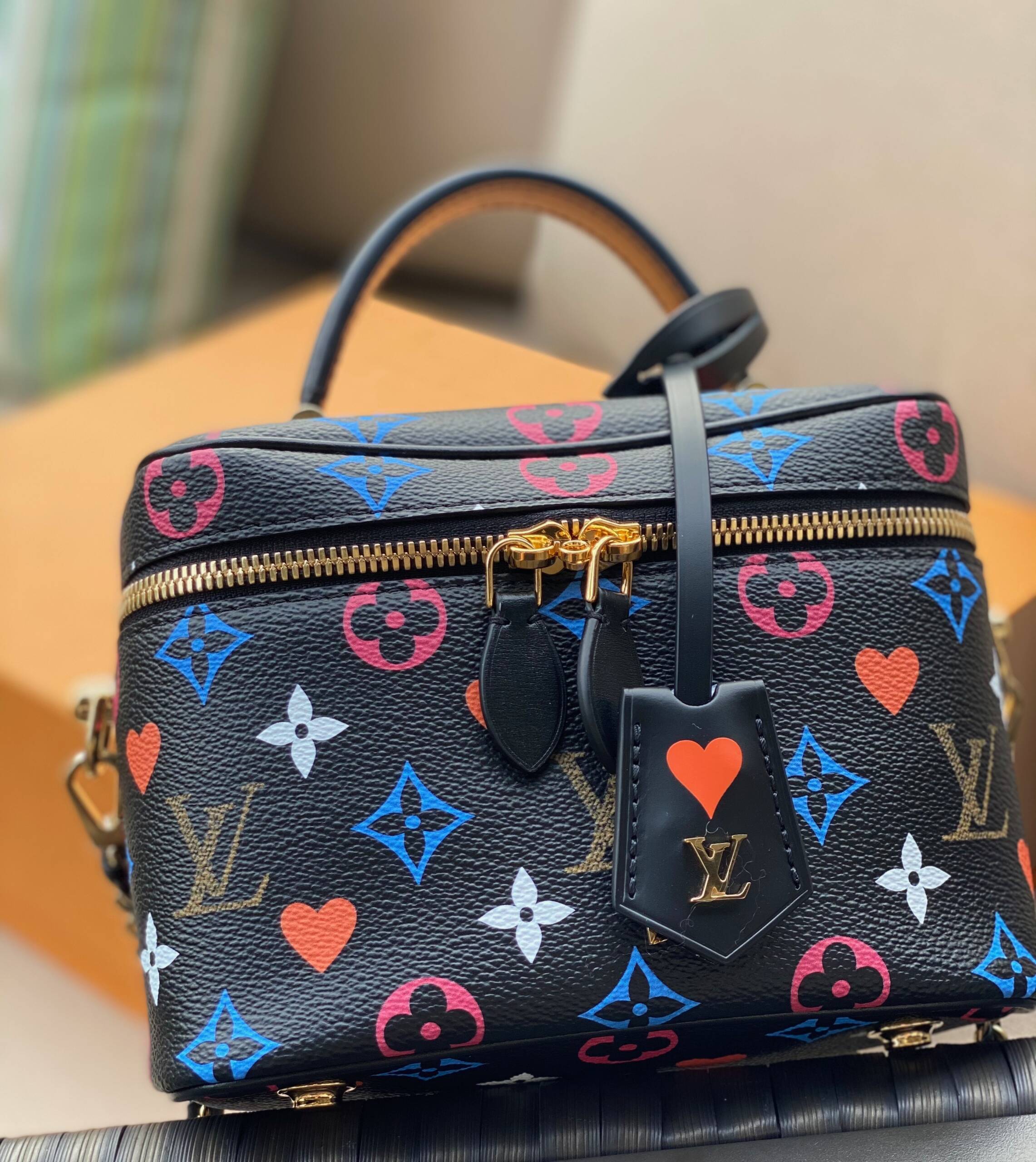 Do you like these selections? Which bag is your favorite? Will any be going on your wishlist? Let us know.
Updated: December 2nd, 2020