What happens when you merge "Honey I shrunk the… " bags with a Guinness World record attempt at how many bags can I carry at once? The answer, it seems, is the latest hot trend.  Multiple bagging – yes you heard that right!
The idea isn't completely new. We've written about bags on bags on bags before, in How Many Bags Can You Wear at One Time and Chanel Spring 2019 – Doubled and Around the Neck. And, of course, attaching bag charm replicas of real life bags has been, and remains, well… charming.
The latest craze, however, takes this up the proverbial notch. Downsize the bags to minis, pochettes and coin purses, and carry a whole bunch of these designer gems simultaneously. It gives new meaning to layered dressing.
Louis Vuitton Multi Pochette Accessories
The trend arguably kicked off with Louis Vuitton's Multi Pochette Accessoires (it's almost impossible to get ahold of before you go falling head over heels for the design and expect to own it immediately). Comprised of the Pochette Accessoires, Mini Pochette Accessoires, and Round Coin Purse all hooked together, it creates what Vuitton describes as a "totally versatile everyday bag". What makes these multi-bag pieces so special and different from their single bag counterparts is that all elements are completely detachable. This muti-bagging concept truly is versatility personified. As "more is better than one", according to Vuitton, this bag is sure to serve you well for every kind of occasion. 
Vuitton's Multi Pochette features both a removable gold-tone chain and an adjustable Louis Vuitton inscribed Jacquard strap which is available in Rose Clair, a pale pink tone, and Kaki, a khaki green color. Both options are priced at $1,640. 
This bag has been seen everywhere as of late and looks like it could be on its way to becoming a cult classic. Even mega star Rihanna was spotted on her way to the airport rocking the design. She matched her choice of Kaki colored strap with a camo sweater for an effortlessly cool look.
Desperate to get their hands on the design, fans of the style have taken to Instagram to showcase their DIY versions of the bag. Which version is your favorite?
How does this price compare to the cost of the individual items if you were to purchase them separately? Let's take a look.
Pochette Accessoires ~ $525
Mini Pochette Accessoires ~ $310
Round Coin Purse ~ $260
Handbag Math
$525 + $310 + $375 = $1,095
So if you opt to create this design for yourself at home you could end up saving yourself around $500! But it's important to note the look doesn't give off quite the same effect. Moreover, there's the issue of the straps – if you want the metal chain and the guitar-strap cross, that's extra. Of course, if you already have those at home, your look is complete.
Prada Multi Pochette Bag
Another popular example of this growing trend, this time a retro piece, is the Prada Multi-Pochette Bag Re-Edition 2005. Beloved on Instagram, this bag (or should we say bags!) comes in black, blue, beige, red, and pink.
This bag is a hot commodity that has proved extremely hard to come by – it's unavailable on the Prada website but can be found on luxury resale websites  – making it even more sought after!
Popular amongst celebrities including model Hailey Beiber, the style has an extensive following on Instagram.
While the crossbody pochette style of the multi bag trend is certainly revered it's not the only way to do multiple bagging. Hermès recently played with the multi bag trend by releasing miniature Hermès designs in bag charm form. Although, of course, very different these charms create a multi bag look while setting you back $455!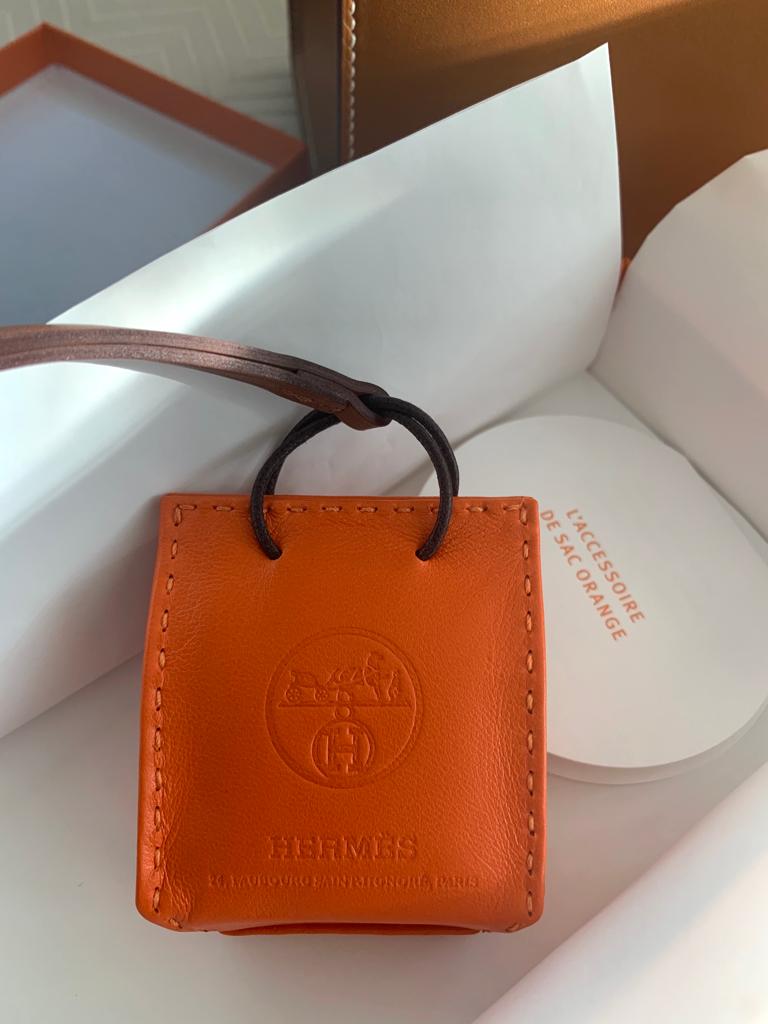 What are your thoughts on the latest multi bag trend? Could it help you to compartmentalize your life this new year or will you stick with your solo design? Let us know.