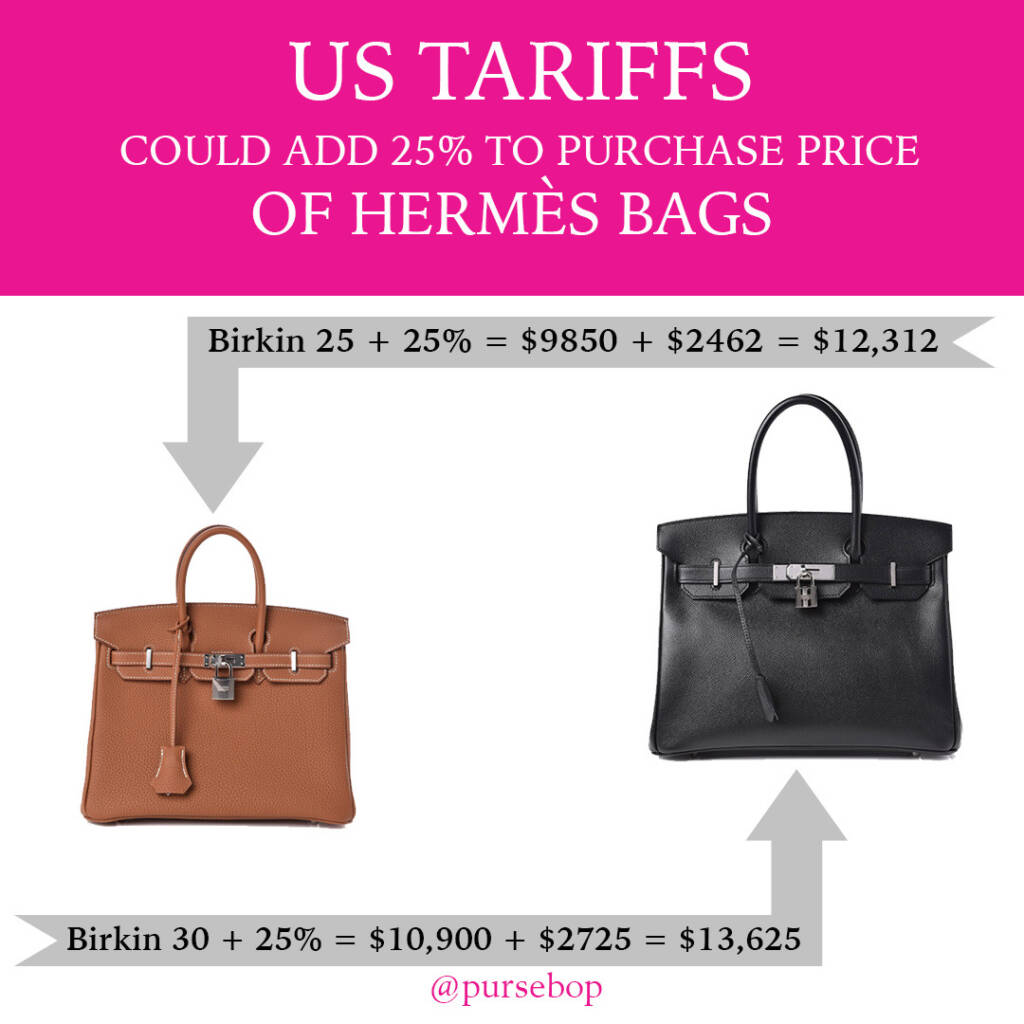 Are you pondering what your next handbag should be?
We've all been there. Particularly now, six months or so into a pandemic, you might be getting itchy for something new. Or, you might feel like you shouldn't buy, you can't buy or there's no reason to buy. But, here's another thing to consider… For all the worrying and analysis about handbag price hikes, there could be one on the horizon that has nothing to do with brand strategy or supply and demand: U.S. tariffs on French handbags.
You may recall an ongoing dispute between the United States and France over France's Digital Services Tax (DST). This DST primarily affects American technology companies like Apple, Google and Facebook. France claims these digital companies evade French taxes by headquartering in more tax friendly havens, like Ireland and Luxembourg.
Of course, you're now wondering what that has to do with Hermès, Chanel, Dior and Louis Vuitton. The United States opposes the DST and in July 2020 imposed a 25% tariff on, among other things, handbags from France. And which favorite brands come from France… well, all of those listed and more.
Think about that… adding 25 percent to the price of these bags. Surely the brands aren't going to absorb that increase. That Hermès B30 in Togo presently selling for $10,900  in the United States could jump to $13,625! The $7,100 Chanel Classic Jumbo Flap suddenly commands $8,875. And then, of course, sales tax. That gap we feel in the price between retail and a reseller like FASHIONPHILE should certainly narrow at least until the tariff goes into effect.
Once the tariff goes into effect, we'll need to see whether resellers add that 25% premium to their prices. 
It may therefore, be wise to indulge in any planned French luxury purchases before then. The reason we haven't yet felt this enormous cost jump is that while the United States imposed the tariff, it also delayed enforcement until January 2021. There are hopes that the U.S. and France can ultimately negotiate and come to an agreement. As of now, however, there's none on the horizon, and that's not good news. Let's see what happens in these next four months, we'll keep you posted!
We've compiled a list of  brand new Hermès bags that are available right now at FASHIONPHILE for your consideration.