My quick trip to Paris included a visit to Dior for a very special item. My love for this piece actually began two months earlier in February. I spotted this treasure in the Dior boutique at Heathrow Airport on my way to Egypt. Such an international shopping experience- a French brand, in London, on the way to Egypt! But, you know how it goes. Sometimes you find the best things when you least expect it…
Dior at Heathrow was the first time I saw the newest size of the book tote, called the small. I was immediately drawn to its size- quaint and cute yet also functional and lightweight. If you recall, we did a little test at the airport and confirmed that a Chanel medium classic flap comfortably rests inside. So in terms of capacity, we're well covered.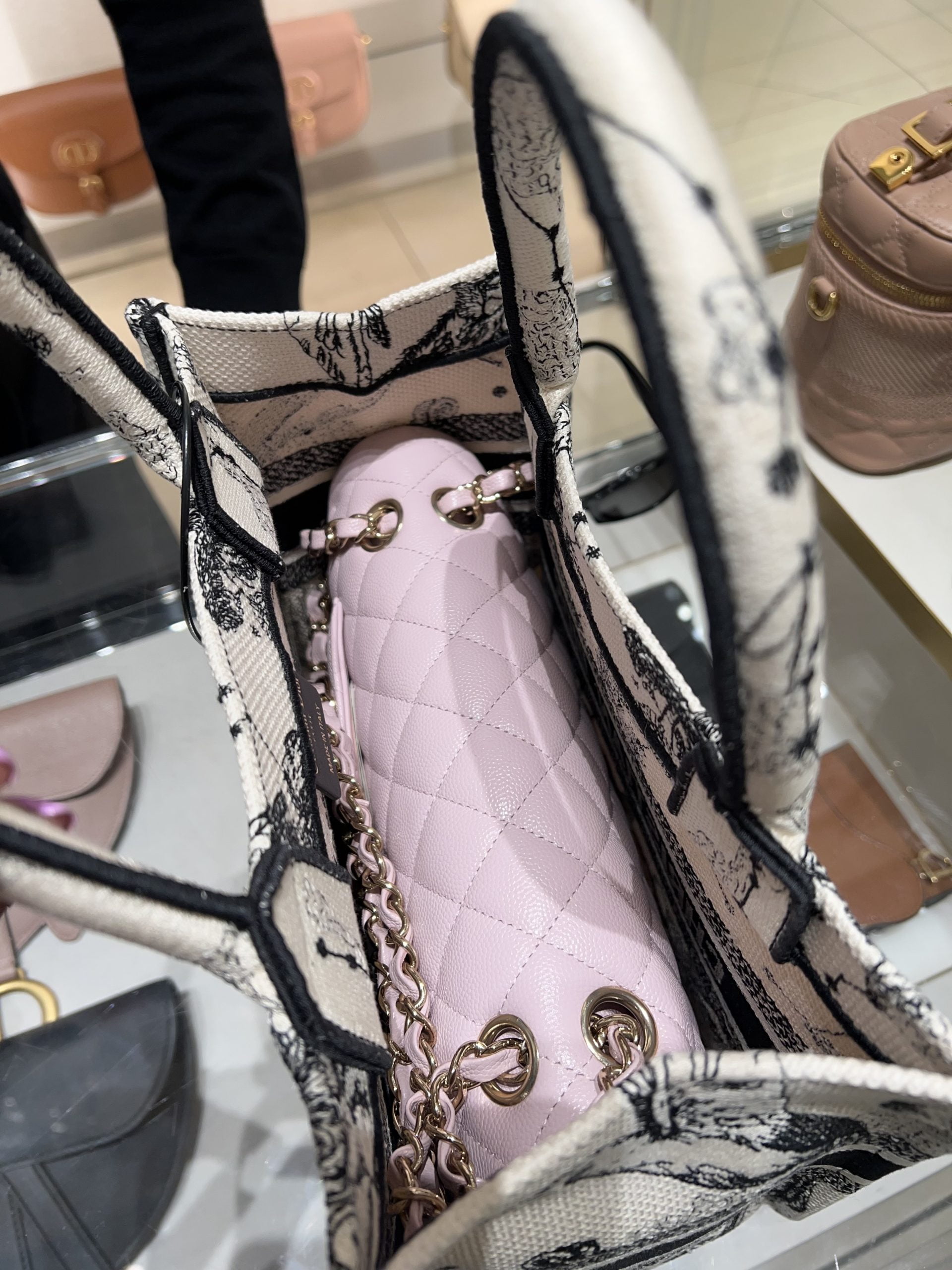 Back in London a couple of weeks later, I had the opportunity to play with this bag some more. I still loved it. In fact, I left Dior convinced that this size book tote would join my collection when I found the right colorway for me.
Now, two months later, I flew to Paris on a completely unexpected girls trip/work trip. This was going to be the perfect place to take that Dior plunge. I'd been scouting small book tote models on Instagram and had seen a few pictures of the small size in a red oblique print. I reached out to my sales associate from the Saint-Honoré location from my last Paris trip to verify that she had one for me to see. She explained that this particular red version in the small size was only available in Paris at the new Dior Avenue Montaigne location.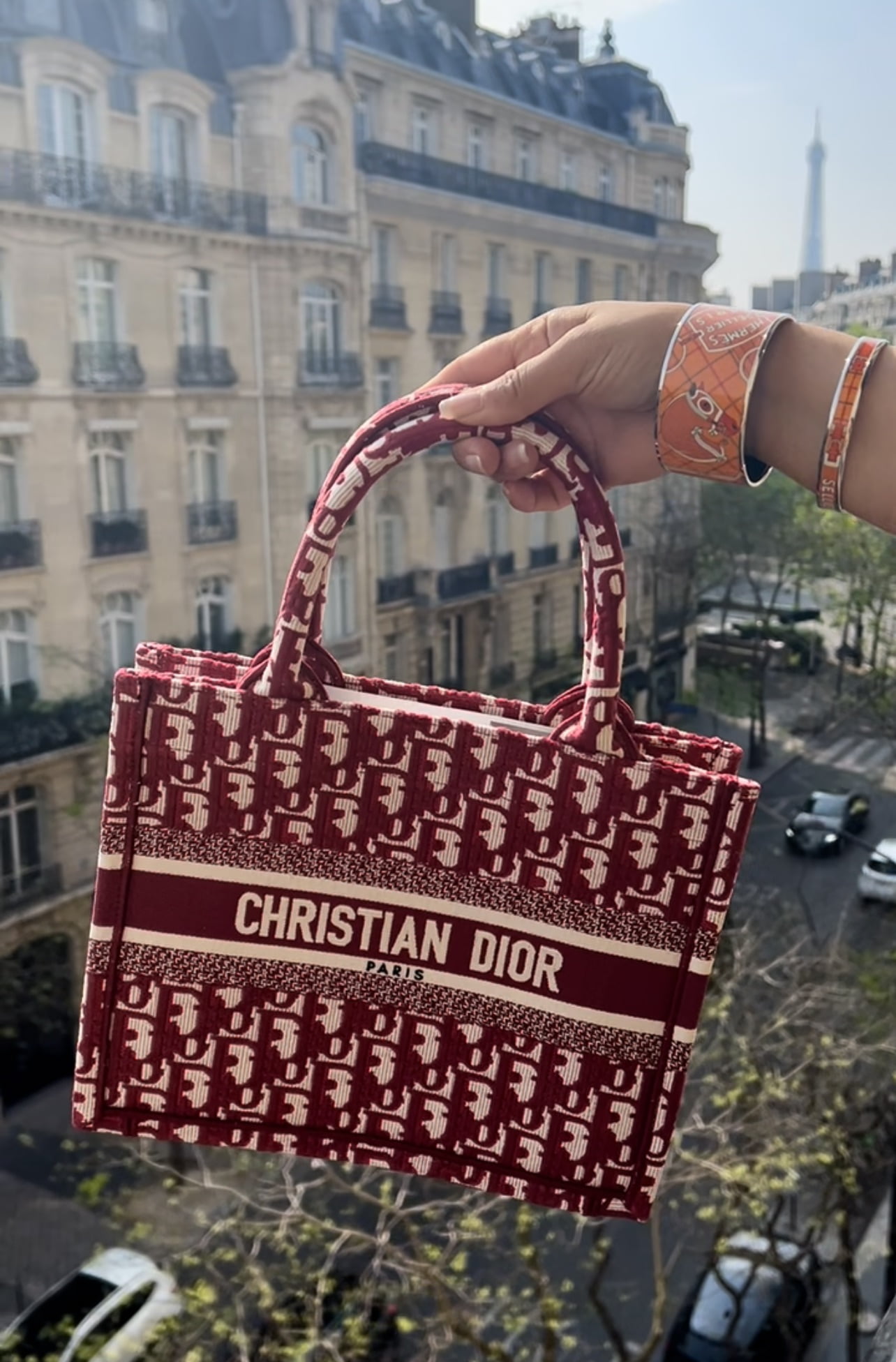 Let me deviate for a moment. In March, Dior opened the most magnificent boutique I have ever seen. Modern and bright with palatial spaces, the venue includes a café, a pâtisserie, and a full restaurant. It is truly a treat to see and fun to shop. The book tote section alone is the size of a small Dior boutique. Dior Avenue Montaigne was definitely the place to score my new addition. Lucky for me, my SA's store put one on reserve for me to see and try.
This bag was and is a total no-brainer. My girlfriends agreed it was a sweet addition that would prove highly functional and a great travel companion. In a matter of minutes, my decision was made. The new small tote in the dark red oblique was being packaged for me in the exclusive Avenue Montaigne box and shopping bag.
Despite my excitement, I didn't neglect a nesting test! Pulling my Kelly 25 out of the Goyard Artois tote, I needed to see whether my Kelly 25 fit in the new tote. It was close, and might ultimately work once the book tote loosens up. But, right now, brand new, it was hard to tell. I didn't want to force the Kelly and risk scratching or damaging her. She, too, is brand spanking new.
For those of you wondering why I was roaming around Paris with both my Kelly and my Goyard tote, the answer is simple. Safety. I wanted the option to tuck away my Kelly if I felt I needed to. I had taken my Kelly to visit Hermès earlier that day and then met the girls later who thankfully brought my Goyard.
The very next morning, a Sunday, our plan was to visit the designer outlet mall about 45 minutes outside of Paris. I decided that my new tote would have its maiden voyage that day. We taped a quick un-boxing video with the Eiffel tower in sight (you'll need to catch that @pursebop). When done, off we went to spend the better part of the day strolling and shopping at the designer outlet mall.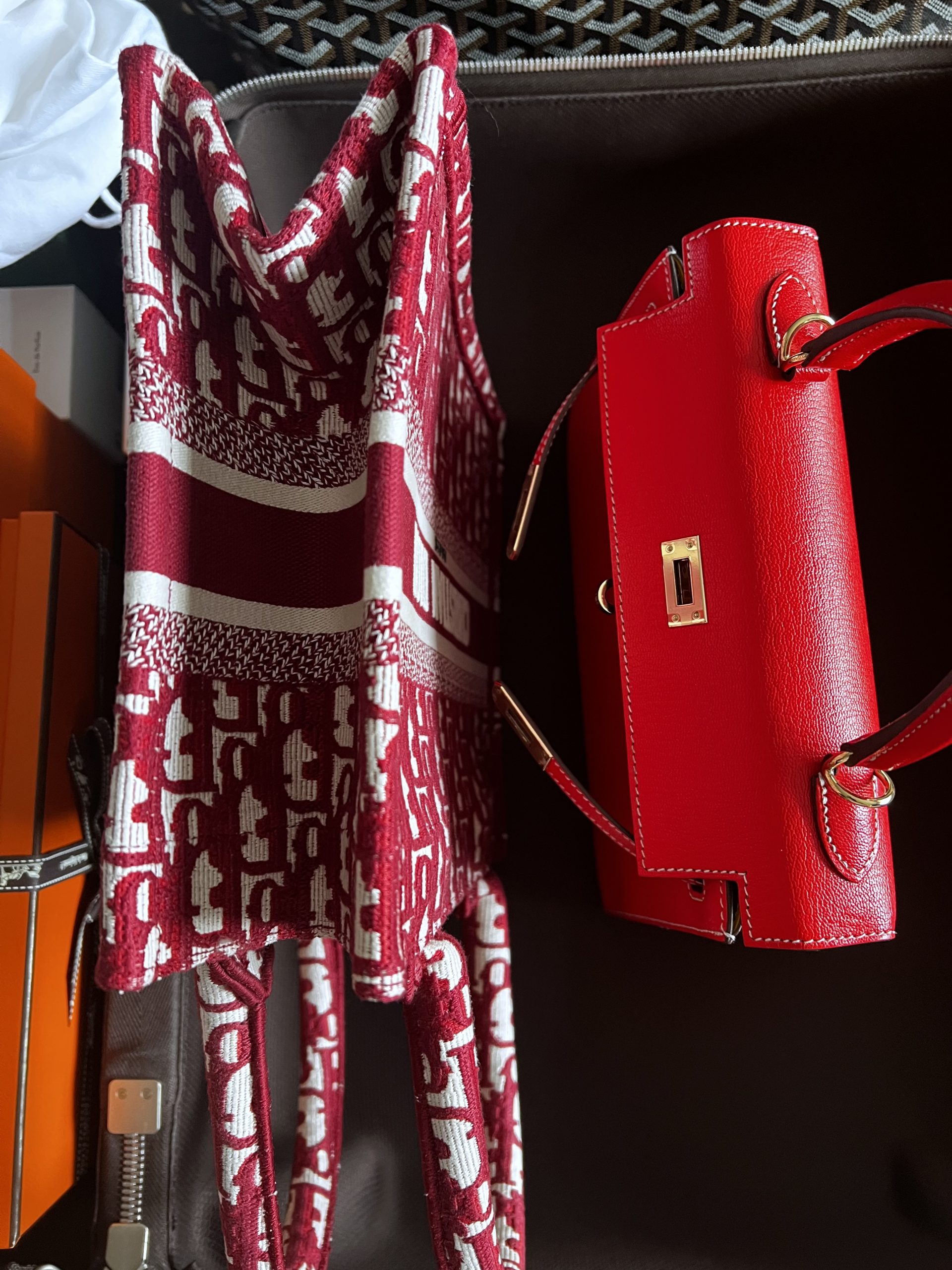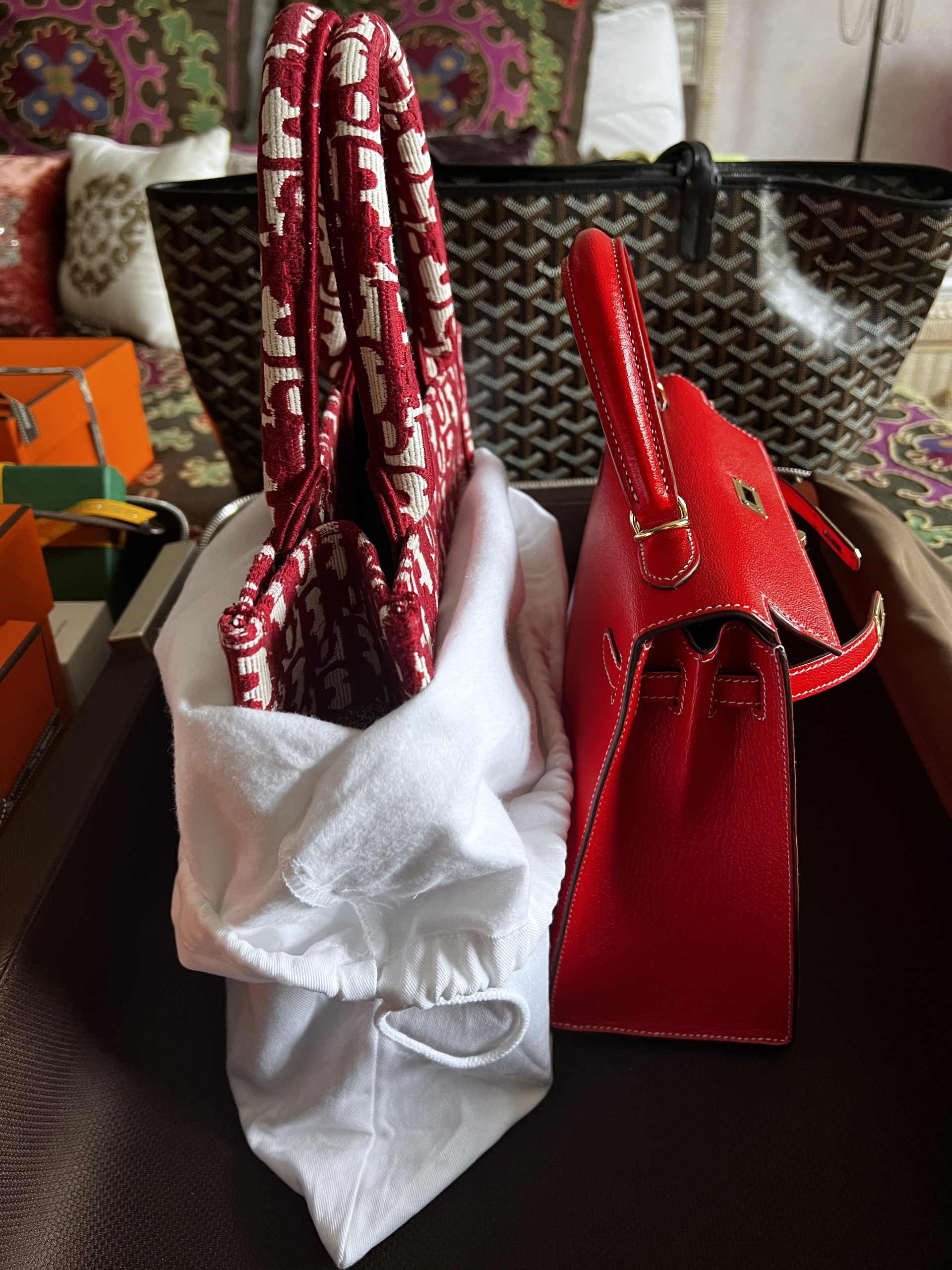 Let me tell you with full confidence, the small Dior book tote will be very popular. I carried my wallet, passport, sunglasses, lipstick, hand cream, sanitizer, and a small water bottle. The bag was super light and easy. Its handle is big enough to fit comfortably in the crook of your arm like a Birkin, as well as handheld. I absolutely adored the ease and the weight. Apparently I wasn't the only one who noticed the bag. I received several compliments as I strolled the day away with my new book tote.
A very happy story and purchase. This was my only Dior purchase in Paris this trip… at least until we reached the duty-free shops at the airport on the day of our departure. OMG 😱
Before us was the most beautiful lady Dior I have ever seen in my life. A stealth black on black in a leather that gave the illusion of metal. The craftsmanship, the quality, the weight- all of it beyond any words that I can use to describe. Rarely do I fall in love with things spontaneously but this was definitely one of those moments. It was the black on black lady Dior from the S/S collection. My girlfriend and I were both in total awe and each of us considered purchasing one.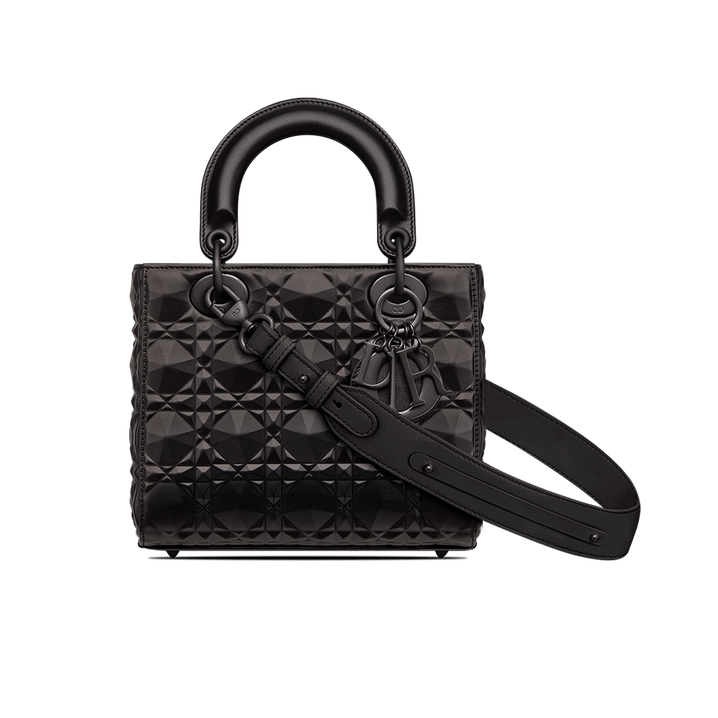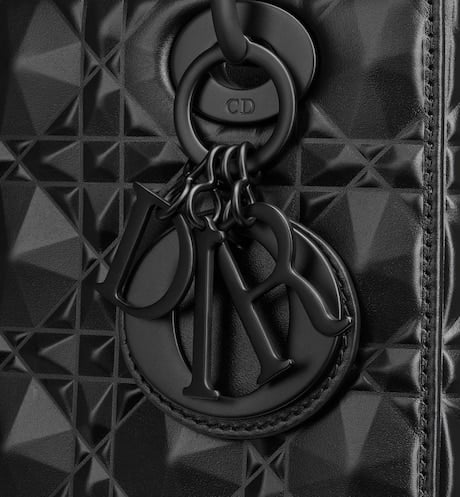 My issue- I struggled with space. I did not have any carry-on room left and of course my Tumi suitcase was jam-packed and already checked in. In my hands, I was forced to carry a computer bag outside of my carry-on, because it was occupied with the new Hermès box. I should have taken a photo for you (unfortunately I neglected to take any photos for this segment of the article as it would have been a delight to see us navigate this process that follows).
Honestly this was my only hesitation. Space. I just didn't want to be walking through customs with things hanging off of every part of my body. I even FaceTimed the third girlfriend who lived in Paris, and she agreed wholeheartedly that this was absolutely stunning, but we struggled with how I would carry it. Now the girlfriend that I was traveling with, Sabrina, had some options. She was carrying a Louis Vuitton carry-on, and her XX large airport Chanel flap- you know the one that has the place to put the telescope carry on handles through it?  Well she was carrying that with her Chanel Reissue 227 (the maxi size inside it). We contemplated how we could rearrange her carry-on luggage to accommodate this gorgeous Lady Dior. It was decided she would carry the Reissue over her shoulder and put the new Dior inside her Chanel XX large flap. Believe it or not, it fit like a glove.
So now, envision Sabrina with her Louis Vuitton carry-on, and resting upon it her XX large flap and over her shoulder her Reissue. It worked. This beauty was coming home – at least for one of us.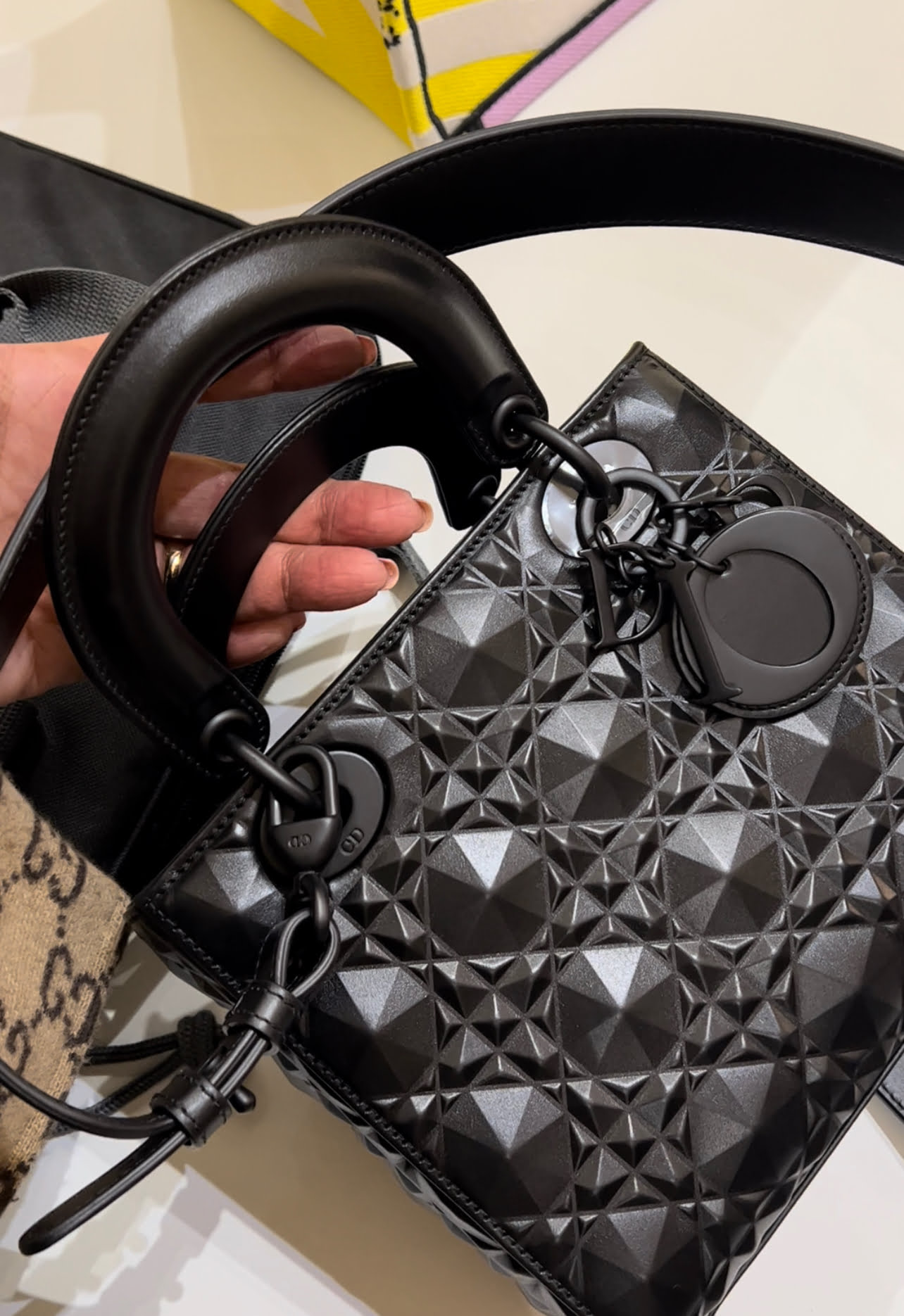 Handbag Math - Dior Prices France versus USA
Now we're going to talk about Dior Prices, and how phenomenal they are. If you remember, when I returned from Paris in December, I dedicated a complete article to this topic alone. The article is titled Lesson Learned: Dior Is a Better Deal in Paris.
The handbag math that I am about to share with you will unequivocally prove how impressive the price differences are between the United States and France despite the recent price increases.
USA 🇺🇸 $3250 + $325 (Chicago sales tax) = $3575
France 🇫🇷 2500€ – 10% (VAT 250€) = $2250€ = $2373.42 versus  $3575 = $1201.58 savings by purchasing in Paris.
USA 🇺🇸 $5300 + $530 (Chicago sales tax) = $5830
France 🇫🇷 3680€ after VAT at duty free = $3881.86
$5830 – $3881.86 = $1948.14 savings by purchasing in Paris.
The numbers speak for themselves. We saved 33.6% on the tote and 33.4% on the Lady Dior.
I have not included duty charged at customs upon entering the US market but you can assume 3-10% depending on the customs officer. Each case will be individual but we encourage you to always DECLARE your purchases.
We discuss this in detail here: Part III from Paris: Hermès Prices, VAT and Customs