Picture it: Heathrow airport terminal 5… the perfect compact place to do a quick inventory at all the designer boutiques. Of course there's Chanel, Hermes, Louis Vuitton & Dior. With a three hour layover before the flight to Cairo, we ladies left the gentlemen and our bags in the BA lounge. Off we went, dashing from store to store.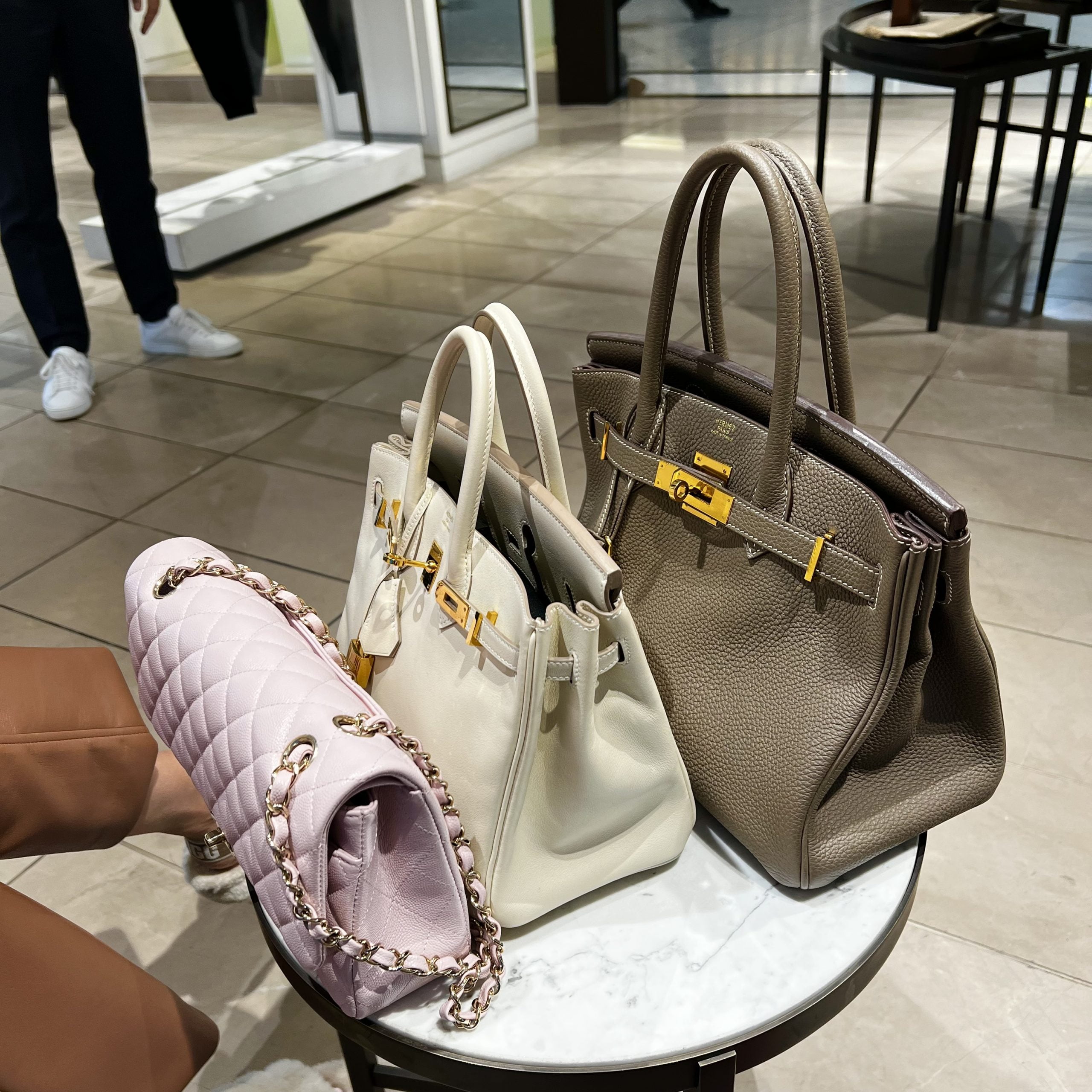 To my delight, I found the latest and newest size of the Dior Book tote at the airport shop. I had seen the mini – which is officially called "small"  – in photos, but it's always better to shop in person. The bag is surprisingly cute. We all went gaga and took several comparison photos.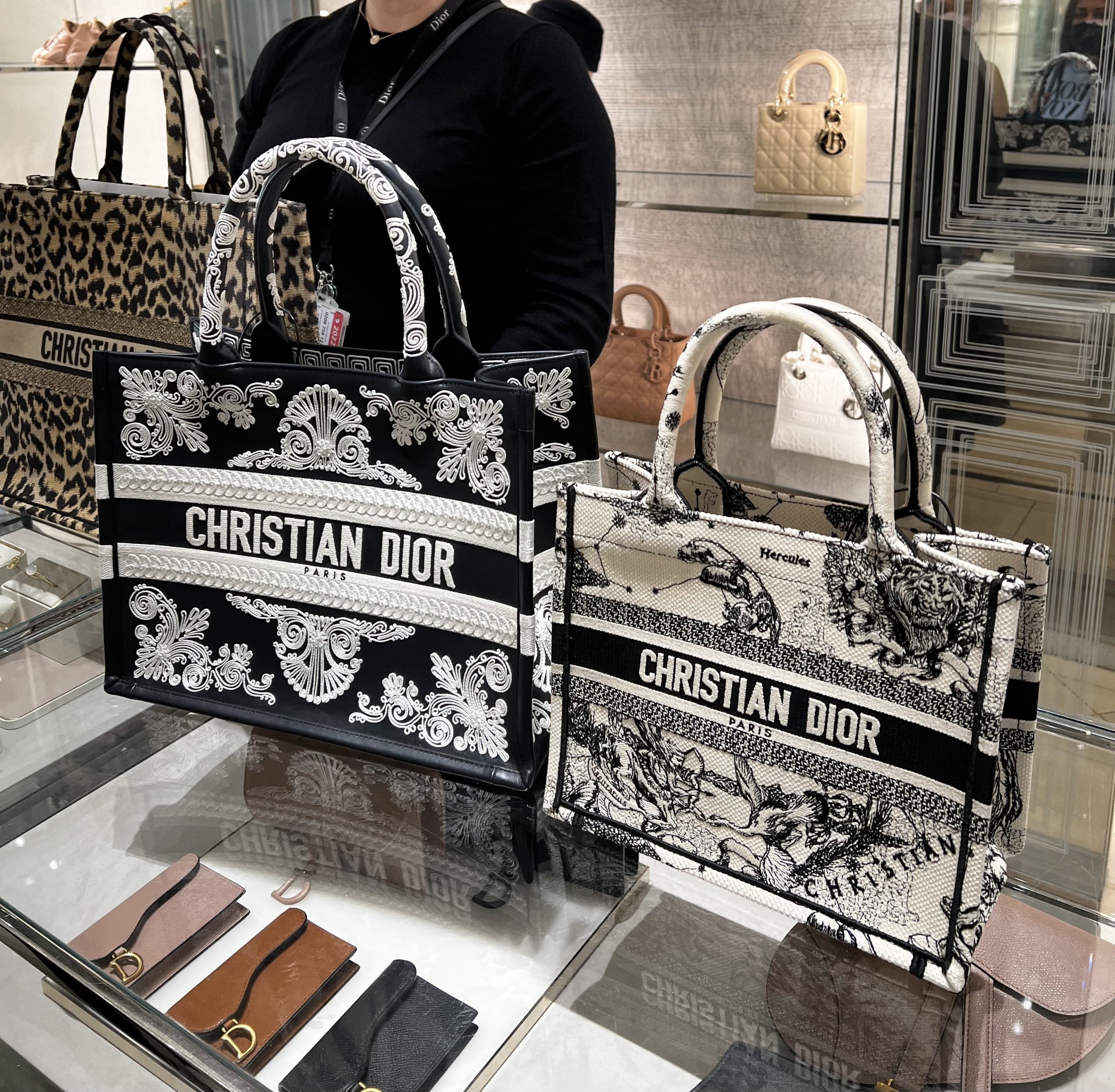 I was seriously tempted.  This stunner came in the Dior oblique classic print as well as a limited edition release at a slightly higher price point. 
As for size, it evoked visions of summer travels in flowy dresses. Think long maxi's, summer flats or pretty sandals, big sunglasses, a hat, with  this petite tote swinging along. Or imagine a crowded café in the summer shade sipping chilled Chardonnay in the French Riviera. 
My imagination always runs wild with vivid images of a glamorous life. But, here's the glitch: the color and pattern options for this tote just didn't match my vision. Or my wardrobe. However, it just might match yours.
You might be wondering about the size – is it big enough and yet small enough. Regarding capacity, the small Tote perfectly accommodates  a large sunglass case, phone, plus many other small essentials. 
In fact, our sales associate reached for my Chanel classic flap and asked if she could place it within the tote. To our surprise, it fit. For an overnight trip, or a quick trip to New York, you could easily nest a classic flap in your small tote. I know I know, it's interesting that I relate all bag uses to some travel, whether domestic or exotic, but that's just how I rationalize purchases.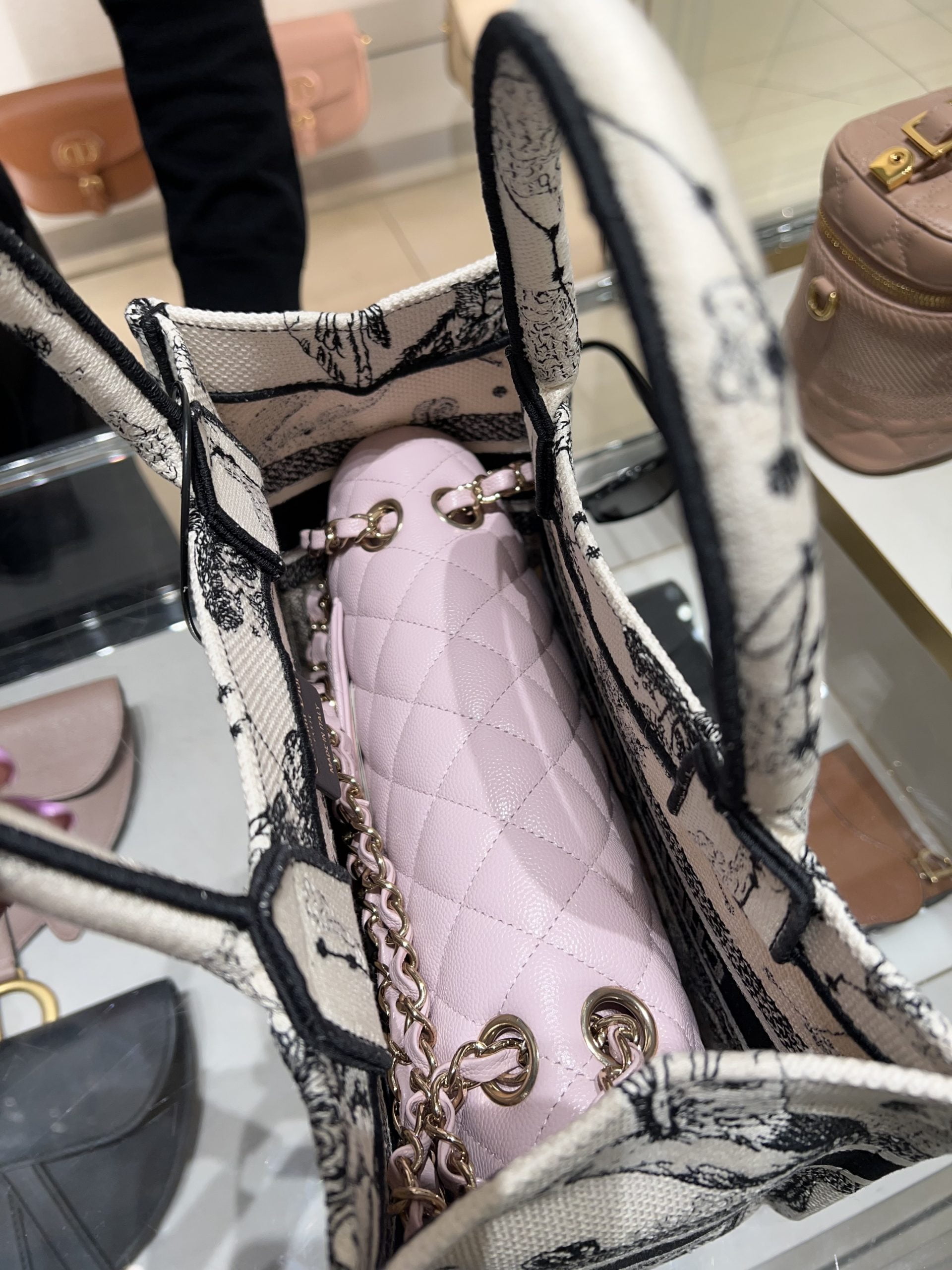 In the real world LOL, I can see this bag working for a mother (or father) with little children. Big enough for a bottle, diapers, a wallet and more. But even without the tots, it's a great daily bag for quick errands, trips to the school library or Costco. 
Plus, I did the HANDBAG math. Sure enough, the retail cost proved to be about $250 cheaper in the U.K. than in the United States. When taking into account the absence of U.S. sales tax, there could be a $500 savings. That's not bad for a lower priced item. 
On the other hand, the Mini Dior Tote is relatively expensive at $3,250. The large model in the same fabrication is $3,500. So if you buy according to cost per square inch (as no one does lol), the Mini (small) size is probably no bargain.
Now remember, as we've discussed recently, there is no longer any VAT refund for travelers shopping in the U.K. This change came in January 2021 when Brexit rules went into effect. However, if I popped across the "pond" and  purchased this small tote in Paris, there'd be an additional 10% of savings from the VAT refund option. I share this with you as many of you have reached out to me on Instagram regarding Chanel math following my visit to Heathrow.
Read also:

As I said, I didn't indulge in this cutie because the prints and colors don't match my wardrobe. But perhaps, it fits yours.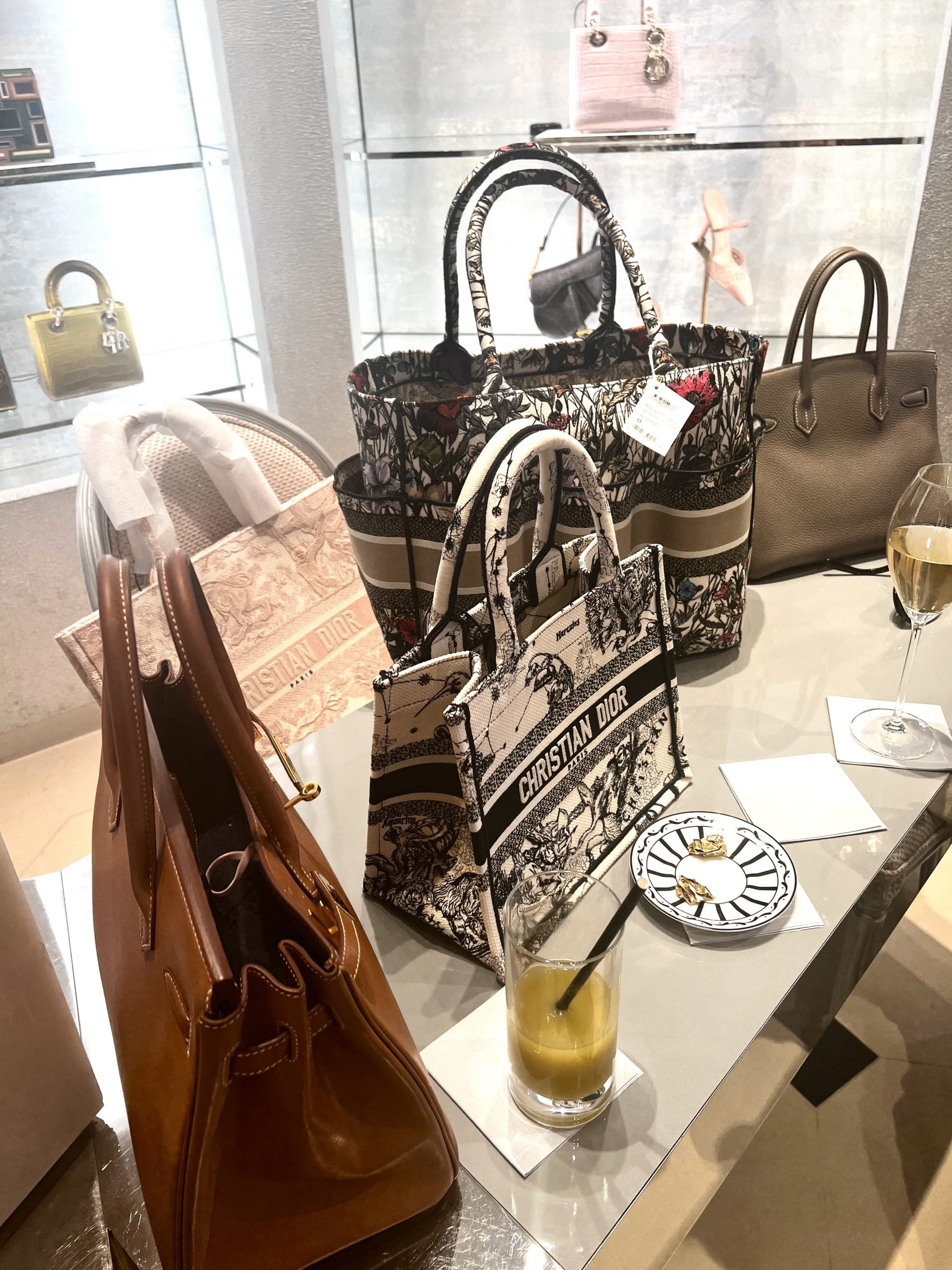 I think there's a sweet spot in your collection for this new small tote. As for additional colorways, it depends upon the new size's popularity. If it sells, there will be more variety.
In short, this mini tote seems easier to use than Dior's other very small size tote with a handle. If you recall, my first experience with the Book tote was the medium size. I quickly discovered that it was not utilitarian for me – neither big enough nor small enough. As a result, I later purchased the large (or original) size which has been a delight in my travels. It easily nests a Birkin 30, plus a Chanel flap, and then some. 
Clearly the book tote has become a staple in our collections and Dior is brilliant to continue to tempt us with new sizes. Let's see what the next seasons bring.