Totes are the perfect utilitarian bag. Whether you're traveling, going between work or school, nesting your handbag, or just trying to carry a bottle of wine and a few books, totes have you covered. There's no wonder why they are often the preferred day-to-day bag for many a fashionista. Totes carry your whole life.
But are you tote-ally confused about which tote is best for you? No worries. We've evaluated three of the hot top picks – the small Dior Book Tote, theGoyard Artois GM, and the Louis Vuitton Neverfull MM.  While we discuss various features of each, the real comparison is in the photos.
We've talked about totes here before. How could we not? Here's an important list of articles you should consider if you want to delve even further into each style: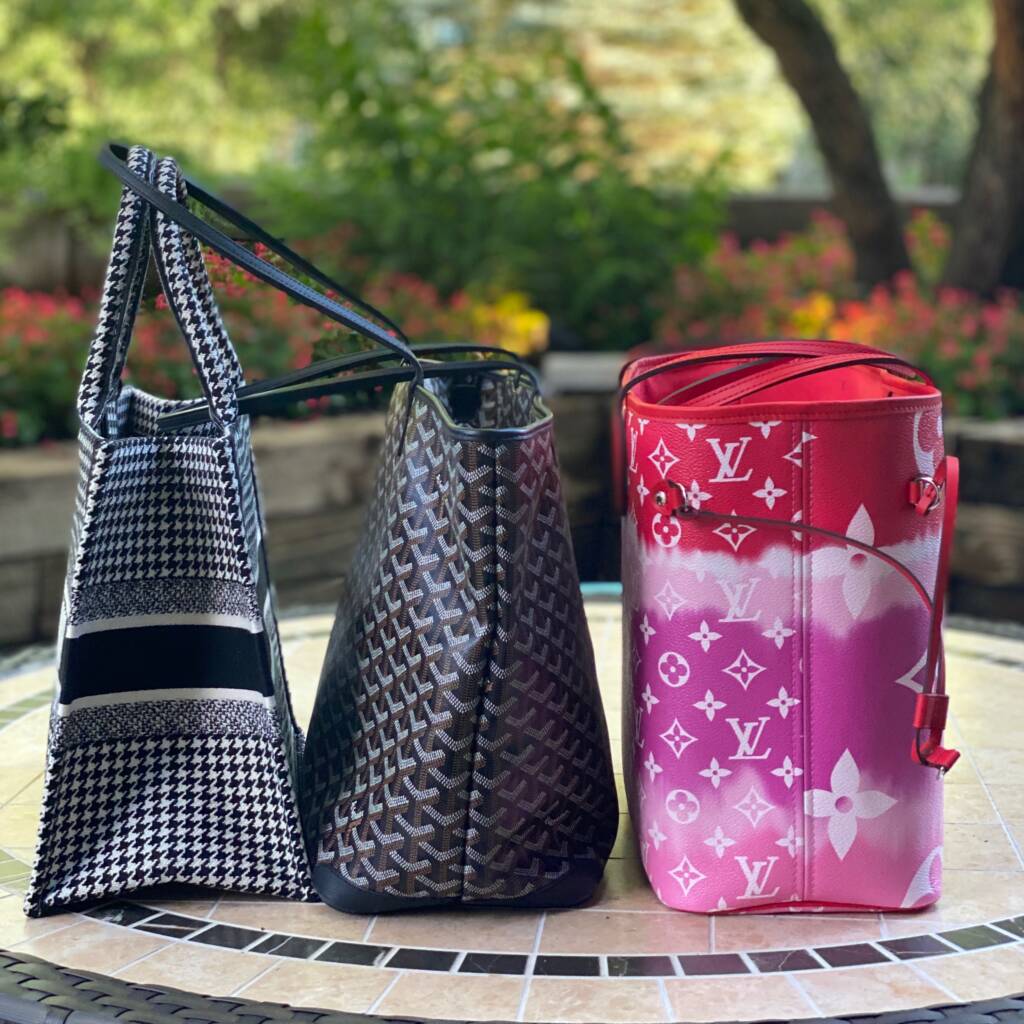 We selected these bags because they are all roughly the same size. As you will see, however, size is only one factor in selecting the right tote. Despite the size similarity, these bags are far from identical. We looked at (and show you in the photos):
strap /handle length
interior pockets/ storage
top closure
fabric durability
style/fashion
price
what fits in each tote/nesting bags
Tote Size and Strap Length
Starting with the basics – just how big (or small) are the bags? As you can see, all three stand about the same height and depth, with the Louis Vuitton a couple of inches shorter in length (although near impossible to catch at a casual glance). 
LV Neverfull – 12.2″L x 11.2″H x 6.7″D
Dior Book Tote – 14.4″L x 11″H x 6.9D
Goyard Artois – 14.5″L x 11″H x 6.25″D
One of the less talked about, but in our opinion most important considerations, is the strap length. Taking a close look at the photos below, the Goyard Artois has the longest straps, allowing it to be easily slung over the shoulder, even with a bulky winter coat. Next is the LV Neverfull, which also can be carried on the shoulder, but with a tighter fit.  Lastly, the small Dior Tote is mainly intended to be toted by hand.
Please note: our model has a petite frame at 5'1 and is a size 2/4. 
Tote Interior & Pockets
If you're looking for interior sections or pockets, these bags are primarily open space. When it comes to features, the LV Neverfull bag definitely has the most, from the generous zippered interior pocket to the removable pouch.
The Goyard Artois has a sturdy open interior pocket suitable for holding a wallet, phone and/or travel documents (but does not have a zip).
The Dior Book Tote does not have any interior pockets.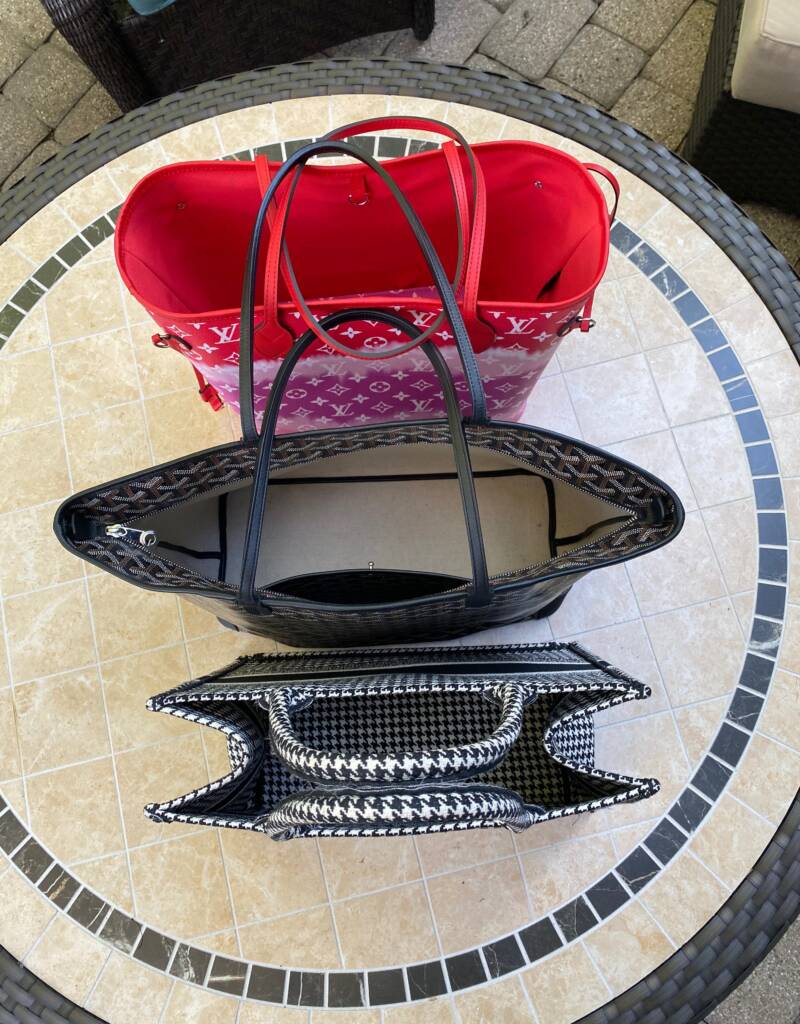 Tote Top Closure
The top closure could be a deal breaker or decider if you're looking for a bag that fully closes. Only the Goyard Artois has a zipper top providing security to keep your items in and unwanted hands out (unlike its sister the Goyard Saint Louis tote, read: Goyard Tote Battle: Artois Takes on Saint Louis).
On the other hand, depending upon your purpose, maybe the zipper makes it slightly more difficult to get in and out of the bag.
The LV Neverfull, although still an open top bag, does have side-cinching capability with laces. This feature allows the bag to be somewhat closed, as you can see from the photos below.
For a pure, dump it in and pull it out bag, the Dior Book Tote may be for you. It is a fully open and accessible bag.
Tote Fabric and Durability
When we discuss fabrication and durability, be clear that we are not looking at the leather models of these totes. Both the Goyard and the Louis Vuitton use their versions of coated canvas –  lightweight yet offering some structure and designed for a measure of protection from wear and tear (and water). Of course, neither of these bags are bulletproof, but they are more durable. Both of these boast leather trim and straps.
The Dior book tote is made of a woven jute fabric. It's quite lovely and more complex than it seems. However, it is subject to the effects of water, stain and general usage.
In terms of style and fashion, ultimately it's a matter of personal taste. The Goyard Artois is more utilitarian looking – for business and travel. The LV Neverfull skips from work to beach and everything in between. Louis Vuitton continually updates its fabrication options and often includes this style in its latest concepts, perhaps lifting its fashionability score. The Dior Tote is in some ways the more upscale fashion option  – seen on the wrists of fashionistas world wide. Shown often with matching ready-to-wear or accessories, it may be the most high end look of the three.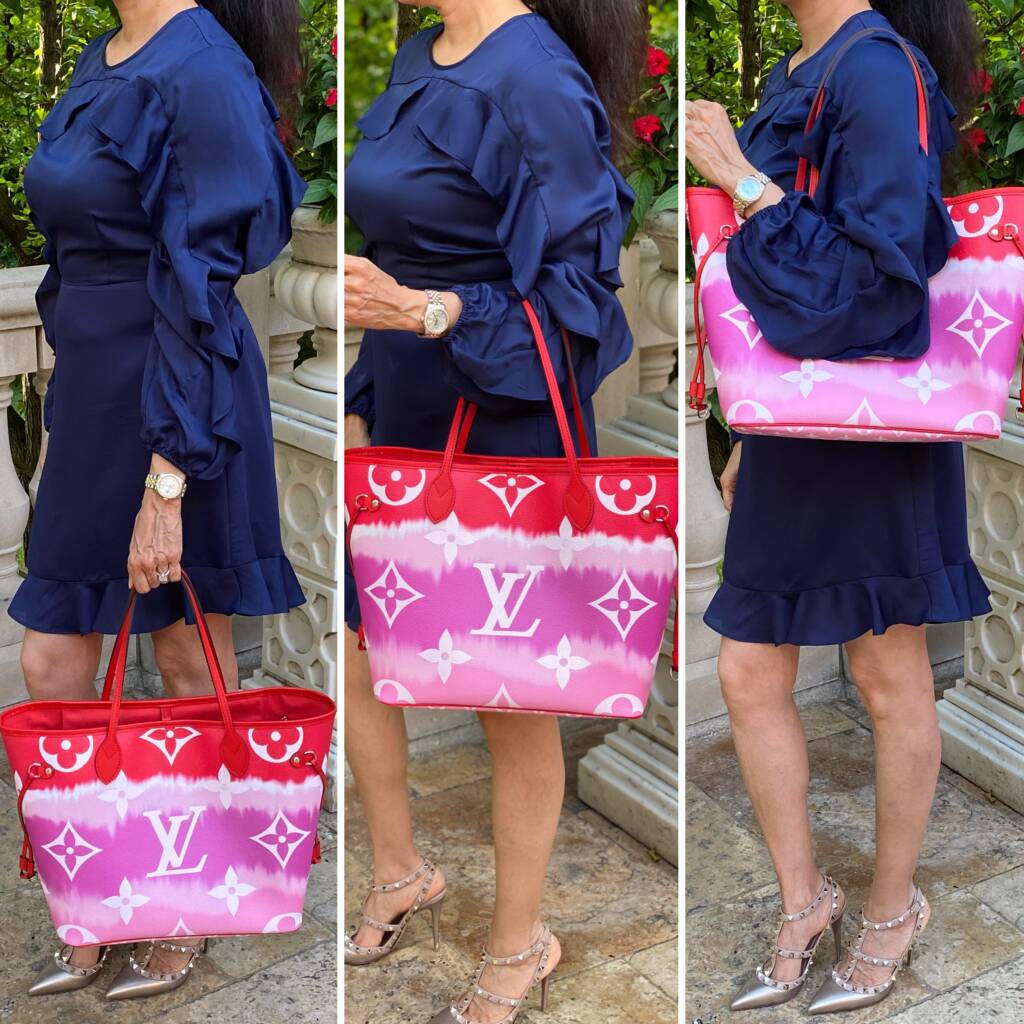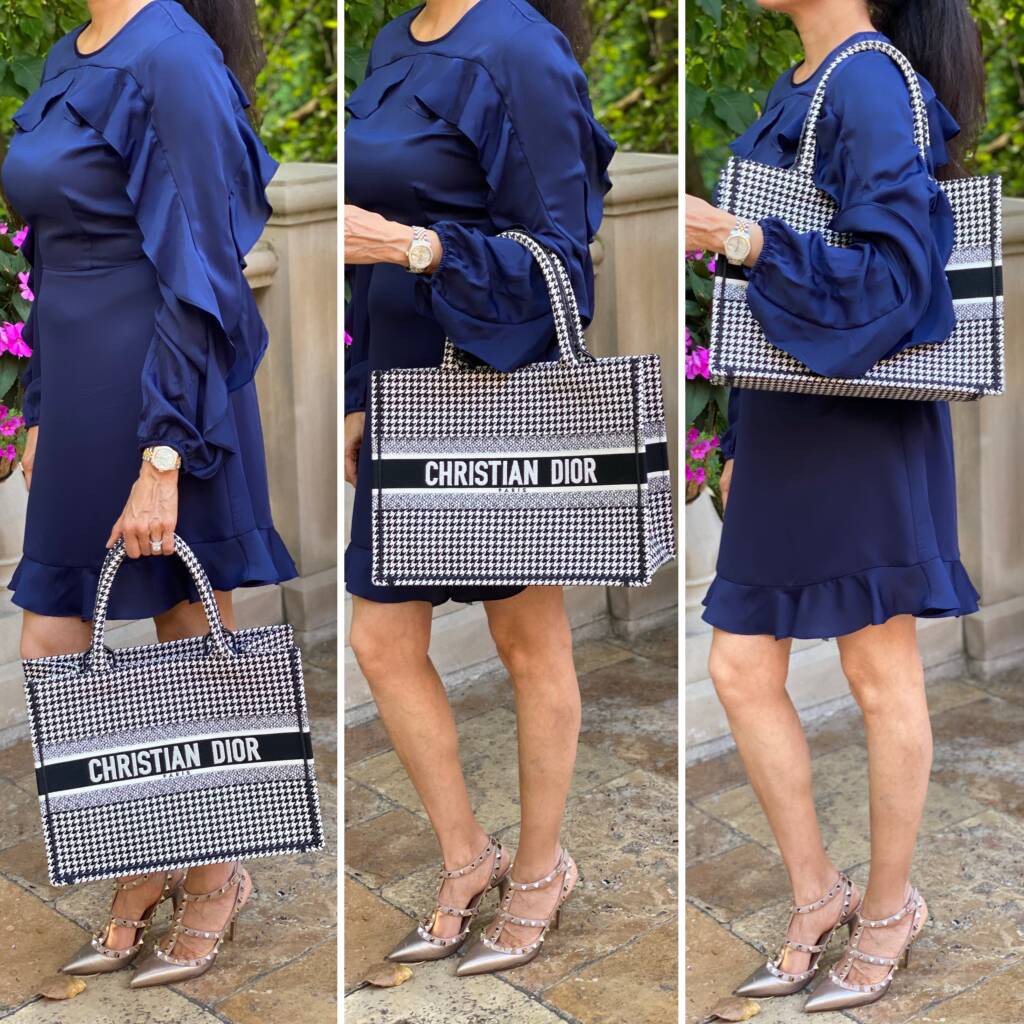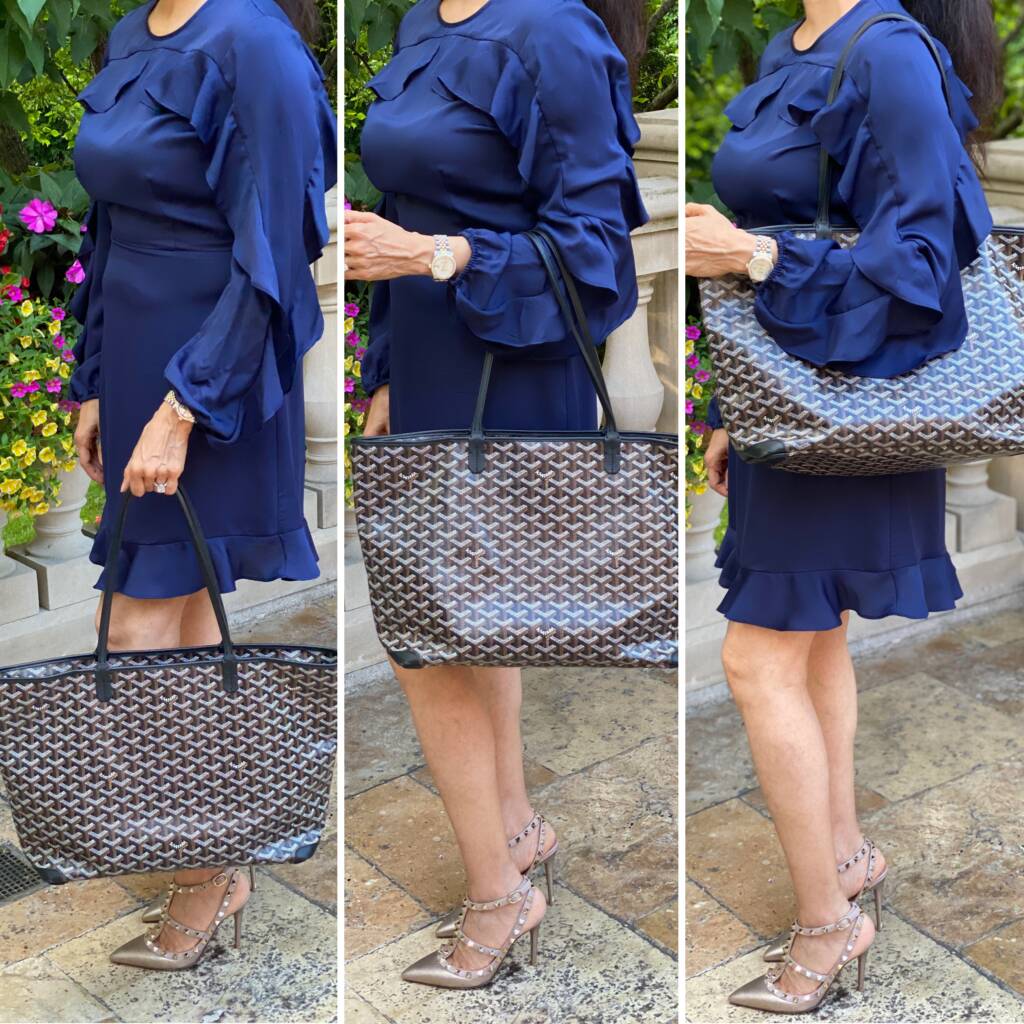 Prices of Totes
What Fits in Each Tote: Nesting Bags for Travel
Ah nesting. And by that we mean the exact opposite of staying home, lol. No PurseBop tote article is complete without a discussion of which bags comfortably nest within the tote. It's a critical factor for seasoned travelers who pack a variety of handbags for the excursion or who hope to bring home new acquisitions (read: Important Tips for Traveling with Luxury Goods). 
LV Neverfull MM accommodates Hermès B30 ,B25s, K25's and K28's. However,  the narrower base of the Neverfull will not allow for a larger bag. Another great article that summarizes the LV Neverfull for travel is this: A Travel Tote for Every Handbag
Dior Small Book Tote  manages a Birkin 30 but it's a very snug fit. See many photos here: Investigative Report and Reveal of the Smaller Dior Book Tote
Goyard Artois GM easily fits B25s, K25's and K28's even when zippered shut. The Birkin 30 and Kelly 32 go into the bag but the handles prevent closure. Otherwise it is a great option.
Three great options… proving that size isn't the only thing that matters. These seemingly comparable bags are as different as they are the same.
So, which tote came out on top? Which factor is the most important to you when determining your ideal carry-all? Let us know in the comments below.