There is a bag for every occasion…different bags meet different needs. When it comes to choosing bags for my collection, I want every bag to serve a specific purpose in order to make my closet more well-rounded.
Hermes Bags
My Birkin 35 is perfect for work when toting around realms of paper and folder. In the winter, I can fill her with scarves, shawls and other accessories. My Birkin 30 is more for everyday use. I choose a Kelly for occasions when I need a shoulder strap option. An Evelyne is for casual occasions. My clutches, like Jige and Kelly cut,  serve dual purposes as they can transition from day to night bags. My Roulis can be dressed up or dressed down, and the shoulder strap makes it a versatile bag. The Constance serves a similar purpose, but is more formal.
The Picotin for me is such a fun, cutsie bag that I get a lot of use from. It is  light, and it is almost like a tote, so it is relatively easy to grab and store things in it. Plus, it's a relatively carefree bag and can be taken places where I may not be comfortable taking my more recognizable tote, the Birkin.
Chanel Bags
The Chanel mini is another versatile bag that I use to run errands during the weekend such as chauffeuring my kids to their activities and back. The Chanel reissue for me is one of the most indestructible bags in my collection. The CC mini is light and great for days that you feel like being incognito.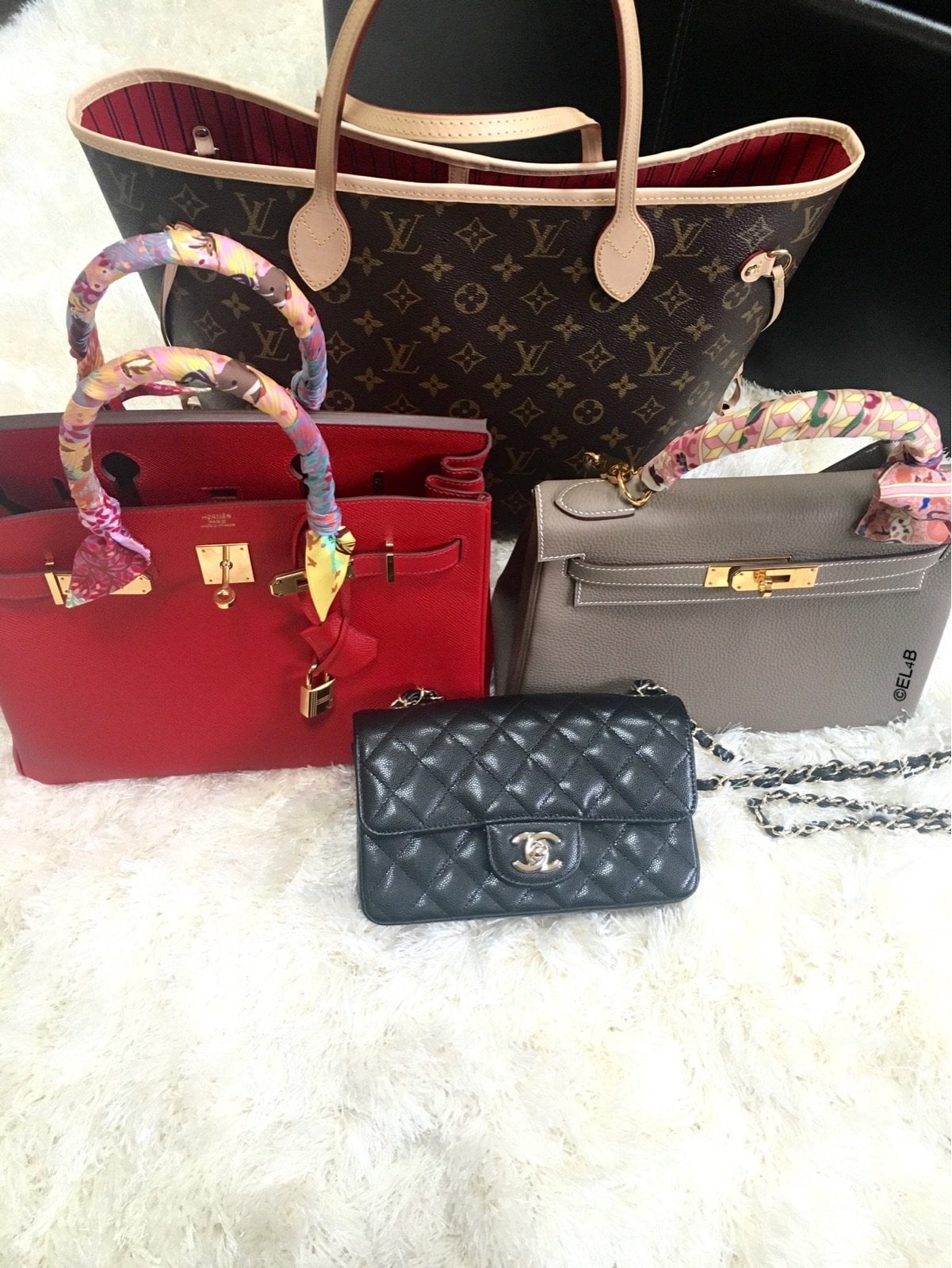 Until recently, I thought I had all my bases covered in the bag world. However, a couple of weeks back I had an unexpected international trip coming up, and that's when I realized I have NO bags that fit the criteria of a TRAVEL bag!!
My mind raced as I thought of options…which amongst my current bags would be my carefree, travel companion? Strangely, none came to mind! Seriously? I own 12 bags and NONE are fit for international travel??? Don't get me wrong. It's not that none can be taken for travel. I am sure many of you have traveled with one of the above mentioned bags with no issues, but I needed an indestructible tote that would fit one of my precious Hermes or Chanel cargo.
Travel Bag Criteria
My requests were simple.  My travel bag needed to be utilarian, carry it all bag:
Rugged
Stylish
Have the capacity to carry a lot stuff
Lightweight
Carefree
Essentially, I wanted a maintenance free-bag. I didn't want to be weighed down by the bag itself, or knocking into people at the airport with a bulky bag. I wanted to be able to set my bag down on the floor at the airport or under my seat during flight.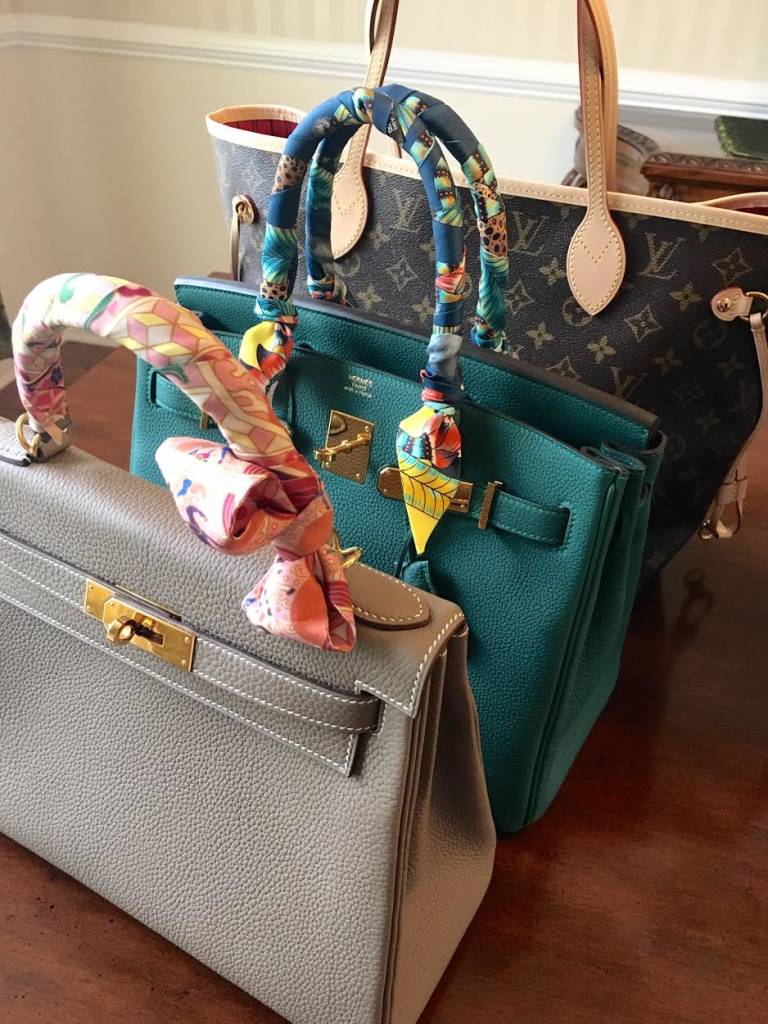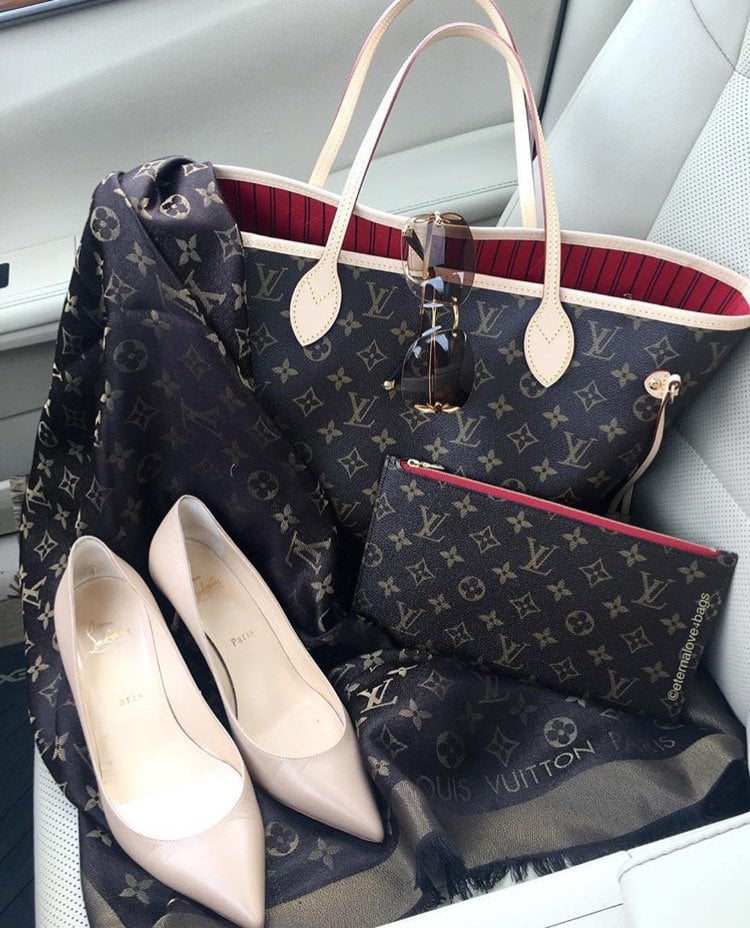 Chic, but Worry-Free Bags
I thought of two options immediately – the Goyard Saint Louis tote and Louis Vutton Neverfull tote. I am not a huge fan of logo bags, so I always shied away from LV monogram bags. To be completely honest, the Neverfull lost its charm when every 15th person in the city I live in seemed to be carrying one too. Although I have to admit somewhere deep down I really liked LV Neverfull. Why? No clue. I had more reasons to dislike it than like it, but subconsciously I guess I felt a connection to it, which is hard to explain.
I reached out to my amazing friends who are my sound board for everything life related. Presto! Within minutes we had a winner between Goyard and Louis Vuitton.
I trust my friends' judgements implicitly. Two out of four owned LV Neverfulls, and one of them owned the LV speedy in canvas. All my friends had the same praises: "It's indestructible!. That's exactly what I wanted to hear, and next day I made the fastest purchase of my life. Within five minutes or less the transaction was done, and the LV Neverfull in MM size joined my collection at home.  I am planning on nesting my Chanel mini in my Neverfull tote for an upcoming trip. (Read: Nesting Bags – How to Travel with Handbags) That's another thing I loved about the LV Neverfull. I could easily nest my precious Hermes and Chanel cargo inside it. My B30, K28 and Chanel mini all nest comfortably inside the NF.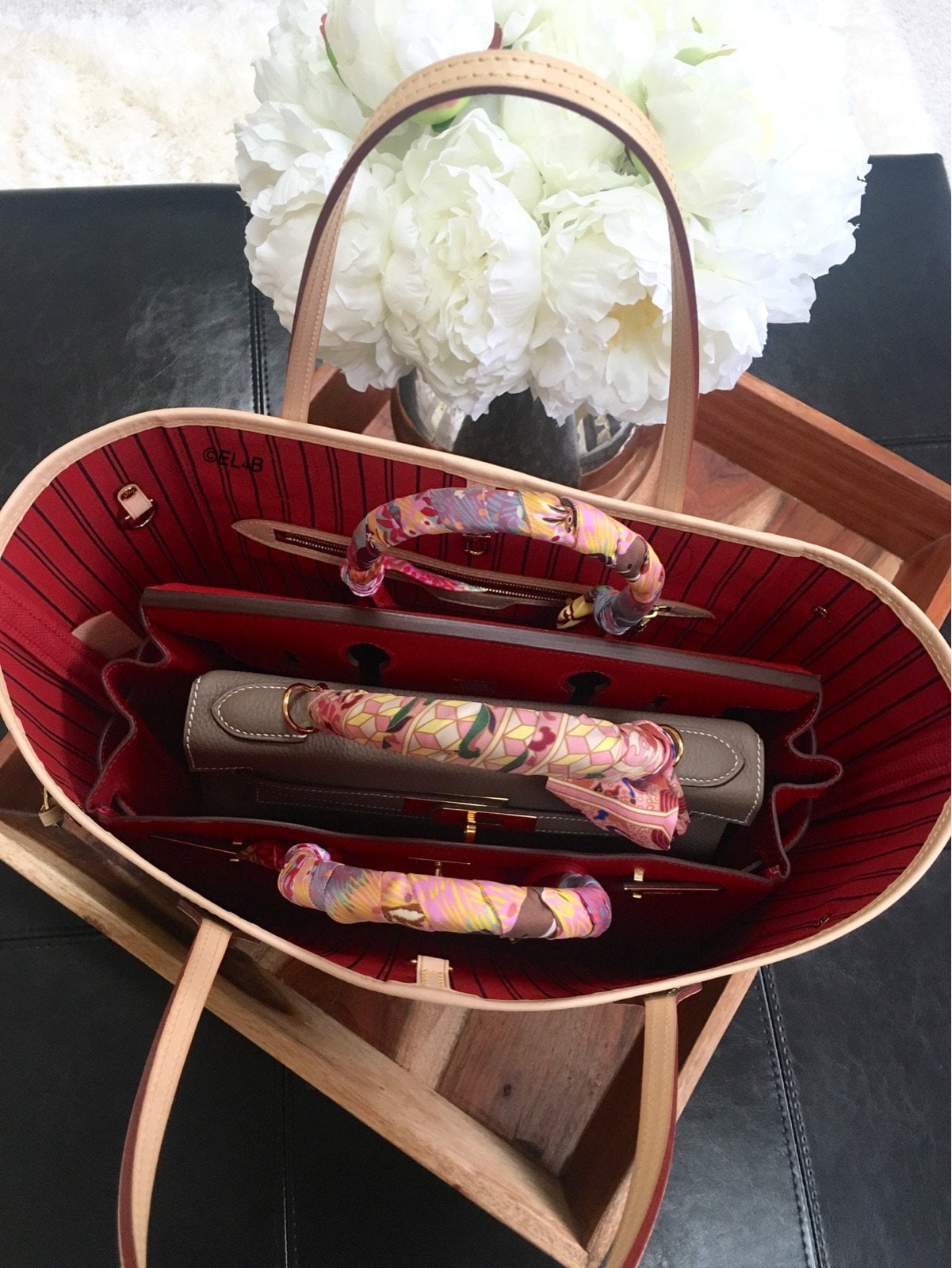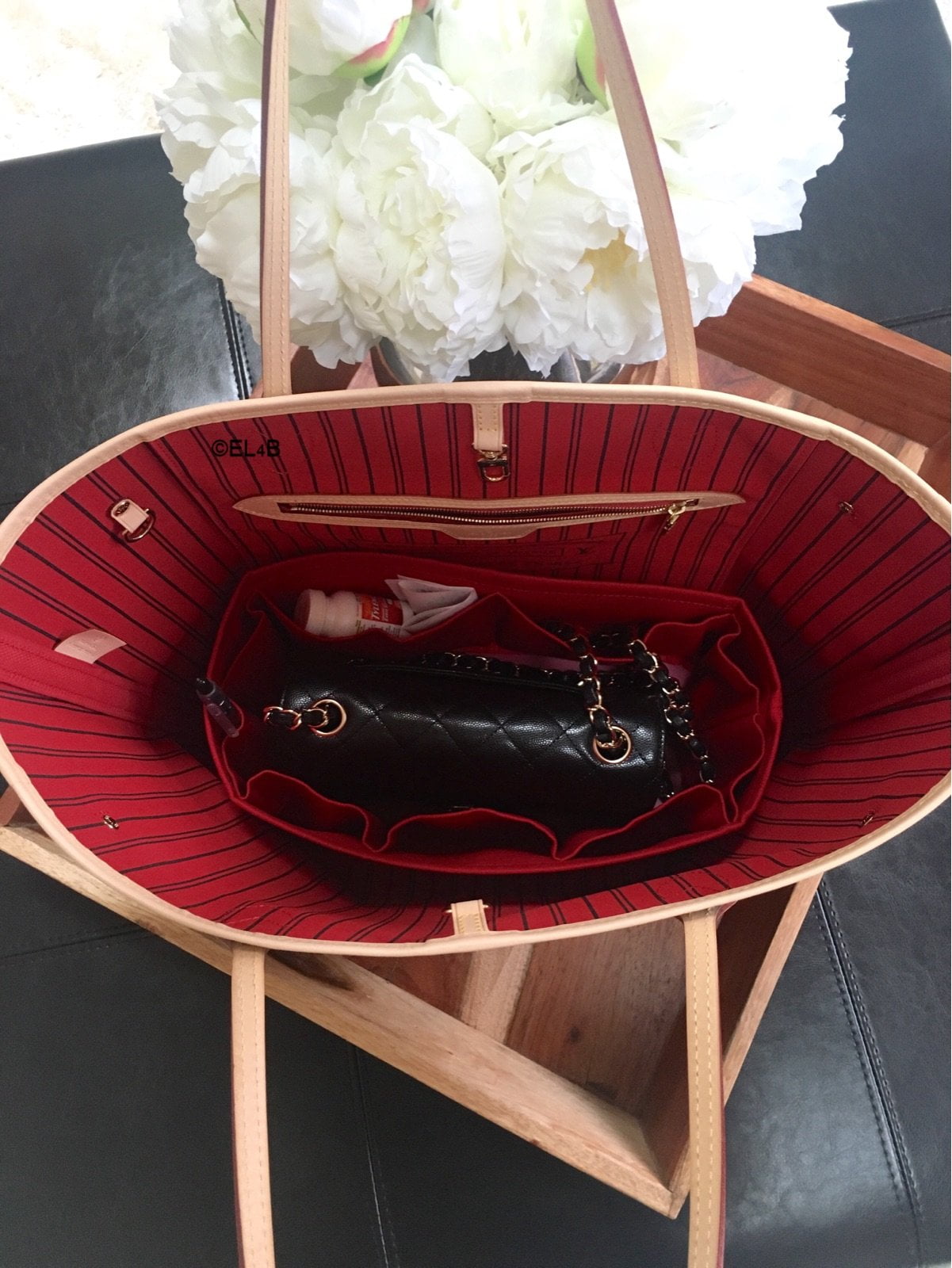 You Can Never Have Enough Totes
I have to admit this new addition is growing on me in a way I never thought possible. I can't wait to travel, and put my Neverfull to use.
I have made my final choice, but I thought it would nice to put together a comparison chart of different traveling totes offered in the market that can be used as potential options for anyone in the same boat as I was couple of weeks back.
| | | | | |
| --- | --- | --- | --- | --- |
| BRAND | MODEL | DIMENSIONS | PRICE | MATERIAL |
| Louis Vuitton | Neverfull MM | 12.6"W x 11.4"H x 6.7"D | $1,260 | Canvas |
| Goyard | St. Louis Tote GM | 13″ W x 23″ H x 7″ D | $1,375 | Goyardine |
| Gucci | Reversible GG Blooms Large Tote | 15"W X 11"H X 5"D | $1,250 | Canvas with leather trim |
| Dolce & Gabbana | Printed Tote | 13.5"W X 14"H X 7"D | $2,175 | Cotton with leather trim |
| Chanel | Deauville Tote Large | 15.2" X 20.5" X 8.3" | $2,900 | Denim, Calfskin |
| Longchamp | Le Pliage Neo Large Tote | 19.5"W X 11.75"H X 7.5"D | $190 | Nylon |
| Kate Spade | Floral-Printed Tote | 13"W x 11"H x 7"D | $228 | Nylon with leather trim |
| Tory Burch | Kerrington Square Striped Tote | 16.25"W X 12.25"H X 6.25"D | $295 | PVC |
| YSL | Large Raffia Beach Tote | 15.5"W x 14.5"H x 6.25"D | $895 | Nylon/cotton |
| | | | | |
| --- | --- | --- | --- | --- |
| BRAND | MODEL | DIMENSIONS | PRICE | MATERIAL |
| Louis Vuitton | Neverfull MM | 12.6"W x 11.4"H x 6.7"D | $1,260 | Canvas |
| Goyard | St. Louis Tote GM | 13″ W x 23″ H x 7″ D | $1,375 | Goyardine |
| Gucci | Reversible GG Blooms Large Tote | 15"W X 11"H X 5"D | $1,250 | Canvas with leather trim |
| Dolce & Gabbana | Printed Tote | 13.5"W X 14"H X 7"D | $2,175 | Cotton with leather trim |
| Chanel | Deauville Tote Large | 15.2" X 20.5" X 8.3" | $2,900 | Denim, Calfskin |
| Longchamp | Le Pliage Neo Large Tote | 19.5"W X 11.75"H X 7.5"D | $190 | Nylon |
| Kate Spade | Floral-Printed Tote | 13"W x 11"H x 7"D | $228 | Nylon with leather trim |
| Tory Burch | Kerrington Square Striped Tote | 16.25"W X 12.25"H X 6.25"D | $295 | PVC |
| YSL | Large Raffia Beach Tote | 15.5"W x 14.5"H x 6.25"D | $895 | Nylon/cotton |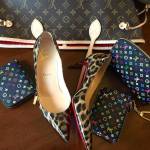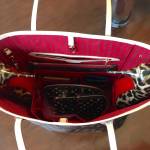 Updated: May 19th, 2017