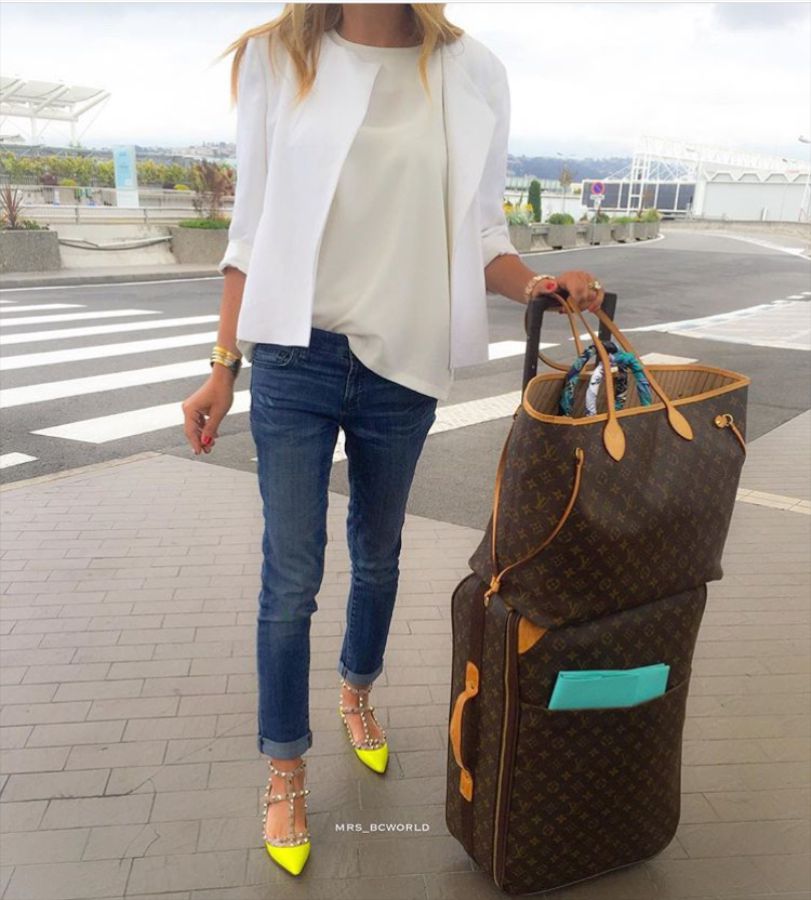 With summertime approaching, you may be planning on doing a lot of traveling and exploring. A huge key to success on any vacation is coordinating the perfect handbag and luggage situation. We love to bring our beloved handbags with us all over the world, but going through the hassle of airports and crowds with our prized possessions can be worrisome. Many of our readers have asked: "How can I travel safely and securely with my designer handbags?" Over the years, PurseBop has provided a fair amount of coverage on her travel methods from what handbags to pack all the way to  how to get luxury goods home safely. Today, we're presenting you with the highlights of all our travel tips in one convenient reference guide. Read over the advice below and continue onto the full features for even more information. Happy Travels!
What to expect from "PurseBop's Handbag Travel Tips" reference guide:
I. Packing and Preparing
II. Carry it ALL – The Tote Bag
III. For Hermes Lovers
IV. Bringing Home the Goods
V. The Perks of Shopping Abroad – Prices, VAT Refund, Custom Duties
Packing and Preparing
Even if you're not an over-packer by nature, true handbag lovers can't resist the temptation to bring every handbag they own even on the shortest of trips (a girl needs options…right?!)
PurseBop is here to teach you how to maximize the space in your carry-on and bring all the bags your heart desires. When packing handbags, you have to think smart and consider the options that will be the most flexible. In order to cultivate a good crew of vacation bags, it might be a good idea to pre-arrange your outfit choices and pick bags that coordinate. If you like dressing up your bag, bring only a selective amount of bag charms and accessories. Keep occasion, purpose, and functionality in mind. Also be realistic about what you will actually bring yourself to carry. You may have a novelty bag that you want to rock with a really fun outfit. You may be out and about sightseeing and just need a neutral, secure bag to accompany you.
Packing your suitcase can be a bit of a puzzle. Utilize your space efficiently and play around with different arrangements of bags. You may be able to bring more than you think! "Nesting" your bags or placing one bag within another can save you a huge amount of space as well.
Keep your valuables in your carry-on. For an extra layer of security, consider buying luggage with a lock.
For more information read: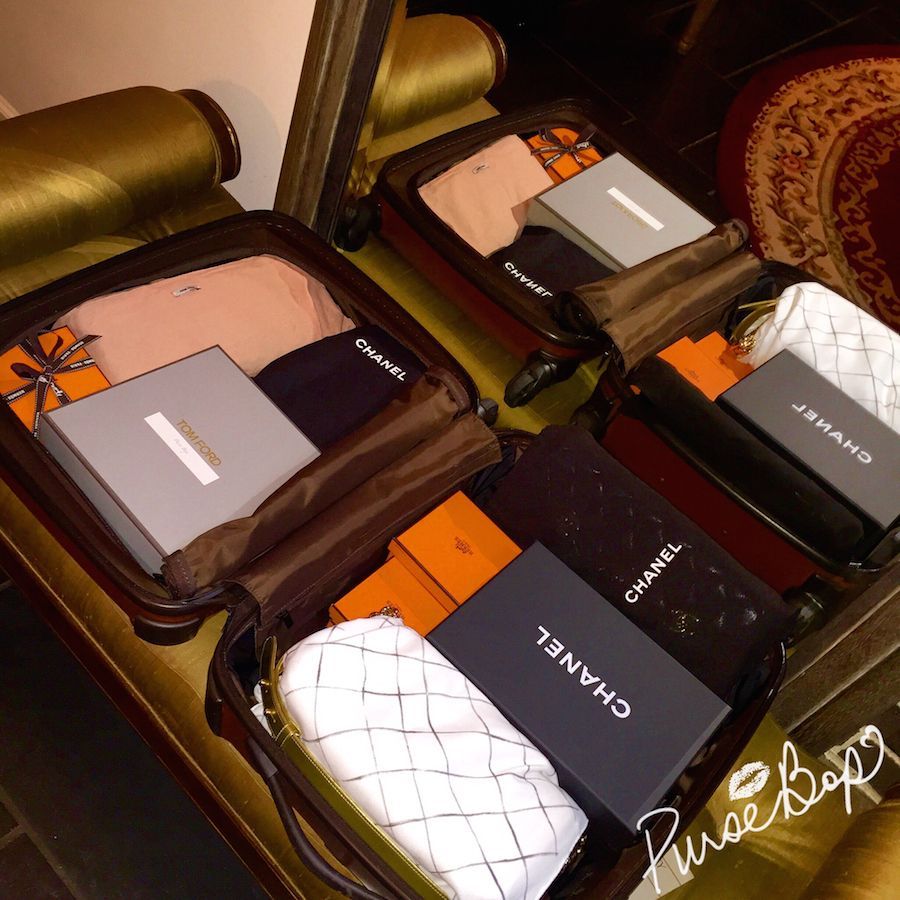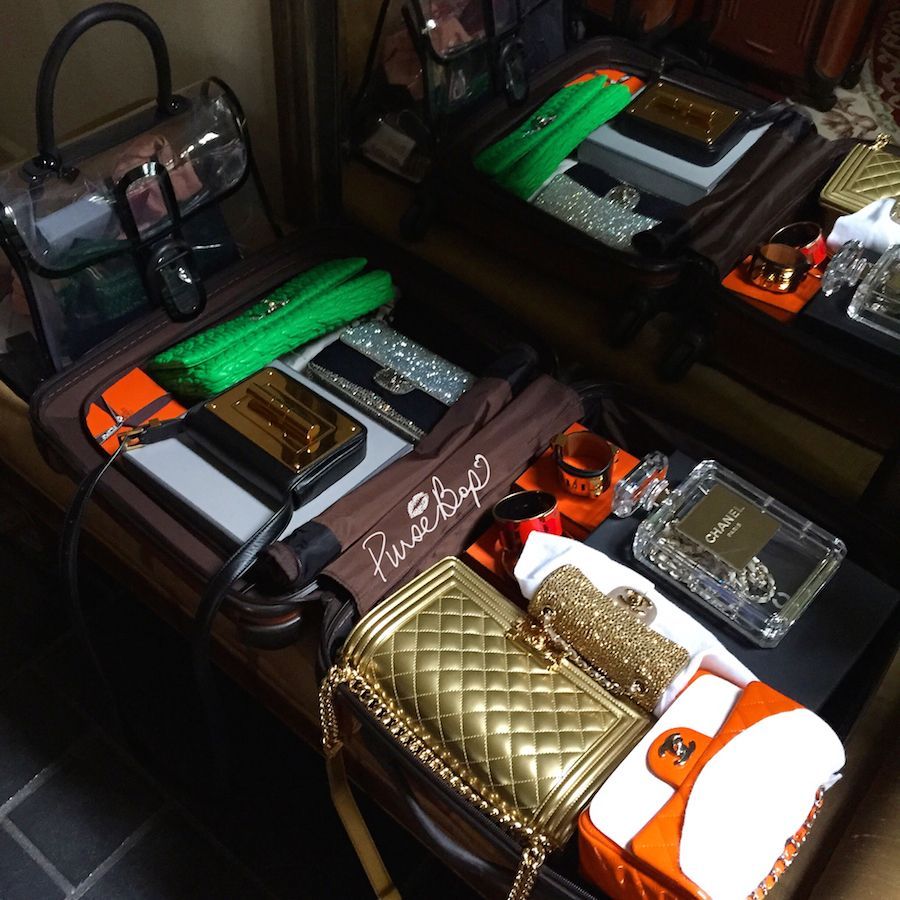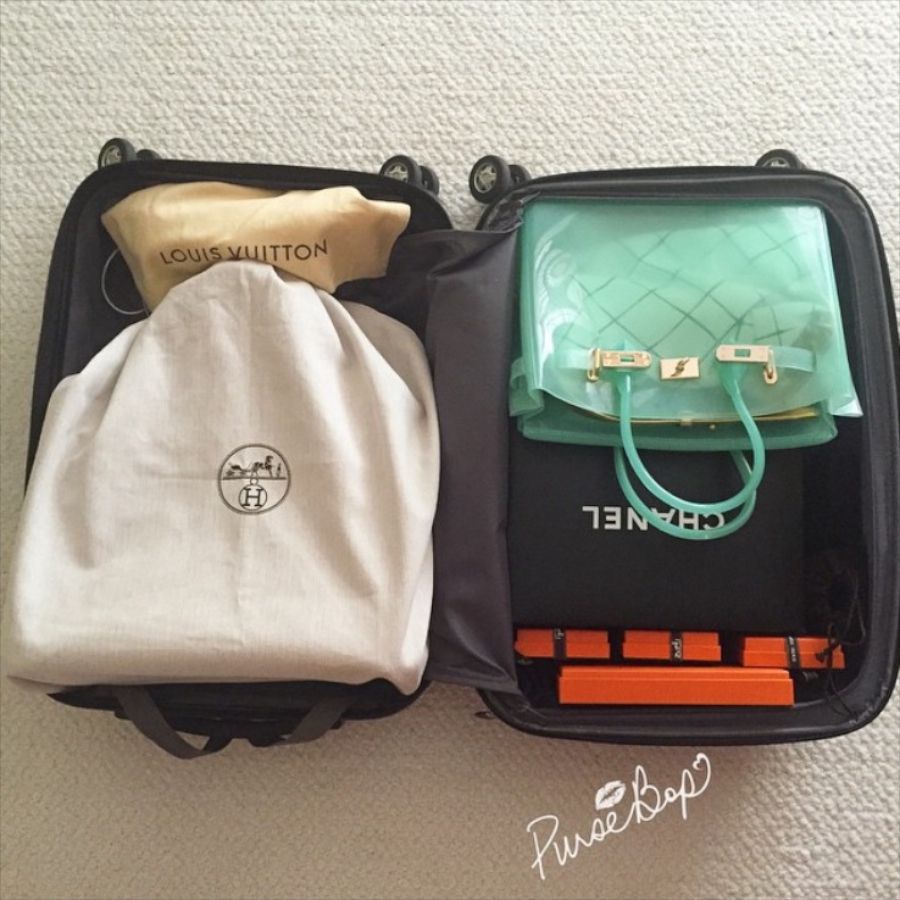 Bag Nesting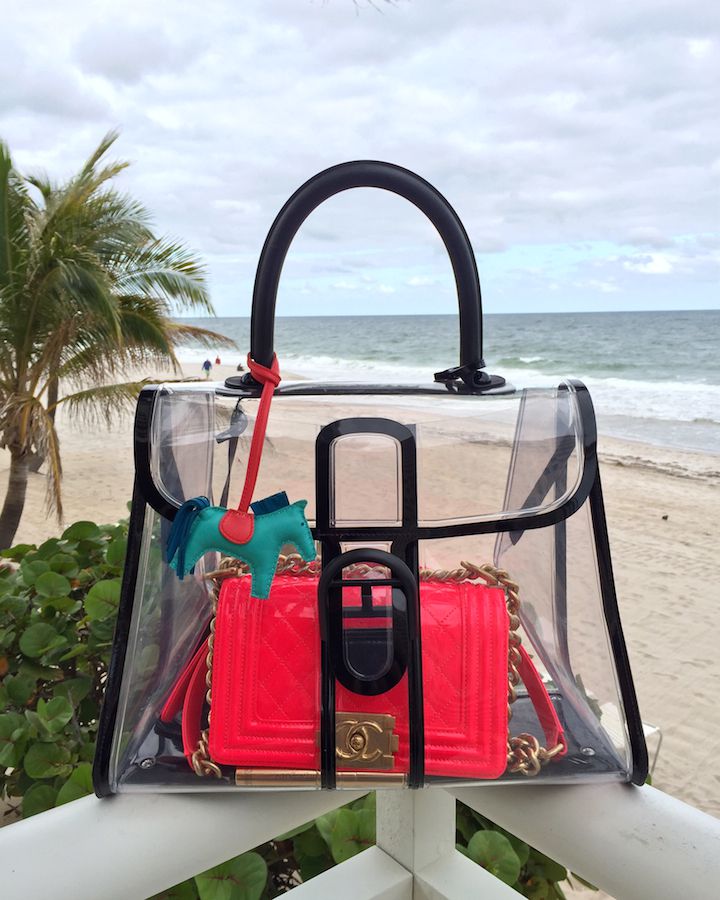 Carry it ALL - The Tote Bag
When traveling, a tote bag will be your best friend! Having a bag that you can effortlessly grab and go, and also stuff to capacity if need be, will ensure that your are prepared with your necessities at all times. Totes make the perfect personal, carry-on bags since they are spacious and lightweight. You can place items of value that you want to keep on your person at all times in your tote bag to minimize worry about theft. Even if you don't want to carry your tote on board or during your trip, it could prove beneficial to carry an empty tote in your suitcase in case you come back home with more things than you expected!
For more information read: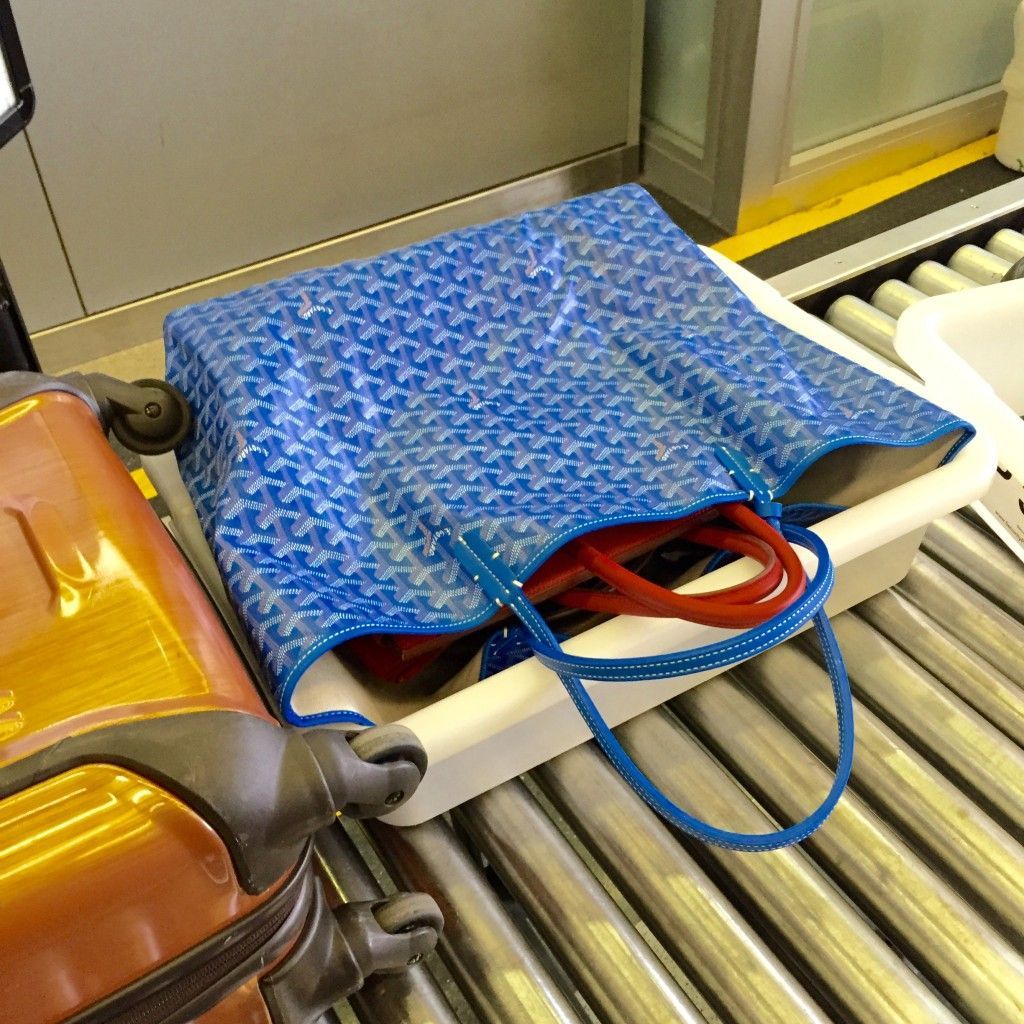 For the Hermes Lovers
Traveling with Hermes can be a cause of anxiety on its own, but it doesn't have to be! The best thing to do is have a cautious mindset and plan ahead for how to carry your Hermes bags in transit.
PurseBop has dedicated a good portion of her travel series to discussing Hermes bags and travel. We've taken packing and carrying H bags down to a science. Here are a few good tips below:
Bring your dustbag or a bigger bag to cover your H bag in the TSA security zone and other places that it may accumulate dirt and damage.
Carrying your H bag in another larger tote will protect your bag in crowded areas, but is also a good way to carry your bag inconscipcously and discreetly
Lock your bag in your suitcase when not in use
Avoid carrying cosmetic or liquid items that could damage the leather of your bag
Buy a purse raincoat
Insure your bag
For more information read:
You're also probably wondering what H bag to bring with you: the Birkin, the Kelly, the Jypsire, the Evelyne – maybe even something else? For now, PurseBop has compared the pros and cons of the Birkin and different Kelly bag styles to give you some guidance on the ideal Hermes Travel Bag.
For more information read: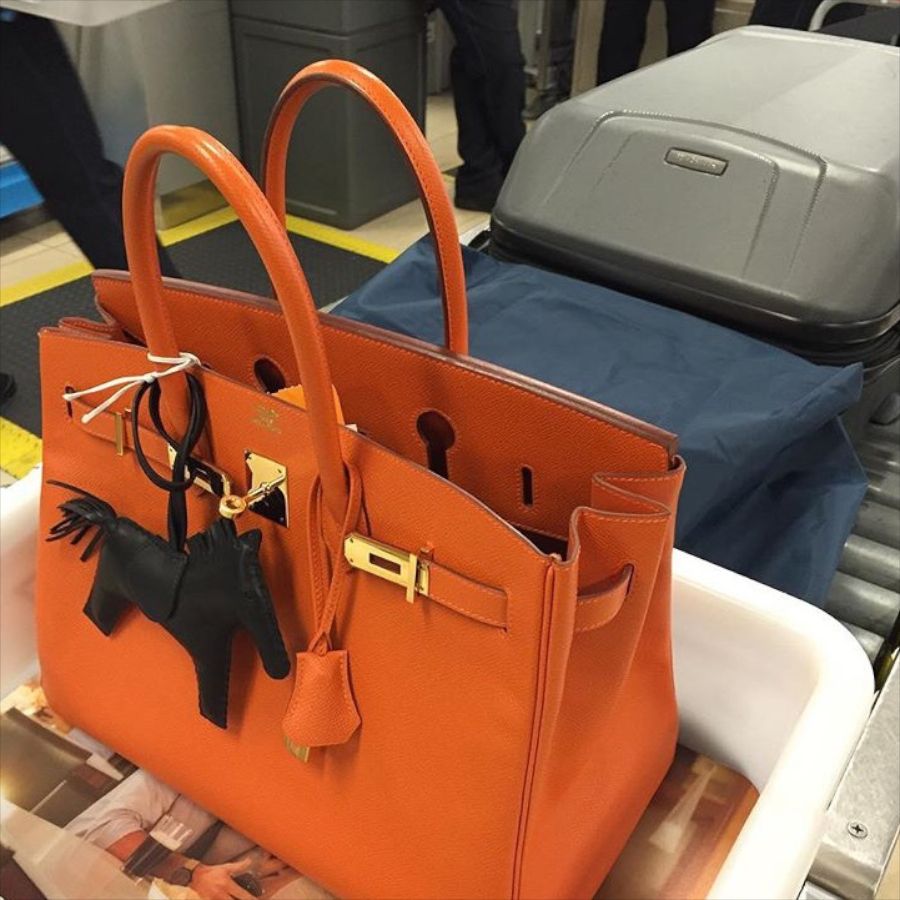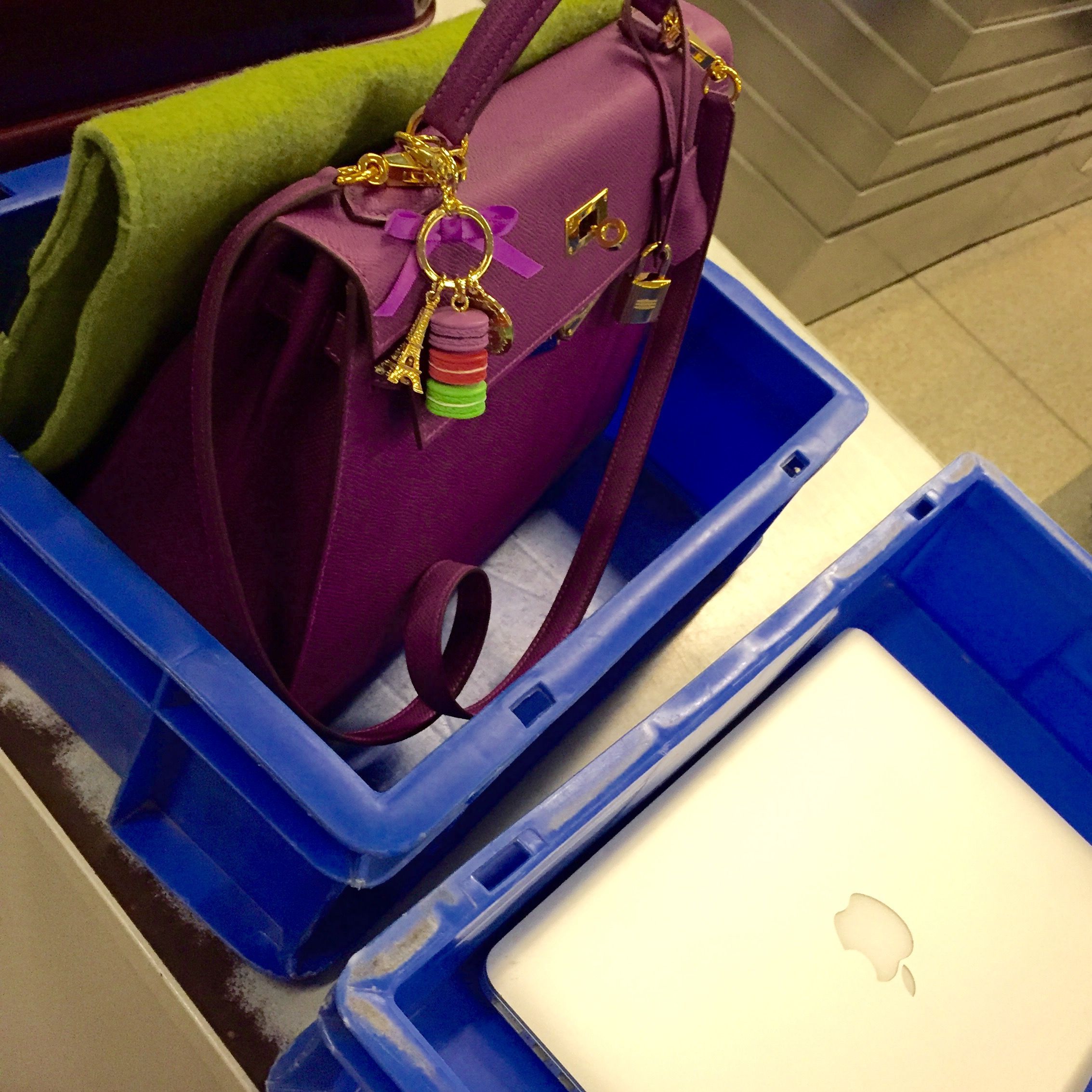 Bringing Home the Goods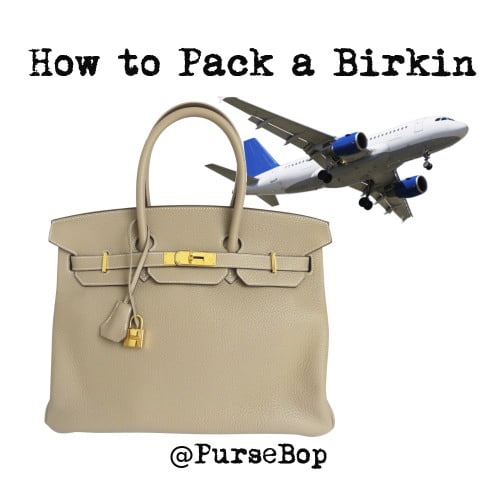 You left your exotic destination with an amazing loot, now what? After shopping a lot on vacation, you may run into two dilemmas: "I don't have enough space to get this home" and "I don't know the safest way to get this home." Again, the best thing to do is plan ahead. Bringing an extra suitcase/duffle bag or packing lightly in the first place will give you room to bring back items you score on vacation.
The other challenge is making sure your items actually arrive at your destination. Don't make yourself a target by carrying shopping bags with distinct logos. If you are walking through an airport or taking public transportation in an area you are unfamiliar with, it is probably best to carry something that is less recognizable in terms of brand and style.
For more information read: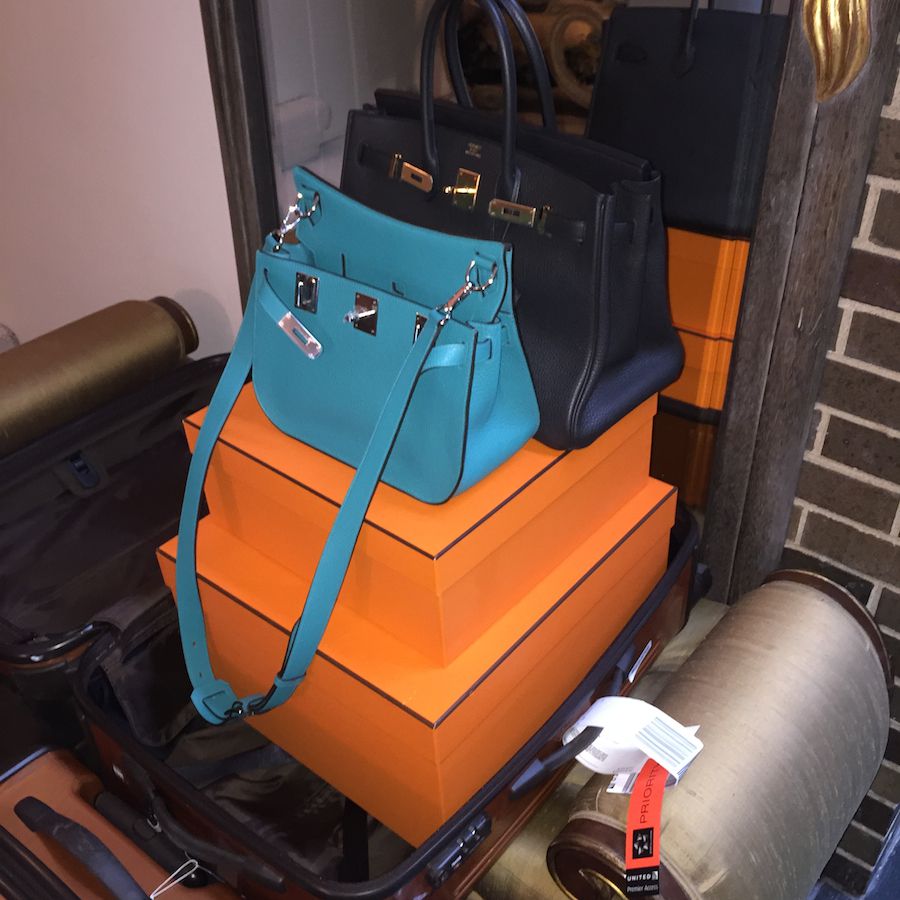 The Perks of Shopping Abroad
Our whole Shopping in France series showed you the money saving magic of shopping abroad with the handbag math to prove it. If a big objective of your trip is shopping, luxury shopping in particular, make sure you do your research on prices! Become familiar with the currency of the country you are in and how to compares to your currency back home. Many brands have adjusted their pricing schemes by reducing prices outside of Europe or raising prices in Europe to compensate for the weakened state of the euro, which somewhat equalizes prices everywhere. Evaluate your priorities and budgets before shopping. If you are in search for good deals, do your homework and balance out the numbers to see if buying abroad is really saving you money. If you want to buy items that are rare and hard to find at home, make sure the places you visit have an adequate selection.
While shopping abroad, you may not be required to pay tax and could receive money back in what is called a VAT refund in European countries. Your goods also may be subject to custom duties, which is a tax you have to pay upon returning home. Learn the unique process for each country you are visiting to make sure you are following the rules.
For more information read: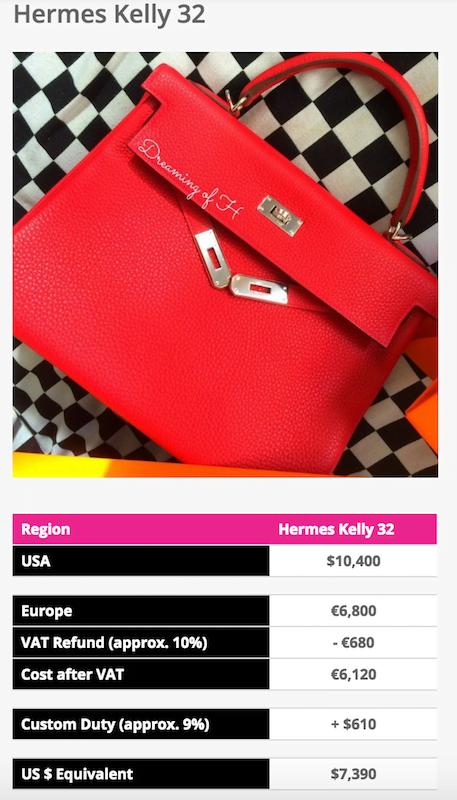 Hopefully these tips help you plan out your packing a little more efficiently! Show us your handbag travel and luggage pictures by tagging us on @purseboppicks. Safe and Happy Travels!
Join some of the discussion already happening on BopTalk:
Love PurseBop
XO
Updated: May 27th, 2017