Chapter I
There were only 10 of us, almost alike, each with a unique number and only our destinies to differentiate us. Myriad thoughts rushed through my mind as I waited…
"Where could I possibly be going? Where would I live? Would I be left to adorn a closet as a collectable (as many of my numbered cousins) or would I see the world and travel?
I heard the sound of the crinkled paper and soon I was surrounded in light, a bright blue sky above me.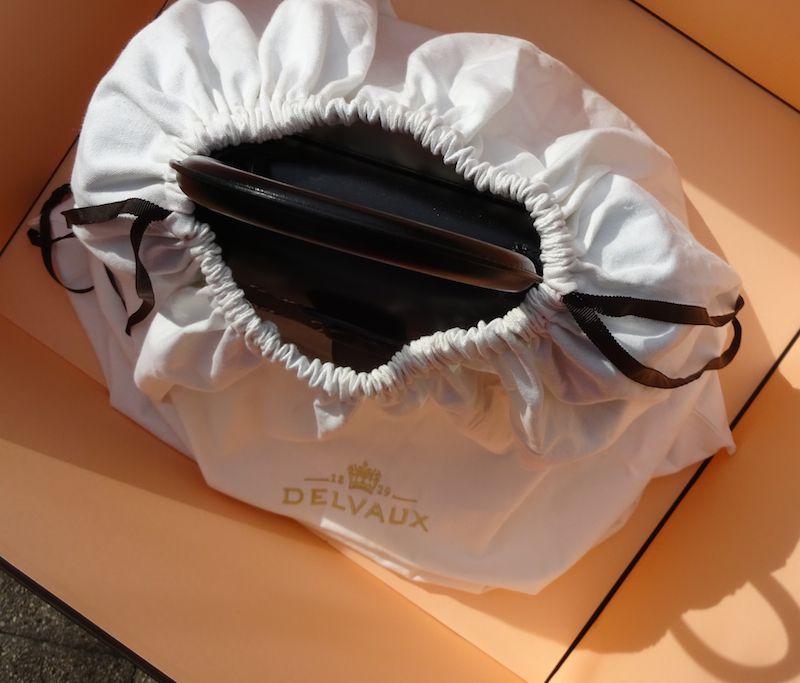 I couldn't help but notice her perfectly manicured Louboutin nails and matching smiling red lips as she lifted me gently. She was radiant and she was excited, giggling with delight.
"Welcome home, Miss D!"
I had heard the staff at Barneys whispering about her recent visit. They were abuzz, referencing a recent piece she published about us, "Les Humeurs de Brillant". There was a rumor that she may come for one of us for her collection. I heard them speak of her magnificent collection of bags, and her upcoming whimsical website.
 They called her Miss PurseBop.
She was sophisticated with a girlish flair, and had long wavy almost-black hair with a sunkist olive complexion. What I could feel immediately was her exuberant energy. The salt and pepper'd gentleman she was with was well-dressed and quite handsome, and I presume Mr. PurseBop. They seemed so excited to see me!
My D bumps were obvious… where were they going to take me?
We sat on the steps of the Art Institute of Chicago, home to Rene Magritte's exhibit and the very inspiration for my creation.   Miss PurseBop could not have picked a more beautiful place for us to begin our story…
She lovingly outlined the plan for us. In honor of my being the special edition #8, Miss PurseBop and I were going to visit the
"EIGHT WONDERS of Chicago," eight of her favorite locales! This was all just too perfect to be true…
We enjoyed the exhibit together, taking our leisurely time reading and learning about the significance of Rene Magritte and his contributions to the surrealist movement. We paused for a while at one of his most famous works, Ceci nest pas une pipe, and I was delighted to learn of my history. She told it all with such pride. I was beaming from ear to ear.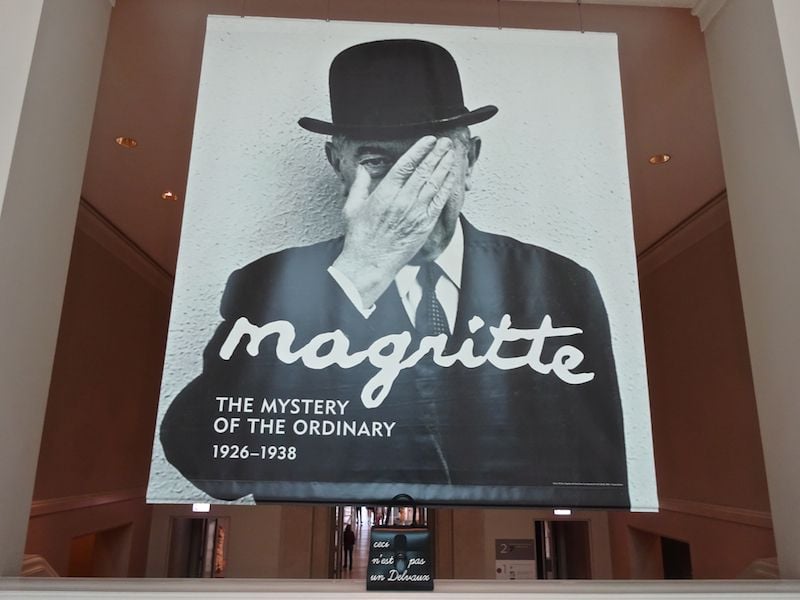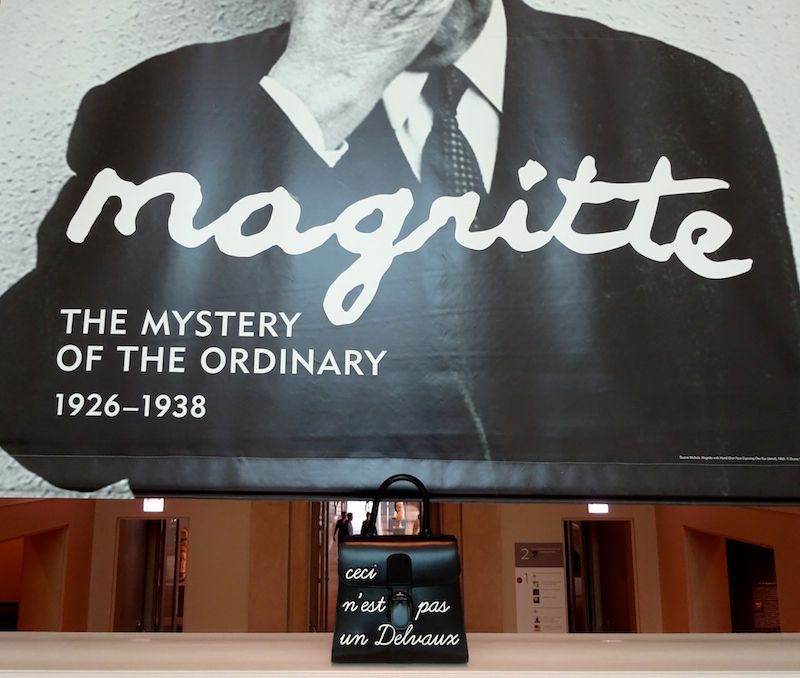 She even managed some forbidden shots with the infamous lions that adorn the Art Institute's entrance. I was getting a sense that Miss PurseBop was fearless when it came to her photography. I was so proud to be sitting right with the majestic LION himself!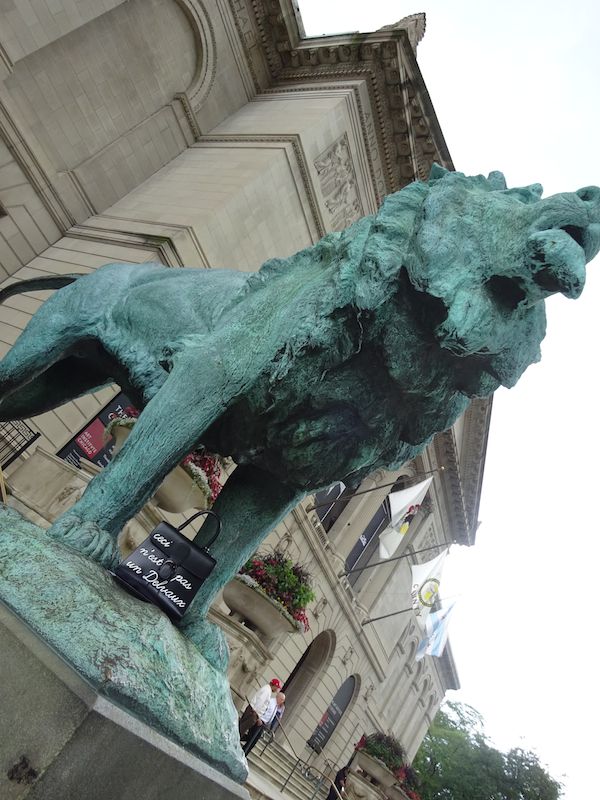 Next up was Navy Pier.
We strolled the peer hand in hand, and sometimes I even adorned her arm true 'lady-like' style.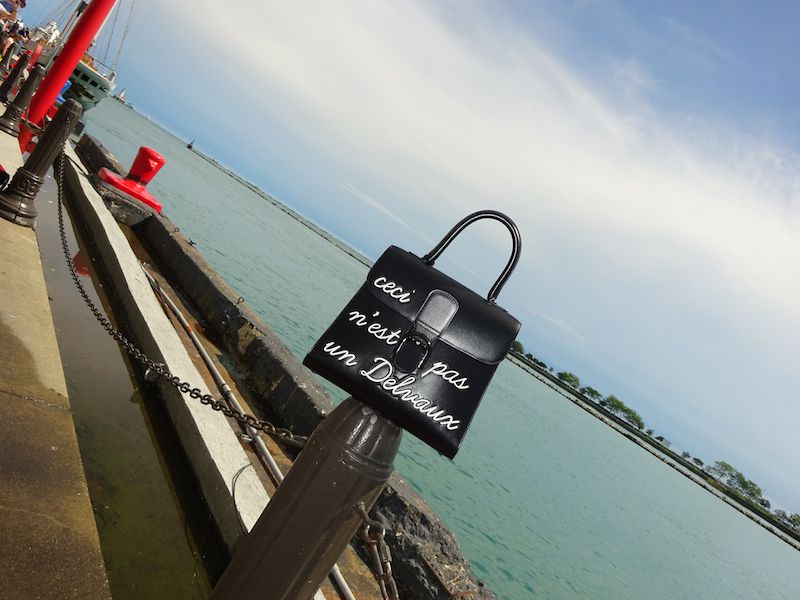 We posed for pictures along the way, admiring the lake and magnificent ferris wheel. Having drizzled on our cab ride over, the air had that post-rain scent…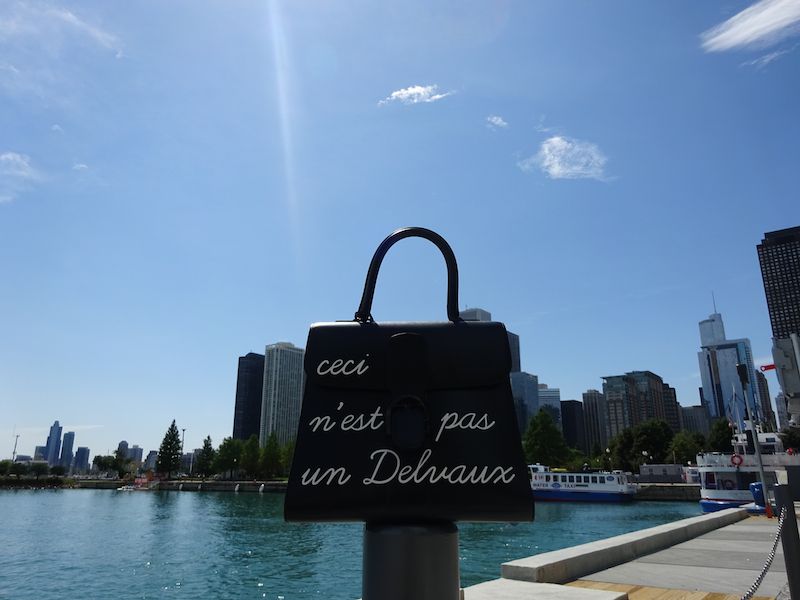 I was hoping that we would just admire the ferris wheel but before I knew it we were posing at the base in the entrance line. My stomach began to knot. I had never been so high before!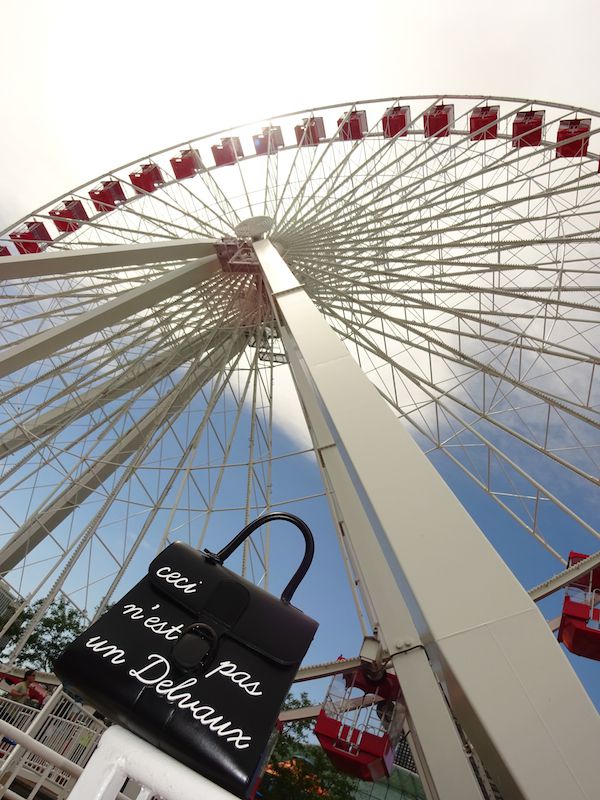 We boarded and as she stepped onto the ever so slightly moving bright red car the ground beneath me shook. I braced myself and tucked myself into the corner hoping the two of them might just forget me for the next ten minutes, or however long this over zealous adventure would last!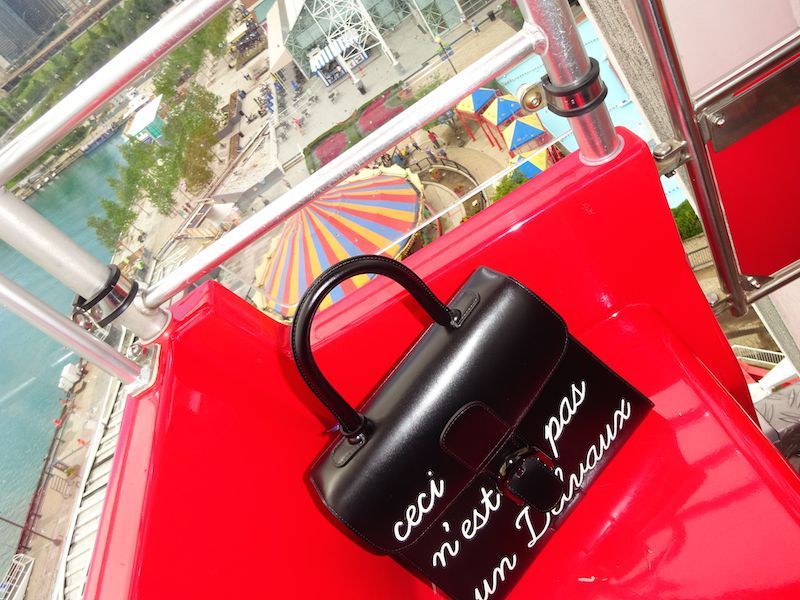 I was afraid but Miss Pursebop's giggling reassured me… I mustered the strength to raise my head just high enough to peer over the frame of the glass window.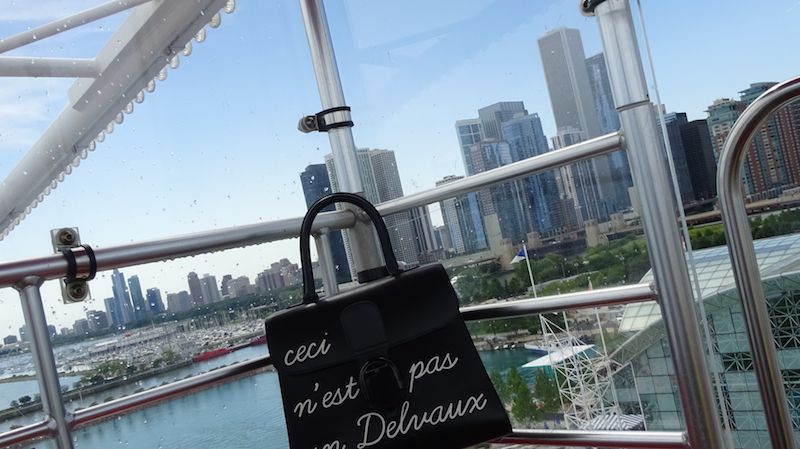 As we approached the very top of the wheel Miss PurseBop propped me up high to get a full view. "Miss D, this is Chicago, your new home."
The ride down the other side was much less intimidating and I did manage to look around through the droplet covered windows.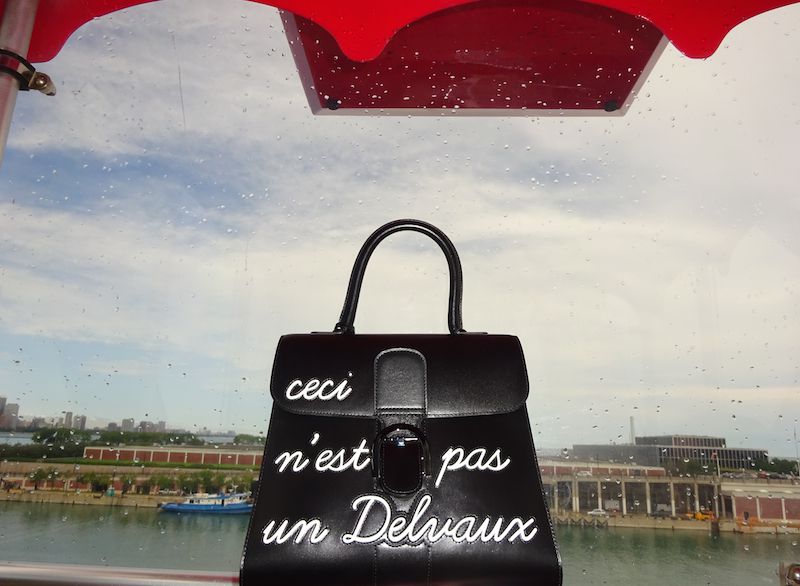 It was a beautiful view, but I  had never appreciated the term "grounded" more in my life.
I think Miss D belongs at street level with the rest of her friends…
I  hurriedly made my way through the exit line.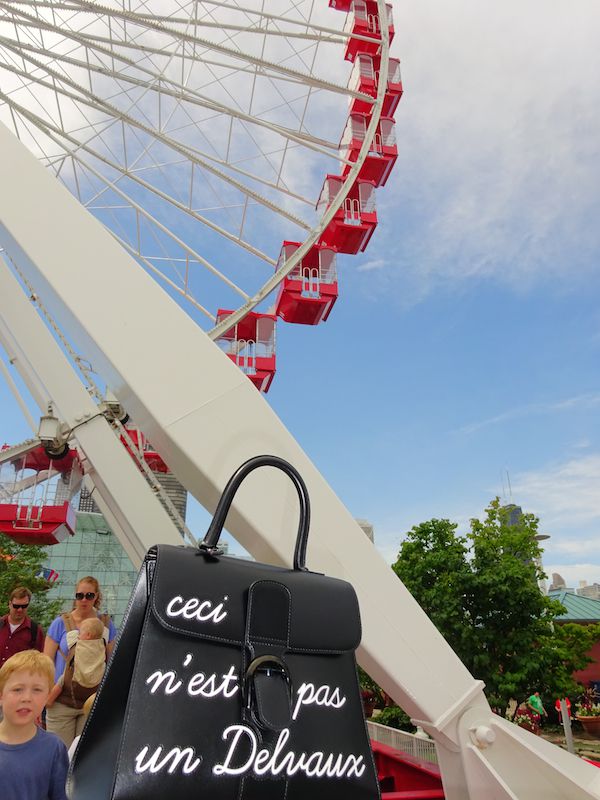 Next stop on the itinerary was Millenium Park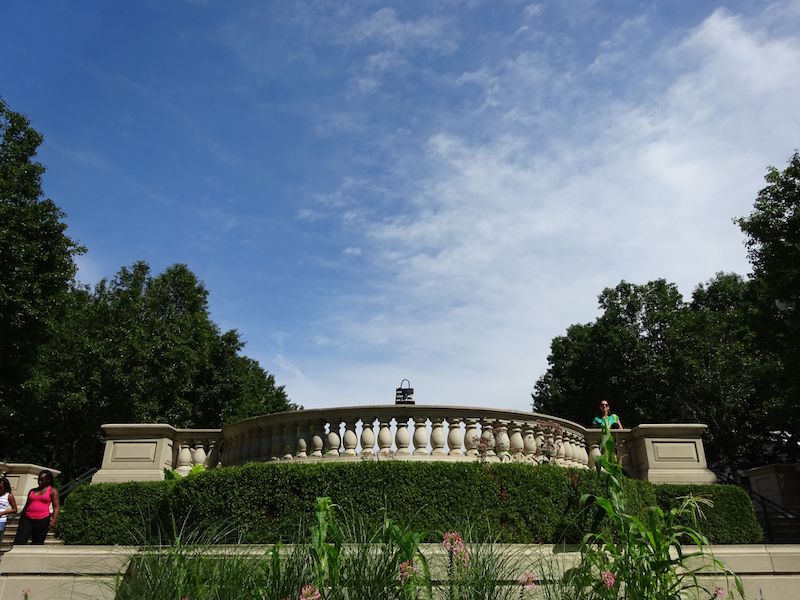 It was getting very hot but thankfully she was well-prepared with all the sun essentials (for the both of us ).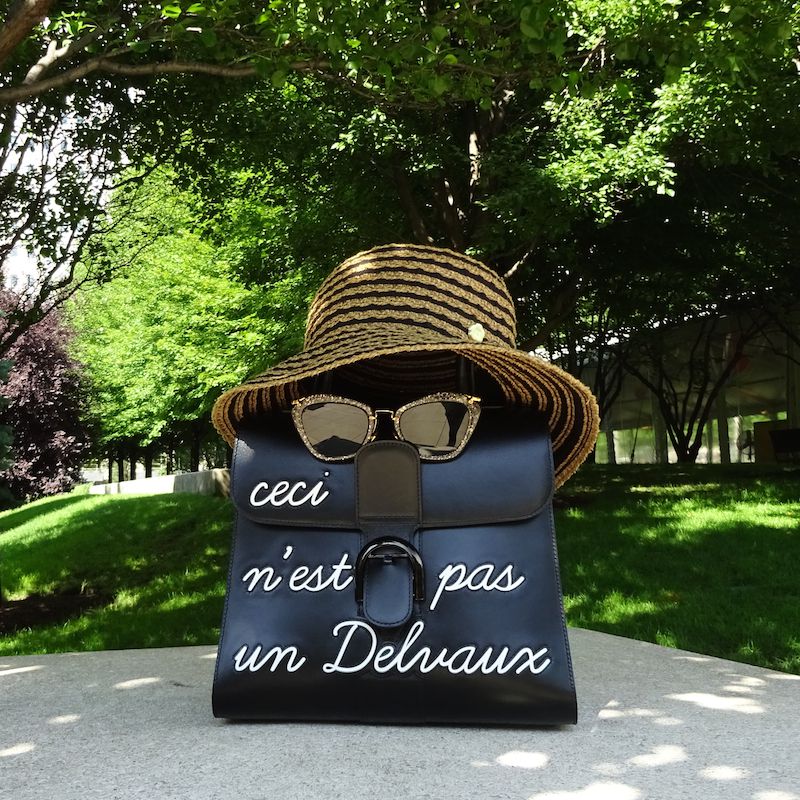 If there's one thing I've learned about Miss PurseBop,  it's that she doesn't rest until she gets that perfect shot. So we wait and wait, rain or shine.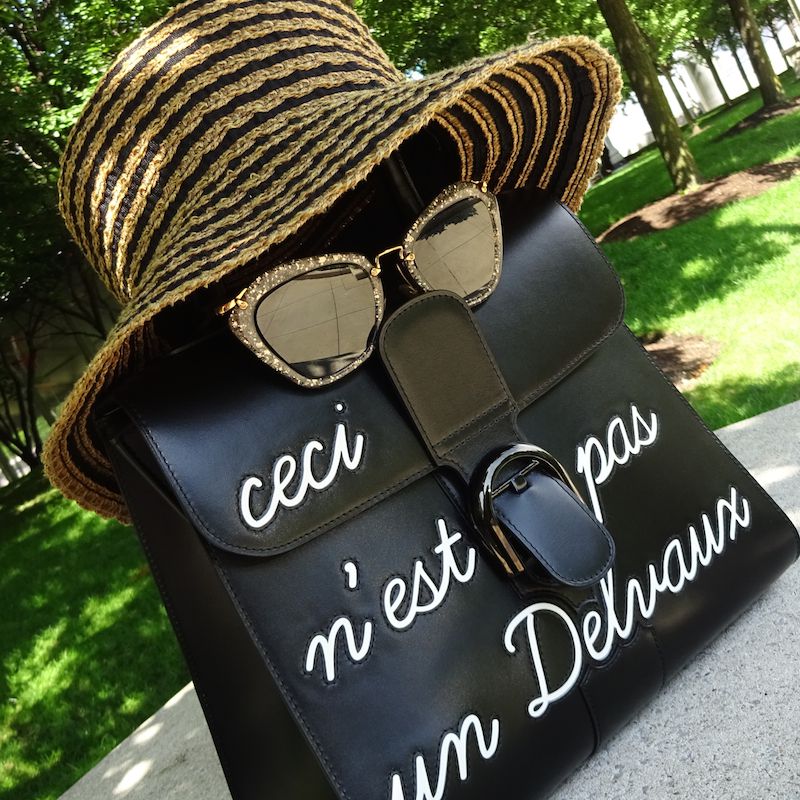 By this point we were sweating bullets…
or as PurseBop casually put it, "getting rather warm."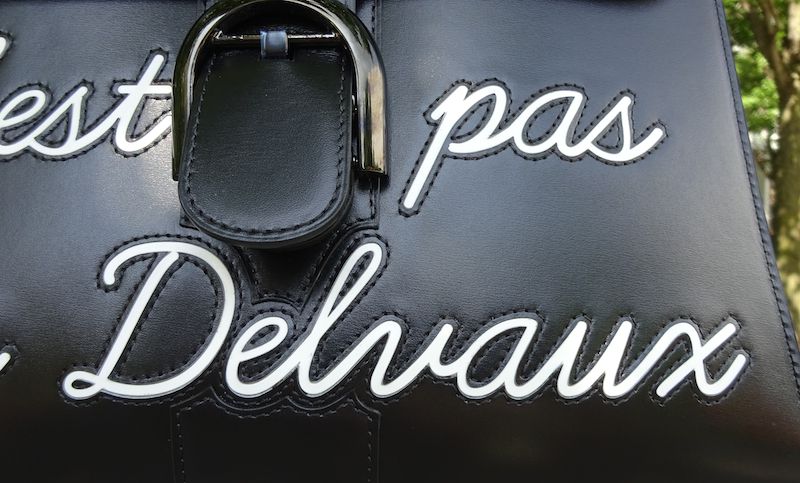 We started at Cloud Gate, nick named 'the Bean' by architect Anish Kapoor. The structure  is the center-piece of Millennium Park and  is popular with tourists as a photo-taking opportunity for its unique reflective properties. We had so much fun taking a variety of bean selfies.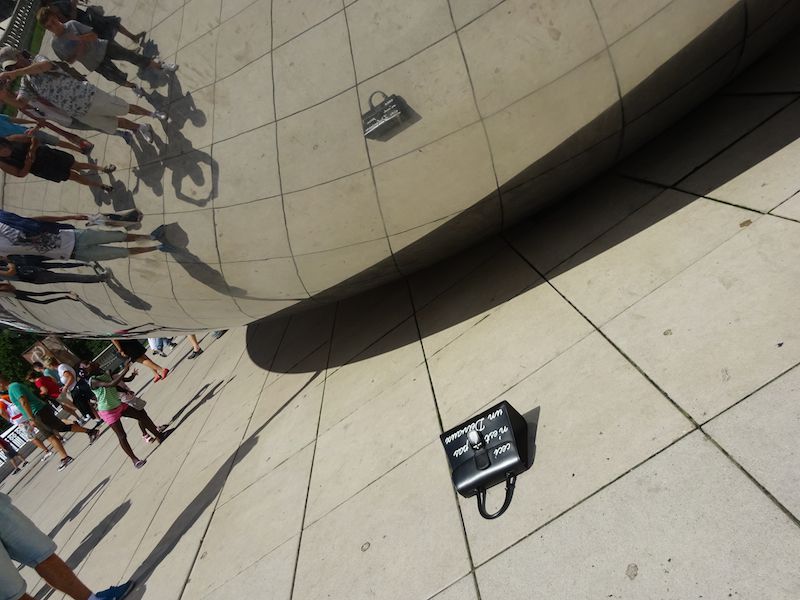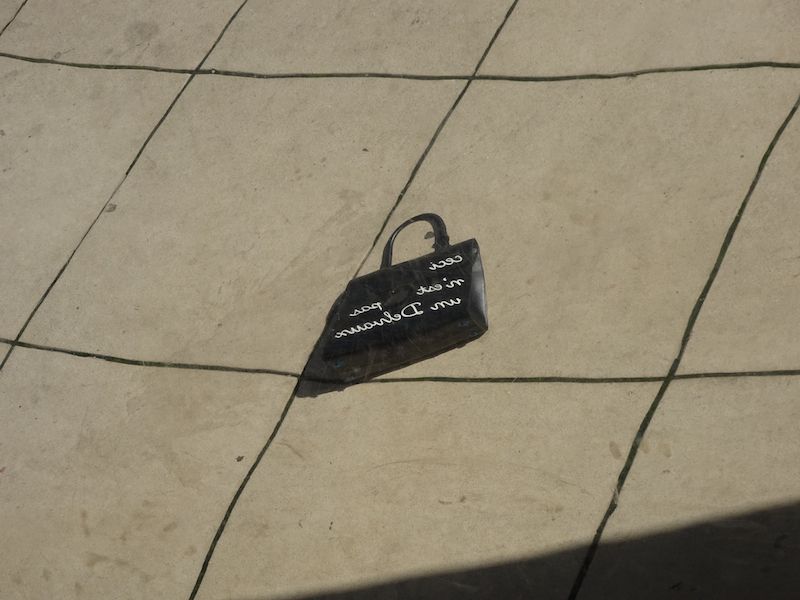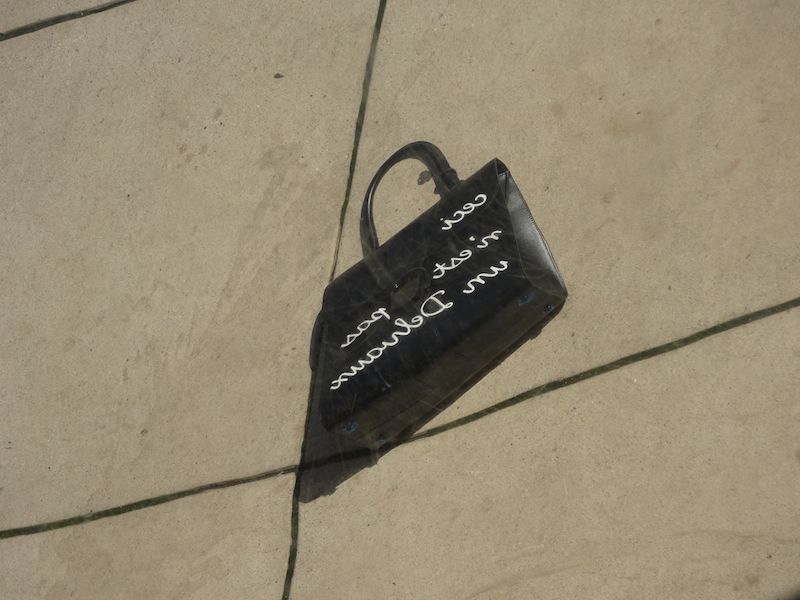 The most exciting thing happened right there under the arch… a young bride was posing for her photographer. It a was such a romantic sight to see, and just as they paused for a break Miss PurseBop seized the moment with a loving request from the blushing lady in white. "Could I kindly request you to pose with Miss Delvaux while I snap a few pictures???"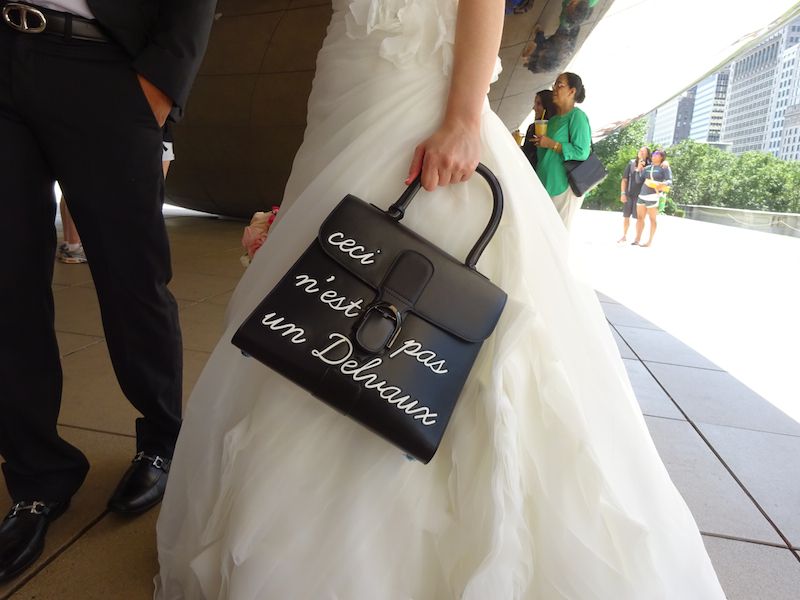 The bride was delighted and only asked that she be given the pictures for her album too. Imagine my reaction! I was being treated like a celebrity, paparazzi flashes were going off everywhere!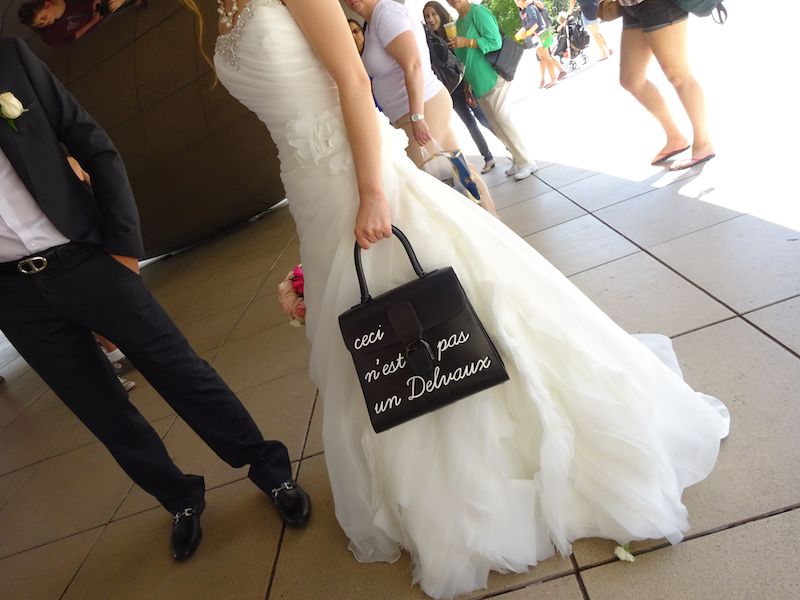 Chicago Skyline
I was most pleased about the next part of our itinerary…The PurseBops were headed up to the Trump Terrace for an aperitif and they were going to bring me along!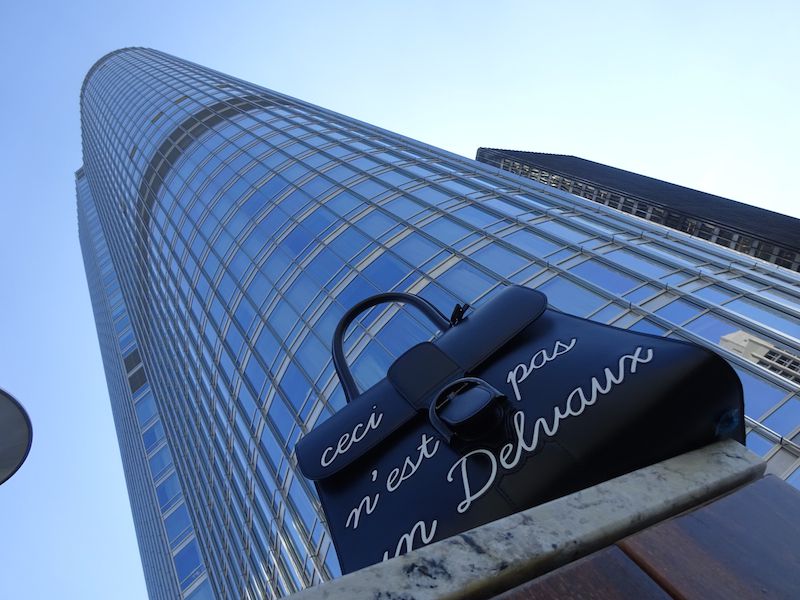 Miss PurseBop and I excused ourselves and head straight to the plush ladies room to powder our nose's and freshen up from the day.
The view was magnificent! As they sipped their martinis and chatted up the day's adventures, we watched the shadow fall across the Wrigley building clock.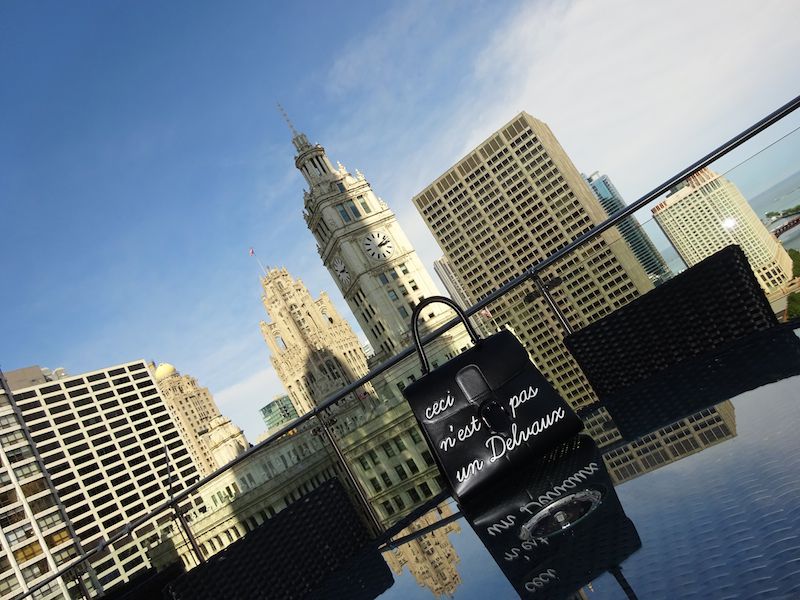 What a sight to see!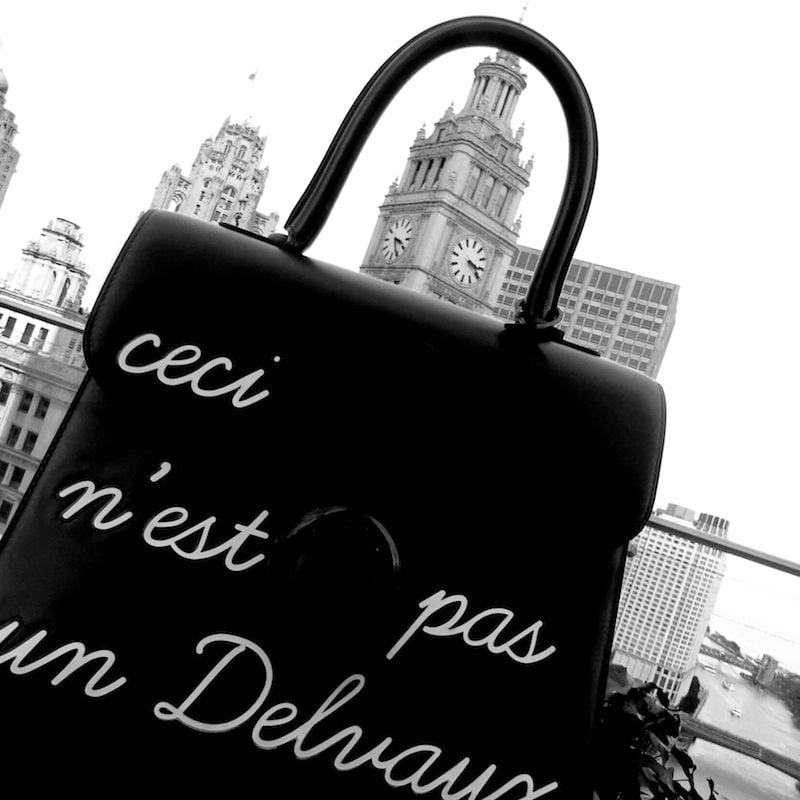 I just knew that this was going to be the beginning of a lasting love affair. Not only between myself and Miss PurseBop, but with this beautiful city.  Miss PurseBop would indeed take me to see the world with her on her journeys and adventures.
As the sun set and evening began to fall it was decided that we would continue the rest of the 'EIGHT' on another day.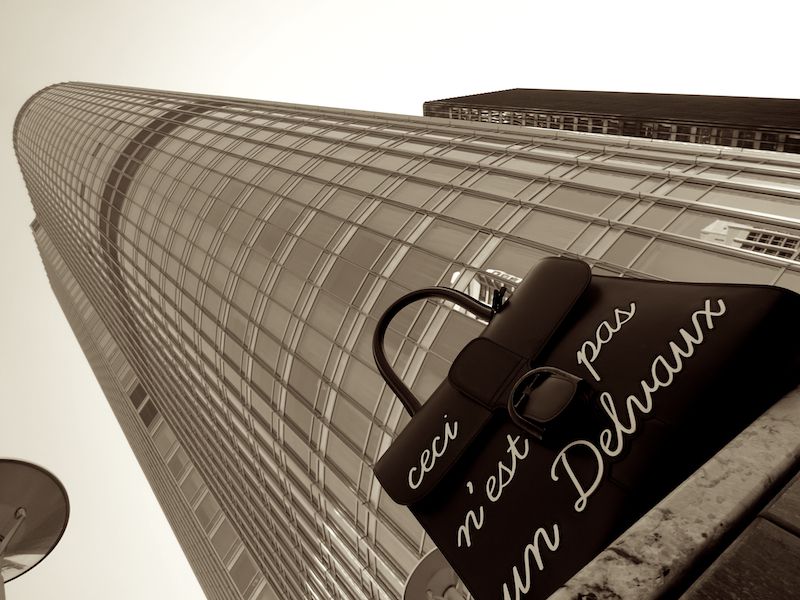 Chapter 2:
Homecoming…
Miss PurseBop brought me home in her nifty sports car. Intuitively  she propped me up in the passenger seat so I had an unobstructed view. It was as though 'she' read my mind…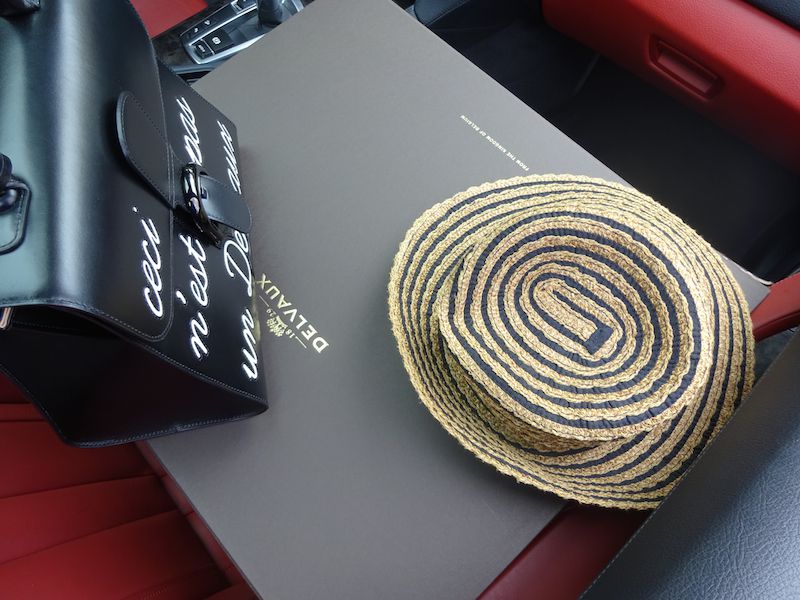 "BUCKLE UP", she said…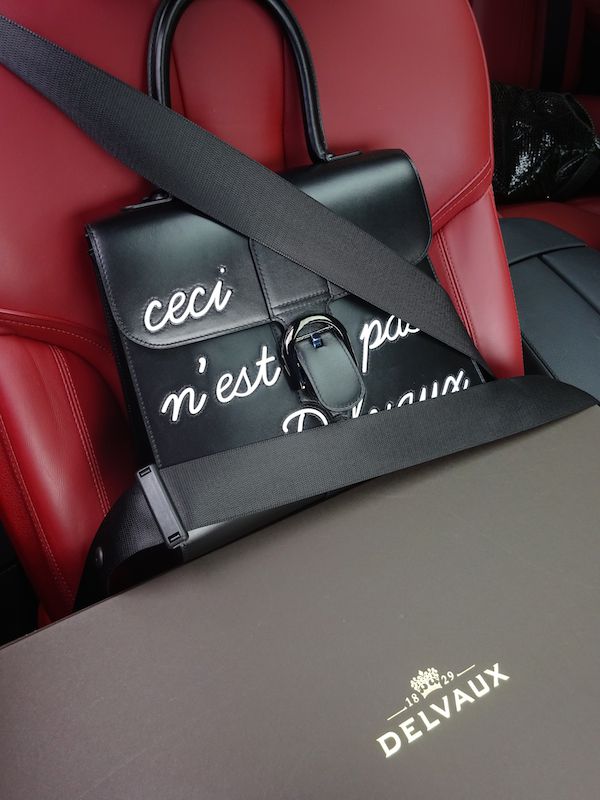 I treasured this alone time with Miss PurseBop. We chatted a bit, but also just enjoyed the music. I got a chance to hear some her favorite tunes, and her hum the chorus from time to time. There was a certain ease about our 'togetherness'.
Just as my eyelids were getting heavy, the car slowed and we pulled up to the most magnificent site. I had heard of a 'red carpet welcome', but this was truly indescribable…something from an artists easel. A carpet laden with vibrant yellow fan shaped leaves. She called them Ginkgo Biloba leaves.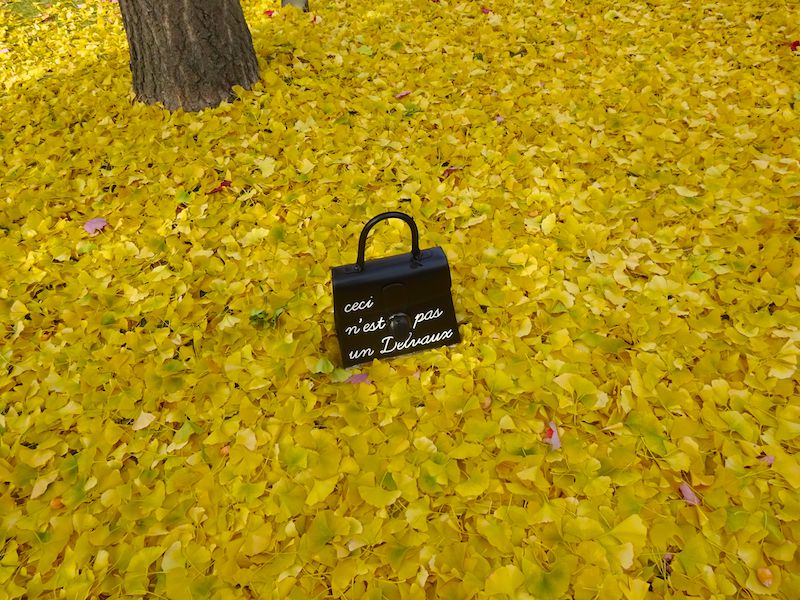 I was rather apprehensive with one member of my new family. But it all worked out alright as he was a thorough gentleman of a German Shephard named Kongo.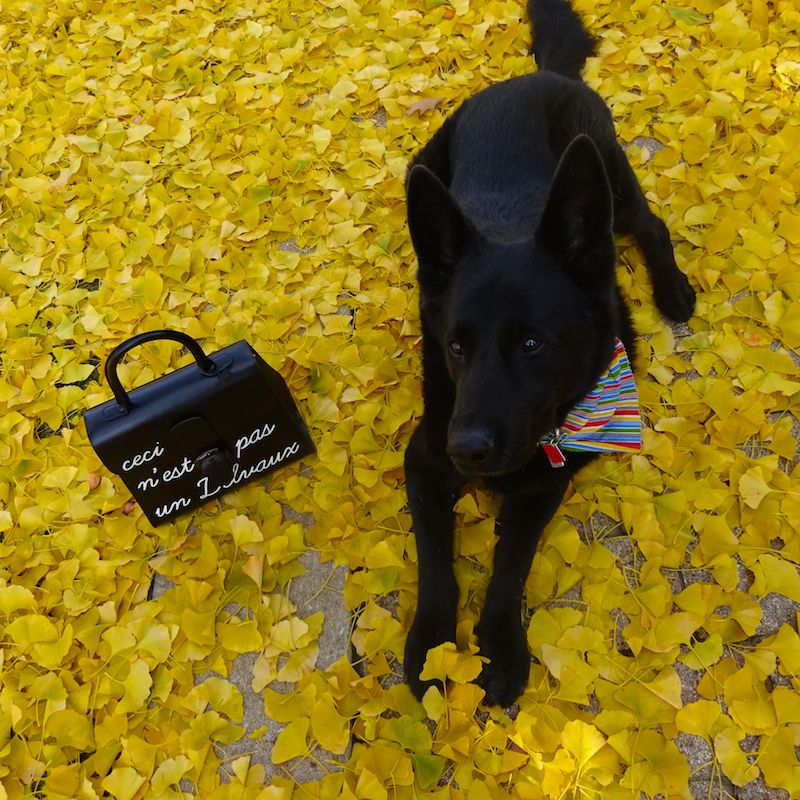 We posed for several photos together…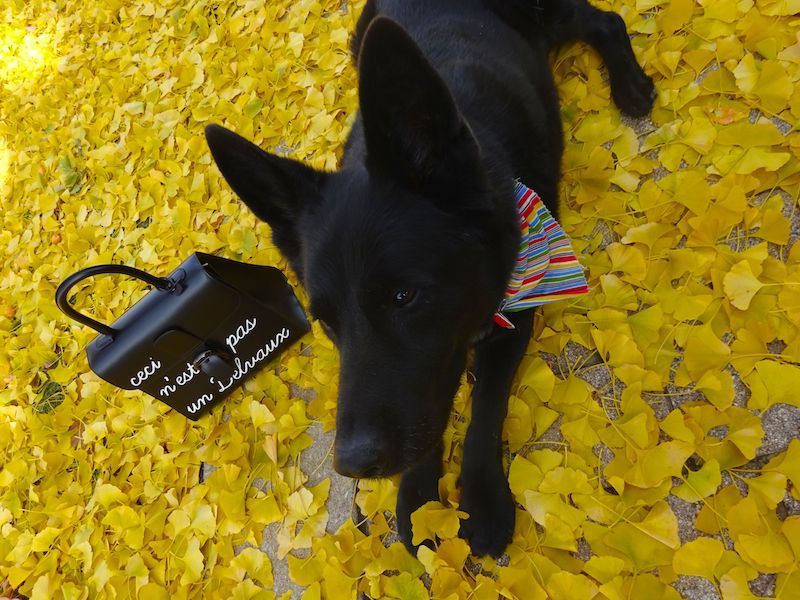 I took a deep breath to soak it all in…
I was the luckiest Delvaux of all to be stamped number 8, and be Miss PurseBop's '8th Wonder of  the World…'
to be continued…
Shop Delvaux via Barney's
Love PurseBop
XO