The Time Has Come: Final Rationalizations
Sometimes extra time is not a good thing. Two weeks. Two whole weeks to decide before my local Hermes store submitted its SO requests in one batch. As you can imagine, that gave me plenty of opportunity to change my mind. Again. And again.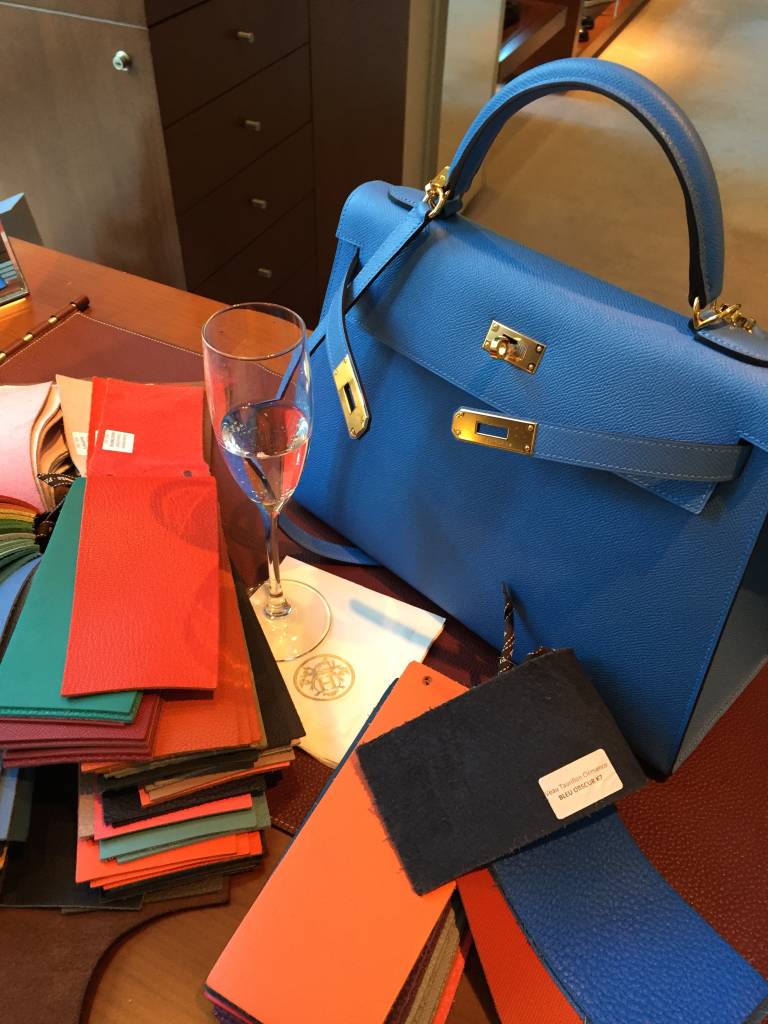 I had predetermined a few things. My special order would be bi-color, even if just a surprise interior pop. It would be chèvre or, if small, swift leather. I desired my first SO to be a forever classic but with some personality. A treasured bag I would want to use always.
Color wise, I disqualified Raisin, Blue Sapphire, Etoupe and Moutarde for my first SO status. I struggled mightily with Rouge Tomate though. Anyone who knows me knows I am a red girl, especially orange reds. That's my go-to color for lips and nails. My Hermès collection already includes Vermillion, Orange and Orange Poppy. But . . . maybe on the inside. Or perhaps a Rouge Casaque treasure would broaden my Hermès horizon.
Maybe I was feeling blue. Blue Hydra is gorgeous but the only available complementary color was Blue Paon. Divine together but I had just purchased a Blue Paradis Kelly Sellier 32 and I already had a lovely Blue Paon jypsiere that I was finding hard to incorporate into my wardrobe. Another option was Blue Hydra with Etoupe, but which on the outside and which would peek out from in? I already had a pretty sky blue and I'm not an Etoupe girl. Indeed, at the time, I had little interest in neutrals. Oh, how times have changed.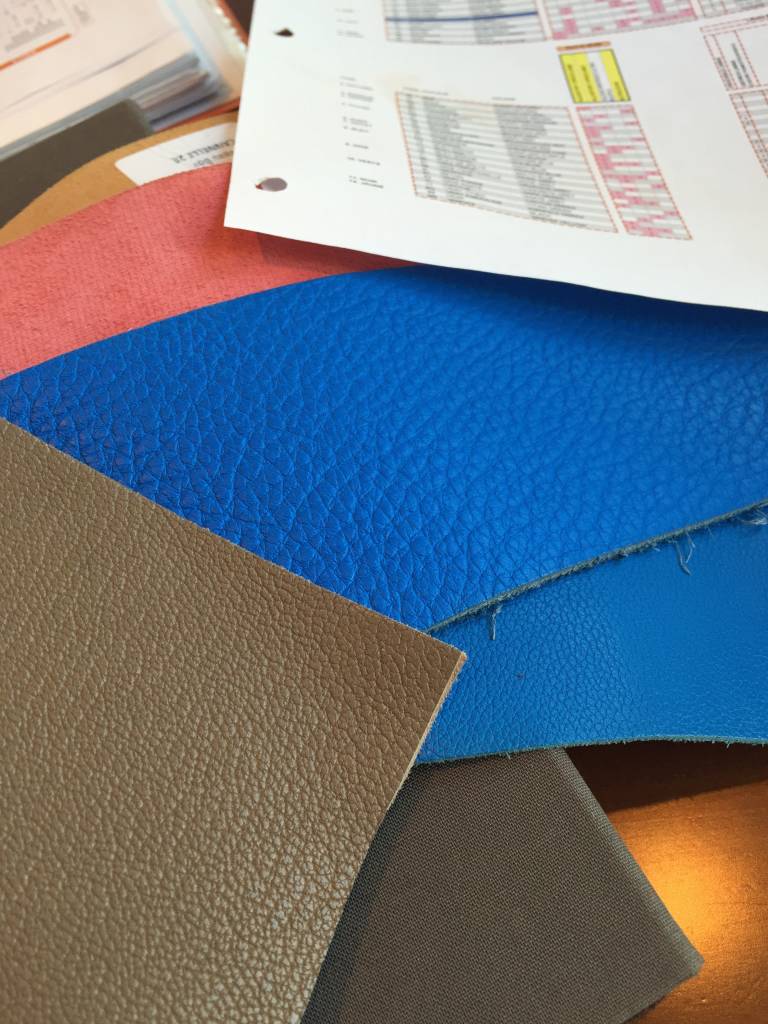 That brings us to Noir. Good old black. Believe it or not, after all my contemplations, careful analysis, ups and downs… Moi, Me, Ms. Color Pop PurseBop posited that a Birkin 25 or 30 in black chèvre with brushed gold hardware and a hot colored lining was my SO dream. I'm certain you readers are rolling your eyes – my family certainly did. Mom thought it was utterly boring and wanted me to pick a bright color. Mr. PurseBop insisted there would be a later opportunity to perhaps purchase a plain black B30 or B25. My dear sales associate was so 'color encouraging,' he went so far as to assure me he would podium order me one… and that I should not waste my first SO on black (hint of more to come?) . If this had been my second, third, etc… possibly, but not the very first (a girl can dream right?).
Stubborn me, I loved the idea of a not-so-basic smallish black bag offering a glimpse of color – like lacy red lingerie under a simple shift dress. And permit me to digress: Years ago, at an airport, I thought I spotted a dark colored Birkin in the hands of a nearby traveler. I bobbed and weaved, sped up and slowed down, anxious to get a better look. Finally, near baggage claim I caught up. Understand that that time I was not a walking encyclopedia of all things Hermès, but now, as I picture it in my mind's eye, I am certain it was a 30cm black Birkin possibly even chèvre… with Rose Jaipur or Rose Lipstick lining. My eyes fixated on her – the owner. I remember her walk, her hair and the swing of her arm. I remember being intrigued by her and her Birkin, shots of bright pink peeking from its creased accordion edges. Before you think I am some stalkerish freak, be honest – haven't you secretly admired the look of a woman or man and wondered their whole life story in that one moment? This was one of those times. Maybe she's reading this and smiling… and wondering if it was her.
A B25 in black with contrast lining would be precious for nights out (which are bountiful in my life), perfect to nest in another Birkin for travel and above all just adorably cute. I would be willing to try a little one in luxurious swift leather. I could be gentle, if needed, but delicate does not scare me. A Birkin 25 maybe not be practical for daily use, I acknowledge, but it is very high on my wishlist. In fact it is at the very top!
(Side note: Dear Hermes God/Goddess/Fairy – PurseBop is very keen to add a black B25 and K25 to her collection as soon as possible please!)
Mr. and Mrs. PurseBop Special Orders 
By now, two weeks have passed and I have decided. It's done, except for the paperwork. Do you know what I ordered? Anyone care to guess?
Permit me another digression, not about me, but Mr. PurseBop, enabler-in-chief, for a change. Back in September 2015 we were invited to attend the Hermes Manifeste Event held here in Chicago & the only one of it's kind in the world. A VIP interactive event designed to celebrate the launch of the new men's platform. There I learned of the ability to create a custom sports jacket. What better way to share my H love with my true love. Then, coincidentally, in April 2016, as I was contemplating my SO, Hermes Chicago held another men's custom order event staffed by the NYC team to advise/design and measure.
This was it! It was going to be the time to place not one, but two very Special Orders, one for him and one for me. The details of his I'll save for another time but suffice it to say his arrived first and it was truly magical.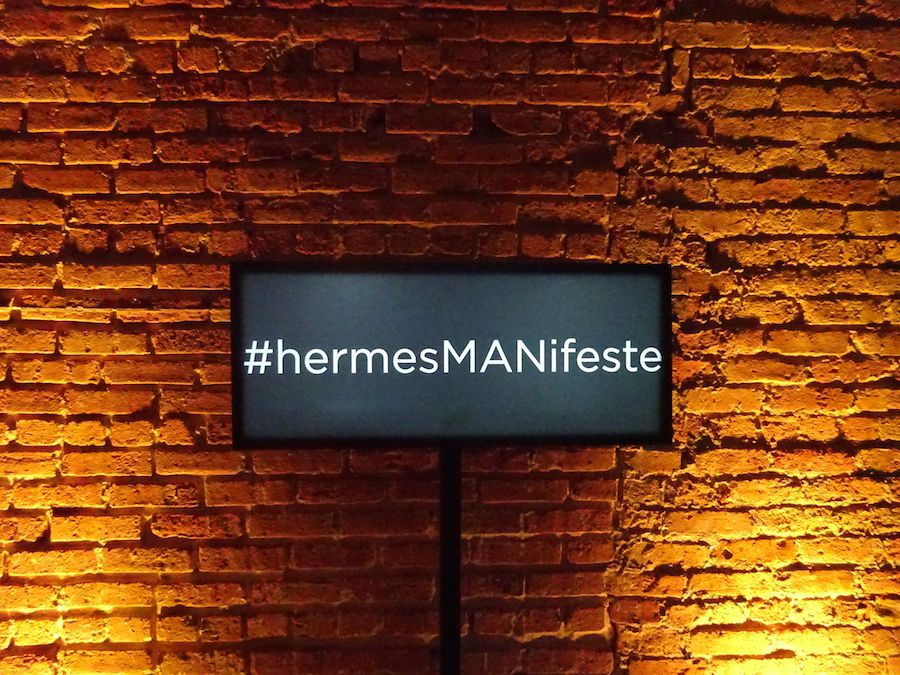 I don't know if it's my enthusiasm or the Hermes team in Chicago, but I get excited each time I visit and I feel that reciprocated always. By now I know nearly everyone and it's lovely to feel so welcomed. I'm sure some of you reading find me nerdy, but if you know me a little through my years of blogging, I don't hide my excitement for anything in life. I don't hide behind a wall of pride or ego and pretend that these experiences are just ordinary for me. I cherish each and every one, and even if I am so lucky to be offered my __ th Birkin, I hope to feel as joyous as I did with my very first. My friends and family reading this are nodding with acknowledgement because I am the girl to get excited about small and big things alike and I express it, giggles, smiles, squeals and all. It's me, it's who I am.
"I have a surprise for you", she said…
And that was me when my SO finally arrived. I say finally only because it followed Mr. PB's. Truthfully, my SO was an early delivery by Hermès SO standards – 2016 rather than the expected 2017. The circumstances surrounding its arrival are unconventional, at least by my definition usual and customary..
One cold and dreary November afternoon just before the Thanksgivig holidays, I had a lunch date with dear friend @my_closet_diaries. We decided to meet at Fred's in Barneys on Rush street, literally overlooking our Hermes store. Here's the view from the Barney's window – see Hermes below?
I arrived a little early and thought I'd kill at little time visiting at Hermes, as I usually do when nearby. My sales associate was not in, but I still spent a friendly few minutes catching up with the staff's holiday plans before bidding farewell and heading off to Fred's. Time with @my_closet_diaries always flies by. We were cozy, seated by the fireplace. At this time of year, the day was short, darkness coming even before we finished our visit. Just as we were leaving, my cell phone rang with a number I recognize all too well. But my sales associate wasn't there? Who could this be and why? I was slightly baffled with the call …  she (the assistant manager) asked, "are you still having lunch at Fred's? " I replied, yes… She said "I have a surprise for you, can you come over?" Of course I said yes… my mind wondered to the trouble I would encounter in the event some lovely bag caught my eye: my quota was exhausted for the semester. The Gris Mouette Birkin had joined my crew a mere one month prior (read: Miss Mouette Joins PurseBop's Hermes Family).
We darted across the street, dodging raindrops to protect our handbags of the day. Funny that neither of us had packed a coveted Hermes "raincoat." I usually carry one, regardless of the brand in my hand. The lovely Delvaux specialist from the Barneys handbags department, whom we both know helped us dress our baggies for the sprint across to Hermes. I posted this image below to my Instagram to time stamp the moment, something I always do if it's a special moment I know we'll come back to.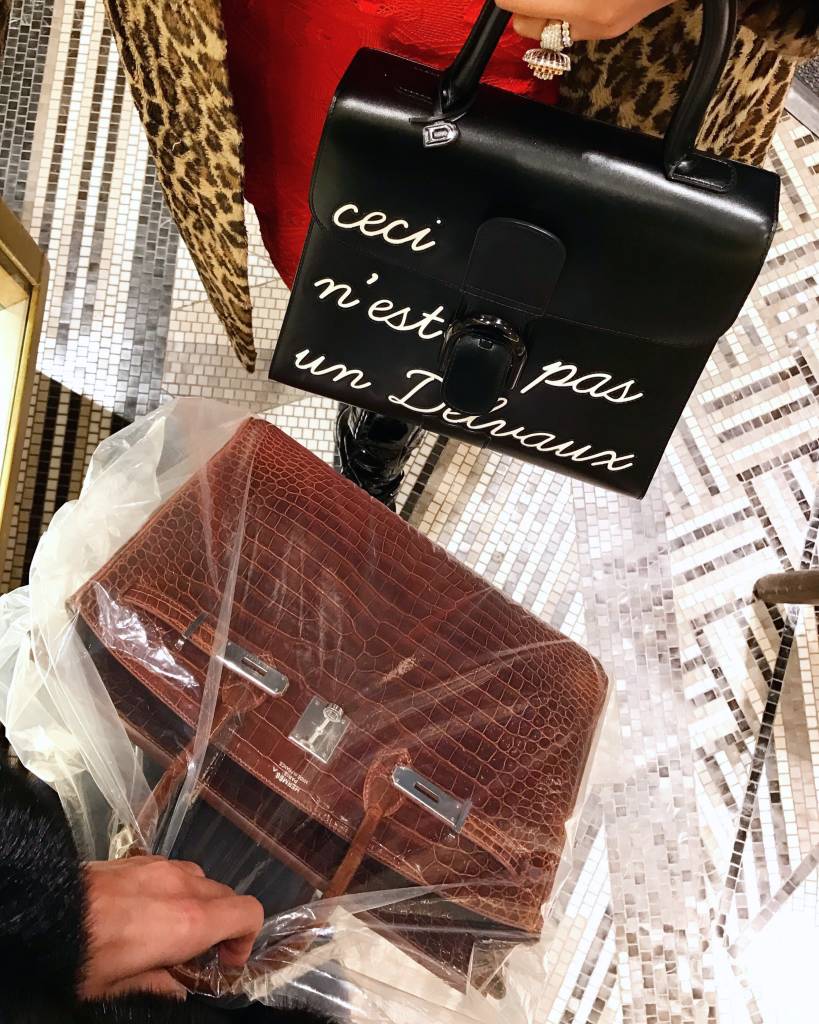 My heart was racing, I looked around the corner for the assistant manager to whom I had just spoken. It seemed the entire staff was grinning ear to ear. @my_closet_diaries and I were excited to see what was in store for us. We waited for a minute or two… and then she appeared from behind the door saying:
 "I'm so excited for you, your Special Order is here … we just unpacked deliveries and as soon as I realized we had a Special Order arrive, I was curious to check as you just asked me about yours a few hours ago! And here she is… and she is just beautiful. It is your lucky day my dear."
I squealed with excitement.
"Would you like to see it?," she asked."
I paused as Mr. PurseBop was not with me. Typically he was my partner in pickups. But I knew that if I didn't take the bag today, there was no way we could make it back to Hermès before vacation. I texted Mr. PurseBop immediately and asked how long it would be before he could make it to the city. His reply, 6:30 – as planned, for dinner. I quickly called him and explained the situation and asked what I should do? Should I purchase today or should we go back together after vacation to pick up my SO like we did his? He replied, "please go ahead and buy it, I'll be there shortly after you finish and we will celebrate together."
I missed him and my sales associate. I felt a little guilty to be honest, but I confess it was a fun experience having a girlfriend with me. This was special in its own way. The Hermes team set out the champagne, and soon enough the ooohs and aaahs began… @my_closet_diaries enthusiastically indulged me and helped capture all the traditional reveal moments.