It is indeed the year of the Chanel classic flap. City billboards buzz with action shots of gorgeous Parisian women sporting their classic flaps – who wouldn't be smitten (again…) if they weren't already! Chanel has caught us all…hook, line and sinker.
The race is on and the competition to snag a seasonal classic never been so intense. The reserve lists already run names off the pages so it is likely only a very few select ones will score… doesn't it all sound familiar?
But whatever magic potion Chanel is using, it's surely working. Genius marketing combined with this new air of exclusivity seems to be winning… not to mention the plethora of colors that has everyone drooling.
If you've been following along… there was the 20C Rose Claire, then the 21P Caramel and most recently the 21S Rose Claire Lilac. All caused quite the global stir.
Remember how, just a few short weeks ago, we and everyone else was going gaga for Chanel's Spring/Summer Flap colors. Our own PurseBop team flipped out over the variety of pinks and neon, in particular. We virtually wrote a PhD thesis on the three pinks just from spring alone!
Well, now, fresh off those highs it's already time to pivot to the shades coming for Fall 2021. Take it from us… there's good news… and then really good news.
For starters, if you're still coveting that purplish lilac pink, caramel brown, or white, then get in line now for Fall. The upcoming season may have some good substitutes. On the other hand, be warned that if you want more neon, you ought to purchase highlighter pens (lol).
Update: May 17th, 2021
There's a new development on the distribution of colors. Originally all of the shades represented by the graphic were slated for delivery in Act I (June to October). Due to the pandemic and lockdown in France, understandably production schedules were affected. As a result, several colors will be later this Fall – Act II (August to November).  Now we can only hope that our favorite colors are not cancelled.
Here's the breakdown of what's coming up for Fall.
Of course, Chanel is always full of surprises, so we can't be so presumptuous to assume this is the full list of colors and leathers. Nor is it ever possible to predict which fabrications come in which sizes (as each buy differs store to store and regionally). What we can tell you, however, is that most of the hot colors will be small and medium-sized. Jumbos and maxis in new colors will be few and far between (read: Is the Chanel Jumbo Dead?). 
Nevertheless, these are the shades that caught our eye so far.
Chanel Colors for the Classic Flap - Act I & Act II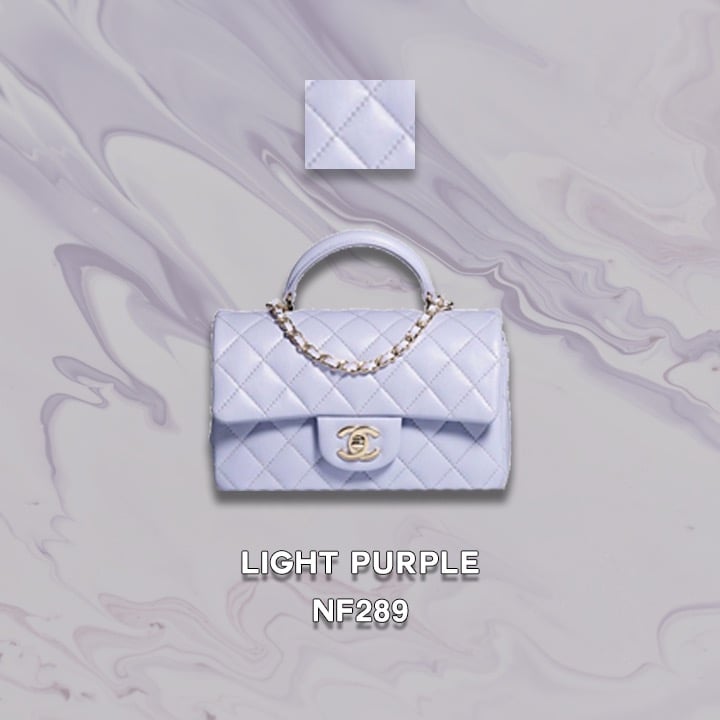 Light purple comes in shiny grained calfskin (caviar) and lambskin for classics. Also a lambskin only option for the new mini with handle.
Perhaps the light purple is a bit more lavender than lilac, which should be no surprise. It's called 'light purple" not 'light pink" for a reason. However, if you missed out on either last year's purple or this spring's lilac, this color may suit your fancy.
*now expected to arrive for Act II – 21K*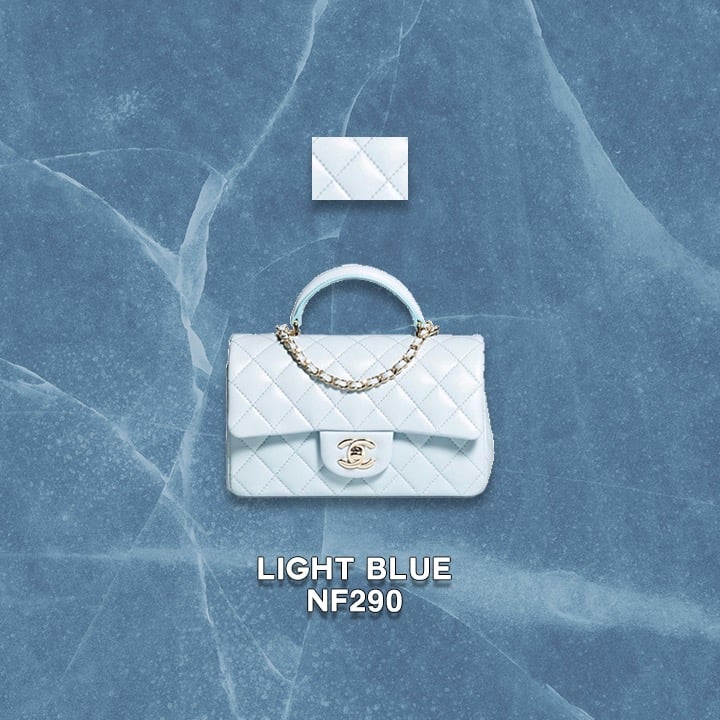 Light blue comes in shiny grained calfskin (caviar). However for the mini with handle there is lambskin. Frankly, at least in pictures, this color resembles Hermès' Bleu Brume, for those of you coveting that hue. Summer sun or winter icicles, it works either way.
*now expected to arrive for Act II – 21K*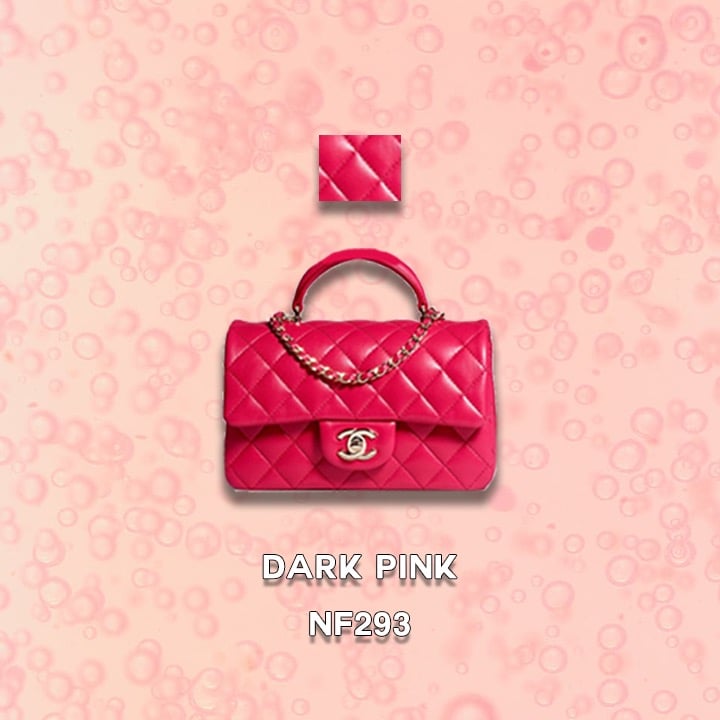 We can't help but think Framboise, deep raspberries on hot summer nights. This… from our intel is coming in caviar for classics and lambskin for the mini with handle. There might be others as well.
Even this dark pink could pass for a poppable hot pink. It's more muted but still hot.
*now expected to arrive for Act II – 21K*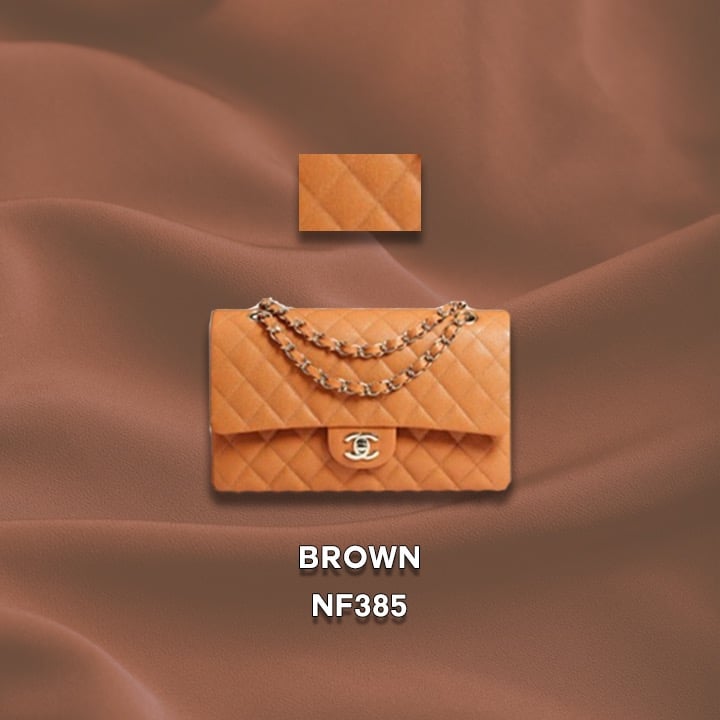 The brown that everyone wishes was more like caramel is in fact more pumpkin spice. Fall is PSL (pumpkin spice latte) season after all! Expect this color in both shiny grained calfskin (caviar) and lambskin. But, beware: a delicious, luxurious, deep chocolate brown is coming in lambskin.
*expected to arrive for Act I (June – Oct)*  
Chanel Caviar Classics
Funny how caviar – the gastronomical food delicacy – is actually thought to be a heartier Chanel leather. For the coming seasons, Chanel puts out some frothy colors in this fabrication. Look for the light blue, light purple, and white. More autumnal shades include the dark pink and brown as discussed above. Plus, if you're looking for a blue – you can go royal with this deep one.
Here's your first glimpse of the new 'caramel – ish' pumpkin spice brown for 21A.
And here are the mini colors for 21A.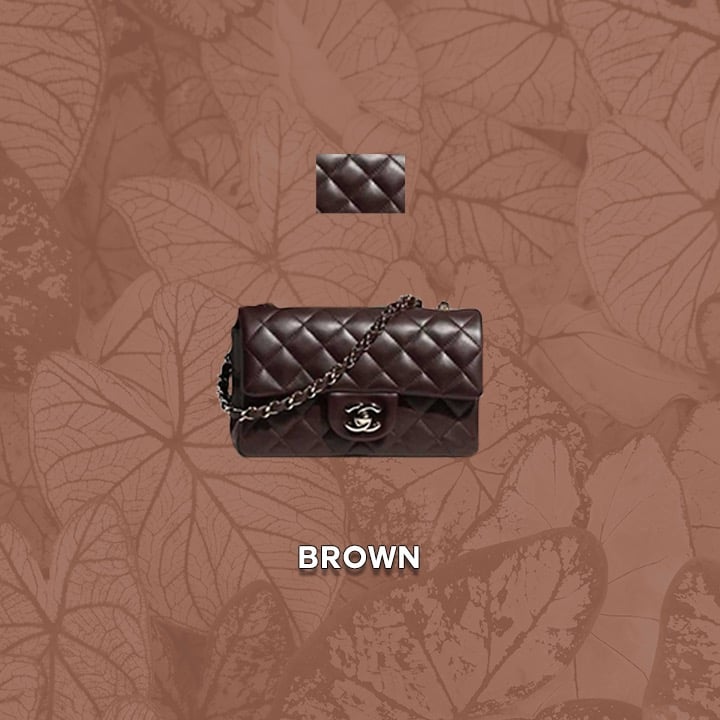 Do you have a sweet tooth? This just might satisfy those late night dark chocolate cravings and even be calorie free. That is, if you can get your hands on it. As far as we know lambskin only for this delight.
*expected to arrive for Act I (June – Oct)*    
Chanel Iridescent Lambskin Classics
With options including purple, pink and a light blue… we're sure there's a shade to delight every dreamy pastel lover. Romantic and delicate, these options fit every fairy tale event. Chanel's selection of these exquisite and dainty options continues to grow every season.  These are now expected to arrive for Act II – 21K. Whether these are iridescent versions of their fellow lambskin and caviar counterparts is yet to be seen as the color codes differ. Pink lovers, consider this your warning to act quickly – we expect that that pink iridescent lamb promises to be a favorite.
One more note – sources tell us that the new and popular mini flap with handle will only be made in lambskin. Act I will have black, gray and a peachy pink version… Act II will also be all lamb and include the pretty pastels coming for 21K.
It's another season where the handbag chatter is about.., the Chanel classic flap. As the brand continues its marketing campaign devoted to this timeless style, it also bombards us with a full rainbow of color options. Will this be the season that you fall into the flap?
Updated: September 13th, 2021