Chloe is all about big hits – the bolder, the better. In recent times, we've seen Chloe produce some stellar bags that everyone wants to have such as the Drew Bag, the Faye Bag, and the Hudson bag. We might have another Chloe "it" bag in our presence with the Chloe Jane Bag. This past NYFW, many celebrities and bloggers were seen toting the very unique Jane bag, and we want to take a closer look at what it's all about. Let's dive in…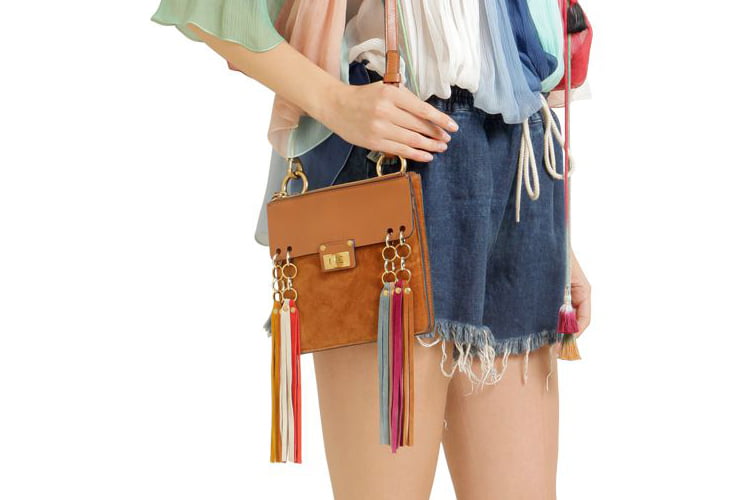 The Chloe Jane bag hit the runway in the Chloe Spring/Summer 2016 show. If nothing else, the Jane bag leaves an impression. The Jane has a very simple, rectangular shape but features lots of decorative accents that beg for this bag to be the center of attention. The hanging tassels bring movement and body to the bag in contrast to its very angular, rectangular shape. Its various styles come in suede, python, patchwork pattern, and rainbow colors to give the bag a really funky, vintage look.
From the bold tassels and bright colors, the Chloe Jane bag is meant to have a very bohemian inspired look. The Jane bag speaks back to Chloe's roots. The fashion house was founded in 1952 by Gaby Aghion, an Egyptian-born woman who spent most of her days in Paris. Chloe's designs from the beginning embodied modernity, youthfulness, and rebellion all while using the most luxurious, quality fabrics.
The Chloe Jane bag comes in two sizes: small and in a mini bracelet form.