A tote bag is a must-have in any collection! The Hermes Garden Party Tote is a staple for many and one of Hermes' most popular bags due to its relatively affordable price tag and practicality. If you're still looking for a great, designer tote bag, PurseBop is here to inform you on all the ins-and-outs of the Garden Party tote!
What to Expect from This Reference Guide:
I. Is It Worth It? Reasons to Buy
II. Features
III. Materials
IV. Sizes
V. Prices
VI. Celebrity Style
VII. Instagram Eye Candy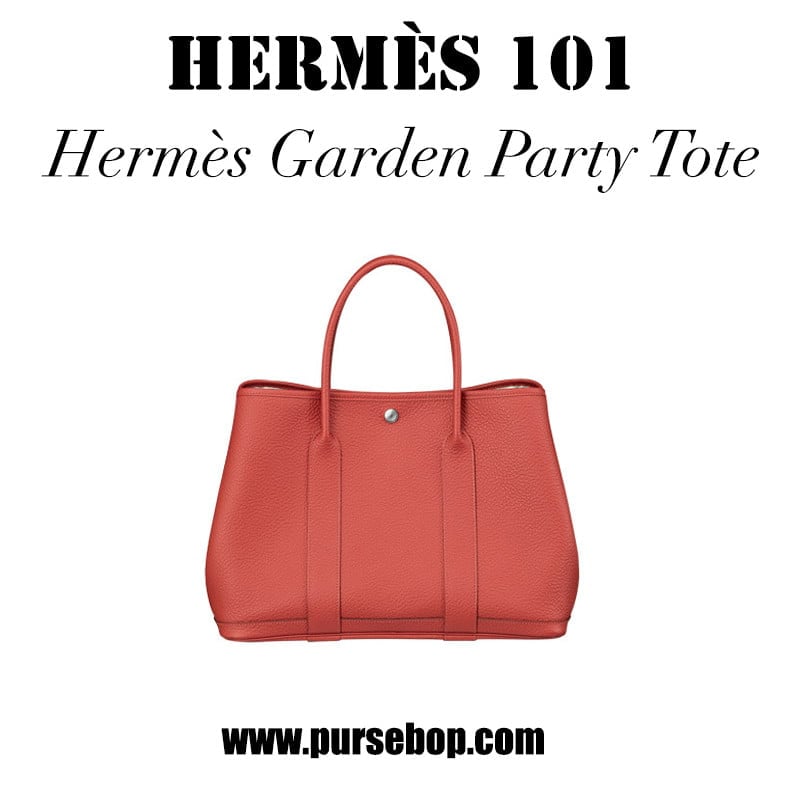 Is It Worth It?
You may be thinking…there's tons of solid totes out there from great brands, why turn to Hermes for a basic tote? While this is true, Hermes has craftsmanship like no other and you are bound to get use out of a high quality tote like this for years to come!
The Garden Party hits the marks on quality, functionality, and looks. It has a casual, relaxed vibe, but it is still structured and very chic. The tote has a simple, classic silhouette and isn't as flashy or overwhelming recognizable as other styles such as the Birkin or Kelly for example. It is also elegant enough to be used for more professional or formal occasions.
Reasons to Consider the Hermes Garden Party Tote:
High Quality Craftsmanship
Chic, but functional
Great Entry Level Bag – Relatively affordable compared to other Hermes Bags
More durable to heavy/frequent wear compared to other Hermes bags
Elegant enough to look appropriate with a variety of looks
Dress her up! You can easily add twillies or bag charms to the handles of your Garden Party for a more unique look.
Features
The Hermes Garden Party is a tote bag… plain and simple. It has one big, open compartment and it is designed to be functional and accommodate your things easily. The Garden Party is very straightforward compared to other Hermes bags with lots of bells and whistles like sangles, clochettes, and locks (read: Hermes 101 Birkin v. Kelly for full lesson on every part of a B and a K if these terms seem unfamiliar!) The simplicity of the Garden Party tote makes it a great on-the-go bag.
Notable Features:
Clou de Selle Snap Closure
Zippered Interior Pocket
Canvas Interior
There are also some "special edition" Garden Party totes with unique features. Some Garden Party totes feature detachable straps and outside pockets. Some Garden Party Tote bags can come with patterned canvas interiors as well.
Materials
The Garden Party Tote comes in two different styles: all leather and canvas with leather trim. The canvas styles have a canvas body and contrasting leather handles and trim. The leather commonly used for the all leather styles is called Negonda leather. Negonda leather is soft, supple, and has a matte finish. It is durable and water resistant, which is great since totes endure a lot of wear and tear with frequent use.
Both the canvas and all leather styles all have canvas interiors. Other Hermes bags have leather interiors. The use of canvas interior makes the Garden Party relatively more affordable compared to its H peers.
Common material combinations:
Canvas and Cowhide
Negonda Leather
Sizes
The Garden Party Tote is currently available in three sizes: Small, Medium, and Large. Small Garden Party totes are perfect for everyday wear and are comparable to larger sized handbags. The Medium Garden Party Tote has a little bit more capacity and is more well-suited for travel, work, and errands. The Large Garden Party Tote is more heavy-duty and better for travel and packing. Hermes used to stock the Garden Party Tote in both smaller and larger sizes than what is available now, but those sizes have since been discontinued.
Sizes:
Small (also known as "TPM" or "Hermes Garden Party 30")
Medium (also known as "PM" or "Hermes Garden Party 36")
Large (Less common and usually in canvas. Also known as "Hermes Garden Party 39")
Check out the dimensions for each tote below…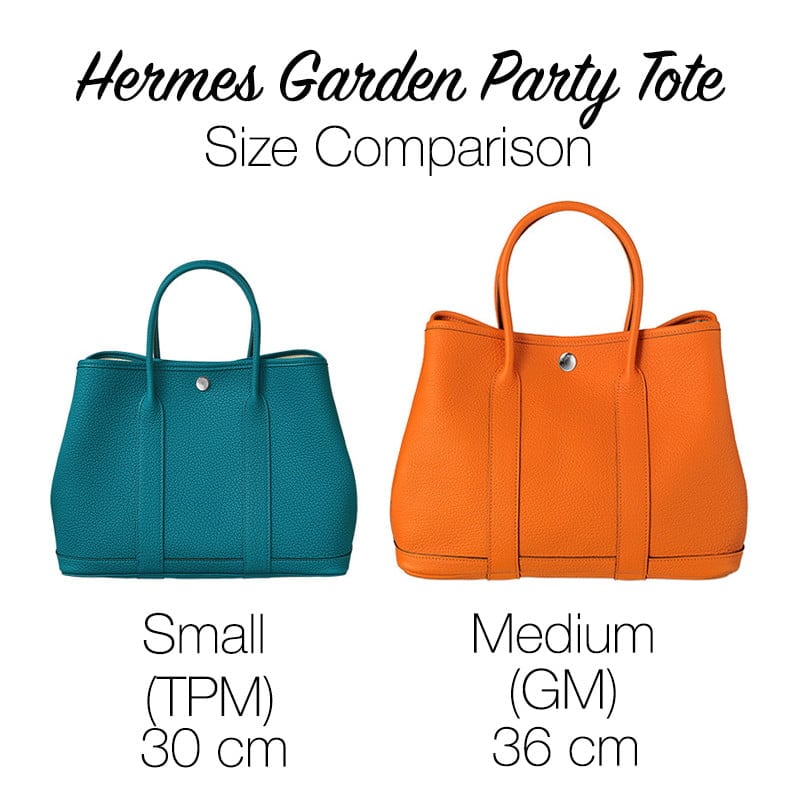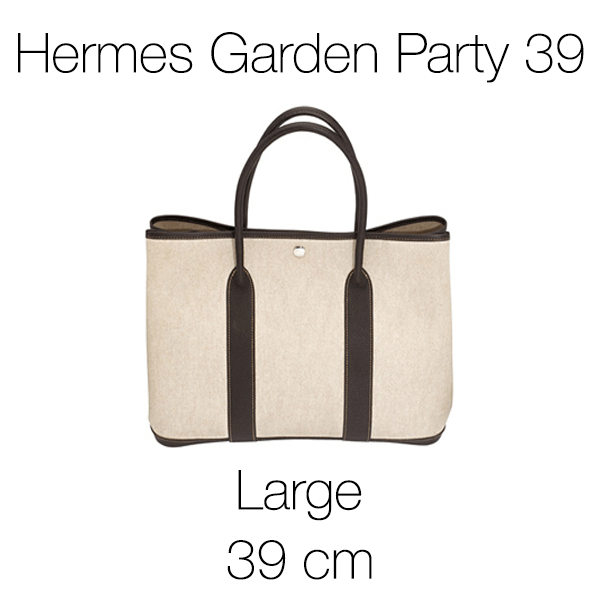 | | |
| --- | --- |
| Size | Dimensions (L x H x W) |
| Small Hermes Garden Party Tote | 12" x 8.5" x 5" |
| Medium Hermes Garden Party Tote | 14" x 10.25" x 6.5" |
| Large Hermes Garden Party Tote | 19.5" x 14" x 9.5" |
Prices
Due to various materials and sizes, prices for Garden Party Totes will vary too. Canvas styles retail for less than all leather styles.
| | |
| --- | --- |
| Size and Material | Price in USD |
| Small Canvas Garden Party Tote | $2,075 |
| Small Leather Garden Party Tote | $3,500 |
| Medium Canvas Garden Party Tote | $2,325 |
| Medium Leather Garden Party Tote | $3,675 |
| Large Canvas Garden Party Tote | $2,960 |
Celebrity Style
Celebs love to take the Hermes Garden Party Tote on all their jet-setting adventures!
Reese Witherspoon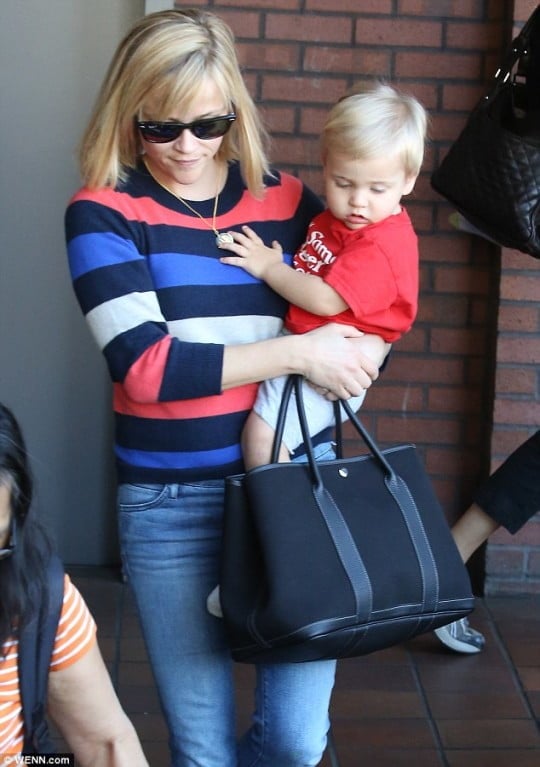 Teresa Giudice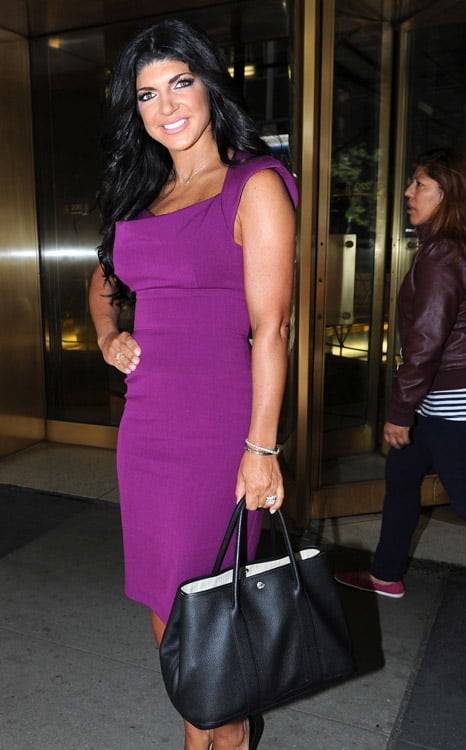 Jamie Lee Curtis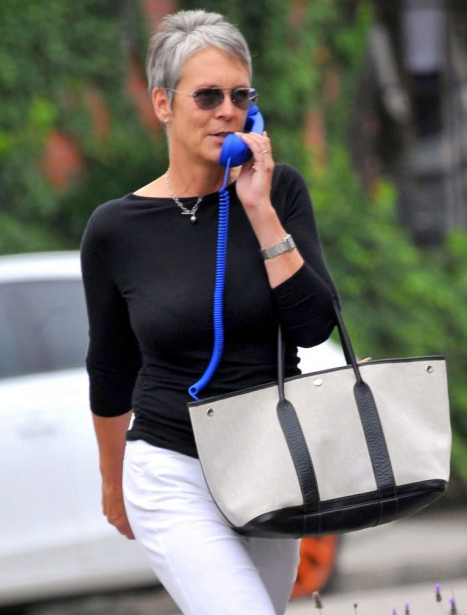 Jordana Brewster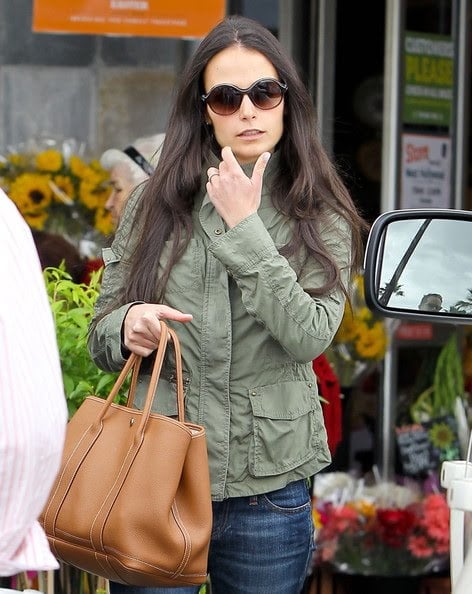 Take a look at the Garden Party Totes our IG community is rocking!
Updated: July 28th, 2019