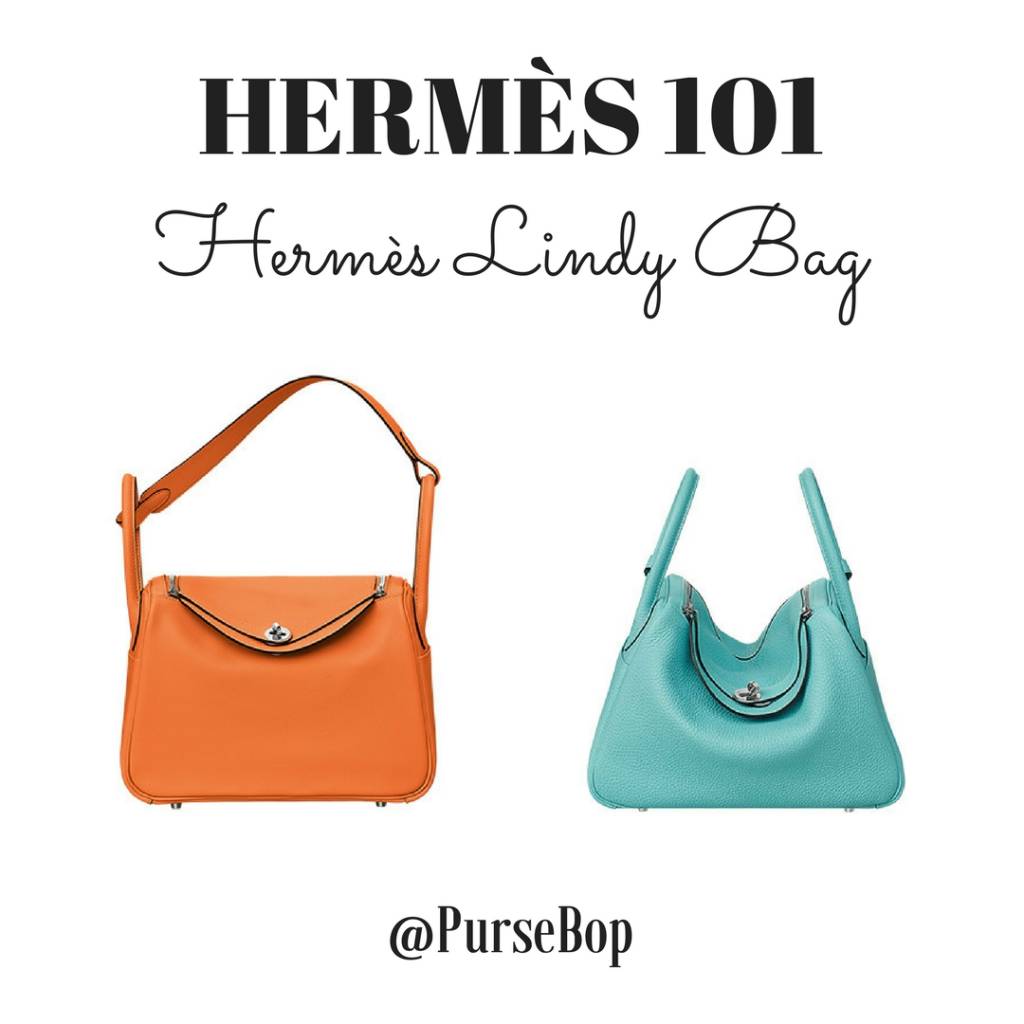 Hermès 101 Class is back in session! Our subject of the day is the Hermès Lindy. The Lindy is one of H's most unique bags, with a whimsical flair and casual edge. In recent years, the bag has developed a following of its own. If you're curious about the hype, PurseBop is here to inform you on all the details of the Lindy bag!
What to Expect from this Reference Guide: 
I. Is it Worth it? Reasons to Buy
II. History
III. Features
IV. Materials
V. Sizes
VI. Prices
VII. Collector Testimonial
VIII. Instagram Eye Candy
Is the Lindy Worth it? Reasons to Buy
When we think Hermès, we think of the classic trifecta: Birkin, Kelly, and Constance. But the aura of exclusivity surrounding the legendary H trio has the potential to blind us from other lovely H beauties. The Lindy is one of these bags. Since its debut, the Lindy has established itself as a modern Hermès classic.
The main thing going for the Lindy is that it's a serious departure from previous Hermès styles! Unlike the structured, boxy, and classic silhouettes the French maison is known for, the Lindy is casual and somewhat slouchy—youthful and even whimsical. It's an Hermès staple for the modern world, an emblem of an ever-changing brand.
Reasons to Consider the Hermès Lindy Bag:
Seriously unique – Simply put, no other Hermès bags look like the Lindy. That's why it made such a splash on the runway!
Perfectly versatile – One of the most exciting aspects of the Lindy is that it can be carried two ways, depending on how stuffed it is. When the bag is relatively empty, it bends in the center and can be carried by its top handles. When it's fuller, toting it over the shoulder is easiest.
Ideal for traveling – Especially in the larger sizes, the bag is functional, easy to tote around, and spacious—perfect for a carry-on.
Casual and cute – If you're a bit tired of structured, professional bags, this is the ideal on-the-go bag for some easygoing no-fuss fun.
Plenty of room – With 4 pockets in total and a large central compartment, the Lindy is seriously spacious.
History
First designed in 2006, the Lindy made its debut on the Hermès Spring/Summer 2007 runway (in mostly pastel colors!). Since then, it has become an Hermès boutique staple, available in a large range of colors and sizes.
Features
2 tubular top handles
Attached shoulder strap
2 separate sides, each with its own zipper pull
Classic Hermès twisting lock in center
Large interior with 2 pockets
2 exterior pockets
5 base studs on the bottom
Materials
The Lindy generally comes in three types of leather: Clemence, Swift, and Evercolor.
Here are brief descriptions of each of these leathers:
Swift: Characterized by its fine grain, swift is a very soft, semi-matte leather that makes colorful bags pop on account of its light-reflecting properties.
Clemence: Matte and with relatively large cells, Clemence leather provides a natural look with anti-scratch capabilities. It looks similar to Togo, Hermès' most popular leather, but has larger grains that are less deep than Togo.
Evercolor: A stiff grained leather, Evercolor is the colored version of Evergrain. Though embossed, it has a soft touch and is prone to scratches (but minor ones can be buffed out fairly easily!).
Sizes
The Lindy is available in 4 sizes: 26 cm, 30 cm, 34 cm, and 45 cm. The 26 and 45 tend to be difficult to find, while the 30 and 34 are readily available for purchase at the Hermès boutique. The 45 is generally used for traveling, since it is quite large.
| | |
| --- | --- |
| Size | Dimensions (L x H x W cm) |
| Hermès Lindy 26 | 26 cm x 18 cm x 13 cm |
| Hermès Lindy 30 | 30 cm x 21 cm x 15 cm |
| Hermès Lindy 34 | 34 cm x 22 cm x 17.5 cm |
| Hermès Lindy 45 | 45 cm x 26 cm x 26 cm |
Prices
*All prices listed in Clemence leather. Lindy bags in different materials may vary. Prices below are from Summer 2017, and the Lindy 26 price has been converted from Euros. 
| | |
| --- | --- |
| Size | Price in USD |
| Hermès Lindy 26 | $7,100 |
| Hermès Lindy 30 | $7,800 |
| Hermès Lindy 34 | $8,350 |
| Hermès Lindy 45 | NA |
I fell in love with the Lindy bag years ago and have had quite a love affair with the bag. I love how practical and roomy the bag is. It fits so much and closes entirely, which is good for safety. Also, I love the way it just sits and slouches in the most perfect way. I know the aesthetic is not everybody's cup of tea, but I have actually always loved the shape. I also have a casual sporty vibe that I think works with the Lindy, and that is what makes the Lindy such a great workhorse that can be switched up and taken out to a nice dinner. Look at my newest one and you can see how I can easily dress it down with jeans, but then put on a skirt and heels, and voila! Datenight ready! I love my Lindy and always will. In my mind, it's the most practical Hermès bag, great for traveling and everyday. —@mrslulu3