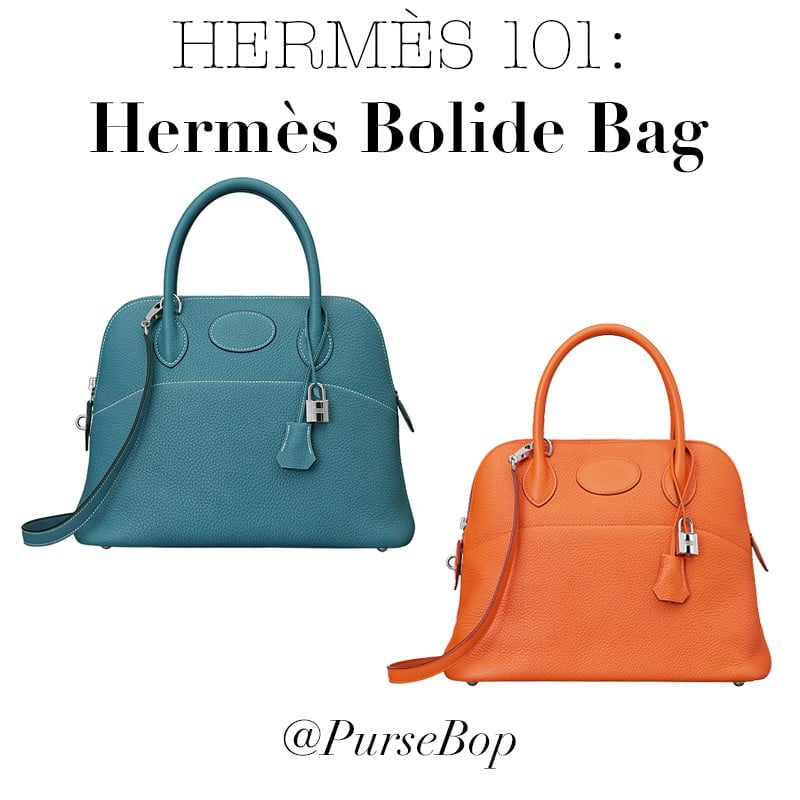 As the summer sun rises higher and higher, amplifying our desire for adventure, it's time to examine an Hermès bag that is popular, chic, and deeply rooted in Transatlantic travel: The Bolide. Let's take a comprehensive look at the historical and physical features of the bag…
What you can expect in this Bolide guide:
I. Is the Bolide Worth it?
II.  History
III. Features
IV. Material
V. Sizes
VI. Prices
VII. Instagram Eye Candy
I. Is the Bolide Worth It?
Though perhaps it doesn't have the air of mystery and exclusivity that the Kelly and Birkin do (read: Hermes Birkin vs. Kelly 101), the Bolide has been a long-time celebrity and Hermès-aficionado favorite. The Bolide has fans all over the blogosphere who exalt its classic beauty and perfect functionality.
Here are 3 Good Reasons to Consider the Bolide:
It's Perfect for Travel: Inspired by the age of automobile production and designed as a travel bag, the Bolide has perfect functionality for road trips

and

transcontinental flights. The Bolide Secret has a zippered compartment perfect for passports, keys, and other items.

It's Ideal for the Working Woman: With a diverse range of sizes, the Bolide could certainly be used as a work bag, as the 35 and 45 can easily store small laptops and notebooks.
The Bolide is Understated and Chic: A favorite in Paris and Tokyo, the Bolide has a more simple design than some of Hermès' other selections, making it a classic, discrete beauty.
II. History
When Emile-Maurice Hermès was traveling in North America, he visited Henry Ford's automobile factories and discovered a mechanism used on the cloth tops of cars: the zipper. When he returned to France, Hermès filed a patent for the zipper and adapted it for his purses. In 1923, Hermès debuted The Bolide: the first purse with a zipper. Initially named "le sac pour l'auto," the Bolide literally means comet, inspired by a nickname for sport cars.
III. Features
Removable shoulder strap

Roomy, dome shape

Oval leather patch (for monogram or initials)

Single zip closure
IV. Materials
Before we talk specific materials, it's important to establish that the Bolide comes in two different styles: Mou and Rigide. Mou is a soft leather, which is more casual, while Rigide is sturdier and harder.
Leathers the Bolide is Commonly Available in:
Epsom: Easy to clean and with anti-scratch capabilities, the Epsom pattern is pressed into the leather. The material is laminated and has a clean, polished appearance.
Clemence: Matte and with relatively large cells, Clemence leather provides a natural look with anti-scratch capabilities.
Sikkim: Sikkim leather is incredibly soft and buttery. It is used for the Bolide Mou bags, and has little to no grain.
V. Sizes
The Bolide comes in 4 sizes: 27 cm, 31 cm, 35 cm, and 45 cm. The Bolide 31 is generally recommended for everyday use, while the 45 is especially designed for traveling.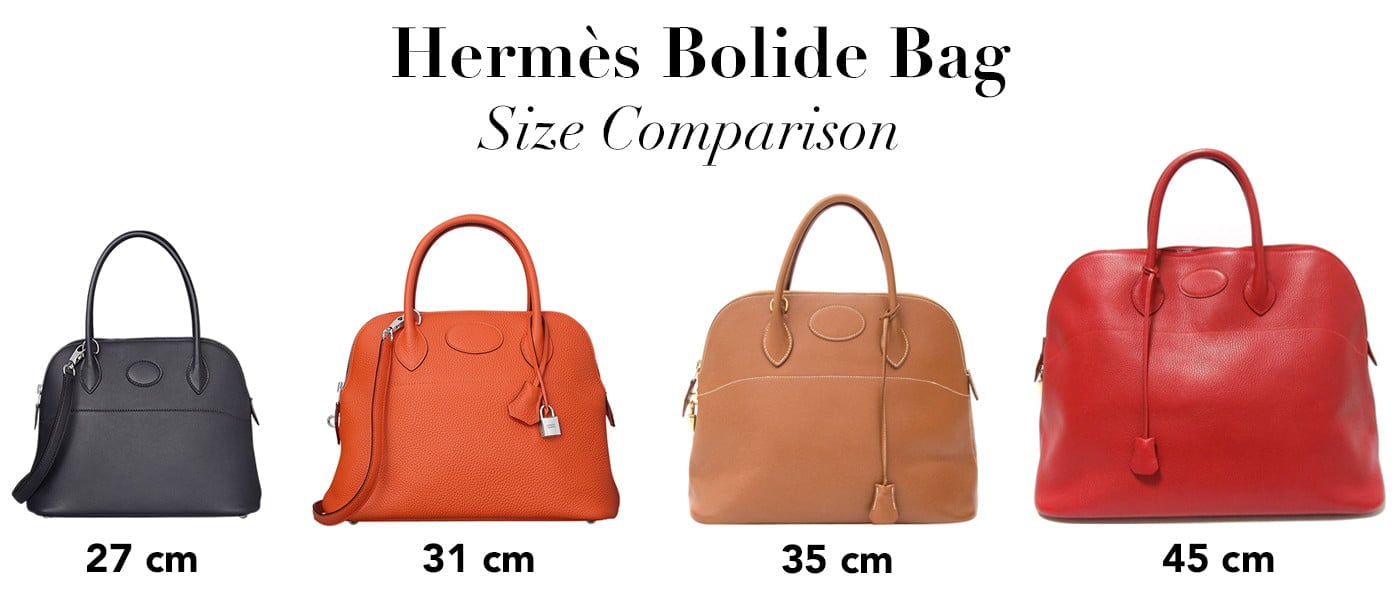 | | |
| --- | --- |
| Size | Dimensions (L x H x W cm) |
| Hermès Bolide 27 | 27 cm x 20 cm x 10 cm |
| Hermès Bolide 31 | 31 cm x 24 cm x 12 cm |
| Hermès Bolide 35 | 35 cm x 28 cm x 15 cm |
| Hermès Bolide 45 | 45 cm x 36 cm x 23.5 cm |
VI. Prices
*The Hermès Bolide will vary in price depending on size and material. Prices below are from July 2017.
| | |
| --- | --- |
| Size | Price in USD |
| Hermès Bolide 27 (Epsom) | $5,850 |
| Hermès Bolide 31 (Clemence) | $8,100 |
| Hermès Bolide 35 (Clemence) | $6,500 |
| Hermès Bolide 45 (Sikkim) | $7,000 |
*Price for the Bolide 35 is converted from Euros; this size does not appear to be presently available in the U.S.