Two loyal PurseBop readers recount their trip to Paris. And as Hermès fans know, no visit to the City of Lights is complete without a visit (or two or three) to the Hermès boutique. Enjoy the Hermès Paris adventures of Priscilla and Kalani.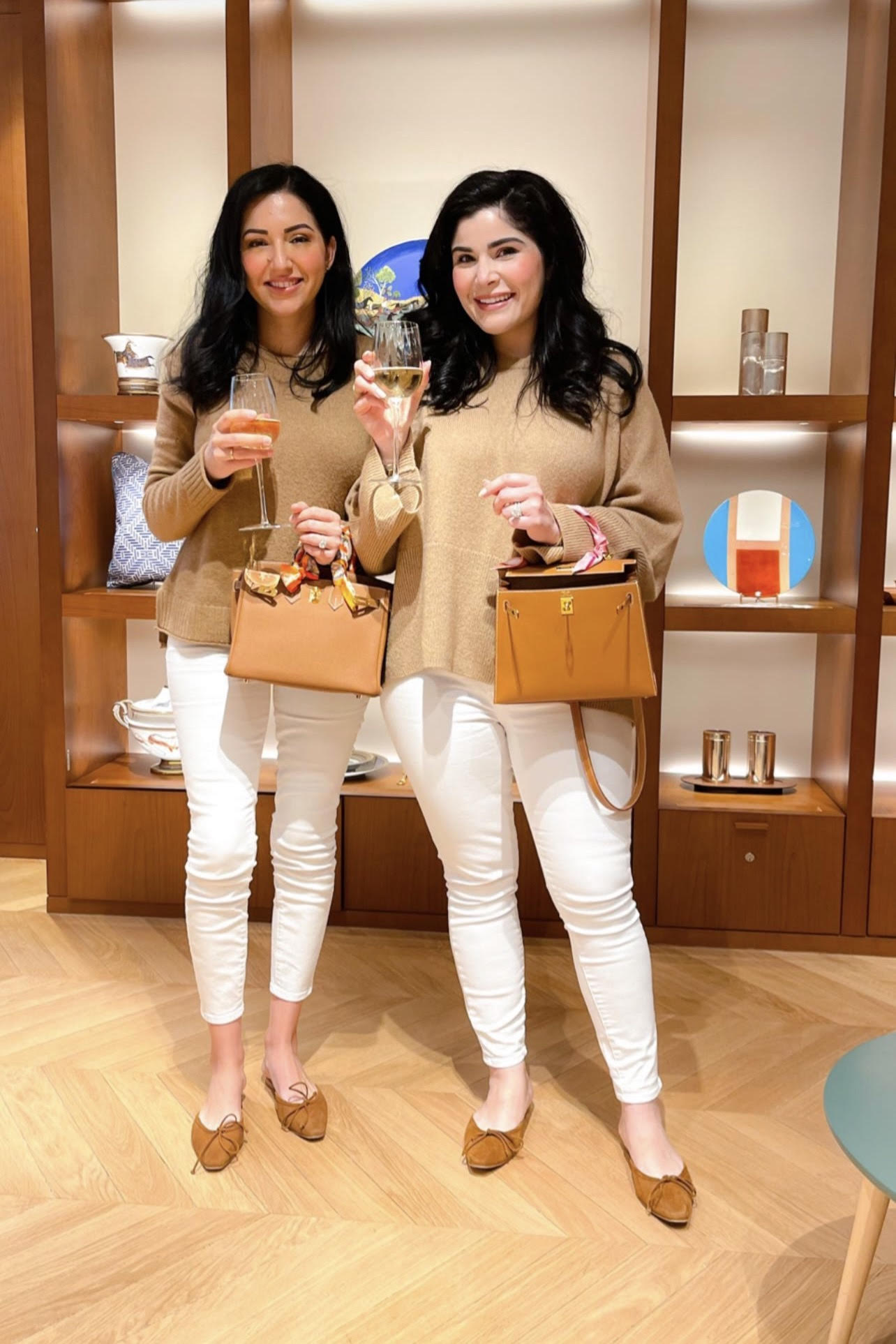 Paris. The most beautiful city. Not only do we love Paris for its food, attractions, lifestyle, and architecture, we also believe it has the best shopping. As best friends who often travel together, in planning our next vacation we wanted somewhere beautiful.  But most important, the shopping had to be good.
Priscilla came up with the idea to go to Paris. Why Paris? Like nearly every other woman in this world, we wanted to try and score an orange box. Going as best friends and getting the bag of our dreams, we never imagined could be real. Although we prepared ourselves for failure, hope kept us going, and we remained positive.
Priscilla contacted Hermès to find out how the appointment system worked. Hermès emailed Priscilla the appointment link. The lady over the phone also suggested making an appointment at all three locations in Paris as that would afford a greater chance of getting an actual appointment.
After researching ourselves, we realized that the earliest you can make an appointment is only the day before. You must input all of your personal information along with your passport information. Before embarking on our trip, Priscilla did a trial run of making an appointment so that we would be prepared and know what to expect. The appointment window opened from 10:30 am to 7:30 pm. We had a plan and we were ready.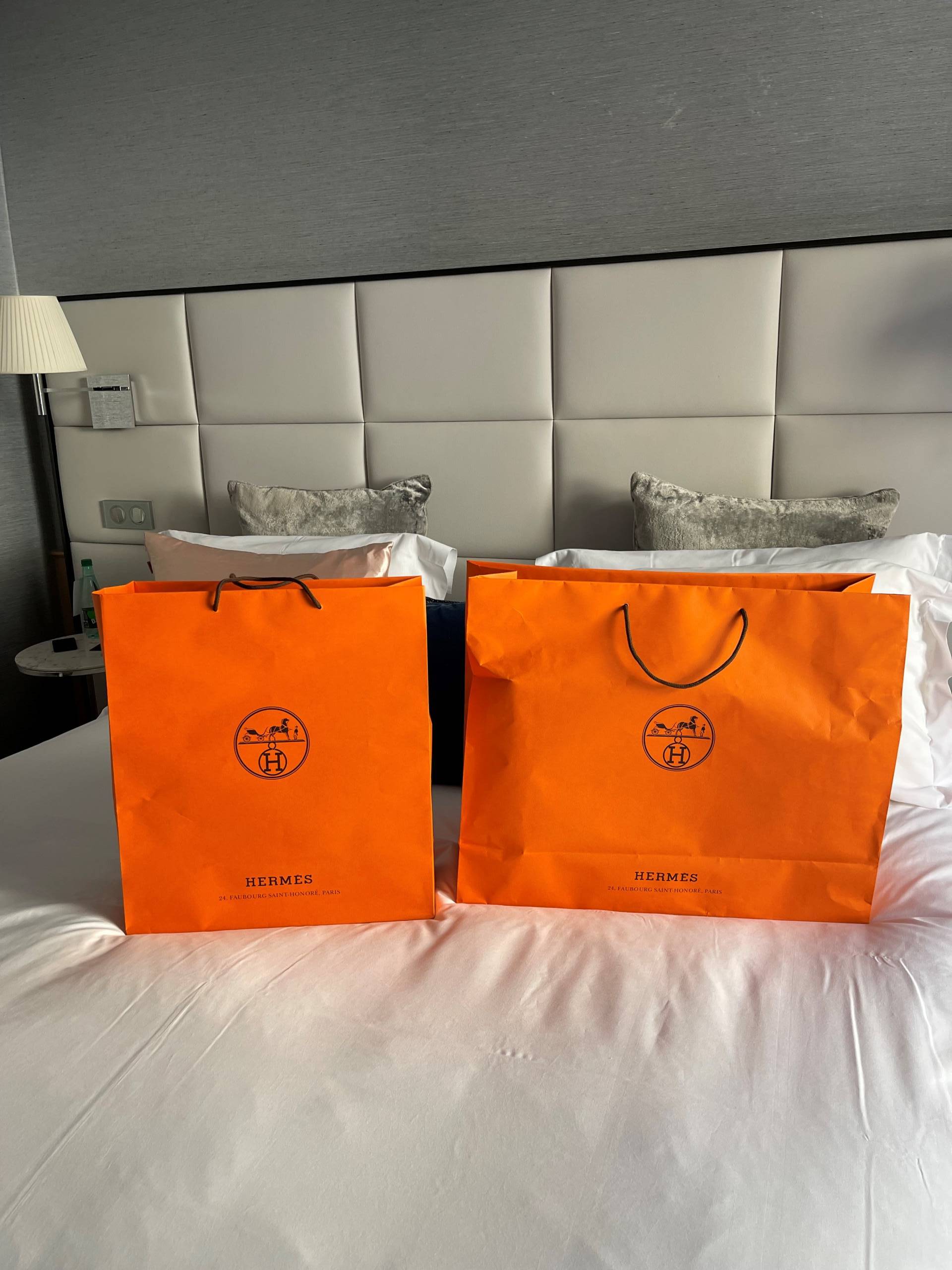 We arrived on Sunday March 20th, so excited to be in Paris. Before bed, we made sure to set our alarms for Monday at 10:30 am. We knew there was the possibility of getting our dream bag. The hope was always there and, like we said before, we remained positive throughout the process.
Monday morning came around and our alarms went off. We each immediately applied for a Tuesday appointment at 10:30 am. The confirmation emails said that our request for a leather goods appointment had been registered, there are large numbers of requests, the appointments are limited in number, and appointments are assigned randomly. It further advised that we would receive an email between the hours of 8:00 pm and 8:30 pm with a response.
Our excitement grew stronger since we both got through the appointment system. Not everyone does. Just getting that confirmation made our day!
With a busy, happy day already planned, we enjoyed Paris. We made it a priority to continuously check our phones throughout the day in the hope of receiving notification of an appointment. That night, however, we both received rejection emails. The email stated that they were extremely sorry that they could not fulfill our appointment request. They invited us to repeat our request, which we knew we do and not give up.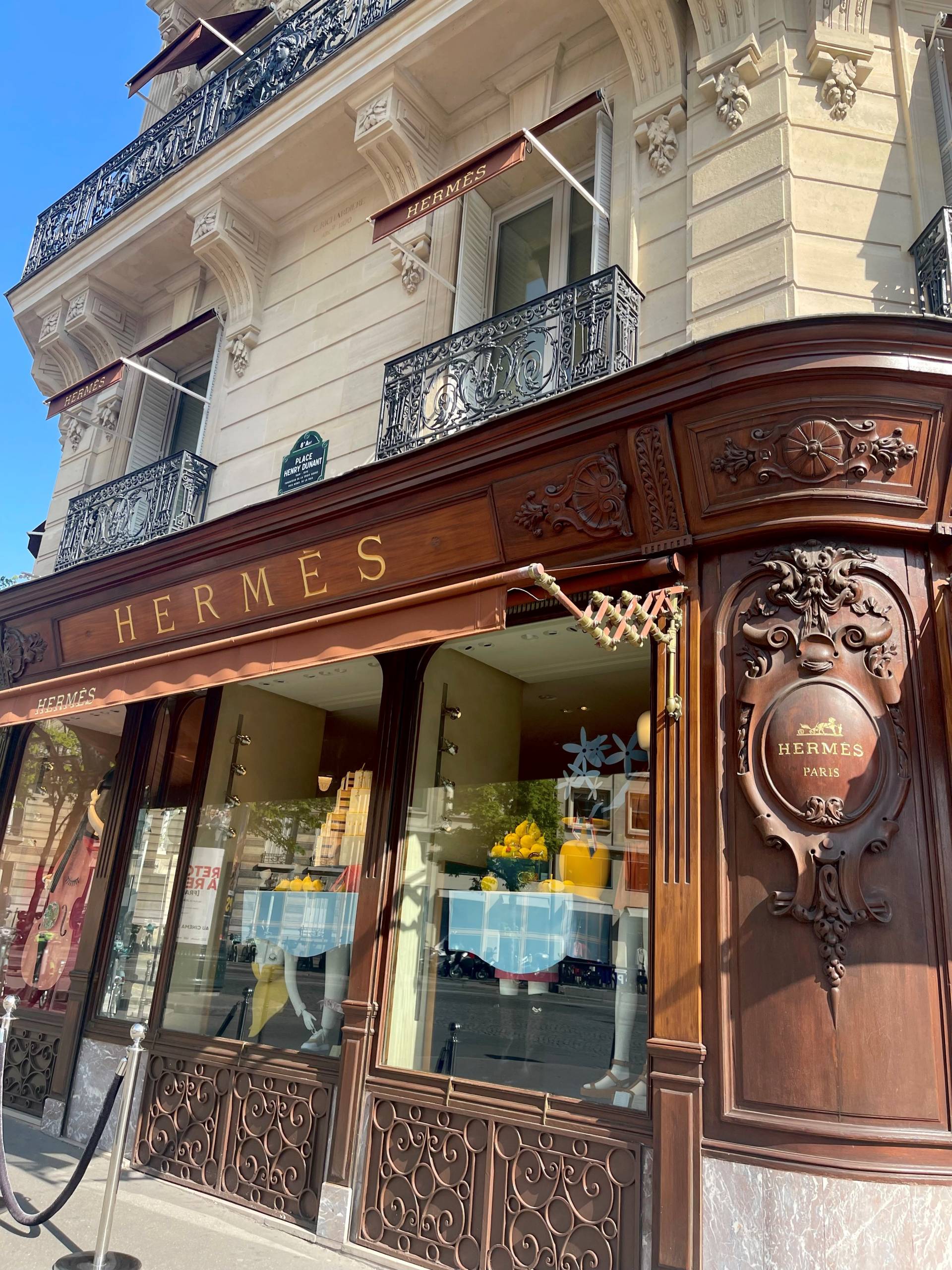 The next day at 10:30 am, we tried our luck again and hoped for the best. Regardless of appointment status, we had planned to do some shopping at Hermès and learn more about the workings of the appointment system.
At the Georges V Hermès boutique, we encountered a wonderful SA who provided tips and suggestions. Not only was he extremely kind and helpful, but he encouraged us to keep trying and not give up. Not that we would anyway. In fact, he suggested returning to all the stores on our last day if we didn't receive an appointment so that we can request one in person and mention how it would be our last day. He gave us hope.
That night we each received a text message at around 8:00 pm confirming our appointments! Priscilla 'would be welcomed' on March 23, 2022 at 42 Av. George V at 11:30 AM and Kalani 'would be welcomed' on Mar 23, 2022 at 24 Faubourg Saint-Honoré at 1:20 PM. The message also communicated that the given hour may be subject to change and to consult their website which had a direct link to our appointments.
Screaming with excitement, we couldn't believe we had both received an appointment on the same day. It was like winning the lottery. We hugged with joy and happiness and began to plan our conversations with the SAs including our requests. For us, being prepared was important. We wanted to make sure we remained calm, kind, collective, professional, but most importantly, ourselves. Our personalities needed to stand out. We had it all figured out and we knew exactly what we wanted.
March 23, 2022 arrived! We were excited but nervous at the same time. As Priscilla's appointment was first, we headed to the George V boutique, arriving fifteen minutes early, at 11:15 am. As we entered the store we were immediately greeted. Priscilla mentioned her appointment and a kind male SA walked us upstairs into a private room.
Seriously, it was like a dream come true. This was our first experience with a private Hermes room. We couldn't believe it was really happening. It was a beautiful green room with gold and green wallpaper and black and white art. A very classic and elegant space. We sat down. He offered us something to drink. When he returned with our drinks, he asked us where we were from, and what was on Priscilla's wish list. He was very sweet! The SA laughed with us and we immediately felt a connection with him. Then the SA said he would be right back…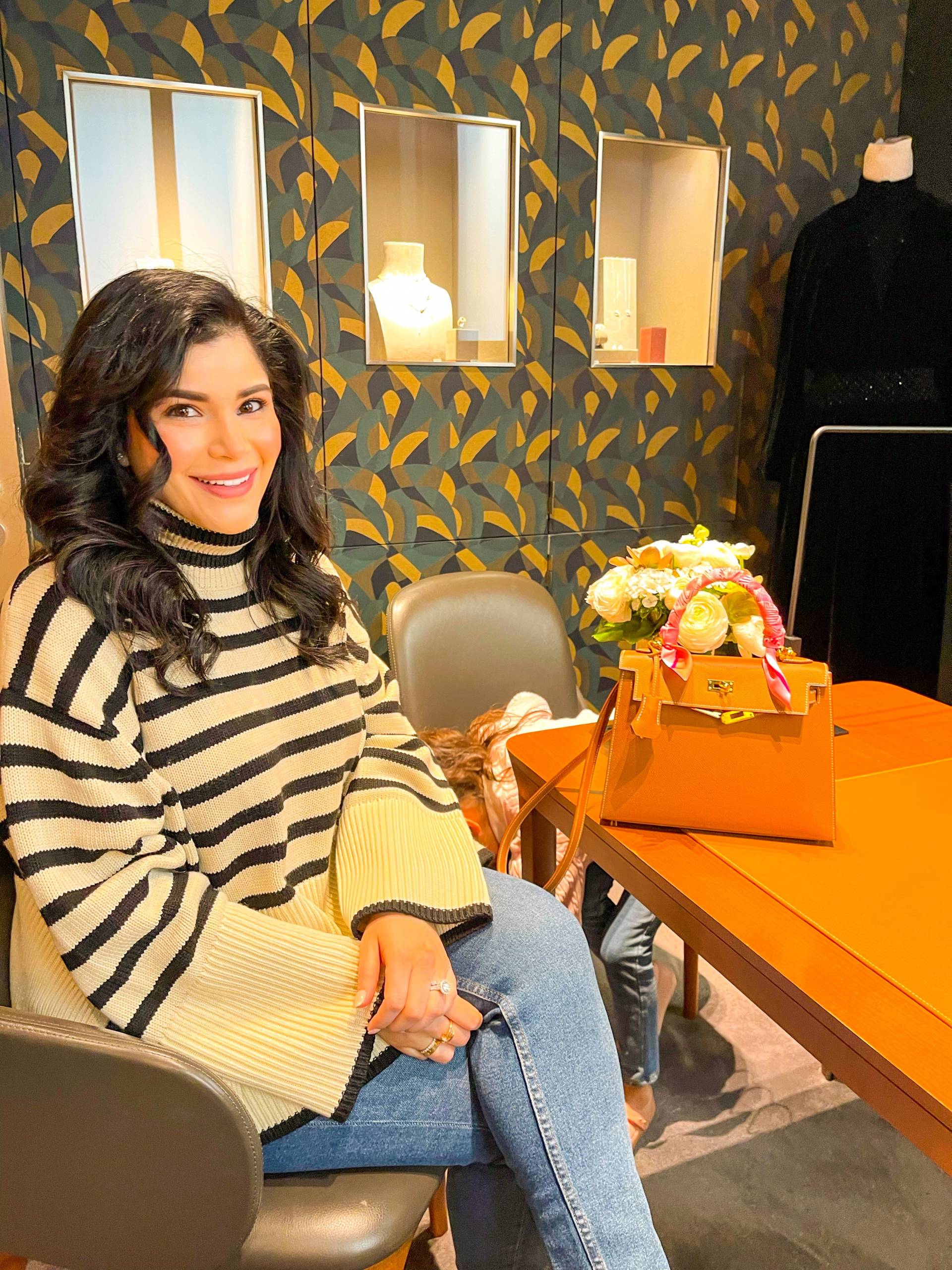 He returned with an orange box. He said, "I think you may like this. It was the first thing on your wish list." When he opened the box, there it was, the beautiful Birkin 25 black togo leather with gold hardware. The dream Birkin! Priscilla immediately said, "l will take it!"
Priscilla thanked him for making her dreams come true in Paris. The SA was pleased. He continued to talk to us and offered us champagne to celebrate. We kindly accepted and celebrated Priscilla's new bag. It was the best experience! Priscilla's dream came true in Paris.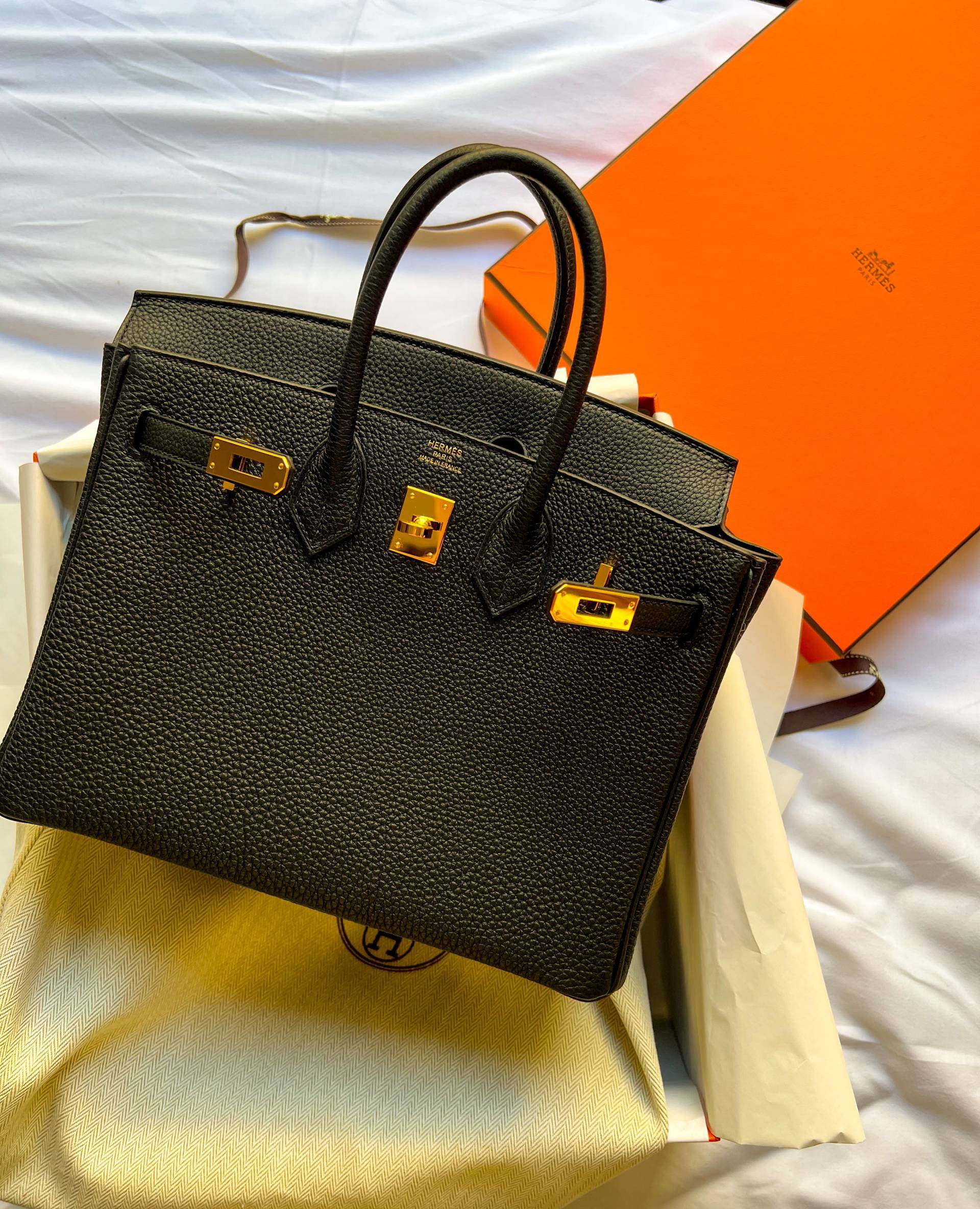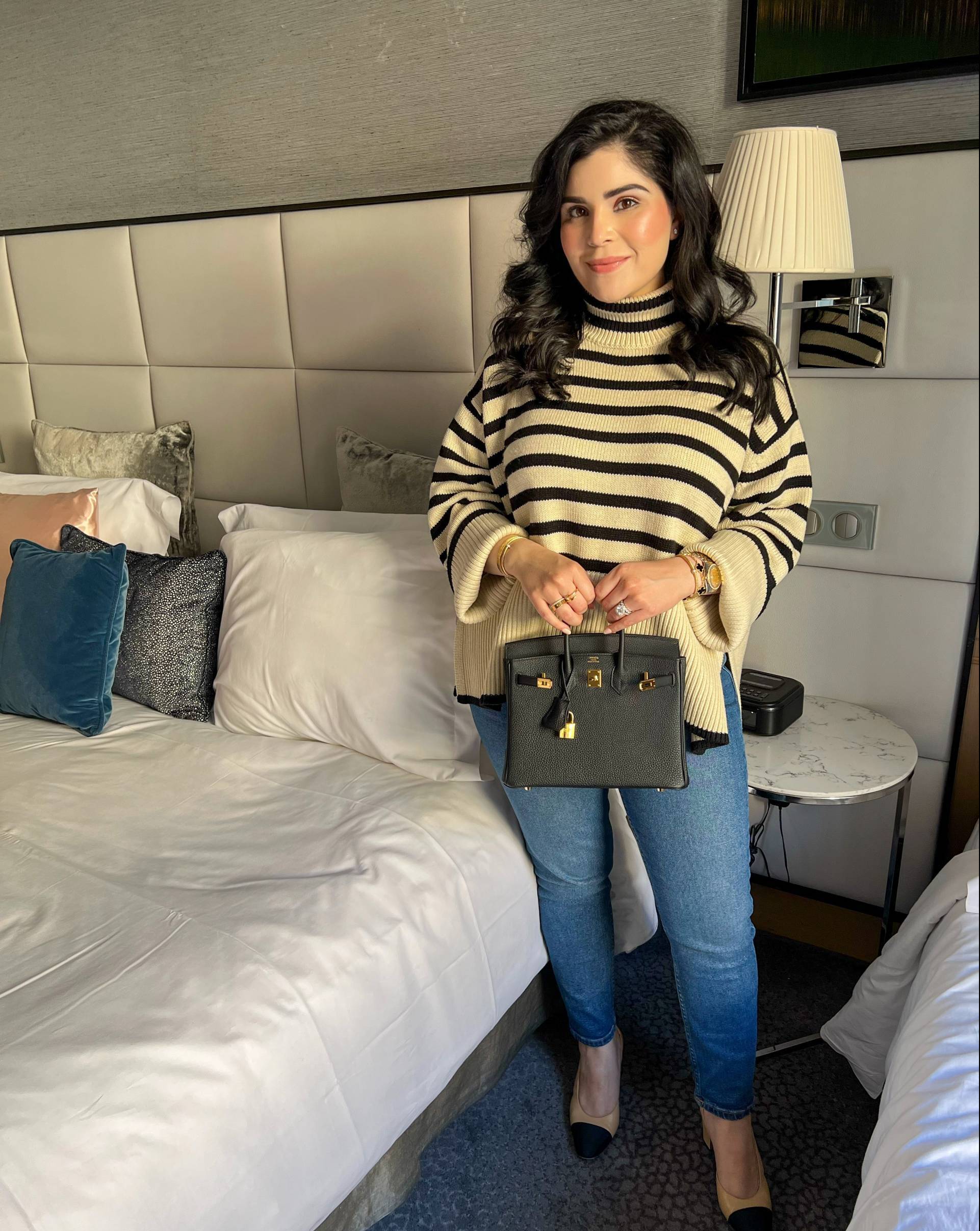 After our celebration, we immediately headed to Kalani's appointment at the Faubourg Saint-Honoré location. Again, we arrived 15 minutes early. They greeted us and checked us in at the leather goods department.
This store was not like Georges V. It was crowded, huge, with several floors. It was a bit overwhelming. We were seated in a waiting area and told an SA would be with us shortly. At that point, Kalani was so nervous and hoped for the same experience Priscilla had.
When the female SA came to greet Kalani, she was quiet and reserved. She took us upstairs where there were many tables and SA's with other guests, and offered us a beverage. When the SA returned with our drinks, she admired Kalani's Birkin 25 and asked if it was new. Kalani shared that she had purchased the bag two years prior but hardly uses it since it can be unsafe in LA, where she lives. The SA understood and then asked where we were from, what brought us to Paris, and what was on Kalani's wish list.
Kalani shared her top three choices. The SA checked her phone and then said she would be right back. When the SA returned, she had an orange box and asked us to walk upstairs. Kalani anticipated it was a special bag since the SA could not reveal it on the open floor for everyone else to see.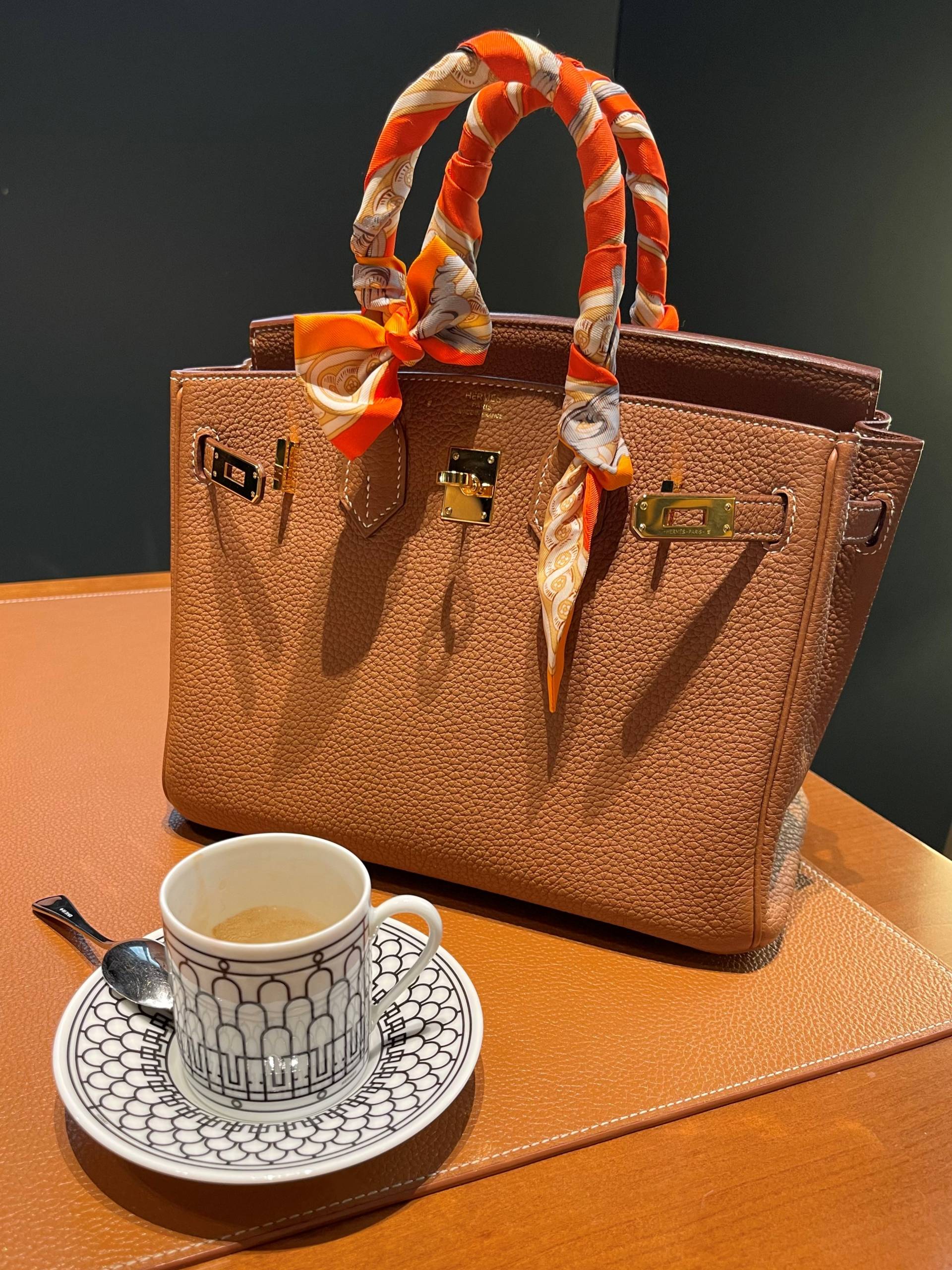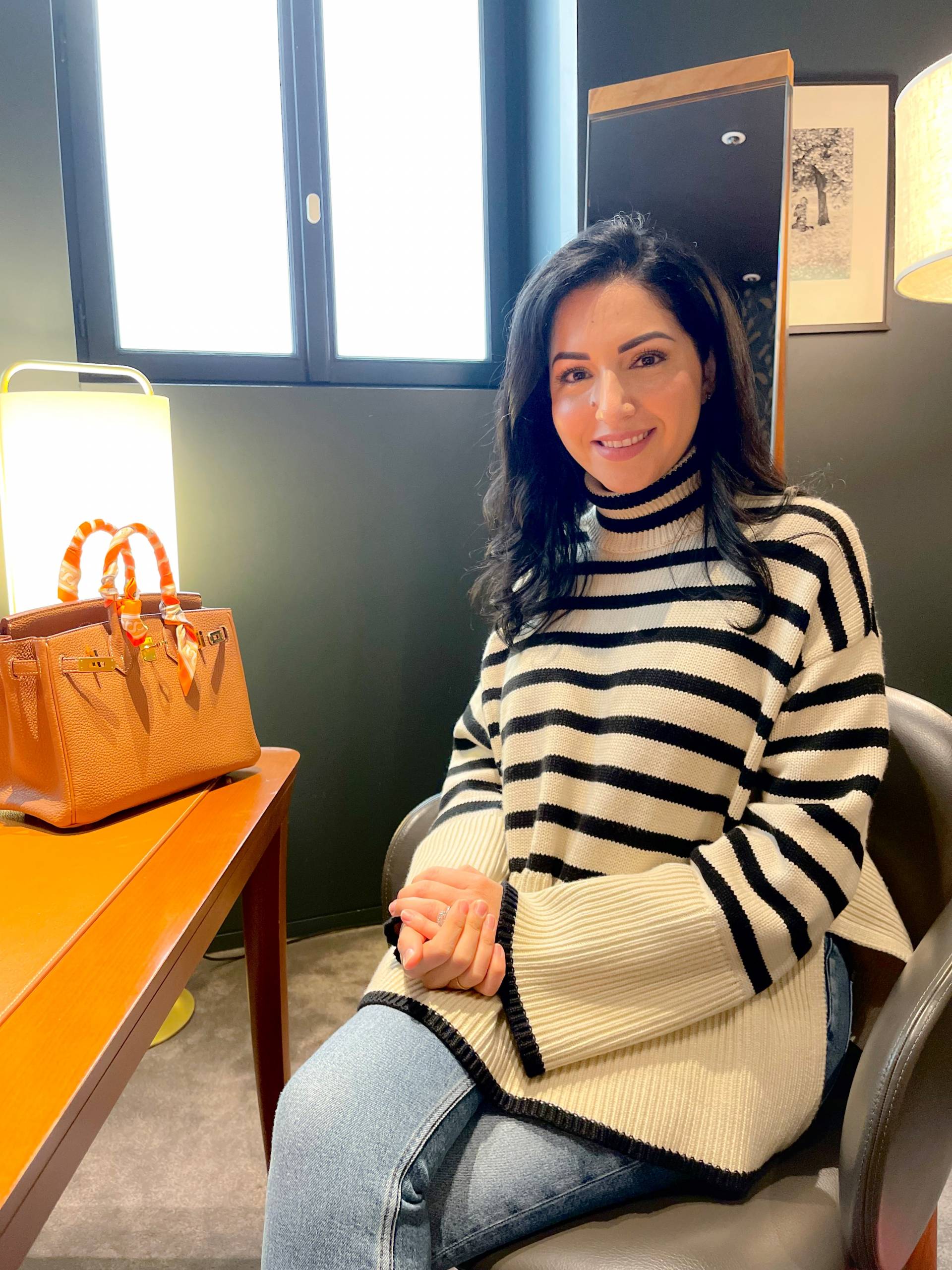 We then went to the 3rd floor where there was a window and couch area. The SA seated us and opened the box. She pulled out a Kelly 25 sellier in mauve sylvestre with silver hardware.
Kalani was in shock. This was not on her wish list. She had asked for three neutral colors in a Kelly. Kalani asked what color it was and kindly said that it wasn't what she was expecting. Kalani also said the bag didn't "wow" her. The SA was very understanding and looked at her phone.
As Kalani was trying to process it all, she asked if there were any bags in the color Nata since that was her first choice. The SA then said yes. Kalani was so happy to hear those words. The SA said she had a Kelly 28 retourne in Nata with gold hardware. Kalani's eyes lit up and asked if she could see it. The SA went off to get another orange box. When she left, Kalani and Priscilla discussed the color of the bag and how it wasn't Kalani's top choice or style. It was a beautiful bag, but not what Kalani was hoping for.
When the SA returned with another orange box, she pulled out a Kelly 28 retourne taurillon clemence in Nata with gold hardware. It took Kalani's breath away! She told the SA that's what she wanted to feel. This bag WOWED her! Kalani tried on the Kelly and told the SA she was the one. The bag she had hoped for. Kalani was so excited she hugged her. The SA was pleased. Kalani's dream also came true in Paris.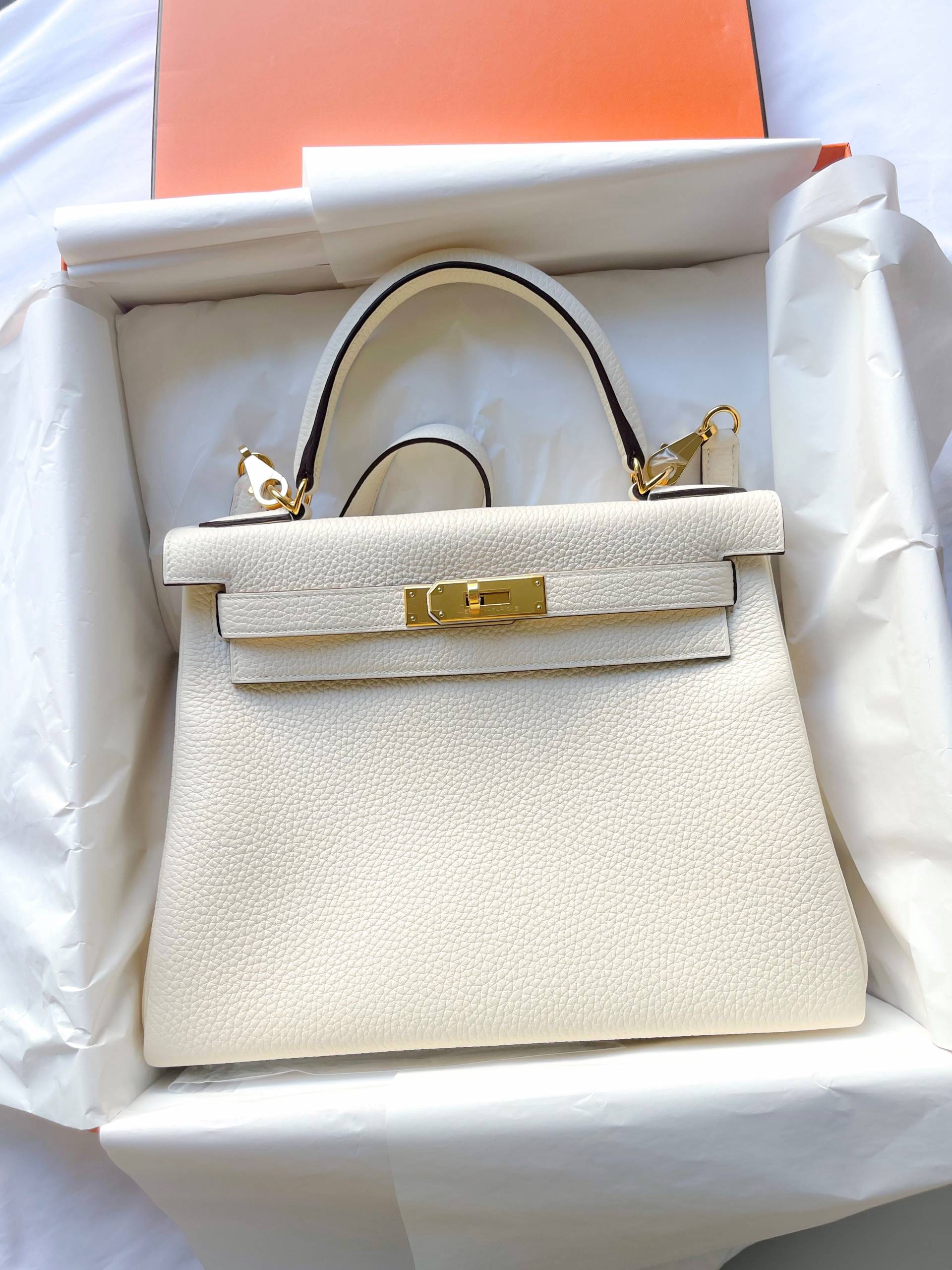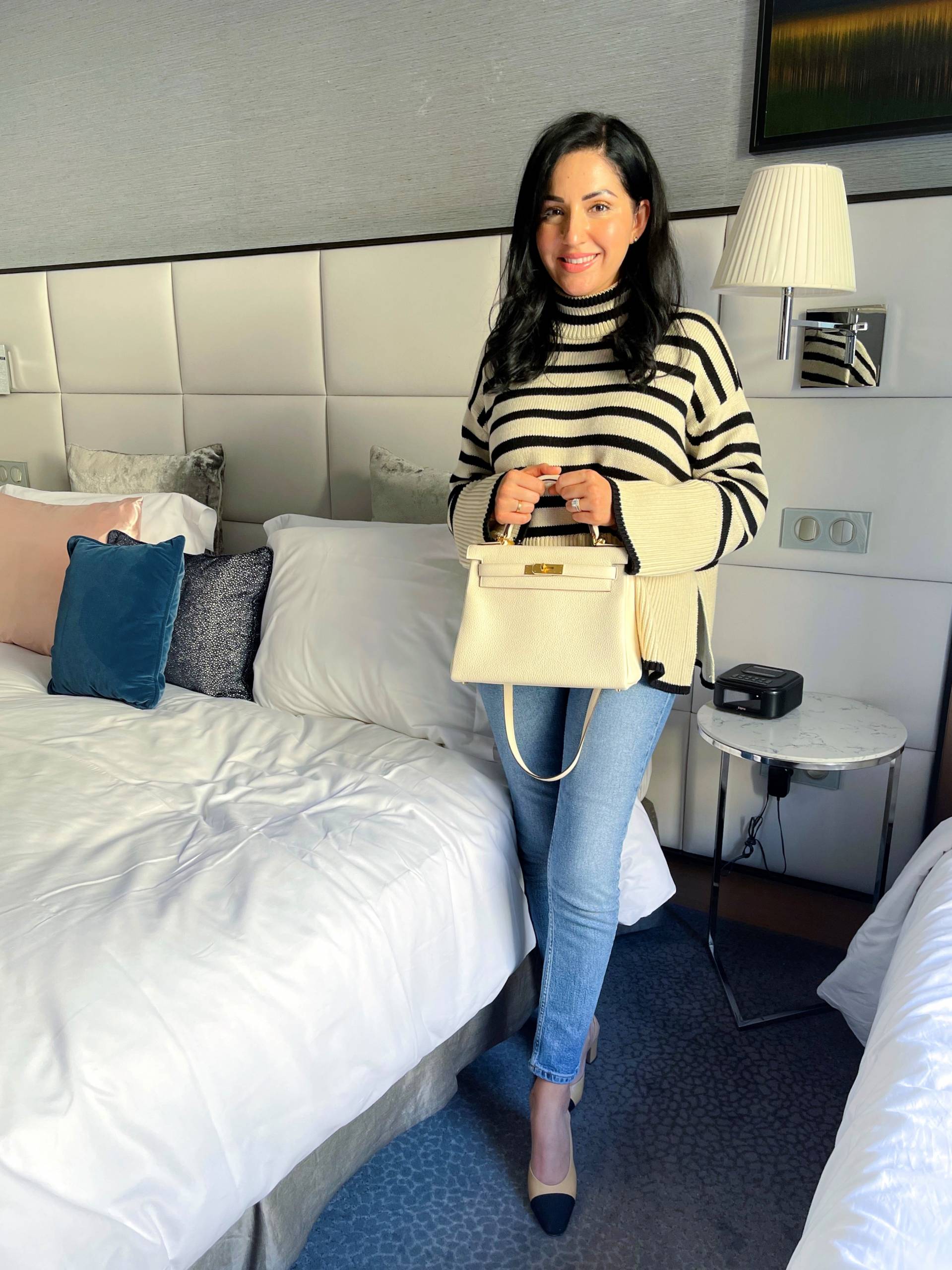 After that experience, we celebrated with a nice dinner. We realized how lucky we truly were to have had such an amazing experience and opportunity together. A once in a lifetime moment that we will never forget and always cherish in our hearts. We each got the bag of our dreams in Paris. Dreams do come true!