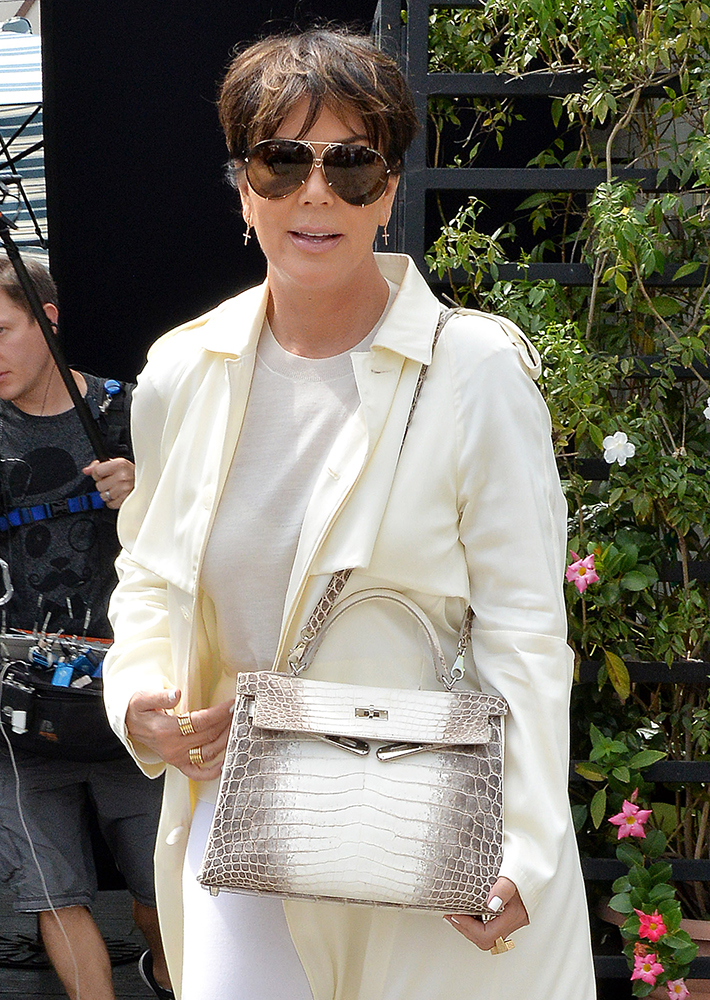 If you're an Hermès lover, you may have caught the recent news of another record-setting price for a Himalaya bag. Just last month, a Himalaya K25 hit the high mark of $437,000 at a Christies auction in Hong Kong.  Think about it – that's the most expensive bag ever sold at auction. And, by the way, it's pre-owned. This sale shattered the prior record of $383,000 for a diamond Himalaya Birkin 30 in 2017.
We consider both the Hermès Birkin and Kelly to be "Holy Grail Bags." The Himalayan version of these bags, be it a Birkin or Kelly, are nothing short of royalty.
Read: Her Highness: the Hermes Himalayan Birkin. At the moment, however, the Kelly may be taking a slight lead, at least in the Himalayan carrying crowds.
Price tag aside (if you can get past the 6 digit figures), these bags are extremely rare and near impossible to find. The rare Niloticus Crocodile leather, coupled with the complex and time consuming dying process, is what makes Hermès Himalayan bags so unique and instantly recognizable. The white, grey and tan coloring blend seamlessly into one another to resemble the snowy Himalayan mountains, hence the name!
Hermès' Himalayan Bags have been spotted on some of the most powerful and influential women in the world – J Lo, Victoria Beckham and Nita Ambani included. Read: 5 Influential Women Who Carry a Himalayan Birkin. But we know all to well our community of readers is brimming with more Himalayans than the celebrities combined.  So in case you've been on the lookout for one for yourself, look no further.
The prestigious Greenwich Luxury Auctions has a brand new Himalayan Kelly bag similar the one breaking headlines waiting for you. It's your chance for a K32 with palladium hardware (sorry, no diamonds on this one). And there's more… The Luxury Holiday Auction is now open for bidding through December 17th at noon EST. Register to bid here and enjoying the exclusive array of brand new treasures waiting to be discovered. There is truly something for everyone at Greenwich Luxury Auctions. Think dainty sized lizard pieces, magnificent special orders and tantalizing pale and bright pinks. And if that's not your cup of tea, there's even a few striking So Blacks you will want to see. 
Which of these exceptional Hermès bags are you smitten with? You must have a "Holy Grail" from this auction! Be sure to check out the full catalogue, where you're sure to find even more rare bags we didn't have the chance to feature.
Register to bid for the Greenwich Luxury Auctions Sale here.
Love, PurseBop
XO
p.s. Greenwich Luxury Auctions is a trusted resource for one of a kind authentic Hermès handbags. 
Updated: December 11th, 2020