There have been very few actual successful surprises in our marriage. The control freak in me usually interferes at some stage and takes over. It's not that I don't like surprises, it's just that I typically suspect it's coming. Not this time though.
Kudos to my Hermès sales associate and Mr PurseBop on masterminding this one. 
It was a very normal Monday morning: errands, gym, physical therapy for an old injury. When I reached home there was a note stuck to my front door from FedEx telling me I had missed a package that required signature. Typically packages are just dropped off, and I may or may not know to expect them. But when one requires me to sign, I'm usually keenly aware. 
This particular day I wasn't expecting any "signature" package. The good news, though, is I have befriended my Fedex Delivery Lady and know how to contact her directly. As an aside, I highly recommend you do the same.
Shortly after I reached home and saw the 'missed delivery' notice, Mr. PurseBop texted. 12:06pm to be exact.

"hope you're day is going well. There is a FEDEX box being delivered. Please do not open it until I get home"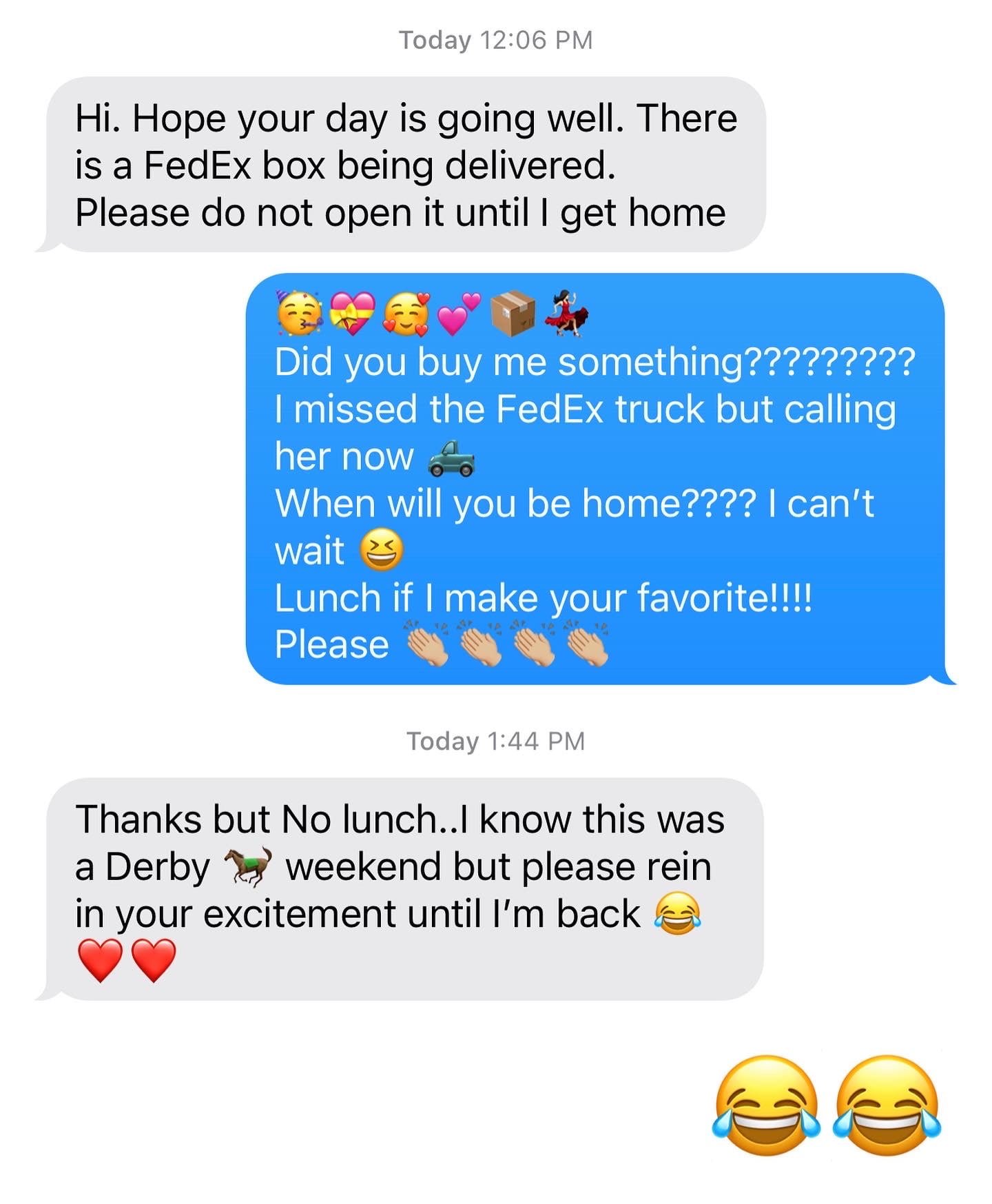 Maybe because it wasn't my birthday or anniversary I was totally unsuspecting. I managed to reach my FedEx person and she re-delivered within a couple of hours. When I saw the return label and where it was coming from we were on a whole new level or playing field of excitement!!
This label was a game changer. OMG – HERMÈS.
I am in frequent contact with my Hermès SA. Other than the red Carlotta clogs (mules) there wasn't really anything pending that she and I had discussed. Funny, how my mind immediately jumped to a different size of orange boxes.
As I later learned, my sales associate had reached out to Mr. PurseBop during the previous week. She mentioned that she had a special bag coming and it might arrive in time for Mother's Day. She wondered if he might be interested in gifting it to me.
In the past, Mr. PurseBop has reached out to her asking for something special for me. That's no secret to me. They also have met several times. But to my knowledge, that type of communication had not happened in a very long time. 
Naturally, Mr. PurseBop completely trusts her suggestions. And although over the years he has become quite an expert on Hermès himself, I'm doubt he would be able to identify a special or limited edition release. Of course he knows the usual Birkin and Kelly size game. He also has absorbed the names of coveted colors. We've joked for months that I repeatedly seem to mention the colors Jaune Poussin and Jaune Bourgeon in my French accent — only because I think I make it sound so good. No, this surprise was neither of those, lol. 
The cool cat (in this case Mr. PB) never mentioned a word to me. They texted several times, she emailed him a payment link and voilà it was done. I assume he thought it would arrive on Friday, and since he's around much of the day he would catch the FedEx delivery. But Monday is his long work day, so it happened that I would and did see it first.
Late Monday evening, after a full day of waiting came the moment. I again wondered if it could be the clogs, or maybe even another pair of sneakers. I completely did not expect a bag, although my vivid imagination was in full operation and overdrive. Could it be a Kelly Pochette? I didn't really think Birkin or Kelly because, although I have not shared yet, my quota for the first semester is met.
Fast forward to Monday evening, post dinner. Yes, food first! We didn't set up any fancy backdrop, I just placed the box on the kitchen counter and Mr. PurseBop offered to video the event. Now you and I both know how that can go. Mr. PurseBop has many talents but photography and videography definitely do not rank in his top skills. You may have noticed over the years many times I have him open the box, and I take the video because at least I know I will have footage that I can use, lol. But, this time he did a pretty decent job.
As I assessed the box, while I couldn't be certain of its contents, I  could tell it was neither clogs nor sneakers. It was indeed a bag. But not a bag that comes in a box easily ascertainable. This one was slightly different. As I opened the cover, all I could see was a sea of blue silk. 
As adrenaline kicked, my mind raced to calculate the possibilities of what could be beneath the blue silk. It definitely wasn't a Birkin, it was too thin. Nor could it be a Kelly, too small. Mini Kelly possibly, but too tall. As my mind filtered size options at rapid bullet speed…
Finally, the answer dawned on me. Maybe it is a Constance. I don't have a lot of experience with them, but as I reached for the strap, I immediately knew.
What followed was an explosion of color. Mesmerizing, saturated, beautiful colors — on silk. I had never seen this before. Seriously, that never happens.
It took a few moments for me to absorb, as it was far from anything typical or traditional. I was completely fascinated— I think that best describes my first sentiments. All the while completely touched by the gesture and the effort from both Mr. PurseBop and my Hermès fairy.
This special bag is a Constance 18 with what is called marbled silk. Hermès rediscovered this ancient Japanese tradition where the prints are rolled onto the silk with a huge cylinder. To understand it better, the Hermès video best describes the process.
This special Constance also comes with it's own special little book describing how the silk was printed and applied to the leather to create this one of a kind treasure. The bag itself is in Rose Mexico swift leather: a vibrant happy pink.
After some further investigation, we learned that the 24cm size of the same bag was released in 2021. But the18cm version was just now making its way to stores.
According to Hermès,

"the artisans first work a paste soaked in different color pigments. It is then skillfully mixed, cut and superimposed to form patterns. Eventually, they are assembled together, similar to a mosaic piece of artwork. Once settled onto our silk twill, the print, marbled with vibrant colors, evokes a psychedelic impression.The results of this special silk-printing technique are astonishing and truly one-of-a-kind."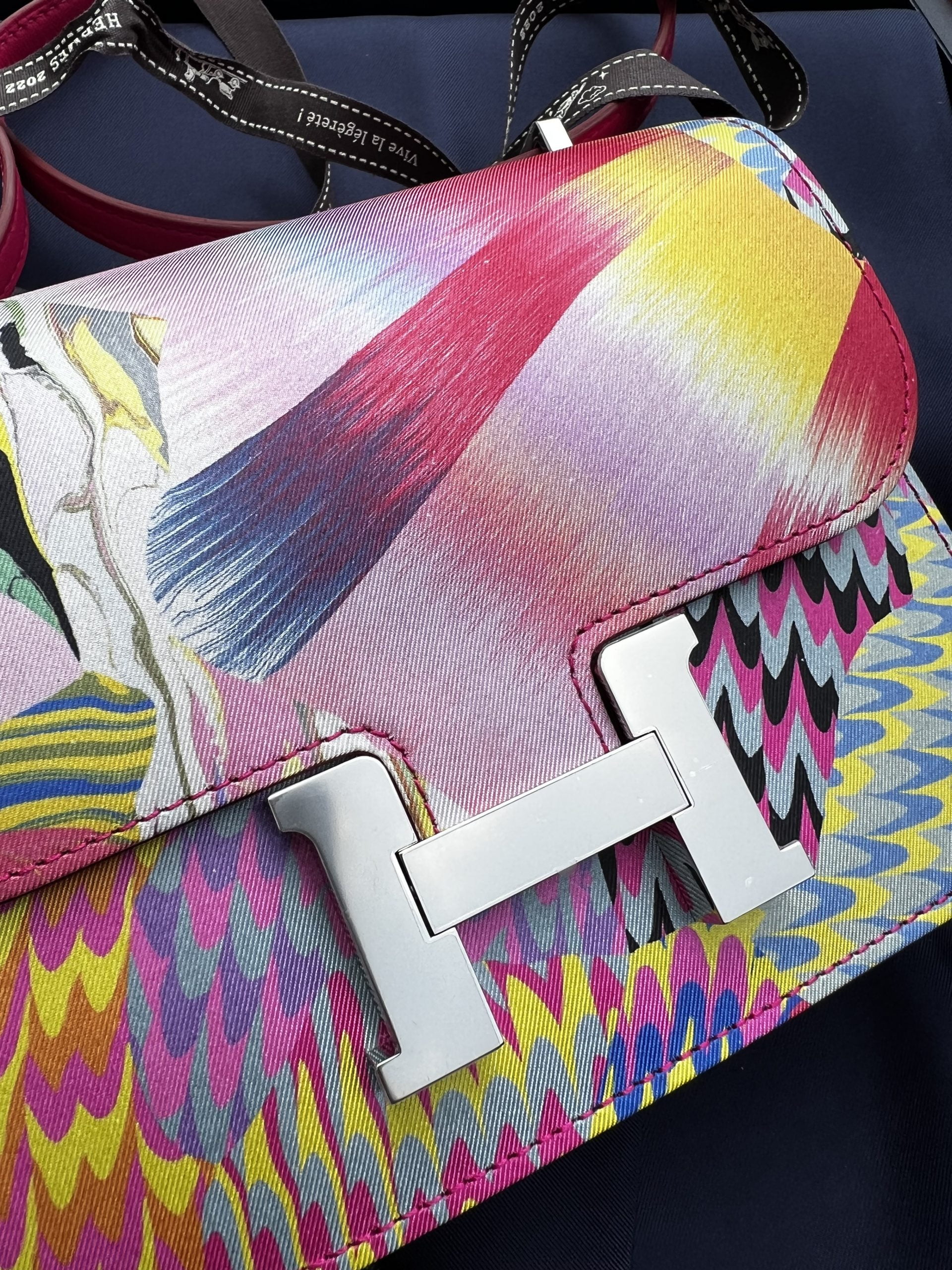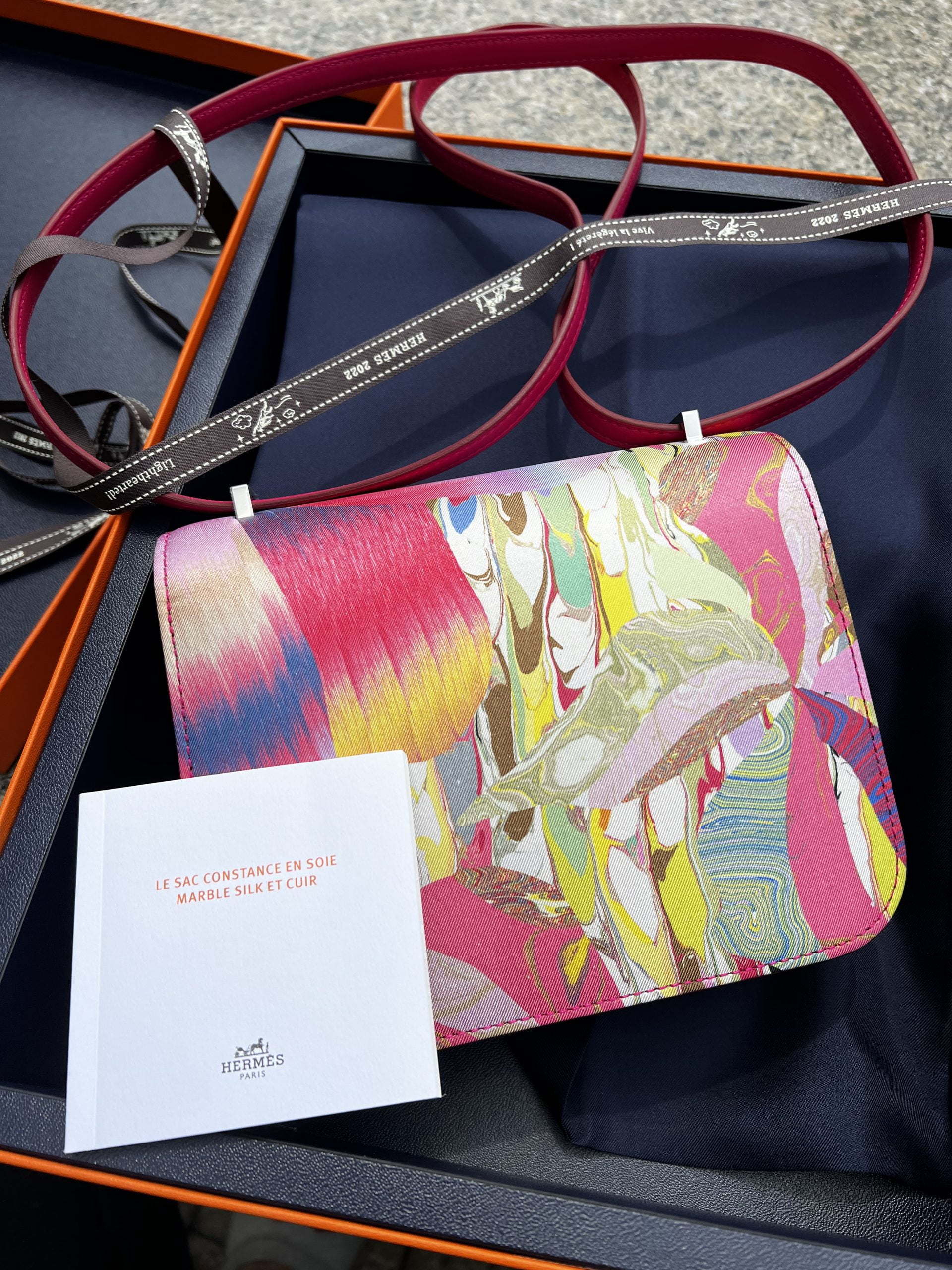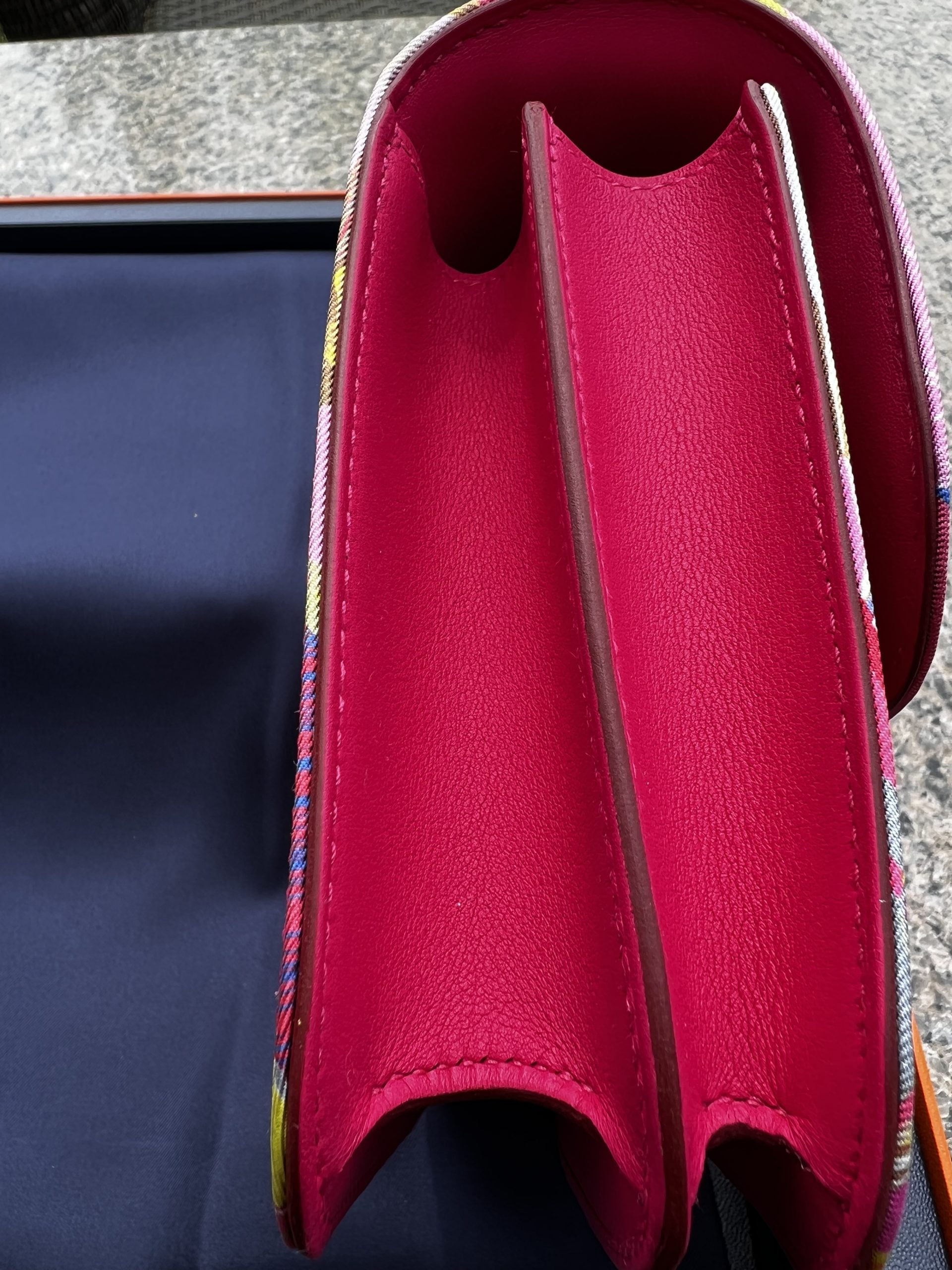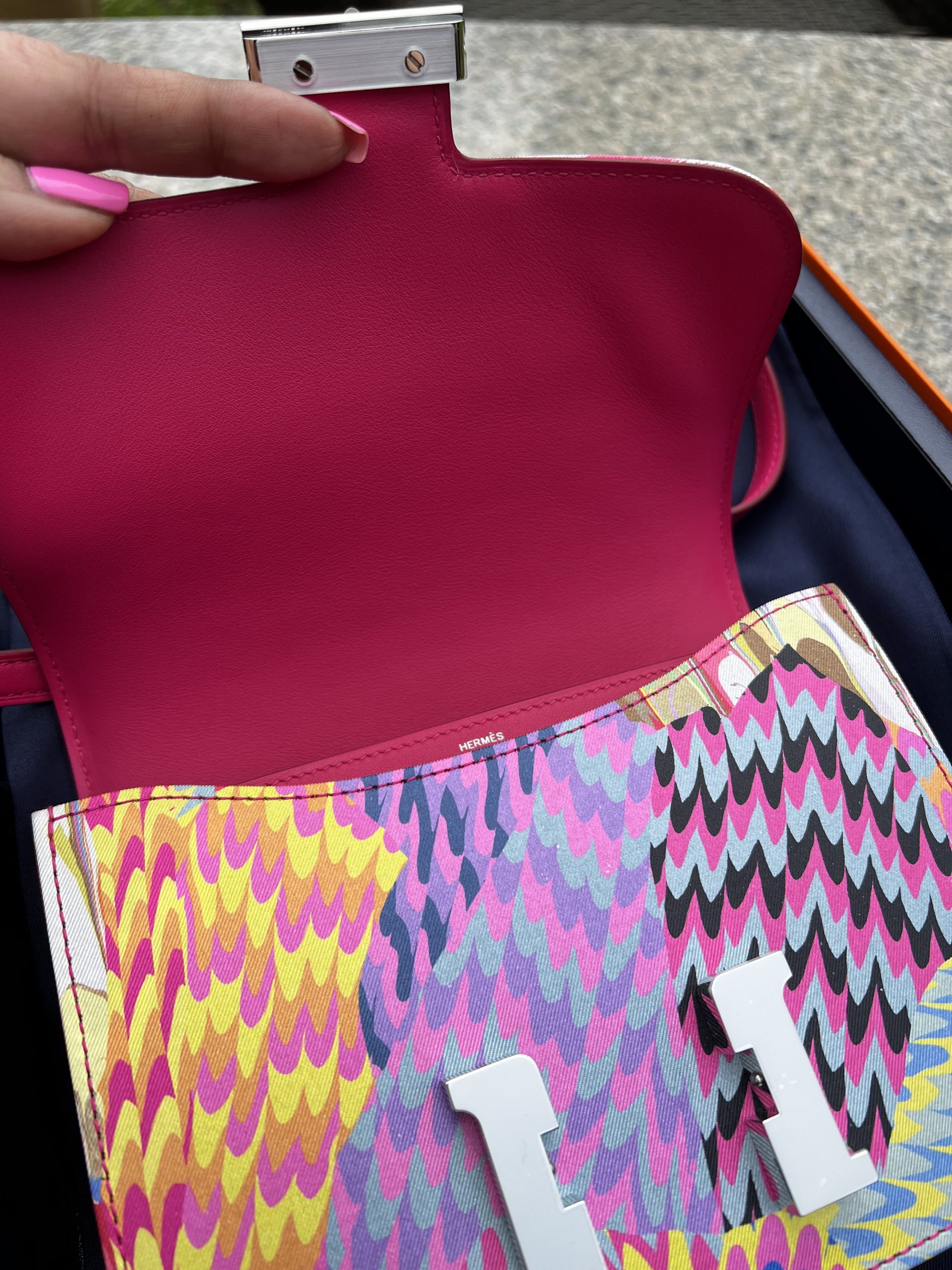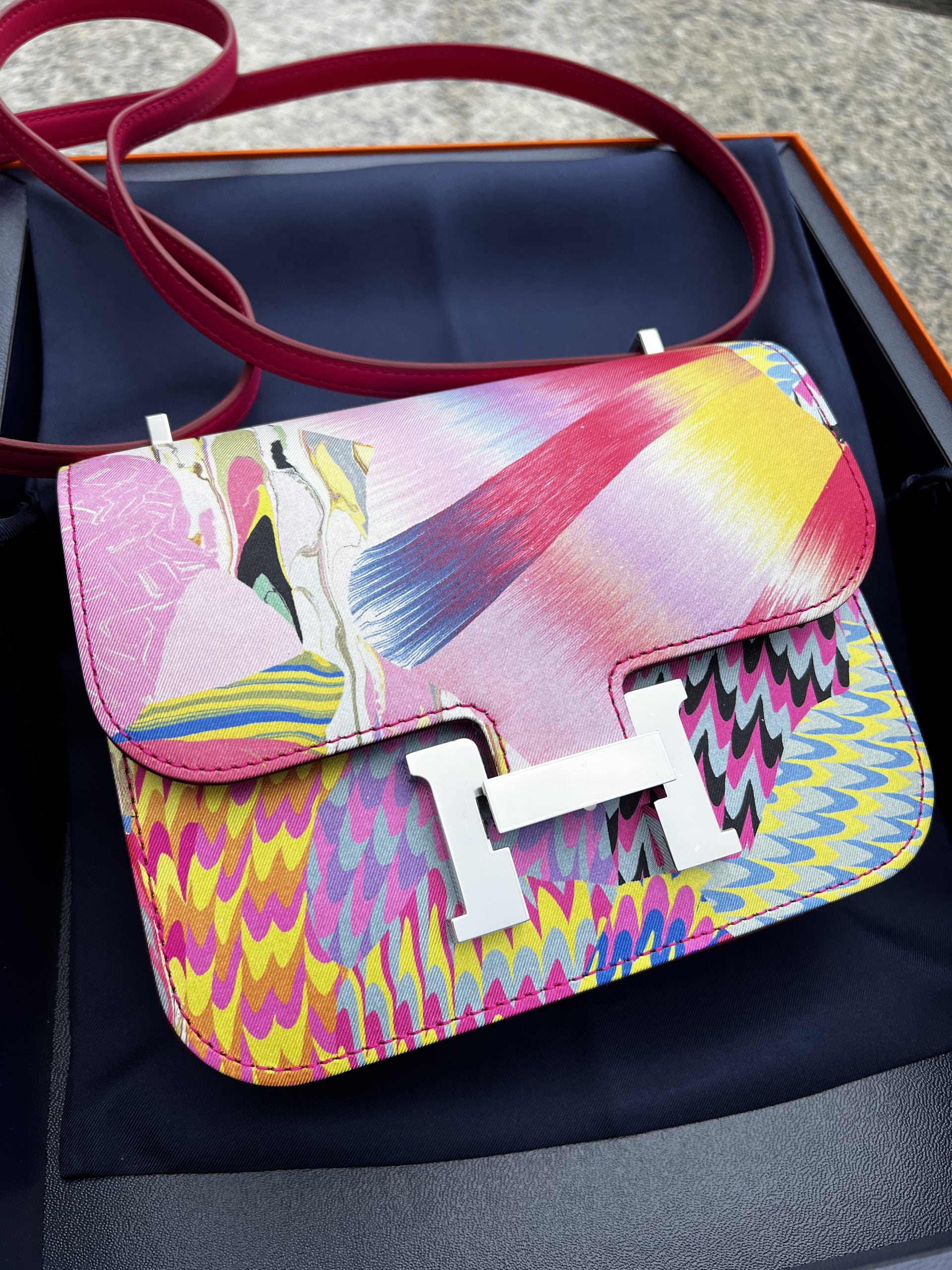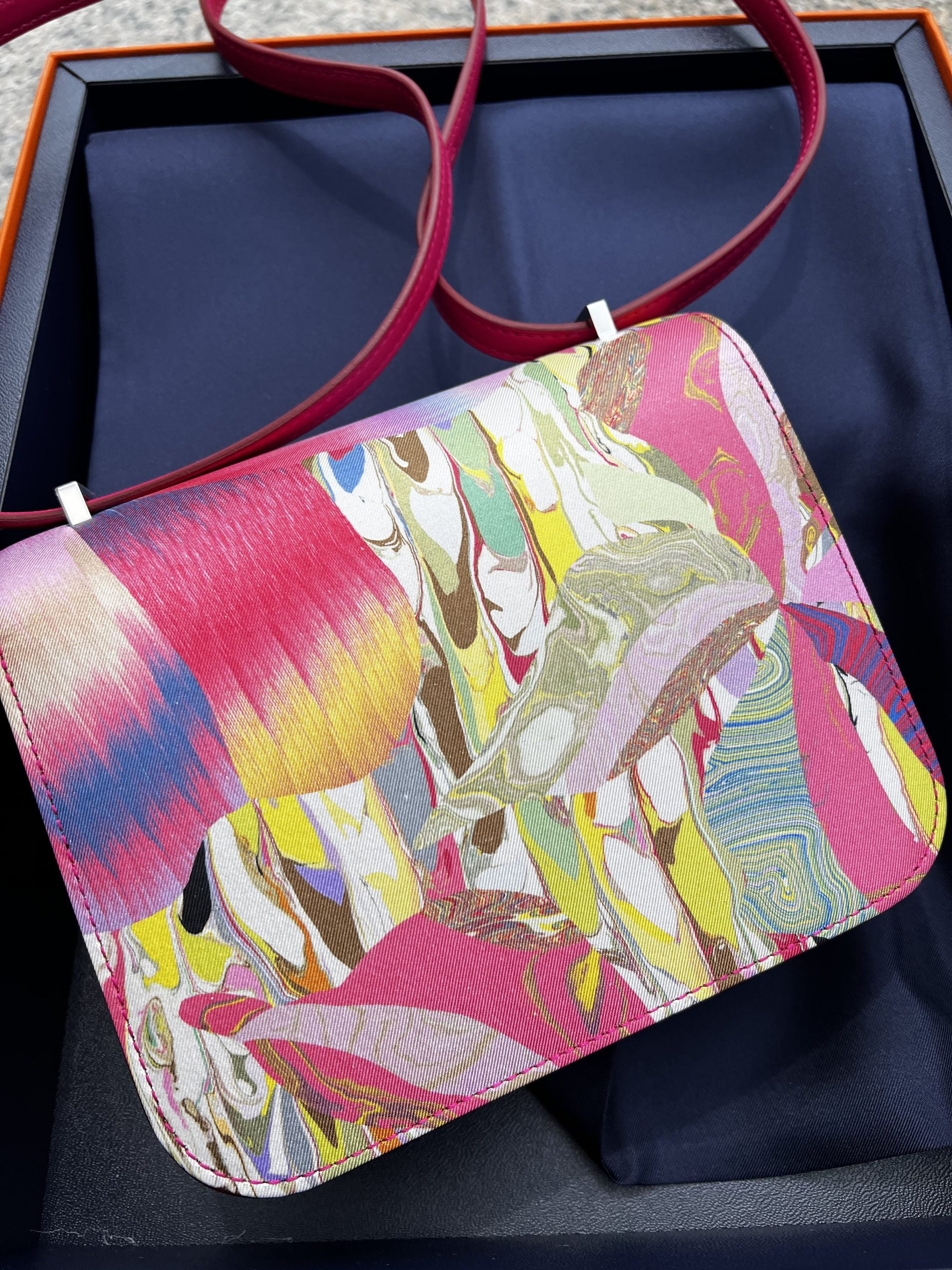 Mr. PurseBop proceeded to ask: do you like it?

Of course I do, it's a piece of Hermès history but what I love more is what you've done, surprised me!
No doubt this gift is absolutely priceless and will forever hold a special place in my Hermès collection.