After months, and perhaps years, of contemplation, the Kelly 20 finally found its way to my humble collection. Initially, when its released was announced I was one of those dying in anticipation of this itsy-bitsy Kelly. But, as I described in detail in last week's article (read: The Hermès Kelly 20 is Hot (Again), the concerns about its utility were real and hard to ignore: such a diminutive bag arguably served little purpose and limited use.

Yet as time went on and more photographs surfaced, I knew that I would succumb… at some point (for the record, I think I have nagged every single Sales Associate I know to search high and low for one!)
Surprisingly, that call came on a brisk New Delhi day during my exotic travels earlier this year. Excited but still not completely sure, I made my way to The Chanakya Mall Hermès boutique.
Over the years, I have built a lovely relationship with the store and its caring team. My pink holy grail, also my first mini B, in 5P pink and later a Kelly Cut in Rose Jaipur, both came from this location.
Now, I share with you the story of my first mini Kelly 20.
It was a quiet day at Hermès as my SA and I made our way into the back room as we chatted about life and all things Hermès. Then came the gloves, the elevated heart rate, and those moments when time stops. The tiny handle peeked out from the dust bag and, although I had never before seen this color in person, that glimpse was enough to know that this was a yes. Such a bright and happy pinkish red, she literally screams PurseBop. I sat in the back room envisioning her uses on to-be-planned exotic travels, but something stopped me. 
Then,  I did something I never do: I asked if I could have one night (just one!) to think it over. Truthfully, despite all of the prior warnings and pictures, it finally struck me that this mini Kelly was really very small.
That evening, I shared photos of it with my mom, who's not a handbag lover at all, but all to familiar with my collection and is forced to listen to my rants at nauseam, LOL. Seriously though, she's the woman who has fed this handbag obsession since my diaper days when she would stitch matching bags for my dresses. Today, she's my greatest advisor with the latest collections of PurseBop Frocks.
We made a fun night of it together, stayed up really late with pots of tea, analyzed my collection, the bag's uses, and specifically the placement of this color. Mom seemed to think it was a no brainer, as its tiny size would make for a lovely evening companion and would be perfect for nesting. And the color? Well, let's just say it was right up my alley.
The rest, as they say, is history.
Her first maiden voyage was to the Big Apple as she accompanied me on many work and social adventures. To meet dear friends, I tucked her into my Birkin to share with them not realizing she had already had made her debut to all of you. One clever community member shared this on Boptalk subsequent to my IG stories.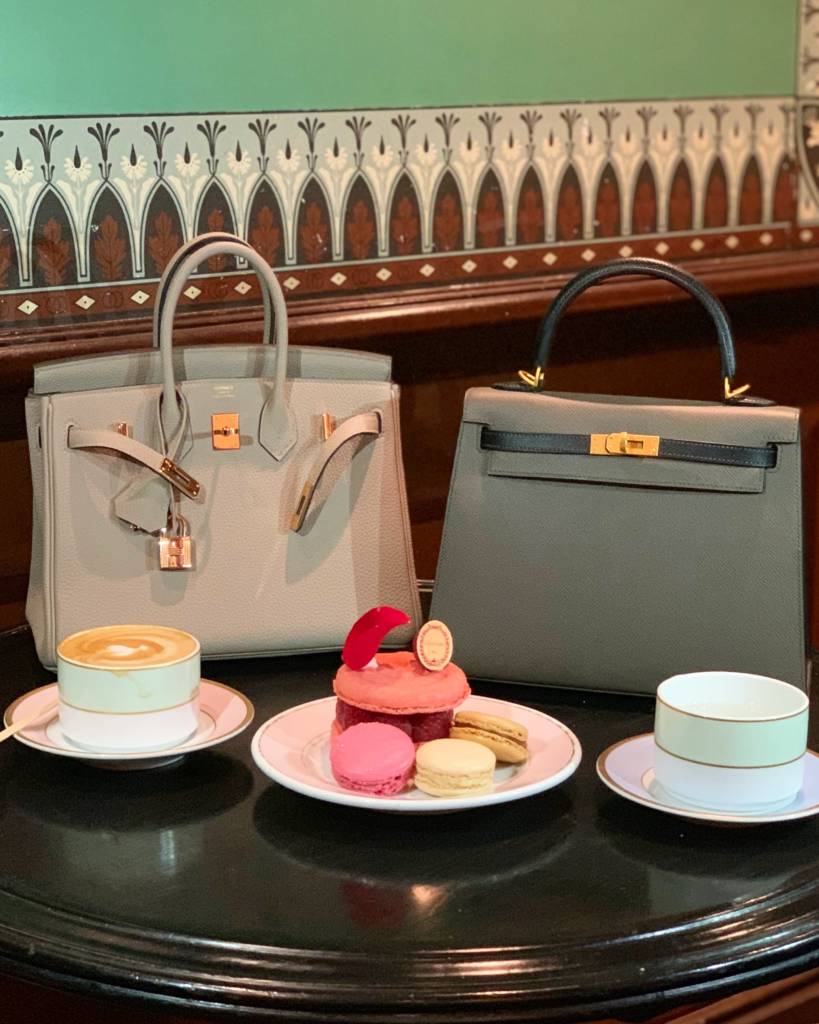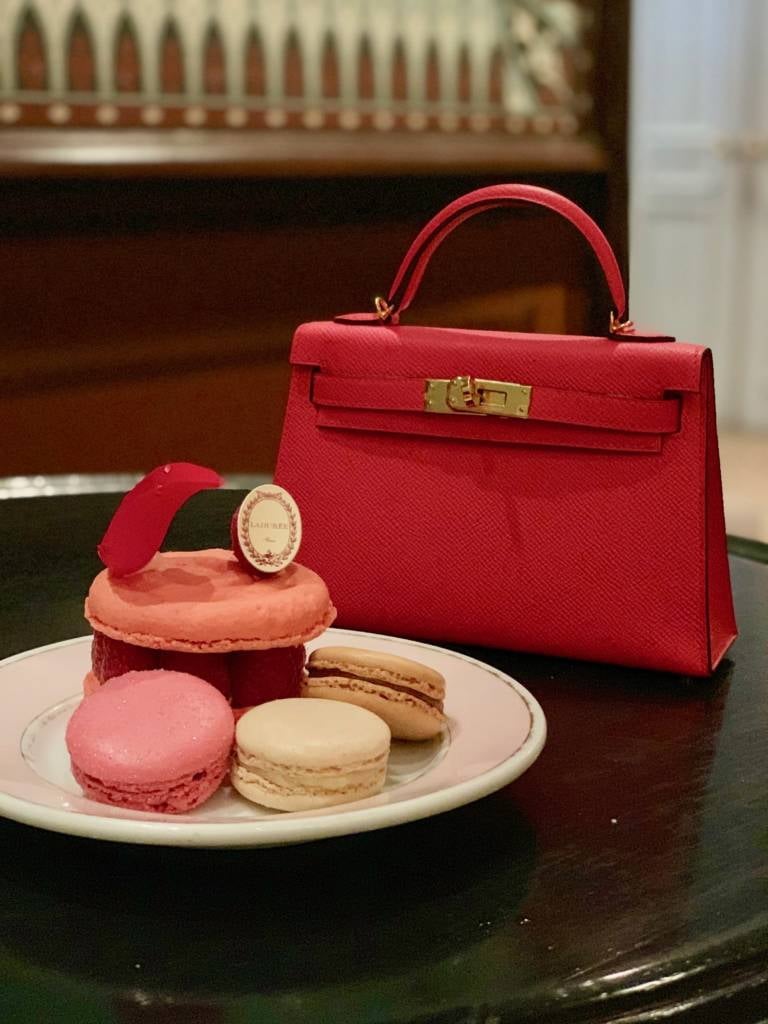 Rose Extreme is very difficult to capture in photos but here I find it closest to it's true hue. Size comparison to a Kelly 25 sellier in Veau Butler (read: Meet my Hermès Butler).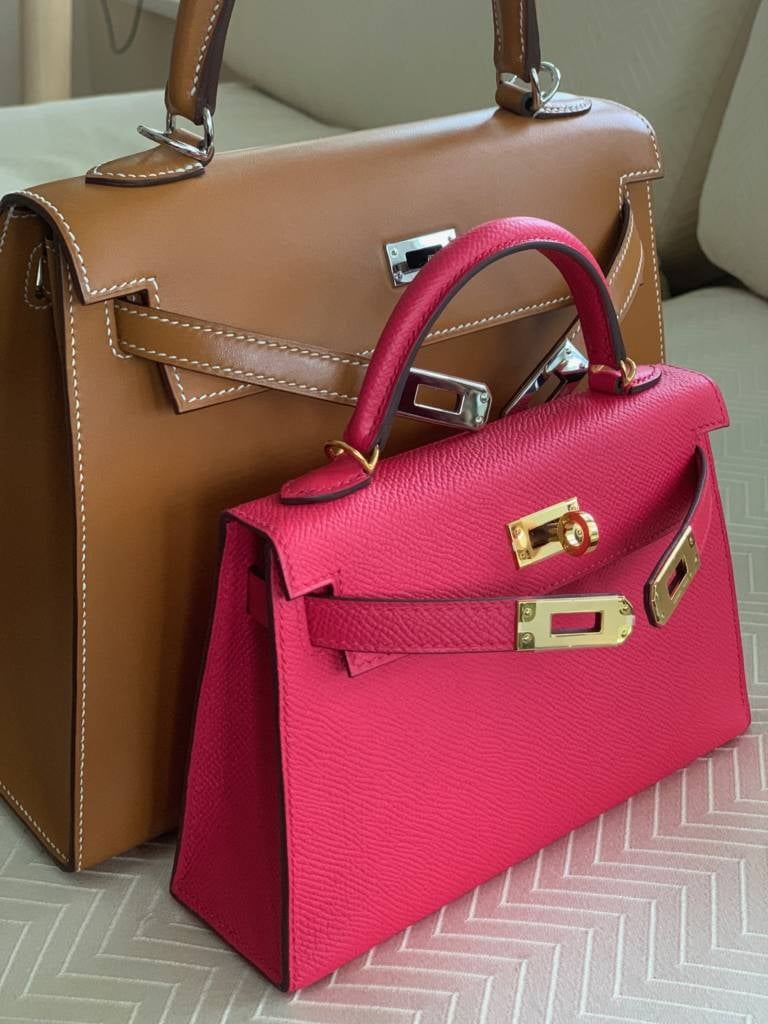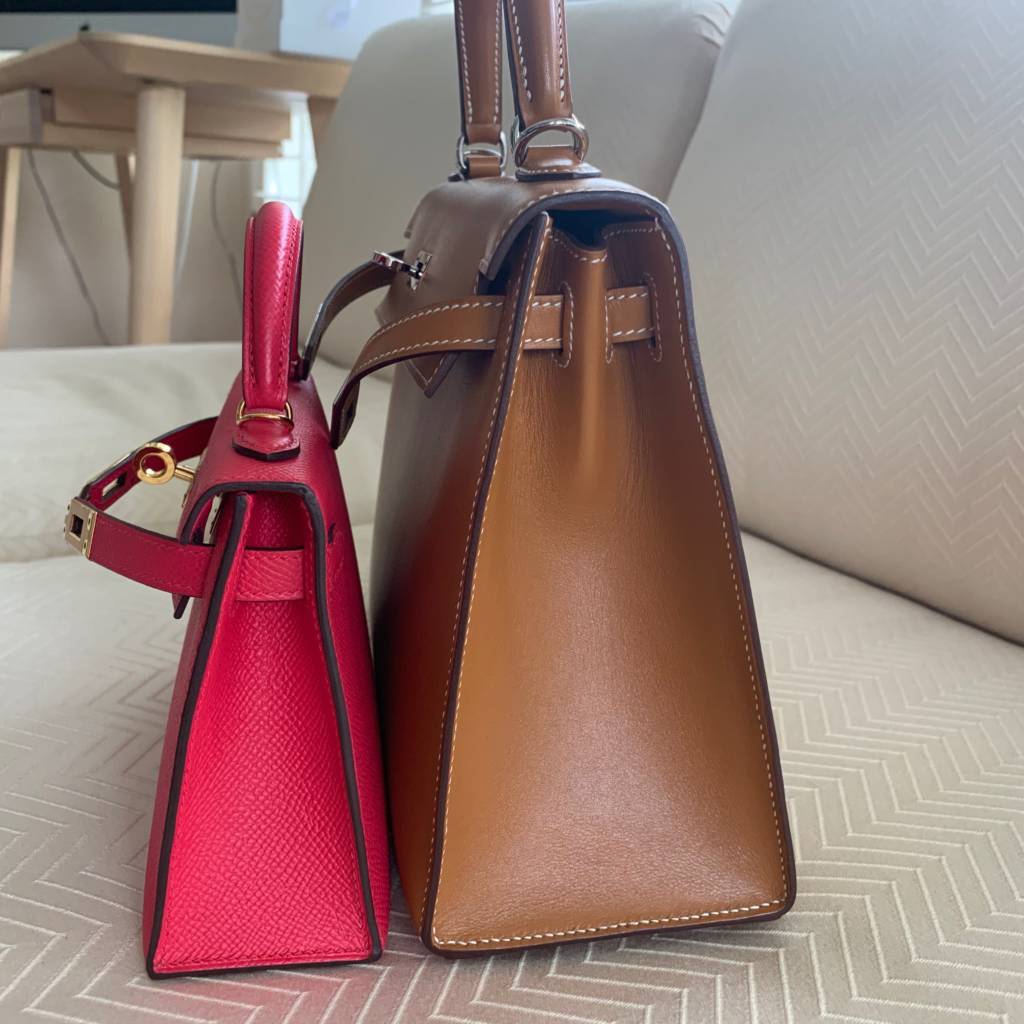 There's one more surprising detail I must share: of the many Hermès Birkins and Kellys that have made their way to my heart, there seems to be one above all that Mr. PurseBop has taken a fancy to.  Yes, it's this mini Kelly 20 in Epsom Rose Extreme.
shhh! – a little secret – after several requests and much anticipation the new jackets for the mini Kelly 20's will go live this week!
Updated: November 10th, 2019