Part I in a Kelly Triple Threat Series
Warning: PurseBop's Gone Kelly Crazy, follow along at #pursebopsgonekellycrazy on IG
There is one size of Hermès bag that has eluded my handbag closet for many, many years.
Somehow, without intent, my Hermès collection became quite Birkin heavy. I know, first world problem, but still… I couldn't just sit idly by and let this be. Surely I could shop my way out of this dilemma. Notwithstanding my last reveal in Dec 2018 – my Gris Tourterelle B25 with rose gold hardware – I was jelly for Kelly.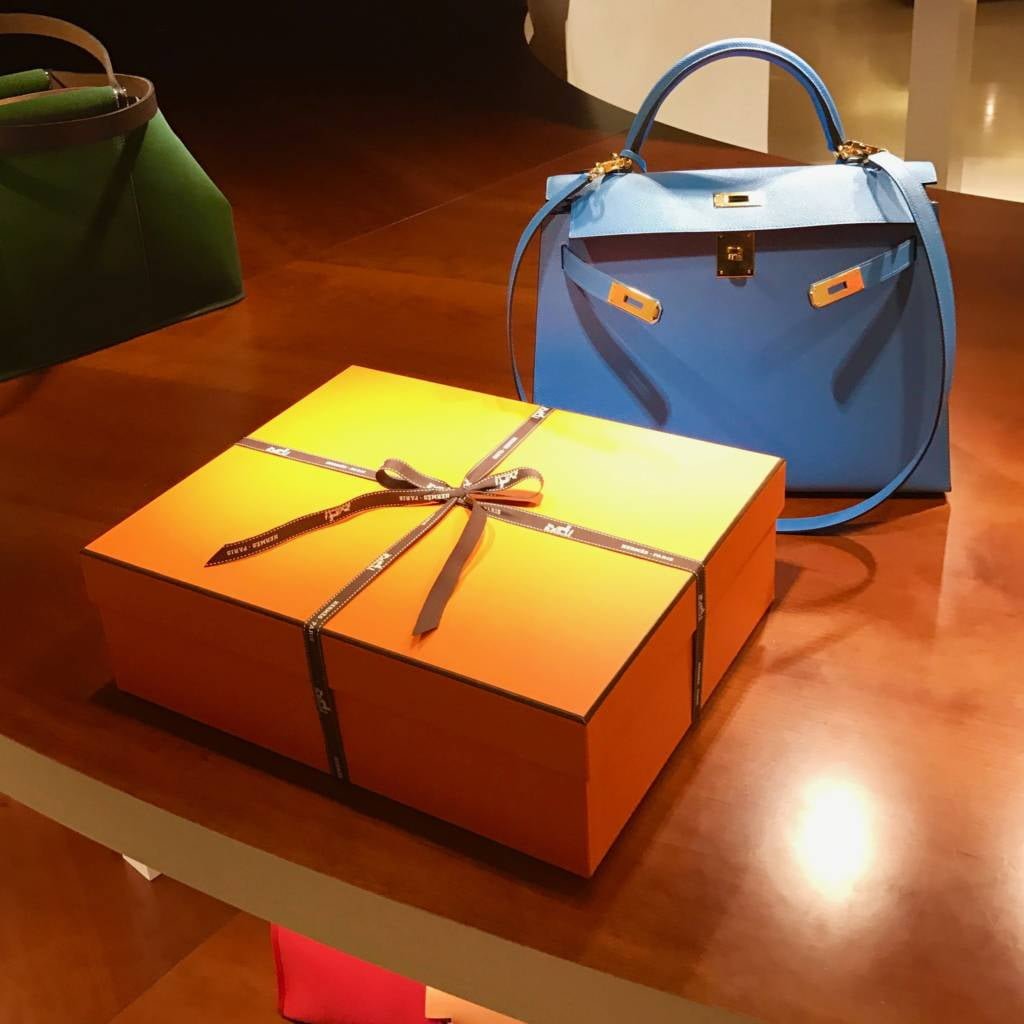 The time stamp, the magical call, the pick-up—all are simply too old a tale to share now. As you grow as a collector, your experience of getting your hands on a new bag also evolves. I had palpations in anticipation and excitement, but perhaps the real appreciation for this treasure would come later in time as my tastes and preferences for Hermès leathers matured. That time is now. I've come to realize for myself that getting a new handbag has a deeper meaning, for it symbolizes a new stage in my evolution as a serious collector.
So, I'd prefer to focus on how this particular size and shape completes my collection. Let me be clear: I do not mean complete as in the last Hermès bag I will ever buy. (Don't worry!) Rather, I mean complete as in owning the full range of H sizes that I desire. 
This bag has been resting under my bed for longer than I care to confess. For those of you that want to see the official time stamp, visit here on IG but be forewarned: it's been a long time. I don't really have an explanation for why it sat there so long, since rare treasures like this rank very high on my wish list; in fact, pretty close to the top with my Barenia Birkin to be honest (read: Bringing Home a Slice of Hermès History: PurseBop's Special Birthday Birkin). I knew someday the right time would come for this unveiling.
Perhaps the bag's novel, exceedingly rare leather rendered it too special to be put into rotation. Whatever the case, I can say with confidence that since breaking it out from the orange prison under my bed, it might in fact be one of my very favorite bags, in terms of both size and leather.
Flashback to My Last Reveal, Mini and Neutral
The bag I'm about to reveal joined me on my recent five-week-long trip and was to be revealed from my exotic destination. But there simply was never enough time. There was no opportunity to tell the story as I always do, documenting her arrival with style and pomp as each of my baggies deserve. "She" missed the admiration phase and went straight to work— if you don't consider her time in hiding, LOL.
Miss Butler – her name is a big hint – is an integral part of and model for the new Pursebop Frocks collection and campaign that's due to launch later this month. Be sure to sign up for updates here, as this time we are so excited to be expanding our Frocks to fit Chanel, Dior and many other brands as well.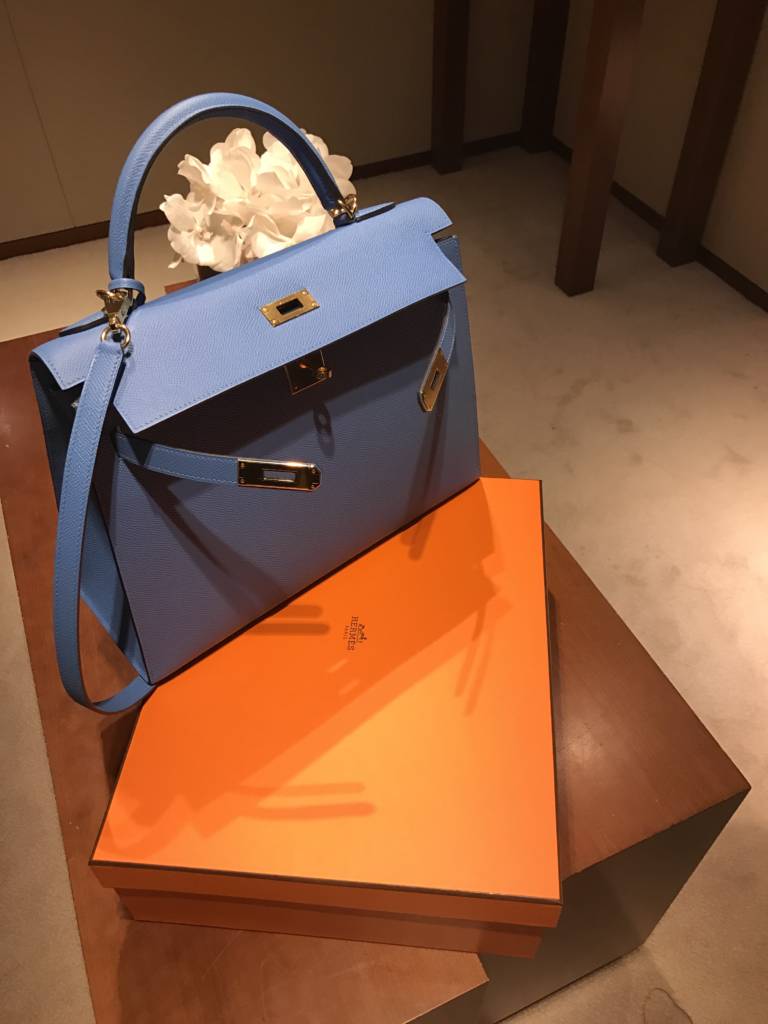 If you haven't already scrolled below to peek what I'm about to reveal (I admire your patience!)… It is a Sellier Kelly 25 in Veau Butler Natural Sable with contrast white stitching and refreshing palladium hardware.
That's a mouthful, so let's break this down… Butler??? Does someone carry it for you, LOL? Not a chance. Though this one is a delight on your arm or in your hand, so it's a pleasure to carry for yourself. You may not have heard of Butler before—and I don't blame you; I like to think of myself as an Hermès aficionado in training, and before this offering, I think I'd only heard the name once or twice!
Veau Butler is a smooth, box-like leather that is considered an Hermès heritage leather. It is very rare and unique with its somewhat shiny look and rich subtle texture. 
Veau Butler is luxurious and instills the same sentiment I feel when I carry my Barenia Birkin – that royal heritage "Hermès'y" feel that simply sets her apart from the many other special bags in my collection. The color is a golden biscuit baked to perfection, like the twin cookies in the Biscoff packet doled out on some early am American flights. It's a neutral lover's dream (OMG, I still can't believe my newfound love for these neutrals and the naturals. My taste really has evolved with time, as I've started to reach more and more for relaxed tones instead of the pops of color I so coveted in the past.)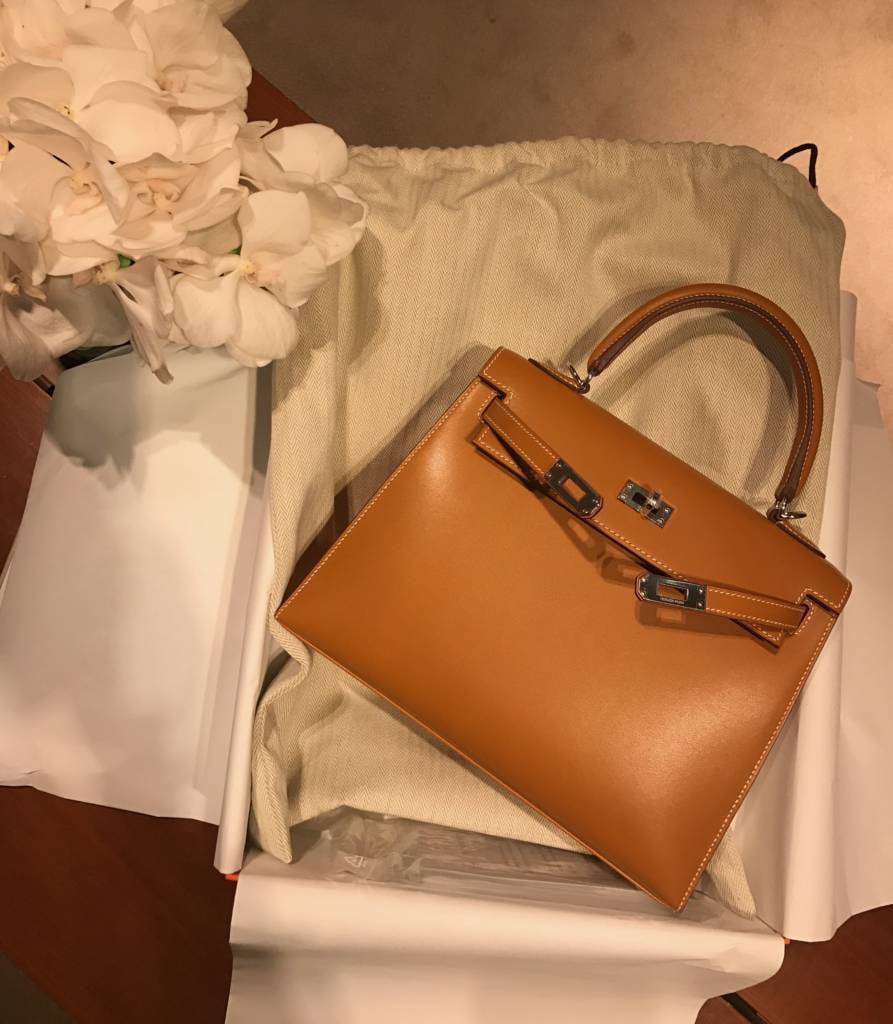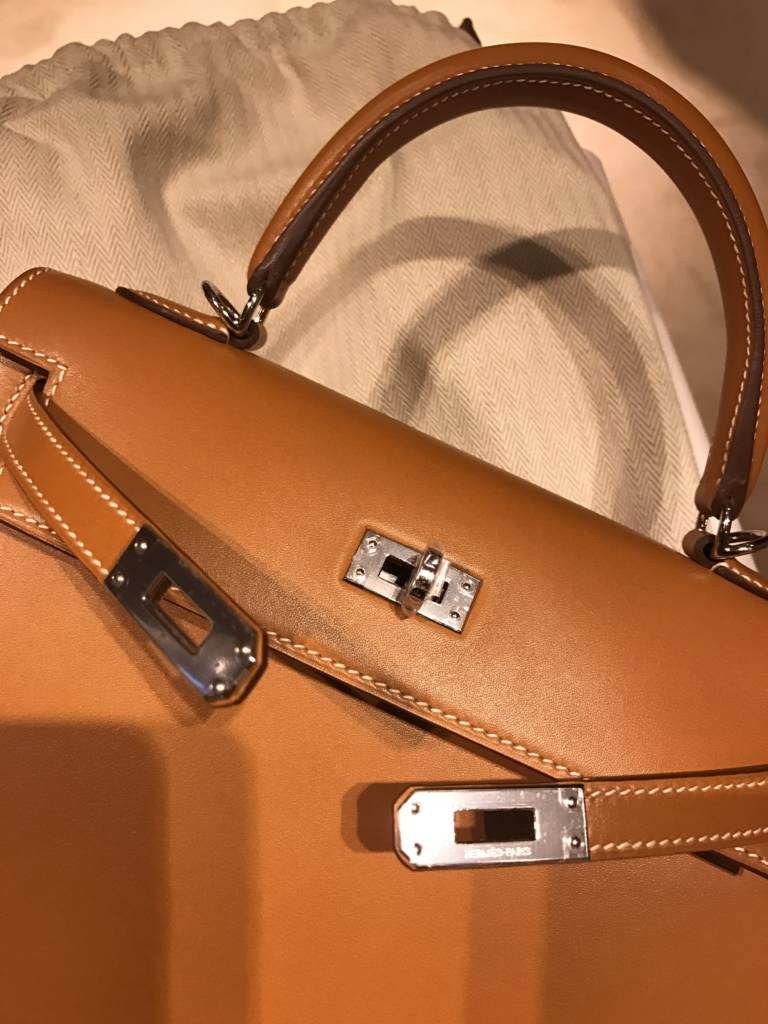 Comparing Veau Butler to Barenia Leather
Veau Butler is natural and untreated, like Barenia, though it's most often compared to Tadelakt and Box leather in its look and feel. I'm warned it requires care, if not kid gloves, as it is prone to scratches (though these can be buffed out), and it will patina with time. It's very smooth, almost like silk to the touch, though not quite as buttery as Barenia which feels more dense. Despite it feeling so smooth, on closer inspection, Butler reveals a subtle grain. These photos try to capture the fine differences.
Natural Sable is the color reference, and means the leather is not dyed, but in its natural state. I have grown to appreciate the versatility of my golden, wheat-hued Barenia Birkin, so I know this new natural sable tone will be a welcome addition to my collection. Also, the palladium hardware on my mini Sellier Kelly offers a change of pace from my Birkin. It's exciting to have one gold bag in two different leathers, two different sizes, and two different hardwares.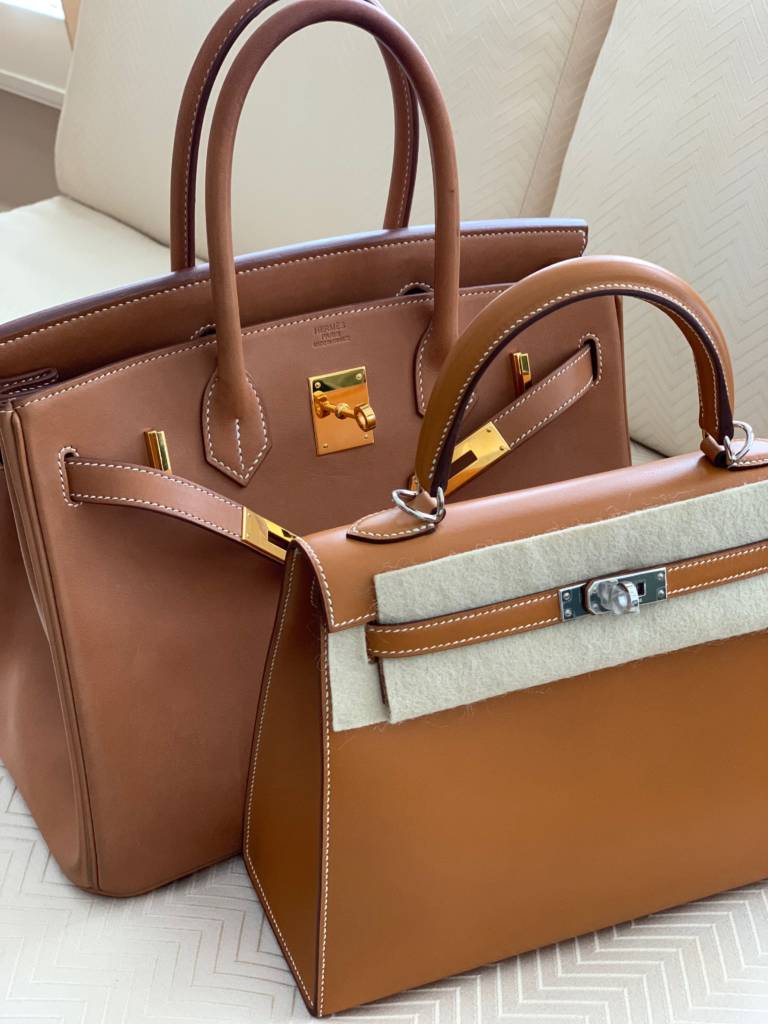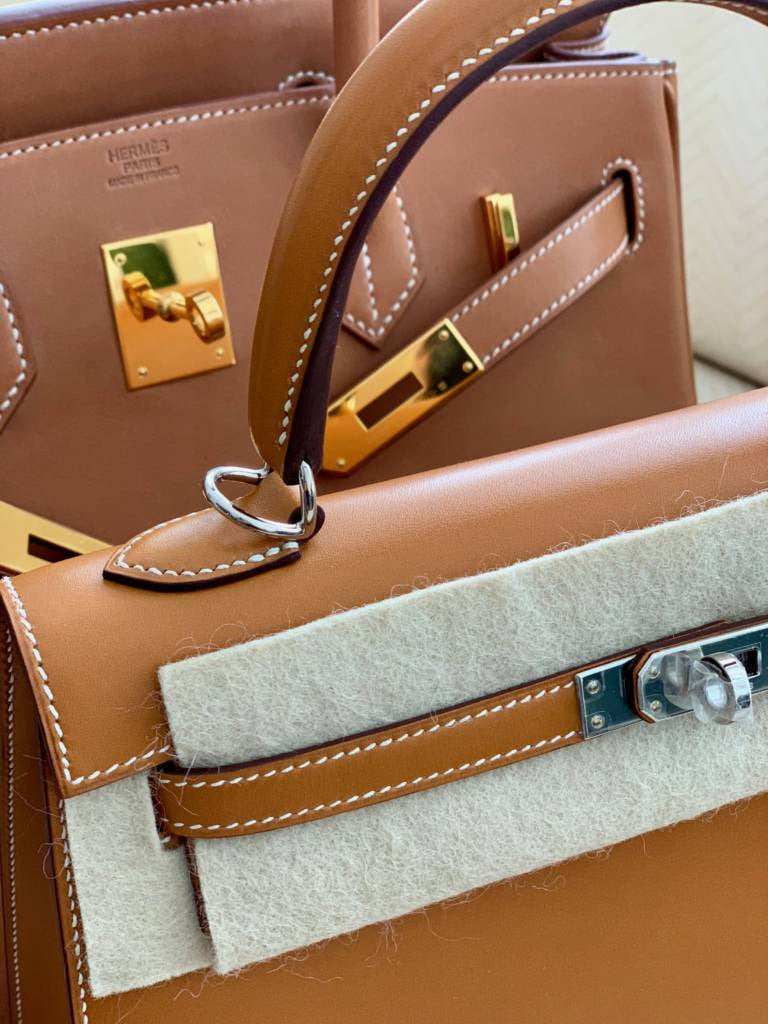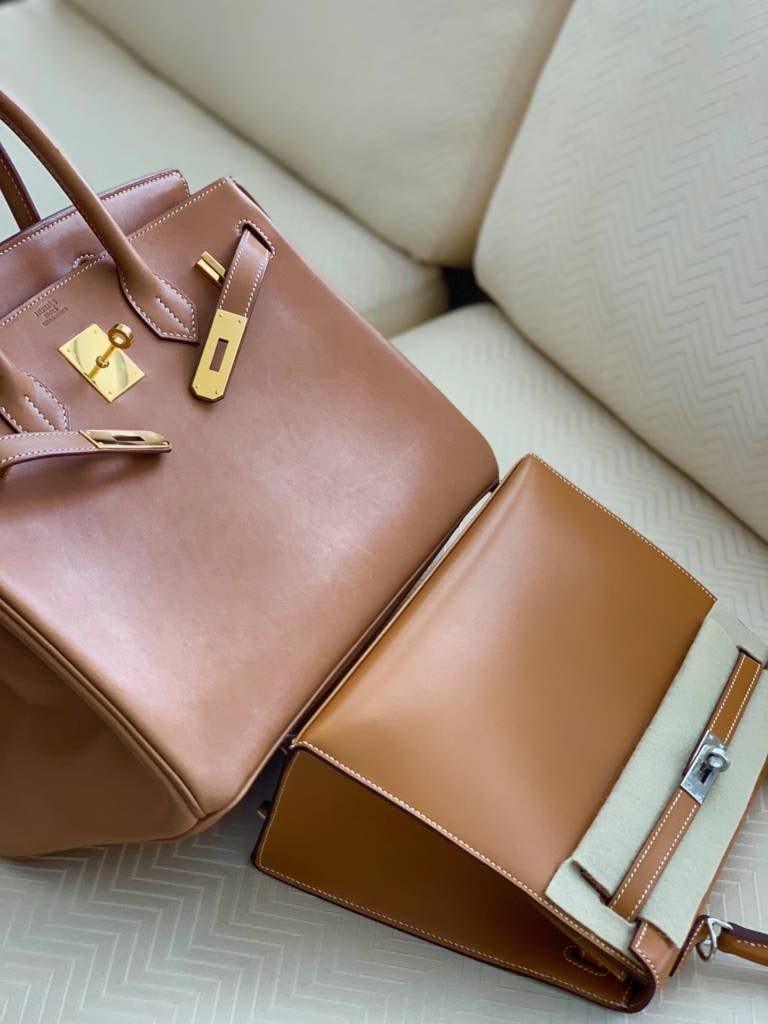 Comparing Veau Butler to Tadelakt Leather
As I mentioned above, there are serious comparisons between Butler and Tadelakt. I was fortunate enough to add Tadelakt leather to my collection last April in Paris when I was offered a Rose Lipstick Kelly 28 with gold hardware (read: PurseBop Scores at Hermès Faubourg Saint Honoré: Part II of the Trilogy).
Tadelakt, Box and Butler are all similar smooth leathers, yet there are subtle differences. Some of these are apparent in the photos, and some are more obvious when you are actually holding the bags in your very hands—you'll need to take my word for it.
As with my Tadelakt Kelly, I'm thrilled that my new Kelly is Sellier, as this is my preferred type. Remember that Kellys can either be Retourne, with softer round edges, or Sellier, with the sharp defined stitched edges seen in both of my Kellys below. To fully understand these differences and see testimonials from our community, read: Hermes Kelly Sellier vs. Retourne Debate.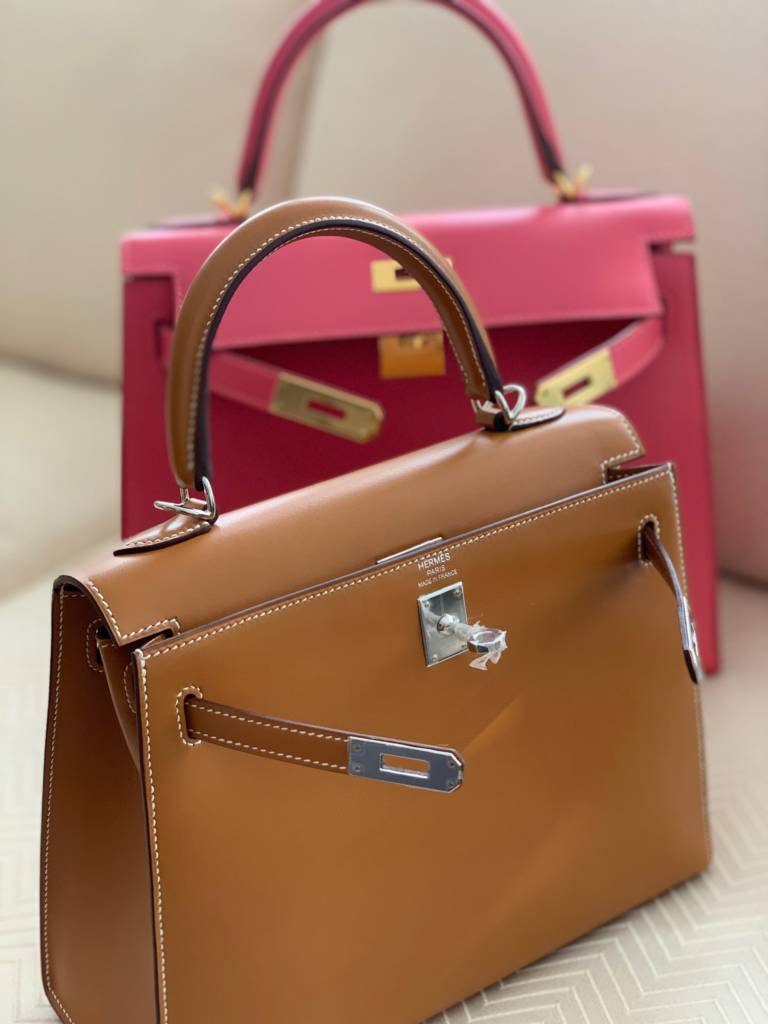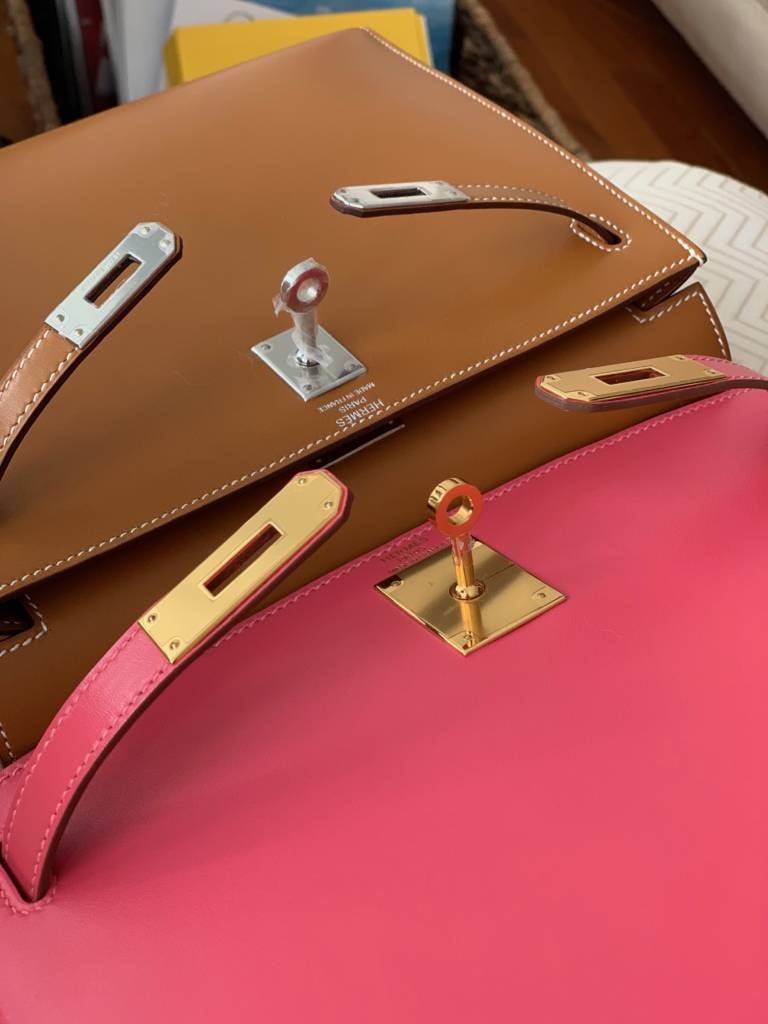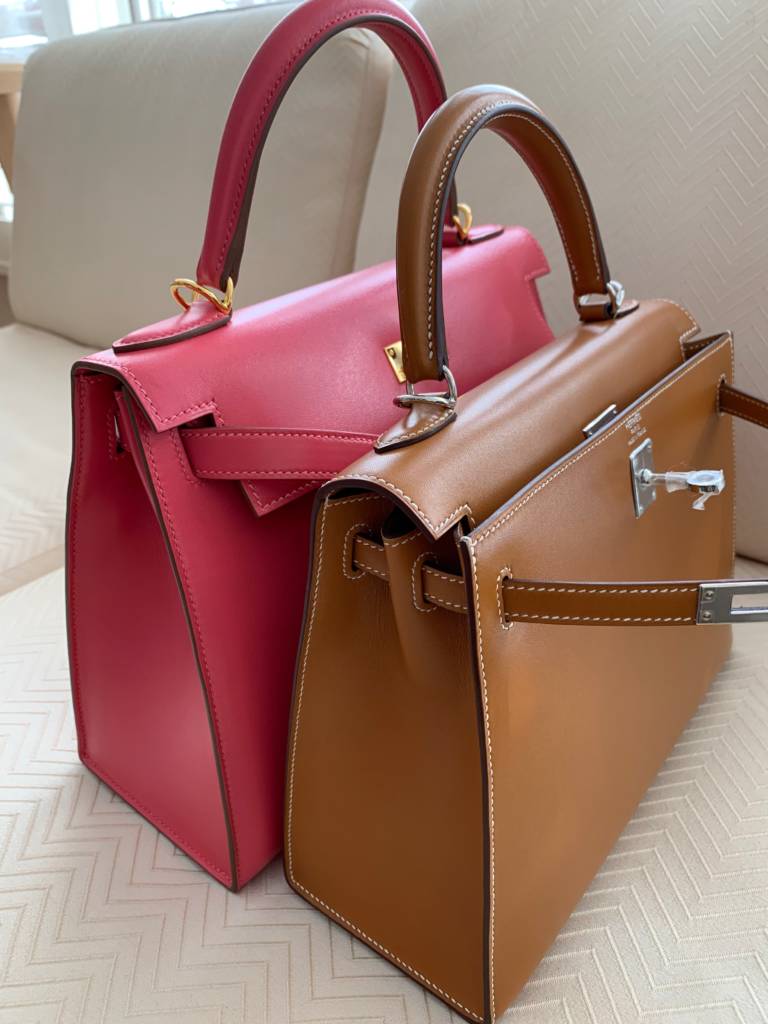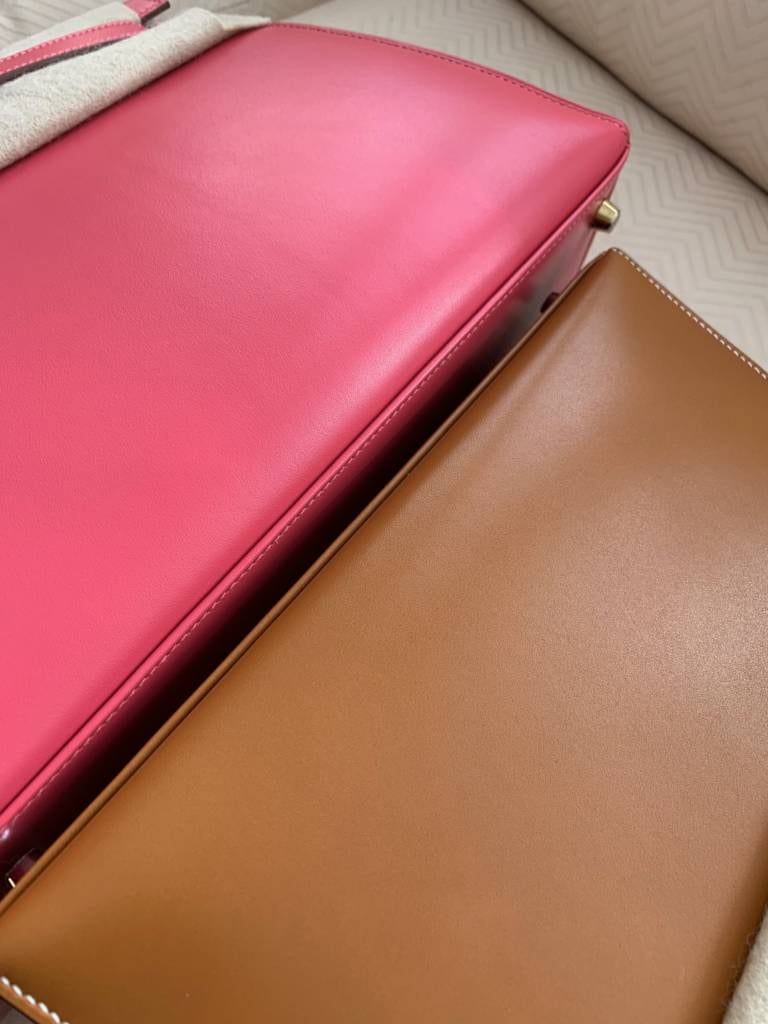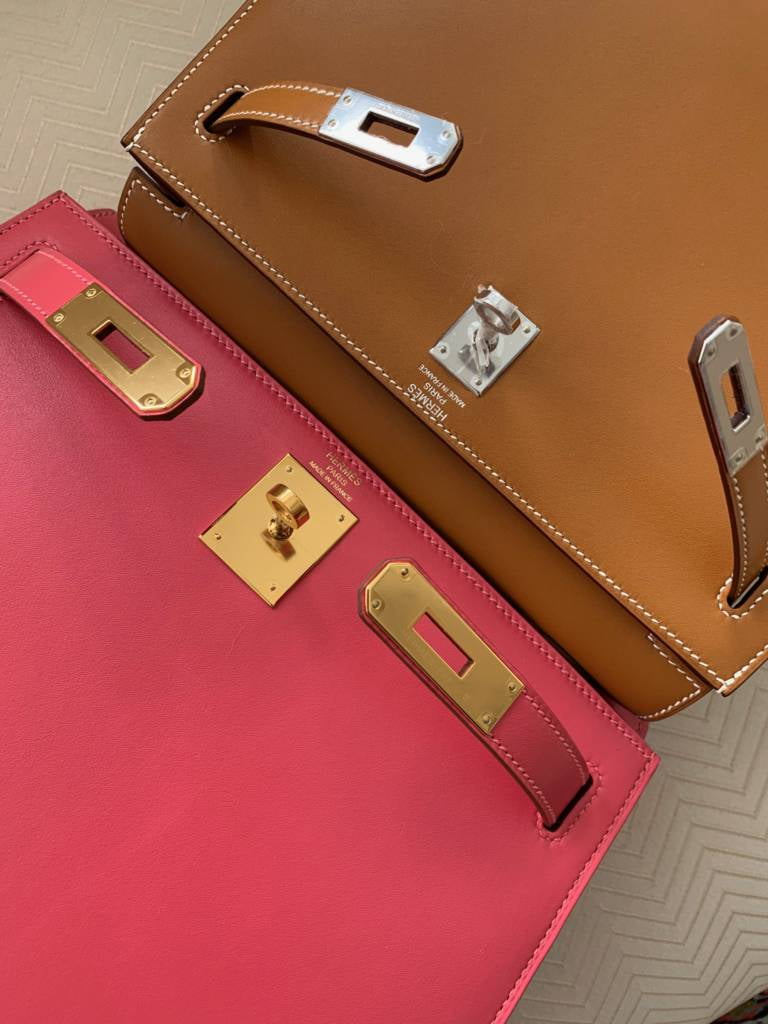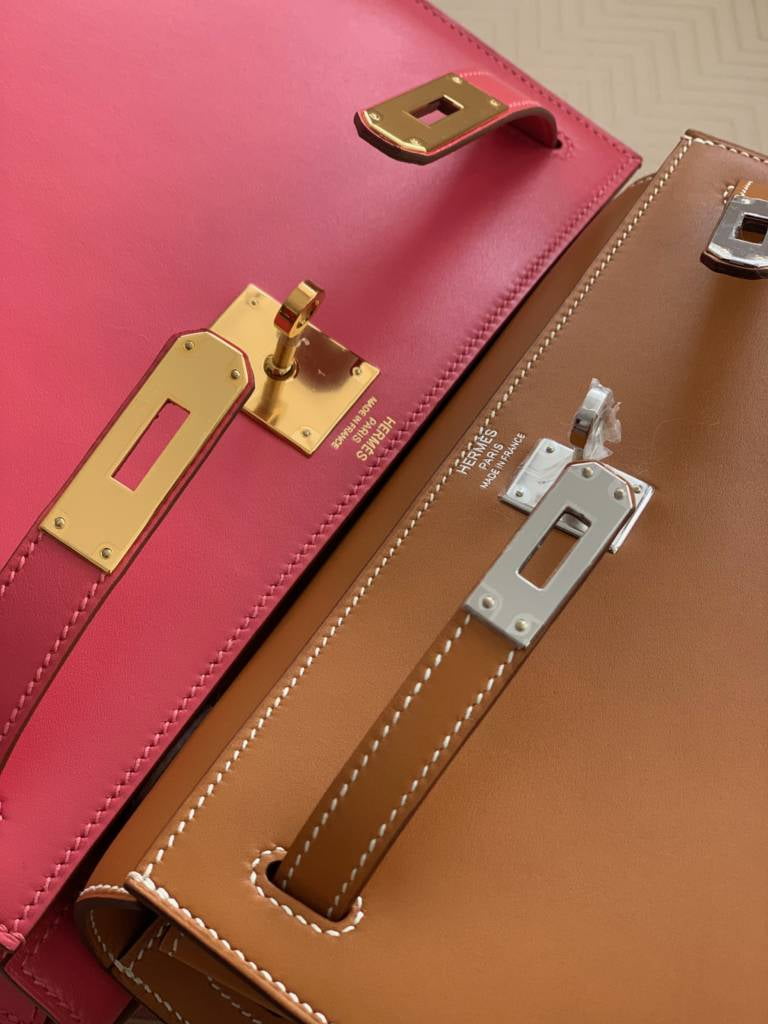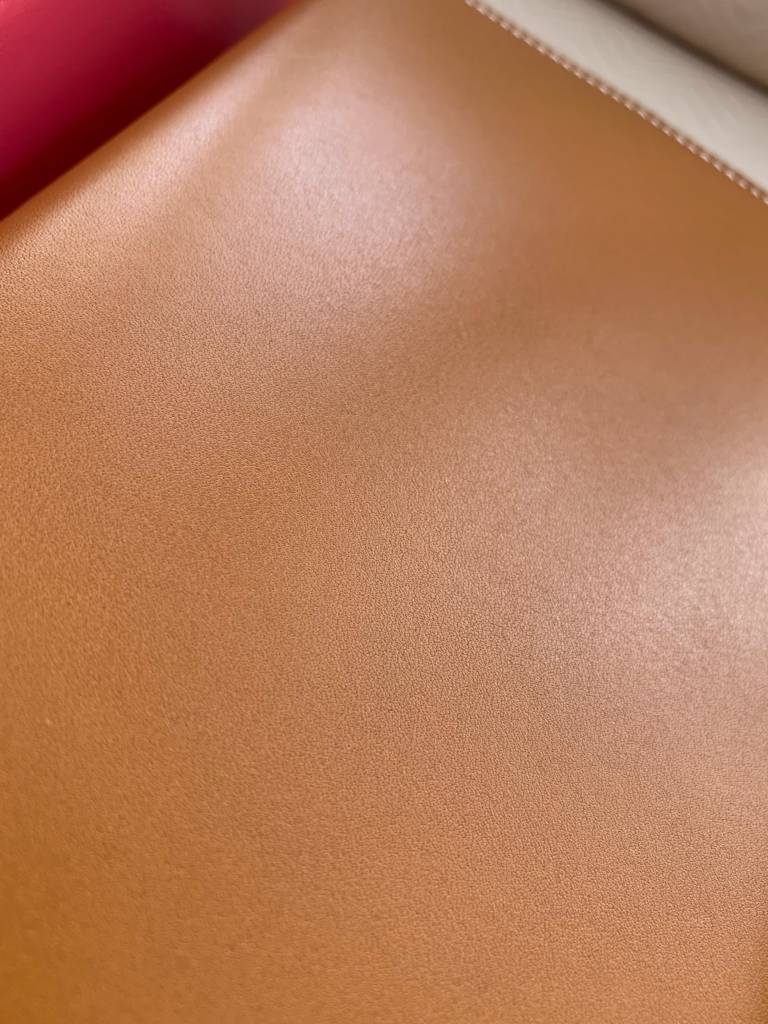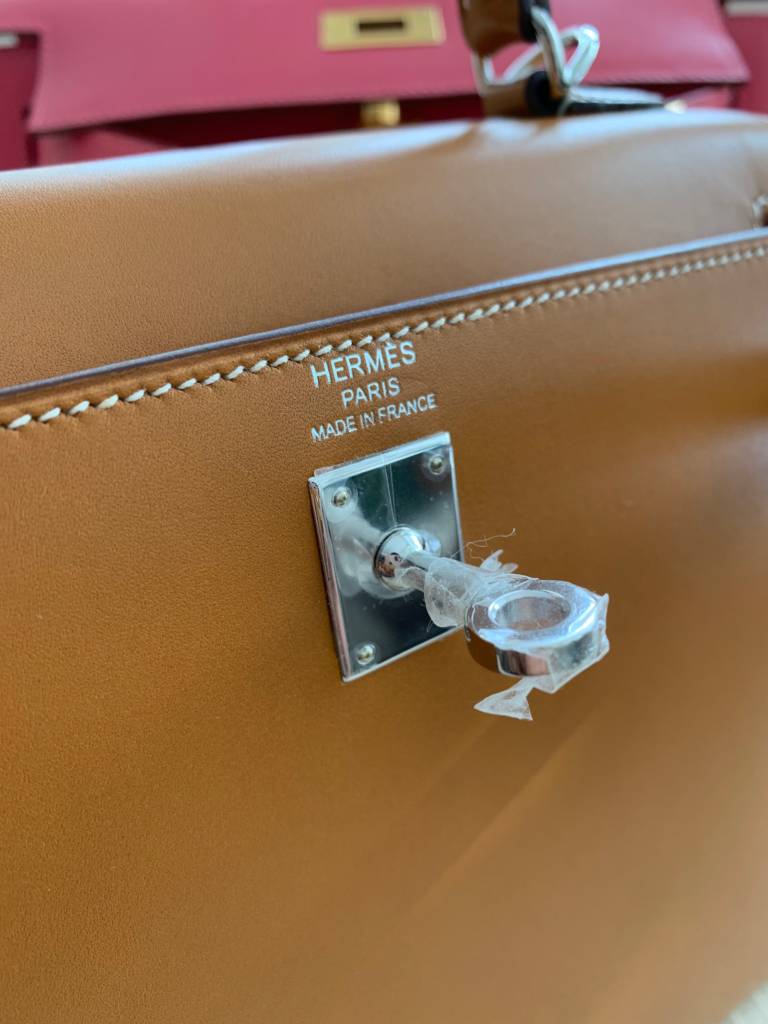 The Verdict
My new K 25 in Butler leather worked often and hard during my travels. The size was perfect, especially for someone like me who does not carry a great deal in my bags daily and is a diehard mini lover to boot. The strap is a game changer as you can be completely hands-free. The Kelly 25 is comfortable, without bulk or discomfort, when carried by hand or over the shoulder (unlike my experience with some larger Kellys, which I prefer to carry by hand).
Don't get me wrong, it will never replace my love for the Birkin 25. But this has definitely earned a top spot early on in my experience. Handheld, it's darling, and it sits on the wrist just right at cocktail hour without that boxy feel the Birkin mini can have as a wristlet. As it turns out, the Kelly 25 is elegant, compact and functional for day and night.
My handbag lineup photographed just before departure in February. I always photo document which handbags I am taking along, so that when re-entering the U.S, I can answer any questions or doubts Customs may have about new purchases abroad. If traveling, please read: Travel Alerts If You Are Headed to Europe This Spring.
Miss Veau Butler made her maiden voyage across the Atlantic.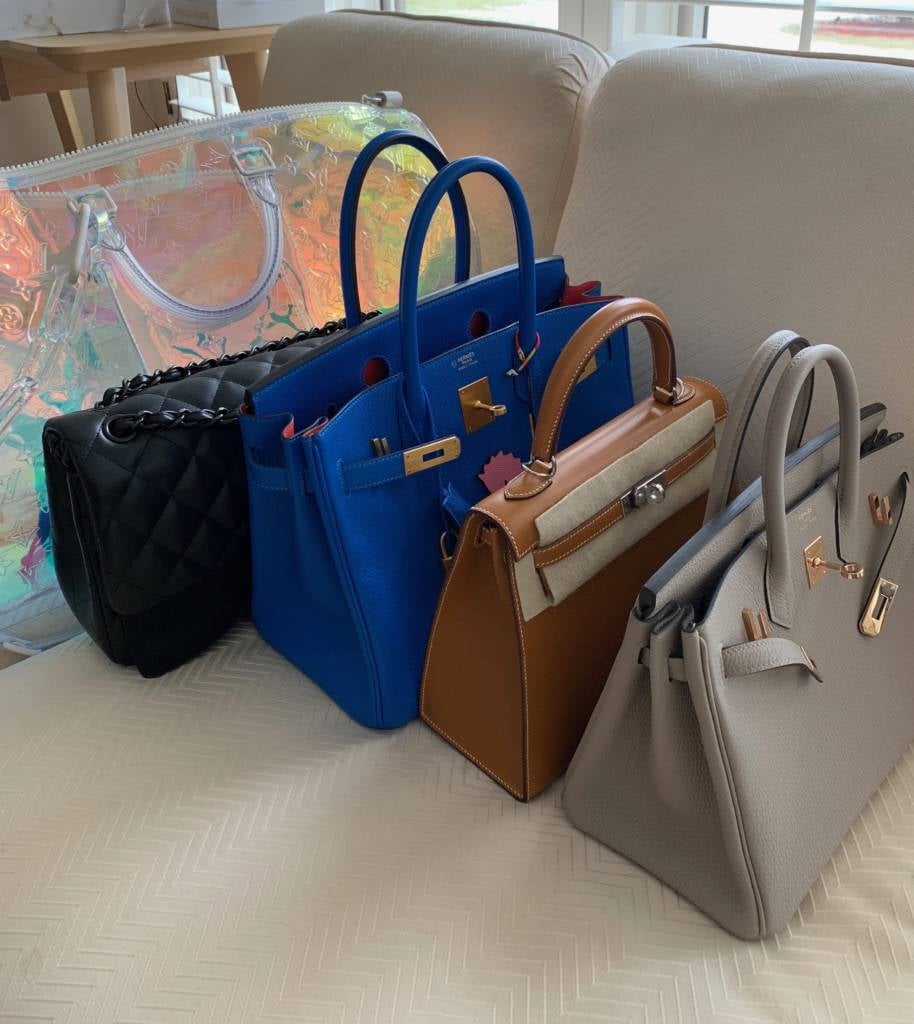 All packed up and ready to go.
Miss Veau Butler proved to be the the perfect trip companion and I forsee many exotic travels for her in the near future.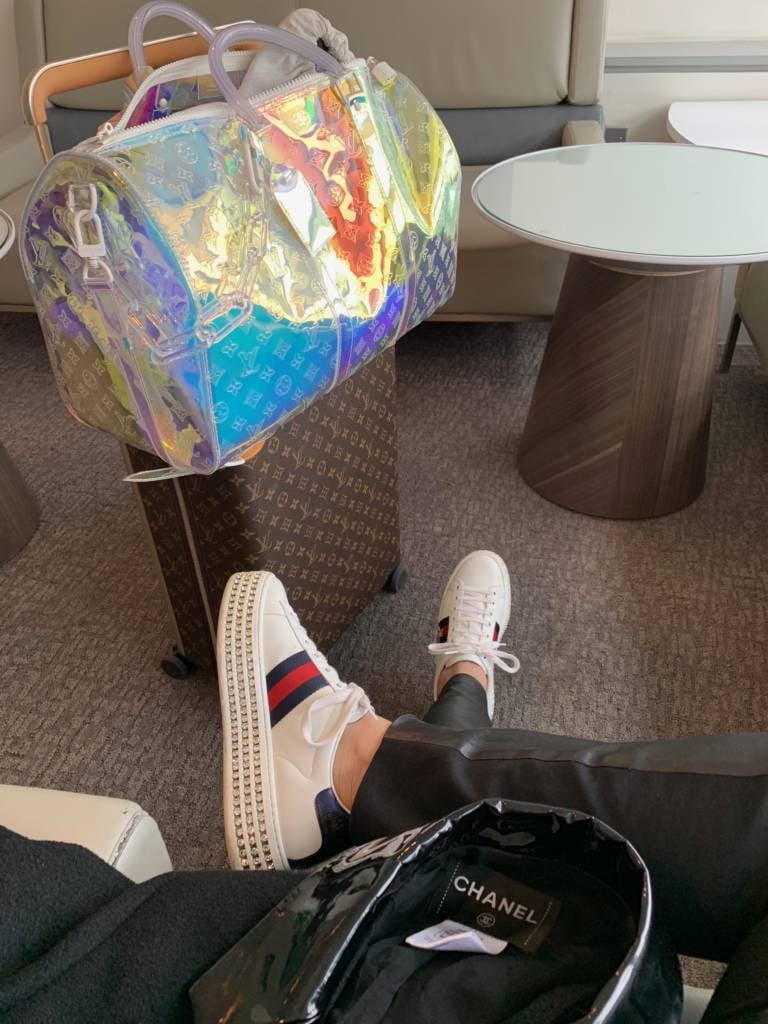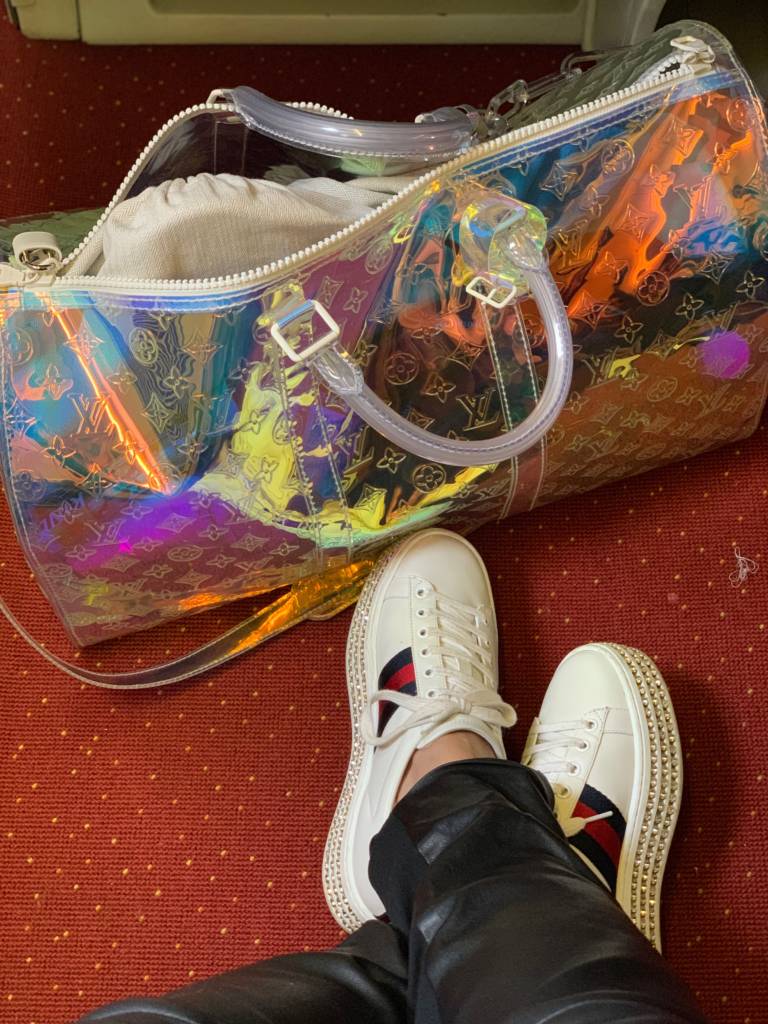 Updated: April 14th, 2019