Amid a sea of hobo bags and oversized totes, one might forget that, not too long ago, mini bags were the focus of the handbag scene. However, even though #bigbagsareback, our mighty but wee marvels are still very much on trend. We've rounded up our picks from everyone's fave designers of small bags in a season of large-and-in-charge. From Louis Vuitton and Dior to Chanel and Hermès, interested in extending the mini bag madness? Let's go!
Louis Vuitton Micro Métis
The Louis Vuitton Pochette Métis handbag has become iconic in its own right. Having earned scores of admirers since its introduction, Louis Vuitton reinvents it nearly every year. In fact, there was a time when this bag was so hot that getting it was nearly impossible.
Fast forward to today, and the Métis remains a fan favorite. This time around though, LV shrunk the popular style- appropriately named the Micro Métis.
At first glance, it's impossible to not "ooh" and "aah" over just how darn cute it is! It almost looks like the OG Mama Métis had a little one of its own. The Louis Vuitton Micro Métis sports all the things we love about the original. From the vachetta leather top handle, to that shiny gold lock that clasps the flap shut, it's currently available in the timeless monogram print, empreinte leather and in jacquard velvet as part of the house's Match collection.
What we also love about the micro style is the delicate champagne gold chain you can use to crossbody this little trinket. Measuring 5.5 x 4.3 x 1.4 inches, the Micro Métis will run you around $2,500.
While it's bigger bags like the On The Go, Neverfull and Speedy that are currently in the spotlight, the Micro Métis steals the show- why not be a showstopper with it?
Dior Mini Bags (Lady Dior, Saddle, Caro, 30 Montaigne)
Dior's range of mini bags are the embodiment of tiny but mighty. Having launched micro versions of the classic Lady Dior, Saddle, Caro and 30 Montaigne last year, the house reaffirms they're everything you love about Dior handbags- but as the cutest little accessories. In fact, many have compared the micro Lady Dior as a lovely alternative to the impossible-to-find Mini Kelly.
Don't be fooled though- these mini bags pack a punch! As the fall season is in full swing, many of us often fall prey to the idea that we need to load up our totes to lug around, even on casual days. But for when you just need your essentials plus a little extra, a Dior micro is an adorable option. Take a look at how much you can squeeze in there.
View this post on Instagram
Available in a range of colors, the Dior micro bags measure approximately 5-6" long length and 4" wide. Of the different styles, three are priced just above $2,700 (the Saddle, Caro and 30 Montaigne) while the micro Lady Dior comes in at exactly $3,800.
Read: Dior Launches Micro Sized Versions of it's Iconic Classics
The Dior Micros have been exquisite ambassadors of the mini bag revolution, and they continue to power through to Fall Winter 2022. Perhaps your Dior (or Dior collection) needs a mini-me as well.
We certainly can't forget to mention Chanel in this list. La maison de Coco has consistently showcased mini bags, often as SLGs, rather than bags. Just check out most Chanel runways and collections- you'll see what we mean.
Read: Chanel Bags You're Going to Love from S/S 2023 Runway
From vanity cases to belt bags, card holders, and WOCs, nearly all of Chanel's classic handbag styles have been given the micro treatment. This gem, however, happened to stand out for us when perusing the brand's website. Meet the Chanel Mini Camera Case.
Camera cases have long been handy-dandy utility bags. An easy crossbody option that allows you to pack what you need on the go. And yes, though utility has mostly been the what everyone loves about camera bags, brands like Chanel have continued to ensure they are as pretty as they are practical. But this mini camera case in particular, is the money shot.
Like Chanel's other micro pieces, the brand's codes remain intact. That includes the hallmark delicate features, intricate details, and branded hardware. With this tiny camera case comes the gold interwoven leather chain, a prominent gold CC logo, luscious Chanel red interior and a useful shoulder pad. Priced at $4,200, it measures approximately 4.7 × 7 × 2.7 in.
Consider it a multifunctional queen. For night and day, from work to play, we must admit- we'd snatch this up over a big bag anytime.
Ahh yes- the Big H. Here at PurseBop, it's pretty hard to deny our love for the orange box brand. And when the house released this diamond of a bag, it's safe to say it was love at first sight. Though petite in stature, it stands tall amongst the marquee's mainstays, the Birkin and Kelly. In fact, it may be even more popular than its older sisters. You know what we're talking about… none other than the Hermès Mini Kelly.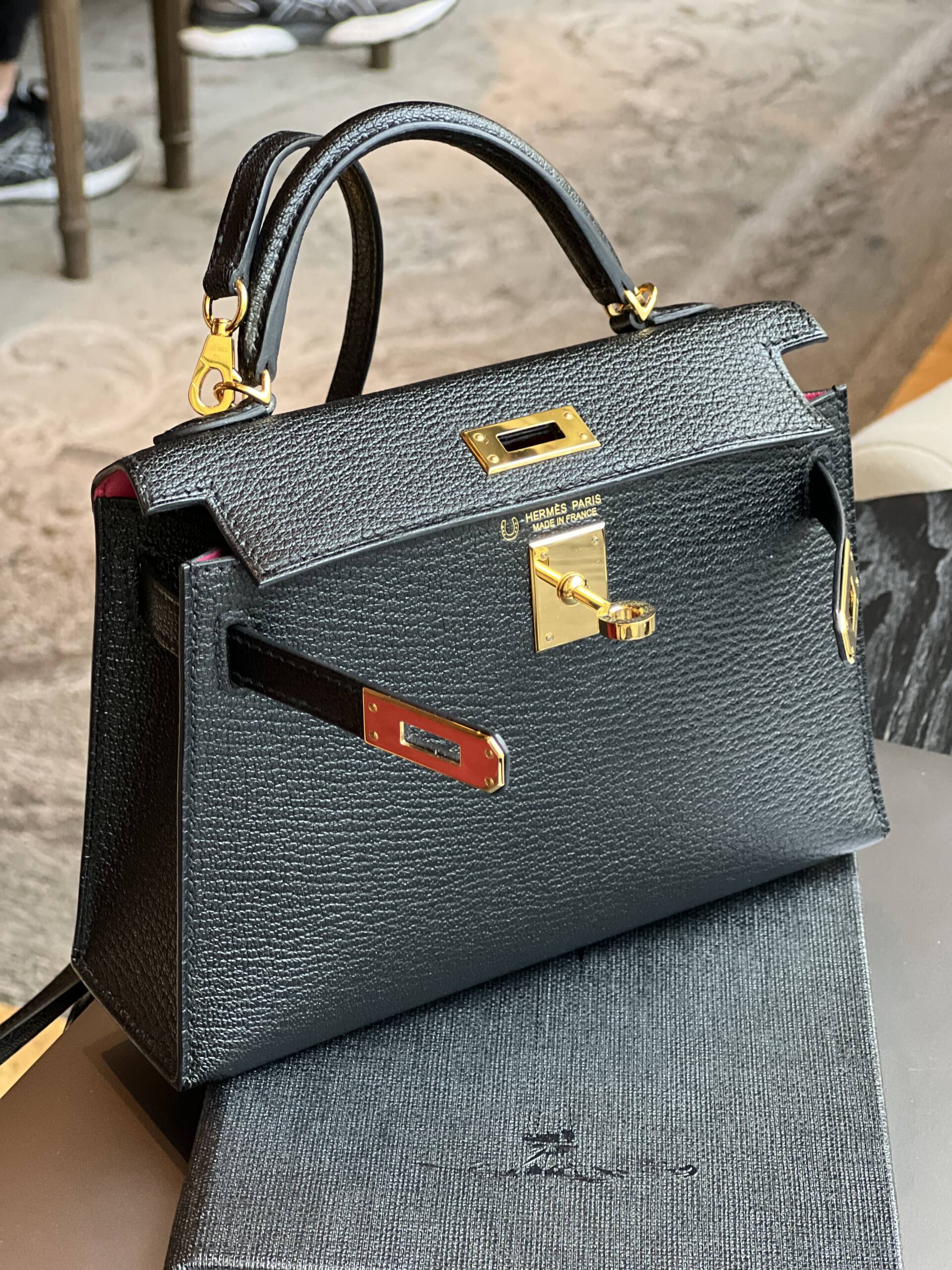 This is simply a bag with which you can't go wrong. It's everything we adore about the iconic Kelly bag, shrunken. Available in a candy store of delectable colors, to tried and classic neutrals, different leathers, and hardwares, the Mini Kelly is a winner in our books (and pretty much everyone else's).
In fact, the style is so lusted after that people toss to the side the potential of it being a bit too snug for comfort. H lovers new and old have elevated the Mini Kelly to become one of the hottest and most sought after bags at Hermès. There's just one problem- it's nearly impossible to get.
Read: Deep Dive Investigation Into the Popularity of the Hermès Mini Kelly
Adding to the intrigue of the Mini K is its price which truly packs a punch. A Mini Kelly will cost you $8,800 if bought from an Hermès boutique. Measuring in at just under 8" x 4", it has the highest cost per square inch than any other handbag on the market! This is just the retail price. To think about the numbers it's fetching on resale sites is enough to make our heads spin.
But because we love our PurseBop community… let's go there. A quick glance of Mini Kellys on preloved sites will easily render price tags of $25,000 – $35,000. Divided by its size, and you've got a handbag that costs nearly $1000 per square inch.
There's no sign of the Mini K's popularity slowing down. Whether big bags are in or not, the itty-bitty Kelly is still on top.
Updated: October 25th, 2022