If you like Prada nylon, Prada thinks you'll really like its new Re-Nylon. Intended to address fashion's colossal impact on the environment and climate change, Re-Nylon is Prada's latest effort. Designed by Miuccia Prada, the Re-Nylon collection was created using exclusively recycled nylon, an eco-friendly twist on the house's signature material.
The house recently staged its Re-Nylon pop-up shop in Selfridges London, offering environmentally-friendly versions of its classic nylon bags.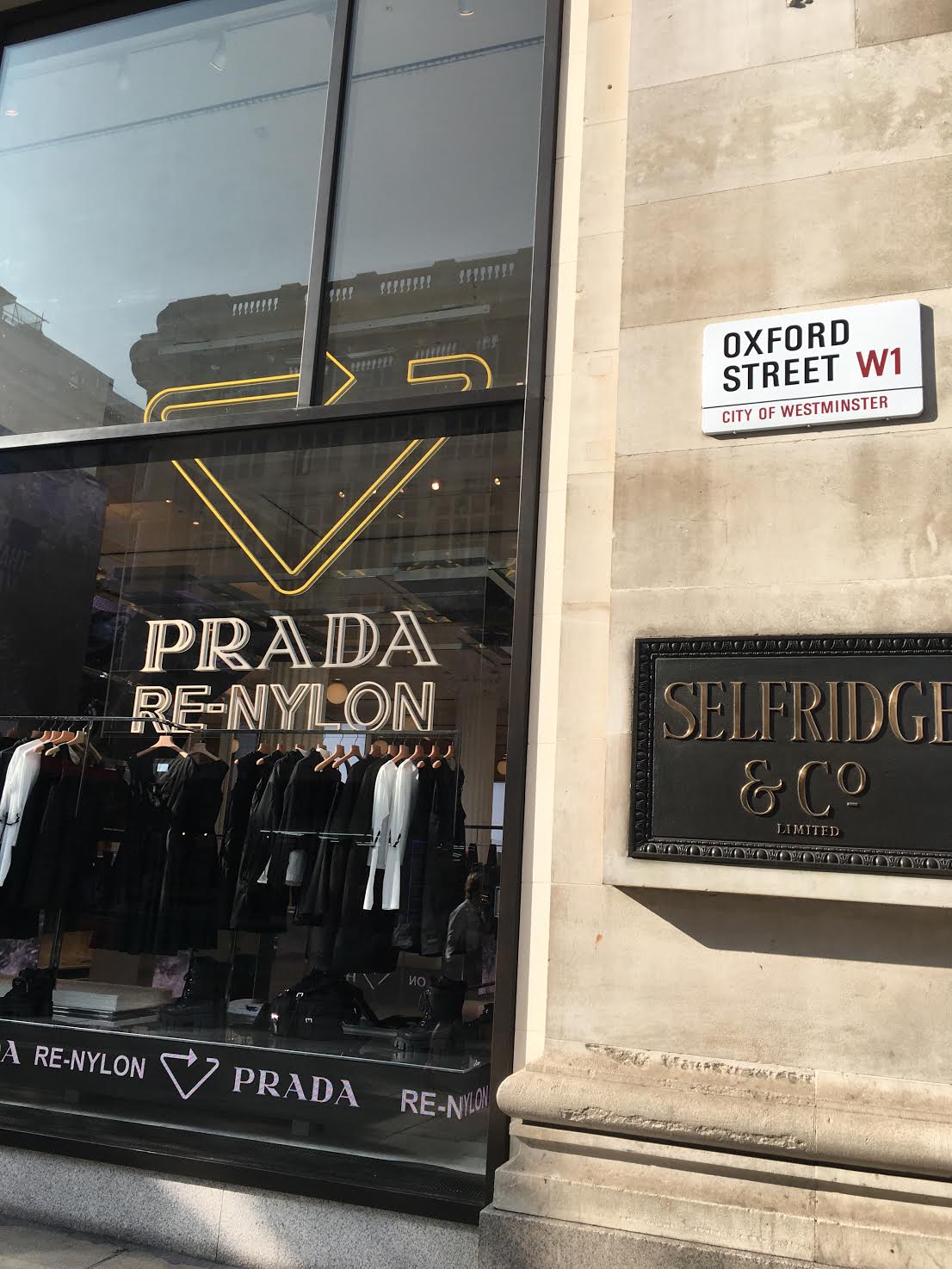 The collection is part of Selfridges' Project Earth scheme, launched by the British retailer to help introduce new and interesting sustainability initiatives. Prada's new offerings aim to raise awareness for the fashion industry's role in plastic pollution.
In a statement discussing the launch of the London pop-up, Prada described its 'Re-Nylon' material as "a bold move towards total sustainability". As such, the project is just one part of the brand's ultimate goal to convert all Prada virgin nylon into regenerated nylon by the end of 2021.
The new regenerated material is made from recycled nylon material from plastic found on land and at sea. Through a process of depolymerization and re-polymerization it can be recycled indefinitely. Furthermore, it is more durable than the original material.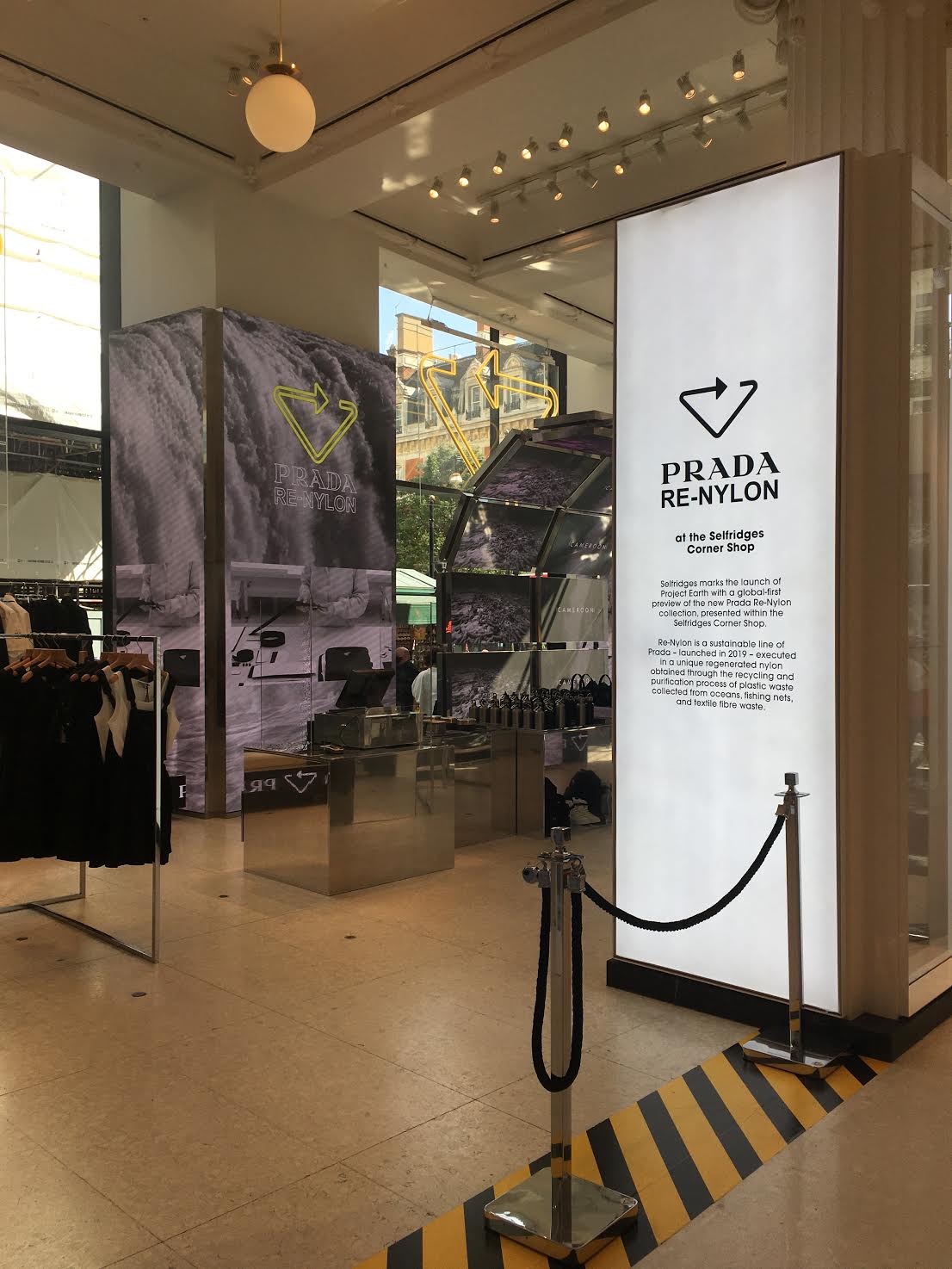 Nylon is undoubtedly an emblem of the Prada brand. The house controversially introduced the material back in 1984 with the launch of the now iconic Prada Nylon Backpack. At the time, both fashion critics and consumers were unimpressed. Ultimately, the material gained popularity in the 1990s.  In fact, it became practically "the" fashion accessory for every supermodel or supermodel to be!
Since then, nylon has been used in some of Prada's most celebrated designs. The Multi Pochette, and its widely popular 2005 re-edition launched last year, captivated the fashion world. Therefore, creating a recycled version of the material is an important step in helping to relaunch Prada as a sustainability-conscious house.
In its statement, Prada explained its brand identity as challenging convention and creating a new form of luxury. "This project is an evolution of a fundamental code of Prada, a reinvention of heritage."
In addition, high street retailers such as H&M have introduced garment recycling machines in stores. However, Prada launching a sustainable version of its signature material certainly stands out amongst other efforts from fashion brands. In its statement, the Italian fashion house articulated the importance of its new recycled nylon, "A revolutionary new material, a radical new proposal, to reinvent our past." 
All designs from the collection feature the new Prada Re-Nylon logo, an arrow in the shape of a triangle to emphasize the sustainability of all the products.
The collection is currently available at Selfridges.com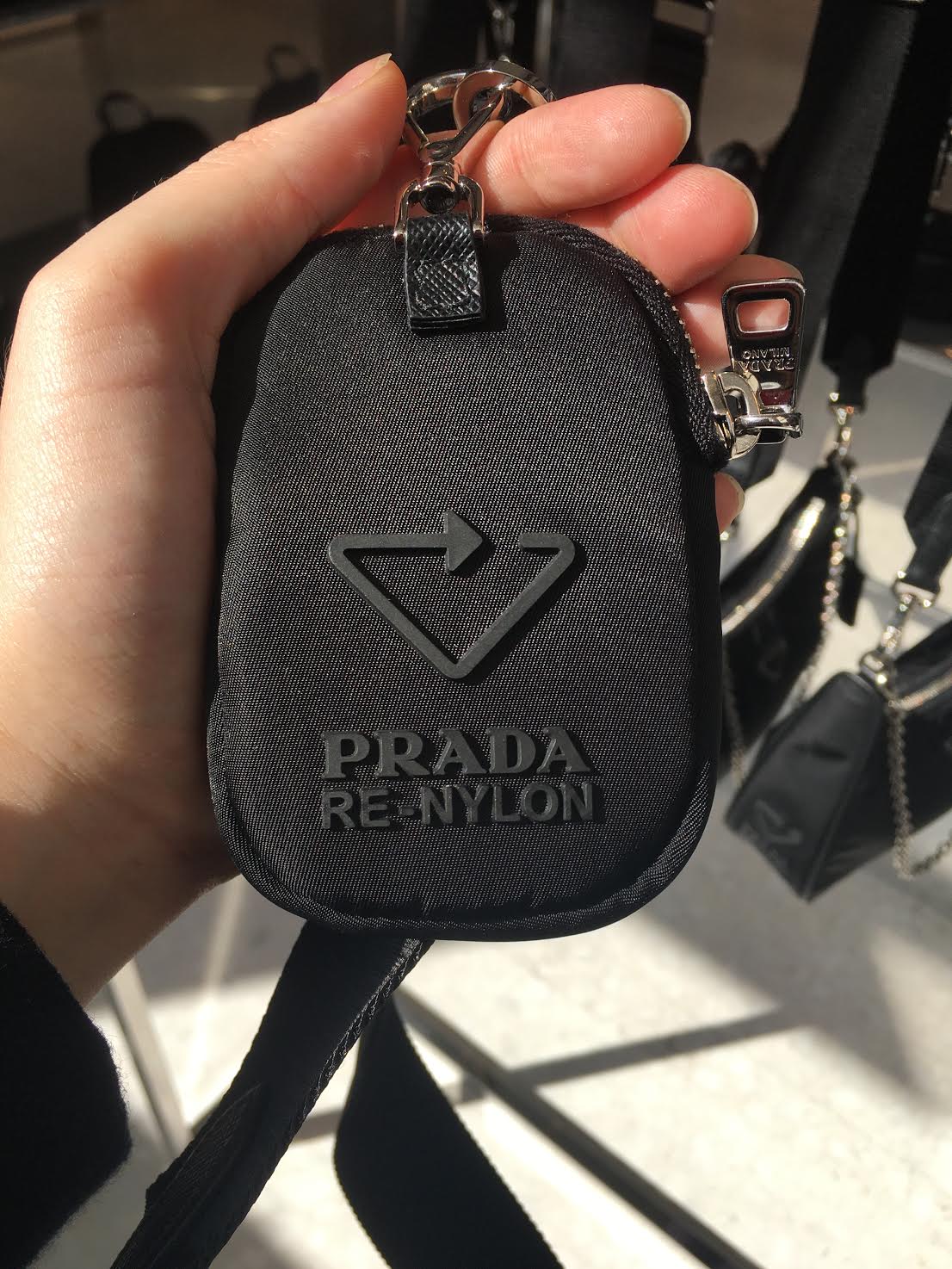 From beloved classics to newer and quirkier pieces, the Prada Re-Nylon collection has it all. Priced slightly higher than the original designs, the bags in this collection are all black and ooze functionality as well as sustainability. Which will be your favorite?!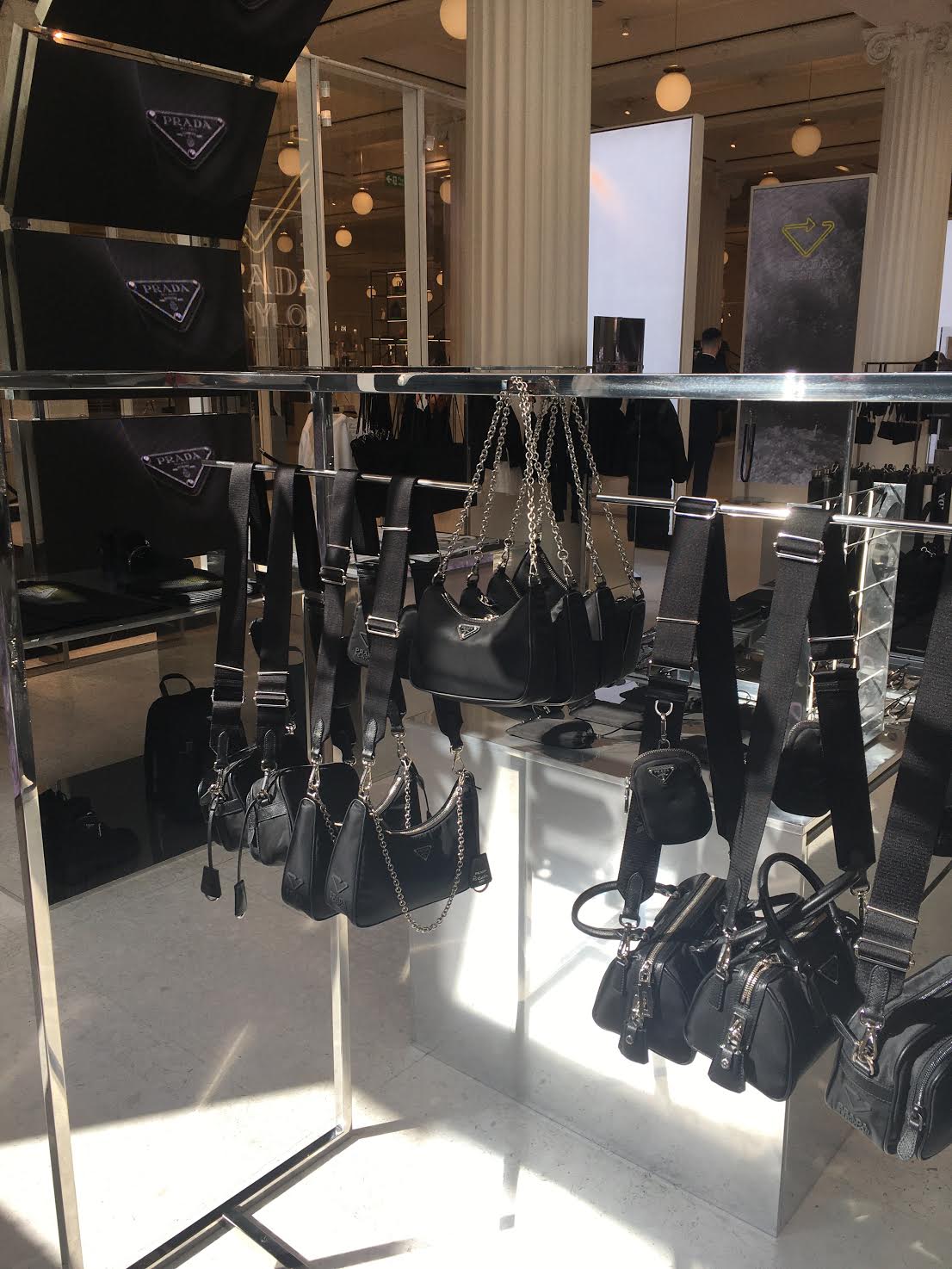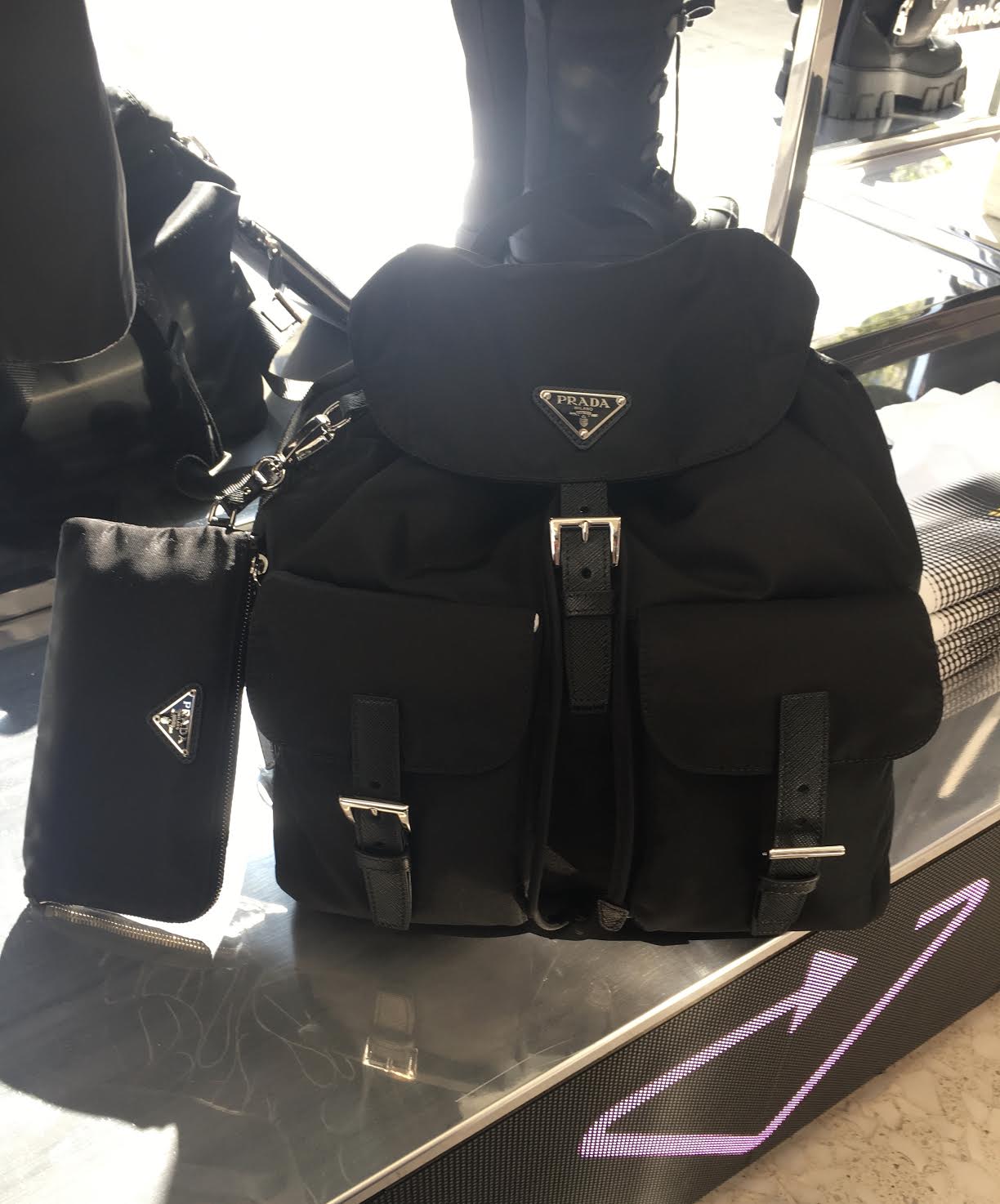 The bag that started it all – the Prada Nylon Backpack has become synonymous with the brand since its release in 1984. In addition to all of the bag's classic features this new release comes with a removable cosmetics pouch also in recycled nylon (obviously).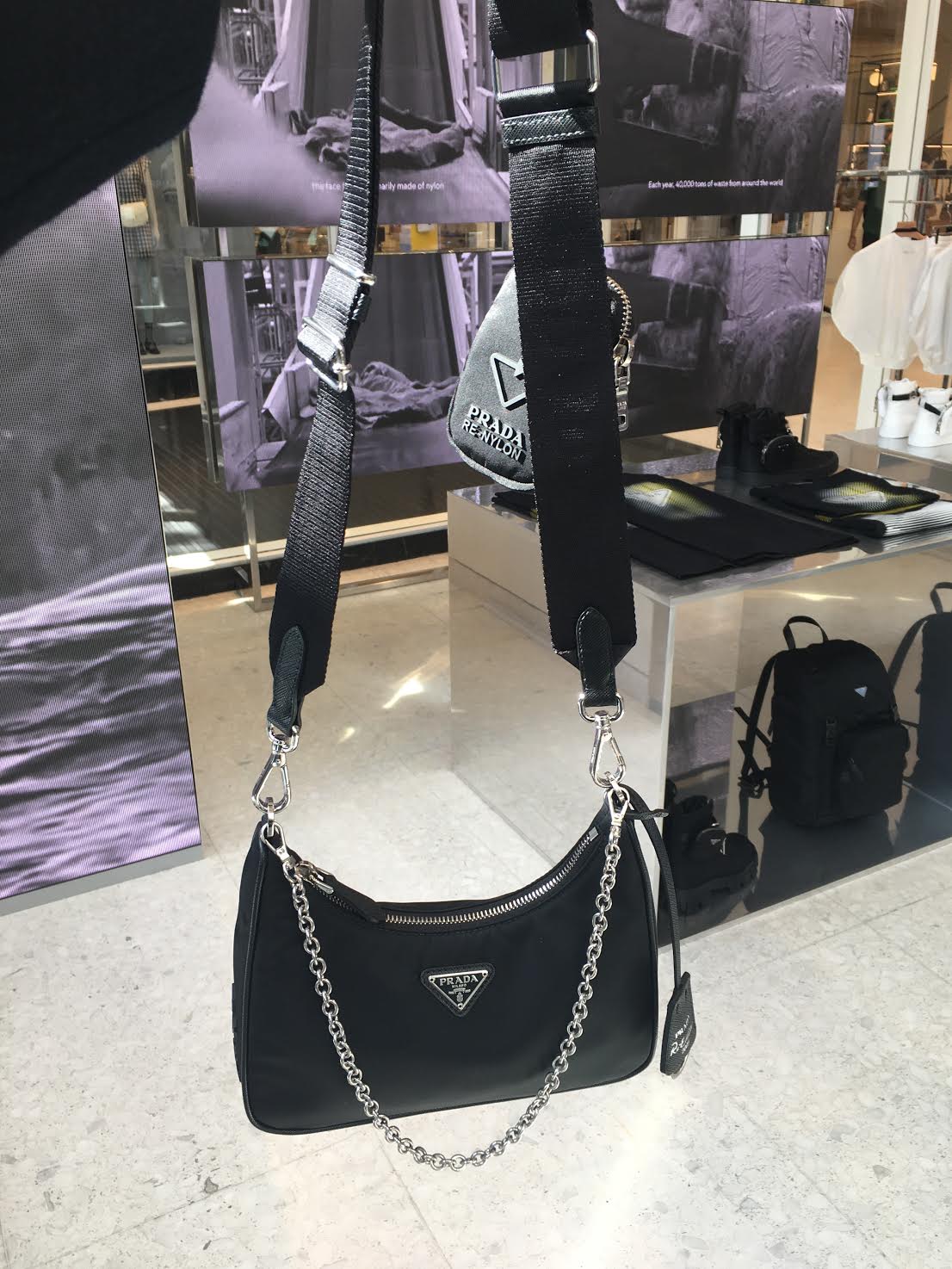 Prada's Re-edition 2005 Multi Pochette bag has become one of the undisputed 'It' bags of 2020. If you want to buy into the wildly popular multi bag trend but, like many modern day consumers, are increasingly concerned about fashion's damage to the environment, then this is the bag for you.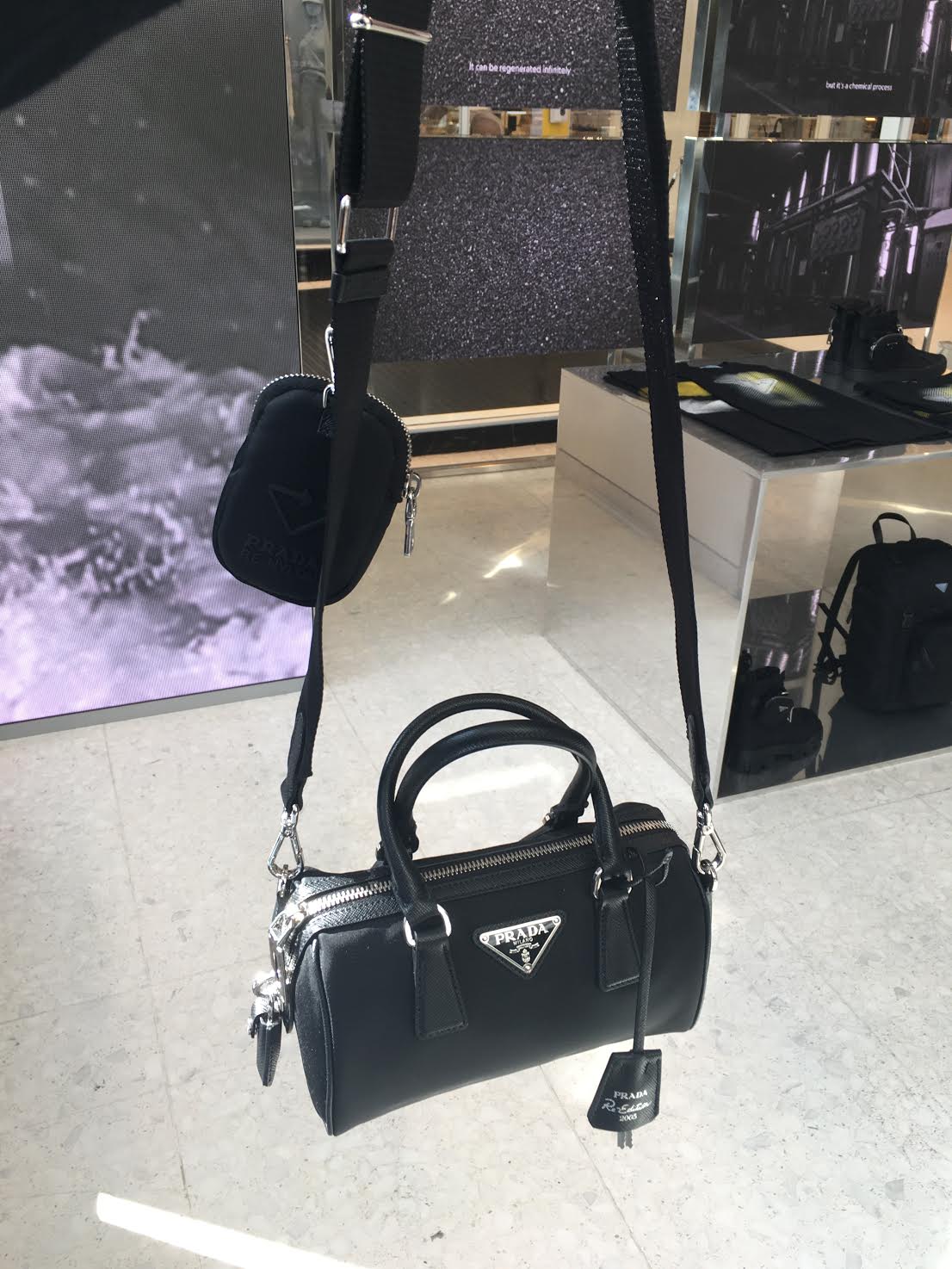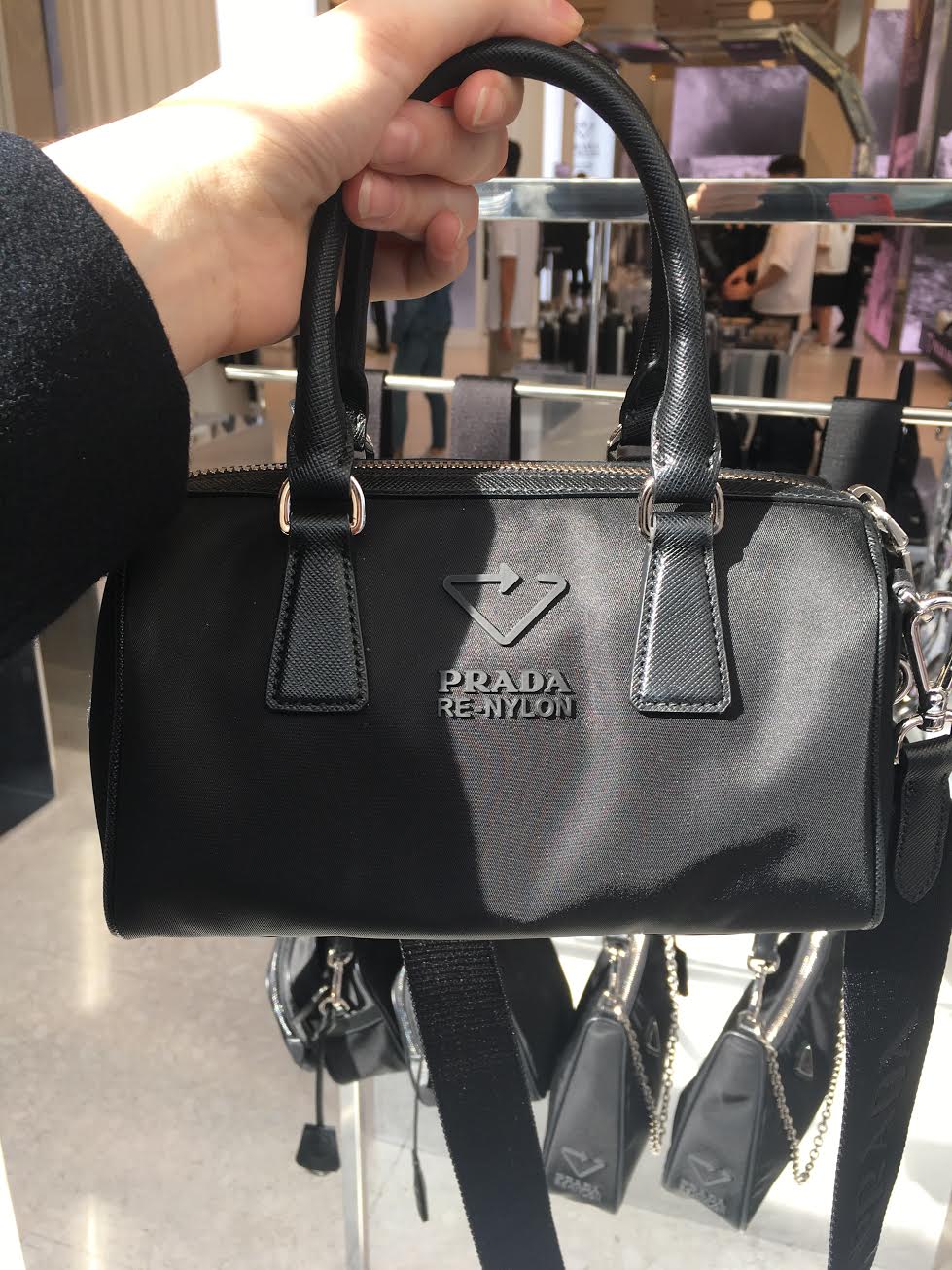 This sustainably made re-edition of the 2005 Bauletto bag combines the edgy appeal of the multi bag trend with the chicness of the classic cylindrical shape to create an effortlessly sleek look.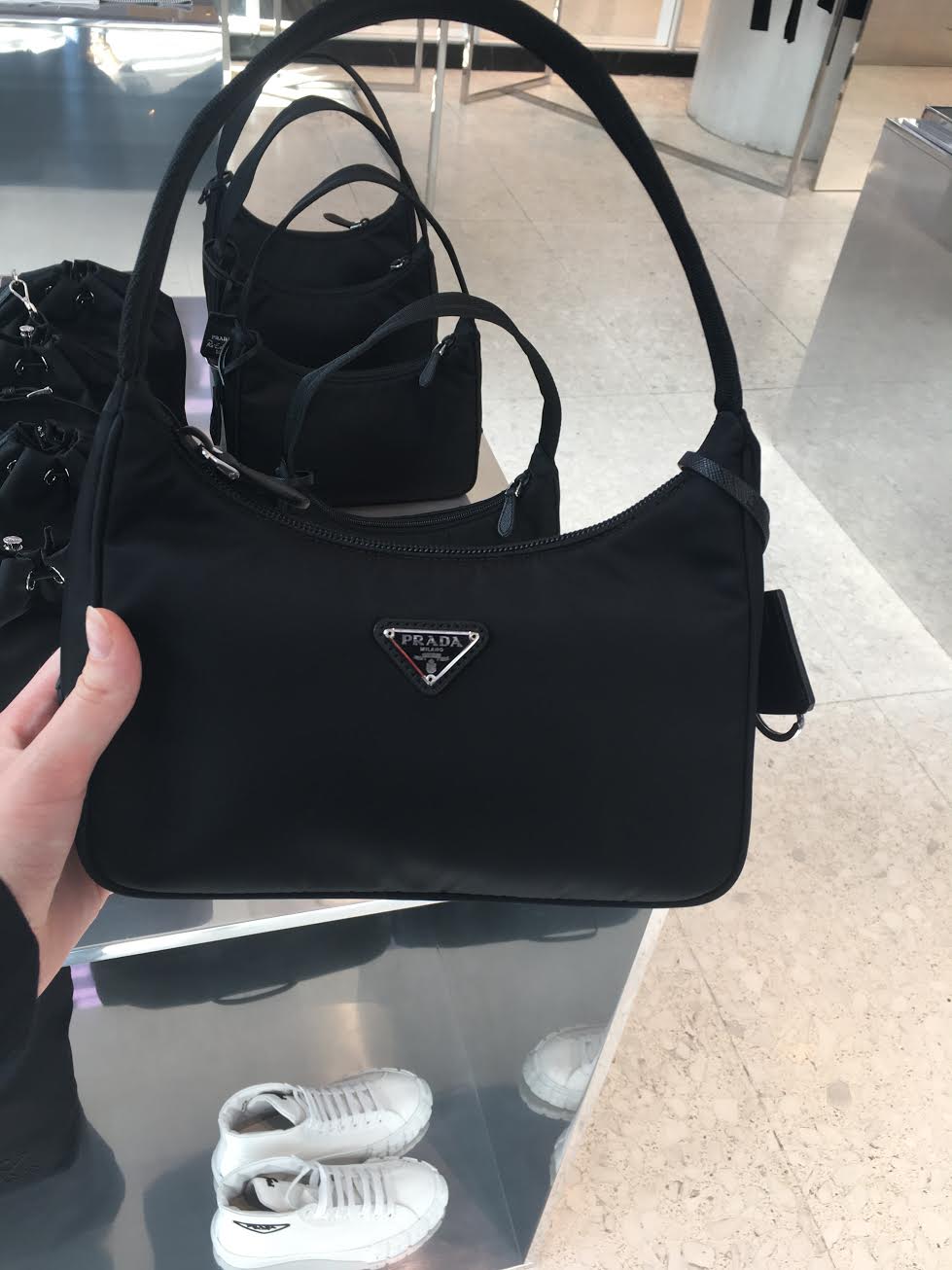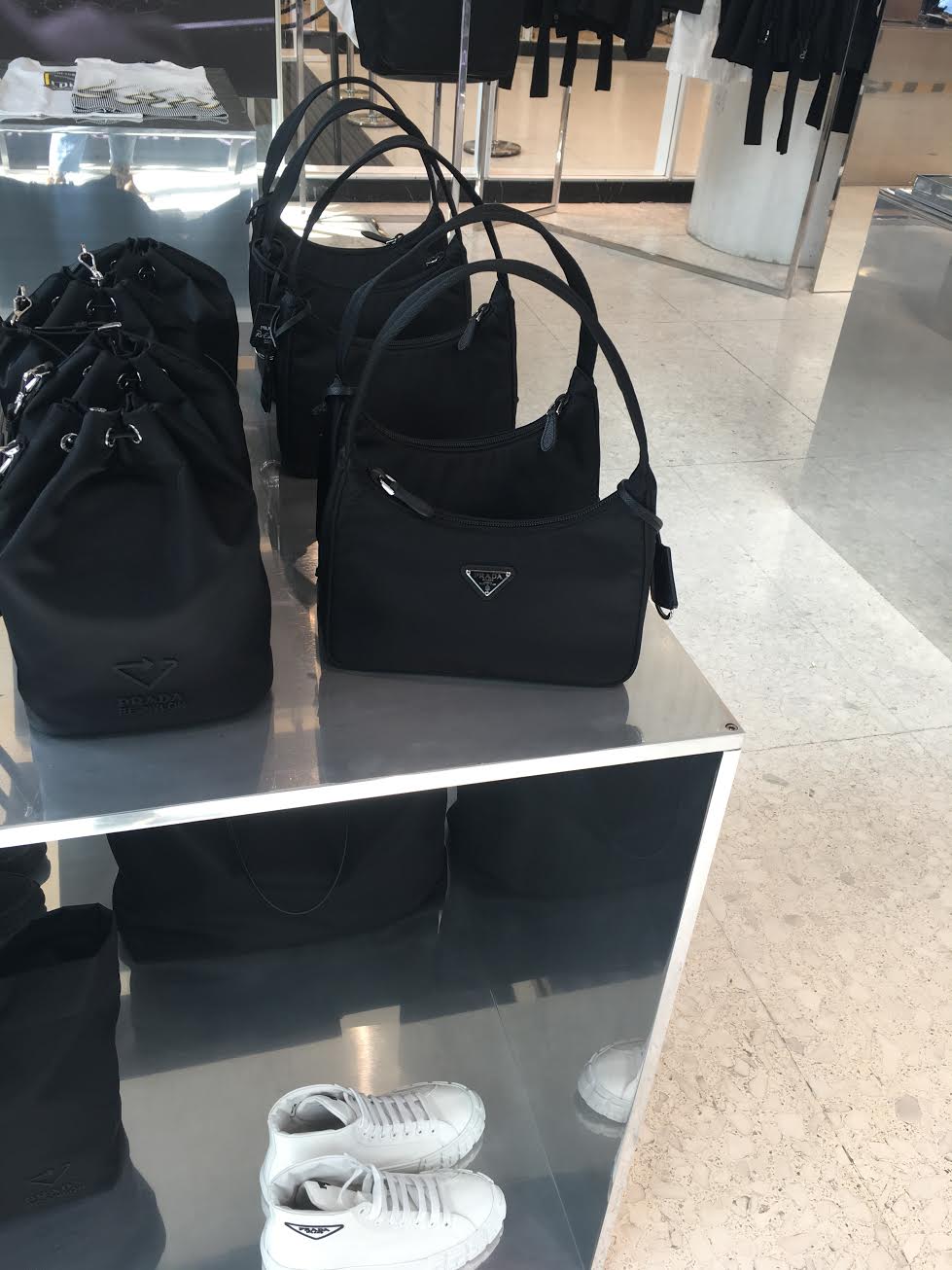 Both durable and functional, the recycled nylon is perfectly suited to Prada's classic shoulder bag originally released in 2000.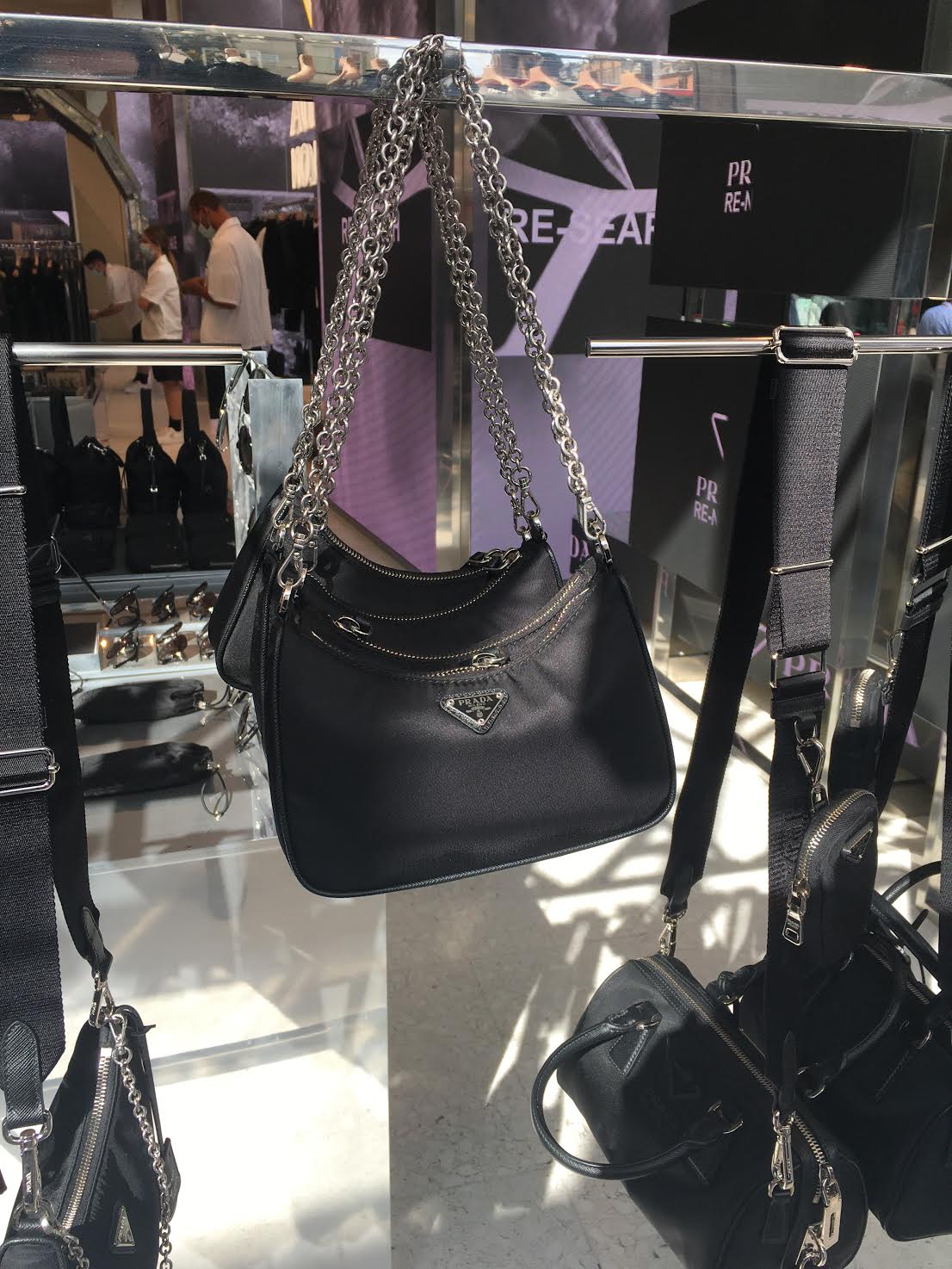 When it comes to fashion's sustainability efforts, every little helps! That's why Prada has included a recycled nylon version of its Mini Pochette in the Re-Nylon collection.
One of several belt bag styles in the collection, this roomy piece features one large compartment and is ideal for hands-free and sustainable style.
If you're looking for something slightly smaller to wear around your waist you may like Prada's belt with a snazzy detachable pouch. Both are made from recycled nylon.
A whole host of designers have experimented with the mini cross-body pouch style and Miuccia Prada is no exception. The designer has made her take on the style both compact and environmentally-friendly.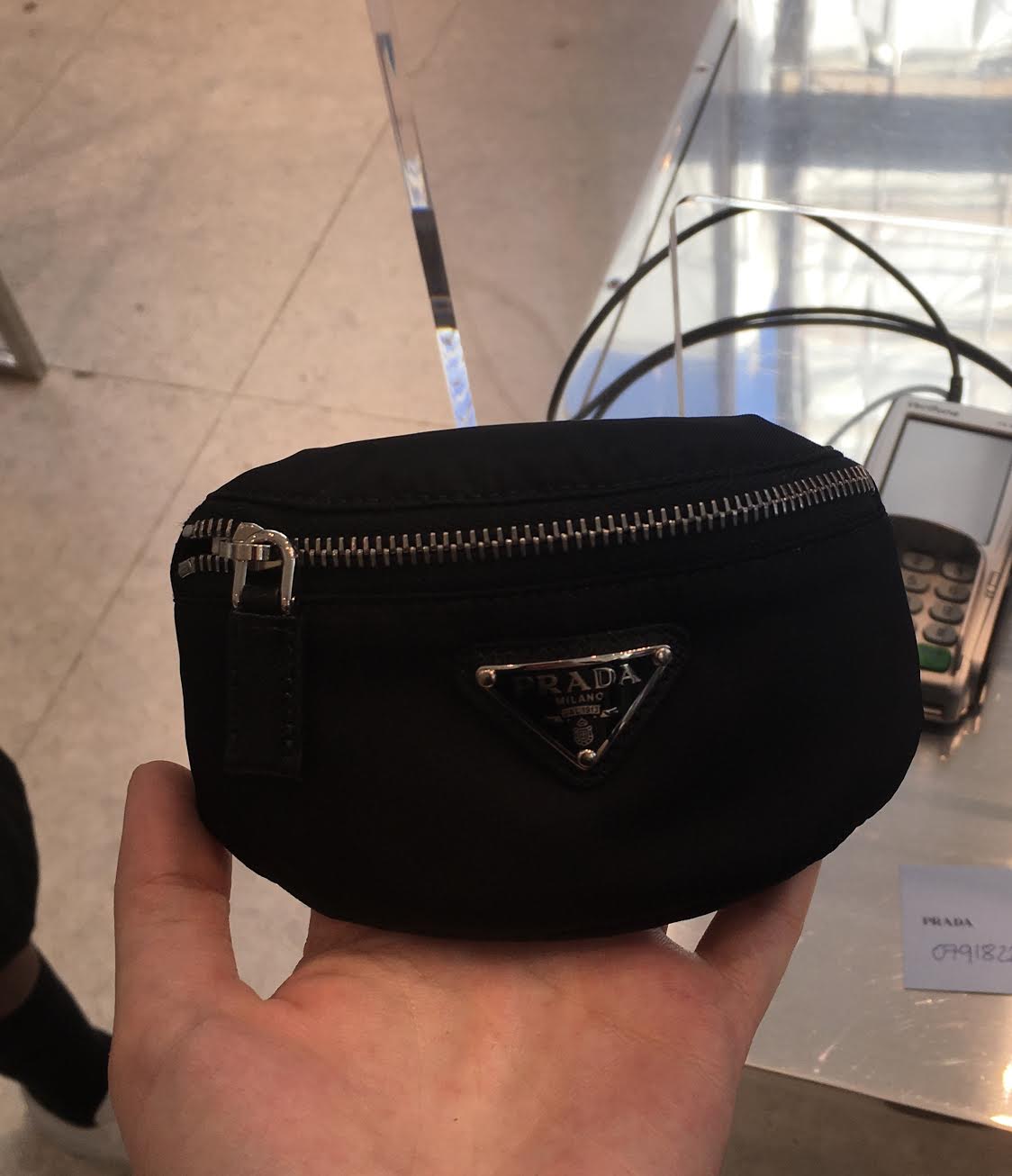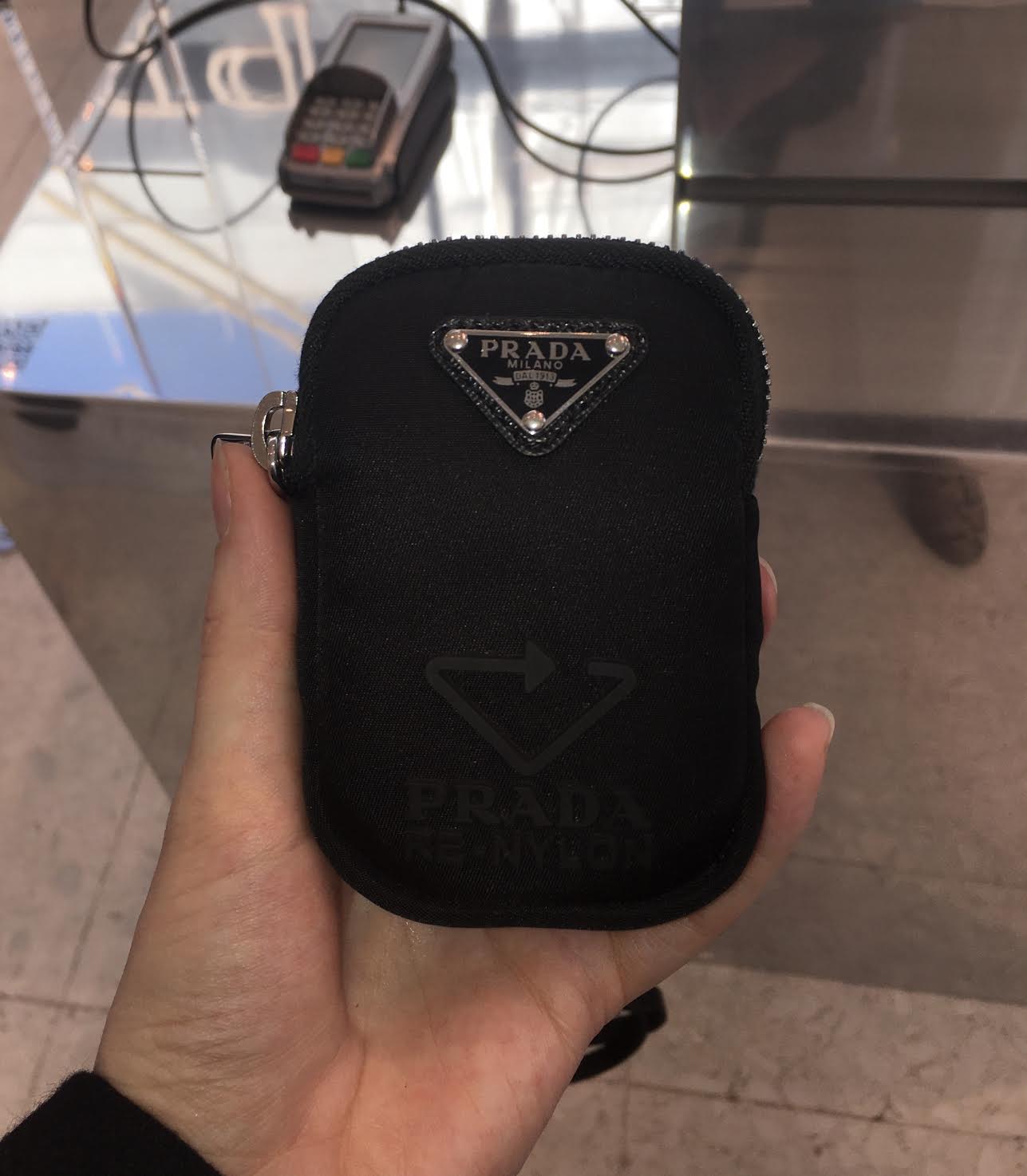 Few bags are as practical as a shopping tote. With Prada's Re-Nylon version you can be practical about the state of the environment too! The collection includes both medium and large sizes.
Which sustainable style is your favorite? Let us know.